Gallery of live edge wood countertops including finish styles, cost and popular questions.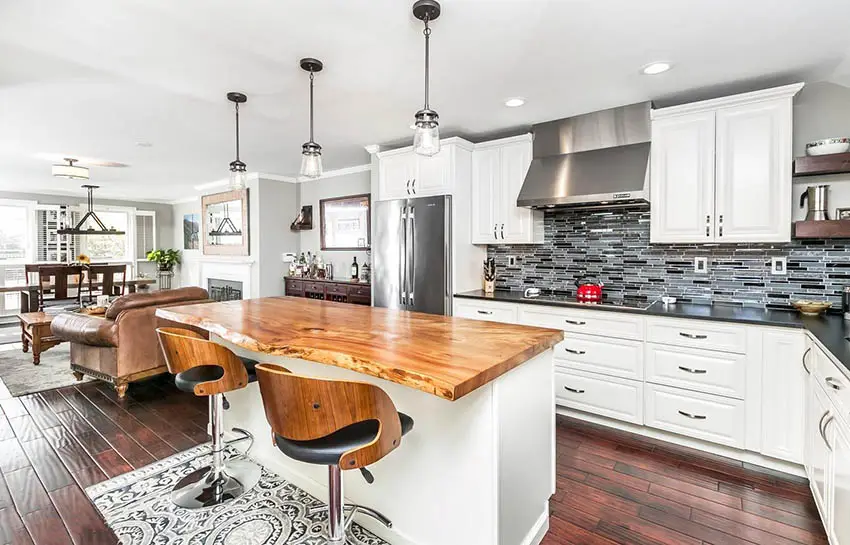 Natural live edge wood countertops are beautiful and create a real conversation piece in the kitchen. They provide visual interest and can bring an organic feel to a kitchen space.
What is a live edge countertop?
A live edge of a piece of wood is the bark side of the wood. This is a raw, more natural look to the wood where it goes uncut and has organic shapes.
The bark is removed from the wood to create a natural design with smoother edges while keeping the natural curves that are the main appeal of the live edge countertops. This allows natural holes and cracks to remain in the wood piece with live edges is to help make the most organic look possible.
Practically any type of wood can be used for live edge wood slab countertops. However, a few of the best species are those that are commonly used for butcher block counters. These are wood species such as tigerwood, elm, maple, hickory, cherry, beech and walnut. See more walnut kitchen countertops here.
How do you get live edge wood?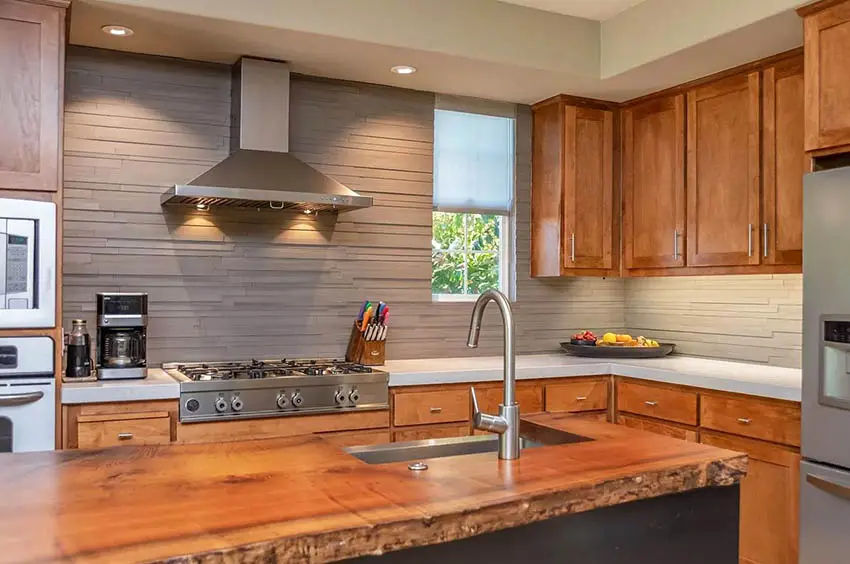 To create live edge wood countertops you need to start with a large piece of DRY wood , it is important for this to be dry, otherwise it will warp and twist while you wait for the drying. With the wood some edges need to cut off to create a slab.
Whichever edges that want to be a live edge need to be left raw, it cannot be cut with a saw. If you don't want to cut the slab yourself, there are places you can purchase newly milled or reclaimed live edge slabs from local stores. These are typically prefinished as well.
How do you finish live edge wood?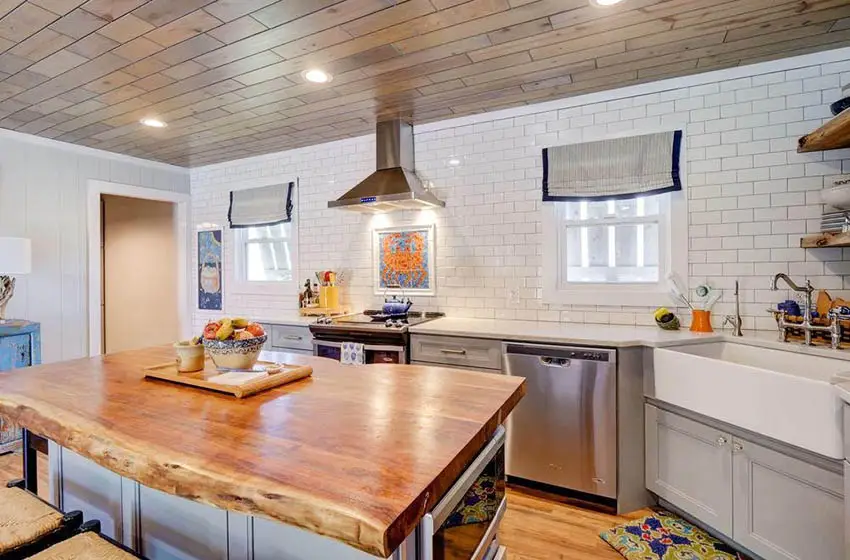 To finish a live wood edge you first need to start with the slab cut to the size you desire. Using a clear epoxy is typical to fill in the holes and cracks of the wood, while keeping the uniqueness to the wood piece.
Make sure to clean any dirt or debris from the wood before you start finishing the wood, otherwise it can mix with the epoxy and look like it is floating.
Start with filling in the wholes or any indented areas and cracks, these areas should be done first as they require more epoxy and then you can continue with a nice flat surface.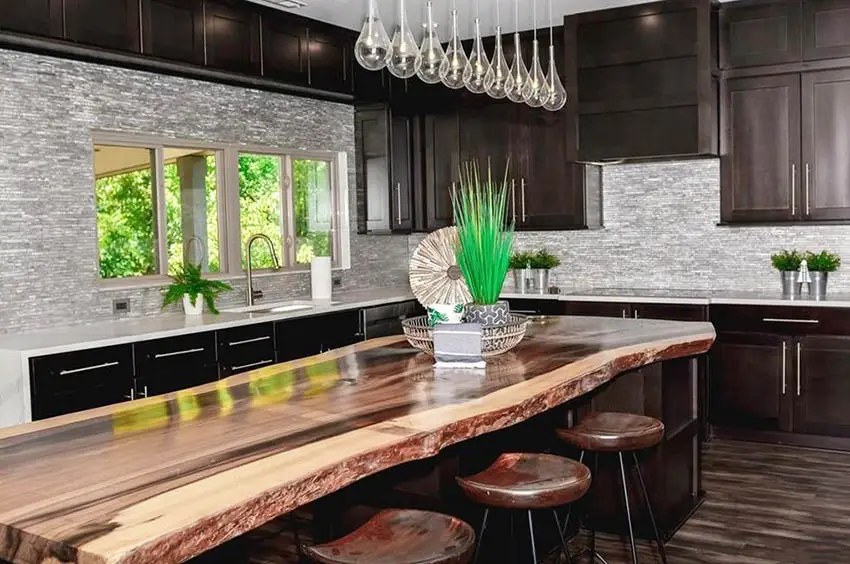 Kitchen with rainbow poplar wood countertop.
Once that dries and becomes a hard surface, sand it down so it is even with the rest of the wood surface. Over that entire surface you should apply a polyurethane, lacquer or a shellac to the wood to get the final desired finish.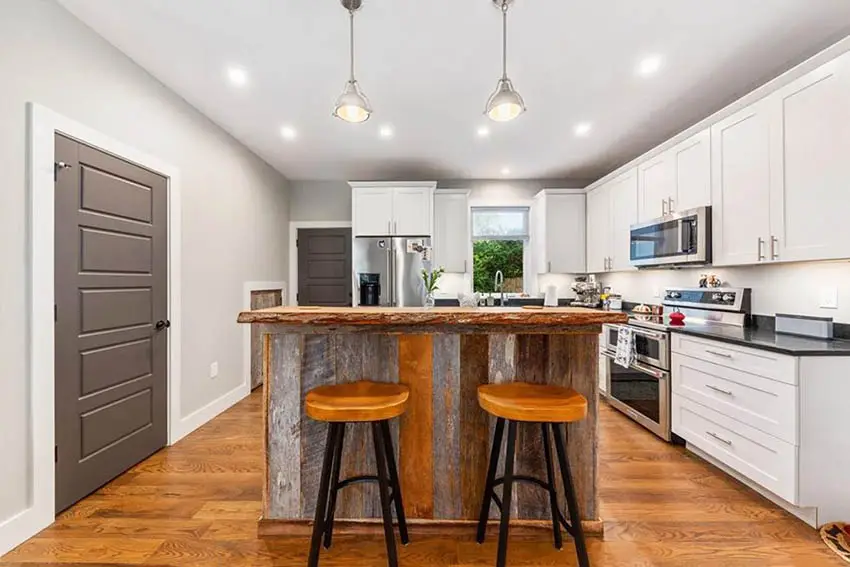 This design features a kitchen with a reclaimed wood island with a live edge countertop.
How much does a live edge countertop cost?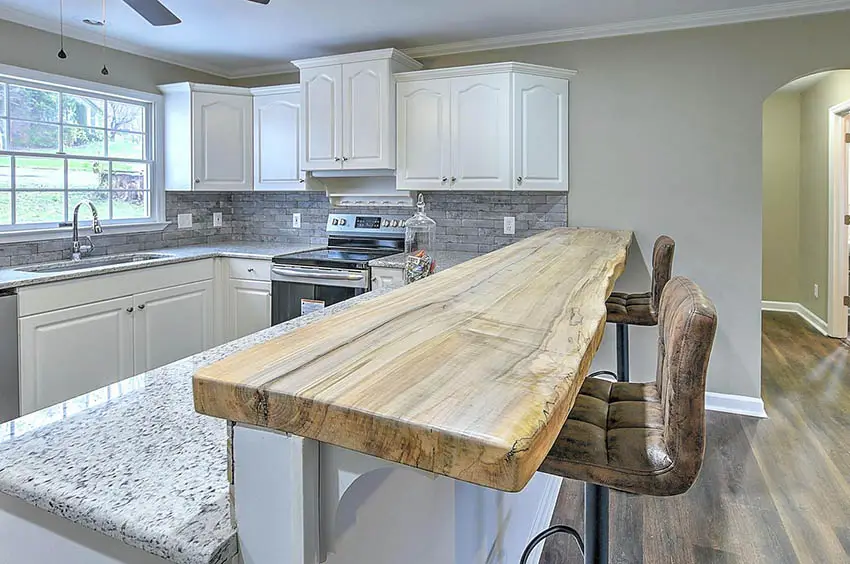 A live edge wood countertop varies in price from size, shape, wood type, etc. A general estimate though is roughly $20 per board foot. An average sized slab can be about 30 board feet, which can be up to $600 for just a single wood slab.
This is important to take into account when designing a pace with multiple slabs, as maybe you will only choose certain ones to have a live edge. Or maybe you want the entire thing the same type!
One board foot is measured as 1 square foot by 1 inch thick. This is difficult when the lengths and widths are a little skewed with the organic shapes of live wood edges.
As a general estimate (which can vary by store and seller) you can assume the price will be measured by the length(in feet) times width (in feet) times thickness (in inches) this number will be the board feet, and times that number by however much the pieces costs per board foot.
Why is live edge wood so expensive?
Live wood edges are on the higher side of the price lists, as is described above. This price has been driven up by a few factors.
First, as described through this whole process, live wood edges are extremely unique, they take the natural elements and preserve them so they can be displaced in our homes as furniture and casework.
This requires attention to detail and human touch. Manufactured materials can spit out a ton of material in short spans of time, but to get the qualities that are desired in the live wood edge, you have to take your time and make sure it is right.
That sort of work requires extra labor which jacks up prices. That being said it is sure worth it in the long run.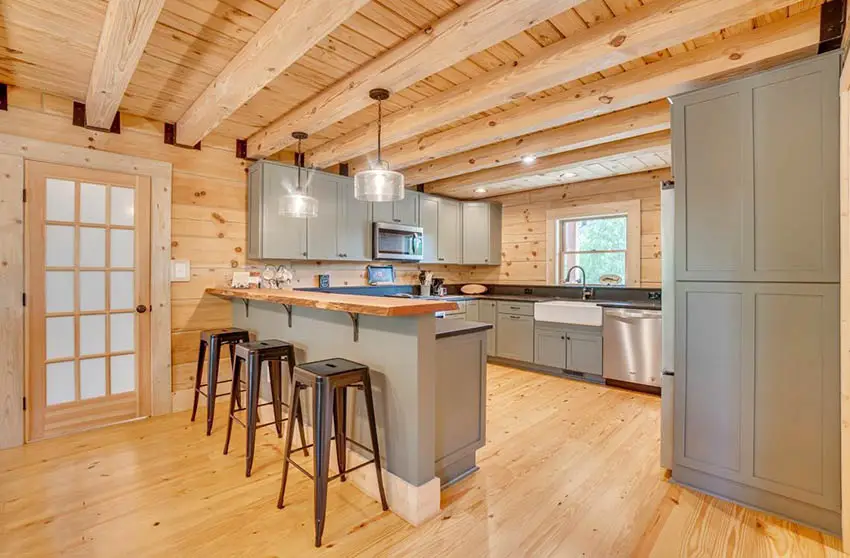 Second, live wood edges are in high demand! In the logic of supply and demand, when the demand is high and the supply is low, the price will go up.
This is because people will pay for it, or wait for it, so companies are not sitting on too much product at a time, if anything they are struggling to keep up with product orders.
Should I remove bark from live edge?
Yes! Remove the bark from the live edge wood. Leaving the bark on tends to cause more problems than it is worth. Bark falls off, and while it looks cool and natural, the edge underneath is much easier to work with, and is still beautiful.
With live edge wood countertops that have the bark removed one can appreciate the organic look of its natural wood grain. – interior designer Savannah.
If you really want to keep the bark attached to the wood countertops, there are ways to make that happen as well. There are glues to keep it in place, as well as sealers that can be used.