Here's our design guide for kitchen floors with white cabinets including tile colors and wood floor ideas that match with white cabinets.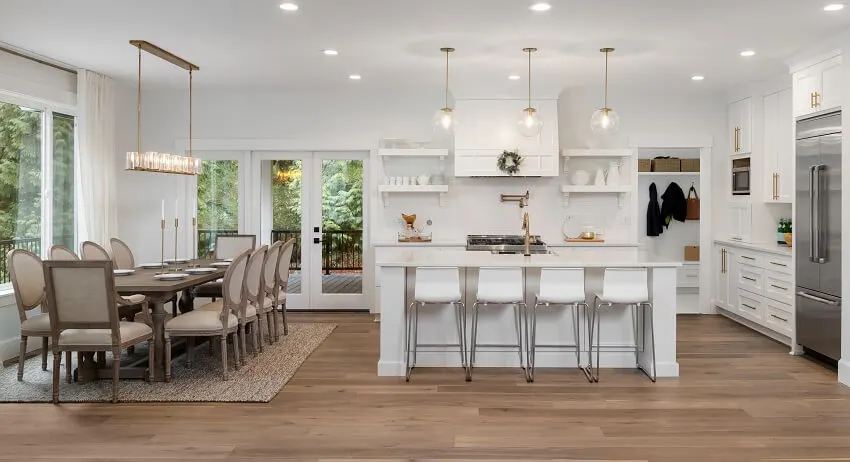 White is an attractive color known for its timeless beauty and elegance, making it a favorite of homeowners and designers. The color is versatile in that it can easily be used in different styles, from traditional and rustic to modern and contemporary styles. When used in the kitchen, white cabinetry looks clean and pristine, perfect for what this home's area is all about.
A kitchen with white cabinets offers a light and spacious feel, primarily because the color brings this illusion that a room is airier than it really is. And while some may consider white as boring and plain, it is actually an excellent canvass for other colors and patterns.
White cabinets open up many possibilities for designs and colors you can apply to your kitchen floor. But with a wide array of colors and patterns to choose from, which ones are the best options to consider?
What Color Floor With White Cabinets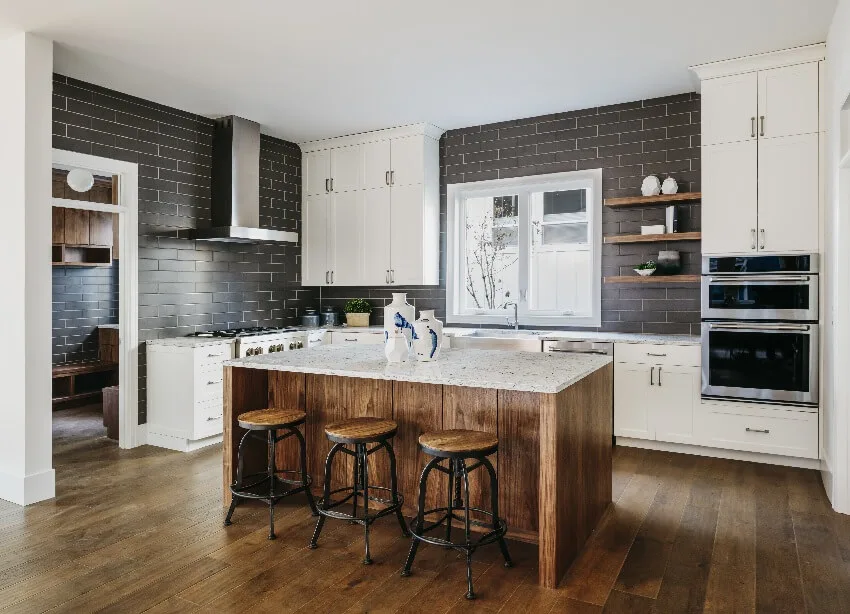 So you've got the white cabinets you've always wanted for your kitchen, what colors can you use for your flooring that provides a sense of space and and allows for easy interaction between appliances and the kitchen island.

In general, white kitchen cabinets come with the flexibility to choose colors and patterns that you want. Some colors are more preferred than others and are considered ideal matches to the color white.

White Flooring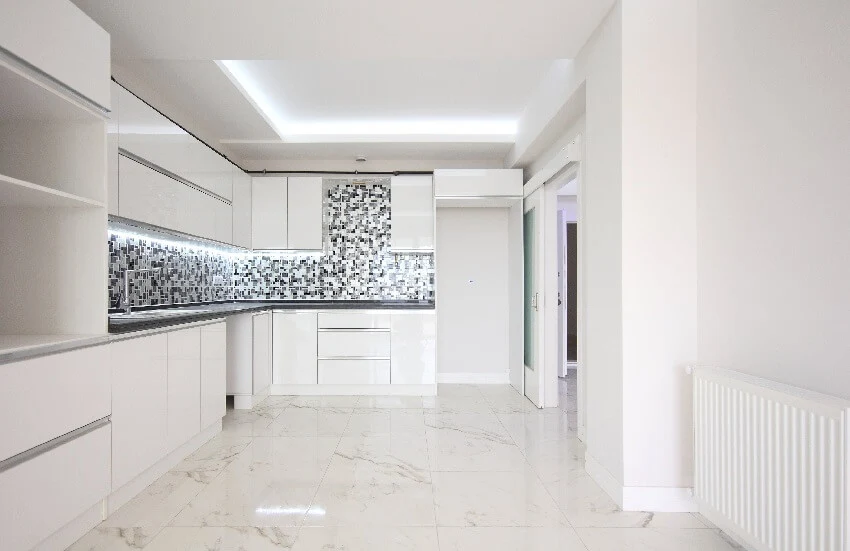 You can go monochromatic with your kitchen and have white cabinets as well as white tile flooring. Having a pristine white cabinetry is something that many is sought after and white tiled flooring can look and feel rustic.
But make sure to be careful about this choice though since this minimalistic style can turn too white and bland. What you can do instead is to add a lot of texture and accent in the mix.
Here are some types of white kitchen flooring materials:
| | |
| --- | --- |
| Porcelain or ceramic tile flooring | Marble |
| Vinyl flooring | Hardwood flooring |
| Laminate | Stained concrete flooring |
| White epoxy finish | White cork |
| Linoleum | Limestone & travertine tile |
Brown Flooring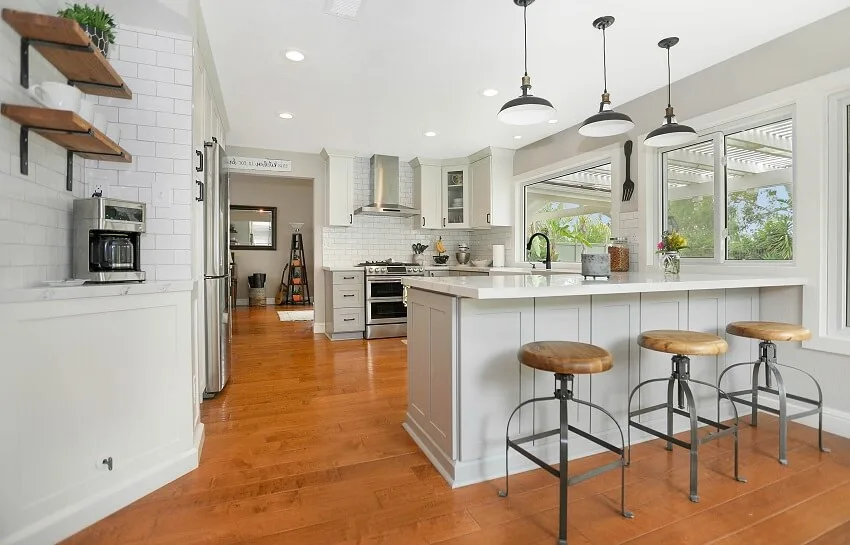 Brown is a neutral color that can look great with your white cabinets. The color adds a subtle warmth to the room and contrasts with your white cabinet without the color being too bold and dramatic.
Shades of brown offer a welcoming and down-to-earth feel to the kitchen that will make you want to stay for a long time. For more ideas see our kitchen wall colors with white cabinets gallery.

Here are some types of brown kitchen flooring materials:
| | |
| --- | --- |
| Porcelain or ceramic tile flooring | Granite, sandstone & travertine tile |
| Vinyl flooring | Hardwood flooring |
| Laminate | Stained concrete flooring |
| Terracotta or Saltillo tile | Brown cork |
Gray Flooring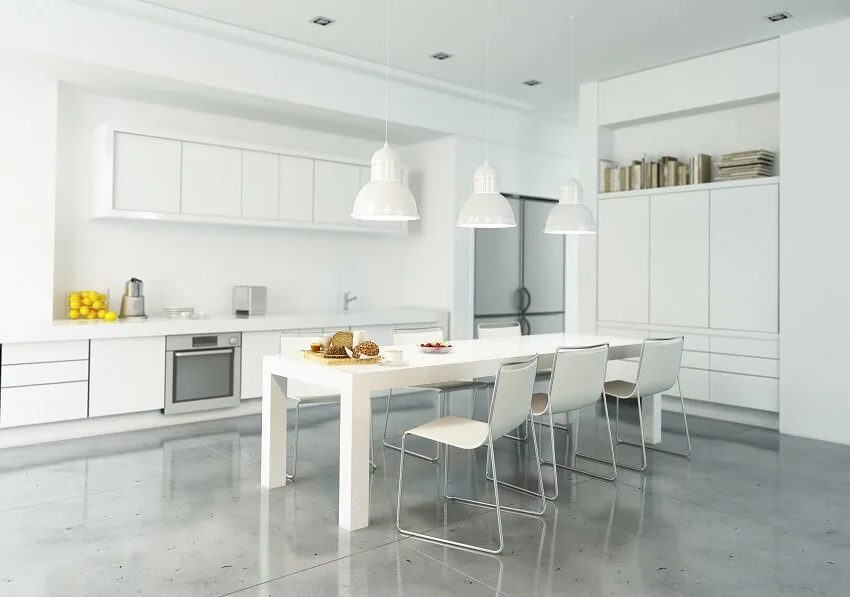 Gray is a cool color described as a calm neutral that is highly flexible, especially since you can adjust how light or dark the color goes, depending on your preference.
Light gray can make the room seem more spacious while dark gray offers an ambiance of elegance and luxury. You can implement gray flooring through wood, tile, slate and concrete materials.

Here are some types of gray kitchen flooring materials:
| | |
| --- | --- |
| Porcelain or ceramic tile flooring | Slate, limestone or travertine tile |
| Vinyl flooring | Hardwood flooring |
| Laminate | Stained concrete flooring |
| Epoxy | Gray cork |
Black Flooring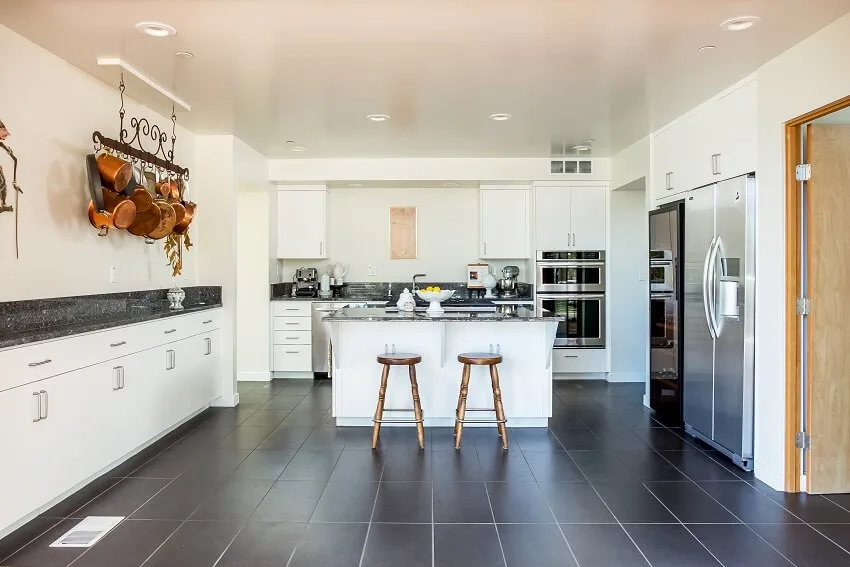 Finally, black adds drama to the kitchen if you pair it with your white cabinets. This bold color looks great with white and makes hiding dirt an easy task. You can also choose patterns and ambiance learning towards the classic or contemporary style.
Here are some types of black kitchen flooring materials:
| | |
| --- | --- |
| Laminate flooring | Slate tile |
| Vinyl flooring | Hardwood flooring |
| Porcelain tile | Stained concrete flooring |
What Color Tile Floor With White Cabinets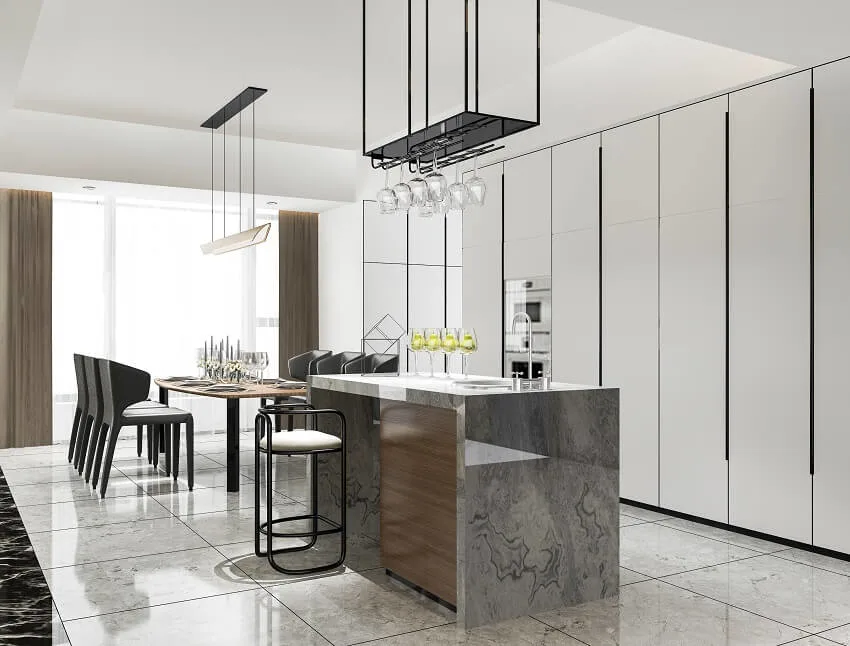 Tile flooring is a common sight in a home's kitchen and this choice can be considered classic. White tile flooring and white cabinets are a classic combination for the kitchen, offering a clean look.
You can always go with other neutral colors and add warmth to a cold white room. Or you can go for bold colors for the drama if you want something popping in your kitchen.
Black Tile

Let's go dramatic and go for the bold black color for your tile flooring. Black tile flooring and white cabinets look stunning together, bringing the best out of each color.
This classic color combination is very flexible that you can transform your kitchen to have a vintage look or a retro look, complete with a matching shaker-style oven and stove.
Check out these combinations you can try out and envision the tones of your appliances, sink, microwave, dishwasher, and refrigerator to match.
• White cabinets, black tile flooring, white countertops, black countertops, stainless steel faucet, and sink
• Black tile flooring, white cabinets, red backsplash, and bubblegum blue accent
• Black and white checkered flooring, white cabinets, and black countertops
See some examples of white kitchen cabinets with dark countertops on this gallery page.
Beige Tile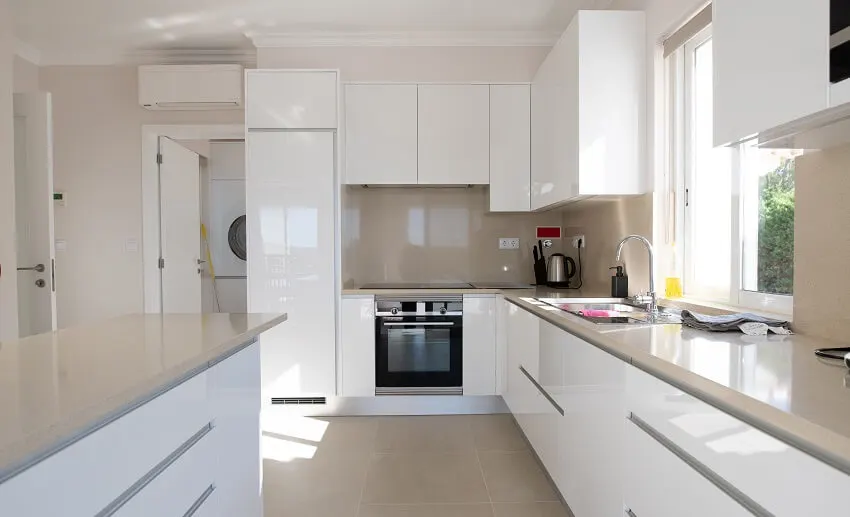 Beige is a soft neutral color that adds warmth to the kitchen, giving off a welcoming and cozy ambiance. This beige tile flooring balances out the cold feeling that comes from clean white cabinets and adds an interesting texture to the mix.
A sand beige color offers a soft and inviting look. On to a darker hue, tan beige offers a rustic accent that creates a more impactful style.
Tile Patterns
Tile flooring is popular for its patterns, especially a classic marbling look. The marble look easily matches with white cabinets, whatever color it may have especially since white always acts like a blank canvas.
You can choose the color you want to coordinate with your white cabinets, depending on the style you're going for. This setting works well with stainless steel appliances like a refrigerator, dishwasher, and oven.
There is a variety of patterns you can use, from checkered to bricks. The tile patterns will make everything more interesting and exciting to look at in your kitchen.
What Color Wood Floor With White Cabinets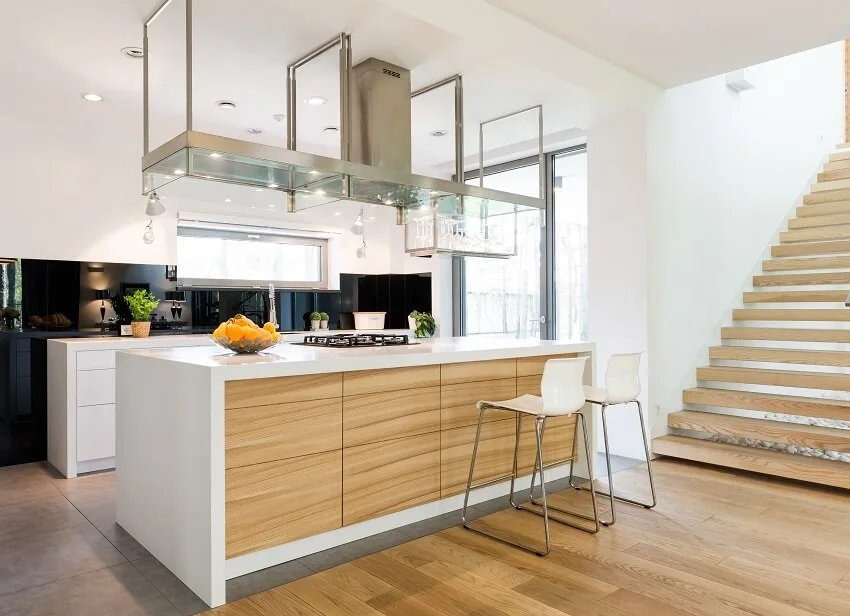 Wood flooring is another option you can have for your kitchen to match with the white cabinets. It is another sought-after material that homeowners are looking for in a property. This flooring type offers many benefits, from its aesthetics to the additional value it gives to the room.
Real hardwood flooring offers a solid look and when paired with white cabinets, showcases an elegant feel you won't find in ceramic tiles or concrete flooring. Hardwood flooring has this wood grain that provides a natural feel to it. And there are also different shades to choose from.
Light Wood
Light hardwood flooring shares this bright look when coordinated with white cabinets. This airy look can be used in a modern style kitchen and you can add light wood countertops to the mix, rounding up the entire look.
Light hardwood flooring is a good option for coastal homes and beach houses, delivering a relaxing and brighter interior design. Some of the light hardwood flooring to consider are beech, maple, ash, golden oak, and pine.
Dark Wood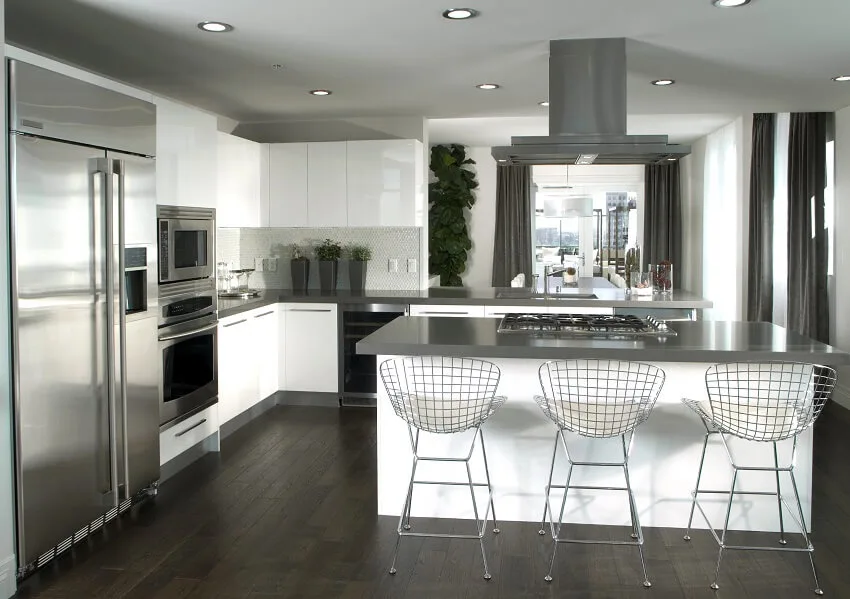 Dark hardwood flooring is an attractive addition to your kitchen design, especially when paired with white cabinets with colors contrasting each other.
This flooring type offers a formal and elegant vibe to the space, showcasing comfort and richness to the white cabinet's cutting coldness. Check out the most popular types of flooring materials here.
Dark hardwood flooring can range from espresso brown to almost black, making a bold addition and character to the kitchen. Some dark hardwood options you have are dark walnut and oak.
Visit our kitchen countertop ideas with white cabinets for more related content.