Here's our guide about cultured marble kitchen countertops including cost, benefits and how it compares vs real marble.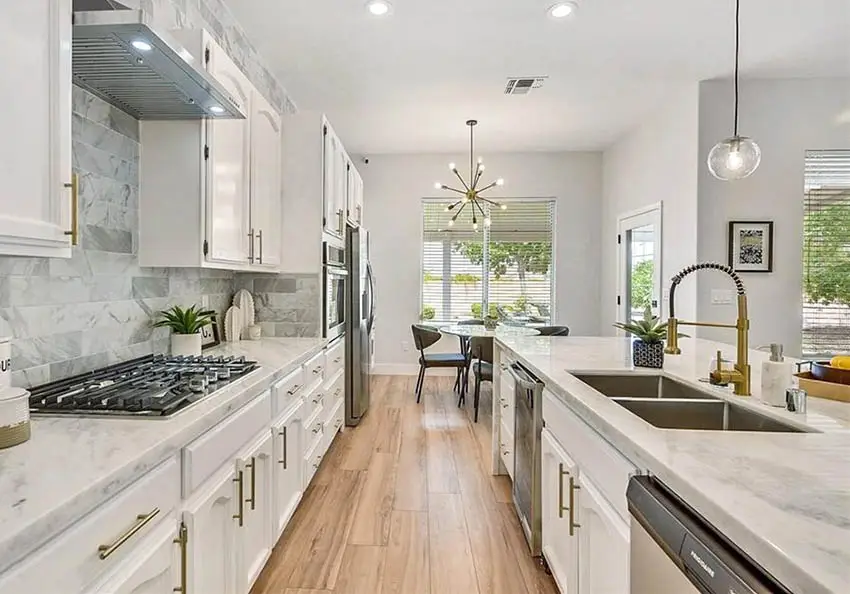 When you're looking to renovate your kitchen with new kitchen countertops, you have plenty of options to choose from. There are plenty of different materials you have to choose from and all of them have their own advantages and disadvantages. If you haven't considered it yet, though, you might just want to add cultured marble to your list of potential materials for your new kitchen countertops.
What is Cultured Marble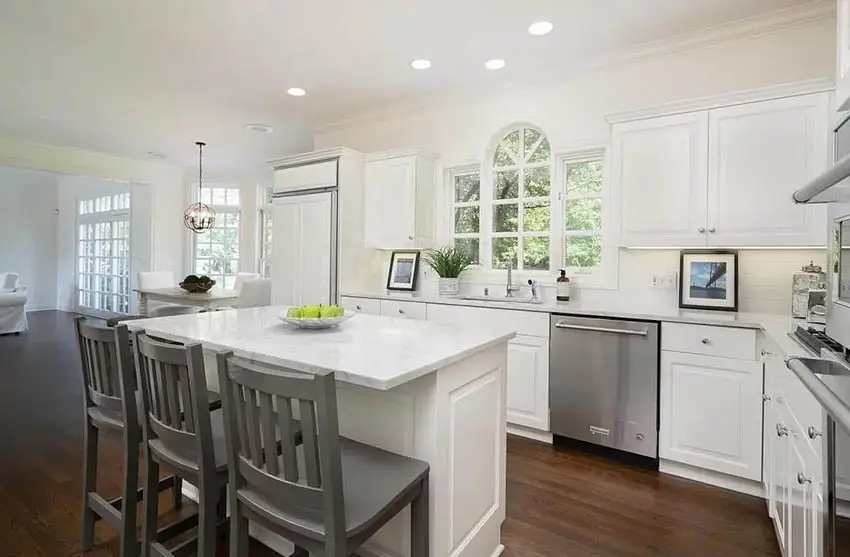 Cultured marble isn't actually the same as standard marble. Instead, it's considered a type of faux marble. However, it isn't a completely different material from what is widely considered a genuine marble countertop. In fact, a cultured marble countertop is made up of about 75% genuine marble mixed with engineered stone to give it a variety of benefits that pure marble doesn't have such as being less porous and thus easier to clean and maintain.
Cultured marble is also a beautiful choice for any home, partially thanks to its versatility. They are highly valued for a number of reasons and one of the biggest reasons is that they bring the beauty of marble. Yet, since they're man-made, you have plenty of room to explore with colors and designs. This gives you the chance to create a kitchen that's all your own and completely unique. It can also be shaped in any way that you might like, so whether you prefer counters with standard corners or circular countertops, you have plenty of choices that would work well for you.
Cultured Marble Kitchen Countertops Durability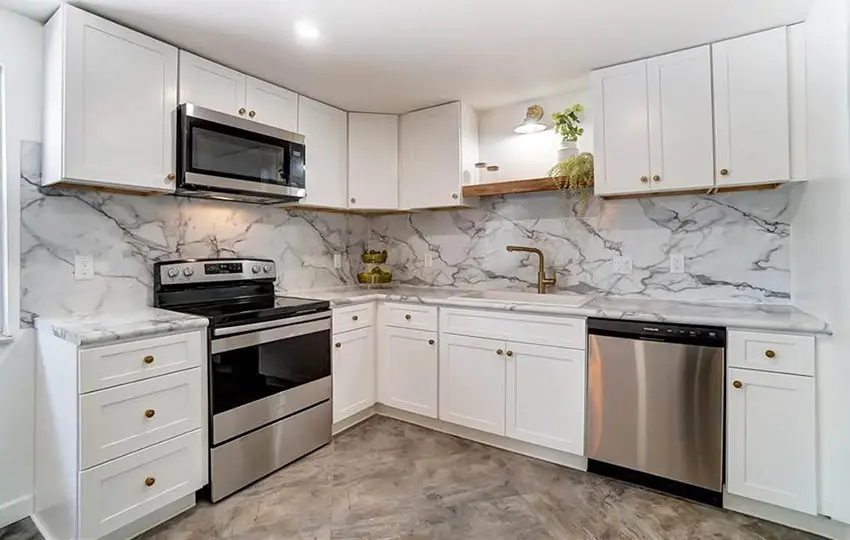 There are a lot of benefits to cultured marble countertops but when it comes to kitchen countertops, durability is especially important. After all, your kitchen is a high-traffic area that deals with spills, hot pans, and various other risks.
All in all, cultured marble is a fairly durable choice but there are a few risks that you need to be aware of. For instance, the biggest risk of using cultured marble countertops is to beware of cracks and scratches. You'll also want to avoid extremely high temperatures, but this can be avoided by using items like heating racks to prevent hot pans from directly touching the countertop.
The good news is that, even if your cultured marble countertop does encounter damage, it isn't impossible or even obscenely difficult to fix the countertop before refinishing it. So, if you were to chip or scratch your countertop, it wouldn't be the end of the world.
Even better, you don't have to worry about sealing cultured marble, you don't have to worry about resealing it to enhance the durability or keep the durability at the same level year after year. This is because the surface of a cultured marble countertop is non-porous. This also means that cultured marble isn't likely to absorb spills easily either, so you don't have to worry about a kitchen mishap causing a permanent tint or stain on your countertop that can't be repaired.
Of course, the durability of cultured marble countertops only remains a part of their appeal, as we discussed earlier. However, when it comes to a kitchen countertop, one of the main features to consider is how the material will stand up to constant use and frequent abuse, just in case. The good news is that you can rely on your new cultured marble kitchen countertop to hold up over time, even if you have a few mishaps in the kitchen. It's nothing the material won't be able to handle.
Cultured Marble Kitchen Countertops Cost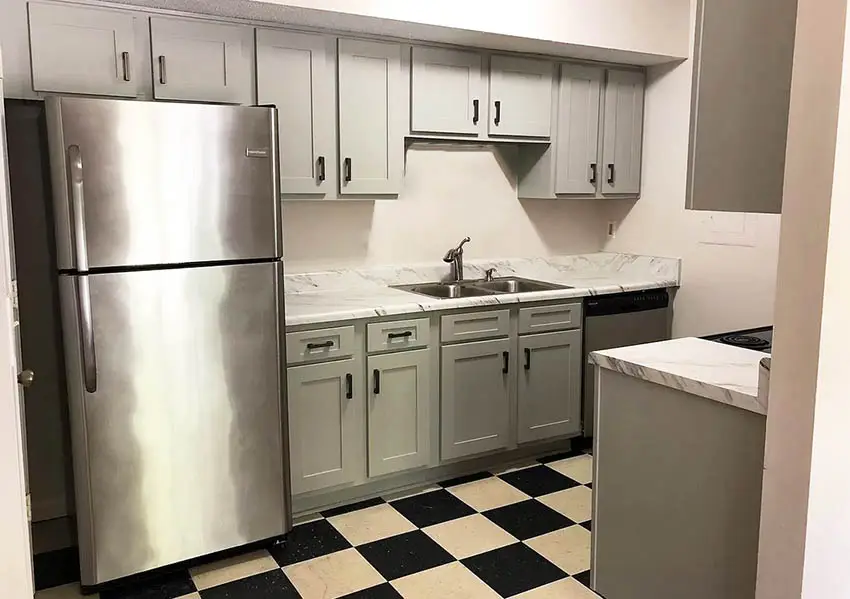 When it comes to cost, general marble countertops are considered on the more expensive side. The average cost sits at about $60 but the average price per square foot of marble countertop can range anywhere from $40 to $100 per square foot. This depends on the type of marble you choose and the grade, this price can change.
The average range for cultured marble countertops is similar. In all, there's a wide range that can be as inexpensive as $40 per square foot or as much as $140 per square foot. However, a large part of this cost has to do with how thick the slab is. If you want to use a thick slab of cultured marble for your countertop, you're going to have to pay more money per square foot because there's more material in each square foot.
The estimated average for a standard cultured marble kitchen countertop is about $65 per square foot of material.
It's important to remember that this is only the cost of cultured marble kitchen countertop materials alone. This cost estimate doesn't include costs such as service fees for installation, shipping, or transportation. You'll likely need to pay extra for these services and, as for installation and labor costs, the fee is typically charged hourly. As such, the price range for this service will vary depending on the difficulty of the job and how long it takes to complete.
Luckily, you can save money on your marble countertops if you take on the installation as a DIY project. If you do this, though, make sure to carefully commit to your research beforehand to ensure you have a countertop that still looks professionally installed, even if you do all the handiwork yourself.
In addition, make sure you don't skip any steps. The last thing you want is to cut corners and end up with a project that looks less than stellar. If you're taking on a DIY project to save money, you want to do your best. Visit this page for more about the cost of natural marble countertops.
Cultured Marble Vs Natural Marble
The main difference between cultured marble and natural marble is what it's made of. Cultured marble is constructed of a composition of crushed marble and polyester resins which is then coated with a gel layer. This gel layer provides it with a glossy finish.
Since cultured marble is nonporous it doesn't require as much maintenance as real natural marble. This means there's no need for sealing and it can be cleaned with regular non-abrasive cleaning products.
Natural marble on the other hand is a premium stone countertop that has a much higher price tag. It provides dramatic colors and veining patterns that you won't get in cultured marble to the same degree.
Since natural marble is a porous stone it will require great care to ensure its long lasting beauty. This means you will need to clean up any spill right away as well as periodically applying a sealer to help prevent staining. Sealing should be preformed every 6 months to 1 year depending on the amount of wear and tear your kitchen receives from use. Special marble cleaning products will need to be used to avoid damaging the stone. Read more about the pros and cons of natural marble countertops here.
Cultured Marble Final Thoughts
Cultured marble kitchen countertops hold a lot of benefits for homeowners. They can be an attractive, low maintenance and fairly versatile alternative to natural marble. They're also a great choice in your kitchen because they're durable, long-lasting, and cost-efficient. You can even take on the installation of your cultured marble kitchen countertops yourself which gives you the chance to save money on the installation since, if you're handy, you won't need to hire a professional for the job.
All in all, there's a lot that cultured marble kitchen countertops have to offer you and they're well-worth your consideration!
For more related designs take a look at our gallery of white marble kitchens.