Here we share staging a dining room design tips for tables, furniture and decor.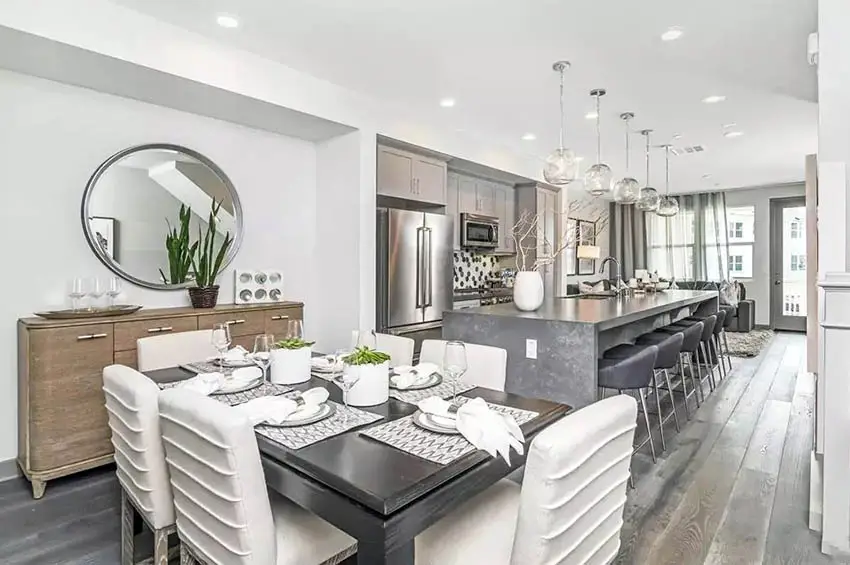 Staging a dining room is an important part of making your house look beautiful, inviting, and enticing for sale.
However, if you've never staged a dining room before, it can seem like a fairly intimidating task. It doesn't have to be, though! With these tips, you'll have a gorgeously staged dining room in no time.
Staging a Dining Room Table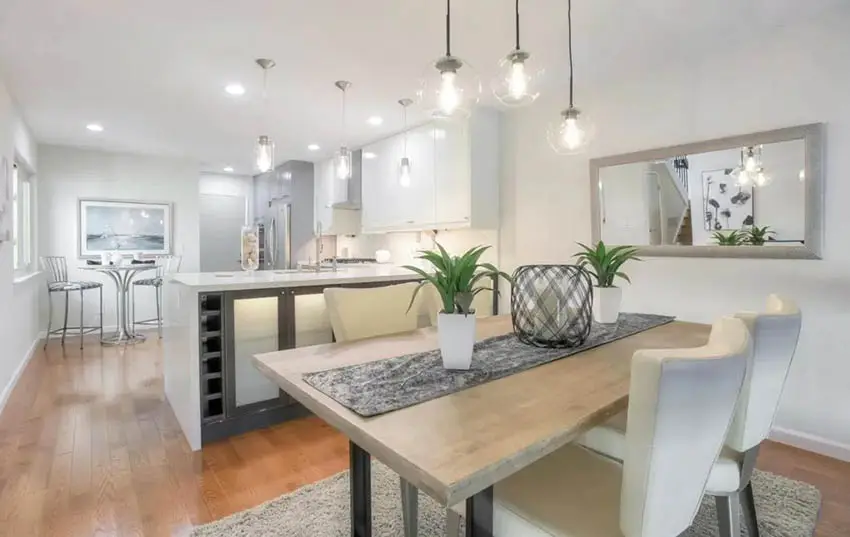 The staging in a home is surprisingly important in drawing potential buyers towards a sale. When a potential buyer sees furniture in a room, they see how they could use that space when they own it themselves.
A well-staged room is far more successful from a real estate standpoint rather than an empty or poorly-staged room.
Avoid overstaging – Adding too much to the table can distract from the room and even potential evoke negative emotions from the potential buyer.
Avoid overcrowding – Unless you have a really large dining room, you may want to consider staging your dining room table with only four chairs. By removing extra chairs you can promote better traffic flow and help prevent the space from feeling too crowded.
Remove all unnecessary items – You'll want to remove anything from the room that does not belong. This means removing family portraits, extra unrelated furniture, toys or anything that will not look great in real estate staging photos viewed online.
Potential buyers want to visualize themselves in the space so remove anything that gets in the way of painting the perfect picture.
Give the space a deep clean – Grab your cleaning supplies and give the room a thorough cleaning including removing dust from light fixtures, baseboards and molding. Make sure the dining room flooring is free from dirt, scuffs or marks that may give the buyer hesitation.
Paint the room a neutral color – While you may love a vibrant color in your dining room, painting the space in a more neutral color will appeal to the widest amount of people.
By painting your dining room in beige, greige or white shades it will have a better chance of selling the home. For formal dining rooms you can often go a little more dramatic with color.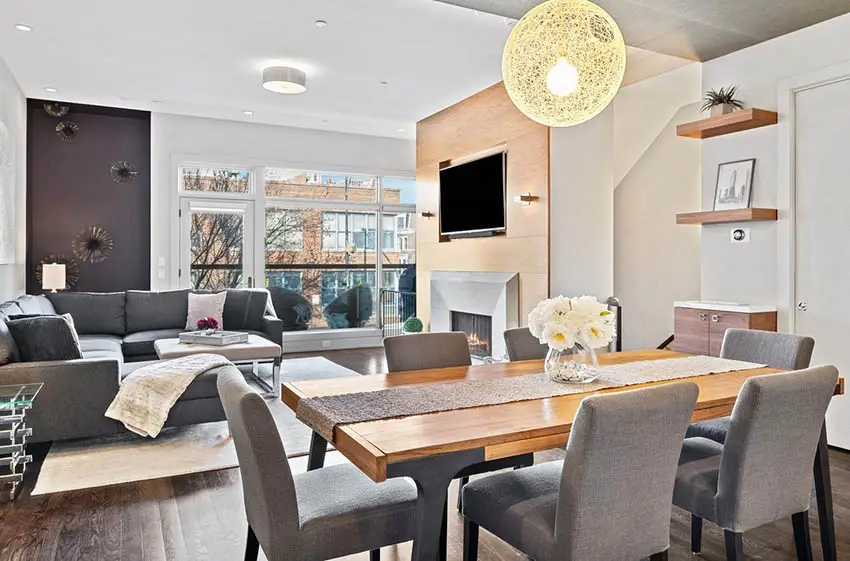 Hide imperfections – If your dining room table is damaged at all, you may not have to completely replace it just for the purpose of staging. A neutral-tone table cloth is a great way to cover imperfections without breaking your budget.
Update lighting fixtures – A light fixture is one of the first things one sees when they enter the dining room. If your dining room light fixture is old or outdated consider replacing it with a new one that will appeal to buyers and reflects the overall style of the home.
Bring in light – No one wants to picture themselves in a dark and gloomy room. You can promote natural light by adding a large mirror opposite a window.
If the center light fixture doesn't provide enough light consider adding matching lamps on either side with a mirror can help illuminate the space.
Keep it natural – Another important concept is to not make the dining room table look too artificial or contrived. While you are staging it ahead of time, it shouldn't look unnatural.
For instance, setting out place-mats and plates is a good idea but if you lay out a full meal, it's going to look odd to people coming to view the house.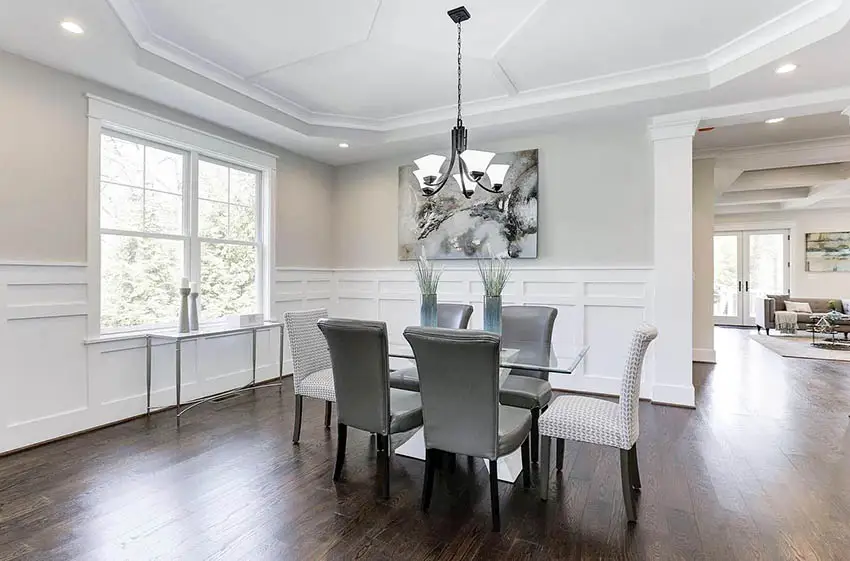 Use an attractive centerpiece – Dining room centerpieces are popular for good reason. They tend to tie a table together but an oversized table arrangement will make the room look smaller.
The best choice is to opt for simple flower arrangements. However, you'll want to work hard to make sure that the flowers stay fresh. Wilting or dying flowers will perform poorly.
Stage the room for the target market – Setting up place settings with place-mats, silverware and tablecloths on the dining room table can be a great choice for larger dining room area in a home designed for entertaining.
It is a sign of more professional staging. However, for more modest homes adding all of the settings could be a distraction.
Use a round table for small or unusual spaces -If you have a small or awkward shaped dining room layout, or have a kitchen/dining combination, adding a round table may look better. Take a look here for more tips on staging a kitchen table.
Dining Room Furniture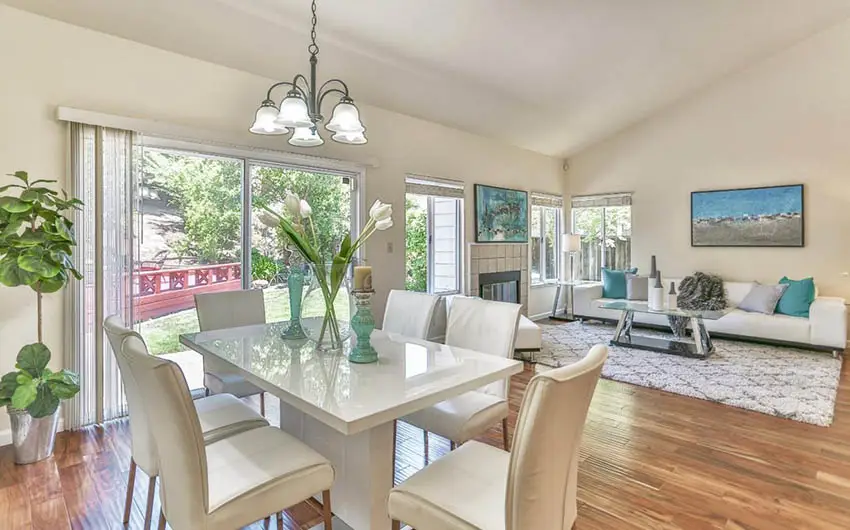 You don't want to show off too much of your own personal style when you're choosing dining room furniture. Instead, opt for neutral tones and don't get too ornate. A simple dining room table and chairs will get you further than ostentatious options.
If you find that your dining room table looks slightly out of place, consider trying an alternative table shape. Round tables often look less obtrusive in a smaller space than a rectangular table.
Small dining room tables are well-suited in the center of the room whereas larger and longer tables may look better at one end of the room. However, it's also a good idea to put another piece of large but fitting furniture on the other side of the room to balance out the weight of the room.
As for the staging of dining room chairs, the first thing to consider is how many chairs you should place around the table. For the average dining room table, four chairs is the best choice unless you're dining room table is uniquely long.
The last thing you want is to overcrowd the space and make it look much smaller which is something potential buyers won't want in their new home.
It's also a great idea to place the dining room table directly under a light fixture. After all, this is a place where people gather for meals and conversation, so it should be well-lit. If you have a chandelier light fixture, this is often a classy and effective placement.
Dining Room Decor & Accessories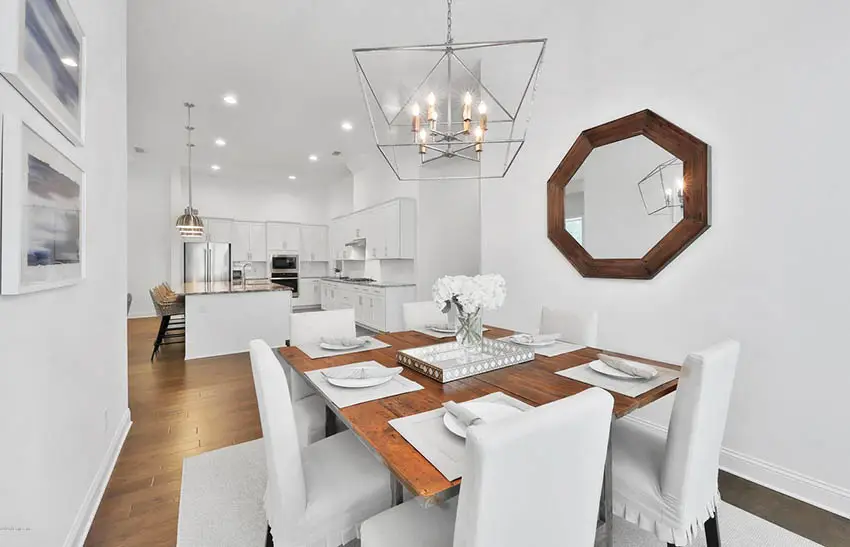 A rug will also make the room look warmer and more inviting. The best placement for a rug in the dining room is under the table, with the table centered on the rug. Choosing a rug that's large enough to house the dining room table and chairs will also go a long way.
There are certain accessories that are common in dining rooms that you should avoid at all costs. For instance, doilies will instantly date your decor and using too many small decor items and knick-knacks are bound to make the room look cluttered and small.
Simple decor schemes will go much further in creating a beautifully staged dining room. As an example, a single oil painting will look better than smaller decor pieces.
You should also avoid decor that is personal such as family photos. The idea is that the people touring your home can picture themselves living there. You shouldn't be showcasing your own lifestyle.
By following these tips, you can create a beautifully staged dining room that will add value to your home. Above all, remember that you want to make sure your dining room looks full of potential for new homeowners so they can see themselves in the space.