Here we share types of dining room flooring to help you choose the best one for your interior design.

The dining room is a place of gathering, a place where a family or groups get together to eat and celebrate. This is often a room that will be used every day, if not multiple times, for a variety of activities. The type of flooring you choose for your dining room can have a big impact on the overall feel of the space.
Its important to consider whether this space will be used as a formal or informal dining room. In addition are you going for low maintenance, do you have price constraints and do you want to go for a particular style.
Important things to think about will be the floors durability and clean ability. Things are likely to be spilled on the flooring of choice, and chairs will be pushed in and out as people come and go no matter the use.
When it comes to any project, personal preference, budget and aesthetics are huge contributing factors in the decision making process. Below are a few options for dining room flooring.
Hardwood Flooring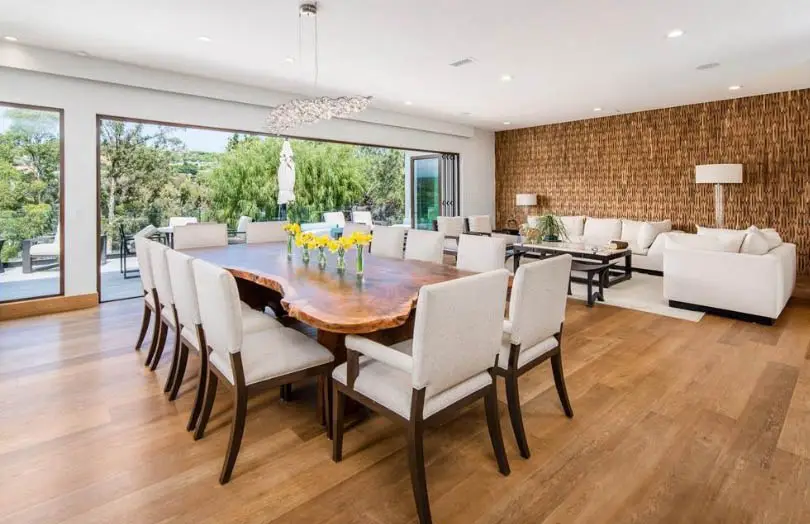 Hardwood flooring is as it sounds, pieces of wood used as flooring. There are two main types used and these are solid hardwood flooring and engineered hardwood flooring. Solid hardwood is made up of a single solid piece of wood per plank.
Engineered hardwood is constructed with multiple layers of wood and plywood.
Pros: Harwood flooring is a prime choice for dining rooms. Hardwood flooring offers a wide variety of aesthetic looks with all the different wood species available. Not only that, but most wood flooring can also be stained, either before a first install or in the future when looking for a change.
Cons: Though installing hardwood flooring adds tremendous value to the home, but unfortunately will also cost you up front (especially if choosing solid over engineered hardwood flooring). Another downside to using hardwood flooring is that it does not hold up well in high humidity or outdoor elements, as it will expand and contract. Read more about hardwood floors in the kitchen here.
Tile Flooring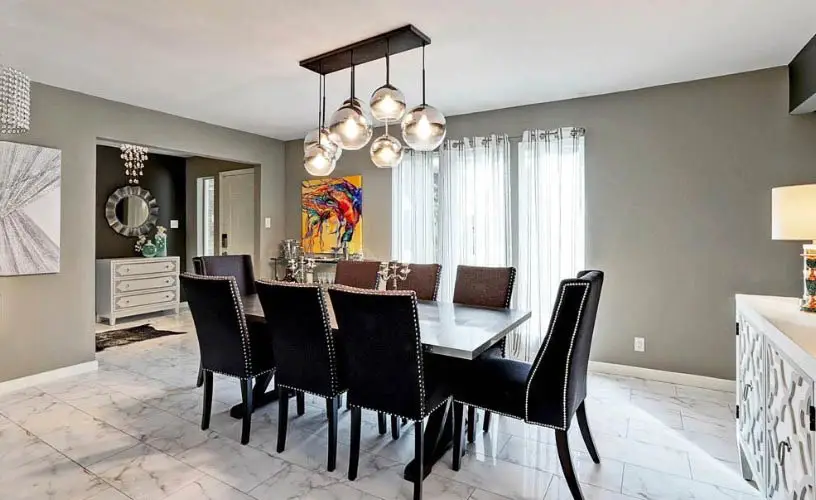 Tile flooring can be a variety of different types but are most typically porcelain or ceramic tiles.
Ceramic tile is made from sand and clays, into the tile shape, which are then typically glazed.
Porcelain uses denser clay than the previously mentioned ceramic tiles. Porcelain has a lower absorption rate; porcelain tiles are also typically glazed.
Pros: Tile flooring has a lot of different colors and textures to choose from. When sealed properly tile flooring has great durability.
Tile flooring is often used in kitchens, so in homes with connecting dining rooms/kitchens carrying the flooring throughout is a great way to bring the spaces together. Tile flooring also has easy upkeep and is extremely durable.
Cons: Tile flooring is not usually recommended in cold temperatures due to the flooring often reflecting the temperature around it. For example, if the sun is beating on the tile, it is extremely hot to the touch. In a cold climate the flooring is often cold to walk on.
Tiles are also a heavy material, which will limit the locations that it will be able to be placed. Dining rooms are typically on the ground floor, so should not be a problem.
Luxury Vinyl Flooring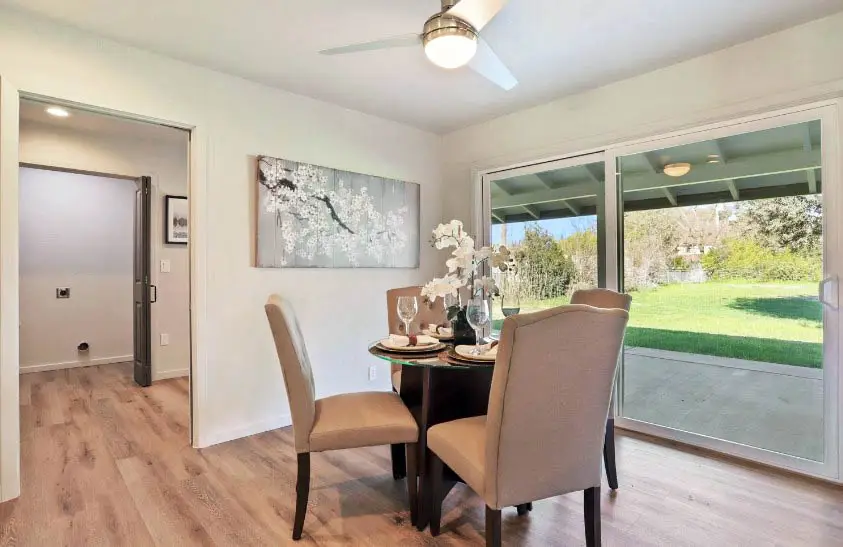 Luxury Vinyl Flooring may also be known as Luxury Vinyl Tile (LVT) or Luxury Vinyl Plank (LVP) depending on the size and shape of the pieces used. This type of flooring is made up of multiple layers of vinyl, the more layers the higher the 'wear layer' and usually the more durable the product is.
These are measured by millimeters, which is why luxury vinyl is commonly labeled as "12 Mil" or "20 Mil" wear layer. These are the most common thicknesses, 12 for high resistance residential and 20 for commercial applications.
Pros: One of the greatest things about luxury vinyl flooring is the fact that is water resistant. While in dining rooms you may not expect much water, but spills are always just a bump of the elbow away. In addition to water resistant the resilience of luxury vinyl is impeccable. This flooring can stand up to the everyday use of a dining room.
Since luxury vinyl is has a printed finish that is visible, there is really no limit to the colors and designs to pick from. On top of that, there is a relatively easy upkeep and cleaning for the flooring.
Cons: While luxury vinyl flooring is reasonably priced, it really does not add much value to a home. The install itself is not particularly easy to do by yourself, unless you get the interlocking pieces.
Laminate Flooring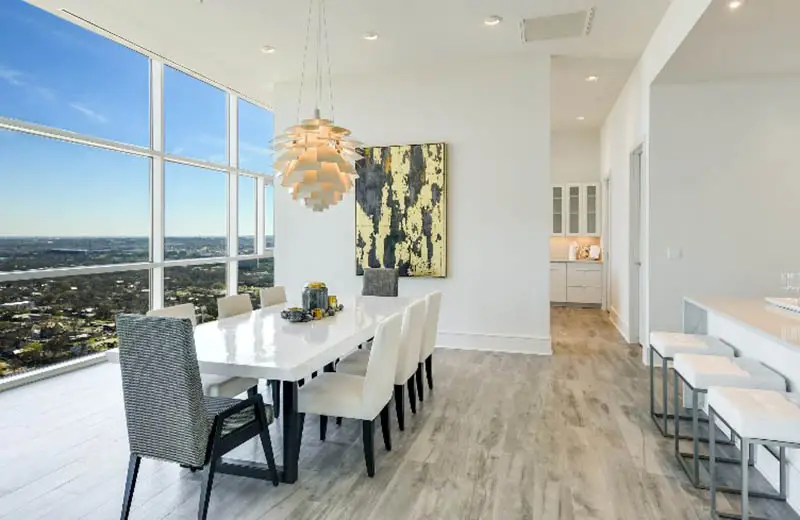 Laminate Flooring is similar to vinyl flooring in its appearance and how it is installed but there are some key differences. While LVT/LVP is made of vinyl, laminate flooring is made with a hard plastic laminate where the top layer is the desired pattern printed, and the core is a rigid fiberboard. Laminate flooring is the happy medium between vinyl flooring and wood flooring. For more information about laminate vs hardwood flooring take a look here.
Pros: Laminate flooring is a lower budget option to wood flooring, while being quick and easy to install. Wood flooring does have the best quality but the durability of laminate flooring will be a good competitor. Laminate will resist fading and is typically easy to clean.
Cons: Cheaper grades of laminate flooring (lower wear layers) need to be replaced more frequently, and cannot be refinished like wood flooring can. Laminate will be louder than vinyl and will warp or stain unlike vinyl.
Carpeting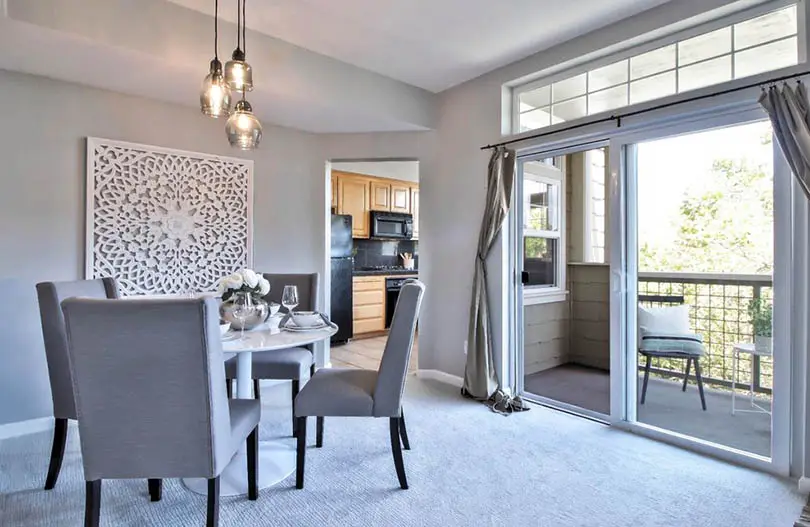 There are wide assortment of carpets to choose from depending on your room's style and your own personal taste. Broadloom carpet is most often used in the dining room setting, if carpet is used at all. This carpeting will be in on giant piece, so will be installed wall to wall.
The other commonly used type of carpet is modular carpet, otherwise known as carpet tiles. These are used more in commercial applications. From there picking the style is more of a style decision. Some styles include: Berber, frieze, plush, pattern, indoor/outdoor, and commercial carpet tile (As mentioned previously).
Berber carpet is the typical thick looped carpet; this will be good for places with heavy foot traffic.
Frieze carpet (commonly referred to as shag carpet) will have its fibers twisted tightly to add durability and resist crushing and matting.
Plush carpet gives a clean cut look and is extremely comfortable to walk on. These fibers are not twisted, but have a smooth level surface at the top.
Patterned carpet will have a mixture of high and low looped and cut carpet fibers. This variety will create visual and physical patterns. These are often in a solid color to keep attention on the pattern.
Indoor/Outdoor carpet is for more sun rooms, patios, porches and other areas that may need high protection against sun exposure and the outdoor elements.
Pros: Any of these styles of carpets are great when looking for a soft touch underfoot. Carpeting will bring a warm and inviting feeling to the space, as well as adding an acoustic property. In addition to the atmosphere carpeting creates, the price is rather friendly when comparing to wood flooring or tile flooring.
Cons: Carpeting is not very forgiving when it comes to spills and stains, which are a downfall for those who plan to eat or participate in arts and crafts in the dining room. They are also less suitable for people with pets, and the flooring does require relatively frequent vacuuming depending on the frequency of use. Sometimes to avoid spills and things of that sort, a rug is used, so it can be removed when accidents are more likely to happen.
Other Types of Flooring for the Dining Room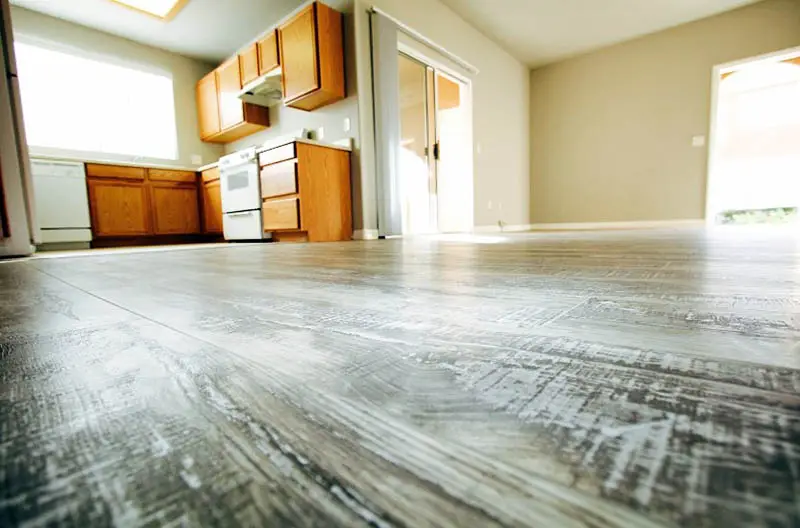 There are some other, less popular, options that may be the perfect option for your dining room.
Cork Pros: If you are interested in using sustainable product, cork can be a very viable flooring option. Not only is it eco-friendly, but it is also mold and mildew resistant which can be a helpful quality in case of leaks or spills in a dining room.
It is important to know though, that cork flooring is not waterproof, only resistant to water which is helpful. This product is pretty easy when it comes to installation and it is on the softer side for standing and walking, comparing to carpeting without the hassle of the fiber. A downside to cork flooring is that it will need to be coated with polyurethane otherwise it could be susceptible to water damage or cracking. That doesn't seem to hefty a price for a soft, eco-friendly flooring.
Cork Cons: Unfortunately due to the structure of cork it is a material that must be refinished about every four years. Since the flooring is soft to stand on it is also susceptible to indents or damaging when it comes to heavy furniture such as dining room tables. If you are looking to keep this flooring over a long duration of time it is best in an area without too much sunlight, because it causes the cork flooring to become discolored, typically unevenly.
Linoleum Pros: Linoleum is very commonly used in kitchens, which can often carry into the dining room for a cohesive design. Linoleum is another good choice of flooring when keeping the environment and sustainability in mind. This material is made without and VOC's (Volatile Organic Compound), and it is made from renewable resources.
Not only is linoleum flooring eco friendly, but it also had a good durability, withstanding a good amount of foot traffic like the dining room will need. Due to linoleum's composition it allows to be made in a large variety of patterns and colors, making it easy to place in most settings, and the color is all the way through the product, not just the top layer. In addition to its array of colors and patterns it van also come in different forms such as sheets, tiles or squares, this can make for some interesting and inspired designs without too much restriction.
Linoleum Cons: While this will be a moisture resistant material, it will have the ability to be stained and potentially scratched. This can be combated with protective coatings. Linoleum is often confused with vinyl flooring since they are both considered a resilient flooring, but linoleum is not commonly used in residential applications, usually only commercial.
Dining Room Flooring Cost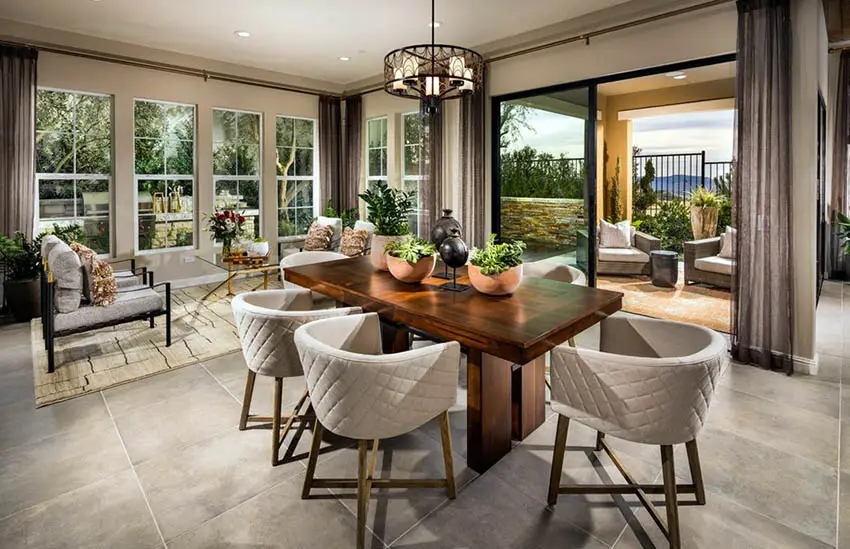 A big factor with any project will be the cost so here is a little bit of a breakdown for the floorings discussed.
Tile Flooring: Ceramic or porcelain tiles run anywhere from $1-$8 per square foot, depending on the quality. Add on $4-$8 for install it is an average of about $5.50 DIY, and $11.50 professionally installed. In most cases professional installation will be worth the extra few dollars.
Luxury Vinyl Flooring: Luxury Vinyl Flooring runs anywhere from $2 to $5 per square foot, depending on the quality. Add on $1.50 per square foot for install and luxury vinyl is an average of about $6 DIY, and $7 professionally installed.
Carpeting: Carpeting has a large range due to the many different styles to choose from. This being said an estimated cost is about $7 to $12 per square foot of carpeting. There is usually a flat fee for the carpeting install since it comes in a roll versus individual pieces.
Laminate Flooring: Laminate is a pretty inexpensive flooring to buy and install. The materials themselves range from $1 to $2 per square foot with install being $2 to $8 per square foot, which includes all the adhesives and underpayments that are needed for proper installations.
Cork Flooring: Cork flooring runs anywhere from $3 to $8 per square foot, depending on the quality. Add on $1 per square foot for install and you will get an average of about $6 DIY, and $7 professionally installed.
Linoleum Flooring: Linoleum flooring runs anywhere from $4 to $10 per square foot, depending on the quality. Add on $2 per square foot for install and linoleum is an average of about $8 DIY, and $10 professionally installed.
For more interior designs check out our gallery of formal dining room ideas.