Welcome to our types of carpet ultimate guide showcasing the pros and cons of carpet and popular styles for your home.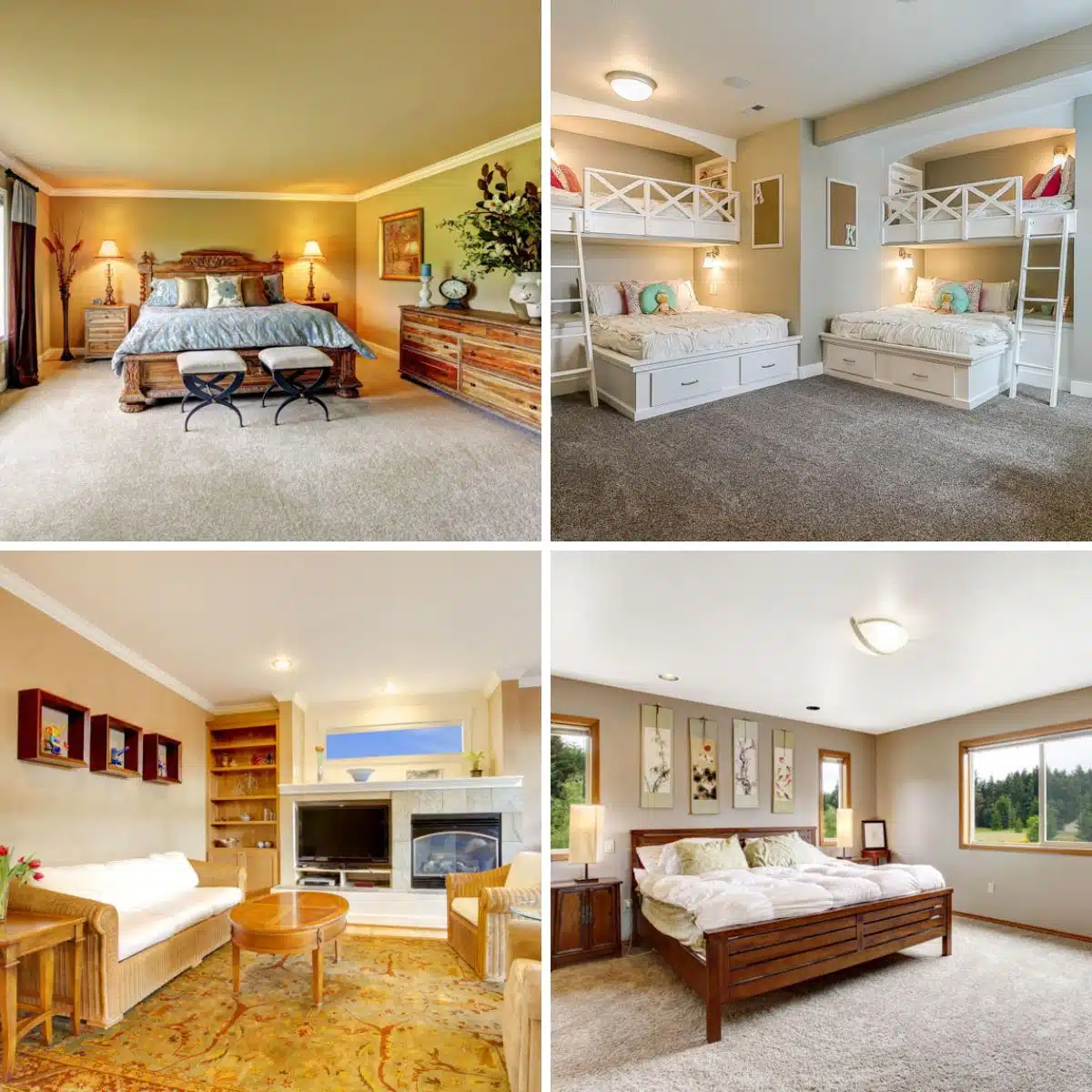 When it comes to comfort, carpet flooring is a big step ahead all the other options for flooring materials. The coziness and soft texture that carpet flooring brings to spaces is the main reason as to why more and more people are drawn to this practical flooring.
Carpets have been around for years, and throughout the test of time and the wear and tear of everyday use, they have proven to be one of the most reliable flooring materials in the market.
They come in an endless spectrum of options, colors and textures and are available in various carpet fiber types, densities and piles. With such, choosing the right carpet for the different areas of your home can get quite confusing. But there is no need to fret, cause we are here to help.
Below we give you our very own guide to the different types of carpet and how you can use them in your home.

Reasons To Choose Carpet Flooring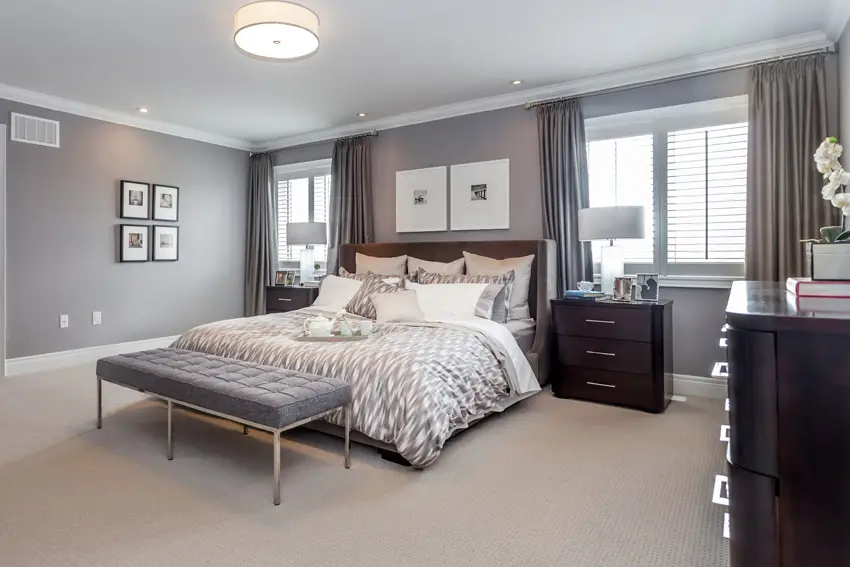 Before we take a look on the different types of carpet for your home, we'll give you an overview as to why carpets are one of the best flooring materials you can explore. Here are some of its benefits :
Gives added visual interest to a space. Carpet flooring can easily transform the look of your home by increasing its visual appeal through the use of texture, color or pattern.
Whether it may be an area rug or a full wall to wall broadloom carpeting, it can easily spruce up areas of the home, from boring entryways, hallways, stairs to dull bedrooms, living rooms or basements.
Compared to other flooring types, carpet flooring projects a sense of warmth, coziness and comfort through their inviting looks and comfy soft texture.
Provides comfort. There is no other flooring material that can provide the same comfort that carpet flooring brings. It provides a soft cushioning underfoot, is comfortable to walk on even when barefoot, brings a warm feeling during cold winter mornings and is even nice to sit on for long hours.
Good insulation properties and keeps the floor warm to the touch. Compared to hardwood and ceramics, carpet flooring is much warmer to the touch. It helps in terms of insulation by keeping warmth contained in the space and by regulating temperature, making it an ideal flooring for houses which are located in extremely cold regions.
Provides safety. Hardwood floors and ceramic tile flooring can sometimes be slippery, presenting a potential risk for accidents in the home. The soft, padded texture of carpet flooring helps reduce these slip hazards, making it one of the safest flooring materials for household with kids, elderly people, mobility impaired family members or pets.
Carpet flooring runs a full cushion for your floor, which means you do not have to worry about your kids slipping or bumping onto a hard surface. In addition, if an object falls on to your carpet flooring, it wouldn't break that easily as compared to dropping it on a hard flooring.
Helps with acoustics. Going up or down the stairs can sometimes create an unbearable noise, in the same way that loud footsteps can sometimes be a pain in the ears. Carpet flooring helps reduce noise by absorbing sound through its soft, cushioned surface.
Unlike in hard floors where a simple footsteps can make noise, the sound you make from walking or even running is almost inaudible. It makes a good flooring option for areas in the homes which requires soundproofing and acoustics such as home theaters, entertainment areas, music rooms or basements.
Helps reduce wear and tear of your existing floor. Broadloom carpet flooring and area rugs can serve as a protective feature to high traffic areas of the home. Stairs, for example, being one of the most used areas of the home, are constantly subjected to wear and tear from foot traffic, making them prone to damages such as fading and scratches.
Putting carpeting over your stairs help lessen the impact that your existing floor receives, while also concealing any damaged stair treads, essentially prolonging your stair' lifespan in the process.
Cheaper flooring option. Compared to other flooring options like solid wood planks or ceramic tiles, carpet flooring is fairly affordable. It is available in a wide range of styles, color, fibers and pile which means that you can always find a good carpet which will fit within your budget.
Drawbacks Of Carpet Flooring
There are still a few drawbacks to carpet flooring, however its positive features will still outweigh the negative ones. Here's a look at some of the disadvantages of carpet floors:
Perfect breeding ground for dust mites. The dust from the surroundings can get accumulated within the carpet flooring, turning it into a breeding ground for insects such as dust mites. However, this can be prevented by regularly vacuuming your floor and cleaning it as needed.
Allergens. Carpet flooring may not be suitable for some homeowners because they can sometimes trigger allergies. But by exploring the right type of carpet fiber and material, you can find the right carpet which can suit your needs. Regular vacuuming and deep cleaning may also be beneficial to lessen the presence of trapped allergens.
Moisture trapping. Thick, furry carpets can sometime trap moisture and cause the potential growth of molds and mildew. Again, you can reduce this by finding the right carpet fiber which is moisture resistant.
Retains stains and odors. If not properly cared for and maintained, carpet flooring can develop unpleasant odors and stains over time. Make sure to blot any spilled liquids immediately to prevent them from developing stains, discoloration and foul smell.
High maintenance cost. While the carpet material can be cheap for your first purchase, they can incur additional expenses over time. The major drawback of carpet flooring is that it requires a lot of maintenance, requiring regular vacuuming and periodic cleaning once or twice a year. Professional carpet cleaning is more expensive compared to other types of flooring.
Best Carpet Materials
The best type of carpet for your home will depend on the room and its use. Here we take a look at the different rooms and usage to help determine the best carpet to choose
Carpet For Bedrooms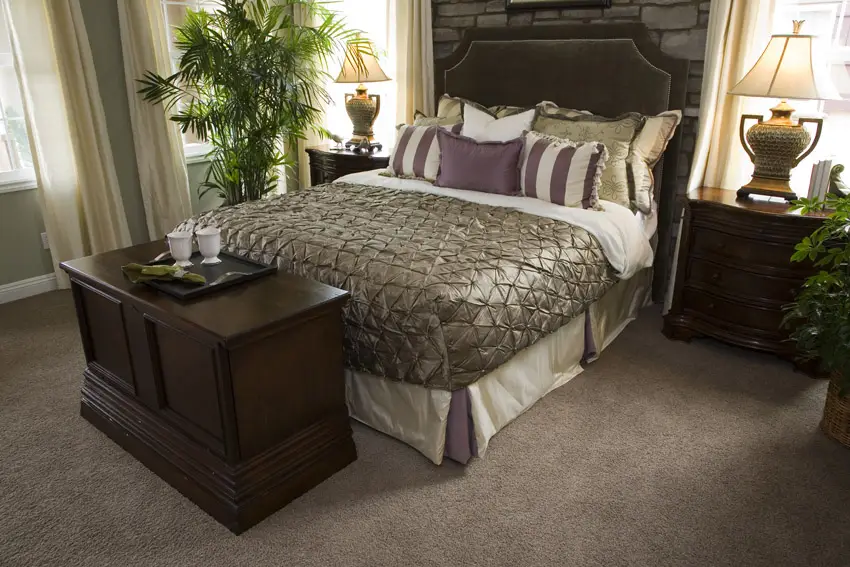 The bedroom floor is just as important as any part of your house. It is the first thing that you will step on in the morning, the moment you wake up from a night's rest, and it is also the last thing that your feet will touch before you climb into your bed at night.
Because of this, it is important to provide maximum comfort in your bedroom floors and one of the best ways to achieve this is through the use of carpet flooring.
The main reason as to why you need carpet flooring for a bedroom is that it has a soft, plush texture,which is soothing to the touch. It is also warm underfoot, which means that your feet will not freeze on cold winters. An added benefit is that it helps insulate your bedroom against unwanted ambient noise, making it a cozy and soothing environment for relaxation.
Here are some guidelines on choosing the right carpet for your bedroom.
Deciding on the type of carpet fiber. Bedrooms are considered to be low traffic areas and majority of the types of carpet fibers work for this kind of application. When it comes to bedrooms, you can opt for either natural or synthetic carpet fibers.
When shopping for carpeting , there are a number of factors to consider , including fiber content , type of pile , and durability. – Popular Mechanics Complete Home How-to, Albert Jackson, David Day
For maximum comfort, opt for wool as it has a soft, luxurious feel. However, it can be a costly option, so alternatively you can go for synthetic fibers as they are more budget friendly and can work especially for large bedrooms. Nylon is a good alternative because it is highly durable, but it is also costly. Polyester is more affordable and is non allergenic, making it an ideal choice for homeowners who have asthma or allergies.
Prioritize texture and the type of carpet pile. For bedrooms, you carpet flooring should be as comfortable and soft as possible. And to achieve maximum comfort, the right texture and carpet pile is the key. For the most luxurious look and texture, opt for a saxony pile carpet because it has a fluffy, plush texture.
Alternatively, velvet pile carpets will also work for bedrooms because they have an ultra soft feel. You can also achieve different looks and aesthetics based on the type of carpet pile that you choose.
Choose the right color of carpet. Color can significantly affect not only the overall look of your bedroom but also the mood it projects.
Neutral colored carpets such as shades of brown, tans or grays are a safe option for bedrooms since they can work well with any type of color scheme. Light colored carpets such as white or beige are less advisable for bedrooms since they tend to show dirt more easily compared to dark colored carpets.
You can also explore other cool colors such as blue or green since they have a refreshing, calming effect, while also adding visual interest to your room. Avoid intense colors or busy patterned carpets since they can be too unsoothing for bedroom settings.
Carpet For Stairs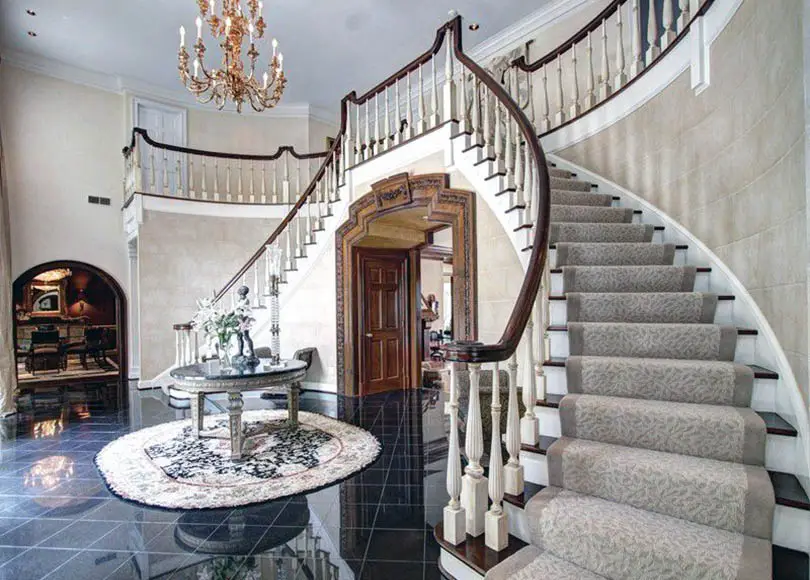 Carpets come in several fibers, materials and piles – some designed for low traffic areas while others meant for areas which are subjected to wear and tear from heavy use. And one of the areas in the hose which is impacted most by heavy foot traffic is the stairs.
When choosing a carpet for your stair, decide based on two general factors – the amount of foot traffic the area receives and the prevailing style of the home.
The first main function as to why carpets are typically put on stairs is for their practical functionality, while aesthetics and design is just secondary. Carpets help provide coverage and protection for stairs, while also adding visual interest to prevent your stairs from looking too drab.
As mentioned, the stairs is one of the most used areas in the home, which means that they are constantly exposed to the impact of heavy traffic. With such durability and performance are the major attributes which you should look for in a carpet.
Opt for a resilient material that will be able to last for years. Some examples of heavy duty fibers for carpets in stairs are nylon, wool, cotton and sisal, as these have inherent attributes that make them withstand any form of abuse.
Other carpet fibers such a jute, seagrass and silk are more recommended for low traffic areas, so they may not be advisable for stairways.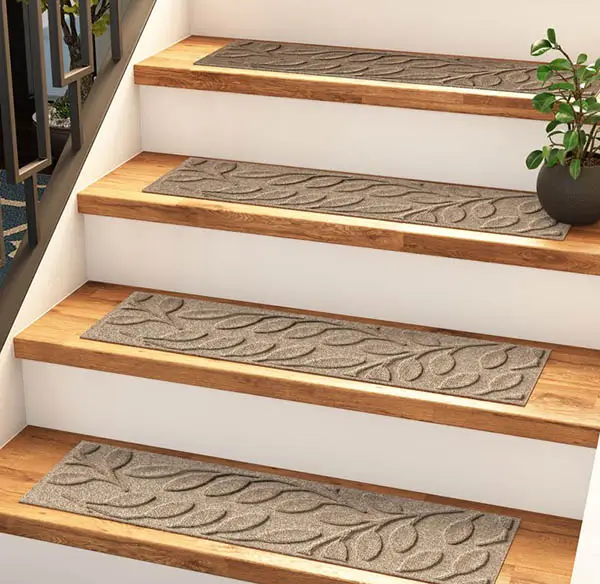 (Polypopylene staircase carpet)
Maintenance should also be considered as stairs are prone to dust, dirt, stains and soiling. Go with a carpet fiber that does not absorb liquids and is stain resistant. Also, dark colored carpets are a good choice for stairs since they can easily conceal stains and soiling compared to light colored ones.
When it comes to choosing the right color and style of carpet for stairs, this is more dependent on one's personal preference and taste. Although some homeowners, tend to match with the existing style of their home. Carpets come in a variety of colors, some solid while others printed, you can try to mix and match it with the color scheme of your home, or use it as a focal point or accent decor in the space.
Printed carpets are more tricky to pull off in stairs as compared to solid colored carpets. Mainly because majority of the caret patterns look good when laid in flat surfaces. Some patterns have the tendency to become distorted when bent and folded on stairs.
Repetitive patterns and large geometric shapes such as squares or diamond may be a bit harder to achieve since they have to be aligned precisely. Even the slightest mismatch can become highly noticeable on stairs.
With such, most homeowners tend to go with abstracts, florals, brocades and small prints since they do not require to be book matched. Smaller patterns can be easily showcased within each stair tread and looks good even when bent on stair risers.
Installing a carpet for stairs is quite different from installing it on a flat slab or surface. You can either cover the whole stair tread with the material or you can install them in such a way that they do not take up the whole width of the stair tread. For the latter application, a carpet runner is more commonly used rather than a broadloom carpet.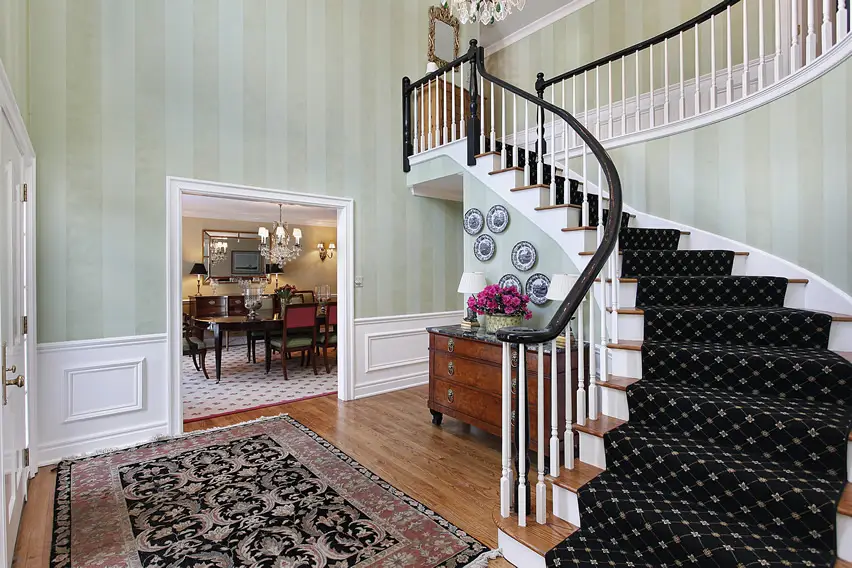 Here are some requirements and tips for installing carpets in your stairs:
Make sure that your carpet fits your stairs perfectly. If planning to go with a carpet runner, consider measuring your stairs accurately before purchasing. More often, borders are placed on both sides of a carpet runner, making a portion of the floor visible on each side.
The amount of space can vary, depending on one's personal preference. The only main rule is that they have to be equal. Also, the perfect size of carpet runner for a stairs has a one to five ratio – meaning the length of the carpet runner must be at least five times greater than its width.
Consider a non slip carpet pad. Regardless of whether you are going with a carpet runner or broadloom, a carpet pad adds cushioning while also keeping your carpet in place.
Carpet pads can significantly extend the life of your carpet by preventing it from getting worn out from top to bottom. For stairs, the recommended carpet padding thickness is ¼ inches.
Types Of Fibers

Tagged as a "carpet's basic ingredient", carpet fibers pertain to the type of material from which the strands of carpet are made. There are several different types of fibers used in carpets and all carpet fibers can be classified into two general categories namely synthetic fibers and natural fibers. Today, the four basic fibers used in carpets are wool, nylon, polyester and polypropylene or Olefin.
Each type of carpet fibers has their own specific characteristics which help determine your carpet appearance, texture, performance, lifespan, maintenance and cost. All of which, are important deciding factors when choosing the best carpet for your home.
And in order to ensure that you select the right carpet for your home, it is important to understand the attributes of the different carpet fiber types, along with some of their positive and negative features.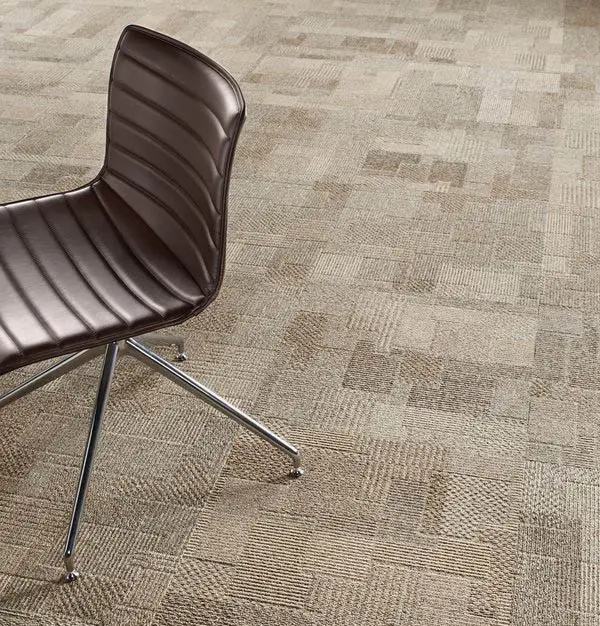 (Nylon carpet in office)
Synthetic Fibers
Synthetic carpet fibers are materials which are not found in nature, or simple those that are engineered by man. Synthetic fibers are produced using machines by combining various chemical compounds. They make up 99% of the fibers used in the carpet industry today.
The history of synthetic fibers originated about 150 years ago, during the 1800's in Europe, with Rayon as the first manufactured semi synthetic carpet fiber. Nowadays, there is a wide array of synthetic fibers used in carpet making.
There are four major types of synthetic fibers used in carpets namely nylon, polyester, polypropylene or Olefin and the newest synthetic carpet fiber – triexta.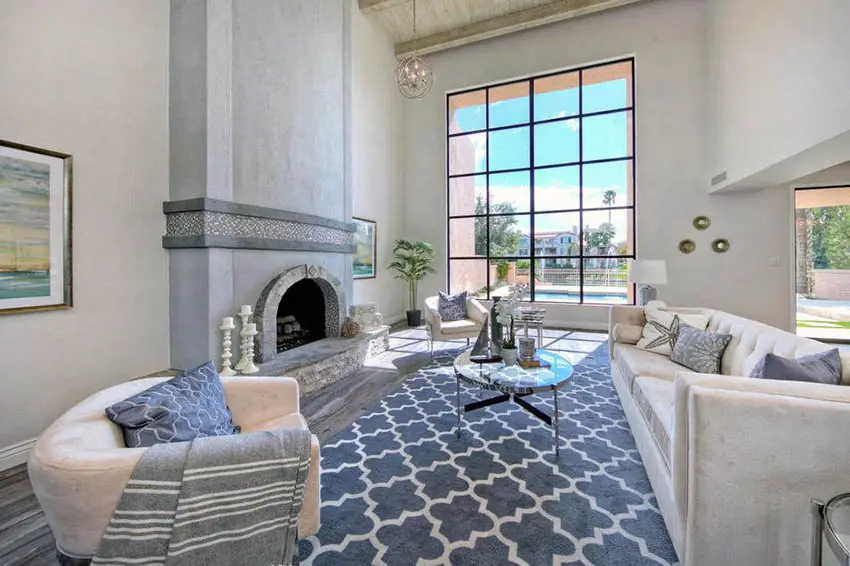 • Nylon carpet fibers- Nylon is one of the most popular synthetic fibers used in carpets. Known to be the first synthetic fiber, Nylon was invented in 1935 by Dupont, a United States based company which made a strong advancement into the synthetic fiber business.
It was developed due to the scarcity of natural materials, such as Japanese silk, in the industry. Nowadays, at least 90% of homeowners use carpets with nylon fibers for their homes.
For decades, Nylon was considered to be the 'ultimate' carpet fiber because of its excellent durability. Its is also known to be the most resilient carpet fiber available, having the ability to bounce back to its original form despite being subjected to heavy use, compaction or even after being flattened.
In addition, nylon also resists moisture and dries out quickly when exposed to liquids. During fall and winter seasons, nylon carpets manages to remain static free.
For these reasons, nylon carpets make the best choice for areas which are exposed to high levels of humidity and fluctuations in temperature such as basements. They are also ideal for high traffic areas such as hallways, entryways and stairs.
In terms of design, nylon carpets offer flexibility and versatility. Nylon fibers are available in different styles and types of carpets and is produced in a wide array of colors, giving homeowners endless options for choosing the right decor which matches the prevailing style of their home and their personal taste.Provided that they are properly cared for and maintain, nylon carpets can last for decades.
However, there are several drawbacks to using Nylon carpet fibers. First, nylon carpets do not resist stain very well on their own. Thus, it requires stain blockers to be added in its surface in order to give it a protective covering.
A popular example of this coating is Stainmaster®, which was developed in 1986 by DuPont. Stainmaster is similar to Teflon coating and is directly applied to nylon carpet fibers to make them more resistant to spills and stains.
Another disadvantage of nylon carpet fibers is its cost. In general, nylon carpets costs more compared to other carpets. In fact, it is one of the most expensive synthetic carpet fibers in the market. This is mainly because this material is hard to produce.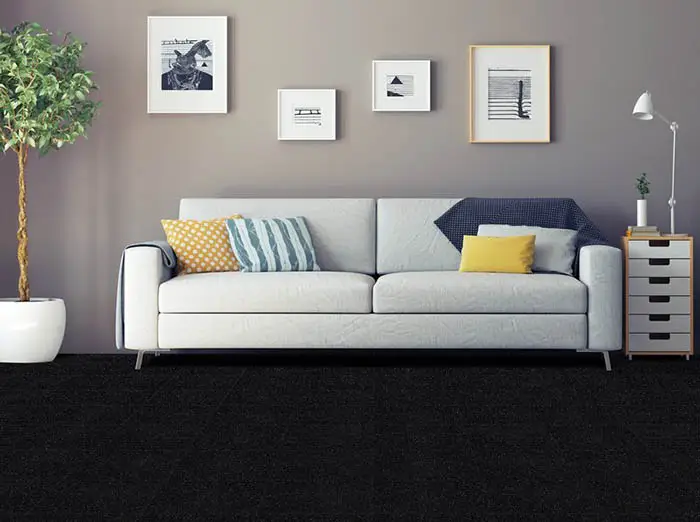 (Black polyester carpet)
• Polyester carpet fibers – Polyethylene terephthalate (PET), or what we commonly know today as Polyester, is the second most used synthetic fiber in carpets. The invention of polyester was a collaborative effort by several scientists and was patented by British chemists John Rex Whinfield and James Tennant Dickson.
Polyester carpet fibers are also sometimes referred to as Polytrimethylene Terephthalate or simply PTT. Other popular synthetic fibers such as SmartStrand and Triexta also fall under the class of polyester fibers.
Polyester is best known for its very lustrous appearance, which results to highly appealing carpet styles and stunning colors. Compared to nylon carpets hich are typically matte and dull in color, polyester carpets have a much more vibrant hue and shiny finish.
This is mainly because polyester fibers take both natural and artificial dyes well. Thus, polyester carpets also have supreme resistance to fading and discoloration, despite being subjected to the wear and tear of everyday use.
There are other characteristics which make polyester a suitable choice of material for carpeting.
Unlike nylon, polyester has inherent stain resistance because of its closed cell fiber composition. This makes is hard for stains to adhere to its surface. However, it is not safe to say that polyester carpets are completely stain proof. Polyester carpets can still suffer from soiling.
To make things clearer, soiling is entirely different from staining, because in the former, the substance deeply penetrates into the carpet fibers by attaching to open dye sites, as opposed to the latter in which the dirt just sits on the surface or spos which come from residues on the carpet fibers.
Perhaps one of the biggest drawbacks of polyester is that it is not as durable and resilient as nylon carpet fiber. However, with today's technological advancements, many manufacturers have continuously worked to improve polyester and make it as close to the performance of nylon.
The new polyester is much more stronger, durable and has a longer lifespan. Most high end polyester carpets also come with increased warranty. In addition, most polyester carpets nowadays are often manufactured from recycled materials, making them more environment friendly choices compared to their other synthetic fiber counterparts.
Due to the low cost of raw materials required in its production, polyester fiber carpets are significantly less expensive than nylon carpets, making it a good choice for homeowners who have limited budgets but want an excellent performing flooring material. Aside from that, polyester carpets are available in a wide variety of colors and styles which make it a versatile option for homes.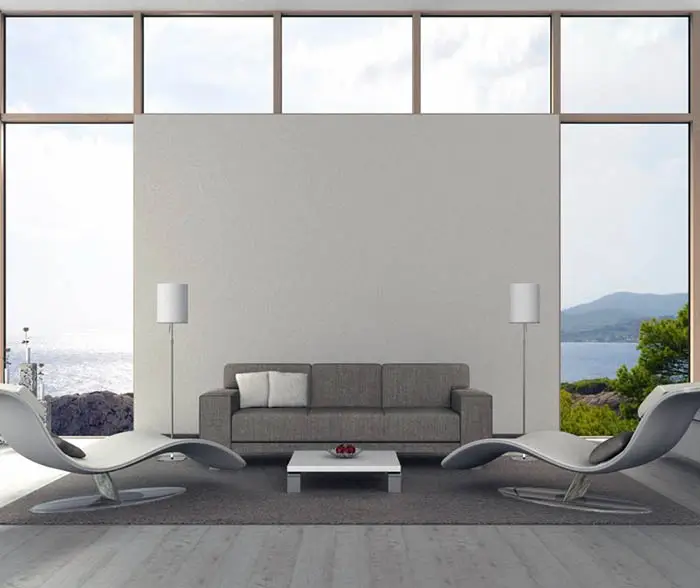 (Polyester carpet tile in modern living room)
Polyester carpets are more advisable for use in low traffic areas in the home, such as bedrooms.
• Olefin carpet fibers – Olefin is the generic name for polypropylene, one of the most popular fibers used for carpets in the past. Nowadays, olefin carpets are less popular because of the better types of synthetic fibers which emerged in the market.
In the carpet industry, olefin and polypropylene are used interchangeably but they both refer to the same type of carpet fiber. Polypropylene is used to make many different products including interior finishes such as wallpapers. Its numerous benefits make it a good option for carpets.
Olefin carpets are very much valued because of the appearance which closely resembles wool. For this reason, olefin is more commonly used for looped berber styles of broadloom. It is also commonly used as a substitute for wool in making area rugs. When it comes to finishes, olefin carpets are available in low lustre, matte and high sheen variants.
Compared to other synthetic fibers, olefin is less durable. However, what draws people to olefin carpets is their natural extreme resistance to stains, shedding and mildew. Olefin has no open dye sites making it highly stain resistant, however it is not very soil resistant.
And since occasional spots form from soiling, it is best to go with dark colored olefin carpets as they do not show marks easily compared to light colored variants. Wearing socks or indoor slippers can also help reduce the transfer of dirt and oils from foot traffic.
In addition, Olefin fiber carpets are also "hydrophobic", meaning they do not absorb liquids. Because of this, they are typically used for outdoor carpets. Olefin fibers dry quickly when wet, thus lessens the growth of mildew and molds from excessive moisture.
Since they are also hydrophobic, olefin fiber carpets are also typically solution dyed, wherein the colors are added to the fibers during production rather than after the carpet is made. This process also makes olefin carpets completely fade resistant.
In fact, excessive exposure to sunlight and Uv rays will not cause any discoloration, in the same way that bleach does not harm or affect the color of the carpet fibers.
Polypropylene is also almost as soft as nylon and has the same resilience that gives it the ability to "bounce back" into its natural state after being compressed and compacted by heavy use and foot traffic.
For this reason, olefin is more commonly used in looped style carpets such as berbers and level loop commercial quality products. The most durable type of olefin fiber carpets are low pile, tightly looped styles.
One notable weakness of olefin is its low melt point. Additionally, olefin fiber capets also attracts and soaks up oils, making it highly vulnerable to staining from oil spills. Any type of oil cannot be easily cleaned from its surface.
Because of this olefin is not recommended for use in areas which are susceptible to oil and grease such as kitchens and dining rooms. In residential applications, olefin is best suited for lower-traffic areas such as bedrooms, and naturally, it is not ideal for use in high traffic areas such as living rooms, hallways and stairs.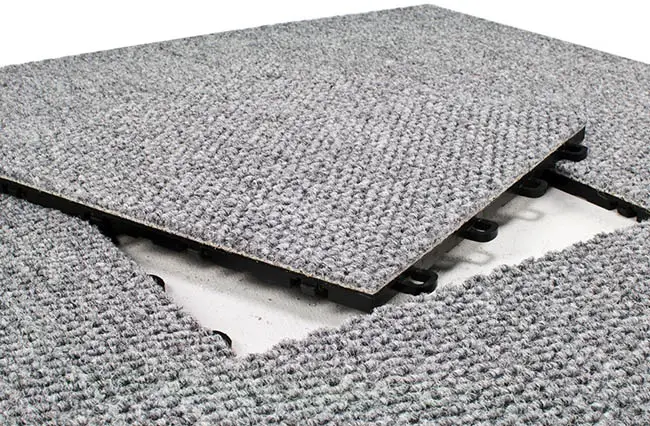 (Olefin interlocking carpet tiles)
Generally, olefin is one of the cheapest carpet fibers on the market. This is mainly because the costs incurred in its production is less expensive compared to carpets made of polyester and nylon fibers.
So in summary, they only make great choices for budget driven renovations. However, when it comes to lifespan, olefin carpets don't last as long as nylon carpets.
Triexta carpet fibers – Triexta is considered to be the newest fiber in the carpet industry. Ever since they were created by DuPont, the same company responsible for the invention of nylon fibers, Triexta continues to pick up steam in the world of carpet production.
Triexta is the generic name for poly trimethylene terephthalate or PTT for short, and comes from the same class of the polyester family. Currently, Triexta is exclusively produced by DuPont under the brand name Sorona.
Meanwhile, the biggest manufacturer of carpets which primarily use Sorona triexta fibers is Mohawk Industries. They also market triexta under the brand name SmartStrand.
Although triexta essentially comes from the polyester family, these two carpet fibers have several differences in terms if appearance, performance, cost and lifespan. Generally, Triexta is considered to be more more durable and resilient than regular polyester fibers.
In fact, triexta is known to be of the same level of durability as nylon, which is the ultimate synthetic carpet fiber. Triexta is also much softer than polyester fiber carpets.
Other reasons which make triexta stand out from other carpet fibers include stain resistance, texture and environmental friendliness. Triexta is naturally stain resistant and hydrophobic. It has a great ability to withstand spills, including oils, water and other liquids.
Many of these spills can also be easily cleaned with just the use of water, eliminating the need for a special spot cleaner. In addition to being water and stain resistant, Triexta is also highly fade resistant and will not discolor even when exposed to direct sunlight and UV rays.
In terms of texture, Triexta is more softer than polyester and nylon. Because there is no need for a chemical additive which can give it a protection from stains, the texture of Triexta fiber carpets is more comfortable underfoot and soft to the touch.
This is inclusive for looped berber style Triexta carpets as well. Lastly, triexta carpet fibers are also environment friendly options because most of its finished products make use of biotechnology by adding corn glucose in the manufacturing process. Triexta carpets are more eco friendly compared to its nylon and polyester counterparts.
Although triexta is part of the polyester family, its appearance is more similar to nylon. Triexta has a more matte finish, as opposed to polyester which has a distinct shine and lustrous appeal. It comes in a wide spectrum of color and vast designs which enables homeowners to pair it with any type of interior style and decor.
The only downside of triexta carpet fibers is their lack of history. Since they are a newcomer in the carpet production scene, there is not enough track record to prove and back up its features.
It hasn't been long enough to gtest out if these carpets can live up to a full 10 to 15 year lifespan, which makes it hard to precisely compare it with other synthetic fibers. However, manufacturers guarantee impressive warranties for these carpet products, including those that are in the entry level class.
When it comes to cost, triexta carpet fibers come in various price points, but in general, they are considered to be competitively priced. They cost less than nylon but is slightly more expensive than polyester.
High end variants of SmartStrand, such as this is silk styles natural cost more. But overall, with ts impressive benefits, Triexta fibers offer a good value for money.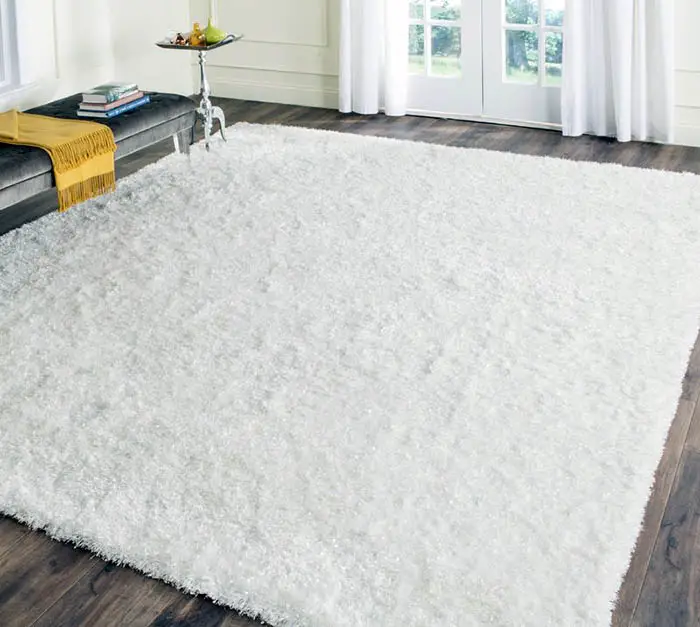 (White acrylic area rug)
• Acrylic carpet fibers – Another popular example of synthetic carpet fiber is acrylic. Acrylic was developed during the mid 1900's in the United States, but it wasn't until the 1960's when acrylic carpets made their mark in the interior design scene. Acrylic is sold under the brand names Acrilan, Orlon and Creslan, to name a few.
Acrylic is made from a polymer or clear plastic called acrylonitrile and it is sometimes referred to as "art wool" because it was used as a substitute to natural wool.
Among all the synthetic fibers available in the market, acrylic had the closest appearance, feel and texture to wool. It offers the same desirable characteristics that natural wool has but at a lesser price point.
Acrylic fiber is characterized by a silky feel and a high sheen, which makes it a highly attractive material for carpets. Overall, they make luxurious and "high end" looking flooring materials.
Acrylic fiber is not as durable as some other synthetic fibers, however, it is resistant to mildew and not susceptible to moth damage. Acrylic fiber carpets are also anti static, making it an ideal flooring material for all seasons of the year.
These carpet fibers also resists soiling and is easier to clean compared to real wool. In addition, acrylic fiber carpets also takes color well and can hold it for long periods of time, while also having the ability to resist fading and discoloration when exposed to sunlight and UV.
Thus the colors of acrylic fiber carpets are brighter and more prominent. Most importantly, acrylic fiber carpets wicks away moisture instead of absorbing it.
There are a few downsides to acrylic fibers, but still, their positive attributes still outweigh the negative ones. Acrylic still falls behind wool in terms of resiliency and durability.
Over time, these carpets have the tendency become fuzzy, while their fibers pill and deteriorate similar to polyester. Although resistant to water, soiling and other stains, acrylic fibers can still get damaged from oil and grease.
A popular variant of acrylic fiber is poly acrylic. Poly acrylic is a blend of synthetic fibers and is also notable in its own way as a carpet material. It is color fast, durable and cost effective.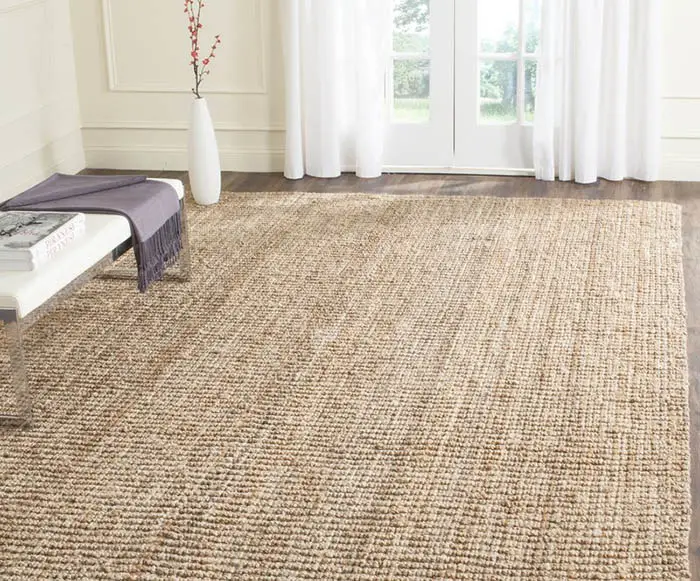 (Natural sisal fiber area rug)
Natural Fibers
Natural fiber carpets and area rugs have grown in popularity for the previous years as more and more homeowners become interested in sustainability, green design, eco friendly building and finishing materials and home decor. Nowadays, there is a growing demand for carpets which are made from renewable sources and these is where the use of natural fibers come in.
Natural carpet fibers are composed of materials that are grown and harvested from nature, then processed into fibers. These products are often derived from plants, insects or animals.
Compared to synthetic carpet fibers, natural carpet fibers make up a small percentage of the carpet products and broadlooms available in the market today, however, they still have their own notable attributes which gives them a special place in the industry.
In general, natural fibers can be classified into two categories namely cellulosic fibers and protein fibers. Natural fibers which are derived from plants are referred to as cellulosic fibers, while those that are produced by insects or animals are called protein fibers. Examples of protein fibers are wool, silk and hair, while examples of cellulosic fibers are cotton, jute and seagrass.
There are many natural fibers but only few are used in the carpeting industry. Wool is the most popular and most common natural fiber (or by far, the only natural fiber used) used in broadlooms or wall to wall carpets.
Other natural fibers such as sisal, jute, cotton, seagrass, silk and coir are more often made into small carpets or area rugs because they are either too rough or too weak to be made into a broadloom carpet.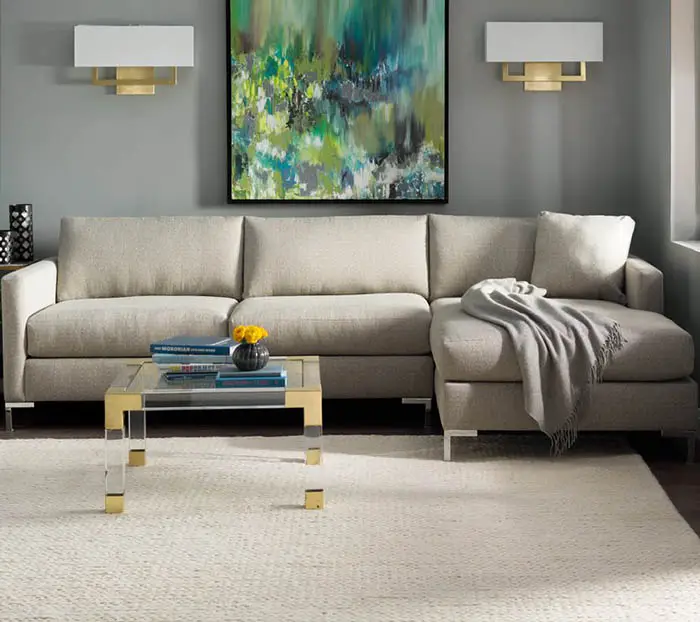 (Wool fiber area rug)
• Wool carpet fibers – As mentioned, wool is the most popular, and by far the only natural fiber used in the production of broadloom carpets. It is considered to be the oldest natural fiber, dating back to many centuries to when carpet and rug weaving was first invented. It is also known to be the finest of all face yarns.
Wool is produced from the fleece of sheeps, goats and alpacas. Although they are produced by different animals, the most common type of wool used in manufacturing carpets and rugs are those derived from sheeps.
Mohair wool, made from the ultra fine coat of the Angora goat, is also used for some exotic rugs and small carpets, but they are rare and quite expensive. The finest wools are imported from england, New Zealand, Australia, & Argentina.
Wool is a biodegradable, renewable and sustainable fiber. Typically, sheeps are sheared once a year, usually in spring when their fleece have grown and are not needed anymore. It is known to be an "outstanding natural fiber" because of its inherent variability.
The reason being is that sheeps often live in regions with high altitudes and harsh climates, and to give them protection from outdoor elements, their wool grows thick and strong, providing a soft, elastic yet resilient covering tp their bodies.
Wool has numerous supreme qualities which make it an outstanding fiber for carpets. Its most appealing aspect is its inherent resiliency and durability. In fact, these natural fibers have the ability to be stretched up to double of its original length and can also be bent back and forth more than 18,000 times without breaking.
Despite being strong and tough, wool is not rough nor uncomfortable to the touch. Wool carpets have a distinct softness that cannot be matched by any other carpet fiber in the market.
Its cushiony feel provides comfort underfoot, making it a desirable material to step on or even sit on for long hours. In addition, these natural fibers tend to catch and retain heat and air well, providing both sound and thermal insulation to a space.
Another attribute which makes wool a premium flooring material is its inherent resistance to stains. Wool contains lanolin, a natural protectant, which gives it a barrier against different elements, including moisture.
With such, it is hardly penetrable by any type of liquid spills or staining agent. Water just simply beads up in its surface rather than penetrating it through and through. Maintenance is also relatively easy as it can be cleaned by simply blotting its surface with a damp towel.
Regular vacuuming can also help retain its luster to its original state. To top it all off, wool is also fire resistant, static resistant and can help filter the air of your home.
Unfortunately, all of these impressive qualities come with a steep price. Wool carpets are generally more expensive as compared to synthetic fibers. But still, their strength and durability make them a wise investment for any home.
Although they are essentially stain resistant, wool carpets are still best installed in dry areas and not recommended for use in basements. Depending on the type of construction, carpets made with wool fibers can last for years or even centuries. It can hold its natural appearance even after heavy use, provided that it is properly maintained.
Wool carpets are also available in a broad spectrum of patterns, colors, design and styles which range from traditional to contemporary. It is also widely available in most furniture and home decor stores.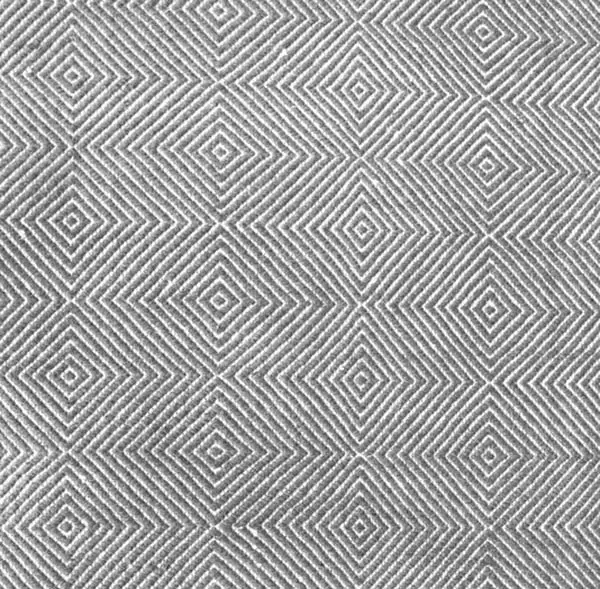 (Gray cotton rug)
• Cotton carpet fibers – Cotton is another staple natural fiber in the carpet industry, however it is more commonly mixed with other fibers during production.
Years ago, cotton was usually used for pile yarns in wall to wall carpet installations, but nowadays it utilized more often for small carpets and area rugs rather than broadlooms. Problems in its resilience caused cotton carpets to be discontinued.
Cotton fibers are considered to be a staple in American carpets. It is abundantly grown all over the word, particularly in India, China and the United States.
The main attribute that makes people drawn to cotton carpets is its soft texture. It is comfortable underfoot , while in terms of appearance cotton fiber carpets have a lustrous appeal. In addition, cotton fibers accepts dye well, thus creating more vibrant carpets.
Other than that, cotton is really a sensitive fiber and does not have the overall durability that other carpet fibers have. Cotton is also very absorbent and drys slowly thus eventually promoting the growth of molds and mildew.
It is prone to other issues too such as dye bleeding and cellulose browning and shrinkage. Cotton fibers have the tendency to turn into a brownish color when exposed or soaked in alkaline chemical residues.
In terms of maintenance, cotton carpets need to be vacuumed regularly. Spills also need to be blotted quickly to prevent them from seeping into the fibers.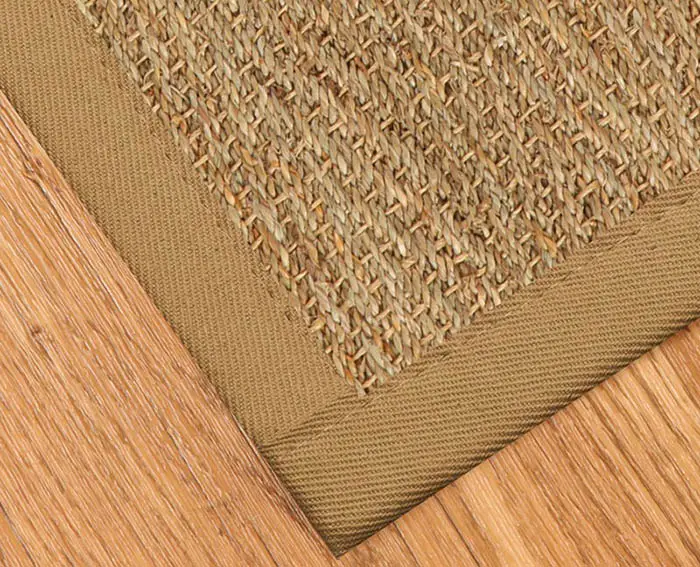 (Natural seagrass rug)
• Seagrass carpet fibers – Seagrass is a cellulosic fiber that has gained popularity for the past 10 years. Seagrass grows underwater and is native to regions that have monsoon climates, such as Asia.
These crops are planted and cultivated just like rice – grown in paddy fields which are filled with seawater each year at the growing season. And because of such, seagrass is a "green", sustainable and renewable material for carpets.
Seagrass reeds are thick and rigid, making these fibers very durable. And since it is grown in water, seagrass fibers are non-absorbent and have a hard, waxy surface. Its tough fibers also make it impermeable to substances and resistant to dirt, stains and even discoloration.
However, this advantage can also be an issue when it comes to coloring the material. Seagrass is only available in its natural hue and is impossible to dye. In some cases, it is mixed with other fibers to create a more interesting carpet design.
Although it only comes in its original color, seagrass fiber carpets are equally interesting. This fabulous carpet fiber has varying neutral tones, which features a tinge of green undertones.
Its natural porous skin also gives it a smooth feel, anti static texture and a natural sheen. Overall, most seagrass carpets have a casual look that can not be matched by any other material.
Although considered to be a very durable natural carpet fiber, seagrass still has several drawbacks. Despite being grown in water, seagrass carpets are still susceptible to damage from excessive exposure to water.
Again, they are moisture resistant but not entirely water resistant. So this means that they are not advisable for use as floor treatments in environments which are constantly exposed to liquids and changing humidity, such as kitchens and bathrooms.
When used for other applications, seagrass carpets may need an additional padding because they are smooth and may present a slip hazard. For stairs, seagrass carpets can be laid with the grains parallel to the tread.
To prevent any damage to seagrass fiber carpets, it is advisable that any spilled liquid is wiped up or bloated immediately. Regularly vacuuming for dirt and dust is also advised. Provided that these maintenance procedures are well implemented, a seagrass carpet can last for years.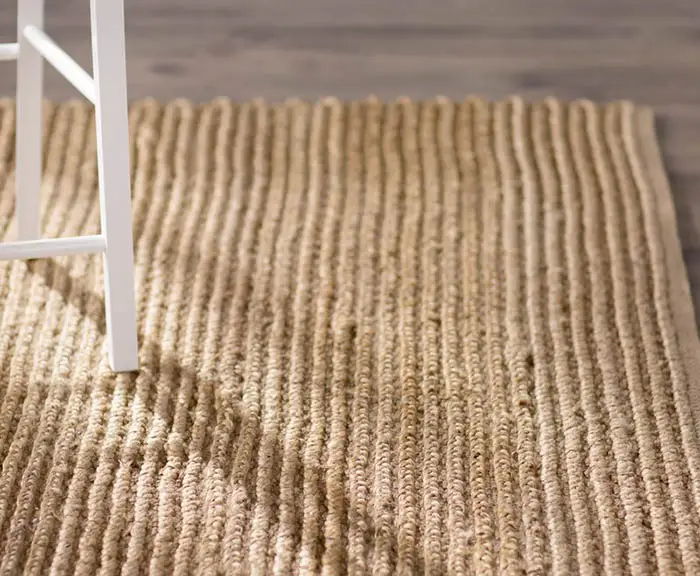 (Hand woven jute rug)
• Jute carpet fibers – Jute is an organic plant fiber that grows in the subtropical portion of the Asian subcontinent, primarily in India, China and Bangladesh. Jute is grown in soil then when harvested, soaked in water to strip its stalks of individual fibers.
These fibers are then made into coarse durable threads, which are utilized for the production of different products such as ropes, burlap sacks, or backings for carpets. Nowadays,jute is on the rise as a primary material for making attractive and durable carpets.
Jute fibers are tagged as the "golden fiber" of the carpeting industry. This is mainly because of its inherent brown and tan color, which is very desirable. And since it is neutral toned, jute fiber carpets can easily fit with almost any style of interior decor , be it traditional or modern.
There are many practical reasons as to why jute makes a good carpet fiber. First, jute fibers are very strong and flexible. It is malleable enough to be made into tight braids to chunky weaves without damage or breakage.
Jute is also one of the softest natural carpet fibers in the market, thus providing a comfortable feeling under foot when used as flooring. Itis anti static too, and helps provide sound insulation and heat insulation.
Jute carpets are also a low maintenance flooring option. Because of its neutral color, jute tends to hide dust and dirt well. Cleaning is fairly easy, requiring only occasional vacuuming or blotting in the event of accidental liquid spills. With proper maintenance, jute carpets are set to last for years.
Cost wise, jute fibers and jute carpets are also considered to be affordable flooring options since they are naturally abundant. It is much more cheaper than sisal or seagrass fibers. And as more and more homeowners are drawn to green design and sustainability, it is also fitting to note that jute is highly renewable.
In fact, it only takes about four to six months for Jute plants to reach their full maturity. In addition, jute plants only need rain in order to grow and requires less less fertilizer and pesticides. To top it off, jute is also biodegradable, eco friendly and helps reduce waste.
Despite its pleasing attributes, there are still a number of disadvantages which make jute fibers inferior to other types of carpet fibers. As mentioned, jute is a very soft fiber, thus it has the tendency to suffer wear and tear more easily.
As a natural material, jute does not also react too well with excessive moisture. It is not stain resistant and can promote the growth of molds, mildew and odor causing germs.
Another issue is that jute fibers are more prone to discoloration and yellowing, so over time they tend to fade especially if exposed to too much sun or UV.
When it comes to application, jute fiber carpets do best in low to medium traffic areas, such as bedrooms, living rooms, dining rooms or home offices. They are not recommended to be used as flooring in basements or as are rugs in bathrooms.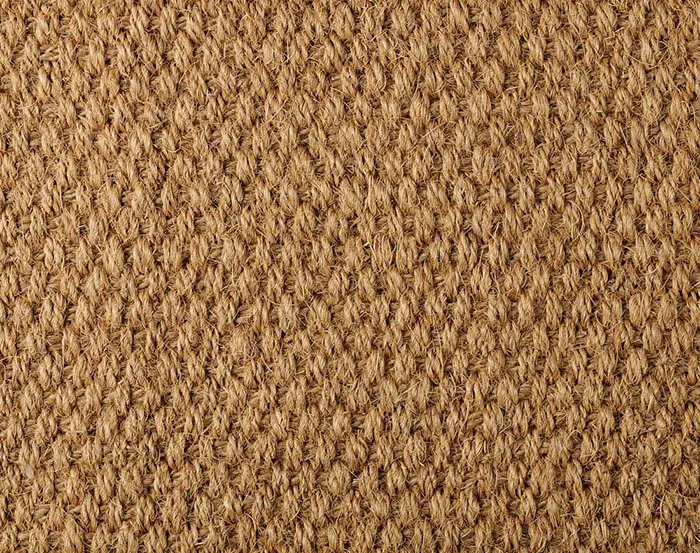 • Coir carpet fiber – One of the most inexpensive natural carpet fibers is coir. Coir is manufactured from the husks of coconut that are soaked for months. Retting or soaking makes the coconut husks soft, and afterwards they are washed, beaten and dried to be ready for use in production.Most of these fibers are sourced from Kerala, India and Sri Lanka.
Coir is an inherently coarse material that can be used in various applications. Traditionally, coir is used in the production of sacks, doormats , rope, mats, cords, and rigging. Nowadays, it is popularly used as a fiber for carpet flooring and area rugs.
Coir fiber has a distinctive beauty that is characterized by a naturally rustic look and bristly imperfections. Typically coir fibers are used to produce interesting woven patterns such as diamond, basket weave, and herringbone.
Generally, coir fibers have a rougher and darker texture than sisal, but it can be bleached to produce more interesting colors which range from natural tan and brown.
Because of their organic and handspun appearance, coir carpets are more often used in rustic interiors to complement other coarse textures such as reclaimed wood, stripped timber, natural stone and exposed bricks. Coir carpets do not work really well for minimalist settings because its bristles are thick and very noticeable.
Coconut husks fibers present a great deal of benefits when it comes to carpet flooring. In general, it is extremely durable, strong and highly elastic. Compared to sisal, coir is more resilient and can withstand high traffic and daily wear and tear better.
Coir is also resistant to mildew and is mildly waterproof. In fact, it is the only natural fiber with inherent water resistance. Because of coir's bristly texture and thickness, it also performs well in terms of heat and sound insulation.
Furthermore, coir carpets are slo low maintenance and only require regular vacuuming. While in terms of cost, they are very affordable and well suited for homeowners who are working with a limited budget.
While coir is an excellent natural fiber carpet option, there are still some drawbacks to the material. Coir can shed over time and it has the tendency to fade when exposed to direct sunlight. Although it is naturally water resistant, coir is till not generally recommended for outdoor use.
It is also susceptible to stains and has the tendency to develop discoloration when spilled with liquids. Since coir also has a very dense and rough, abrasive texture , it is unsuitable for use in bedrooms as it can be very uncomfortable underfoot.
Its loose fibers can also present a slip hazard, so they are not really recommended for use in stairs. It can however be used for high traffic areas such as entrances, hallways and living rooms.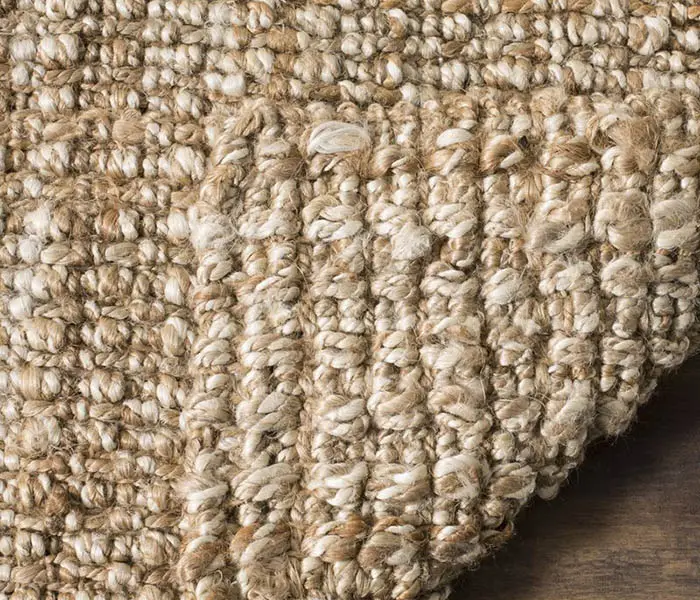 • Sisal carpet fibers – Sisal also comes from another natural source, specifically the Sisal plant or Agave Sisalana cactus plant,a succulent that is native to the regions of Africa, Brazil, South America and Mexico.
Ever since the 1960's and up to this date, Brazil is the leading manufacturer of sisal fibers in the industry. These plants grow up to three feet tall and are harvested by hand from the leaves of the cactus plant for the production of carpets and rugs.
Sisal is the strongest and most durable natural plant fiber used in carpets. Aside from being environmentally friendly, there are far more benefits to sisal fibers. As mentioned, it is extremely strong and has the ability to stand up to heavy use and traffic.
It is also resistant to fire and is inherently hypoallergenic, making it a highly suitable option for households who are sensitive to allergies. By nature, sisal is also a very dense material, so it performs well as a sound barrier and insulator.
In addition, sisal is also a low maintenance material and requires minimal maintenance through once a week vacuuming. Accidental liquid spills can be remedied through blotting (not rubbing in), the application of a club soda solution and blow drying.
Although sisal is a very thick material, it is relatively easy to dye. Sisal can be treated with different colors to produce attractive carpet designs and patterns, which can match almost any type of interior style and decor. Alternatively, it can also be left in its natural light beige color for a more organic and clean look.
Sisal can be used in almost any room of the house, however, precautions must be taken into consideration if planning to apply them in moist or wet environments. It works best for high traffic areas such as living rooms, entrances and hallways.
Also, keep in mind that sisal texture can be a bit coarse, so it may uncomfortable to the touch especially when used for bedrooms.
The biggest issue with sisal carpets is that it can be easily stained – liquids can easily penetrate its surface while dirt can easily leave marks.
However, this issue can be rectified by the application of a protective coating. In terms of cost, carpets which are made from sisal fibers have a mid range price point. They generally cost more than coir but is less expensive than wool.
• Wool & Silk carpet fibers – In some cases, popular carpet fibers are combined to create a more durable, long lasting and attractive product. Both are natural fibers, wool comes from the fleece of sheep while silk is produced by silkworms.
At this point, we already have an idea of how wool performs as a carpet fiber material, so let's take a look at silk. Silk is considered a luxurious fiber primarily because it has a very sophisticated appearance characterized by a high sheen and soft texture. Nowadays, majority of silk fibers come from China and India. Despite being delicate, silk is extremely durable.
The combination of wool fibers and silk in carpets and rug creates a more visually appealing appearance. Typically, wool is used as a base material for the carpet and silk will be used to create the pattern or design.
Not only do these two fibers create a stunning carpet design but it also results to an extremely strong material. Wool and silk carpets are also easy to maintain and only require occasional vacuuming and blotting.
Instead of genuine silk, wool is sometimes combined with a "faux silk" substitute in order to bring the costs of manufacturing down. These alternatives for silk include viscose, bamboo silk or art silk. These combinations also create stunning designs but comes with a lower price point.
Manufactured Or Semi Synthetic fibers
Manufactured fibers are actually a subcategory of natural fibers. These make use of naturally occurring cellulose as raw materials to make the fibers.
Viscose, for example is made using raw materials such as wood pulp. Bamboo silk is made using a raw material, bamboo. So essentially they are a byproduct of processed natural cellulose materials.
• Rayon – Rayon is a popular semi synthetic fiber made form processing cellulose from wood or cotton. It is known to be the oldest manufactured fiber in the world, dating back its origin to the late 1800's.
Rayon is also sometimes referred to as Viscose, Art Silk or Bamboo Silk. Rayon, as a carpet material, produces many attractive designs and pattern.
However, despite its appealing aesthetics, rayon is not that durable and cannot withstand heavy traffic. It has a low melting point and is hard to dye. Rayon can be more commonly found in inexpensive carpet options.
• Viscose – Viscose is a type of Rayon, and is more commonly known as "Art Silk" or faux silk. This carpet fiber is made from wood pulp. Nowadays, it comes i other variations known as "bamboo silk"which is made from bamboo.
Viscose is typically used as a substitute for genuine silk because it is more affordable and has a better performance. In addition, viscose also has the same soft, smooth, "silky" texture of silk.
Differences between Natural and Synthetic Carpet Fibers
Both synthetic and natural fibers have their own notable and desirable traits as a carpet material. However, one outweighs the other in terms of different aspects.
Here's a quick look on the comparison of synthetic versus natural fibers.
Environmental aspect – For the obvious reasons, natural fibers are more eco friendly because they are renewable and sustainable. Aside from that, synthetic carpet fibers also release VOCs or volatile organic compounds.
Durability – It is hard to compare the durability of natural and synthetic carpet fibers because each of them have their own impressive attributes in terms of performance. Sometimes, these types of carpet fibers are found on each end of the spectrum.
For example, wool is the most resilient natural carpet fiber, while cotton is the weakest. While for synthetic fibers, nylon is the most durable and olefin is only suited for low foot traffic.
Stain Resistance – In general, synthetic fibers are much more stain resistant than natural fibers. Mainly because natural fibers have open pores, which allows substance to easily penetrate within its barrier and seep within it's core.
Maintenance – Synthetic fibers are more easy to maintain. They can be easily cleaned by common spot treatments readily available in most stores.
Natural fibers, on the other hand, will typically require specialty cleaning products and the service of professional cleaners. This translates to more costs on maintaining a natural fiber carpet.
Lifespan – Generally, the lifespan of synthetic carpet fibers is shorter than its natural counterparts. Natural fibers such as wool have natural resilience, whereas synthetic fibers tend to crush more easily and lose their luster quickly.
Cost – In general, natural fibers are more expensive than synthetic fibers, whether they are priced per square foot as a broadloom, or per piece as an area rug.
Practicality – Majority prefer synthetic fibers over natural fibers because, as mentioned above, they are easy to maintain and cost effective.
Carpet Piles
Types of carpet based on Piles
A carpet is made by looping yarns through a piece of backing material. This is usually made through the aid of a machine which moves in the same way that a button is sewn on a shirt.
There are many ways to treat the loop of a carpet it may either be left intact or cut and this treatments are referred to as the "carpet pile". Simply put, carpet piles pertain to the density of the fibers and loops of the carpet.
Below are some common types of carpet piles:
• Uncut carpet pile – A carpet pile which is left uncut is also called a Berber pile or loop pile carpet. Berbers have an entire loop intact on their surface.
The reason for berber carpets popularity is their durability. While it may be true that carpets in looped forms are generally stronger than cut piles, that does not mean that Berbers are superior than other carpet styles.
Another big advantage of berber carpets is their resistance to stains and low maintenance. Because of its looped construction, any liquid spill tend to sit only on its surface rather than soaking into the carpet's core.
Uncut pile carpets also do not show foot marks or indentions too easily, which makes them recommended for use in high traffic areas.
The downside of uncut piles is that they are more prone to snagging and running. While it actually requires a lot of force to snag a carpet, with a loop construction there is a big possibility for things to get caught in the loop.
Loops can pull out when furniture is dragged across the surface of a berber carpet. In addition, these carpet piles are more often less soft.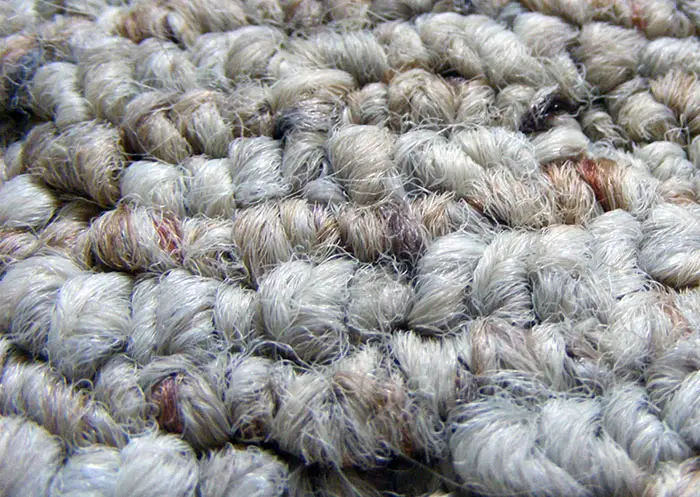 In terms of cost, uncut pile carpets are more lower priced than their cut pile counterparts because they are less expensive to manufacture.
• Cut carpet pile – As opposed to uncut carpets piles, a cut pile carpet is a form of carpet that involves cutting the loop strategically at an angle during the tufting process.Tufted carpets do not use knots in the backing material and are pulled through and cut.

By changing the angle of the shears that cuts the lop, different styles of carpet maybe produced. Also, treating the threads before and after it is inserted into the backing material produces various textures and designs. This can be employed with various levels of thickness in the pile.
Cutting the loops provides the carpet softer appearance and a denser structure. In the same way they are more comfortable underfoot compared to uncut pile carpets.
Cut carpet piles are also much easier to clean. Aesthetics wise, these carpets are generally more attractive than uncut piles carpets and they come in diverse styles.
The biggest downside to this style of carpet is that the rigid nature of the threads makes them more prone to show signs of wear and tear like foot marks or vacuum trails. Long and uncut fibers tend to bloom or untwist over the top of the shorter fibers.
Regardless of the length of the cut fibers, their inherent nature is to bend, flatten or move over time with constant use. Consequently, cut pile carpets also tend to produce a worn out look faster and needs to be replaced more often.
Another drawback to cut pile carpets is its cost. Generally, cut pile carpets are more expensive than uncut pile carpets or berbes, saxonies and friezes, due to the nature of its production process. Cut pile carpets require a more intricate method in order to produce attractive patterns.
Due to the mentioned worn out appearance, cut pile carpets are not advisable for use on high traffic areas such as stairs, hallways and entryways because they will tend to show this effect more noticeably. This type of carpets are more suited for areas with low to medium traffics such as bedrooms, home offices or dens.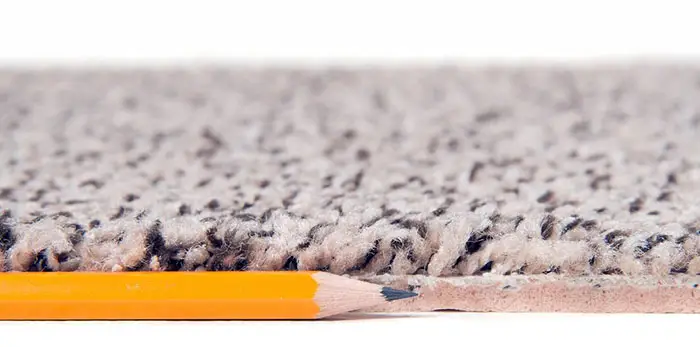 • Saxony cut carpet pile – Considered to be the "most iconic carpet pile" in the industry, saxony pile carpets are traditional cut piles that feature individual strands that are standing up and cut evenly. Saxony cut pile carpets are woven densely and they have a plush, fuzzy texture and an even surface.
Saxony cut pile carpets can be divided into two general categories namely straight saxony and textured saxony. A straight saxony has fibers that go in the same direction, thus creating a uniform color all throughout.
Straight saxony carpets have an appearance similar to velvet that is why it is also sometimes referred to as "velvet saxony". In fact, when you brush your hands across its surface, you can easily see the disturbed fibers change color as it moves in the opposite direction.
Thus, when stepped on, straight saxony carpets also tend to show footprints. Straight saxony carpets are best known for their luxurious appearance and high end looks. These carpets are best suited for formal areas of the homes such as living rooms or dining rooms.
A textured saxony, on the other hand, possesses the same general characteristics of a straight saxony but its fibers are more twisted and go in different directions.
This is typically accomplished by twisting each individual piece of yarn into spirals and subjecting them to heat to set. Also known as a "trackless saxony", textured saxony carpets reflect light differently.
As compared to straight saxony carpets, this type of carpets do not show much of a difference in color when you brush your hands in its surface. With such, textured saxonies will tend to hide footprints and vacuum marks better. This type of saxony is best used for medium to high level traffic areas.
The durability of saxony carpets will greatly depend on the material it is made of. These carpets are available in low to high grade qualities and are produced with different types of carpet fibers such a nylon, polyester, triexta and wool.
Aside from the material and type of fiber, the twist of the fiber and its density also impacts a saxony carpet overall lifespan and performance.
With varying qualities and levels of durability, saxony carpets can be used for different applications and areas of the home. High grade quality saxony carpets are best suited for busy areas or high traffic environments such as stairs, living rooms, entryways and hallways.
The primary advantage of saxony carpets is that they have a classic look that goes well with almost any style of interior, whether it may traditional or formal. It is proven to never go out of style and can last for years, provided that it is properly cared for and maintained.
The primary disadvantage of a saxony carpet is that it tends to show marks, footprints and vacuum prints more, mainly because it fibers can be crushed down easily. Saxony carpets are also more prone to staining.
And since saxony carpets come in various qualities, it can be a bit tricky to tell the grade of the carpet just by looking at it. In some cases, a fully dense saxony carpet may just be a few number of fibers that are puffed up.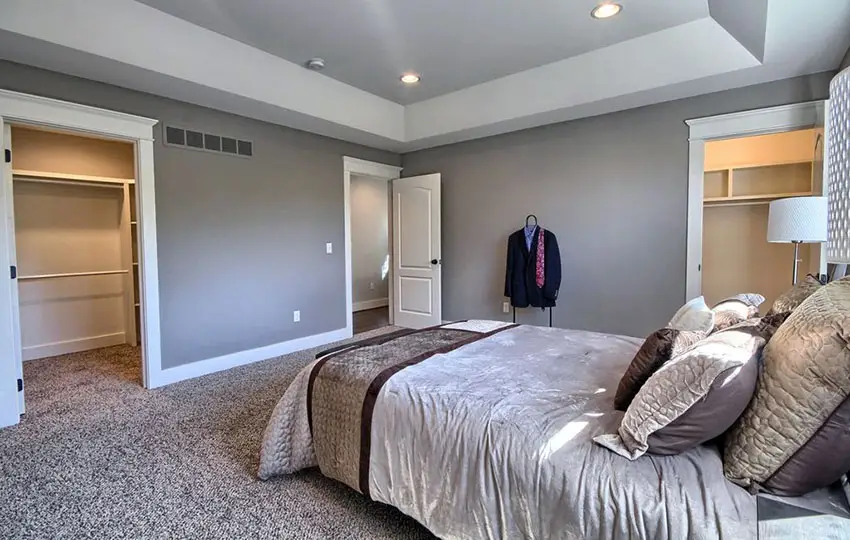 • Frieze cut pile – The frieze cut pile, also known as the "twist" is a very popular style of carpet in the market nowadays. Tagged as the modern version of the old shag carpets , frieze carpet piles have tightly and highly twisted or kinked individual long strands.
In most frieze style carpets, the fibers have been twisted so erratically that they bend back upon themselves, thus creating uneven curls over the carpet's surface.
Compared to traditional shag carpets from the 1960s and 1970s, frieze carpets are generally constructed with skinnier strands of fiber.
Shags typically have a bulkier look, whereas friezes have a thinner and more lean appearance. In general, frieze carpets are longer than saxonies but differ from them in terms of density.
The primary advantage of frieze carpets is their high durability which is brought about by their high twisted fibers. Carpet fibers which stand up straight are more susceptible to damage because the tips can bloom or untwist with repeated impact.
Whereas, with frieze carpets, the fibers are longer and bent, thus the impact of foot traffic is directed towards the stronger part of the carpet pile which is the side of the strands rather than being concentrated and directed on top.
The method as to how frieze carpets are constructed also allows them to last for years. In addition, frieze carpets also tend to hide dirt better than other carpet styles and minimizes the appearance of footprints and vacuum marks.
Thus they are suitable even for high traffic areas such as stairs, entrances, hallways and commercial applications. Frieze carpet can also be used in other various applications in the home like the family room, living room or even the bedroom.
If you also want to create a seamless look and a smooth flooring transition for your home, frieze carpets are an ideal choice. Its long fibers work great in hiding seams as opposed to other carpet styles which show connection lines.
However, frieze carpets present one major drawback – they can be difficult to clean. For carpet styles which have short piles, any type of spill will tend on sit on its surface only, thus can be wiped easily.
But for frieze carpets, the long and loose strands tend to let any type of liquid run through, making cleaning a bit of a challenge. To minimize this, make sure to go with a carpet fiber material that is highly stain resistant.
In terms of design, frieze carpets work best for casual settings. They provide a soft feeling underfoot, can be sit on for long hours but are durable enough to withstand daily wear and tear.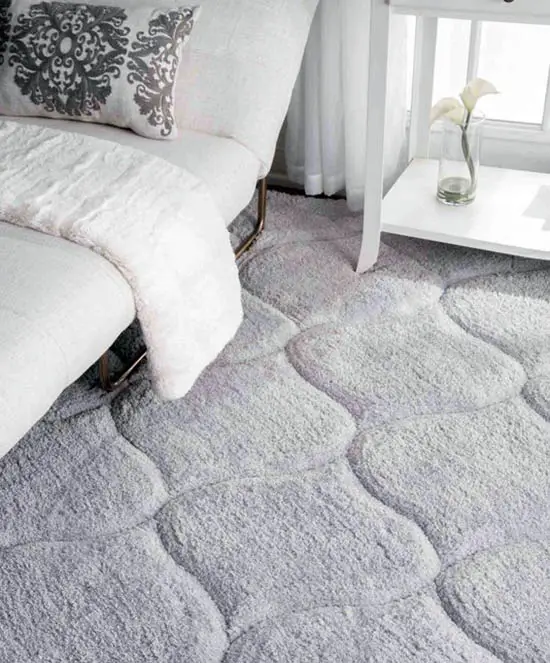 (Bedroom with plush pile carpet)
• Plush carpet pile – Plush carpet piles, also known as the "velvet cut pile", features short, densely packed carpet fibers. Plush carpets are known for their fuzzy surface and rich, luxurious looks. In terms of texture, plush carpets are extremely smooth and soft to the touch and are very comfortable underfoot.
Plush carpets known for their extreme durability. Despite its ultra soft texture, plush carpets can withstand the impact of heavy foot traffic.
If you are looking for comfort, plush carpets are also your best bet, especially when placed in bedrooms where you can soak your toes in to the moment you step out of bed in the morning.
In addition, plush carpets may also be used for living rooms as they can be sit on for long hours. They are perfect for low traffic areas.
As mentioned, plush carpets are well known for their high end looks and luxurious appearance. They lend a very interesting visual appeal to spaces, while also providing versatility and flexibility in terms of design. Plush carpets are available in a wide variety of colors, making it easy for homeowners to find the right kind which will match their personal taste and style.
Unfortunately, plush carpets are fairly temperamental. Because it's fiber pile is so light, plush carpets are prone to wearing down, scuffing or showing footprints, indentations from furniture or vacuum marks in its surface.
Plush carpets are also more susceptible to water marks compared to other forms of carpet. When pile is permanently reversed in localized areas a push carpet, watermarking is produced. Watermarking have irregular shapes and are usually darker in color than the rest of the carpet's surface, making the carpet look wet.
When it comes to carpet pile height there are three primary size varieties which are 1/4 inch for low pile, 1/4 to 1/2 inch for medium pile and 1/2 to 3/4 inch for high pile carpeting.
Carpeting Costs
Carpet flooring is not as affordable as linoleum, however, it comes in a wide range of options and types which can serve almost any type of budget.
In general, the prices of carpet flooring vary depending on the material or type of carpet fiber, carpet pile, the style, color, design, and the size of the room. The biggest cost factor, aside from the type of material is the size of the room or area to be covered.
Here is an estimated cost breakdown of materials and installation for carpet flooring:
Material or the type of carpet – Carpet is often quoted in square foot but is sold by square yard – one square yard is equivalent to 9 square feet. In general, natural fibers cost more than synthetic fibers, because they can not be mass produced easily.
The price of carpet ranges from as little as $2 per square foot to as much as $100 per square yard, depending on the type of carpet fiber and color. Materials together with carpet padding, can cost between $30 and $40 per square yard.
Wool, the most expensive option for carpet flooring can cost around $50 per square yard. Nylon, a synthetic fiber which has the same durability as wool, is less expensive at about $27 per square yard.
Polyester, another type of synthetic fiber which is less durable than nylon, cost less at $11 per square yard. Acrylic, is also another cheap option and has an average price of $10 per square yard, while olefin, the cheapest of all synthetic fibers, is sold at an average of $9 per square yard.
Installation costs – Unlike other flooring materials, carpet flooring is not really recommended for DIY projects. It takes special skills, tools and technical know how to properly install a carpet padding and carpeting.
This translates to extra costs for your project since you are required to hire a professional and avail of their services. The cost for installation of carpet flooring varies, but the average price of labor can run up to $3.50 per square foot or $3 to $6 per yard.
Some carpet stores may offer free installation, while in some cases the labor costs is already included in the material cost of the carpet. If a general contractor will be supervising the carpet installation, expect to pay an additional 15% to 23% of your total project costs.
Baseboards and trims – New baseboards, moldings, trims and thresholds are an essential part of any carpet flooring because they help keep your flooring intact while also adding some visual interest to your carpet. Installation of these trims typically require the services of a carpenter and may add a rough estimate of $250 to your overall project costs.
Other factors – There are also other factors which can significantly affect the cost of your carpet flooring. In terms of labor, part of the installation costs is the removal of existing flooring and mobilization of furniture.
On the average this may add up $5 to $18 per square yard to your total project cost. In full detail: companies charge extra for the removal and disposal of pre existing carpet for $4 per yard, while moving and returning furniture items and furnishings usually cost $2 per square yard. In some cases, installers also add a "cutting charge" for rooms or spaces which are not square or rectangular shaped.
The existing subfloor may also result to additional costs since carpet flooring typically requires a levelled base before installation. Any existing damage needs to be repaired in advance, or in some cases, new joists or plywoods need to be installed.
On the average, carpets charge $70 per hour for this type of work, while an added plywood subfloor can amount to $22 per piece for 4'x8′ sheets.
Carpet padding and tack strips are also required during installation. Tack strips are usually placed around the perimeter of the room and they help keep the carpet in place.
Carpet padding, on the other hand, is used to provide extra comfort to your flooring. On the average, carpet pads cost $30 to $40 per square foot.
Other factors which can affect the cost of carpet flooring installations are:
The location of the job site

Permits and inspection fees (if applicable)

Sales tax on materials

Testing of hazardous materials and its treatment. This is typically done for older homes which use asbestos.

Additional works done around the floor framing such as electrical works, plumbing works, HVAC systems and floor registers.
Carpet Measurement Calculator
To help you determine your carpeting needs and cost we've created this carpet measurement calculator. To use it enter the width and length of your room, the cost of the carpet you want to use, and the cost of your labor. (We calculate labor at the install rate of 46 sq. feet per hour)
Total square footage:
Total labor hours:
Total carpet cost: $
Total cost: $
Carpet Padding Types
Carpet padding or carpet cushions are the foundation for carpet installations. This is installed underneath a carpet material and give practical benefits in various ways.
Carpet padding is essential in prolonging the life of your carpet by helping minimize the stress and impact that it gets. They help reduce noise, lessen stains and prevents any type of spilled liquid from seeping into the subfloor material. Carpet padding also help add a great deal of comfort to carpet floorings by providing an added cushioning to your feet.
Just like carpet piles and fibers, carpet padding come in several types. Selecting the type of cushion or carpet padding is just as important as deciding on the carpet material itself, because as mentioned, they work hand in hand to bring maximum comfort, performance and lifespan.
When choosing the right type of carpet padding for your home, it is important to consider the amount of foot traffic that the area receives as well as the activities and lifestyle of the users of the space. A living room, for example, will need a durable type of carpet padding since it is subjected to heavy foot traffic and daily wear and tear.
Each type of material comes with their own positive features which make them well suited for different application. Here's a look at the different types of carpet padding in the market:
• Urethane Foam Padding – Urethane Foam Padding is the most inexpensive type of carpet padding. In fact, this type of carpet padding is usually offered for free by most carpet suppliers. As its name suggests, this type of padding is made up of urethane foam .
Since its lightweight, this type of padding has a tendency to go flat after a year of use. It cannot tolerate much traffic and is not really a good choice for busy households.
Typically, urethane foam padding is used for apartments which have carpets that are meant to last for 3 years. Urethane foam padding is available in different thicknesses and densities. These carpet cushions can have a density that is as low as ½ pound per square inch or psi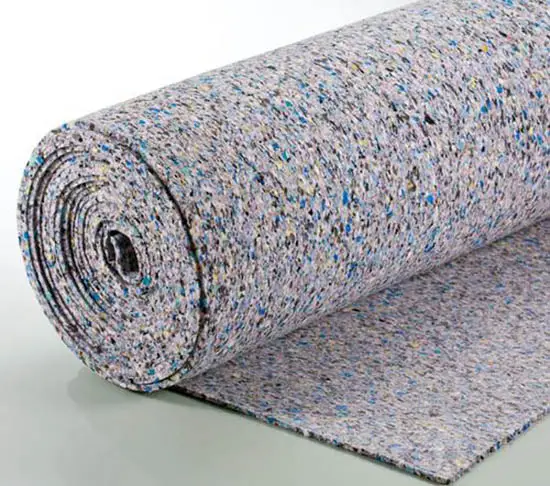 • Prime Urethane Foam Padding – Prime urethane padding is a higher grade of urethane foam padding that is not made of recycled materials. Often referred to as "virgin urethane", this type of carpet padding is made from a very dense form of polyurethane and frothed foam.
Originally designed for commercial applications, prime urethane foam padding can also be used for homes. It performs better than a standard foam padding but also costs more.
• Bonded Urethane padding or Rebond- Also called "rebond" or "rebonded foam padding", bonded urethane foam padding is the most popular carpet cushion sold in the market today.
This type of carpet padding is made from reclaimed scrap high density urethane foam that is bonded together. Typically, these urethane foam scraps are gathered from furniture and automotive manufacturing. Rebond carpet padding also comes in various thickness and densities.
One important component of rebonded urethane padding is Bht or butylated hydroxytoluene. Bht is a type of chemical component which is commonly used in food production such as bread or cereals.
It is added to urethane products to reduce the risk of fire and because of its nature, this chemical compound has a tendency to produce yellowing in carpet installations. Although prone to yellowing, the potential damage or discoloration can be rectified by rinsing it with a mild acid or white vinegar solution before applying water with detergent.
Rebond pad is an economical carpet padding choice and with the right thickness, this type of carpet can do a great job in supporting your carpet flooring.
• Rubber Pad or Waffle Rubber pad- Waffle rubber pads are made of a spongy rubber material that is molded into a waffle like form. The carpet is catched by the raised areas, which makes it rest partly on air.
The cushion of air in between a waffle rubber pad makes carpets softer to the touch. However, one negative aspect of this air cushion is that it doesn't provide enough support for the carpet, making the carpet backing more vulnerable to damage and cracking as it moves.
When choosing to go with waffle rubber pad for your carpet flooring, make sure to get the heaviest cushion you can find.
• Rubber slab or Flat Rubber pad – Flat rubber or rubber slab cushion is a denser type of rubber cushion. Typically used in commercial applications over concrete slabs, flat rubber pads are one of the priciest options for carpet padding.
Flat rubber is superior when it comes to quality and lifespan. In fact, it is the only carpet padding that could outlast the carpet material itself.
Unlike other carpet padding, flat rubber pads do not need to be replaced with each carpet installation. They can instantly make 10 year old carpets look like they we installed last week.
Unlike other carpet padding materials, rubber padding density is usually rated in ounces rather than pounds. The best type of rubber pad for residential installation are those that have a density of 19 to 22 ounces as they provide ultimate luxury and a longer wear.
• Fiber pads or fiber cushions – Fiber pads make use of scrap fibers from natural sources such as wool, jute or hair mixed with jute. In some cases, they are made from recycled materials such as shredded fabrics.Fiber pads are very dense and are not spongy.
This type of carpet padding is typically used for commercial carpets and berbers. Designed to allow looped berbers to wear well in high traffic areas, fiber pads also help prevent carpets from developing wrinkles or from stretching out.
• Specialty Padding – Specialty padding are enhanced types of standard paddings which offer additional features and benefits for certain applications.
These include moisture barrier paddings, odor eating padding, memory foam padding, air filtering padding and pad infused with baking soda. In terms of cost, specialty padding are much more expensive than regular carpet padding materials.
Moisture barrier padding –

Helps prevent your carpet from being susceptible to damage from to much exposure from moisture. Moisture barrier padding can also help prevent the growth of molds, mildew and bacteria which is often a result of wet carpeting.

Odor eating padding –

Helps prevent odor causing germs and unpleasant smell.

Memory foam padding –

A premium type of carpet padding which provides excellent comfort underfoot because of its softness.

Air filtering padding –

Helps filter the air by trapping pollutants such as dirt, dust and allergens.

Pad infused with baking soda –

A self deodorizing type of carpet pad which helps freshen and revitalize your carpets.

Pet friendly carpet padding