The essential guide to colors that go with gray walls including popular accent, cabinet and paint colors like blue, green, purple, and more.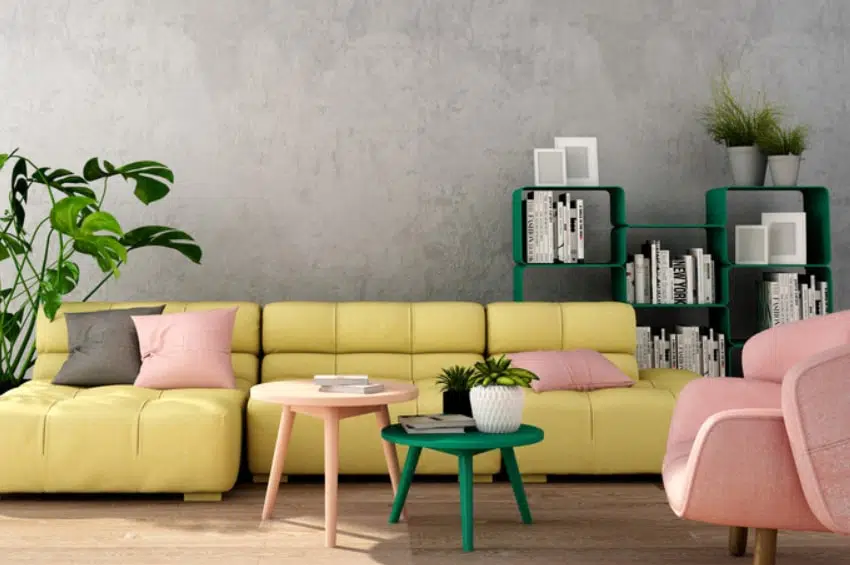 Gray is one of the most popular and versatile colors in interior design. There's a broad selection of color combinations that go well with it, but pairing it together with just any color can also be tricky.
Knowing which colors to pair with gray walls can help you create a space that feels cohesive and beautiful.
Gray is considered a timeless color, offering sophistication and balance. Essentially, it also creates a sleek and modern effect.
Moreover, because a variety of colors pair well with this color and hue, it is perfect for just about any wall and furniture.
Here are some great color combinations for those looking to go gray to inspire you for your next home decorating projects and ideas.
Paint Shades That Match With Gray Walls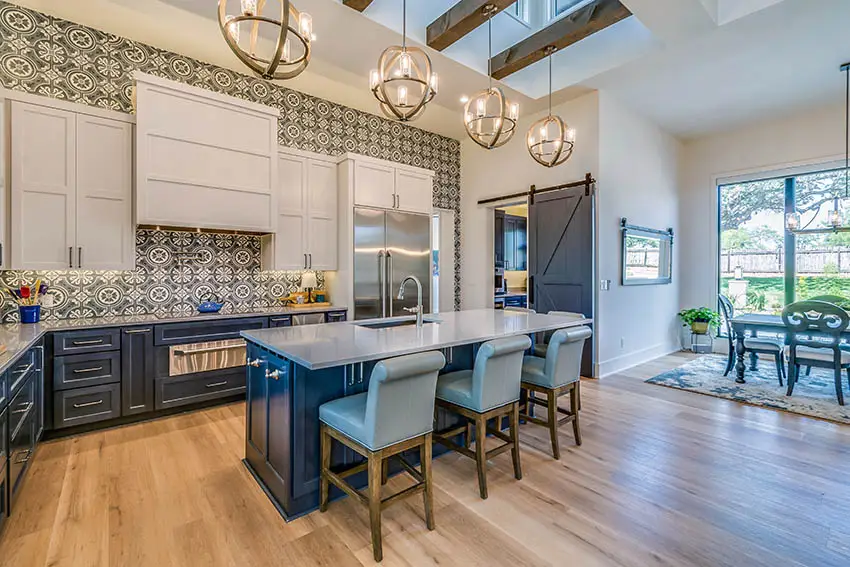 A great way to match gray walls is by using softer, lighter colors like light blue, green, and yellow. These soft tones will make the space feel more open and inviting.
A soft blue hue will make your room appear more spacious and calm, especially in the morning light. Pairing navy blue with a darker gray offers a contrasting effect, where gray isn't overpowered by blue.
What's more, adding tan and green into the color scheme can soften the masculinity of gray and blue and create a vibrant palette. Read more about our guide on colors that go with green here.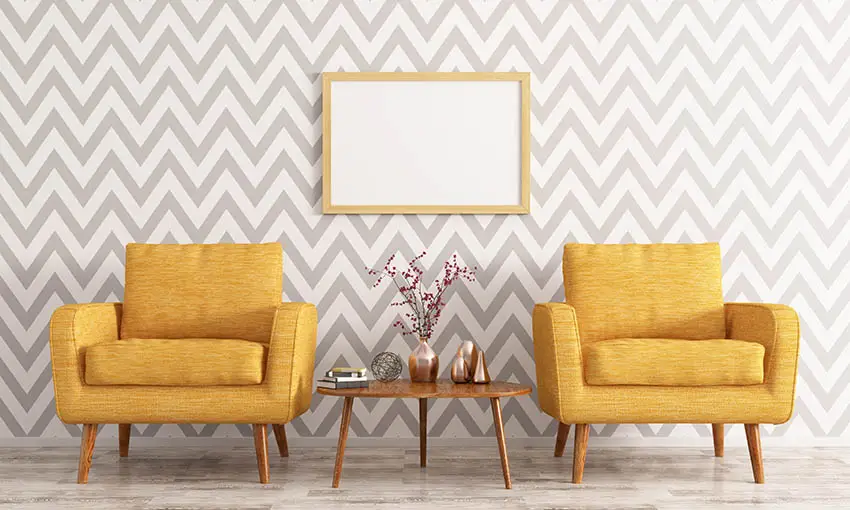 Meanwhile, a yellow hue will give your bedroom a warm glow, which is just perfect for relaxing before bedtime.
Conversely, selecting a calming shade of gray for a living room that mixes springy shades of yellow and earth tones hues will bring the great outdoors into your living space, reminding you of sunshine-filled days full of enthusiasm and good cheer.
Other options are pink, blue, orange, or purple—any of which will create an interesting contrast against any shades of gray.
Also, it would never hurt to mix in more adventurous colors to an otherwise calming palette and bring a creative flair to the room, such as peach and orange that are equally eye-catching tones.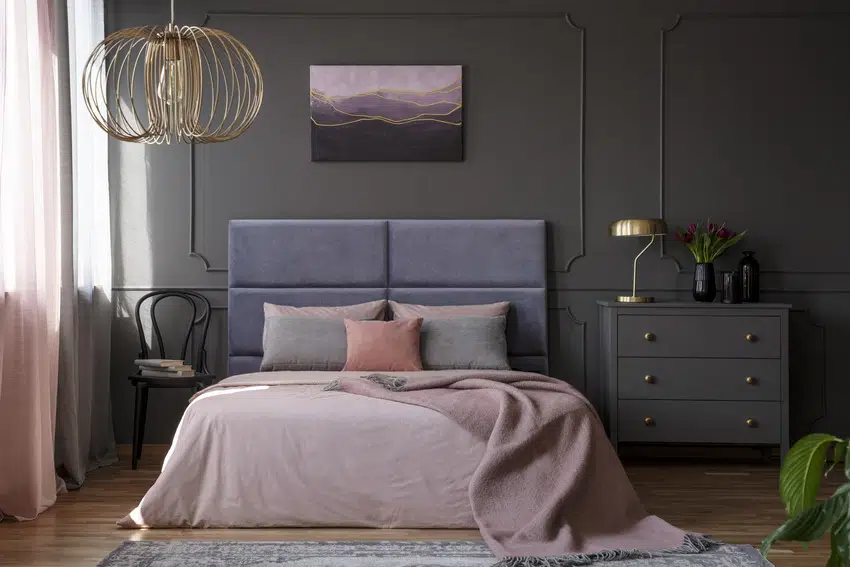 Similarly, a blush of pink and a dusk of gray brings a romantic and enchanting color combination.
Sometimes, it is also best to combine more than one shade of gray to create a polished cool tone that would look perfect with a fiery color like red that brings passion and energy.
A deep purple tone, on the other hand, creates drama in any space while still feeling sophisticated enough for living rooms or dining rooms.
Finally, if you really want something different but would still prefer a cohesive look for the space, opt for earth tones like browns and greens. Both colors complement each other nicely and also blend well together with gray, creating a calm and relaxing atmosphere.
What Accent Colors Go With Gray Walls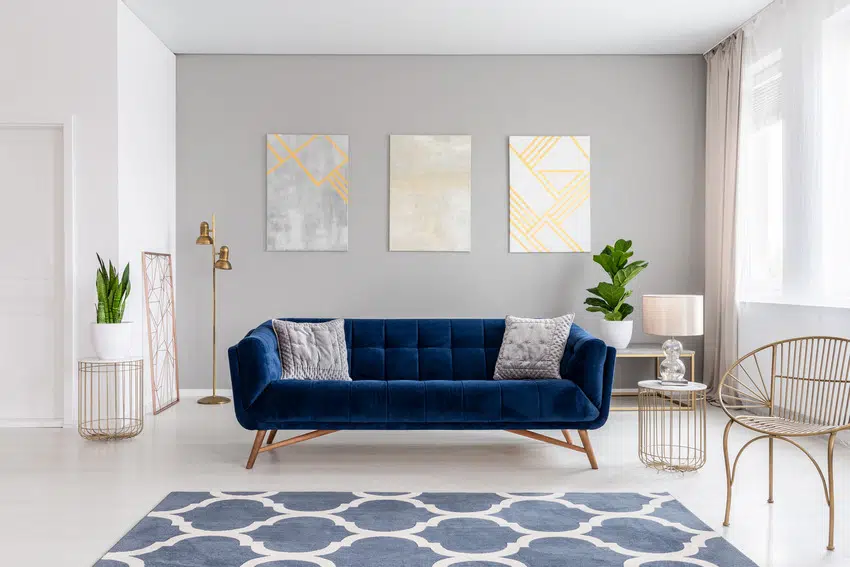 If you want to spice up your bland gray walls, consider incorporating accent colors into your home interior to give your room an instant makeover.
The key is picking colors that will complement the tones in your room and not clash with any other colors or patterns.
If you feel like adding a bright pop of color to any room in your home, go for it! For example, gray walls, blue accents, and various white decorations can make for a very relaxing and refreshing space.
As a neutral color, gray blends extremely well with other colors. You can make a statement by adding an attention-grabbing accent color, like gold. Read more about our guide on colors that go with gold here.
Blending feminine and stylish grays with bright pops of color, like neon green, creates a funky yet sophisticated vibe.
Additionally, gray doesn't always have to be the go-to color for your décor. Known as a more exquisite shade of gray, silver can also create an open and clean environment perfect for accent colors such as aqua, cobalt blue, and lavender.
You can add pillows, throws, curtains, decor pieces, artwork, and furniture pieces as accent colors to create visual interest and get the look you desire.
Color is always the key element that sets and create the mood of a room. – Elaine Ryan, Color Your Life
What Color Cabinets Go With Gray Walls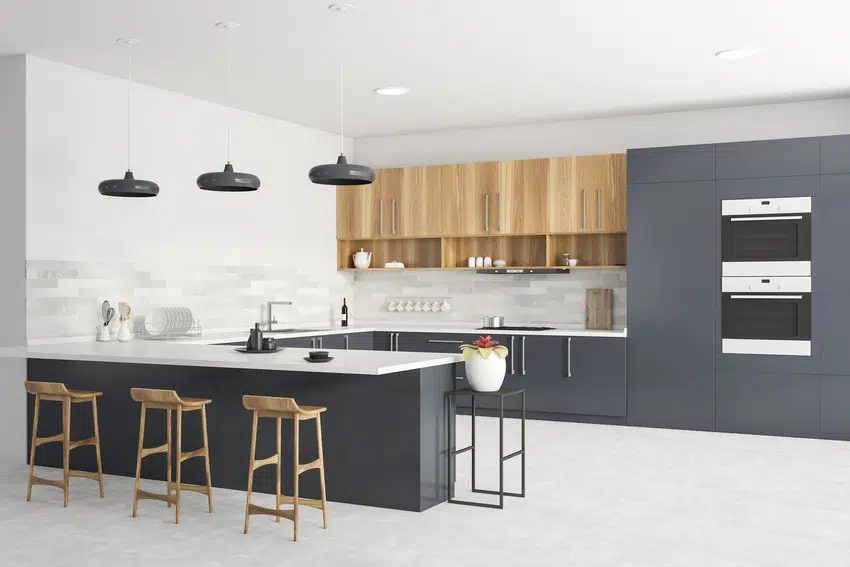 There are several ways to introduce various shades of gray in the kitchen. To begin with, having gray walls is a great starting point to blend kitchen cabinets and backsplash colors more easily.
For a contrasting effect, offset your gray walls with an earthen gloss—a light shade of rose gold or even cappuccino would be perfect. For a more interesting and visually appealing kitchen space, pair warm neutrals cabinets with cool gray walls.
Using the right amount of gray to balance the warm neutrals and incorporating soft blue or green accents into your space can help create a relaxing and inviting ambiance.
Pairing gray walls with crisp white cabinets would look absolutely stunning, where white absolutely pops against gray walls. Read more about our article on kitchen wall colors with white cabinets here.
For a glamorous show-stopper kitchen, go for a classic color scheme by incorporating rich charcoal gray cabinets with a predominant gray wall, and add any white accent for decoration.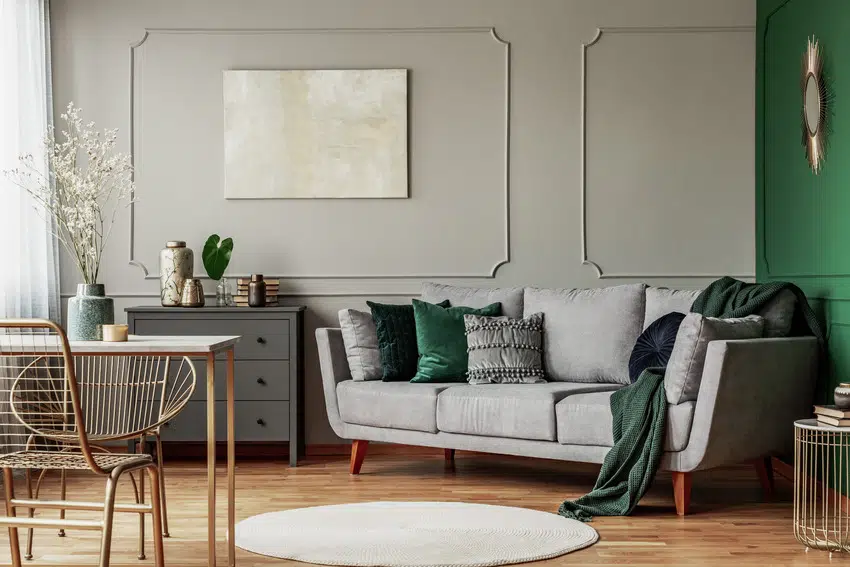 Another great match for gray walls is a vibrant green color accent such as forest green. You can also add various decorative plants around the space to complete a natural, cozy look.
Highlight your gray walls with complementary colors that pair well with a particular shade of gray. When opting for espresso kitchen cabinets, pick a light shade of gray for the walls, such as dove, stone, or steel gray.
It is best to paint your walls in lighter shades when you have dark kitchen cabinets. That way, the overall interior would also look more visually pleasing.
Paint Colors That Go With Gray Walls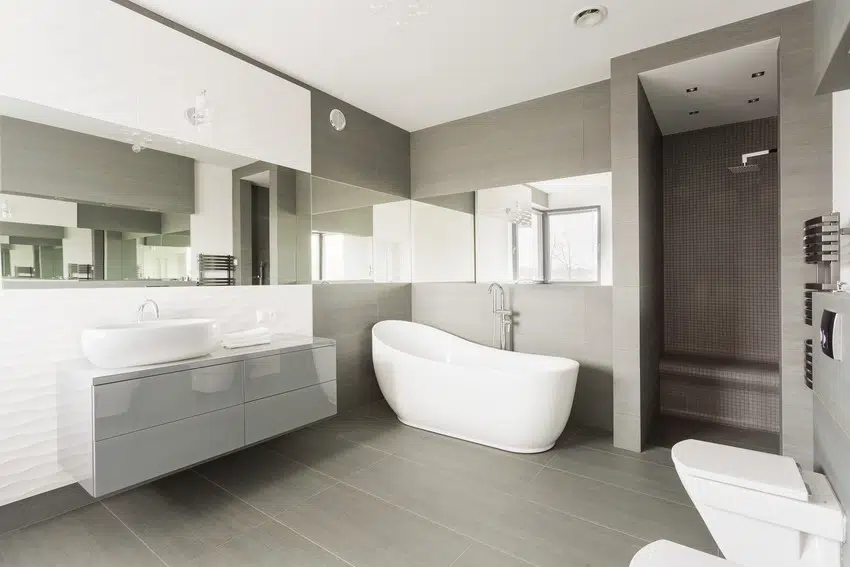 Gray is the new black, available in a wide spectrum of colors from light to dark shades. Despite being considered as a dull and bleak color, it is actually quite versatile as it is lovely. Gray certainly has its charms.
Here are some of our recommended rich, contemplative colors that go perfectly with gray walls:
WHITE

Farrow & Ball's All White No. 2005
(among the brand's tried-and-true colors)
Benjamin Moore's Chantilly Lace OC-65

Benjamin Moore's Alabaster OC-129

Benjamin Moore's Super White OC-152

Benjamin Moore's Decorator's White OC-149
OFF-WHITE Farrow & Ball's Strong White No. 2001
Farrow & Ball's Wevet No. 273

Farrow & Ball's Ammonite No. 274

Farrow & Ball's Wimborne White No. 239
ECRU-LIKE HUE Benjamin Moore's Cloud White OC-130
Benjamin Moore's Seapearl OC-19

Benjamin Moore's China White OC-141

Benjamin Moore's Cotton Balls OC-122

Benjamin Moore's Soft Chamois OC-13
CREAMS PPG's Garlic Clove 18-09
Benjamin Moore's Mayonnaise OC-85

Farrow & Ball's Pointing No. 2003

Farrow & Ball's Skimming Stone No. 241
BEIGES Benjamin Moore's Alexandria Beige HC-77
Farrow & Ball's Bone No. 15

Farrow & Ball's String No. 8

Benjamin Moore's Grant Beige HC-83

Benjamin Moore's Manchester Tan HC-81
OTHER COLOR PALETTE

Benjamin Moore's Exotic Fuschia 2074-50 Washington Blue CW 630 Farrow & Ball's Dutch Orange No W76 Calke Green No 34
Benjamin Moore's Wythe Blue HC-143

Edward Bulmer Natural Paints' Tea Green

Benjamin Moore's Spanish Olive 1509

Farrow & Ball's Setting Plaster No. 213

Farrow & Ball's Radicchio No. 96

Sherwin William's Solitude SW 6535

Sherwin William's Rainwashed SW 6211

Sherwin William's Meander Blue SW 6484

Farrow & Ball's Cromarty No 285

Benjamin Moore's Peony 2079-30

Farrow & Ball's Brinjal No 222

Farrow & Ball's Mizzle No 266

Benjamin Moore's Hunter Green 2041-10

Sherwin William's Daredevil 6882

Benjamin Moore's Ravishing Red

Benjamin Moore Raspberry Ice

Farrow & Ball's Sulking Room Pink No.295

Farrow & Ball's Red Earth No. 64

Farrow & Ball's Down Pipe No.26

Benjamin Moore's Coat of Arms 763
Overall, gray is timeless, elegant, and sophisticated. It can be used just about anywhere in the home, including walls, furniture, accessories, and kitchen cabinets.
For more related content, check out our article on colors that go with gray floors.