Find out all floating shelf dimensions including the standard floating shelf sizes, depth, thickness, distance between shelves, and shelf bracket size.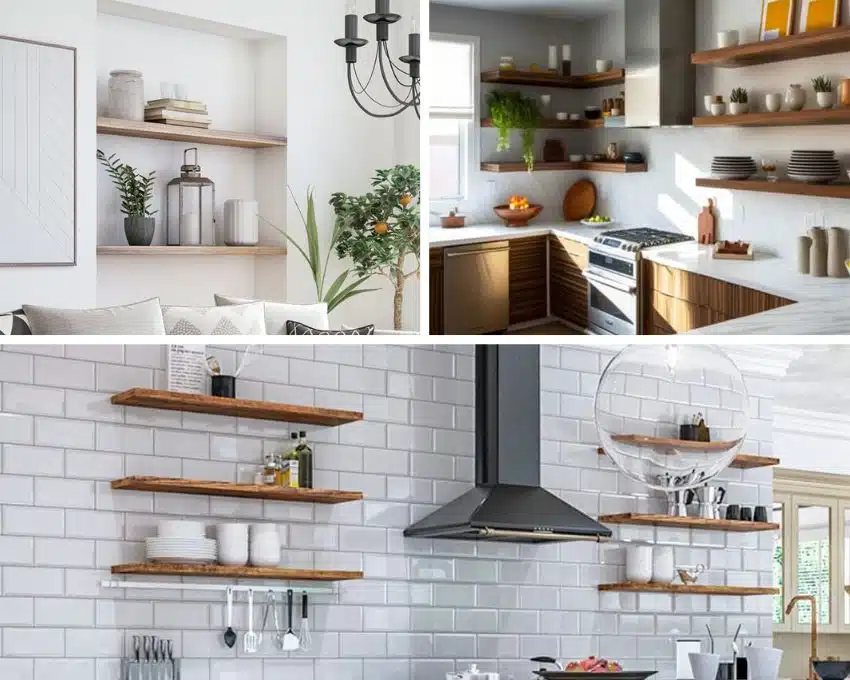 Home decorating is something that is all the rage among homeowners, especially during the height of the pandemic when guaranteeing is the safest route, and people start to look at their empty walls and think of ways to decorate them.
From homemade paintings to do-it-yourself picture frames, one trend that stuck is floating shelves which any homeowners can buy or even make to decorate their bare walls.
There are many sizes when it comes to floating shelves, and some sizes will vary from one to the other depending on what the homeowner needs for their space. Some can have longer and thinner dimensions, while some can have deeper depths.
Standard Floating Shelf Dimensions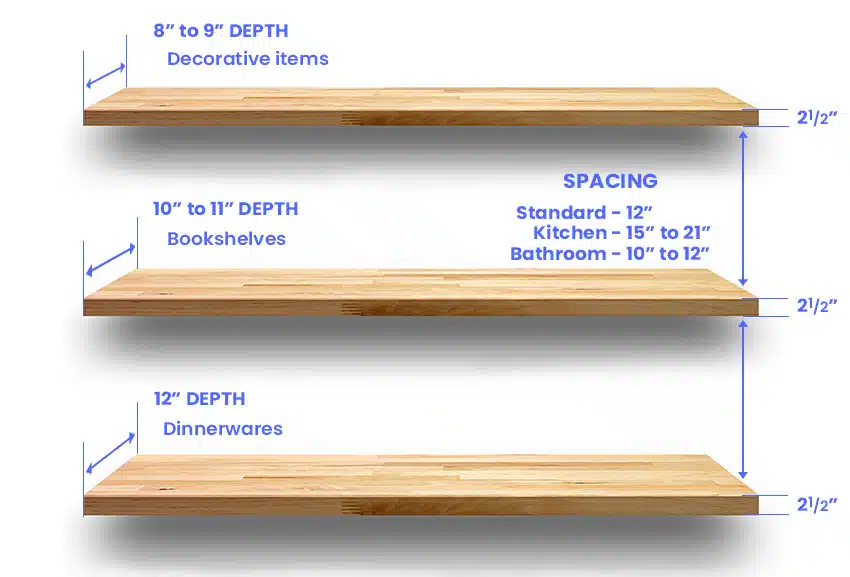 The standard size for most floating shelves is determined by their depths since length will vary from one to the other according to the material made, the use, the looks, and even where the homeowners are planning to install it.
In general, depths will range from 5 to 10 inches or around 13 to 25 centimeters, but there are ones that are 12 to 15 inches or 30 to 38 centimeters in depth.
Floating Shelf Depth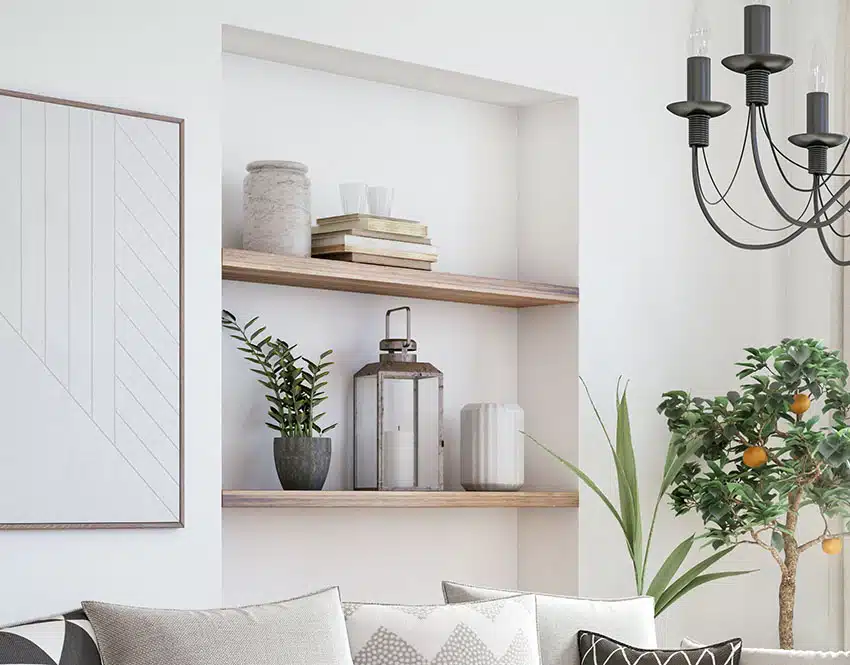 The depth for many floating shelves will depend on what the homeowners are looking to use the shelves for and where the shelves will be installed and affixed. The rule of thumb with deciding the shelf depth needed for any purpose is measuring the items the homeowners are planning to use the shelves for.
The standard shelf depth is around 8 to 9 inches or 20 to 23 centimeters, and this size is great for kitchens because it is the perfect floating shelf depth for coffee mugs. This is also great for most decorative items and toiletry needs.
A floating shelf is an interesting look and useful addition to any room. It's easy to install and great where a more substantial solution such as bracket shelving would be hard to position or install. – Essential Home Skills Handbook: Everything You Need to Know as a New Homeowner, Editors of Cool Springs Press, Chris Peterson
The best floating shelf depth to get is between 10 to 11 inches or around 25 to 28 centimeters for floating shelves that will be used as bookshelves.
In the kitchen, floating shelves are also used to display dinnerware, and most of the time, a shelf with a depth of 11 inches or 28 centimeters will usually suffice for many, but homeowners need to measure to make sure that the depth will work.
If they have larger dinnerware or pots and pans to place on their hanging shelves, there are deeper heavy-duty shelves at 12 inches or 30 centimeters to use.
Distance Between Floating Shelves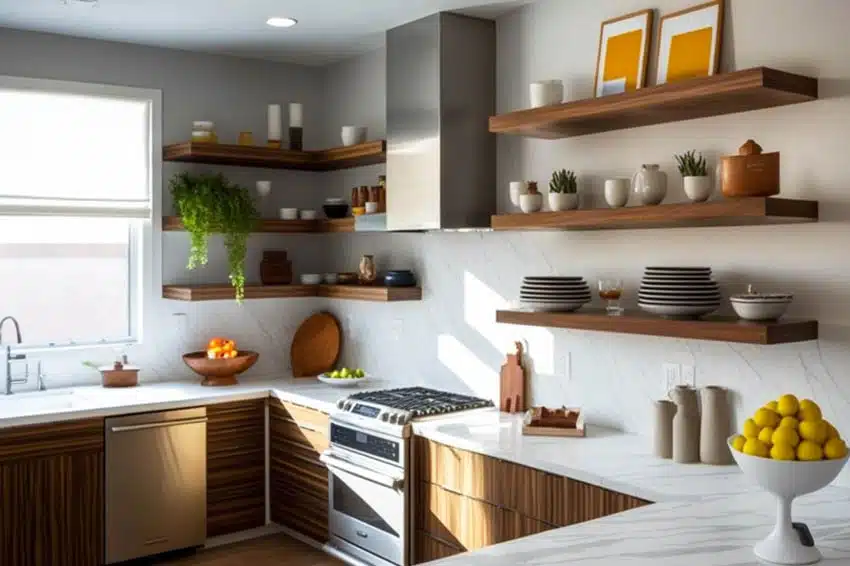 Now that the size of the floating shelves is now decided, the next thing to figure out is how far apart the floating shelf should be or how far apart the brackets or wall studs will be installed.
The space between each floating shelf will be determined by the height of the items placed on the shelf. The rule of thumb regarding this is mounting the floating shelf on the wall according to the height of the tallest item with a couple of inches for breathing room.
The standard spacing for many floating shelf installations is spacing the shelves 12 inches or about 20 centimeters from each other. Although, this number can always be boosted to 18 to 24 inches or approximately 46 to 61 centimeters to ensure that each item is seen and accessible when needed.
Aside from this, the shelf's location is another reference when considering spacing. In the kitchen, a distance between shelves of 15 to 21 inches or 38 to 53 centimeters is usual.
For the bathroom, 10 to 12 inches or 25 to 30 centimeters will suffice. The living room has differing spacing, and the tallest item to be put on the shelves is the basis for deciding the spacing.
Floating Shelf Thickness
The thickness will usually be standard depending on what materials a specific floating shelf will be made of. Of course, there are exceptions for custom-made ones, which will depend on the homeowner or a decorator wanting a particular look for aesthetic purposes. The standard floating shelf commonly bought in many stores will have an average thickness of 2 1/2 inches or about 6 centimeters.
For a more modern look, floating shelves with a thinner profile will give off a more modern and streamlined look, and designating a purpose for the shelf will help anyone looking for the best shelf to get for their homes.
Kitchen Floating Shelf Dimensions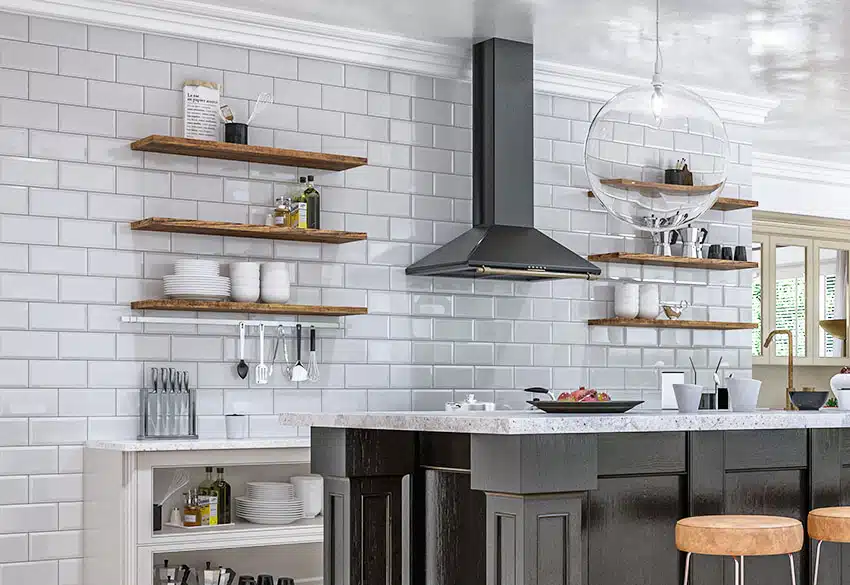 Most floating shelves are installed in kitchens, and they can serve many purposes, from housing dinnerware to kitchen utensils. Open shelving in the kitchen can range with a length from a smaller 12 inches or 30 centimeters to a shelf as long as 96 inches or about 244 centimeters.
The shelf depth can range from a narrow 4 inches or 10 centimeters deep, with some shelves measuring 12 inches or 30 centimeters and more. The consensus is going for a shelf 36 to 54 inches or 91 to 137 centimeters for function and one with a smaller length for decorative purposes.
IKEA Floating Shelf Dimensions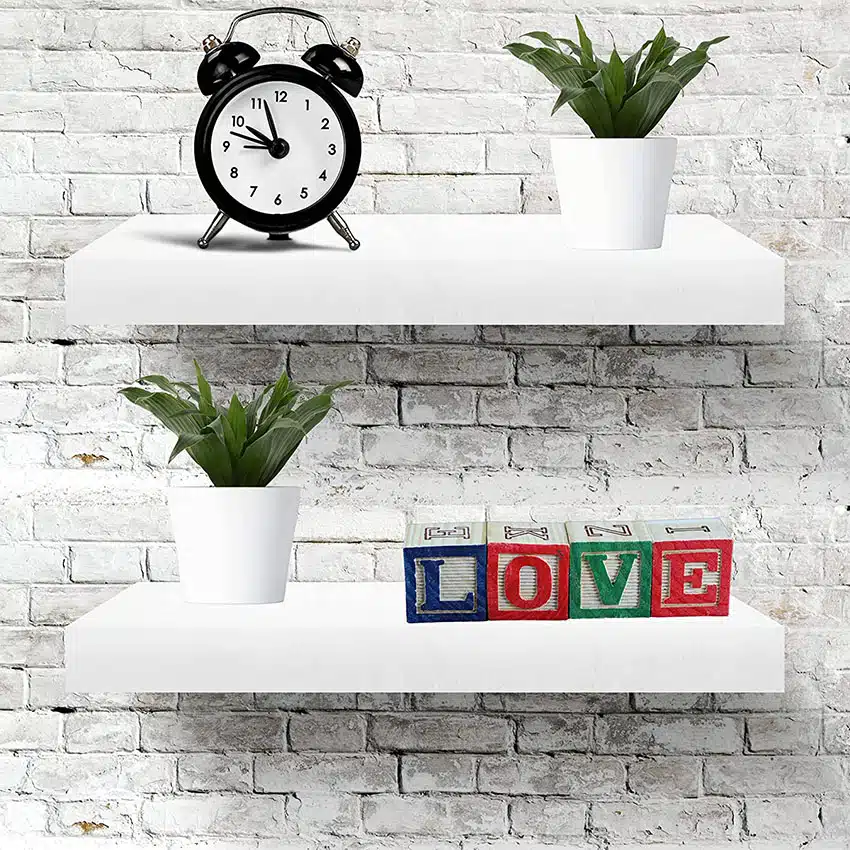 See this floating shelves at Amazon [sponsored link]
IKEA is one of the best stores when homeowners are looking for ready-made and install-it-yourself furniture, and this is the case for their floating shelves. One of their top sellers is the LACK floating shelf that has a length of 43 1/4 inches or around 110 centimeters and a depth of 10 1/4 inches or 26 centimeters.
The more extended version of the LACK shelf has a length of 74 3/4 inches or around 190 centimeters with the same depth, which offers the same function and is perfect for living rooms. For decorative purposes, they also have one with a length of 11 3/4 inches or 30 centimeters.
Dimensions of Floating Shelf Brackets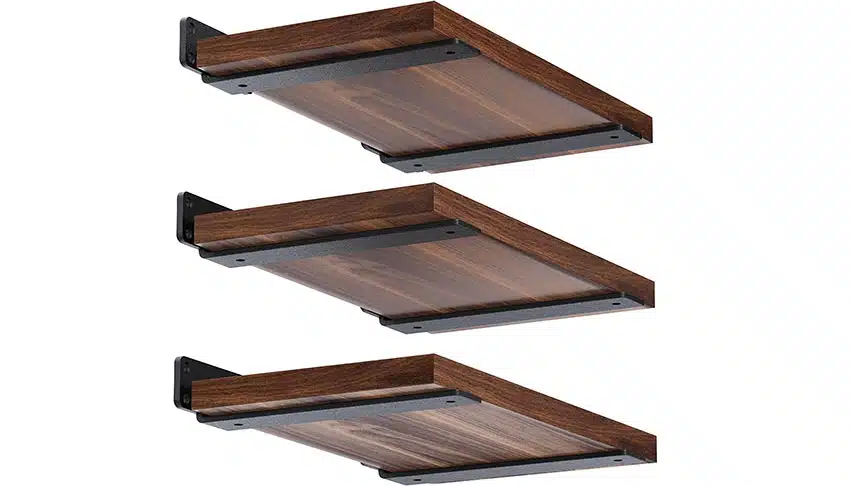 See this floating shelves at Amazon [sponsored link]
Floating shelf brackets will usually come with the purchase, but sometimes, homeowners will choose to DIY their floating shelves, which is where shelf brackets will come in.
The shelf brackets will depend on what length of floating shelves they are looking to utilize, but the standard ones will start with a length of 14 inches or around 36 centimeters with a depth of 5 inches or about 13 centimeters. This size will work great for standard thinner floating shelves mainly utilized for living and bedrooms.
See more related content in our article about the best wood for shelves here.