Find out the colors that go with aqua including what shades go best, suggested color palette, aqua paint colors to use, and ideal combinations.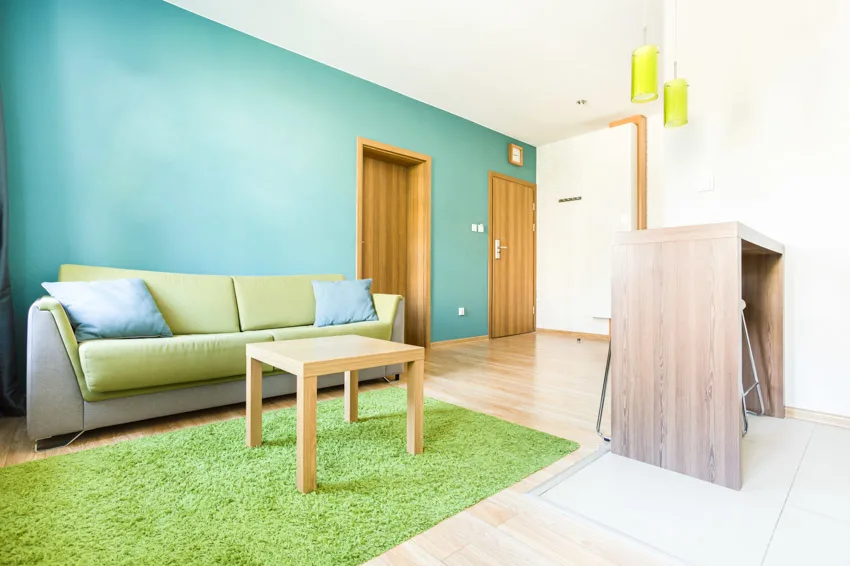 Aqua is a blue-green combination with varying intensities that ranges from mild seafoam to a deep blue with a green overtone. It comes in a broad range of tones, from bright and joyful to serene and quiet.
There is a lot of flexibility in color combinations and patterns because aqua is so versatile for home interior design. There are countless ways to incorporate aqua into your home. Read on to learn more about the colors that go with aqua.
What Color Goes Best With Aqua?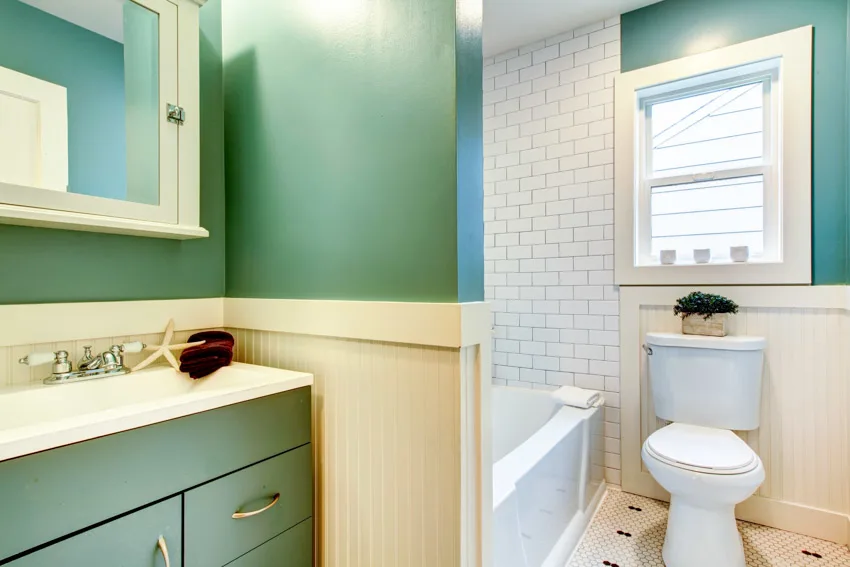 Below are colors that pair nicely with aqua in various home design styles.
Aqua and Yellow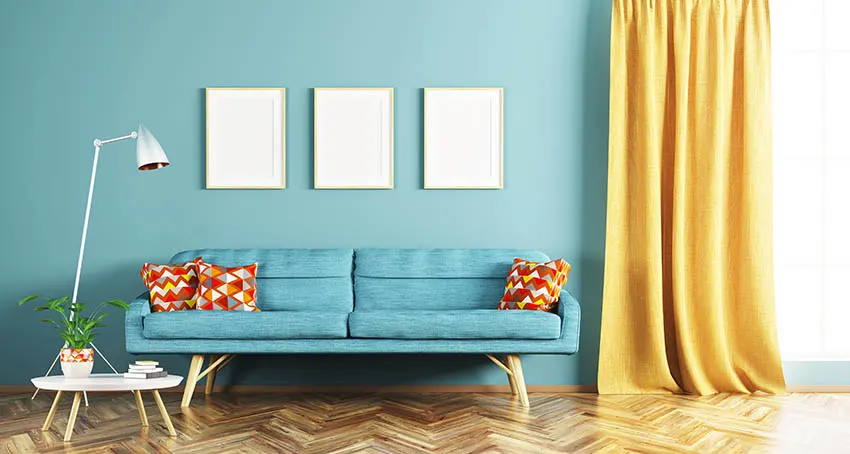 Yellow is a bright, pleasant, and happy color. When used with light aqua blue, this color combination may help to create a typical country cottage impression.
Choose delicate floral textiles that include both hues, and pair them with aqua walls and yellow accents like a yellow rug or yellow pillows. The Aqua and yellow combination works exceptionally well in a bedroom since it creates a cozy ambiance.
For a more Scandinavian look, combine lemon yellow with a more rich hue of aqua. Paint old wooden chairs a vibrant lemon yellow, and add splashes of aqua to soft furnishings, like certain types of curtains or wall decorations.
Aqua and Orange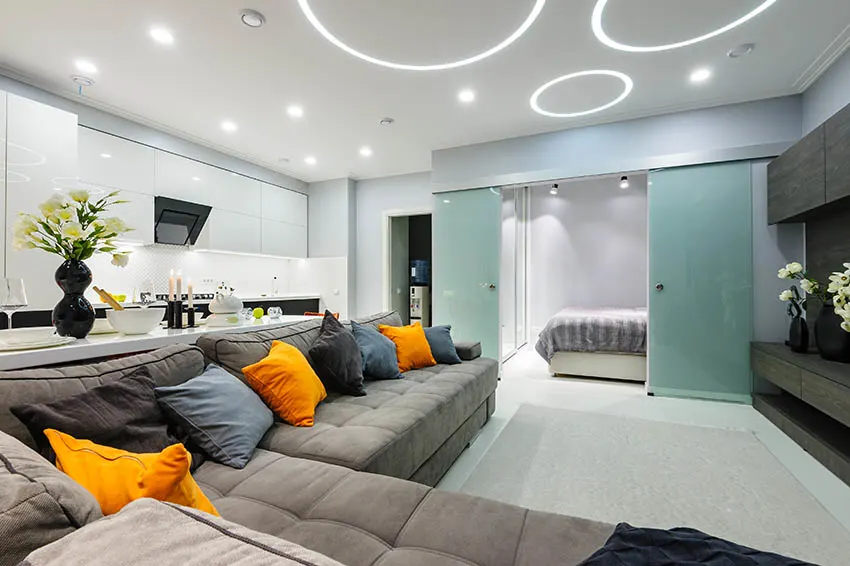 Orange has tan undertones, making it a pretty soothing color that would look great against a blue-toned aqua. Paint the walls pumpkin orange and highlight with wooden furniture in a gentle blue-toned aqua.
To utilize orange and aqua on a broader scale, use one of the hues in a softer shade, such as light aqua with pumpkin orange or intense aqua with peach. Pumpkin spiced orange is a hot hue that resembles a combination of orange pumpkins and cinnamon spice.
You can also use aqua and orange as accent or decor pieces with a neutral base color to add pops of color. Using accent colors in this way allows you to change the look of the room readily and avoid coming across too intense. See more colors that go with orange here.
Aqua and Red
You may achieve a vintage aesthetic by combining bright aqua with cherry red. Paint the walls aqua blue and use red kitchen equipment like a red mixer and a red toaster.
You may also create a more eclectic vibe by combining aqua and red with rustic wooden furnishings. For example, use a subtle aqua hue for the walls, cherry red furnishings such as a red sofa, and chestnut types of hardwood floors.
Aqua and Pink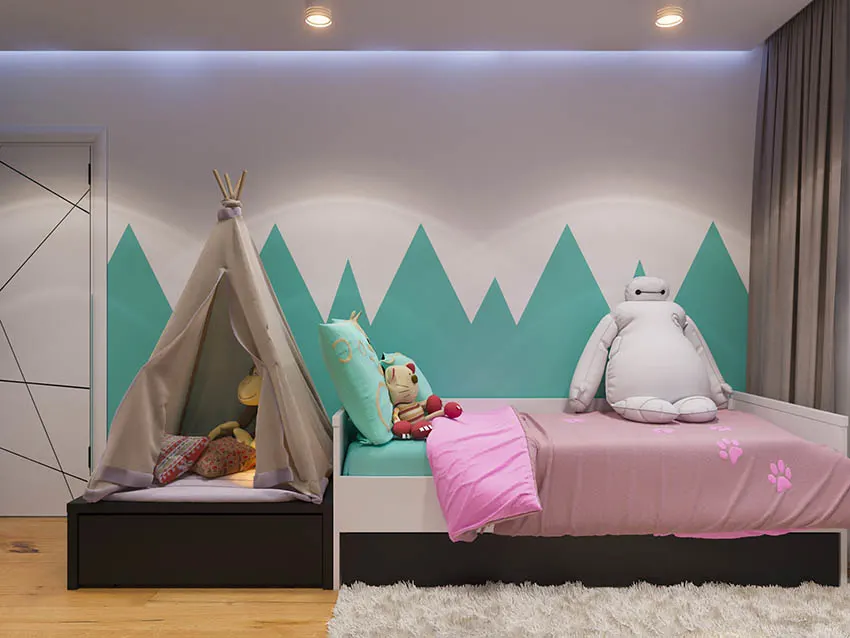 Any shade of aqua goes nicely with pink, but it looks adorable next to mint-colored aqua or softer colors of aqua. Use this color scheme in a child's bedroom for a playful but lovely appeal or in a kitchen for a French Riviera atmosphere.
Coral pink and aqua often symbolize the colors of the Mediterranean, so they may look great in a dining room or living room to create a bright and happy summer vibe.
Blush pink is also a fashionable hue in interior design, both as a foundation and accent color. Combine pink colors with gentle aqua to create a soothing color palette that would look lovely in a room.
Aqua and Gray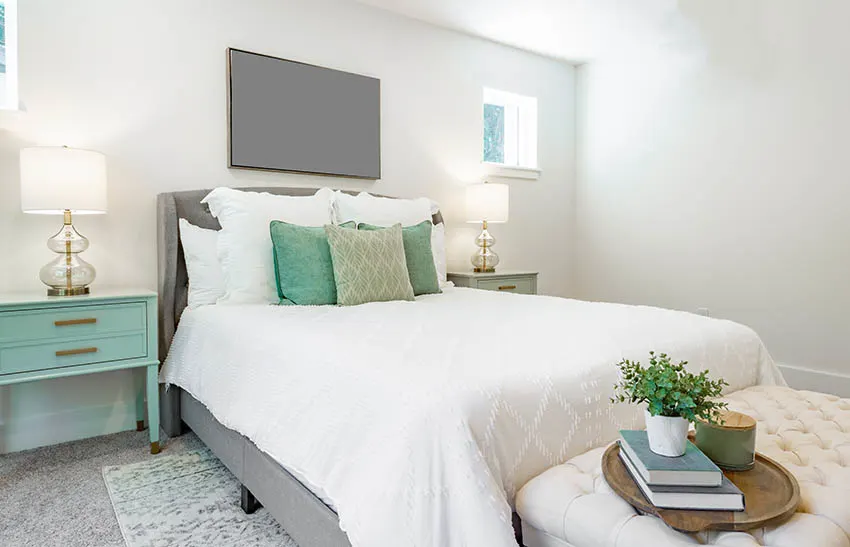 Aqua works well with both light and dark shades of gray. Those who want subtle can pair aqua with light gray shades. For a bolder look one can try pairing aqua with dark or charcoal color gray.
To tone down the dark elements consider using gray as an accent for a modern ambiance. Soft gray furniture can be paired with a neutral paint and aqua decor elements and fabrics with great results. See more pictures of what colors go with gray here.
Aqua and White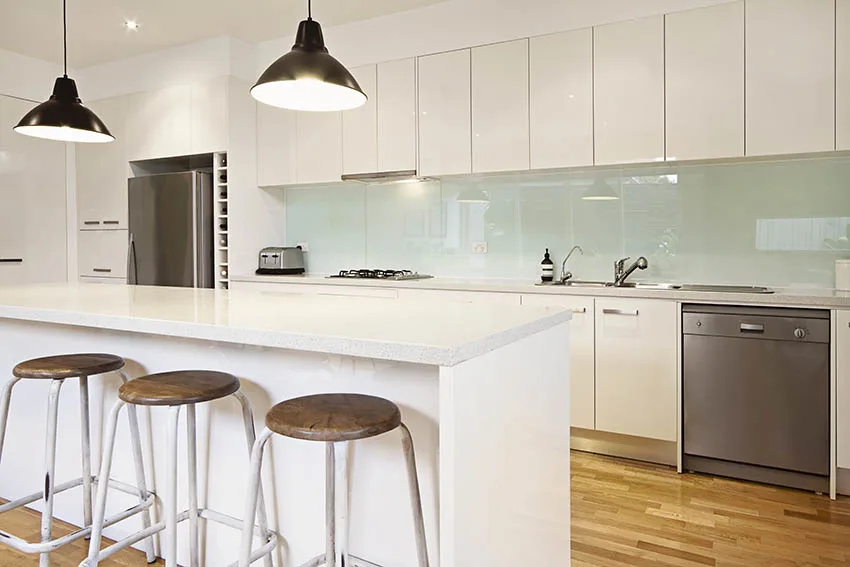 If you have picked a light shade of aqua, white is a simple color option that will create a relaxing atmosphere. Aqua might go well with ivory, an off-white hue, for a soft interior design with a hint of warmth. Choose an aqua and white combination with sharp angles if you want a more contemporary and edgy aesthetic.
Aqua Color Palette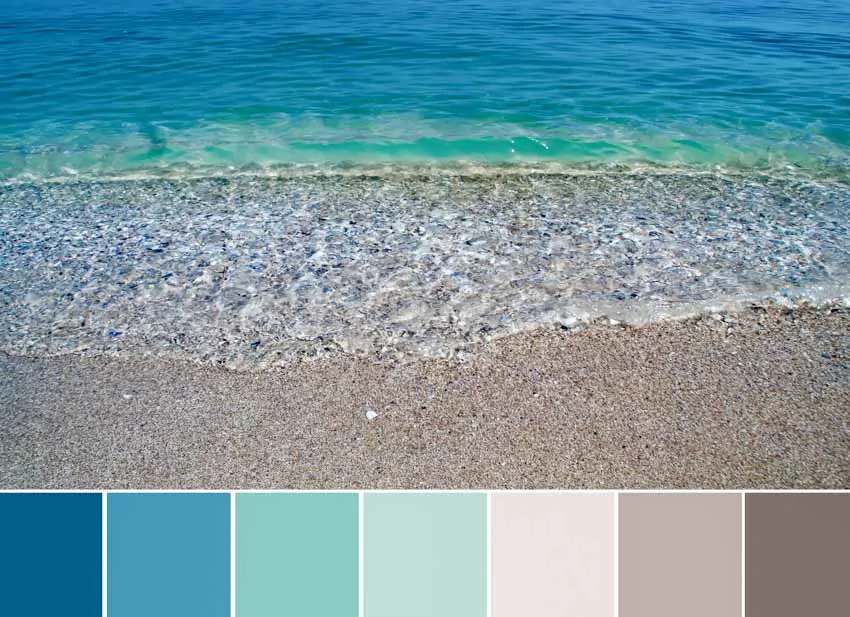 There are several aqua hue variations, ranging from blue to green and everything in between.
Aqua Green

Behr Green Aqua (M420-2)
As the name says, the aqua green hue (Hex Color: #00C0A3) comprises much more green than blue, with hardly a trace of red. Aqua green may be energizing and refreshing, and it complements a wide variety of other hues, including oranges, pinks, and purples.
The aqua green color (Behr Green Aqua M420-2) pops out, and you may pair it with warmer hues such as orange, red, brown, gray, or black. Aqua green also pairs nicely with other neutrals such as white or cream.
Aqua Blue Benjamin Moore Cool Aqua (2056-40)
The aqua blue hue (Hex Color: #05C3DD) is a more brilliant cyan color because it contains more blue than green. Because it has a stronger blue undertone, it will contrast nicely with orange, pink, and yellow hues. Aqua blue has high brightness and saturation.
The impressive interior design suggests pairing aqua blue (Benjamin Moore, Cool Aqua, 2056-40) with light gold colors, white, cream, various hues of aqua, or featuring accents of navy or red. Also, the natural shades of the brown family complement aqua blue well.
Aqua Lake

Dulux Aqua Lake (S30F6)
This aqua color is closer to teal and has a pronounced blue undertone. When one thinks of a lake, one imagines darker waters, which is precisely what this hue is, a darker variation of blue. An aqua lake color (Hex Color: #30949d) is ideal for a space. Choose graphic prints for the walls and a variety of pink touches for the area.
Aqua lake is the ideal paint color for a teen's room with its beautiful, tropical turquoise aqua with a mid-tone undertone of aquamarine. As with teal, warm earthy tones like terracotta, it should complement the aqua lake color well.
Among the beautiful and serene nursery paint colors is aqua lake as it gives the room a contemporary feel with a hint of whimsy. With yellow accents, this aqua paint hue looks fantastic.
Deep Aqua Glidden Deepest Aqua (GLB24)
The deep aqua hue (Hex Color: #00BCBC) is an exceptionally dark cyan with a slight green undertone rather than a blue undertone. You can utilize the color to give a color scheme a touch more seriousness, elegance, or refinement.
Deep aqua is a saturated, muted undertone excellent for a kitchen or dining area. It is also ideal for an ocean-themed playground: capture coral, red, and yellow bursts in accessories for a deep marine vision. You can incorporate a deep, mermaid-inspired design for a child's room. It looks well with other bright hues like coral and pink.
Aqua Foam Behr Aqua Foam (2A54-4)
Because of the higher amounts of green and blue present, aqua foam (Hex Color: #adc3b4) is more of a light, grayish-cyan color. This color is also from the green family and pairs well with grayish pinks to add warmth.
Aqua foam (Behr, Aqua Foam, 2A54-4) is a sophisticated color. This color provides something distinctive to every aspect of your house by being open and inviting, with a serene sensation of happiness and intrinsic elegance.
Aqua Color Combinations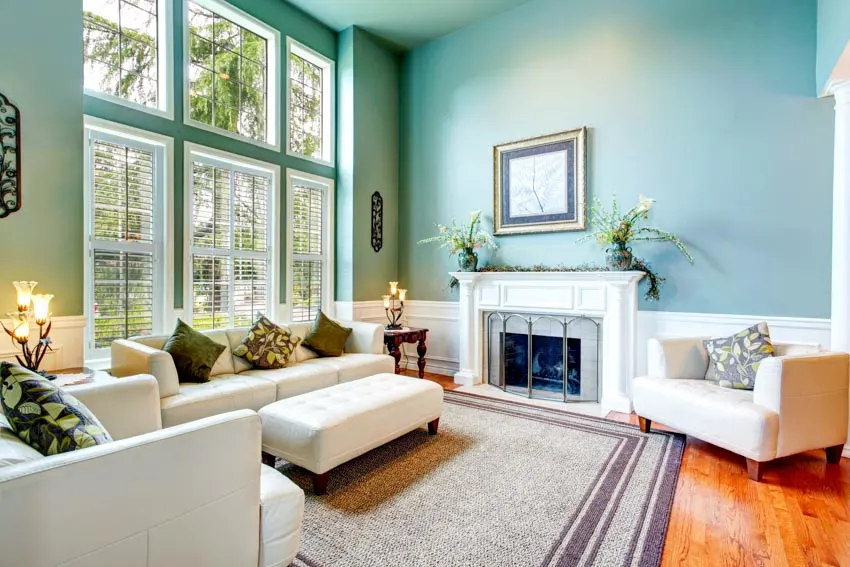 Understanding color theory can help create striking aqua color combinations that look fantastic. See below the various aqua color combinations that are available.
Complementary Aqua Colors: Complementary colors complement each other and create a lovely contrast. So, if you look at the aqua color on a color wheel, look right opposite it to get its complementary hue. The combination of aqua and red is a good example.
Complementary aqua colors also include gray, orange, red, and yellow. A brilliant blue aqua color and a red tone provide the ideal blend between nostalgic kitsch and surprising grandeur. Both colors' undertones complement each other well, while bits of marble, gold, and crystal provide contemporary and vintage flare.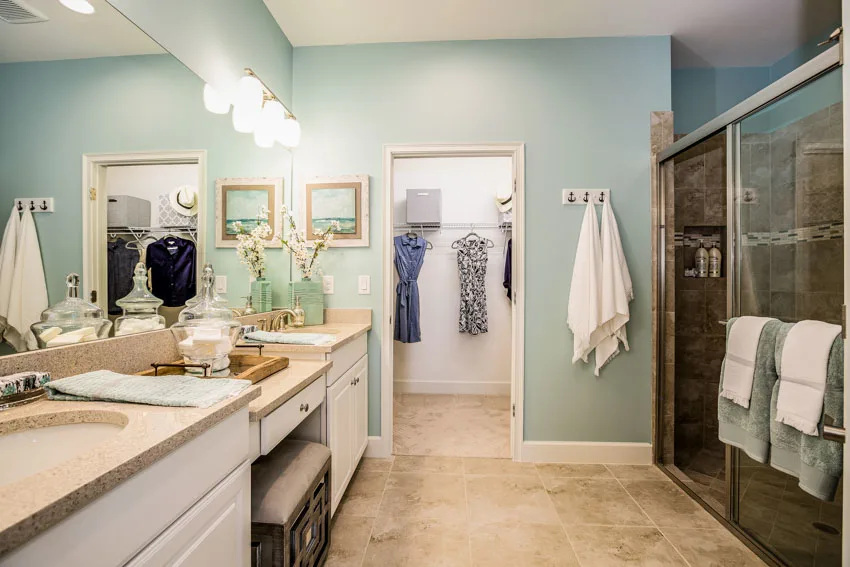 Monochromatic Aqua Colors: A monochrome approach is appropriate if you want colors that do not stand out as much and are easy on the eyes. These colors are all derived from a single hue that exists in a variety of shades.
Monochromatic aqua colors are some of the easiest ways to jazz up a space, and they are also a great option if you want a more restrained look. The first thing to remember is that monochromatic aqua colors are generally darker than their lighter counterparts.
There are three monochromatic aqua colors: blue-green, teal, and greenish-blue. The first two are bright and lively while maintaining the relaxed feeling that makes them so easy to work in any space.
If you're going for an airy feel, try using one of these two shades mixed with white or another neutral color for maximum contrast and visual appeal.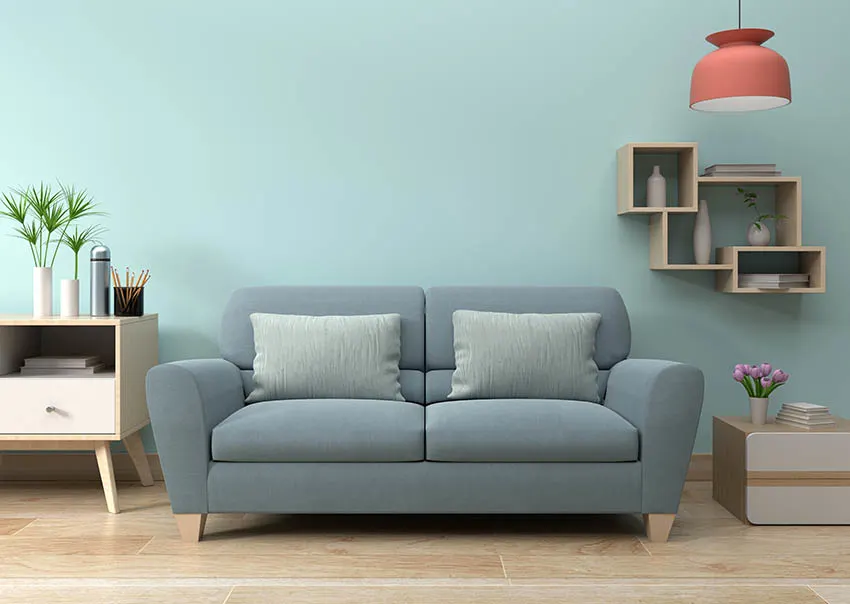 Analogous Aqua Colors: These are also fewer contrasting hues that produce a more harmonious combination. When looking at the color wheel, analogous hues are near one another. When it comes to aqua, the equivalent shades are blues and greens.
You can use the analogous aqua color scheme to create a soothing and inviting atmosphere for a home or office. Aqua also pairs well with white and natural materials such as wood, stone, and metal. It is common for homeowners to use it in their kitchens when building a new one because it looks great with stainless steel appliances and other stainless-looking furnishings.
Triadic Aqua Colors: Triadic hues are those that stand out and generate contrast. The most basic color combination is three colors that make a uniform or equal-sided triangle shape on the color wheel.
Four or more color combinations, such as square or tetradic, are more challenging. For instance, aqua, cyan, and magenta are the triadic aqua colors that look best together and create harmony within a space.
If you're looking to add a little color to your home or office, you may want to choose aqua, as it is a great accent color that can combine well with almost any design. Whatever you decide, be careful to combine the colors before making any final decisions.
What Color Goes Best with Aqua Infographic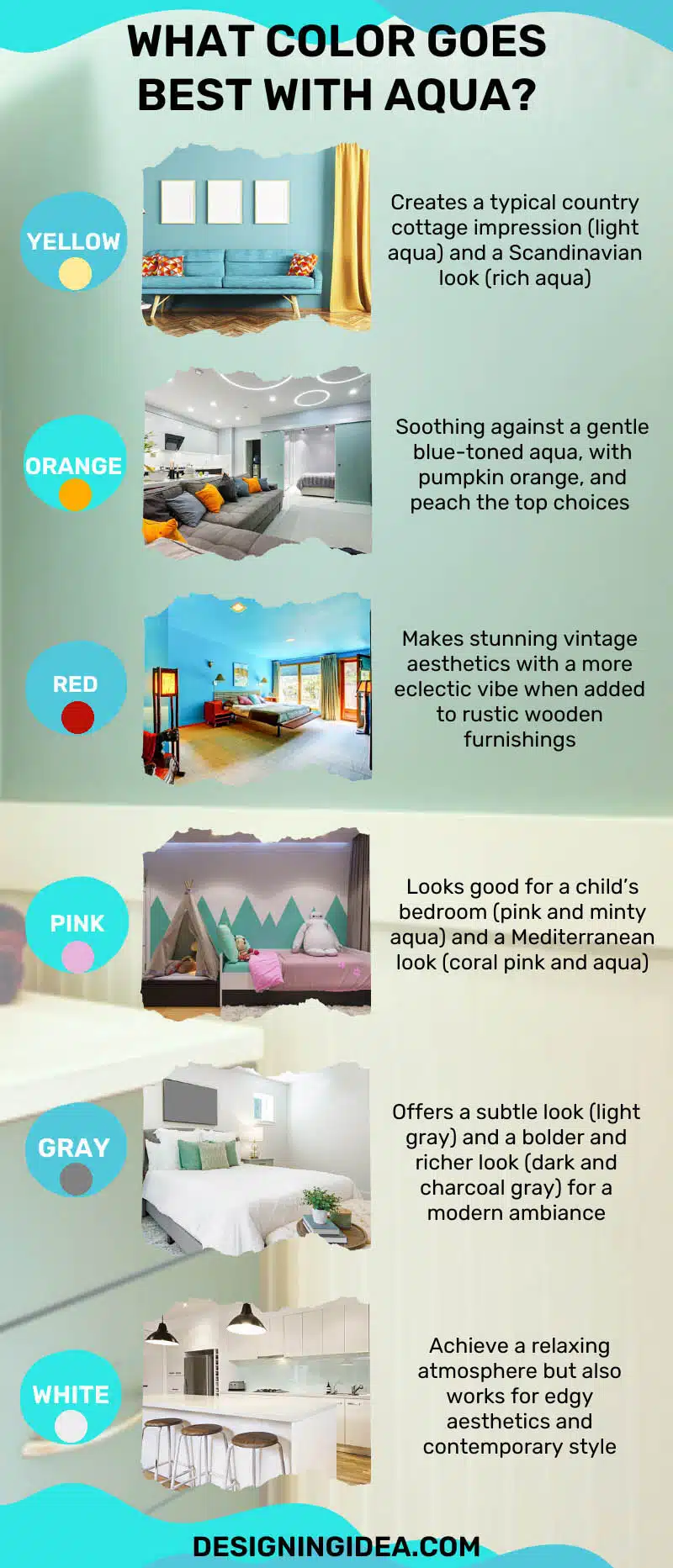 Feel free to use this what color goes best with aqua infographic on your own website, provided you link back to this page.
See more related content in our article about colors that go with light blue on this page.