Find out if using light hardwood floors with dark furniture is best for your interior design, including reasons why this combination works and the best color options to use.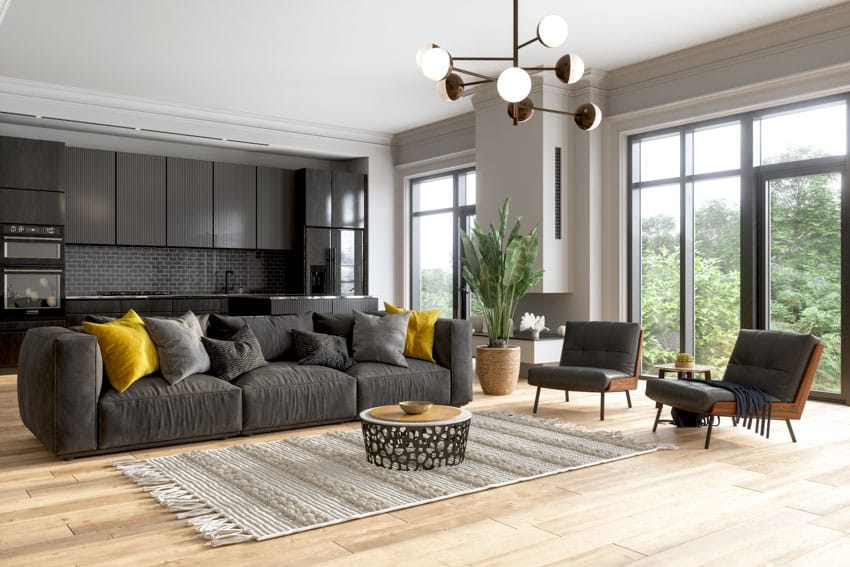 A home's flooring is integral to the overall look of the interior and influences the degree of comfort and maintenance of your home.
There are so many types of engineered and faux flooring materials now in the market you can choose from. However, among the flooring types available, hardwood floors continue to remain popular among homeowners and businesses alike.
The natural graining, color variation, and hardwood floors' hardiness are hard to replicate, and perhaps there's a sense of authenticity, and its organic touch makes the natural wood a continued favorite.
For today's contemporary styles, light hardwood flooring dominates the flooring industry when it comes to the most installed type of flooring. Match your light hardwood floors with dark furniture, and you've got a striking ensemble that fits any theme you have in mind.
Light Hardwood Floors With Dark Furniture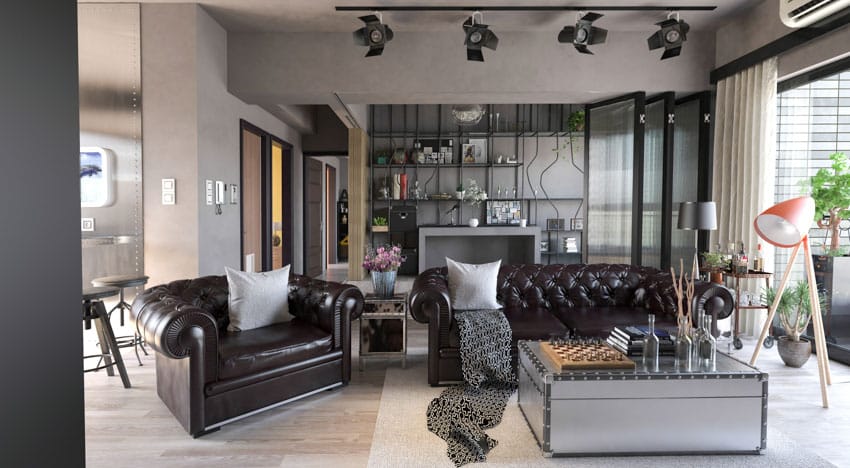 Do light floors and dark furniture work? The great thing about light-colored floors is that it's a versatile base color that can go along with both dark furniture and light furniture.
Here are the major reasons why light hardwood floors go well with dark furniture:
1. Creates a contrasting scene: Contrast is an important design element because it engages the eye. We tend to be drawn to contrasting colors, thus making your interior visually pleasing.
2. Less Maintenance: Maintenance-wise, light hardwood floors with dark furniture is an excellent combination because dark hardwood floors tend to show dirt and dents easily. While dark furniture hides away staining from food or any sources of grime.
3. Best for Pet Owners: In connection to maintenance, light hardwood floors show less if not no scratches at all.
So, if you have your dog running around your home, you won't need to worry about scratches on your flooring. Aside from this, dark furniture is also practical since dirt won't easily show on its surface.
4. Creates a light yet cozy interior: A light hardwood flooring creates that light and airy feel since the ambient or natural light reflects on the flooring surface increasing the brightness in a room.
Although other types of flooring materials for interior design can achieve the same bouncing and reflection of light on its surface, the organic look and feel of light hardwood maintain that coziness in an interior.
5. Versatility: Your light hardwood floors can match almost any color, especially the most common furniture color available in the market.
This allows you to add different colors and textures without overwhelming the space. For instance, you can textured and colorful rugs or match your white hardwood floors with sculptural furniture.
Matching Furniture Colors With Light Hardwood Floors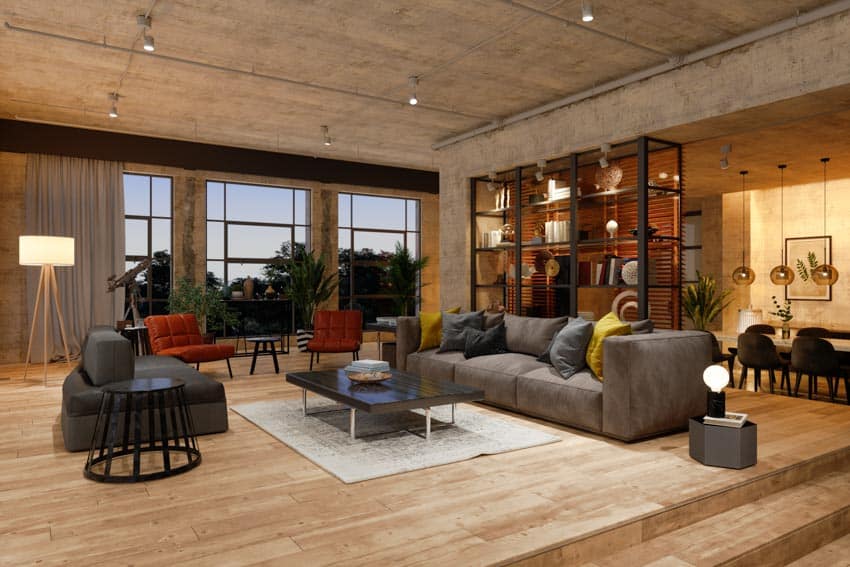 What color furniture goes with light hardwood floors? Both light and dark tones work well with your light hardwood floors, and the outcome will depend on other factors such as how light is your hardwood floors, the graining, plank width, wall color, and many more.
But ultimately, light wood flooring is a versatile choice as it works well with both light and dark colors.
1. Charcoal Gray: This dark color is an excellent tone for contemporary homes as the dark neutral is easy on the eyes while adding contrast to your interior.
There is a lot of charcoal gray furniture available in the market, so you can add variations of dark furniture while staying cohesive with the theme.
An almost white hardwood floor will work well with your charcoal gray furniture, and it is recommended to have an equally light-colored wall to go with this combination.
Variations of Charcoal Gray


Blue Charcoal (#262b2f): Has a bluish undertone.

Heavy Charcoal (#565350): Violet undertones but lighter than dark charcoal.

Carbon (#333333): Slightly lighter than dark gray (#363737)
2. Cobalt Blue: If you're into coastal themed living room designs or simply want a cooler tone for your interior, combining your light hardwood floors with blue is a visually pleasing color scheme.
With both cool tones, you can play with texture instead and have intricately shaped or sculptural furniture without making it too busy.
A velvet blue sofa with faux fur accents, for instance, or a blue ocean-themed rug can warm up the space.
Variations of Blue

Night Sky (#2a2a35): A lighter version of violet.

Midnight blue (#020035): Dark almost black in tone.

Dark Navy Blue (#00022e): A darker version of your navy blue.
3. Dark Brown: When you want to incorporate wooden furniture in your interior, you can usually go with dark brown, gray, or black-toned pieces if you're going for the modern look.
Matching your light hardwood floors with reddish or yellowish-toned furniture can look outdated and can be more challenging to work out, especially if you've got yellowish undertones on your flooring material.
Although, you can still add the reddish cabinets, for instance if you're aiming for a traditional style such as a farmhouse or cottage house theme.
Variations of Brown


Wood Bark (#302621): An almost charcoal gray hue but brownish undertones.

Very Dark Brown (#1d0200): The darkest color of your mahogany with the brown mixture.

TreeHouse (#3b2820): A dark version of your true brown with a slight tinge of blue.
4. Jet Black: With a strategic design, black-toned furniture will provide an elegant look to your interior. Black and white create a balanced look allowing each element to stand on its own without overshadowing the other, and this is because both are neutral hues.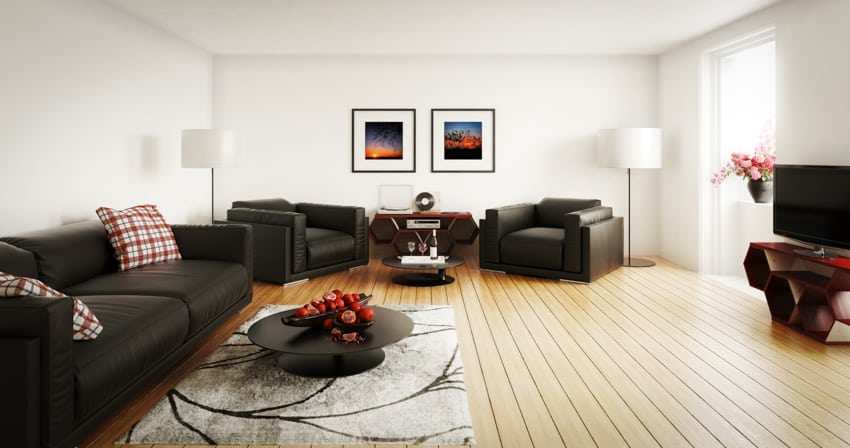 Although some may find black types of furniture styles intimidating, you can downplay the strong dark hue with the form and texture used. Instead of using a straight-edged sofa, for instance, go with curved or voluptuous forms.
Cube or modular furniture is also a great substitute over your rectangular forms, or low profiled furniture can allow your room to have that negative space, a room for your artwork, and another décor to thrive.
If you're going with the Japandi or industrial look, the jet-black furniture, and white hardwood floors is an excellent ensemble.
Variations of Jet Black


Black Chocolate (#1b1811): Close to your charcoal gray but darker.

Black Coffee (#3b302f): A lighter version of your black coffee.

Sepia Black (#2b0202): Has a strong eggplant violet tinge.
5. Dark Olive: The dark greens have entered the trends in the past years and in unusual spaces such as the bathroom or kitchen. Having light hardwood flooring allows you to have even the darkest of greens.
Dark olive is an excellent match with the organic white-toned floor for a mellow touch. You can add black accents to still have that contrasting effect.
Variations of Dark Olive


Black Olive (#3b3c36): It has an almost gray tone.

Sooty Willow Bamboo (#4d4b3a): Has a combination of green and brown colors. Holly (#25342b): A dark green hue but lighter than your true green hue.
6. Dark Red: The dark red furniture may not meet everyone's taste but is an excellent choice if you want to inject a transitional style into your interior.
The light hardwood floors with dark red furniture work well with gray to light-colored walls. However, you are limited on your accent colors, where black and white are the best color variation you can add.
Variations of Dark Red


Red Ink (#220a0a): Probably the darkest shade of red with a violet undertone.

Red Bean (#320c02): Close to your champagne red but darker.

Rustic Red (#3a181a): A vintage color that works well with any light color.
Finding the best color scheme for your interior is always a challenge.
That is why when choosing or building a home, and it is best to go for light hardwood flooring or other light-colored flooring materials so you can have a grounding element that can match almost any color scheme.
See more related content in our article about how to match wall color with wood floors on this page.