In these bathroom skylight ideas we share their benefits, popular features and the best skylight options you should consider for your bathroom designs.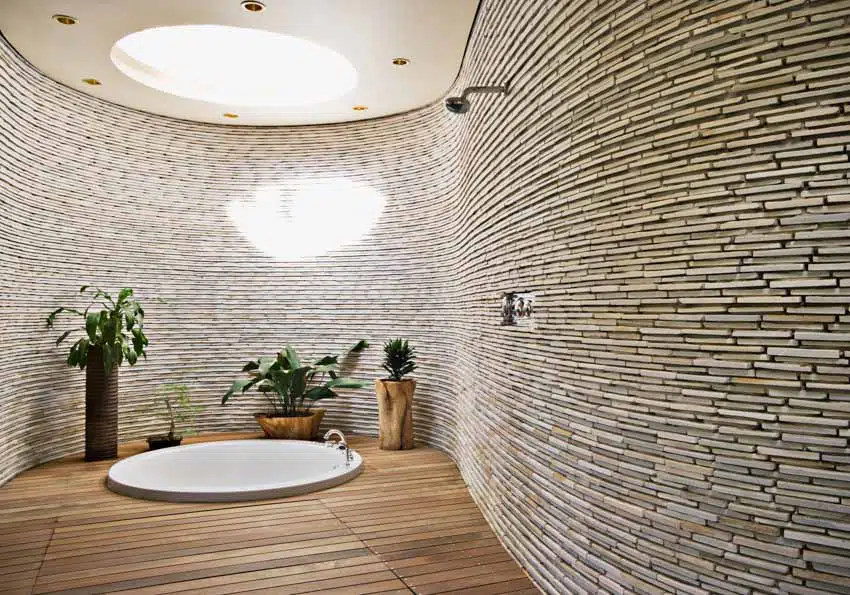 In some cases, remodeling a bathroom isn't that hard at all. There are simple solutions out there that can transform this particular space into something better. Among the suggestions that can work is installing a skylight in your bathroom.
What Is A Bathroom Skylight?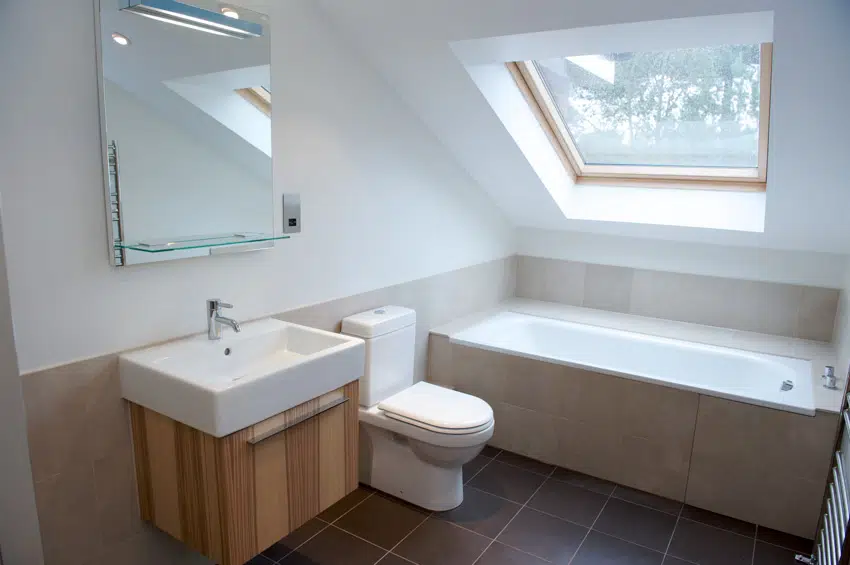 If you have the right location and space, adding a skylight to any space in your home can be a nice way to change up its ambiance.
Due to privacy issues, bathrooms typically have fewer windows and openings compared to other parts of the home, which is why most bathrooms tend to be dark and damp.
If your home is in a large neighborhood and you don't have any neighbor with a higher home close enough to intrude on your privacy, adding skylights to your bathroom is a great way to finally bring sunlight into your dank bathroom.
Bathroom Skylight Features
Aside from the aesthetic benefits, other benefits of installing skylights are:
• Ventilation: if your skylight can be opened, it will be able to help with the ventilation of your bathroom, which will greatly improve the overall air quality of the space
• Energy-efficiency: A skylight will instantly help make your bathroom bright and well-lit during daytime, helping you save electricity costs. You'll never need to turn on your lights in the bathroom until nighttime.
Although skylights seem to be a really good idea on paper, not all spaces have the appropriate structure or location for them. Before deciding to install a skylight, here are some factors that you would need to consider:
• Your location's year-round weather: you need to take into consideration the weather of your area first. Does it rain a lot? How are the winds during storms?
Any history of hale storms or heavy snowfall? All of those are important factors to consider when choosing the design and material for your skylight
• The bathroom's location: if your bathroom is facing south, keep in mind that it will get the hottest sunlight of the day. If you live in a hot country or state, keep that in mind
• Privacy: You might want to reconsider getting a skylight if it will be visible from the neighbor's. Otherwise, consider one-sided glass panes for added privacy
• Material & design: the abovementioned factors will determine the appropriate materials and design for your skylight. If you live in an area prone to heavy rain-fall, it is very important to ensure your skylights are weather-tight and built-to-last
• Existing structure: where is the bathroom located, what is the roofing material, and can a skylight be installed on it?
Types of Skylights for the Bathroom
After considering the factors above, you'll then be surprised by the different types of skylights available in the market.
We are listing the common types of skylights below, but it will always be best to consult professionals in your area to get the best recommendations:
• Fixed skylight: as the name suggests, this type of skylight cannot be opened, and thus cannot provide ventilation. This is a good choice for areas that rain often, as it minimizes the chances of water leaking inside.
• Ventilated skylight: the type that can be opened to help circulate air & get rid of excess moisture in the space. These usually have awning type opening.
• Tubular skylight: unlike conventional skylights, this is basically like a "natural light bulb" that helps illuminate indoor spaces using the refraction of natural sunlight. This is a good option if space is small or privacy is an issue.
• Curb-mounted skylight: one of the most popular types of skylight and is also more affordable. This type is popular because of its affordability, good insulation, and ease-of-installation
• Ridge skylight: not very common, but these are usually installed on the pitch of the roof.
Because they are located at the top of the roof, they provide more natural sunlight than normal windows because it is able to let in light from more angles. This is good if you have large living areas with high ceiling
Bathroom Skylight Cost
Now comes the most important question: How much does it cost to install a skylight?
It will highly depend on the existing structure, the type of skylight, and the materials used, but typically, installing skylights can cost anywhere between $900 to $2300.
Skylight In Bathroom With No Windows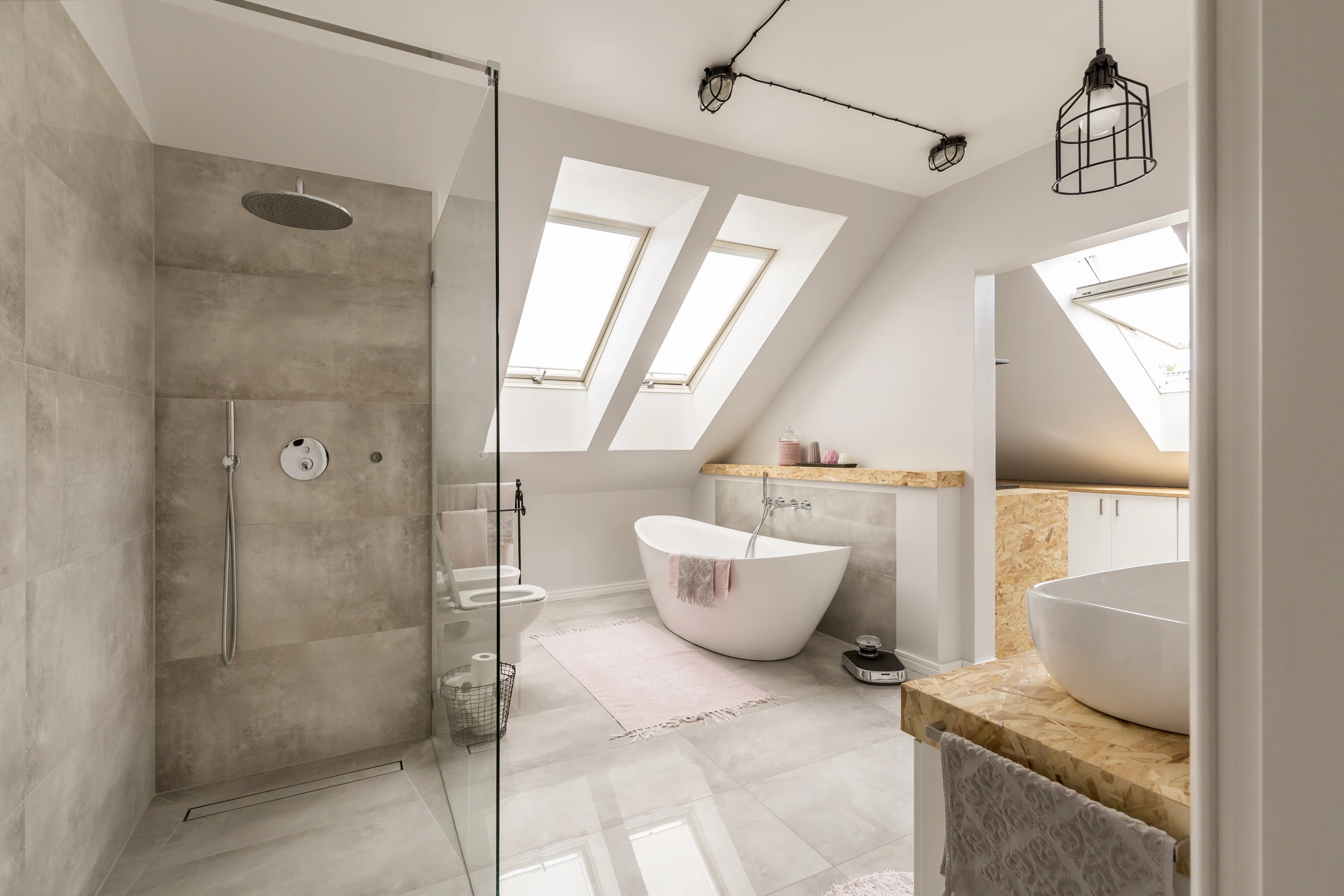 Attic bathrooms often suffer the issue of having little to no windows. Skylights provide a good alternative solution to that. In this beautifully designed attic bathroom, 2 sizeable ventilated skylights were installed.
As the slope height where it was installed is accessible, you can easily close and open the skylights as needed, providing your bathroom not only with natural light, but also improving indoor air circulation.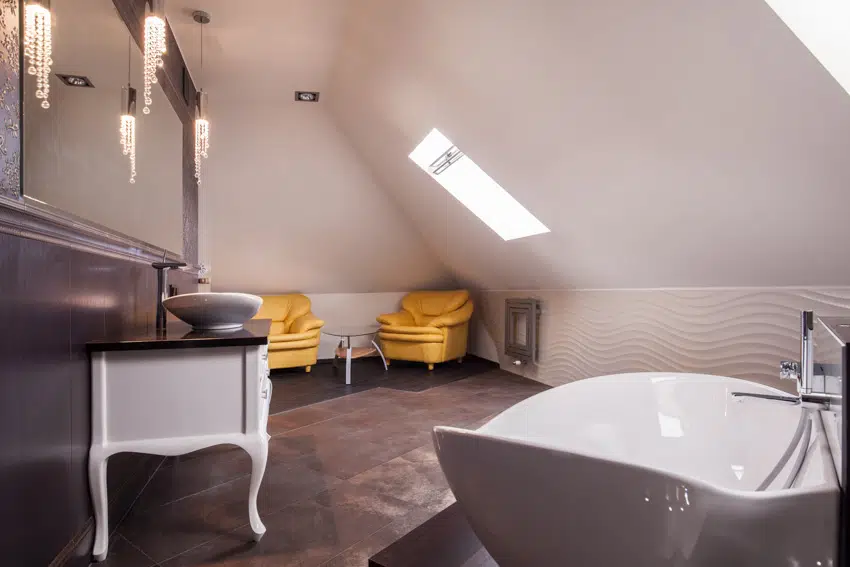 This is another good example of how you can use skylights to provide windows to bathrooms in different types of attics with no space for normal windows.
Despite the tight ceiling space, the addition of 2 skylights in this bathroom helped make the space look more inviting. The low slope also makes the venting windows easily accessible.
Small Bathroom Skylight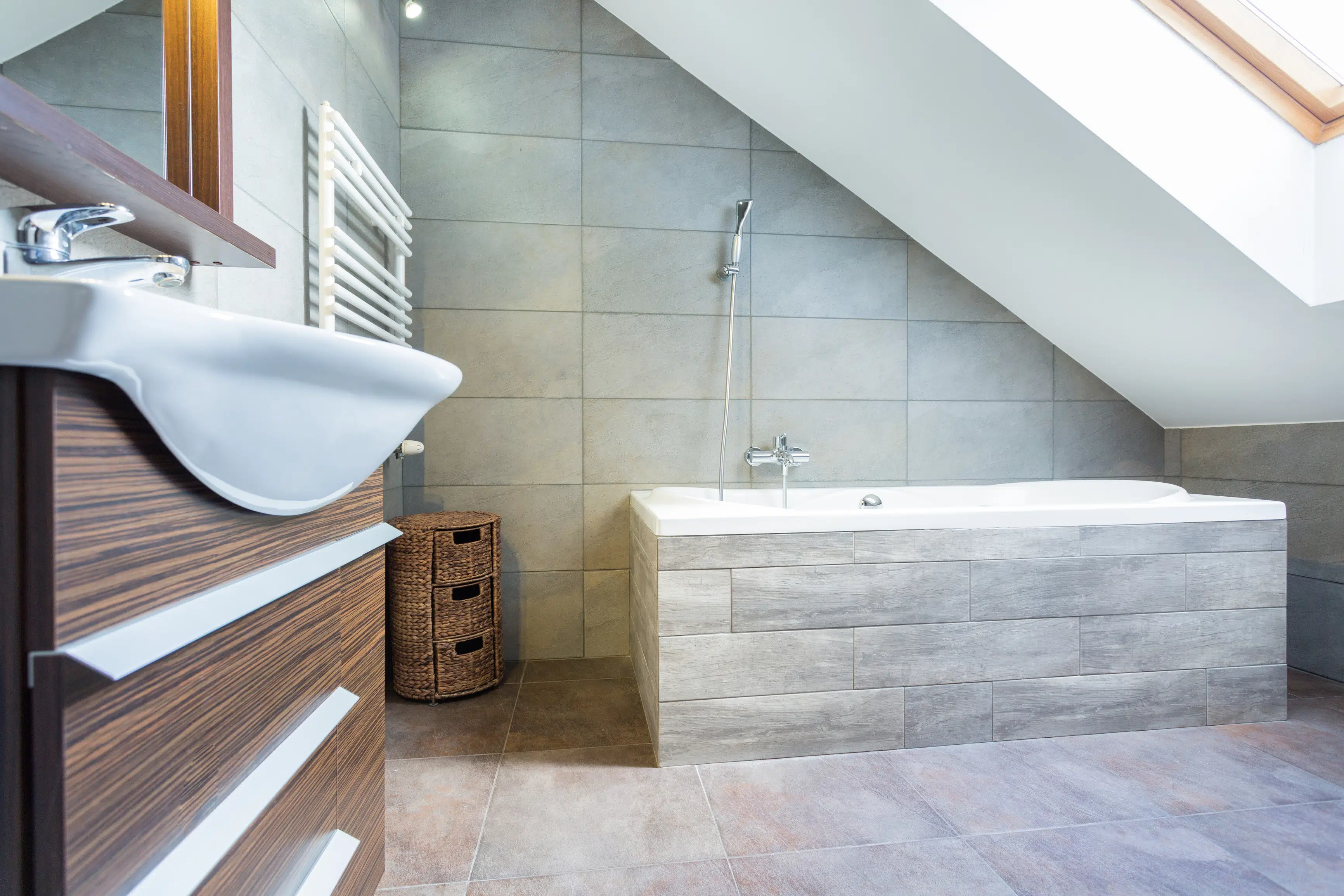 Even smaller bathrooms can enjoy the benefits of the natural sunlight provided by skylights. In this design, you will see a very large skylight in the middle of the bathroom, which helps illuminate the whole space.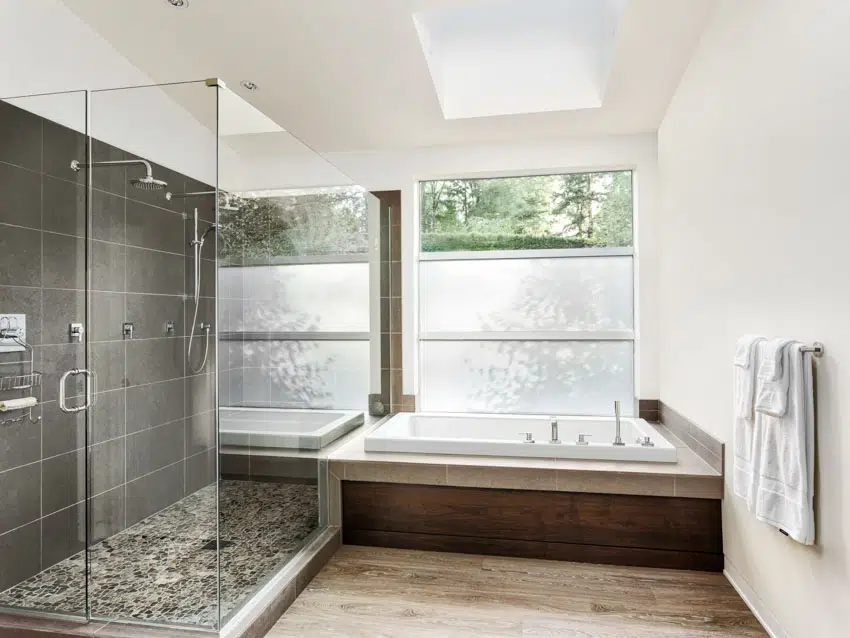 If you have flat roofs, you can still install skylights! In this design, you will see a small skylight installed on the concrete roof, directing the skylight to the center of the bathroom.
Despite having large normal windows in the bathroom, because the windows are located in an area with lots of vegetation, the amount of sunlight is limited, so the skylight really aids in making the space brigher.
Skylight Shower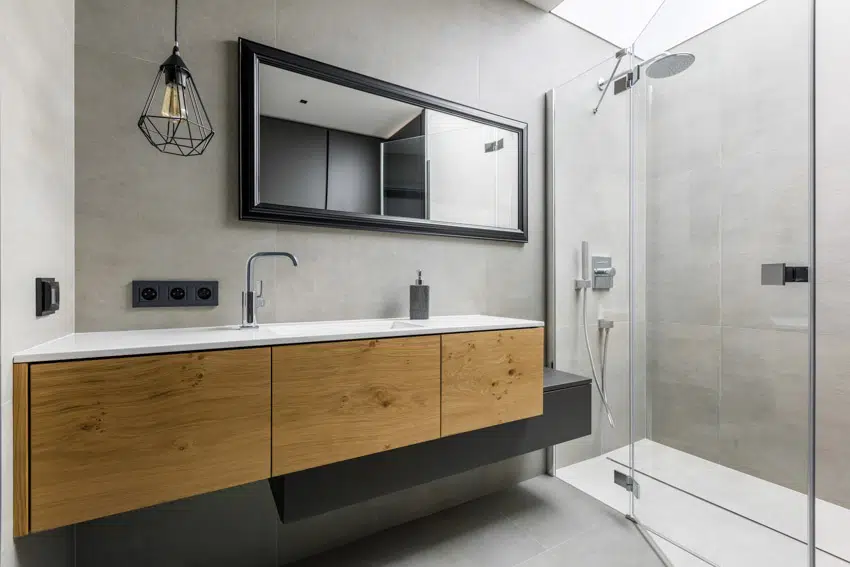 Contemporary bathrooms tend to go with deep tones of the material finishes, which makes the space look generally darker.
Adding a skylight helps remedy that. If you have a smaller bathroom like in the design above, you can consider installing the skylight above the shower area.
This is a good alternative location as it will not cause glares from the mirror, and the shower isn't used as often as other parts of the bathroom, so even during the hottest time of the day, you won't have any issues with comfort.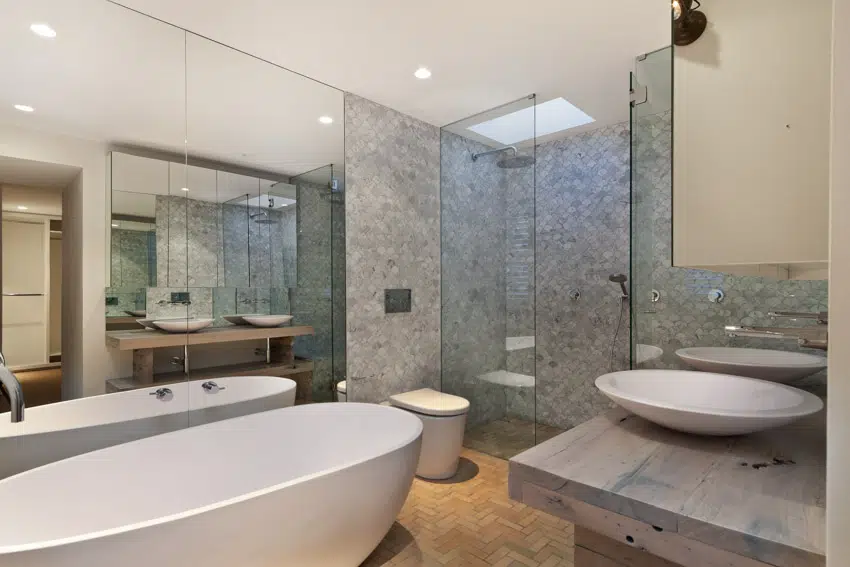 If you have an enclosed shower area like this, installing the skylight directly above will help filter the and diffuse the sunlight coming into the bathroom.
The large mirrors installed in the bathroom also help reflect the light and make the space look more well-illuminated overall.
Fixed Bathroom Skylights
If your bathroom already has normal windows for ventilation, you can just opt for fixed skylights for a more weather-tight seal. In this case, your space will benefit mostly from its natural illumination and its unique appeal.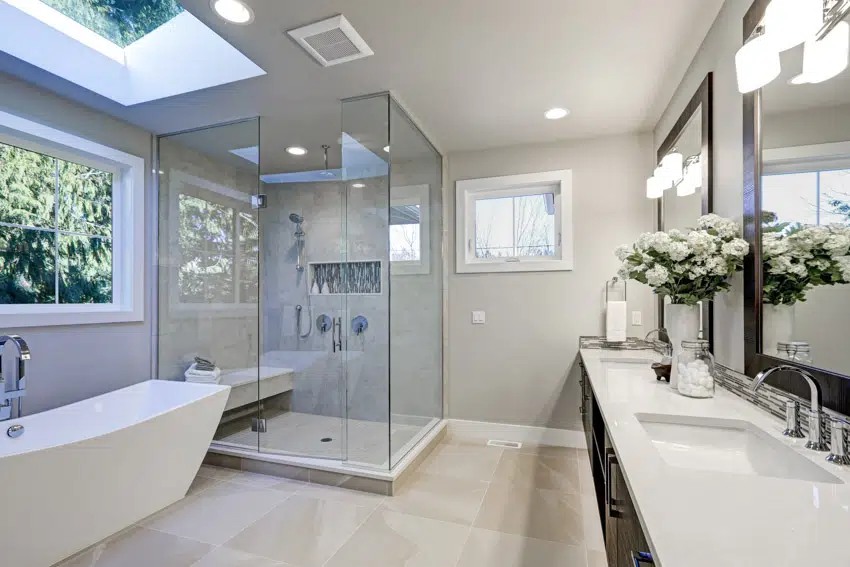 Because this bathroom is located beside large trees/vegetation, privacy is ensured in this space, so a large fixed skylight was installed right above the bathtub.
The location allows you to enjoy viewing the sky while soaking in the but, whether during daytime or nighttime. The skylight was also slightly angled away from the tub, so the sun will not directly hit the tub area.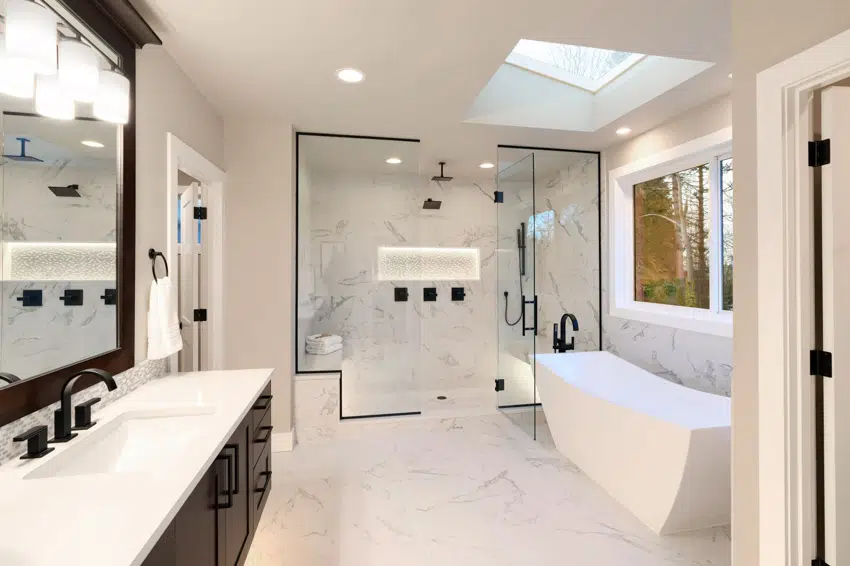 Similar to the previous example, this is a large bathroom with normal types of windows, in which the skylight serves as an additional feature.
If your bathroom has a good location similar to this example, do consider installing a skylight as well and instantly elevate the look of your space!
Contemporary Bathroom Skylight Designs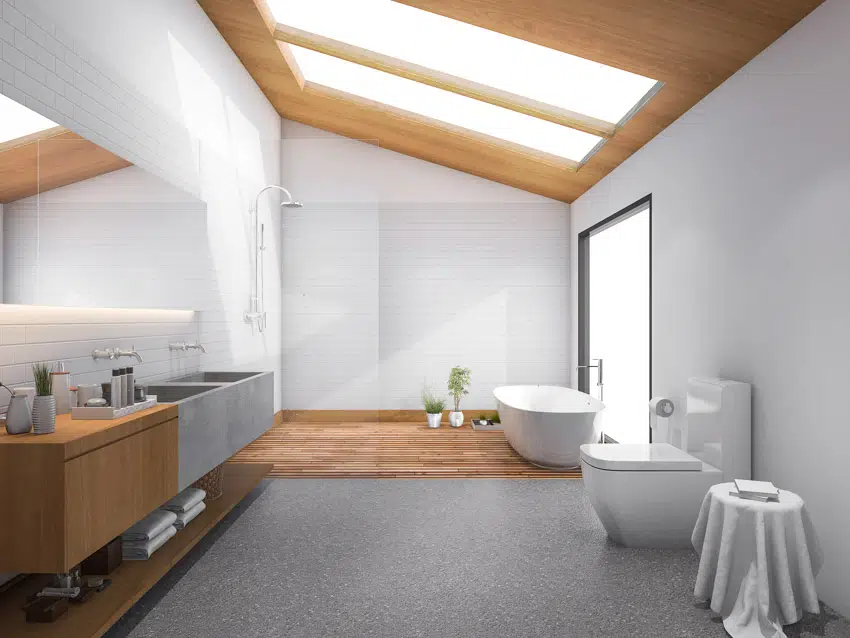 This gorgeous modern bathroom went all-out with the skylight. The skylight takes a sizeable portion of the whole ceiling, making the space really bright.
Because this bathroom has a high ceiling, however, it won't get too hot or too bright, so do consider the cubic area of your own bathroom if you want a similar look.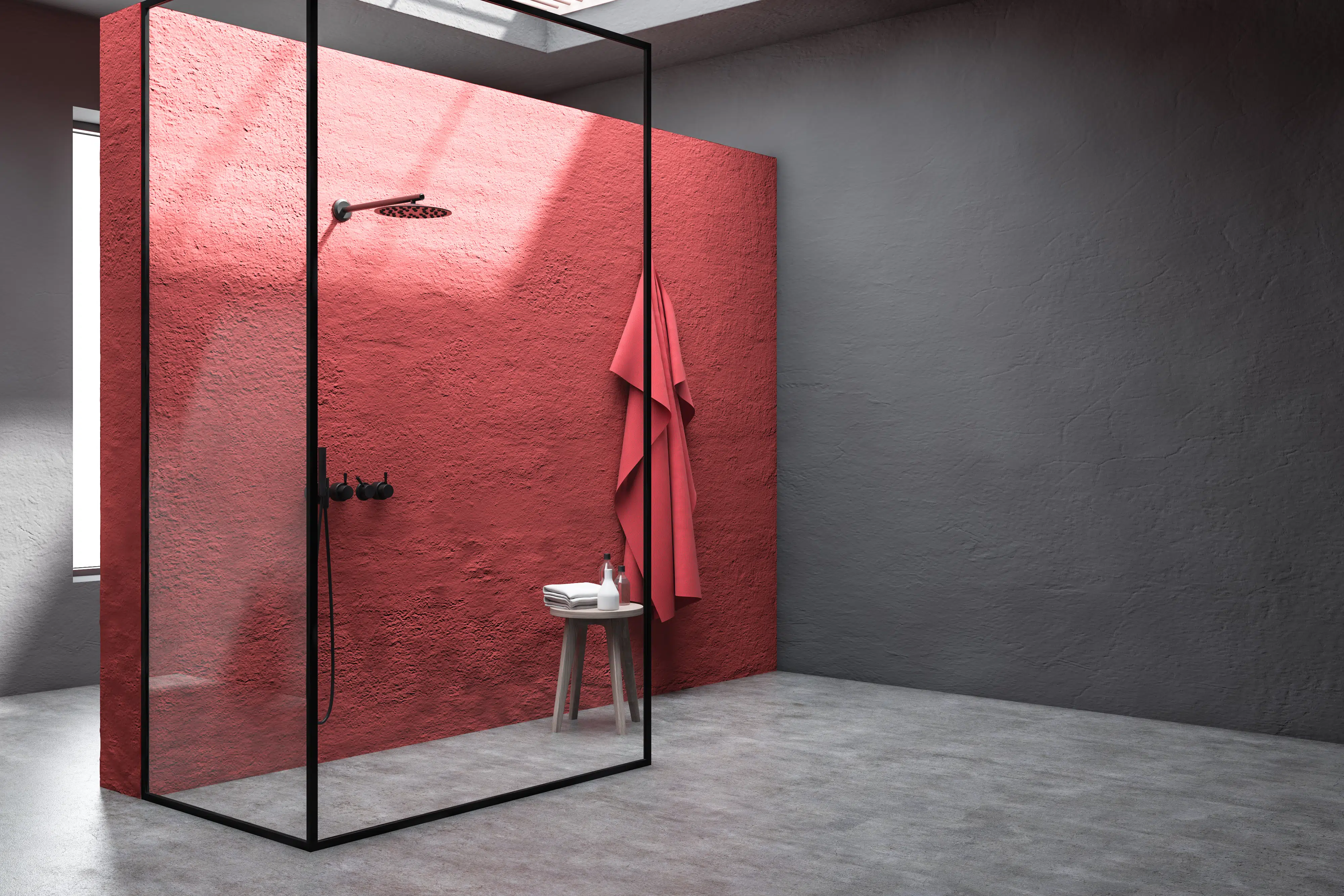 Industrial-style bathrooms are typically known for a darker ambiance, which might not work for everyone.
If you want to give your bathroom a little more life, yet still maintain the raw, industrial aesthetic, adding a skylight is a good solution to help add brightness into your space.
See more related content in our article about the different modern bathroom design ideas on this page.