Welcome to our guide to the different types of attics including a few tips for making your attic accessible and the different uses of attics.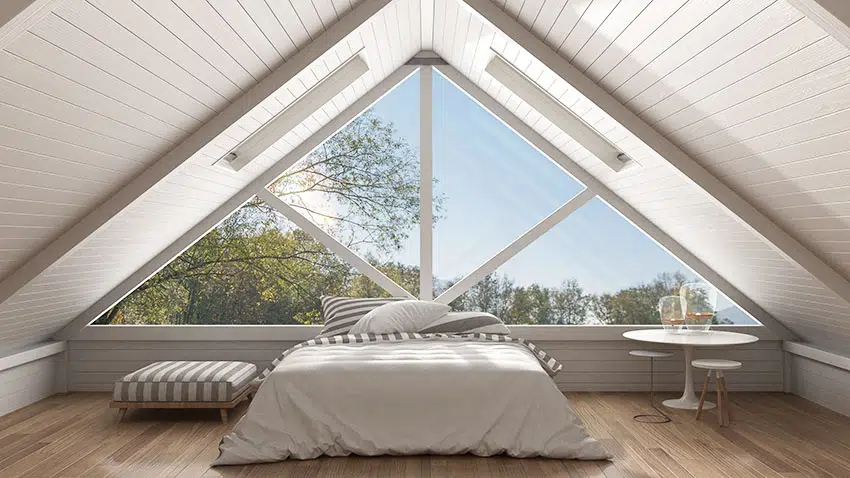 The attic is one of the most interesting parts of a house. Just in case you're not that familiar with it, an attic is a space between the house's roof and its highest floor's ceiling. Attics are generally full of insulation. Sometimes, they have air conditioning or heating equipment inside.
Attics are usually modified in different ways. Some people convert them into home offices, bedrooms, storage rooms, or even attic apartments with staircases and big windows. Attics are responsible for controlling the temperature inside the house.
Nevertheless, what are the different types of attics? Let's talk about some of them.

Scuttle Attic
A scuttle attic, also known as an attic hatch or scuttle hole, is one of the most common types of attics. It is usually entered only through a small hole in the ceiling. In some cases, scuttle attics are accessed through a hole in a wall.
The entrance to a scuttle attic, which is normally a hole, is often covered with an unnoticeable detachable cover. It can't be accessed using a full staircase. It normally requires a ladder to enter the hatch (the hole and its cover).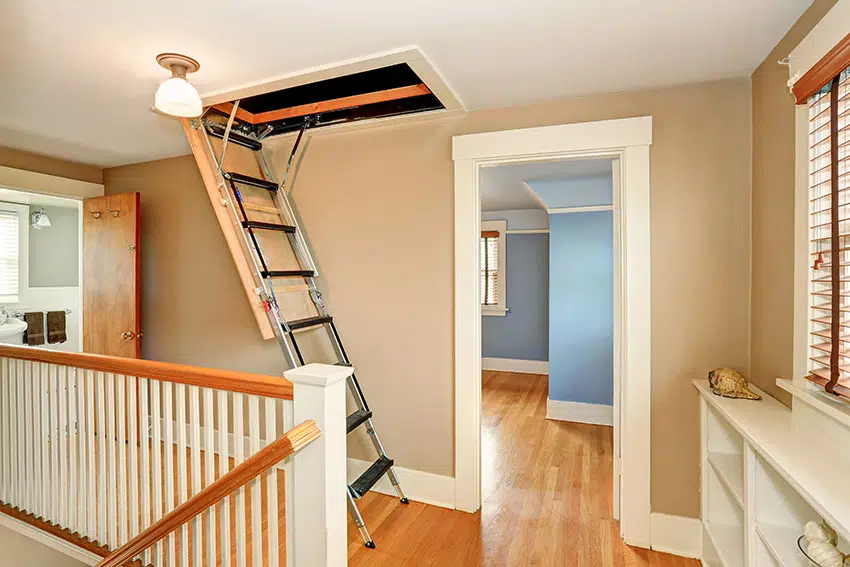 Some scuttle attic can also be accessed with pull-down stairs which can be used after removing the cover. The size of each scuttle attic depends on the size of the house.
Sometimes, a person can just crawl in it, but in some bigger houses, a person can stand and walk in it. But scuttle attics can't be turned into a bedroom or office room.
Unfinished Attic
An unfinished attic is usually accessed through a permanent staircase. However, the walls, ceilings, and floors inside this type of attic are not yet designed to be lived by a person. In short, this attic is not yet livable.
In general, unfinished attics contain exposed ceiling rafters and wall studs. The joists of the floor are usually covered with typical plywood.
Unfinished attics can function as storage rooms. Most of the unfinished attics can be turned into bedrooms or office rooms. They can be livable once they're renovated and well-insulated.
Partially Finished Attic
A partially finished attic isn't completely ready to function as a living space. Inside an A-frame house that has abruptly sloped roofs, the portion of a partially finished attic with enough headroom for living space might not be big enough.
The size of the finished space in this type of attic is less than 40% of the ground floor's square footage. However, in some cases, partially finished attics can already function as playrooms, storage rooms, study rooms, or bedrooms.

Fully Finished Wall Height Attic
The livable space in a fully finished attic is 50 to 55% of the house's ground floor square footage. This type of attic is completely ready to function as a livable area. It can be converted into a bedroom, study room, or office area.
Compared to a partially finished attic, fully finished attics are much safer and more comfortable to stay in.

Truss Attic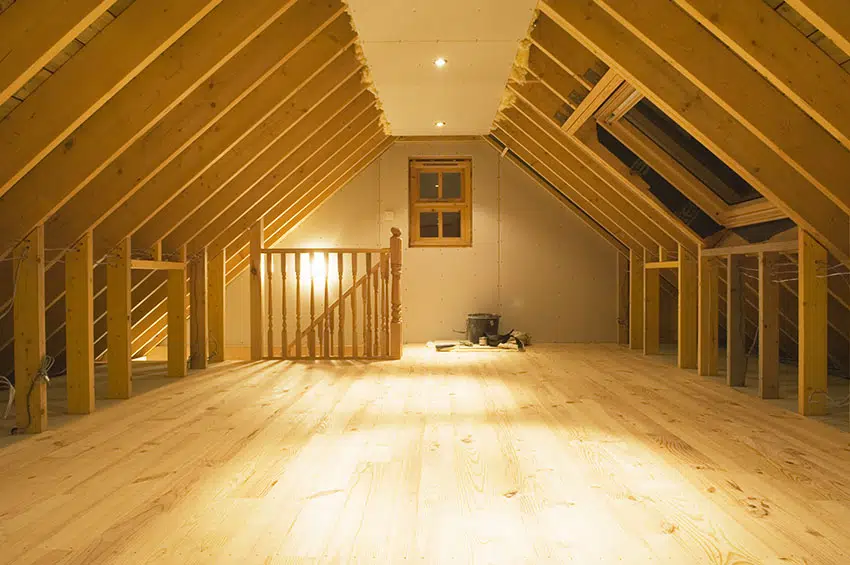 Truss attics are normally found in newly constructed houses. The trusses inside the attic are made out of lumber. Although they help in stabilizing the roof of your house, they can hinder sufficient insulation inside the attic. Truss attics are not livable.
If you want to remodel a truss attic, the truss webs must be removed so you can create space for renovating it. However, removing the trusses would be hard. You will need an expert team to remove those. It will require high expenses though.

1 and ½ Story Attic
These types of attics are found in one-story houses with high roofing. Instead of creating a second floor, some homeowners decide to turn their ceiling into an attic as it is less expensive.
Tips for Making your Attic Accessible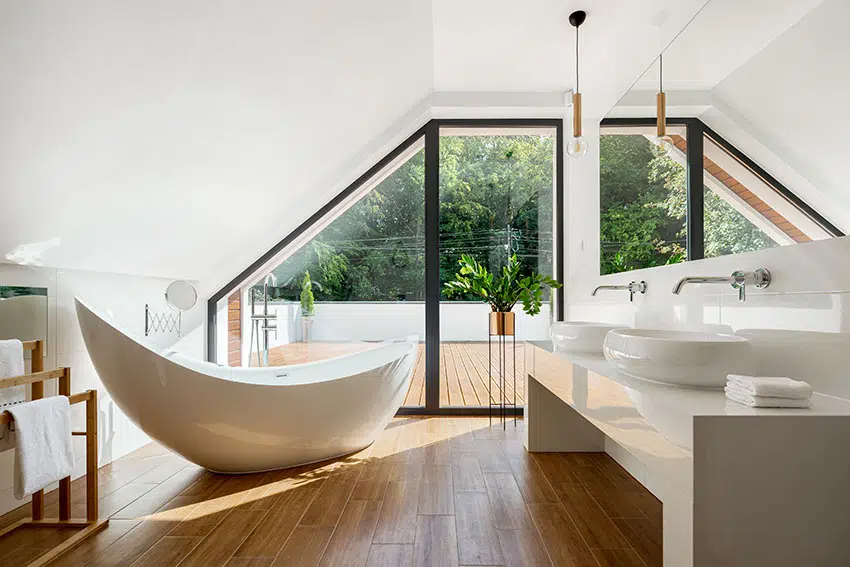 • Improve the entrance. Try to invest in a higher-quality ladder, broadening the stairway, incorporating support rails to the wall, or putting non-slip stair treads. If you have a scuttle attic, try widening the hatch.
• Lighten up your attic. You can do this by simply putting on various lights, painting the walls with bright colors, putting on a mirror, or covering dark furnishings with light sheets.
• Make some changes inside the attic. Consider setting it up like it's your bedroom or living room. Ensure floor safety by removing things that would cause tripping. Put in some decorations and make sure it's well-insulated.
• Convert it into a functional room. If you have a partially or fully finished attic, try converting it into a room. But with this step, you must consult or hire an expert so you can successfully remodel it with safety.
Do Cathedral Ceilings Need Ventilation?
Yes. A cathedral ceiling is classified as a compact and warm roof construction. This type of roof construction usually causes ventilation issues, most specifically in heating climate areas. If a cathedral ceiling is left unventilated in cold climates, it might cause ice dams.
Ventilation is the air movement that functions to diminish heat or accumulation of moisture between the house's exteriors and interiors.
Cathedral ceilings are limited to a fixed ventilating process, that's why precisely equal amounts of ventilation should be situated at the eave level or soffit and near the topmost of the attic area.
Different Types of Attic Roofs
Dormer
This roof window projects upright beyond the pitched roof's plane. Dormer windows are excellent in proving a huge amount of light and space to attics.
Mansard
This type of roof has 2 slopes on each side. The much lower slope has a steeper angle and it has plenty of dormer windows. This turns the attic into a more comfortable and wider space with only a little bit of restrictions in terms of interior design.

VELUX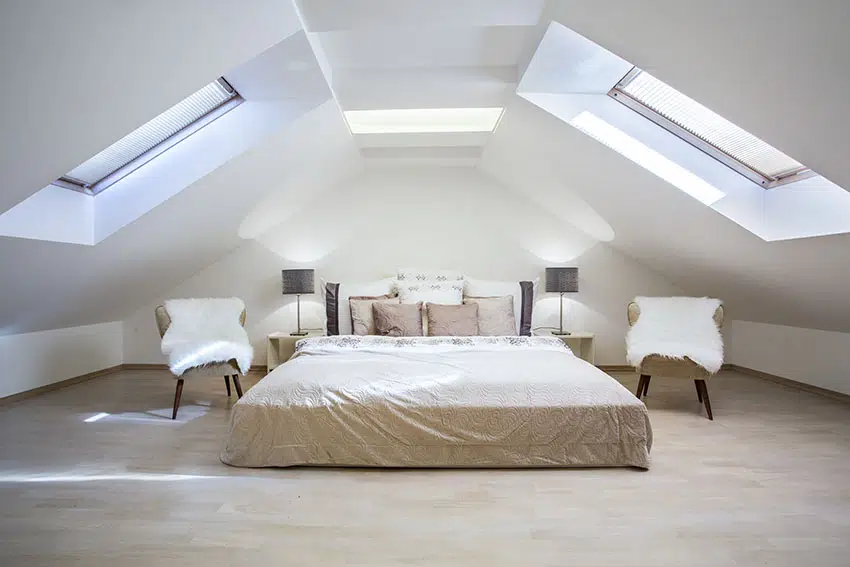 Velux is a superior roof brand that provides top-grade roof windows. Their roof windows excellently work in giving natural light to your attic space. They give fresher air and provide much better ventilation inside the attic. Velux pitched windows are compatible with pitches between 15 to 90 degrees.
Do All Houses Have Attics?
Not all houses have attics. Some of the house designs do not have space for attics. And most homeowners decide to add a full-story floor instead of a half-story attic.
Some people find attics hard to arrange, maintain, and fix their ventilation. Moreover, other people think that it's better to have a basement rather than an attic as it's a more convenient place to store objects and they won't have problems accessing it.
It also appears to have a larger amount of headroom. This is one of the reasons why some houses don't have attics.
What Are the Different Uses of Attics?
A fully finished and well-ventilated attic can be converted into an office/ working area, playroom, library, bedroom, or study room.
Scuttle and unfinished attics can only function as storage rooms as they're not yet advisable to be lived in by a human.
Did we cover all of the types of attics? Let us know if we missed anything in the comments below. For another related article visit our bungalow style house design here.