Welcome to our guide of modern basement ideas including uses as a bar, bedroom, game room and living room.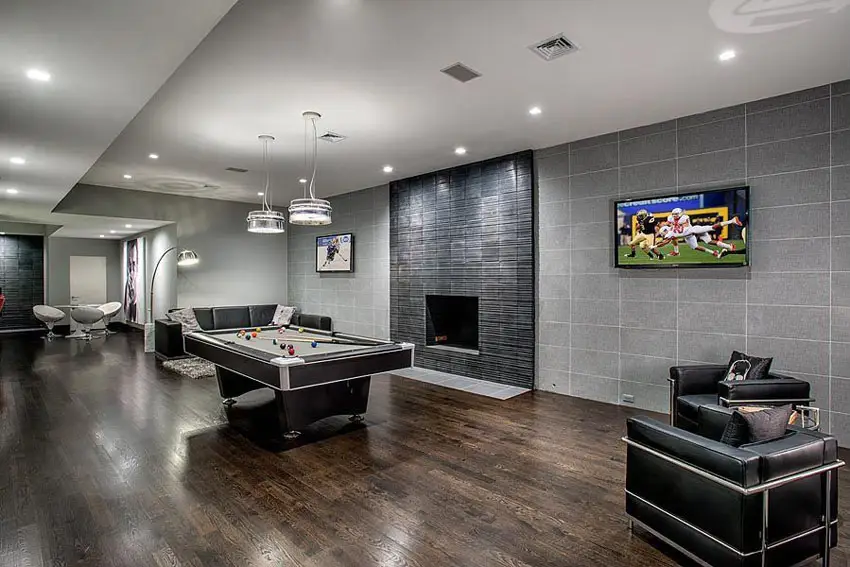 Basements are the busiest rooms in the house, most of the time occupied by unwanted objects and DIY tools used for minimal tasks. With the prices of properties rising and people deciding to expand within their existing walls rather than overstretch the budget, it isn't surprising these are getting a makeover!
Whether the extra space is needed for weekend entertaining or everyday living, below you can find modern ideas to make the most out of your basement, together with some tips on how to achieve the best results.
Modern Basement Designs
Here is our gallery of a variety of basement designs featuring different types of room layouts and functionality.
Modern Basement Bar
In the underground room of the house, a modern home bar could become the ultimate entertaining space, as there is already minimal lighting. The installation of a sink is straight forward as plumbing is usually already in place, and as long as the insulation is tackled, the next step is the color and material scheme. Use task lighting to create ambiance, and pair it with reflecting materials, such as copper or bronze, to make the custom home bar feel elegant and upmarket.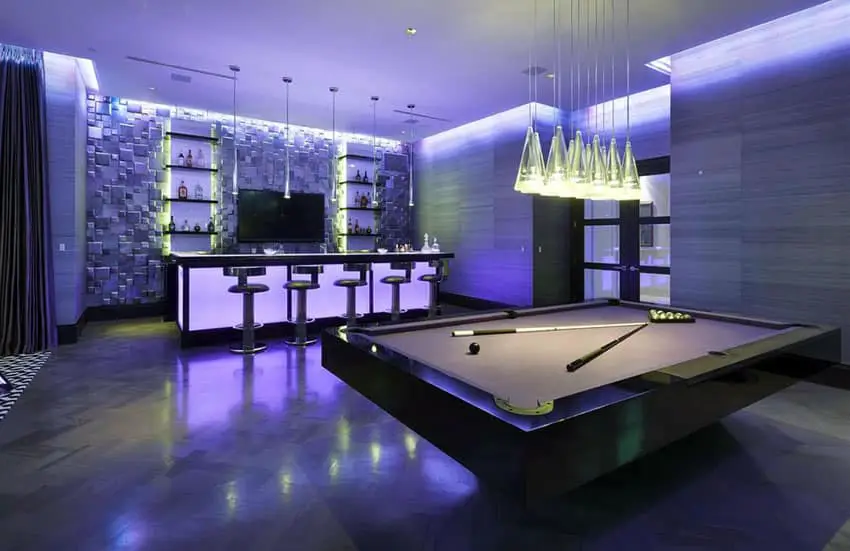 If you are looking for something family-friendly, pair these with low sofas and a coffee table with storage for table games; tie the look together by matching the hard surfaces of the bar and the table and go for something clean and classic such as a marble top.
For a more grown-up setting, wooden bar stools and teal-colored walls, scream luxury and relax, while being extremely modern and easy to maintain.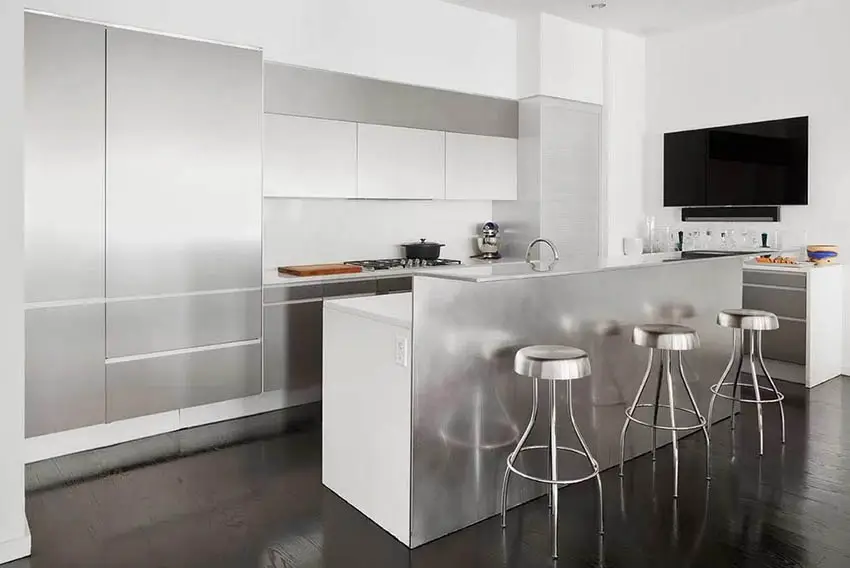 Modern basement bar with stainless steel cabinetry and island with matching bar stools.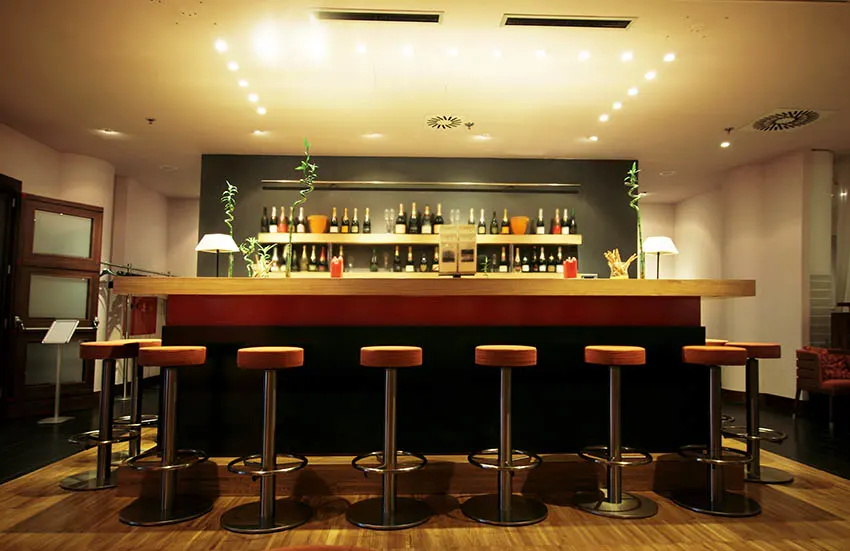 LED lighting can be another way to get a modern style in practically any type of room design.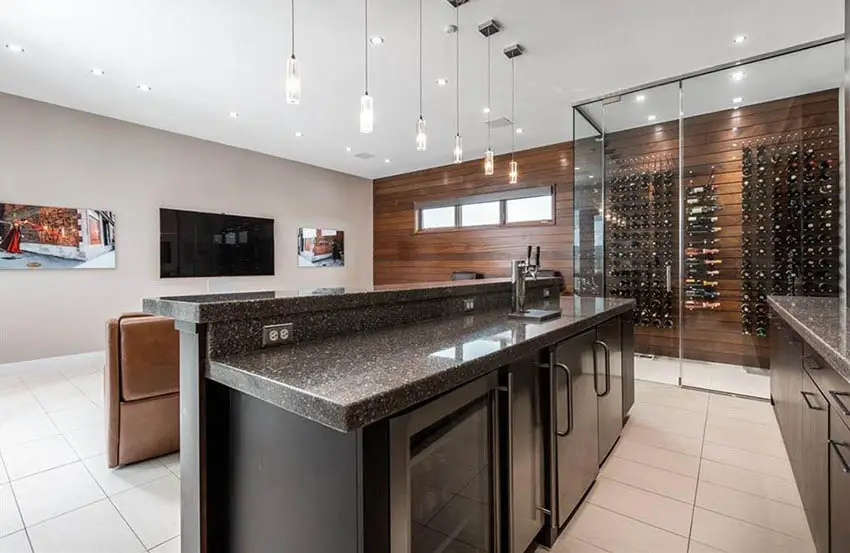 Modern basement bar with wine closet.
Modern Basement Living Room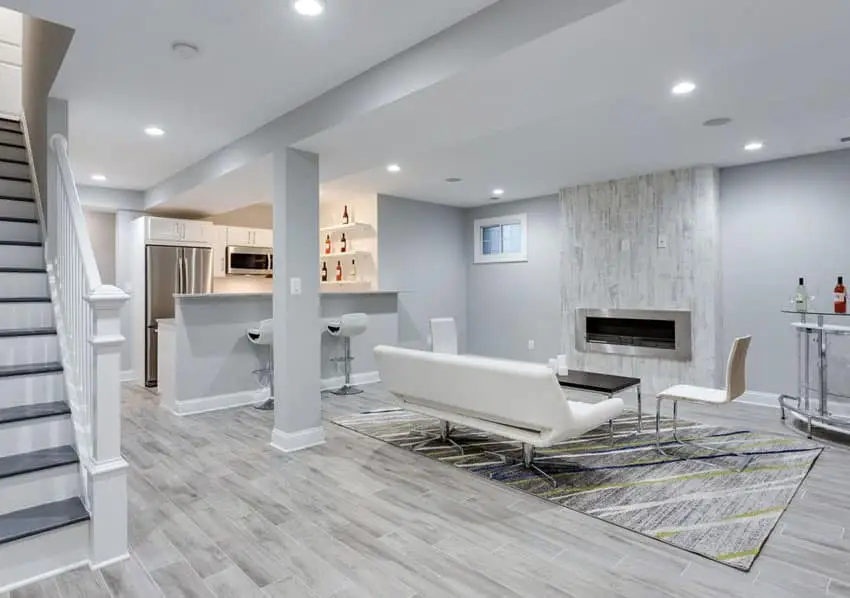 No matter what style is adopted, a living room needs to be cozy, allow for some storage, and have the right lighting to unwind. Create warmth by choosing a dark wooden floor, such as maple, and then layer it with a rich cream carpet to create texture; opt for an L-Shaped sofa or add an ottoman for ultimate relaxation and hidden storage.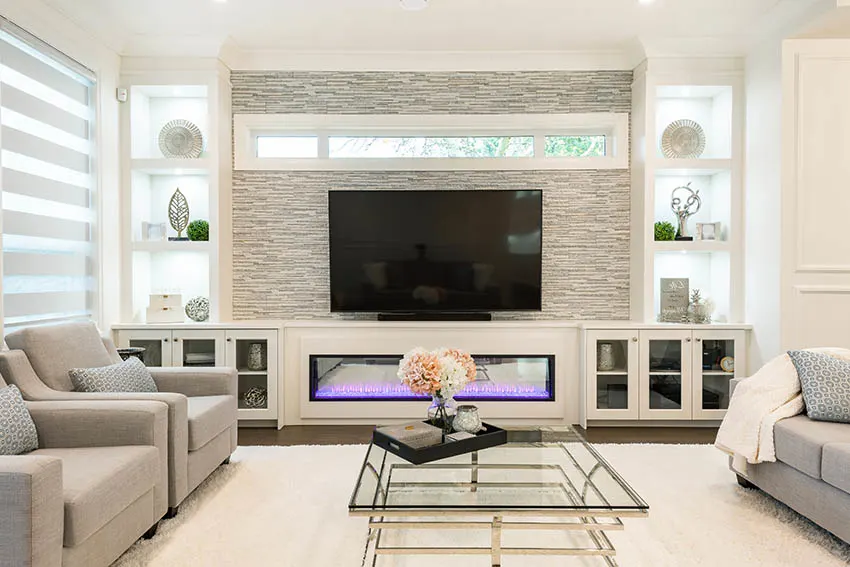 Living room with wall niches and stacked stone gas fireplace.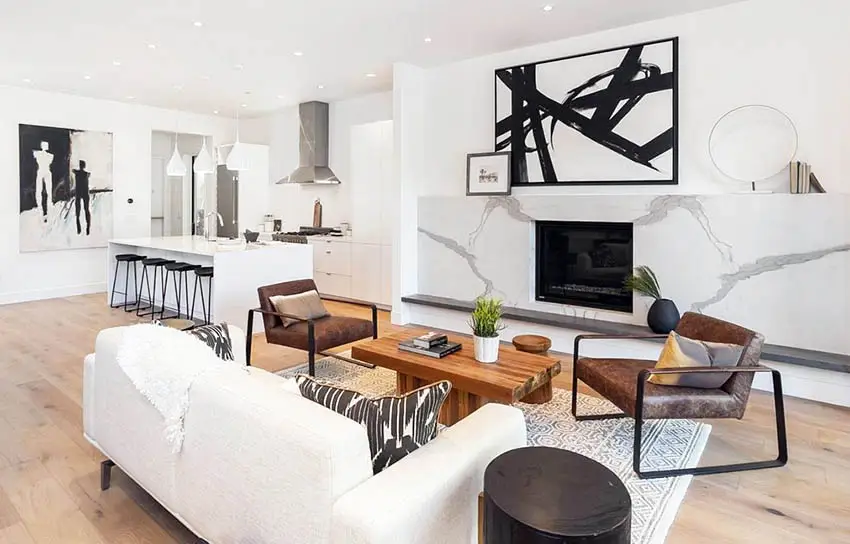 Modern interior with marble fireplace and light wood flooring.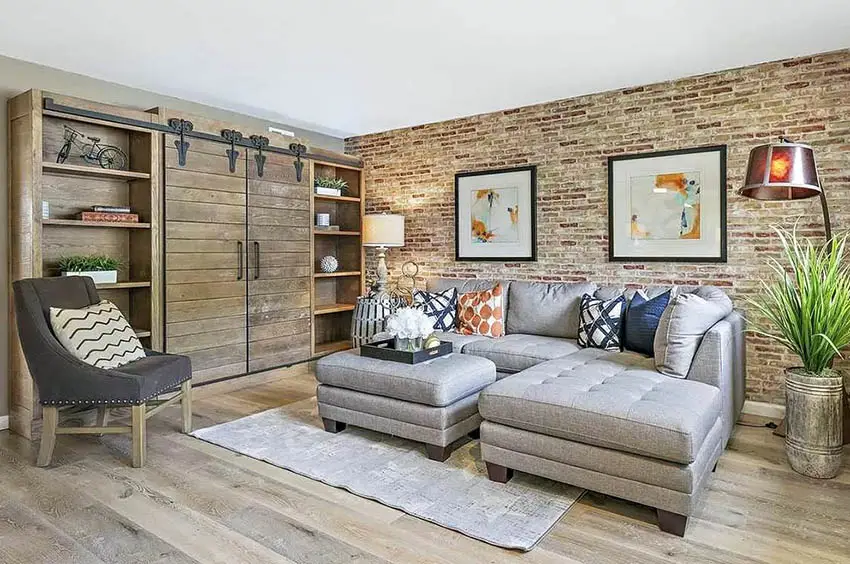 Multi-textured cushions and a blanket complete the look; go for burnt orange color, paired with a touch of cream and blue and allow for the different textures to do the rest.
Tie the look by placing a floor lamp with multiple light sources on the side of the contemporary sectional sofa; this will allow you to choose which lights you want to use and the mood you want to set.
Modern Basement Game Room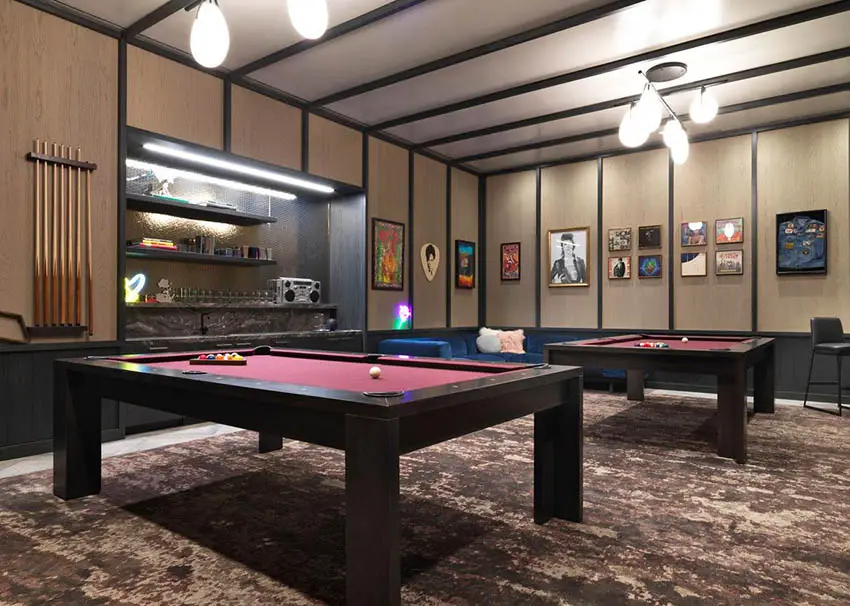 When using a game room, space to move is the essence, therefore appropriate storage mandatory. Colorful wall hang units allow to collect games, hang cue sticks and hide the music system while not occupying the whole wall; this makes the room look bigger, as the eye can still see the back wall while decorating it at the same time.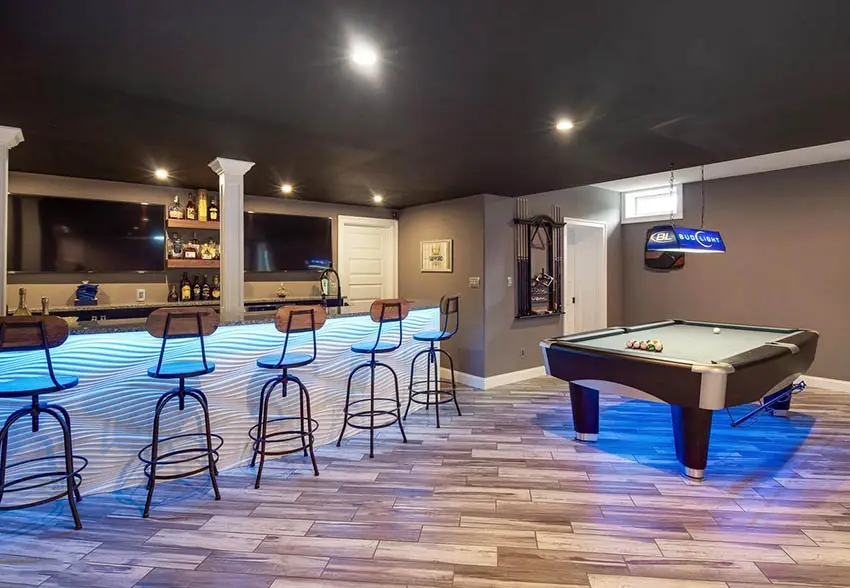 Select basement flooring that is displayed in planks and go for a material that highlights the game you are playing, such as oak.
The ultimate game room requires space to place drinks and snacks aside, so build a bar table against the wall adjacent to the storage area with a long thin shelf and display on top of it the picture of your favorite football player in a backlit vinyl box. Ambiance, comfort and space thought of, all with the modern touch.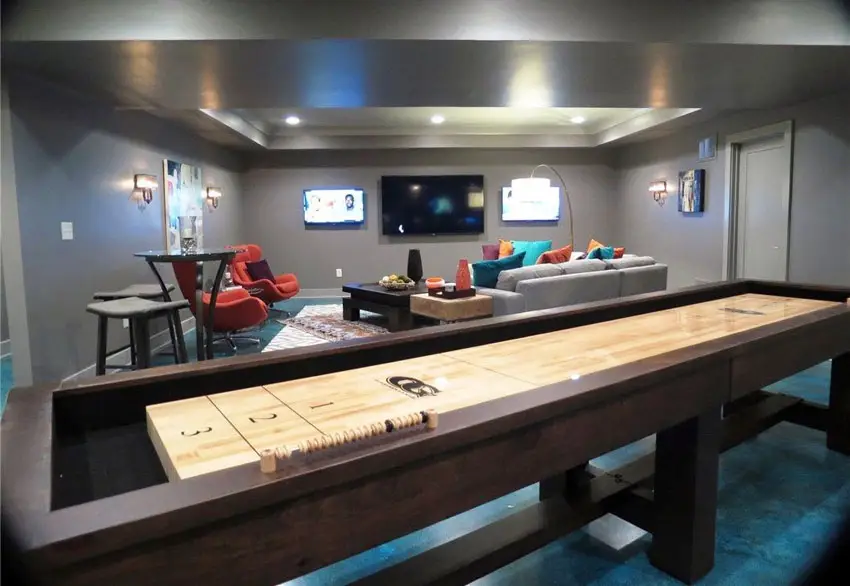 Game room with shuffleboard table and family room.
Modern Basement Bedroom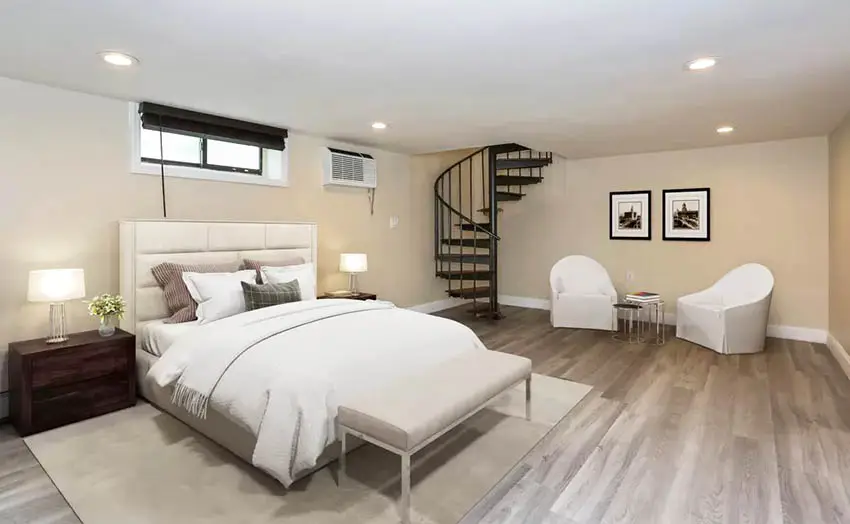 It is known that adding an extra bedroom to your home can increase the value of it but it may also allow you to stay in your favorite neighborhood without having to move to a bigger house. Create a bedroom by thinking first of all of warmth and coziness, as those are the main missing characteristics in a basement.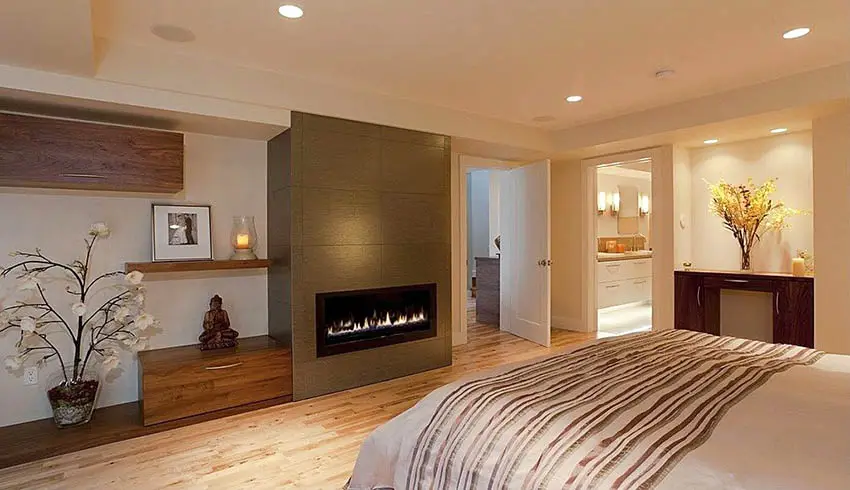 Start by choosing a light color hardwood or carpet flooring in the tones of cream and add multiple sources of task and general lighting, to make the basement feel light and not underground. Go for pale blue and yellow soft furnishings while cottage-inspired white-colored wooden furniture will ensure the room feels homely and welcoming.
Modern Basement Movie Room
The first step when creating a movie room is to see what is the biggest size screen one can fit for the maximum experience; choosing one that is either too big or too small makes the viewer feel uncomfortable and the room becomes unused very soon.
After deciding where best to place the screen and surround system, choose a deep seat reclining sofa, multiple pillows and a TV unit that allows for storage, as you may want to add more features in the future.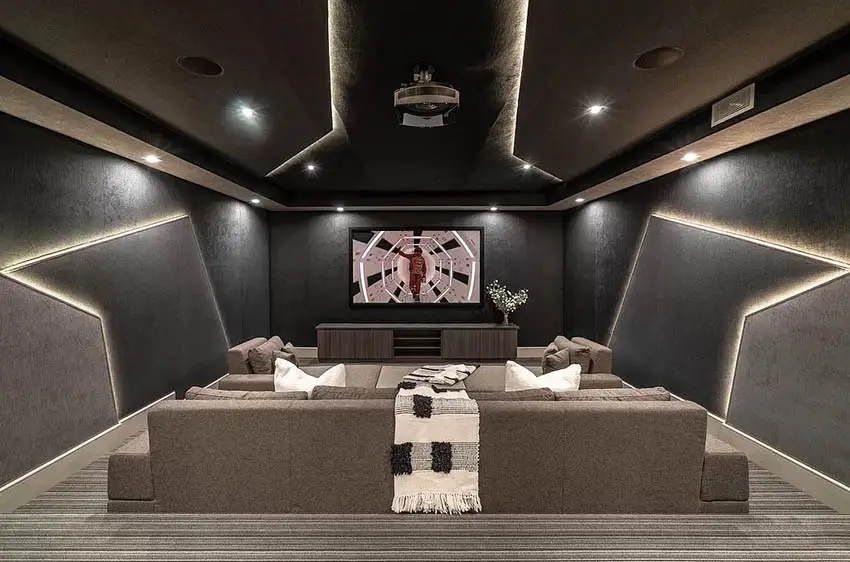 A unit with skirting LED strips gives character while ensuring one can browse the space without turning the light on during movie night.
In-Law Suite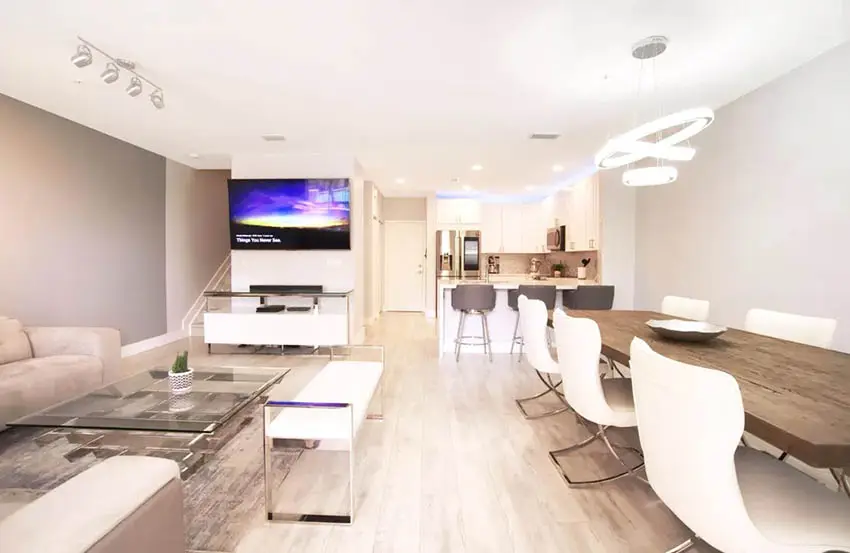 As basements are usually made up of one big space, the key to creating zones and storage for the In-Laws is room dividers; focus on ones that have double access shelving units in the top, to allow the eye to travel through them to give a sense of space, and closed storage at the bottom for privacy.
Full in-law basement apartments will need a bedroom, bathroom, and kitchenette. Check with local zoning laws to ensure you meet all the requirements for ventilation, windows and exit points.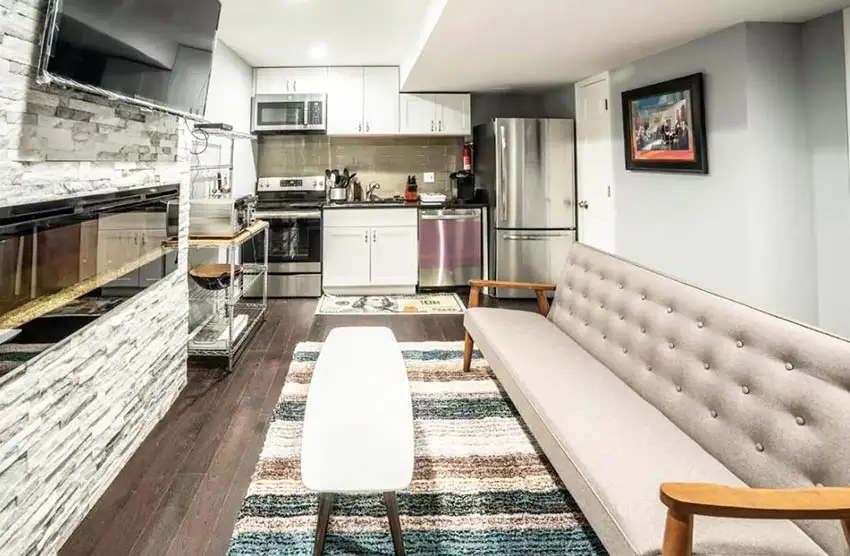 As multiple areas need to be achieved, create two main ones, each with multiple purposes. Should there be some natural light coming in, elect the brightest side for the living-dining room with a kitchenette; keep the furniture white and opt for suitable feature colors for the soft furnishings, such as coral, sage and custard. For continuity, maintain the same palette in the bedroom, while adding richer fabrics, such as velvet for warmth.
Modern Basement Paint Colors
Depending on the purpose of your basement, different colors can be chosen. For grown-up spaces, such as bars and entertainment areas, opt for emerald, dark blue and urban grey as features, while lifting the other walls with light grey. Brighten up the area with light yellow or mint green and have the ceiling and skirting white, for clean modern lines for a more day-time room feeling.
Modern Basement Decorating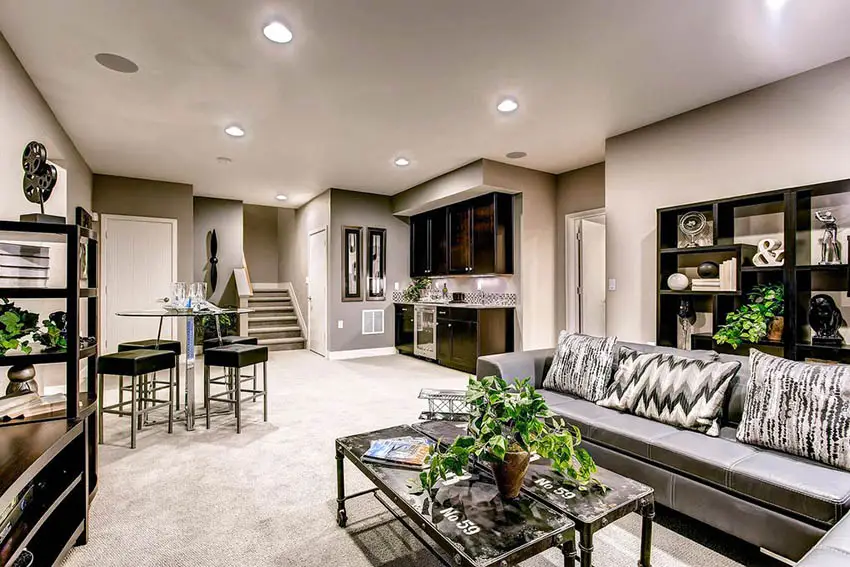 As the basement is the least luminous of the house, always think of the final purpose of it; play with textures and light and keep it simple, to achieve understated luxury in modern times. If the room is divided into multiple areas, choose a color scheme and carry it throughout, adding depth by using different materials and patterns.
Furnishing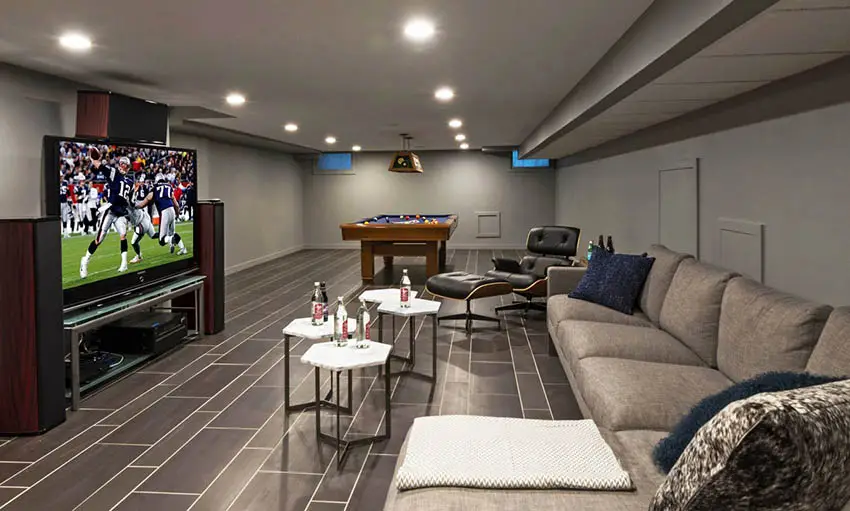 Source – Saiman Design
Bring some softness to the basement with deep seat sofas, reclining armchairs and upholstered chairs, while selecting more linear and geometrical coffee tables, TV units and storage. Think of modern comfort and practicality.
Storage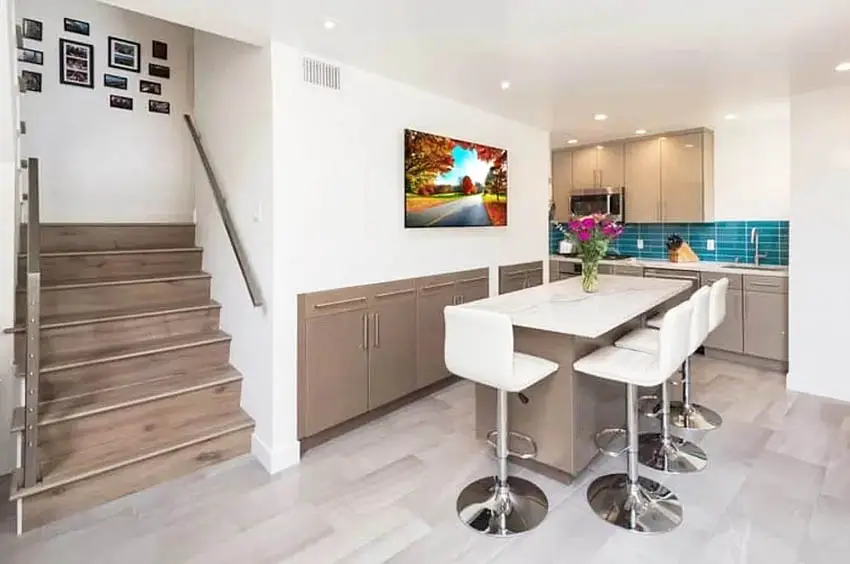 This modern basement kitchen utilizes recessed wall cabinet and an island for its storage needs. Whatever the final purpose of the basement, storage is key and it needs to be easy to reach, not overly complicated and with multiple usages to save space; as this room is not on the same floor of the others, everything needed must be stored in loco to avoid going up and down the stairs.
Standing shelving units that split the space, ottomans with hidden storage and alcoves-turned-cabinets with sliding doors will make the place easy to use, long-lasting, and up to date.
Modern Basement Remodeling Tips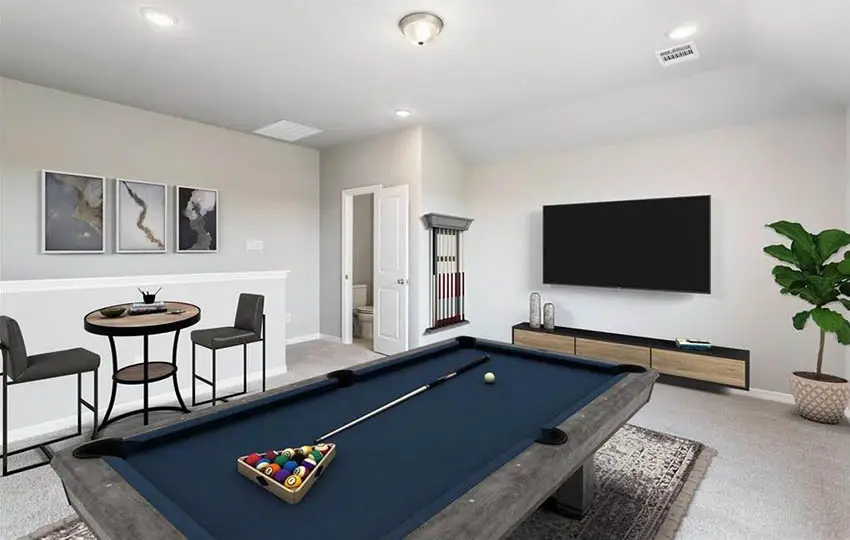 Before starting your basement decorating project, ensure all precautions have been taken for the place to be safe and that building regulations are being followed.
– Check your ceiling height meets the requirements needed for a room to be considered a live-in space; most places will require you to have a fire exit and you may need to put other precautions in place before any decorating is started.
Once your modern basement ideas ticks all legal and safety requirements, think structure: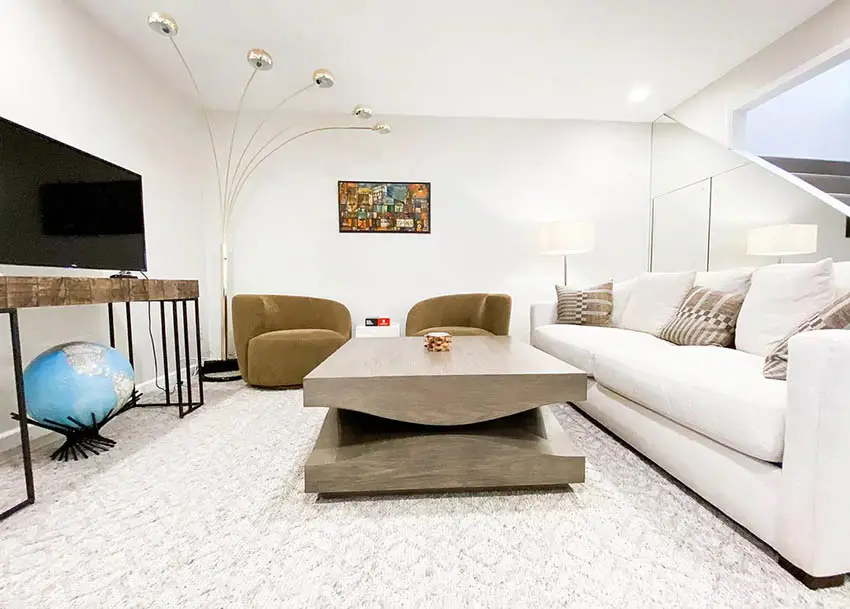 – Start with plumbing and wiring and if you require it, sound insulation; these are the first steps to take if you want to avoid having any problems in the short and long term. Starting with a sturdy foundation is key to a successful decorating project.
– Humidity levels can be very high in basements, so consider further insulating the room and adding an air-purifying and dehumidifying system; this will not only make the living more comfortable but all the decorating successful, as plaster, paint and glue need to dry.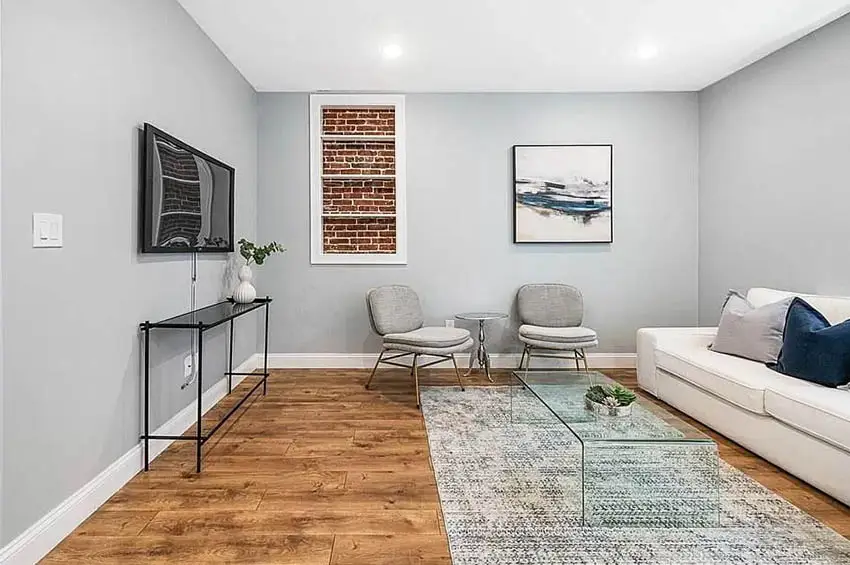 – If you have windows or want to add a window well, ensure security measures are in place; now that you are redecorating this room, you won't lock it from the rest of the house, therefore these precautions need to be added for peace of mind.
Once you are at the decorating stage, think in layers: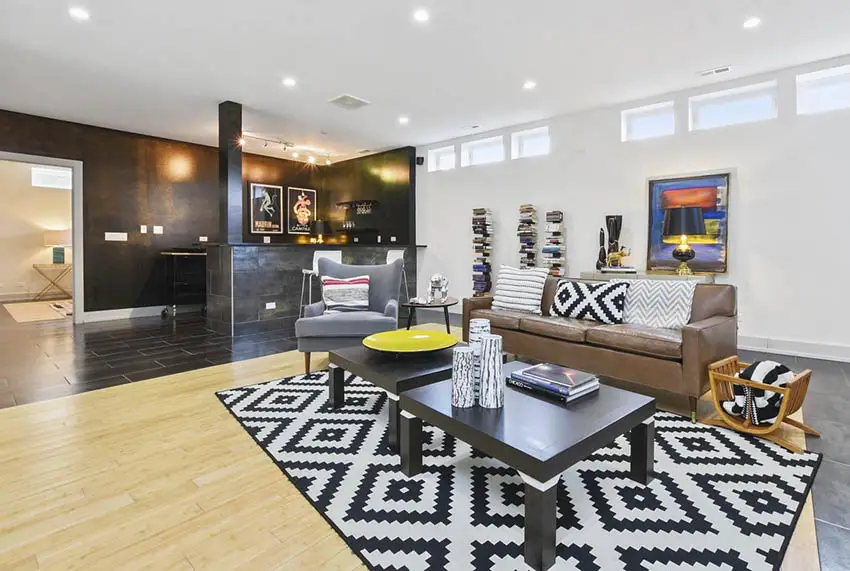 – After the structural work is completed, commence from the walls and floor before bringing in anything else; you do not have direct access to the garden or other rooms from the basement, so leave yourself enough space to work in comfort.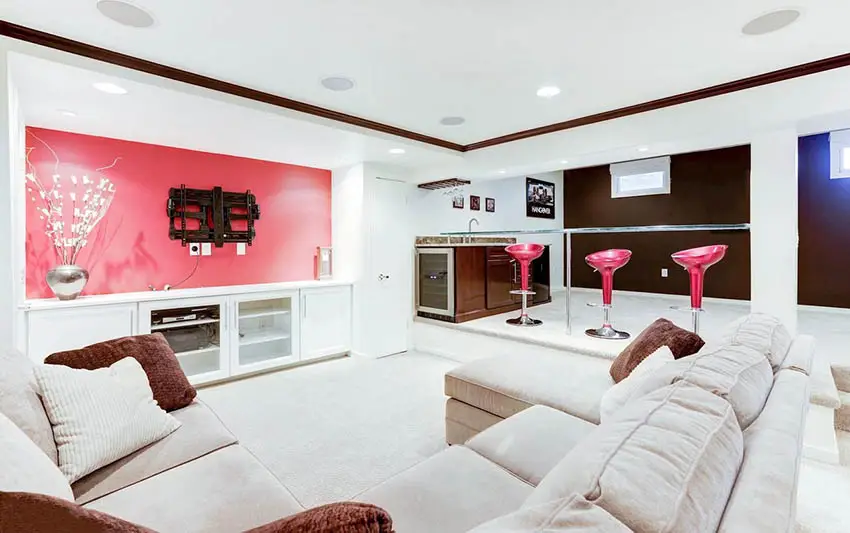 – Don't be scared of color! It is easy to go for monochrome light colors when decorating a basement fearing it may become too dark, but that will have the opposite effect. Light and texture play a massive role in decorating, so put your favorite colors in different patterns and textures and allow for individual light sources to brighten the place up.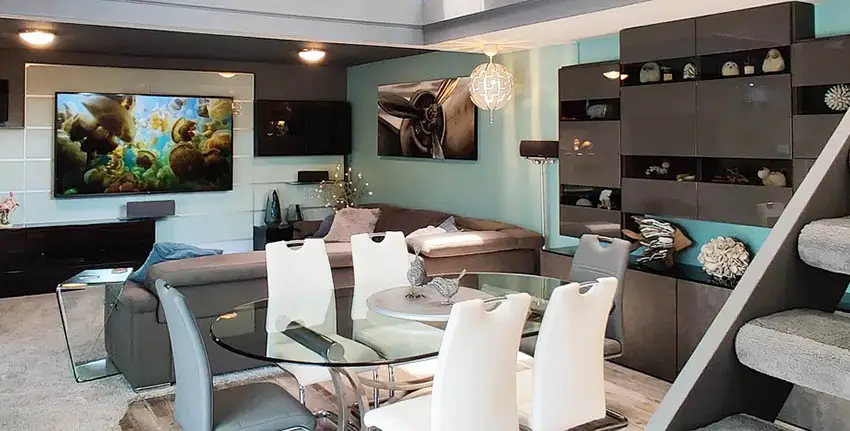 – For modern basement ideas, task lighting is your friend: like in every other room of the house, the use of multiple light sources will help you create different moods at different times so you can take full advantage of all the separate areas you created, whether you just want to read a book or have that big birthday party.
Visit this gallery for more related finished basement ideas.
---
About Elena Padovan
Elena studied interior design in London and has a big interest in the psychological effect of design, including the relationship between objects, space and people; she believes in design with a purpose beyond beauty and sees it as a way to make life better.