Here are some creative toy storage ideas for living rooms for practically any home's design style.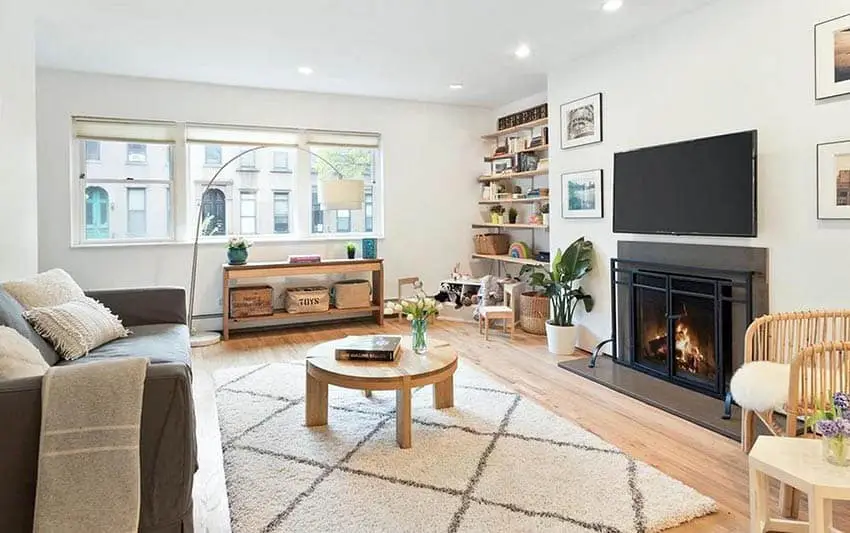 It is a fact of life that kids are going to have toys. And those toys are going to make their way into your living room at some point. Whether you have a few small things to amuse your baby during tummy time or a massive pile of Legos that you play with as a family on Sunday afternoon, these bits of fun need to be corralled!
Some people like to make the toys part of their design, using them as Pop Art and a way to add color. Others want them hidden away like they don't exist. Regardless of which camp you fall into, there is a toy storage solution that will fit your décor and lifestyle.
Cubby Basket Storage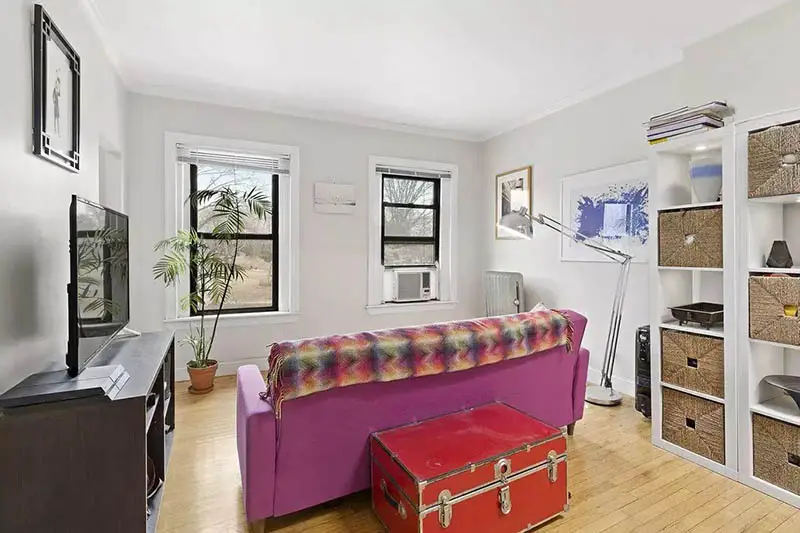 One of the best solutions for storing kids toys in the living room is by using cubbies with baskets. This method discreetly hides the toys in a stylish basket and can be easily accessed when needed. There are a wide assortment of types to choose from for any design style. The great thing about these is they're portable, meaning you can load them up and tote all the items back where they need to be without much hassle.
Photo Frame Game Storage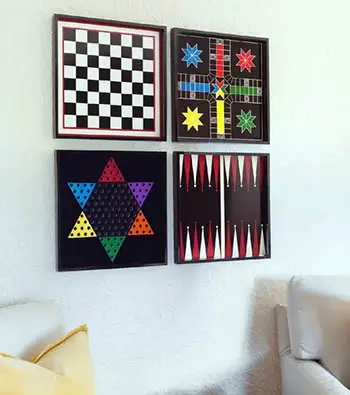 Family game night, Lego build competitions, and blanket forts are all great ways to have family fun. But where do you put all that stuff?! If you don't mind your toys becoming part of your décor, consider one of these creative (and often affordable) options.
Find inexpensive photo frames and place your favorite game boards in them, they become instant art. For games with smaller pieces, you can put them in a zip-top baggie and Velcro them to the back of the picture frame. It all hangs on the wall in a tidy, fun bundle.
If there are a lot of game pieces, or if they are oversized, find small, stylish boxes (Ikea is a great place to find these!) and label them with the name of the game and stack them on a shelf.
Puzzles can also be stored in these types of boxes, just cut the picture of the puzzle off the top of the puzzle box and put in in the storage box with the pieces so you can have a reference when putting your puzzle together. For extra color, store your dice and game pieces in clear glass jars, label the jar on the underside of the lid so you don't forget which game they go to!
For a great "display and play" option, remove the glass from a picture frame and replace it with chipboard. Paint the chipboard the color of your choice and glue small Lego bricks onto the chipboard in rows. Now you have little ledges to place your favorite Lego minifigs. Easy access and fun, colorful décor all wrapped up in one family-friendly package!
Storage Ottoman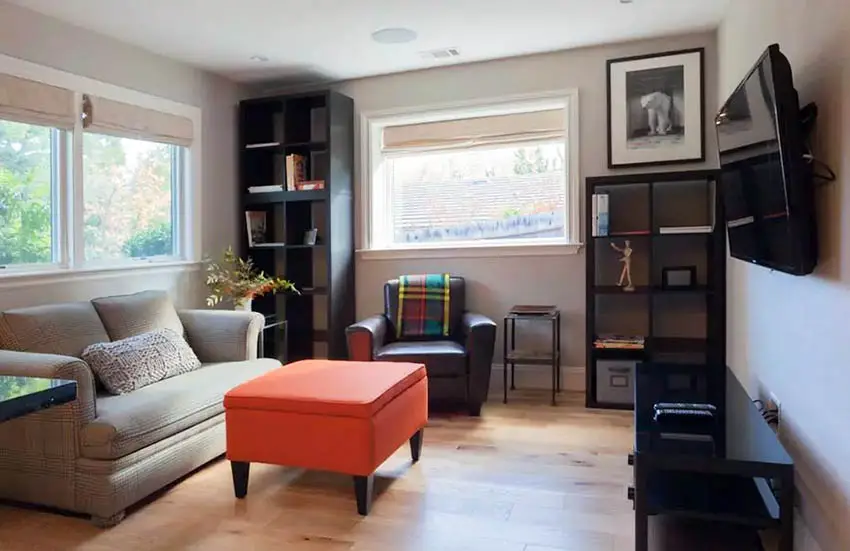 If you'd rather have to find Nemo than see him hanging out on your wall, don't despair, there are plenty of toy-hiding options out there! First, storage furniture. Ottomans and sofas with built-in storage are easy to find and affordable these days thanks to places like Ikea and Amazon.
A storage ottoman is a functional piece of furniture that makes the perfect spot for storing your kids toys of the week. These can be picked up quite inexpensively and can be used to add a pop of color for contrast or used to match your overall living room design theme.
Large, clear containers also work great for holding toy cars, small dolls, or a massive pile of Barbie shoes and can be stowed in the ottoman. If you are tired of stepping on Legos, grab a Lego sack, these handy bundles allow you to play and stow. When are done playing, simply draw up the draw string and the mat forms a sack around the Legos, stow it away in your storage ottoman or a large basket.
Sofa with Storage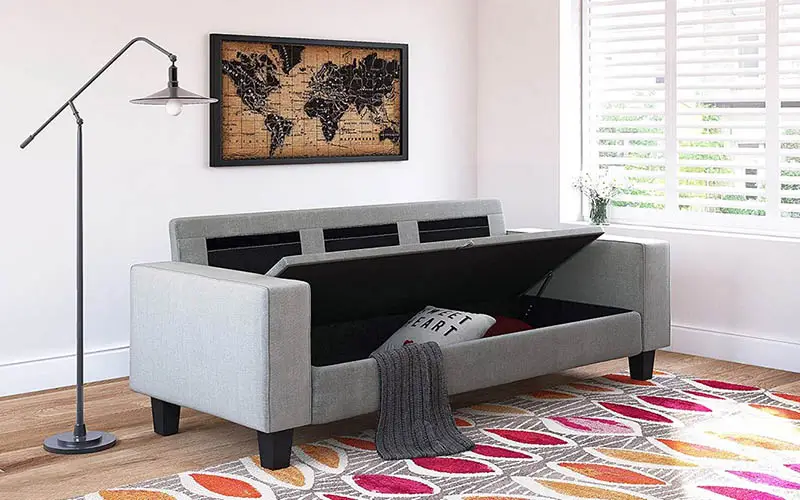 See this sofa on Amazon
A sofa with storage under the cushions keeps your living room adult or kid ready in a stylish, easy manner. If you have a large bookshelf, fit the lowest row of shelves with thickly woven baskets or wood bins stained to match your furnishings. Hide the toys away in the bins and enjoy a Bunco party without having to look at Polly Pocket all night long!
Fisherman's Basket Storage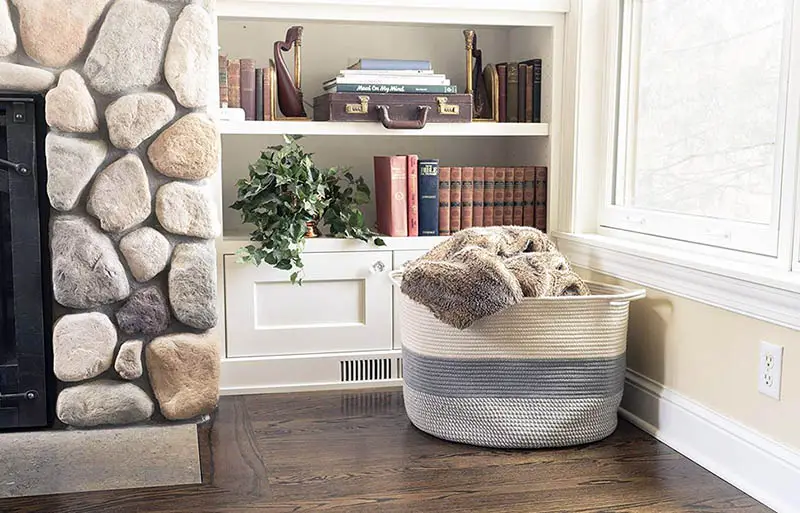 See this basket on Amazon
A large fisherman's basket makes a great landing spot for soft stuffed toys and a few small blankets. You can even upholster the doors of a cube-storage shelving unit to make a truly sophisticated version of a toy closet. Have a custom shallow storage tray on casters made to fit under your living room sofa, it is the perfect place for board games, smaller toys, and extra sheets and clothes pins for those awesome blanket forts that your kids build.
Storage Credenza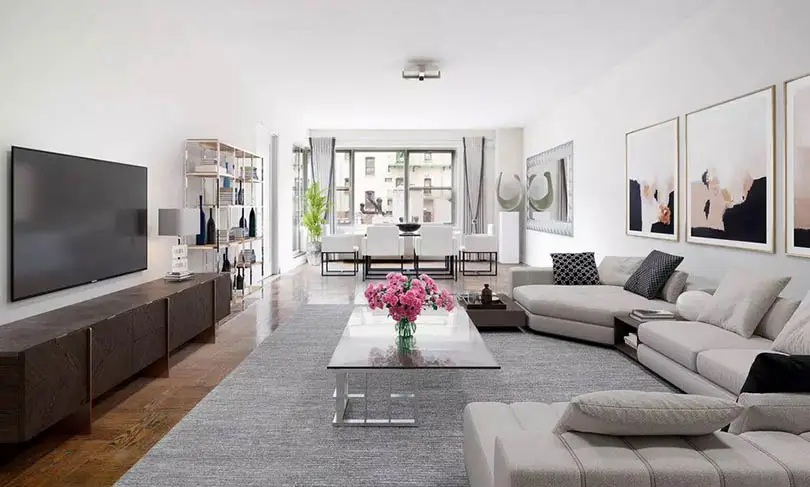 A small-scale toy storage made to match your other furnishings, could be a mini mid-century credenza that adds style and functional storage that is easy for little hands to access. A long wall unit below your TV offers plenty of space and can be matched to your exact design specifications. See more living room TV arrangement ideas here.
Other related ideas include hacking a storage truck into a cool coffee/play table. Glue Lego mats or paint a play kitchen stove or roads onto the underside of the table top. Store the coordinating toys inside and with a quick flip, go from a spot for your favorite coffee table books to a fun, imaginative place to play!
Window Seat Storage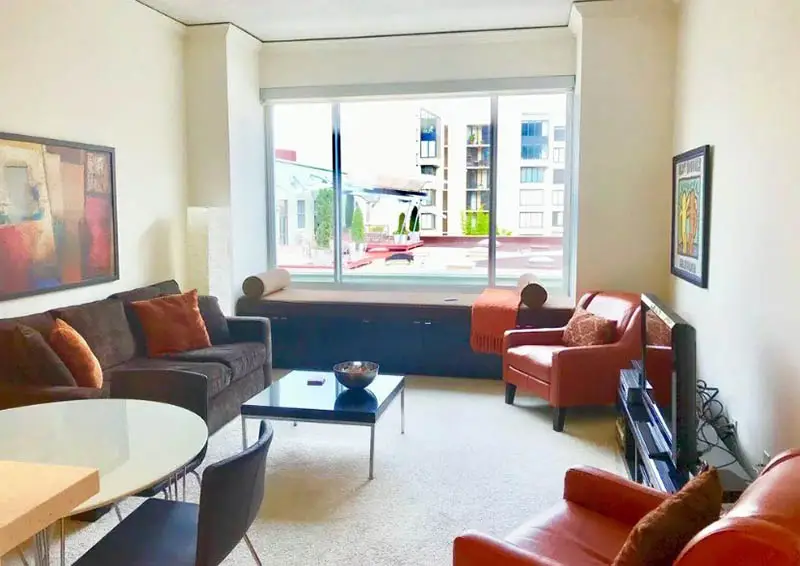 A window seat can be an effective place to stow kids stows out of sight when not needed. Not only does it provide a comfy spot to curl up with a book, it also can be a visually pleasing remedy for toy clutter. These can be custom built as a DIY window seat design project or purchased as a unit that can be pushed in to place where needed.
Before kids, most of us say that we will never have toys in our living rooms. But more often than not, we discover that our kids like being near us and we like being near them, and toys creep their way into the living room (and kitchen and dining room, but that is another article!). Whether your design is quirky, geeky, and perfect for toy displays or you need a sophisticated, no kids allowed look when you host girl's night in, you can find a way to incorporate toys into you living room without making it look like a toy circus.
We hope you enjoyed our toy storage for living room article. For more related designs check out our page about living room remodel ideas here.