Discover different modern farmhouse living room ideas including what the characteristics, styling tips, furniture types, and paint colors to consider.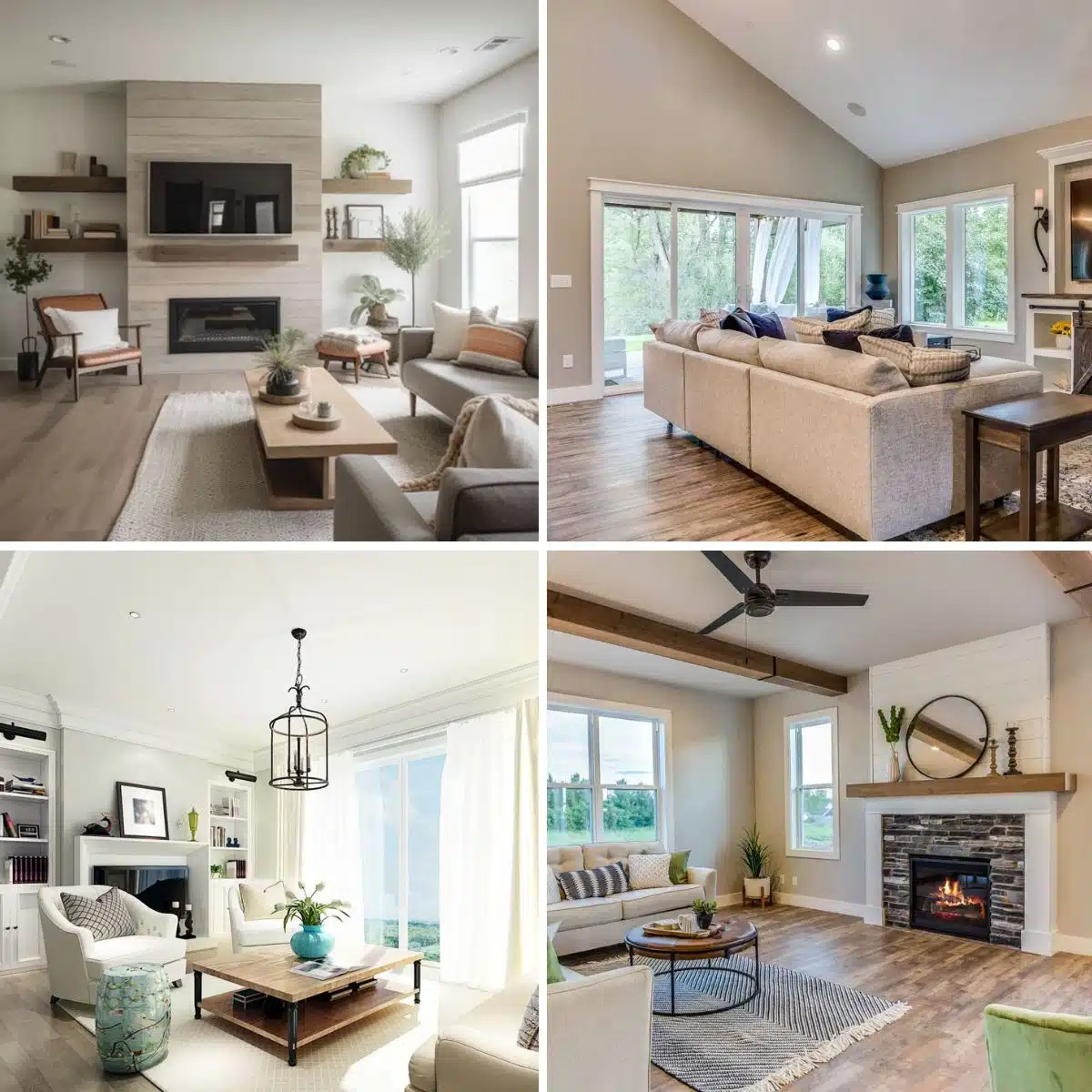 The trend of combining rustic aspects into modern design has gone viral as the world gets more technologically advanced and fast-paced. This is especially evident in a modern farmhouse living room.
Modern farmhouse living rooms are a pleasant, comfortable balance of the past and the present. Although traditional farmhouses originally had low ceilings and small rooms, the farmhouse-inspired living rooms seen nowadays are designed for modern lifestyles.
To put it simply, this interior design concept seamlessly blends the warmth and character of a classic farmhouse with the sleek lines and minimalist style of a modern home.
Hence, if you want to incorporate a little bit of the countryside into your city or suburban home, the modern farmhouse living room could be the appropriate elegant design solution for you.
What Makes A Room A Modern Farmhouse?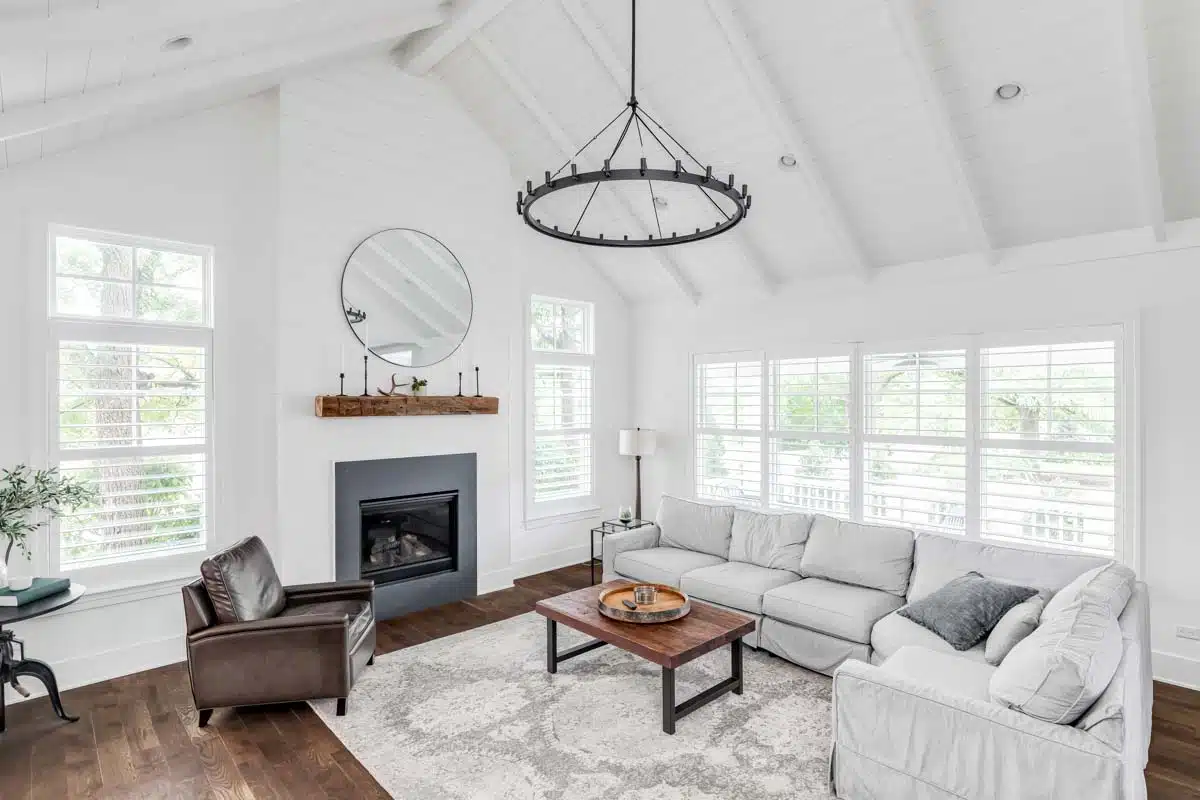 What makes a room a modern farmhouse is usually, for instance, the presence of white walls, soaring ceilings, abundant windows, ornamental ceiling beams, beadboard or shiplap walls, barn-style doors, vintage-style lighting, and neutral hues.
With an emphasis on natural elements such as wood, metal, and stone, these cozy spaces frequently have a layout designed around a centralized fireplace.
Modern farmhouse design incorporates modern features such as clean lines, shiny accents, as well as neutral color palettes into the cozy, relaxing farmhouse aesthetic.
It appears to be less rustic and more refined, with modern design elements such as stainless steel appliances, granite countertops, and streamlined light fixture arrangements.
Together with the aforementioned modern elements, among the most recognizable characteristics of the modern farmhouse living room is the use of a shiplap, a type of wooden panel employed to line the walls.
Modern Farmhouse style may seem low-key at first glance, but all those low key elements combine and form quite a bold statement. – Ultimate Book of Modern Farmhouse Plans, Design America Inc.
This application provides a homey, rustic vibe to the living room while simultaneously offering a clean, chic, modern appearance. The walls are frequently painted in neutral colors like white, gray, or beige to provide a quiet and relaxing ambiance.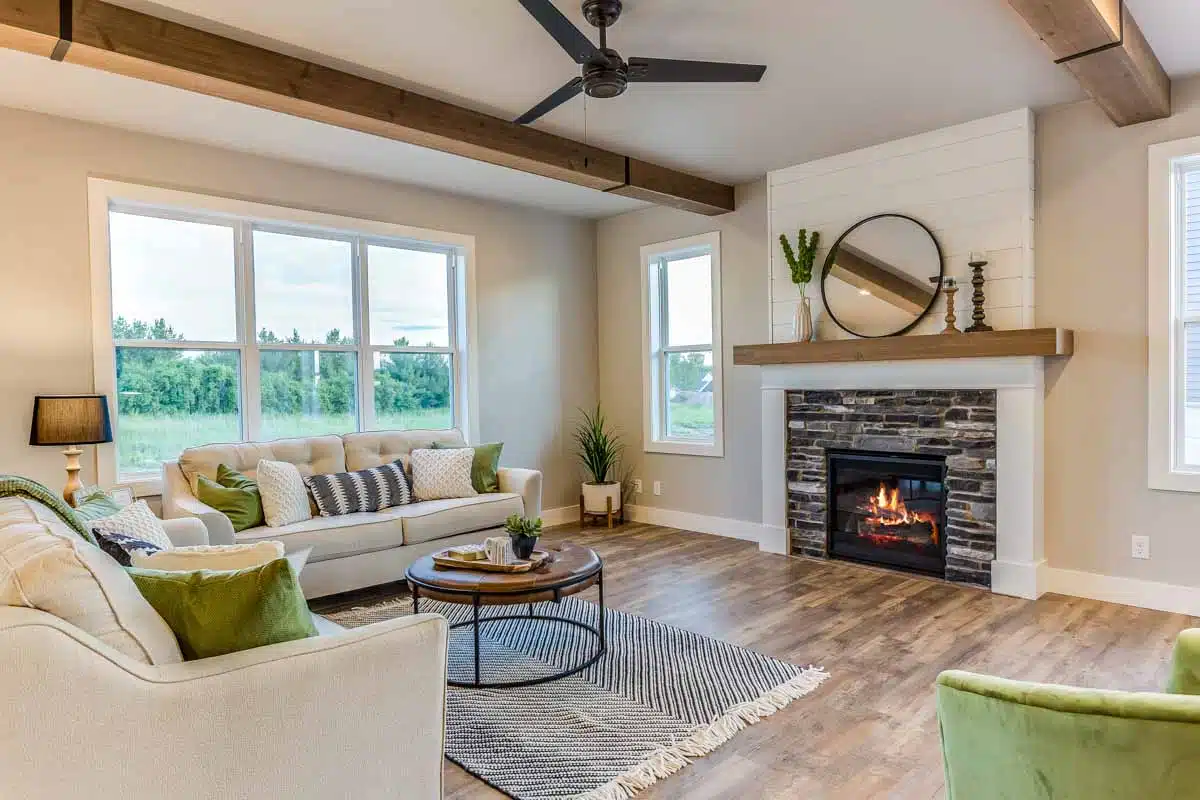 In addition, exposed beams are also an important aspect of the modern farmhouse living room. Such wooden beams are typically painted in a contrasting tone to the walls, drawing more attention to the ceiling and providing an illusion of added height in the living room.
Natural elements like wood, stone, and upholstery materials like leather are luxurious and also popular in modern farmhouse design. Furniture is frequently manufactured from repurposed wood or has a distressed finish to provide it with an antiquated appearance.
The usage of vintage or antique accents is another unique feature of the modern farmhouse living room. Rustic weathered signs, vintage lighting fixtures, and aged metal embellishments are examples of such decor pieces. These components add a feeling of history and character to the area, making it comfortable and inviting.
How Do You Style A Living Room?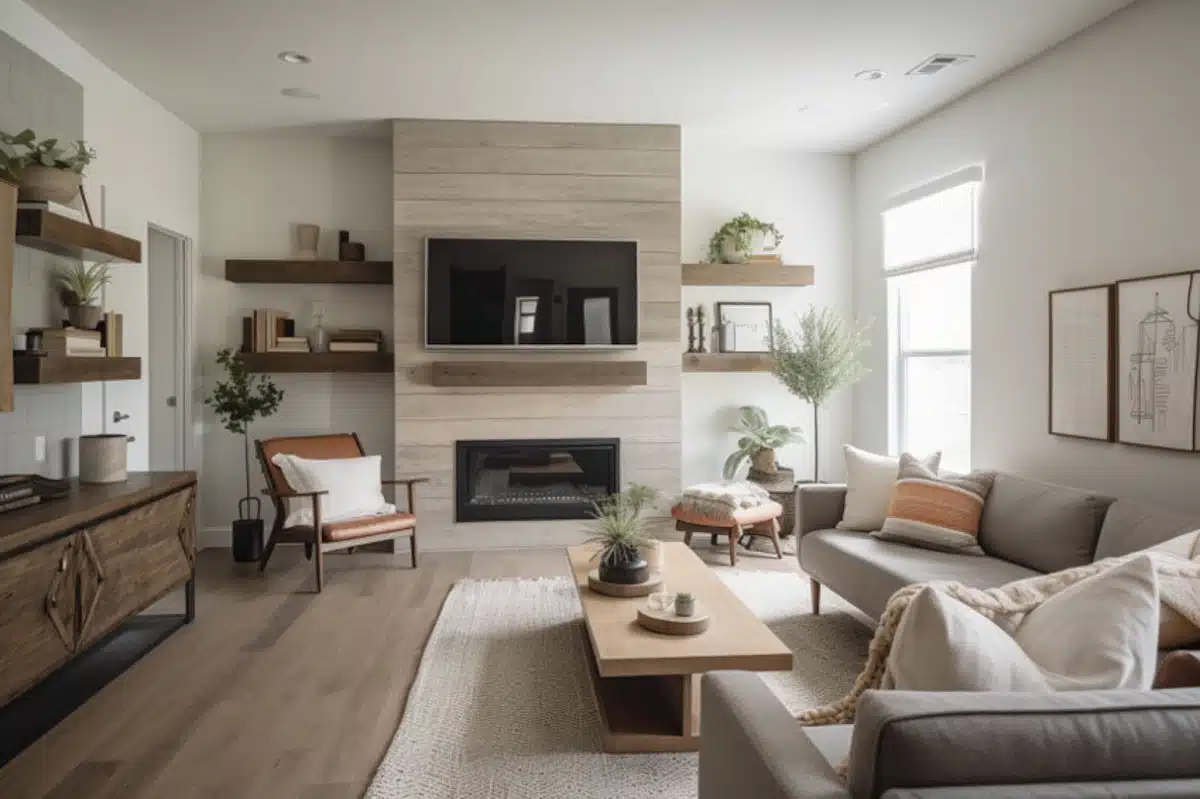 The primary ingredient in designing a modern farmhouse interior is comfort. Nothing must look overly sensitive to the touch, and furniture must encourage you to relax. Modern farmhouse décor has a homey vibe to it that can elicit positive vibes and happiness.
When it involves designing and styling a modern farmhouse living room, there are numerous crucial factors to consider. There are several ways to accomplish this cozy and inviting look, ranging from practicality to combining old and new design features.
Concentrate on Functionality or Practicality: A modern farmhouse living room must be both cozy and functional. Ideally, you have to pick furniture pieces and accessories that are appealing and not too complex to use on a regular basis.
Shiplap, beadboard, and barn-style doors are excellent wall decor and starting points for this style.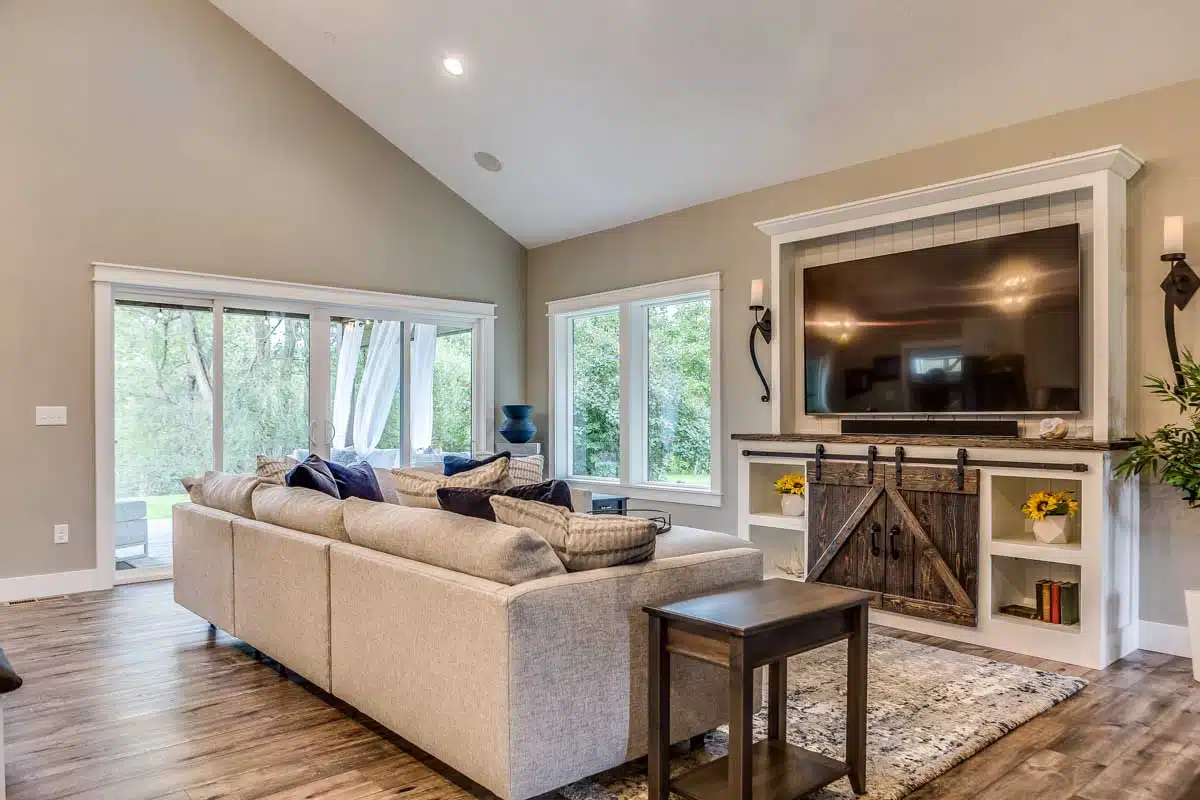 Make Use of a Neutral Color Scheme: Indeed, you have to use a neutral color scheme to make the living room appear fresher and airy.
Neutrals that are warm or gentle such as cream, beige, gray, or pale colors like pale blue and sage green, all work well and complement natural components.
As much as possible, try keeping patterns simple and modern, and use a diversity of handcrafted textures to add depth to the neutral scheme.
Consider Mixing and Matching Modern and Rustic Elements: We highly recommend mixing and matching furniture items, particularly vintage and new, to give the impression of authenticity and elegance.
Craftsman-style furniture has authenticity, yet new furniture has added elegance and comfort. You can combine classic natural materials like wood with contemporary ones like stainless steel.
Add a Slightly Generous Amount of Natural Design Elements: While styling a modern farmhouse living room, natural materials must take center stage.
You may integrate distressed wood into architectural elements or furniture along with natural fibers like cotton, agave, rattan, or wicker. Natural stone can also be used to provide warmth and dimension to a room.
Incorporate Modern and Industrial Elements Into the Decor: Although the farmhouse style is based on heritage, modern and industrial accents can give the modern farmhouse design a different twist.
For a minimalist appearance and feel, you can use industrial-style metal items such as exposed task lighting fixtures in living rooms as well as mid-century modern-style furniture like something of a teak wood dining set.
Include Minimalism: You can keep embellishments to a minimum to establish an inviting and uncluttered environment. To keep the farmhouse design modern and minimalist, you may include modern or industrial accents. Try adding slatted frames with metallic finishes within the room.
Living Room Furniture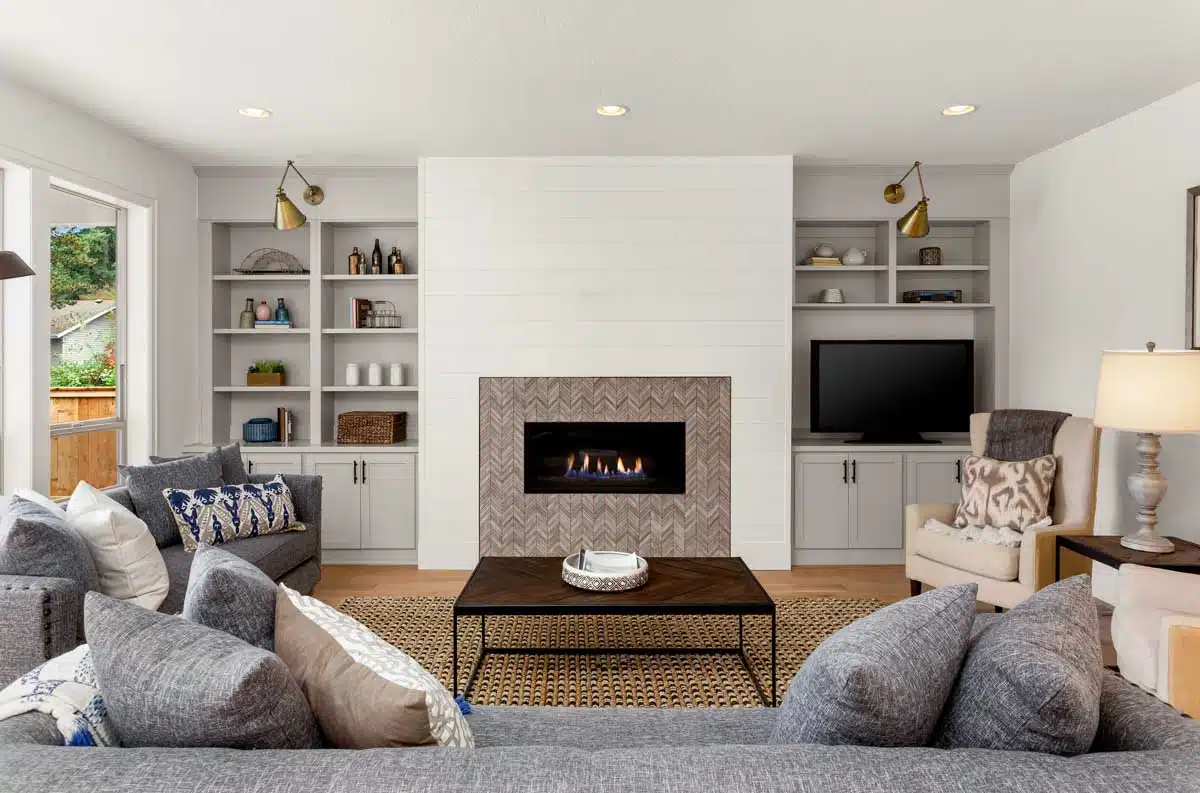 Even in modern farmhouse living rooms, the rustic appeal of furniture from decades past is reintroduced. The key is to do it subtly, with a dash of antique elegance wherever necessary.
Modern farmhouse living room furniture is distinguished by its minimalism, warmth, and practicality, and it is often constructed of natural materials like wood, metal, and organic fibers. The emphasis on comfort is among the most essential characteristics of modern farmhouse living room furniture.
Chairs and sofas are frequently upholstered in soft, natural fibers like linen, cotton, leather, or suede and have deep, comfortable seats and backrests. For enhanced comfort, they may feature comfy cushions and throw pillows.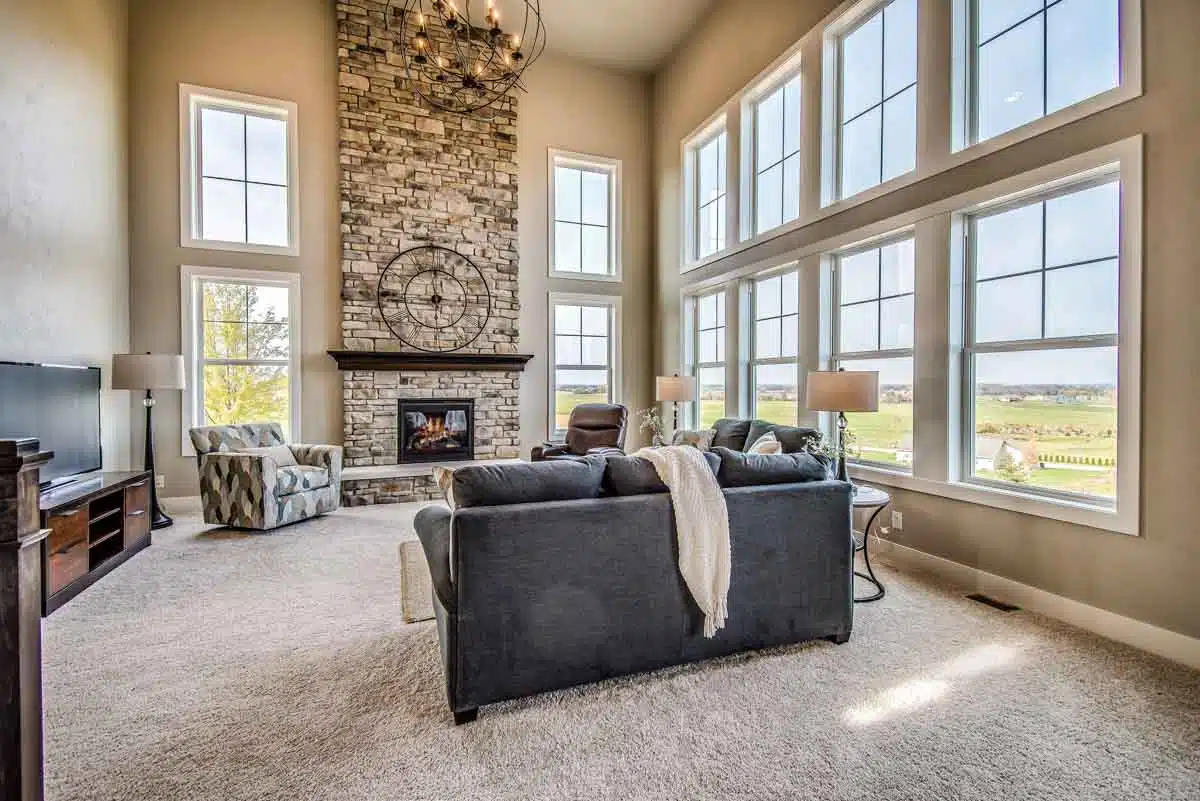 Aside from comfort, modern farmhouse living room furniture frequently has basic, sleek lines and little decoration. This lets the natural beauty of the materials shine through, resulting in a classic aesthetic that will never go out of style.
Repurposed or weathered wood is commonly utilized in modern farmhouse living room furniture, giving the furnishings a rustic, aged appearance. Metal accents, including wrought iron or brushed nickel, are particularly fashionable and can give the design an industrial or modern feel.
Modern farmhouse living room furniture pieces like coffee tables and end tables are generally fashioned from weathered wood and feature basic, utilitarian designs.
Bookcases and storage units can also be added to the space to provide an additional storage option for books, decorative elements, and other items.
What Type Of Furniture to Use?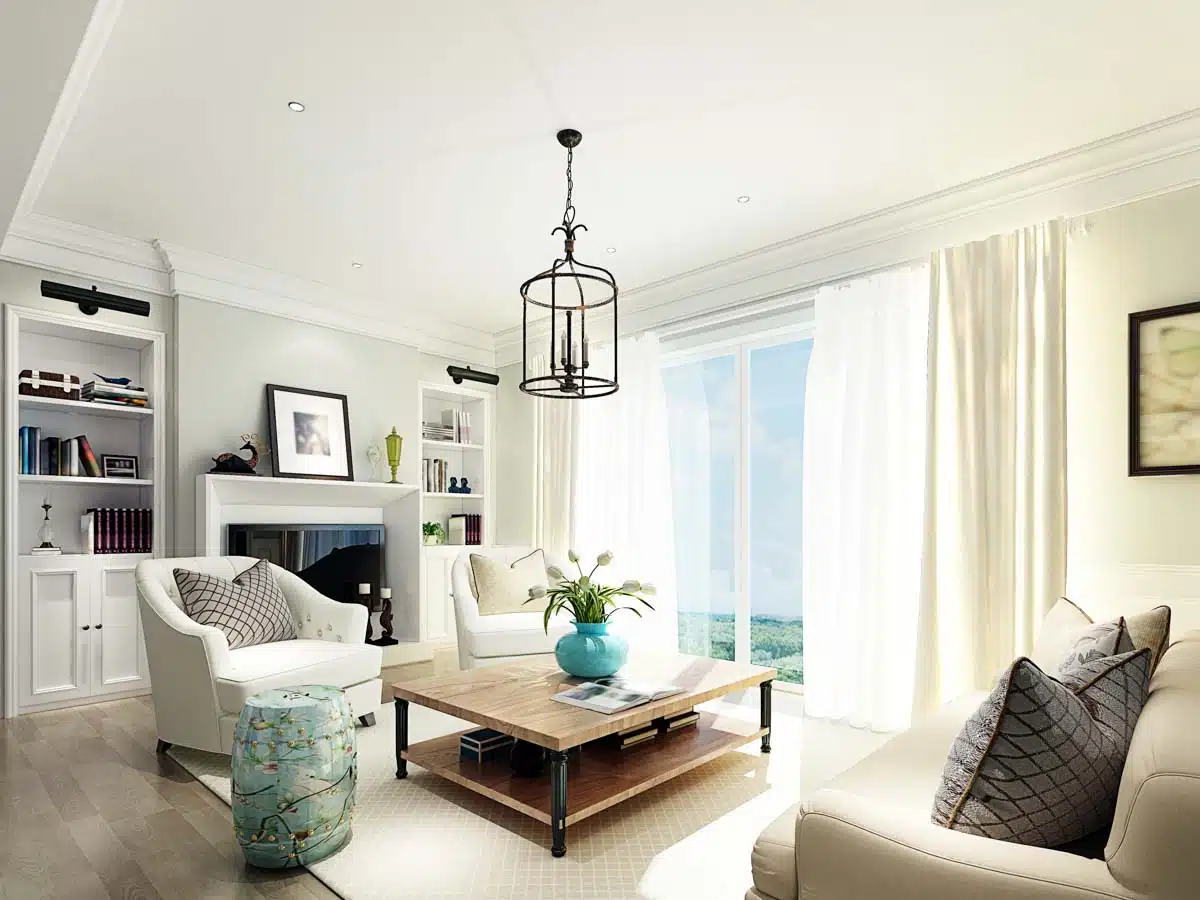 Here are some modern farmhouse-style types of furniture:
• Upholstered Furniture. Normally, modern farmhouse-style sofas, chairs, and armchairs are upholstered in neutral, organic fabrics such as cotton or leather. For a nice, inviting vibe, these furniture pieces have sleek lines and comfy cushions.
• Wooden Furniture. Modern farmhouse style includes a lot of wood furniture. It frequently has rustic or distressed treatments that emphasize the richness of the wood. Coffee tables, couch frames, and side tables are all common modern farmhouse-style furniture pieces.
• Furniture with Metal Accents. Metal accents like wrought iron, chrome, brushed nickel, or brass, are frequently used to bring a hint of industrial or modern flavor to modern farmhouse furniture. Metal is commonly utilized as accents or legs on chairs and tables.
What Color Furniture is Best?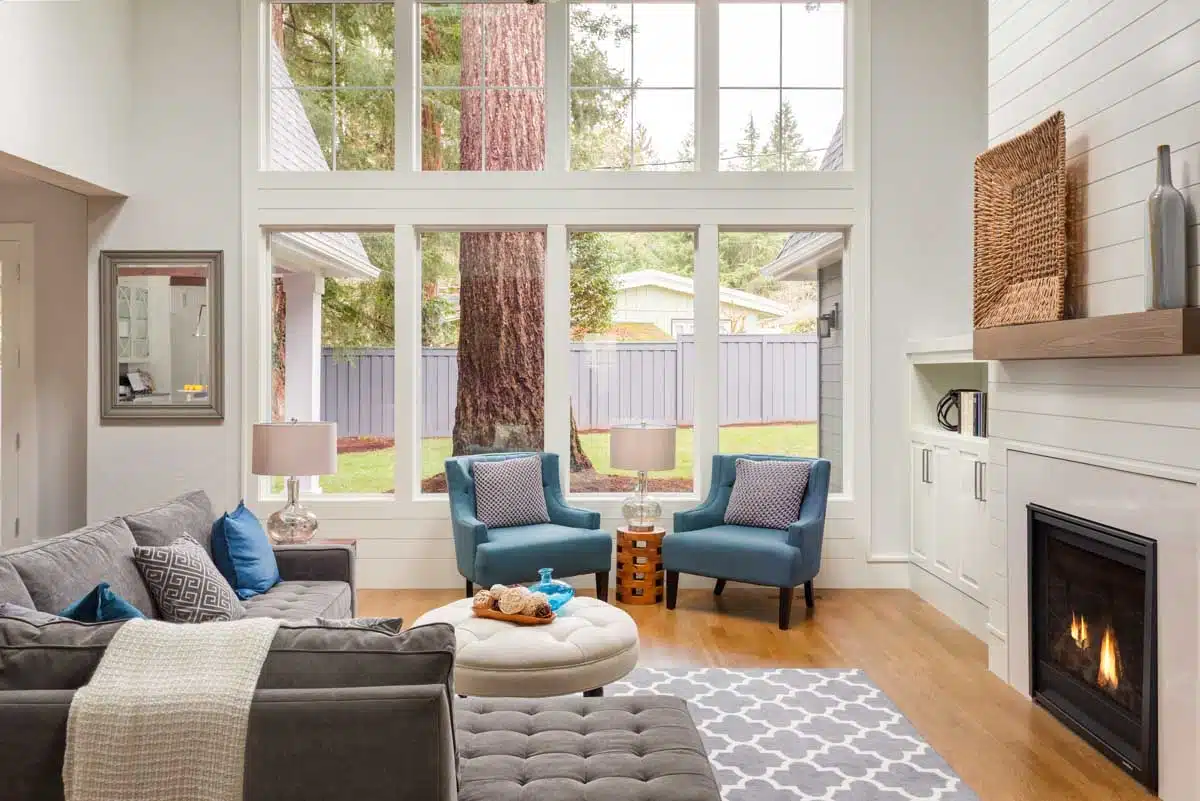 Furniture colors in the modern farmhouse style frequently represent a neutral and natural color scheme. The goal is to create a nice, inviting space that is beneficial for relaxation.
White, cream, gray, beige, and brown are common neutral colors for modern farmhouse furniture. Natural wood colors like oak, maple, or cherry, are, nonetheless, popular in modern farmhouse furniture as well.
They offer richness and warmth to a room and can be mixed with neutral colors for a mix of traditional and modern effects.
Modern Farmhouse Living Room Colors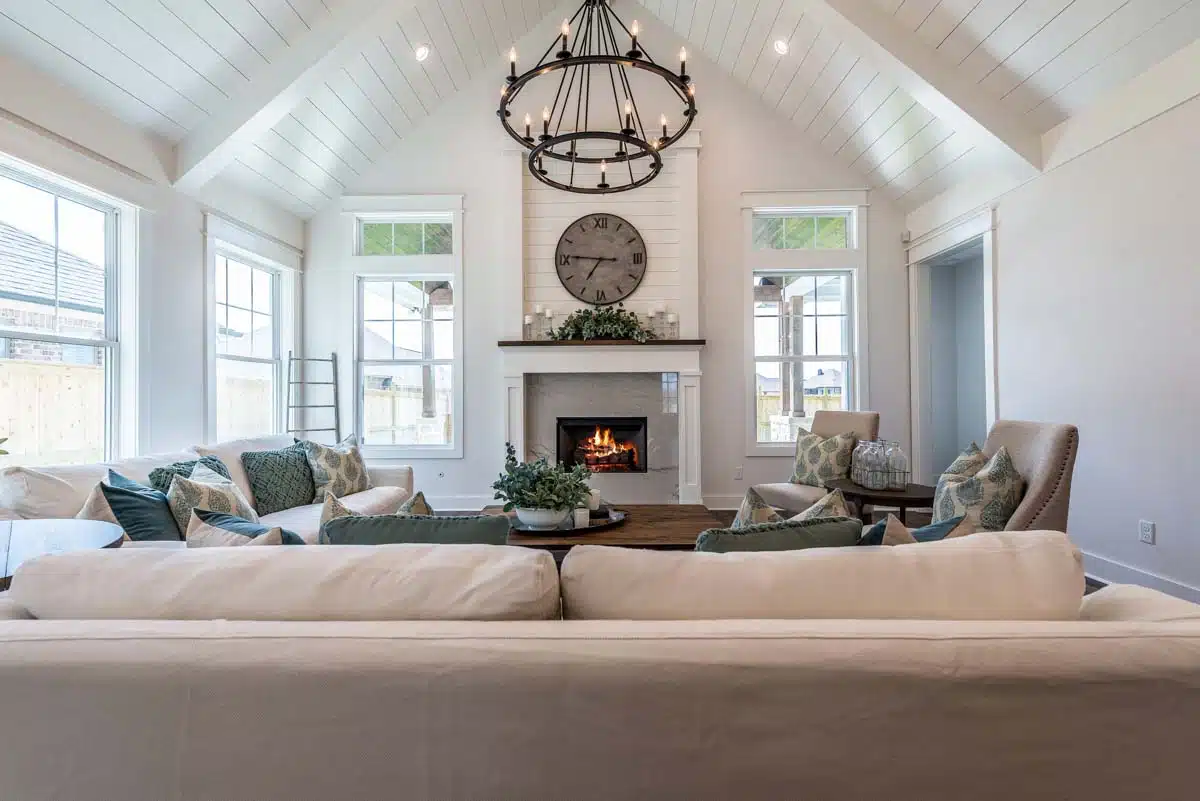 A neutral color palette with flashes of natural, earthy tones is prevalent in contemporary farmhouse living spaces. The following are some classic color schemes for modern farmhouse living rooms:
• White: A modern farmhouse living room might benefit from a pristine, vibrant white backdrop.
• Beige: A warm, creamy beige may make a living room feel more inviting.

• Gray: A gentle gray can lend a sense of refinement while still maintaining the farmhouse theme.
• Navy Blue: A profound navy blue may be a terrific accent color for a living room, offering a powerful punch of color and a modernized vibe.
• Sage Green: This soft green can offer a soothing, natural aspect to the living room.
• Mustard Yellow: This warm shade of yellow is a terrific way to add a flash of color to highlight the farmhouse design while maintaining a neutral palette that adds to the modern farmhouse living room decor.
• Rusty Red: This shade of red can give warmth and rustic character and inspiration to the modern farmhouse living room.
What Are The Best Modern Farmhouse Colors?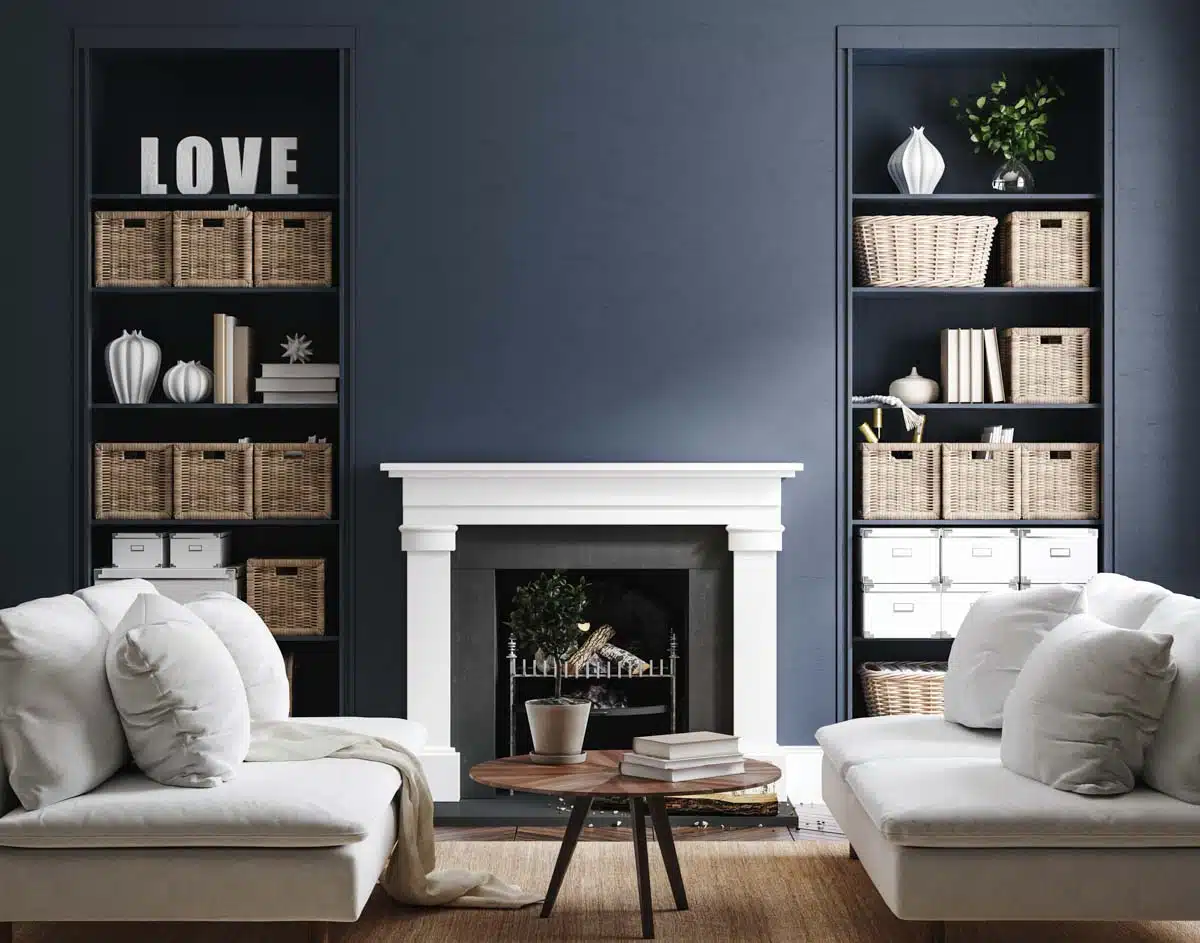 Since it creates a tidy, spacious, and open feeling, white is arguably the finest color choice interior designers turn to for a modern farmhouse living room.
It also makes the area feel larger and serves as an excellent backdrop for natural textures as well as modern farmhouse style's commonly used materials like wood and metal. Furthermore, white can assist in reflecting natural daylight, making the living room appear brighter and more welcoming.
When choosing beige is also an excellent color for a modern farmhouse living room. It gives off a homey, welcoming, and comfortable vibe.
Beige is a versatile neutral color that looks great with natural materials like wood and stone, which are popular in modern farmhouse decor. Plus, it is an excellent color for producing a multilayered and textured appearance in the environment.
Navy blue lands in the third spot. It is an ideal choice for a modern farmhouse living room since it has a bold, traditional, and timeless appearance.
It may additionally act as the centerpiece in the room, bringing contrast to the neutral scheme. Navy blue is a flexible color that complements a wide range of natural materials, including wood, leather, and linen.
Do you like the modern farmhouse look? Let us know in the comments if we missed any important details, to share your experiences or ask questions. See more related content in our article about a modern farmhouse plan with studio apartment on this page.