We asked interior experts how to bring chic, cozy, and welcoming modern farmhouse living room décor ideas to your home.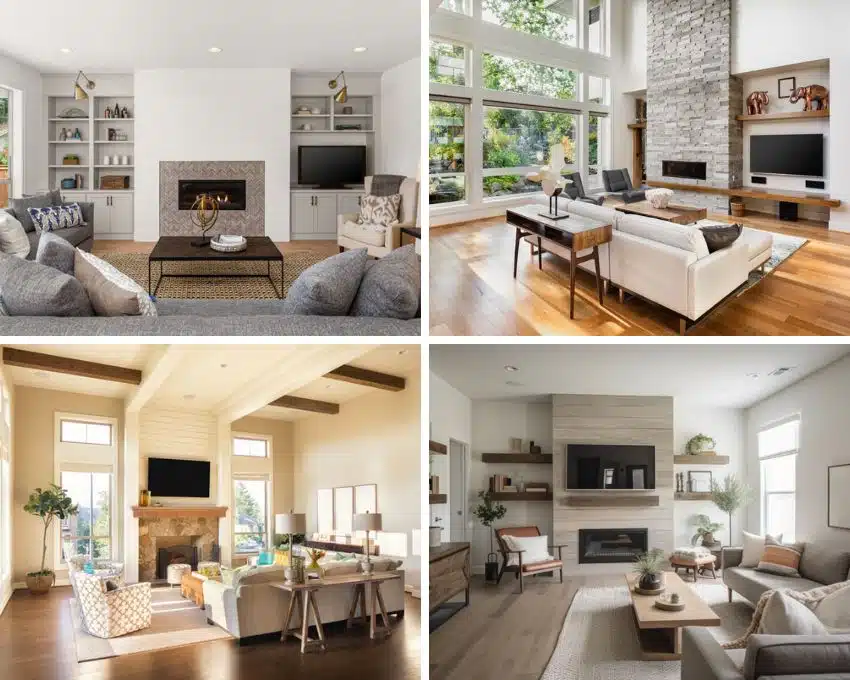 Breaking down the science behind the effortlessly cool modern farmhouse style isn't difficult. Modern farmhouses are one of the homiest design styles, especially in family rooms or living rooms.
Styling your home with these modern farmhouse living room décor ideas will introduce natural character to your space. Think of neutrals and cozy and warm textures. Yes, it's no longer just about barnyard doors and shiplap.
The new, updated modern farmhouse living room décor ideas include casual sofas, eclectic accessories, and light and airy vibe. We tapped interior experts to share their stylish modern farmhouse living room décor ideas and how to create a living room you won't want to leave!
Living Room Décor Designs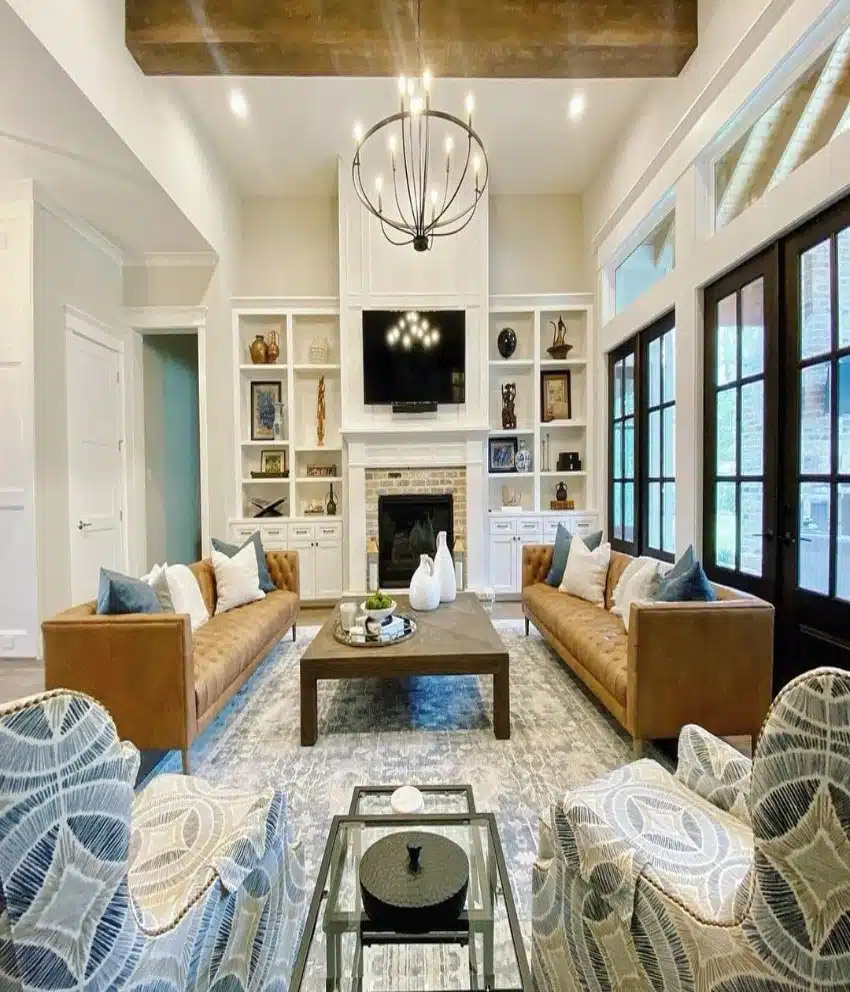 Credit: Woodlands Style House
Before we jump to the modern farmhouse living room décor ideas, there are two primary concerns when decorating a living room: comfort and practicality.
The room design should be approachable, family friendly, and, of course, affordable! A combination of old country comfort with modern appeal.
Minimalist Décor With Natural Materials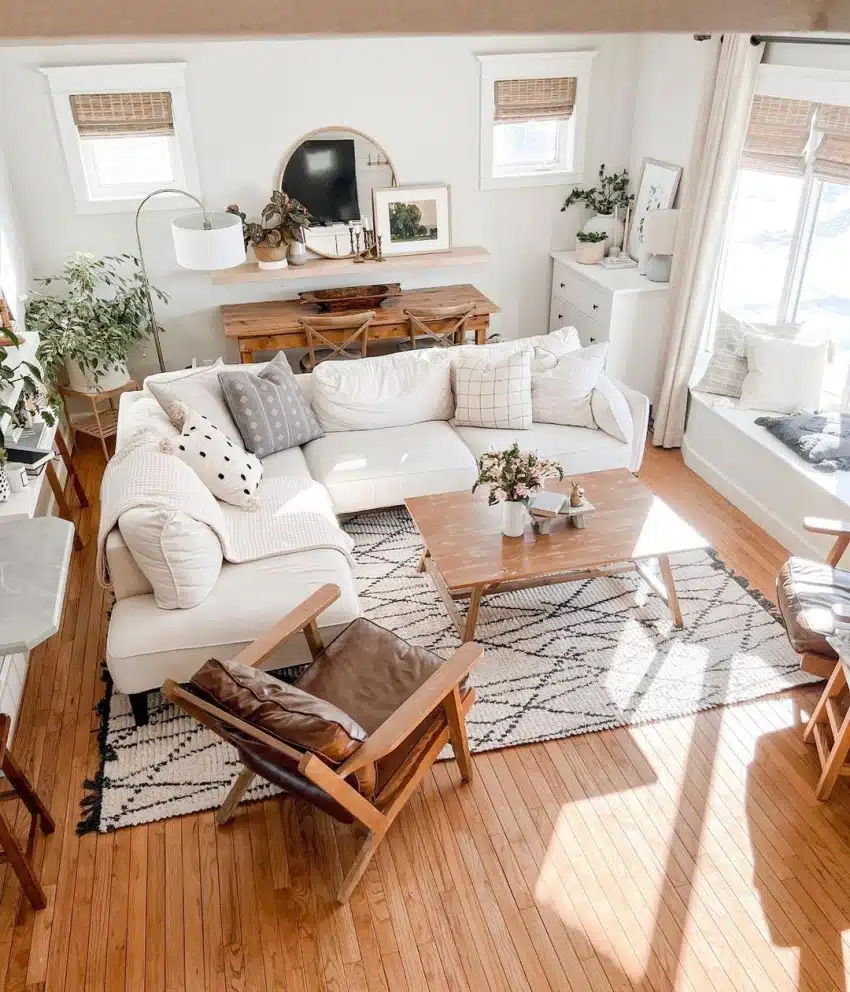 Credit: The Beauty Revival
Modern farmhouse décor is noted for its rustic appeal, but it also includes minimalist design features. You can pull off this look by using natural materials like wood and stone in the design, which provides warmth and character to the space.
However, since this décor often combines the modern with farmhouse style, metal-made design elements can also be seen. Above all, the minimalist approach keeps the living area from seeming overcrowded, creating a fresh and clean ambiance.
Furniture Styles And Types Are Mixed And Matched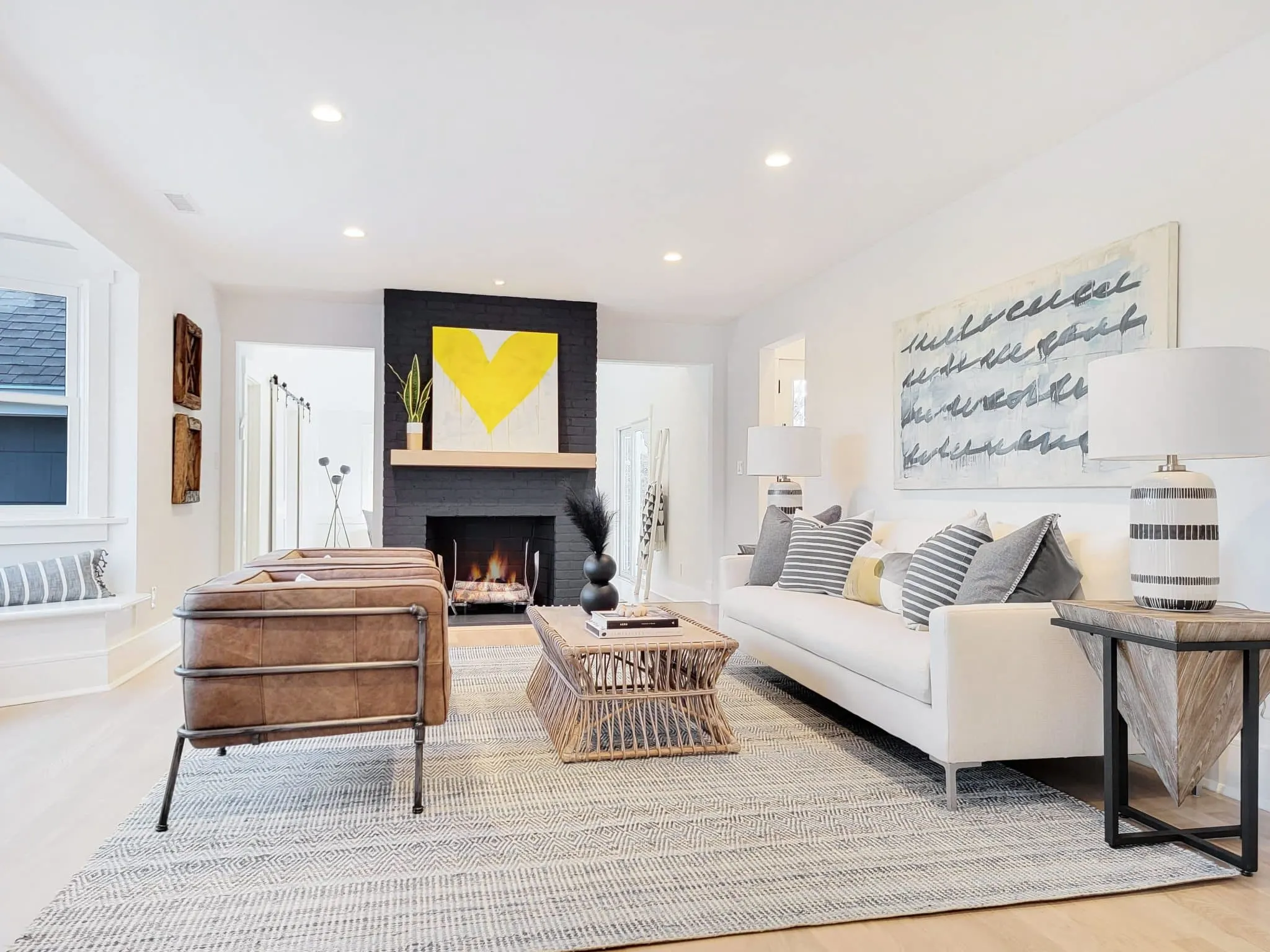 CREDIT: BIRGIT ANICH / BA STAGING & INTERIORS
Styling your living room with the modern farmhouse interior is about finding that perfect balance and cohesiveness since you are mixing and matching different elements. It's about prioritizing comfort and making the space feel cozy and welcoming.
You can pull off this look with an upholstered sofa or armchair with added textured pillows, throws made of cotton or wool, or even jute rugs in the living space.
The modern farmhouse has signature décor pieces, such as open shelves with unique collections. Adding pops of color through plants, flowers, wall art, rugs, pillows, and throws can balance the neutral palette of a modern farmhouse living room.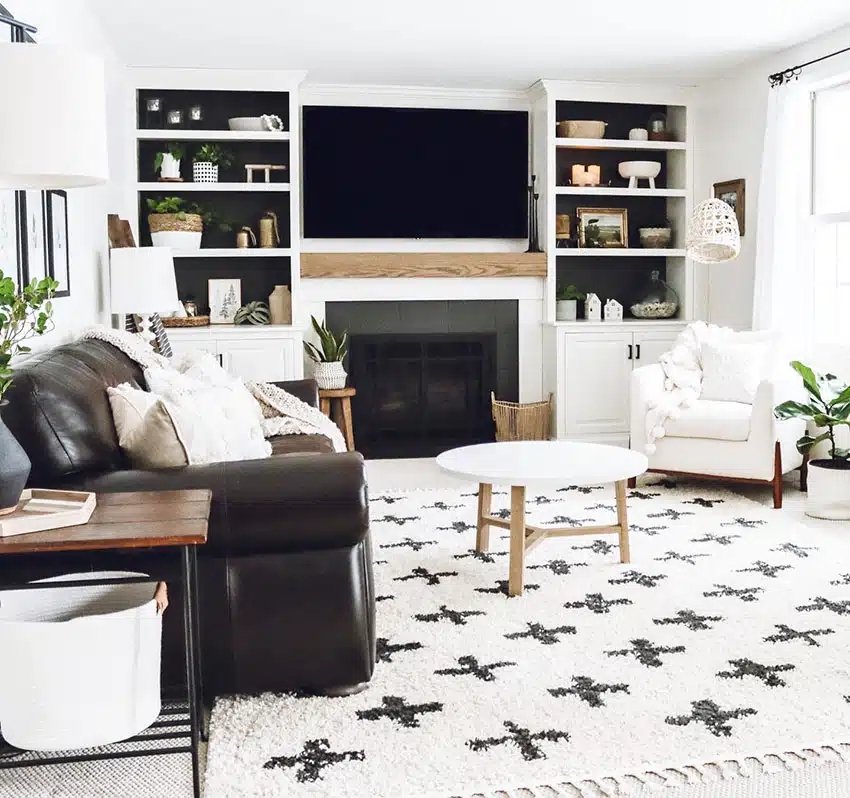 CREDIT: LIZZYDESIGNS
Tip: If you're looking to bring a rustic modern farmhouse feel into your home, try incorporating wood elements like gorgeous wood beams or furniture pieces with raw edges. Leather chairs are such classic pieces in a rustic home. Let's not forget the vintage trunks used as coffee tables and antique accessories to complete the look!
BA Staging & Interiors CEO and Creative Director Birgit Anich, likes to keep your living room looking modern, and not just "farmhouse", by selecting your big furniture pieces in contemporary, clean line styles and keeping eclectic elements to smaller décor items.
This results in a one-of-a-kind and diverse design that represents the rustic appeal of the style. Mixing various types of furniture, like a vintage chair as well as a modern sofa, can result in a visually appealing and unique design.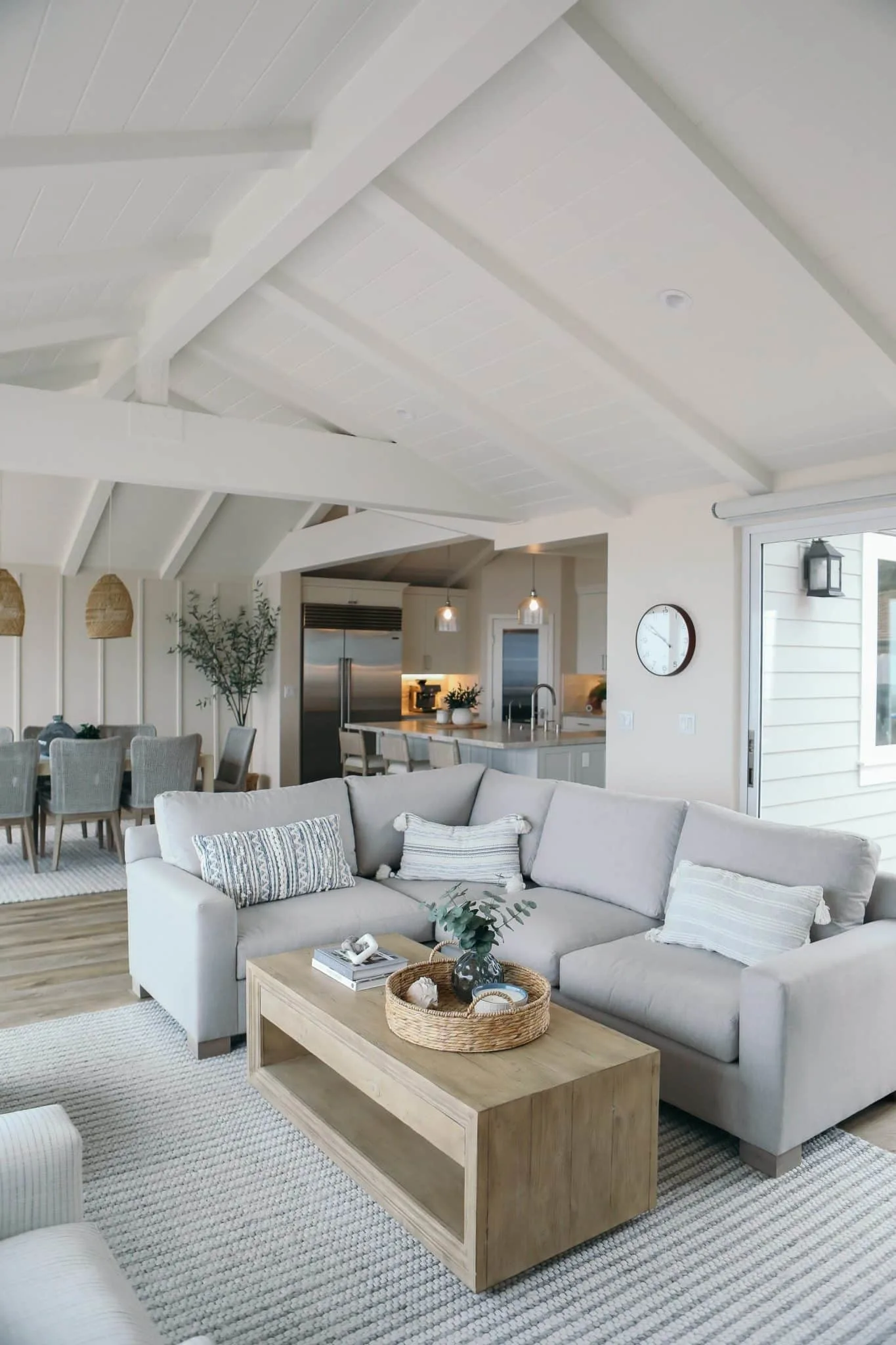 CREDIT: RENEE HUNDLEY / DREAM NEST INTERIORS
"A typical modern farmhouse living room would have comfortable furniture that feels warm and inviting. Coffee tables and end tables would be a light or medium wood tone.
When selecting a rug, stick with simple tones without lots of color or busy patterns." says Renee Hundley, owner of Dream Nest Interiors.
Living Room With Varied Accent Colors And Collections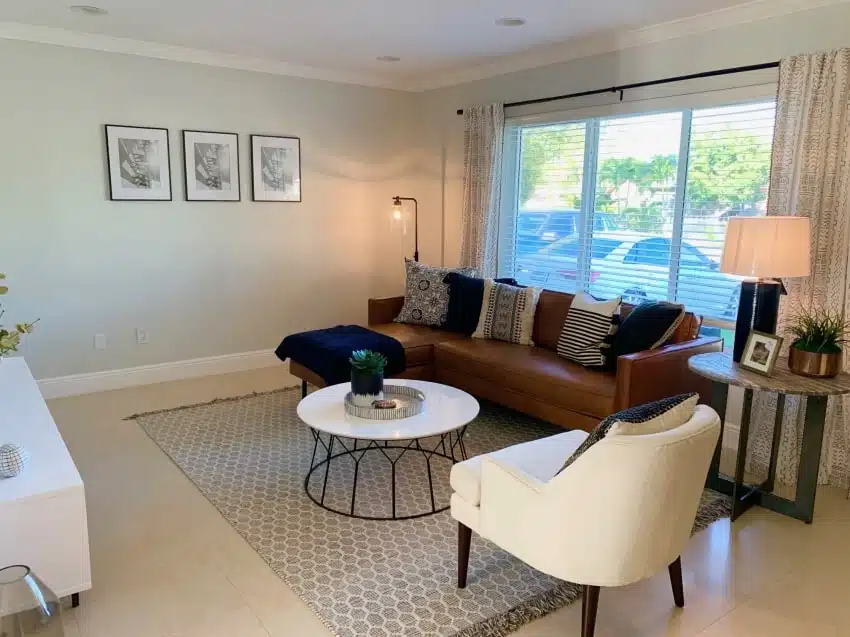 CREDIT: ERIKA SOZA-MEJIA / CONCEPT 2 DESIGN
Modern farmhouse living room décor ideas are often largely composed of using a range of accent colors and collections. This can be done by combining various colors and textures into throw cushions, rugs, and decorative elements. Adding items such as antiques or family heirlooms can also provide a distinctive and personal flavor to the living room.
A perfect example would be Erika Soza-Mejia's work from Concept 2 Design. She shares that her approach to modern farmhouse décor is really about using neutral colors, natural materials, and lots of layering to add character to a room.
We also believe that adding touches of black as well as furnishings with simple lines help this aesthetic from feeling too "country-chic."
Soza-Mejia explains, "In this living room, we juxtaposed the traditional neutral woven rug with fringe accents against the clean modern lines of the modern cognac sofa.
"To add that extra layer, we paired pillows in various fabrics and textures. The black metal base coffee table adds to that modern farmhouse aesthetic.
"We tie everything together by bringing in accessories in a variety of materials, from wood accents to ceramic and glass vases. This mix will add depth and visual interest to your modern farmhouse space."
CREDIT: ROCHELLE RAE DESIGNS
Modern farmhouse is all about calming colors and making the space feel homey while reflecting your personal style.
One of our suggestions would be sticking to classic neutrals like white, beige, and gray. Balance off the whites and beiges with pops of colors from your decorative pieces, such as plants, pillows, and throws.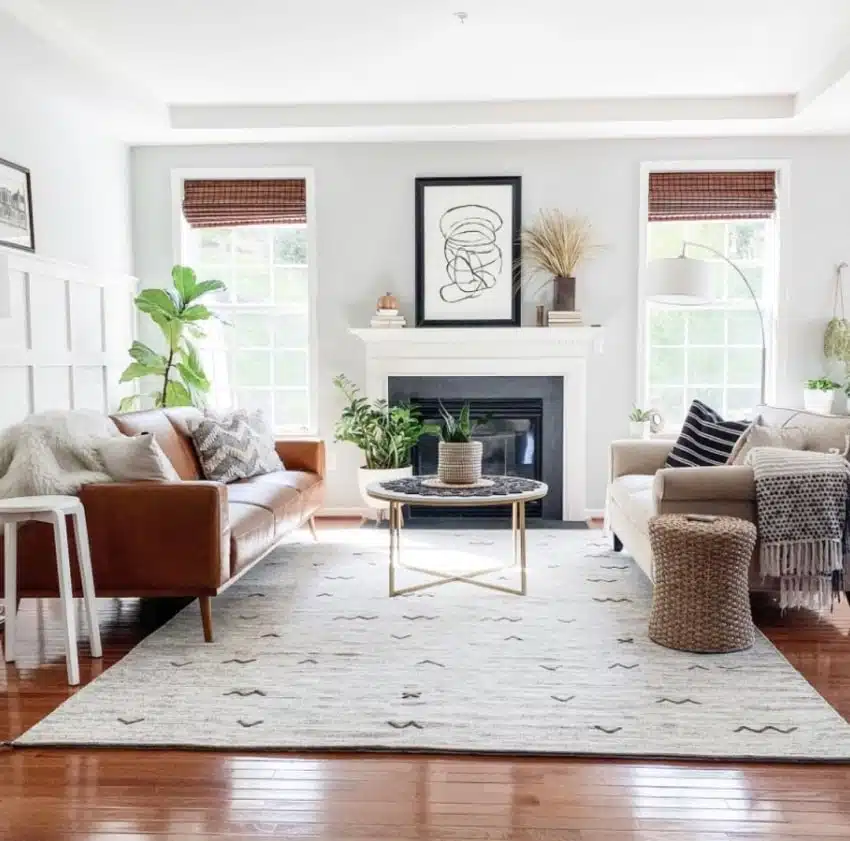 CREDIT: LISA / COTTAGE STYLE INSTAGRAM
Tip: We love using chalky whites, beiges, and shades of grays for walls and even ceiling! Don't forget your fifth wall! If you are feeling a bit sassy, cover your walls with faux-wood finish or vintage wallpaper. It goes perfect with wood plank floors and distressed rugs.
Anich of BA Staging & Interiors shares that modern farmhouse living room décor ideas are down to earth designs that evoke comfort and coziness. To create this style, use a subdued color palette that includes grays, whites and black accents.
A major element of modern farmhouse design is natural, earthy materials, such as natural wood, linen and leather. We love taking the modern farmhouse style to a different level by incorporating a fun splash of color.
Hundley says, "Modern Farmhouse design is characterized by soothing neutral color palettes using accents of white, black, and wood tones. For paint colors, choose neutral grays or beiges."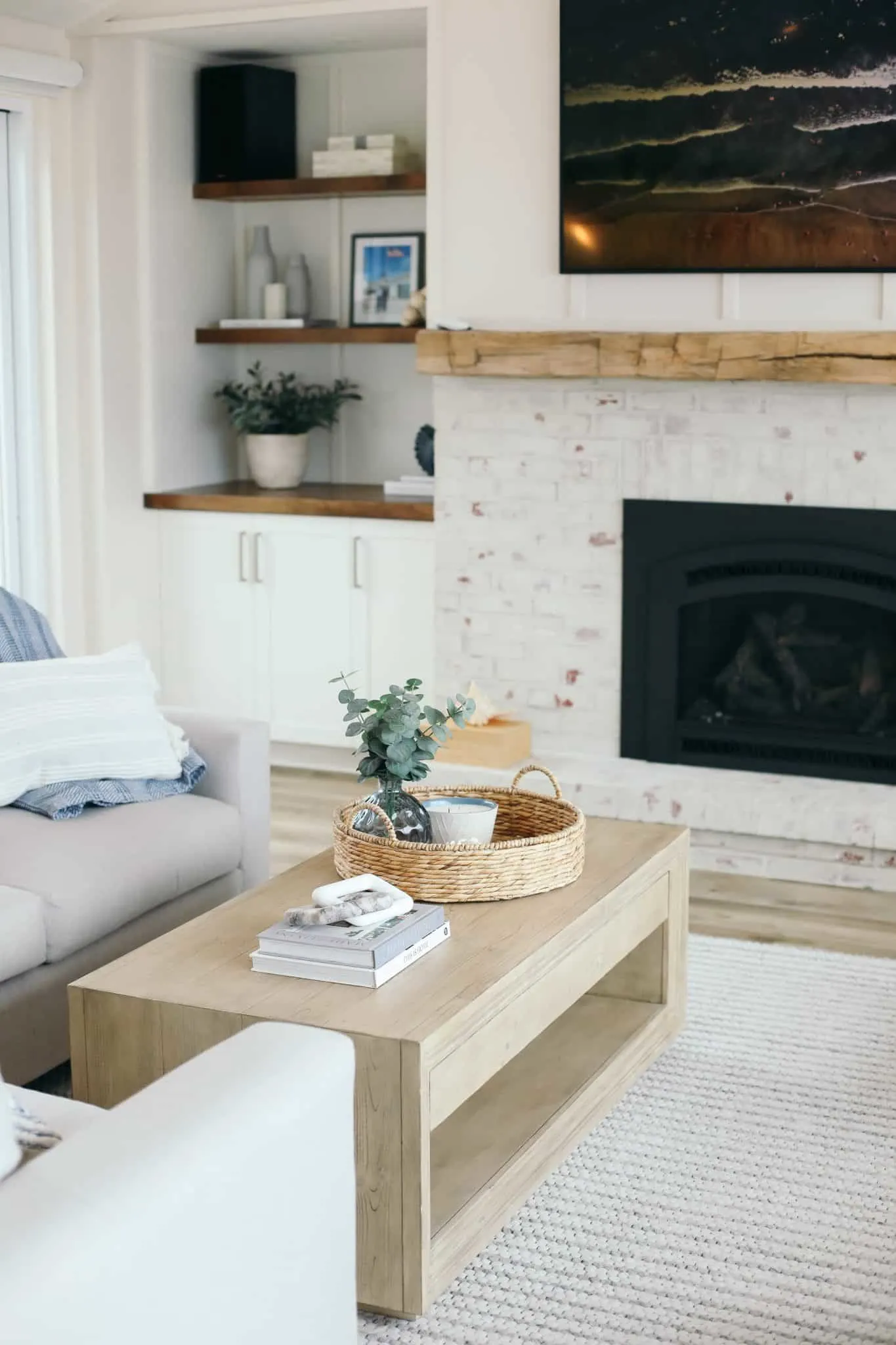 CREDIT: RENEE HUNDLEY / DREAM NEST INTERIORS
When choosing décor for your Modern Farmhouse living space, pick items that have a cohesive color palette. Neutral ceramic table lamps with a light-colored shade and simple greenery in a classic vase, are beautiful additions to a console table.
The use of gold and black accents In mirrors, clocks or picture frames will enhance the farmhouse feel as well. The use of old and new items are encouraged and add a timeless layered look to your living space."
It uses Patterned Curtains And Chandeliers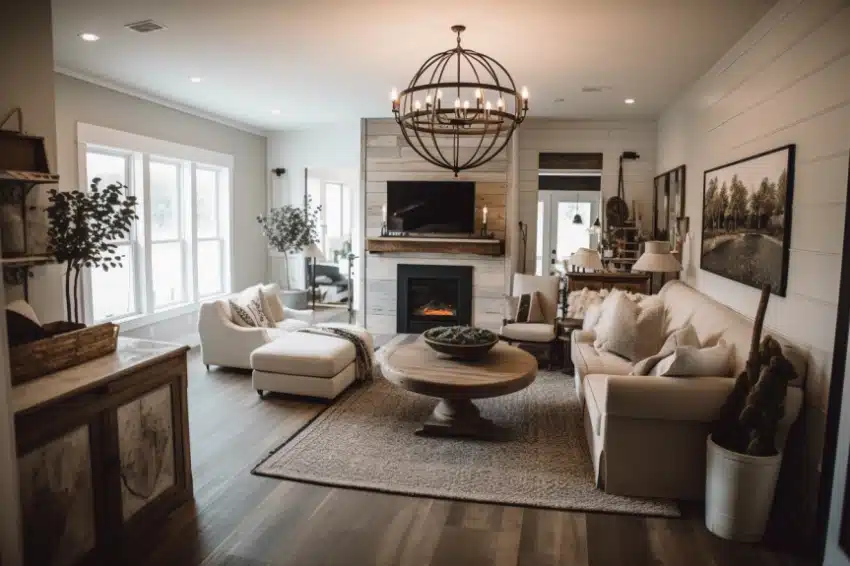 Chandeliers and multicolored, patterned curtains are frequently utilized to lend a sense of grandeur to our modern farmhouse living room décor ideas.
Curtains can be crafted from organic fabrics like linen or burlap, whereas chandeliers can be constructed of metal or wood. These items give character and modern style to the area while remaining true to the farmhouse theme.
Tip: Hang sheer drapes to control the level of privacy and brightness in the space.
Hundley recommends, "When choosing a window covering, opt for light-colored linen drapes or woven roman shades that will add texture and interest."
Chris Alexakis, a building contractor, and the co-founder of CabinetSelect one of the nation's largest leading online cabinet retailers all over the US, says that window coverings are an important factor to consider when creating the ideal modern farmhouse living room.
Natural materials such as linen and cotton are perfect for this style and add warmth to any room. Choose shades or curtains that fit your color scheme and complete the look with vintage-inspired hardware.
Ceiling Beams Are Painted With A Neutral Color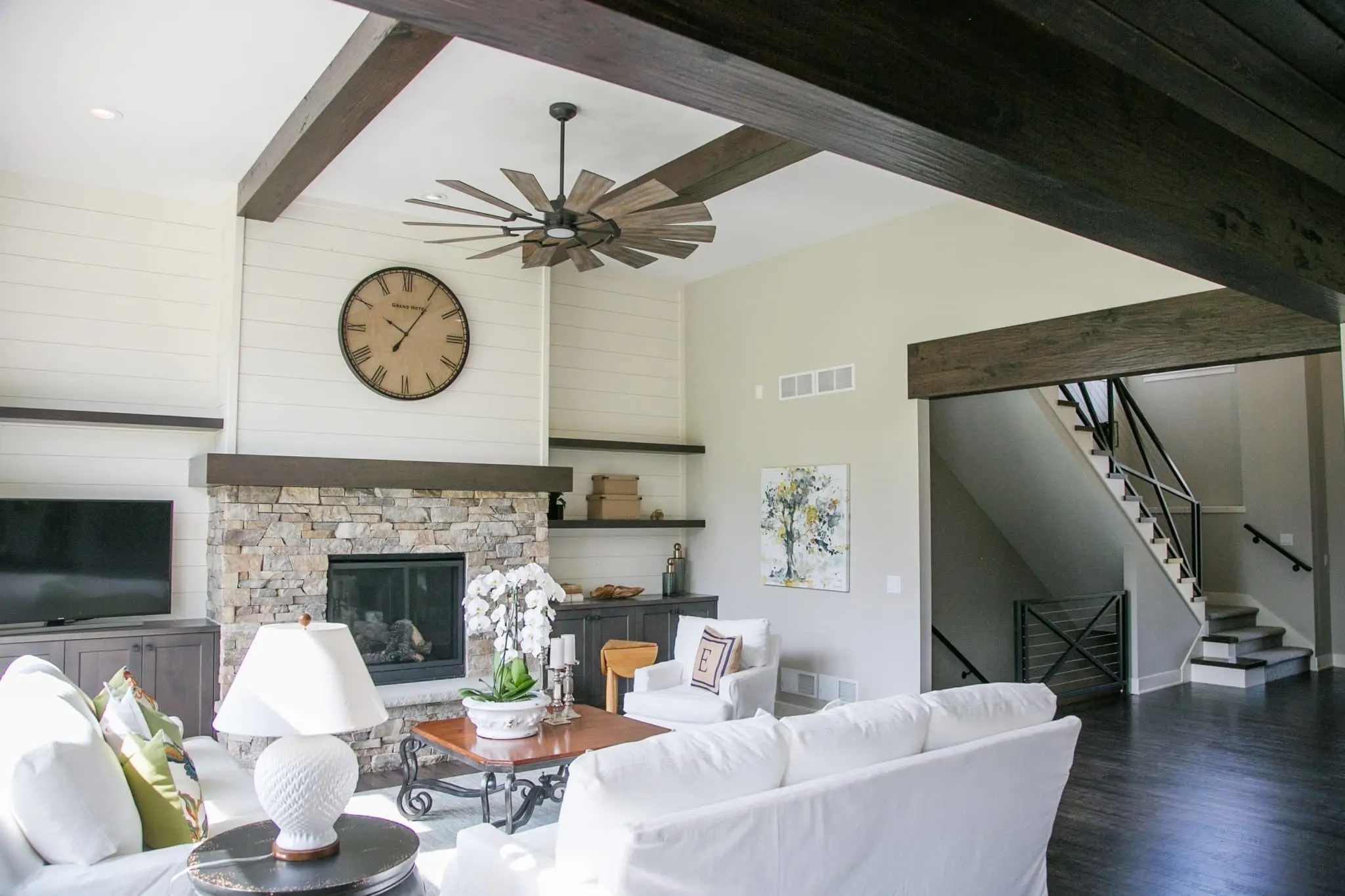 CREDIT: DESIGNER – AUTUMN STANKOVSKY | PHOTOS – SHANNA WOLF / FLOOR360
Exposed ceiling beams are a fundamental component that's why we included them in our list of modern farmhouse living room décor ideas.
To blend in with the rest of the space and make it seem more modernized, these beams are usually painted a neutral color like white or beige. The painted beams contribute to the living room's open and expansive atmosphere.
For interior designer Autumn Stankovsky, of Floor360, this style is both a nature-inspired color palette and materials are desirable for this aesthetic. She adds the important thing is to not over-do it, and keep it simple. Light and airy colors with lots of white and pops of tans and beige.
Tip: Make sure that floors and furniture are pale color wood with long clean sleek lines.
Farmhouse brings in more rustic elements to the room with textiles in blankets, pillows, rugs, and wall art. The hardwood floors and tables are more weathered and rough to the touch. The overall feel is comfy and cozy.
Application Of Reclaimed Materials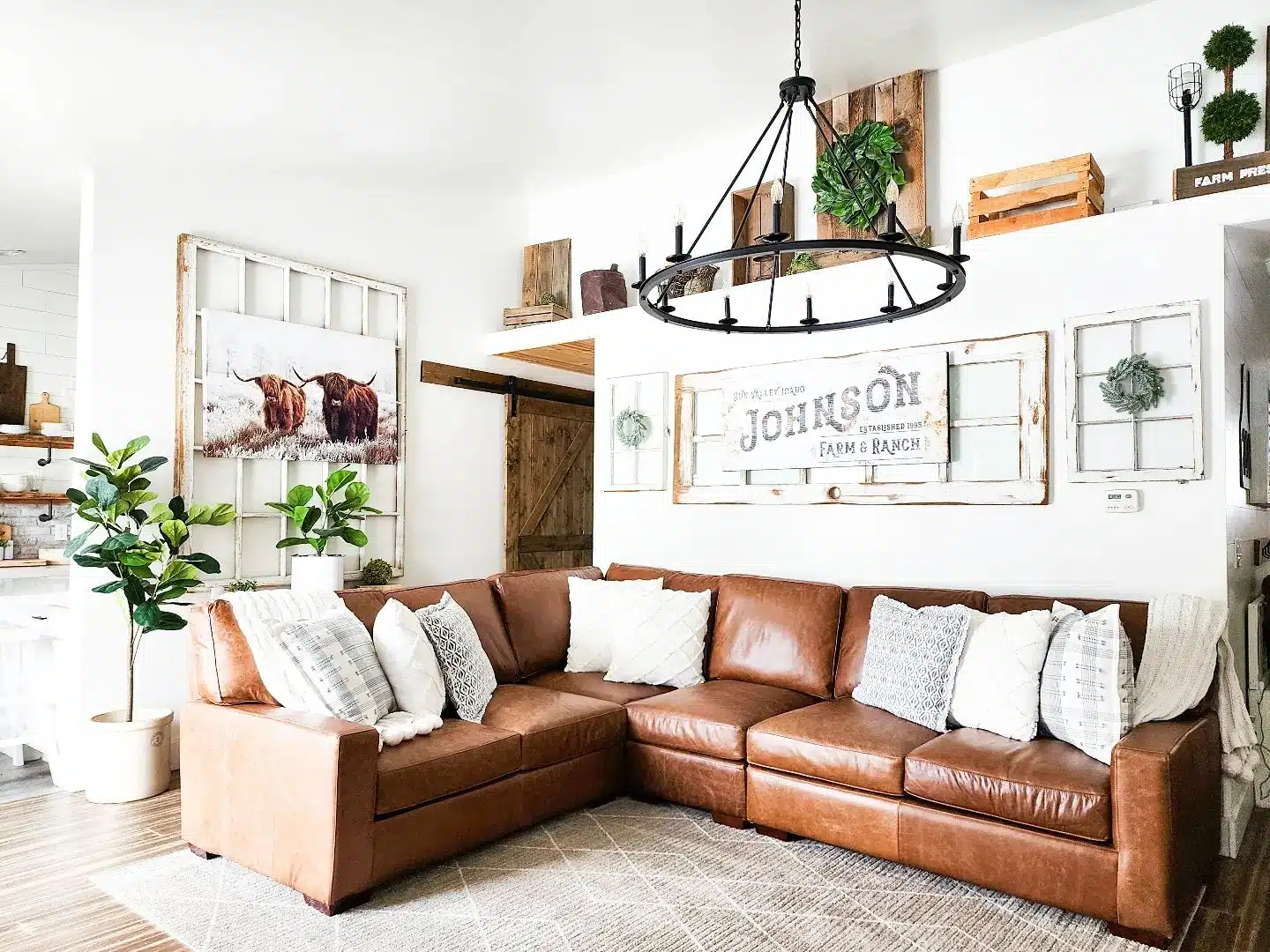 CREDIT: KARI / GALVANIZED CHIC BOUTIQUE INSTAGRAM
Reclaimed materials like barn wood or old doors are one of the popular modern farmhouse living room décor ideas.
These materials contribute to the natural appeal of the living room while also creating a warm and inviting atmosphere. Furthermore, employing reused materials for decoration might be a sustainable and eco-friendly option.
Modernized With Fabrics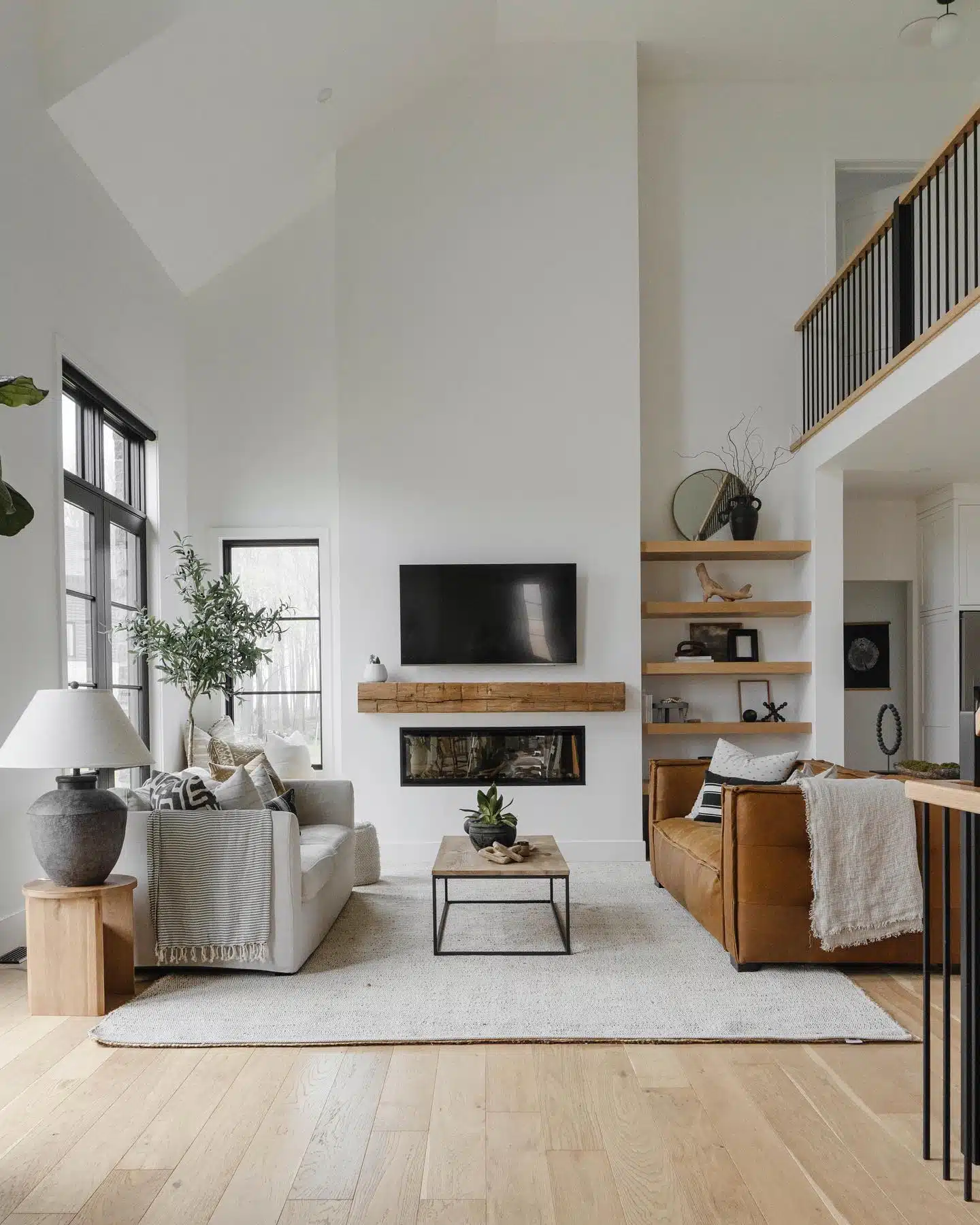 CREDIT: KASSANDRA DEKONING INSTAGRAM
Using contemporary materials is one method to refresh and modernize a modern farmhouse living room. You can recreate this look by combining abstract works of art, using throw pillows, or a modern rug with striking geometric patterns.
By combining different patterns and textures, you may get a visually fascinating and modern aesthetic while remaining true to the earthy appeal of the room.
Install A Modern-Style Fireplace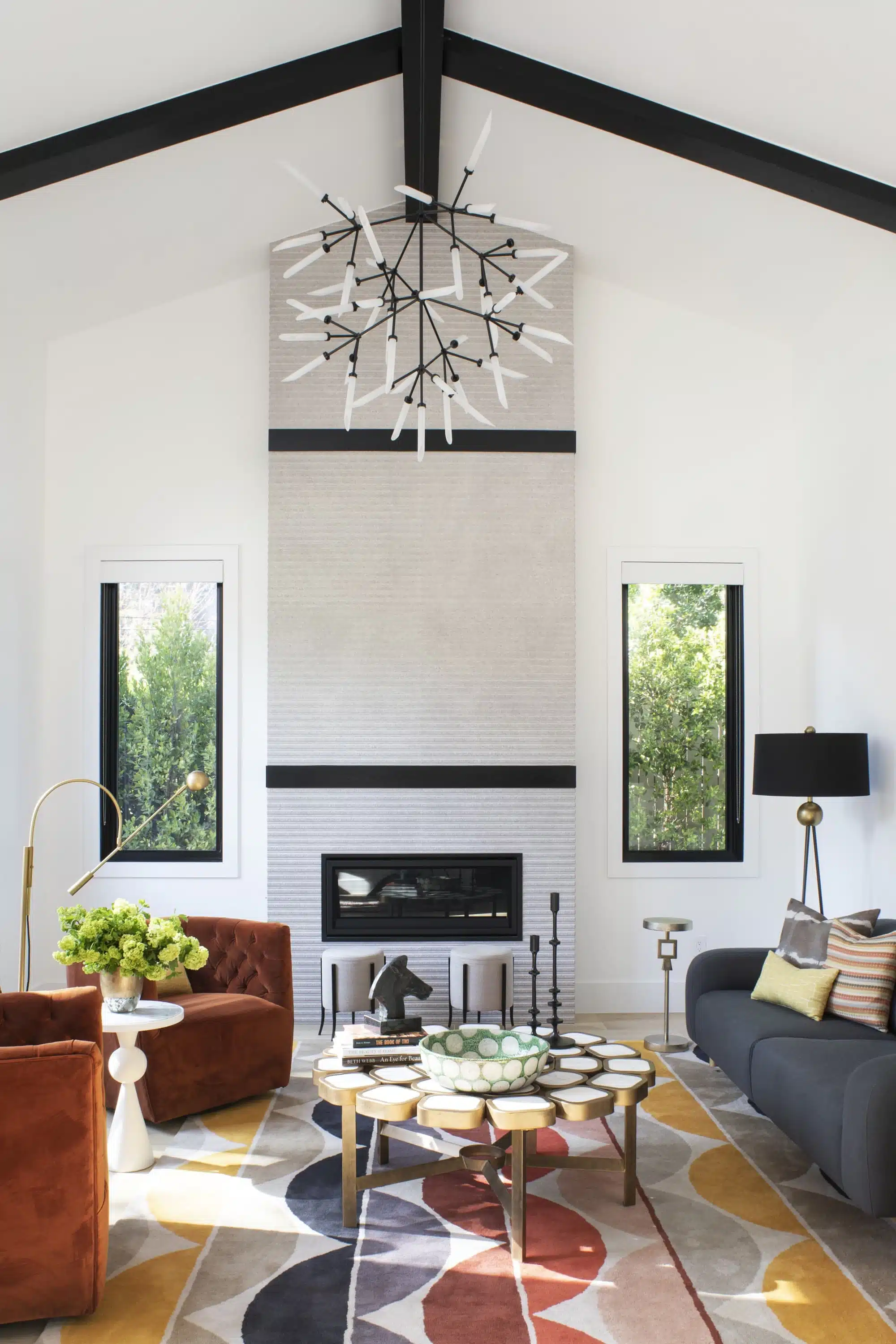 CREDIT: PHOTO: – MEGHAN BEIERLE | STYLIST – CHAR HATCH LANGOS | INTERIOR DESIGN – LAUREN JACOBSEN INTERIOR DESIGN
Fireplaces are also part of our modern farmhouse living room décor ideas since they are often seen in farmhouse-style living rooms. To provide a modern twist, a modern-style fireplace might be put in a modern farmhouse living room.
These fireplaces are often sleek and streamlined in form and are often composed of black or stainless steel materials. This contrasts with the customary stone or brick fireplaces typically seen in farmhouse décor, resulting in a striking and sophisticated appearance.
Lauren Jacobsen Interior Design is a boutique design firm that has been creating stunning spaces for clients for over 20 years. One of her works is the beautiful modern-contemporary farmhouse located in Tarzana, California.
As with most modern farmhouse homes, there is a neutral palette of black, white, gray and wood. Lauren is known for her love of color. In this home, she utilized neutral shades as a base to ground much brighter, richer colors layered on top.
The design throughout the home is what Lauren calls "relaxed contemporary." The house contains a mixture of natural finishes such as multiple wood species, marble, concrete, and other stone.
She was attracted to the idea of a more organic home with hand-crafted items and unexpected furniture silhouettes that added interest to the casual atmosphere.
One example of this is the Vanguard Norma cocktail table designed by Barry Goralnick shown in the living room photo.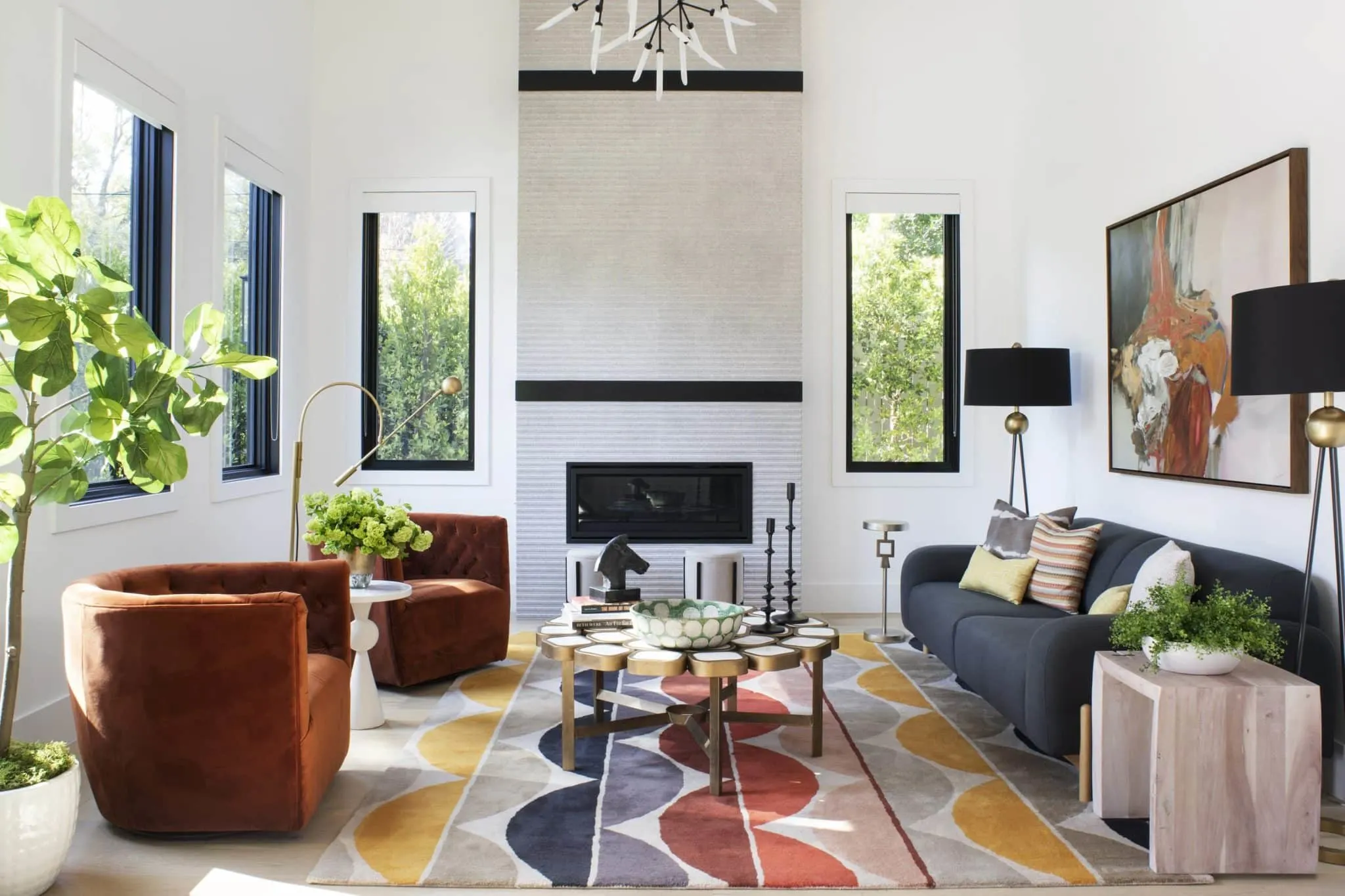 CREDIT: LAUREN JACOBSEN INTERIOR DESIGN
Light brightly streams throughout the home's large windows. The tall ceilings, sliding glass doors, and plethora of windows allow views of the lush grounds and the pool outside.
The simplest source of illumination is natural light. – Living Spaces, Brad Mee
The sliding doors are fully retractable, so they open the entire length of the wall, which creates a seamless extension of the main house to the landscape outside. This influenced the interiors to a large degree.
What Is The Most Popular Décor?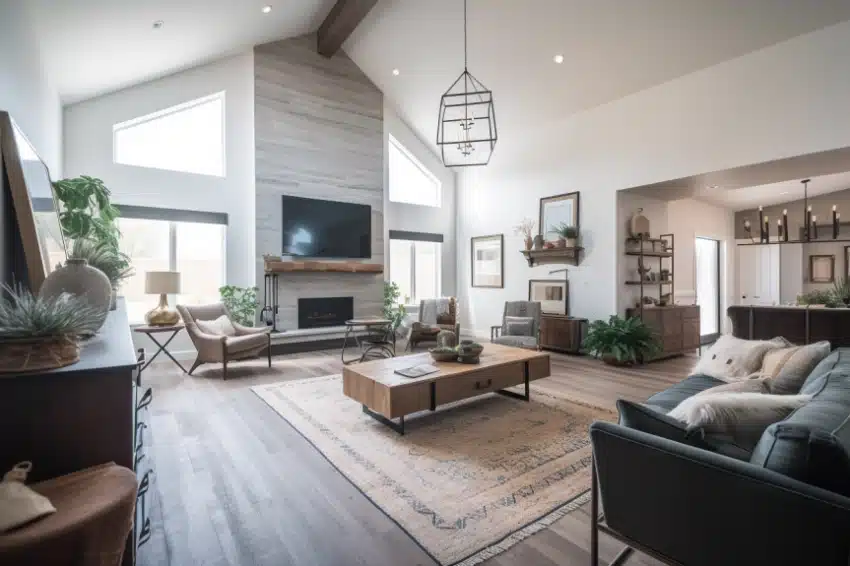 The most popular modern farmhouse décor uses neutral color palettes including white, gray, and beige, with colorful accents in natural design elements like houseplants or wood.
Furniture is frequently weathered or repurposed, and the emphasis is on comfort and practicality. However, the overall décor is usually uncluttered, giving a minimalist impression.
Vintage-inspired antiques, heirlooms, and warm fabrics like plaid throw cushions, patterned curtains, and cotton pillows are some of the decorative trademarks of modern farmhouse living room décor ideas. Barn doors, shiplap walls, and open shelves are also common aspects.
Wall Décor Ideas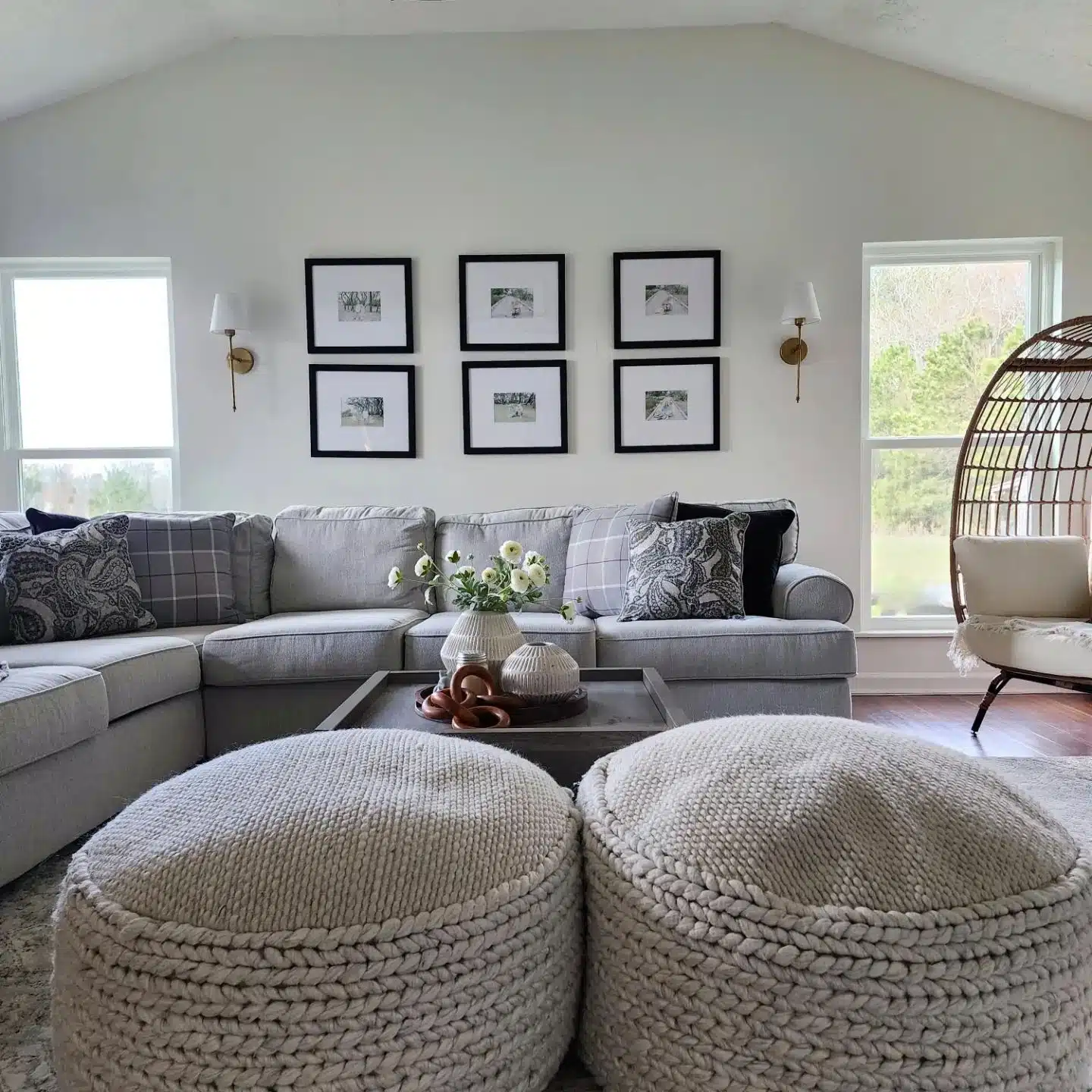 CREDIT: FALLON HOMESTEAD
Modern farmhouse living room wall décor also combines rustic and sophisticated features. Shiplap or repurposed wood paneling is commonly used on one or more walls to establish an inviting, rustic atmosphere.
A simple layer of white or neutral-colored paint, on the other hand, can produce a pristine and refreshing backdrop to neutralize the décor and add a modern touch.
Tip: However, interior designers often recommend this modern farmhouse living room décor idea: employing a wide range of decorative accessories to provide interest and texture to the walls.
A major statement piece, such as a vintage-inspired clock or a sizable piece of artwork with nature themes, for instance, can capture the eye and bring character to the area.
For example, a selection of framed family portraits or botanical prints might also add a personalized touch. Additionally, open shelving units or floating shelves are attractive ways to showcase both ornamental and utilitarian objects such as plants, candles, publications, and other essentials.
Organic texture can also be added to the space using hanging wall baskets or handwoven macramé plant hangers.
Tip: One of our modern farmhouse living room décor ideas is using wall décor to take the emphasis off tech, specifically the TV screen, since it's often a major feature of any living space.
Avoid drawing the eye to your TV by creating a wall gallery or wall shelving that captures attention and showcases individual style.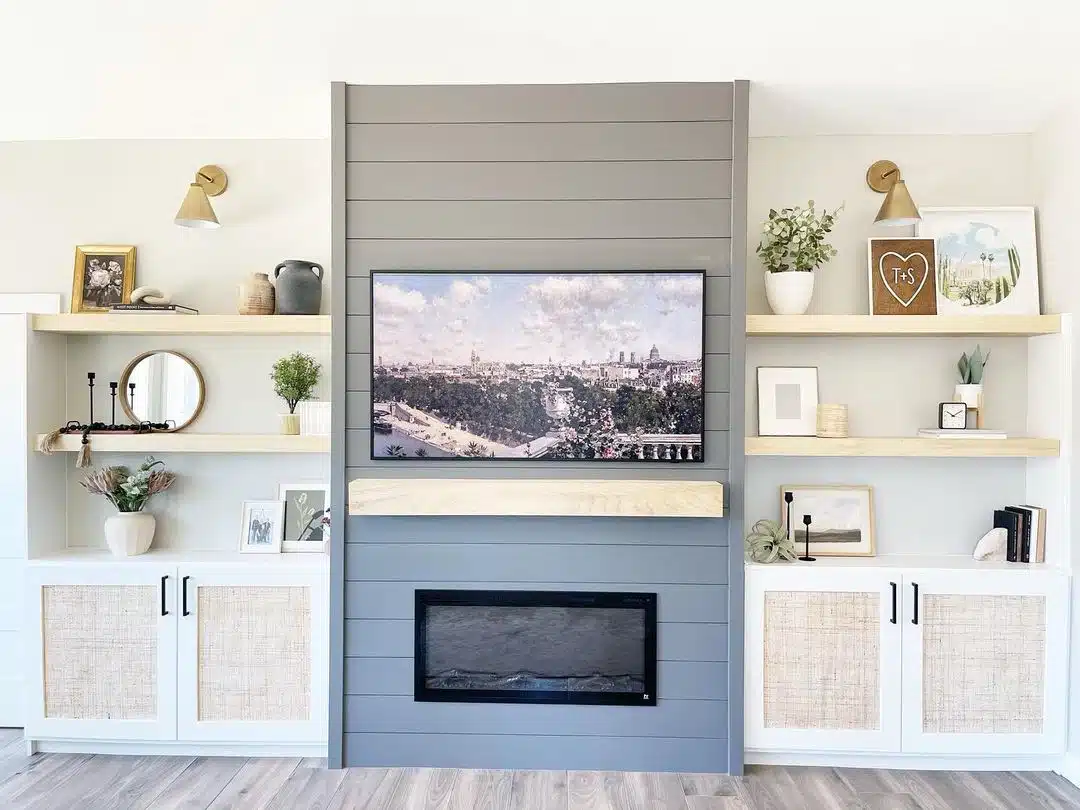 CREDIT: JUST TWEAK IT INSTAGRAM
Rustic or industrial wall sconces can bring both functionality and flair to the modern farmhouse living room. They can draw attention to paintings, establish an inviting reading corner, or give extra lighting.
Aside from that, metal wall décor like wrought iron or galvanized metal can also provide an industrial flavor to the living room. Examples of this are metal clocks or frames.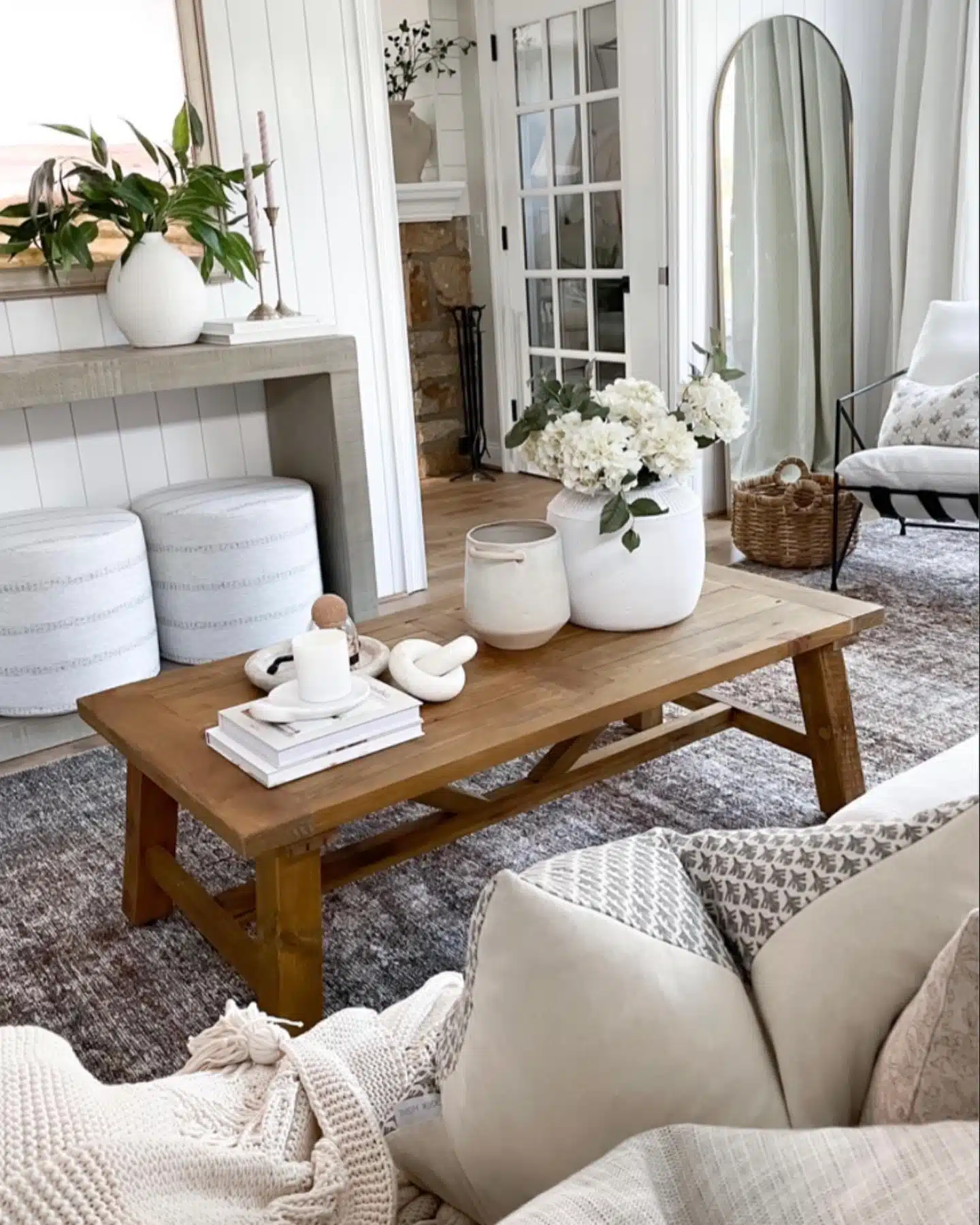 CREDIT: JACKIE BOYCHEW / AT HOME WITH JACKIE INSTAGRAM
In addition, a farmhouse-style mirror with a reclaimed wood frame can also contribute to the function and flair of the modern farmhouse living room wall. It can also be utilized to bounce light and make the living room look bigger.
Curtain Ideas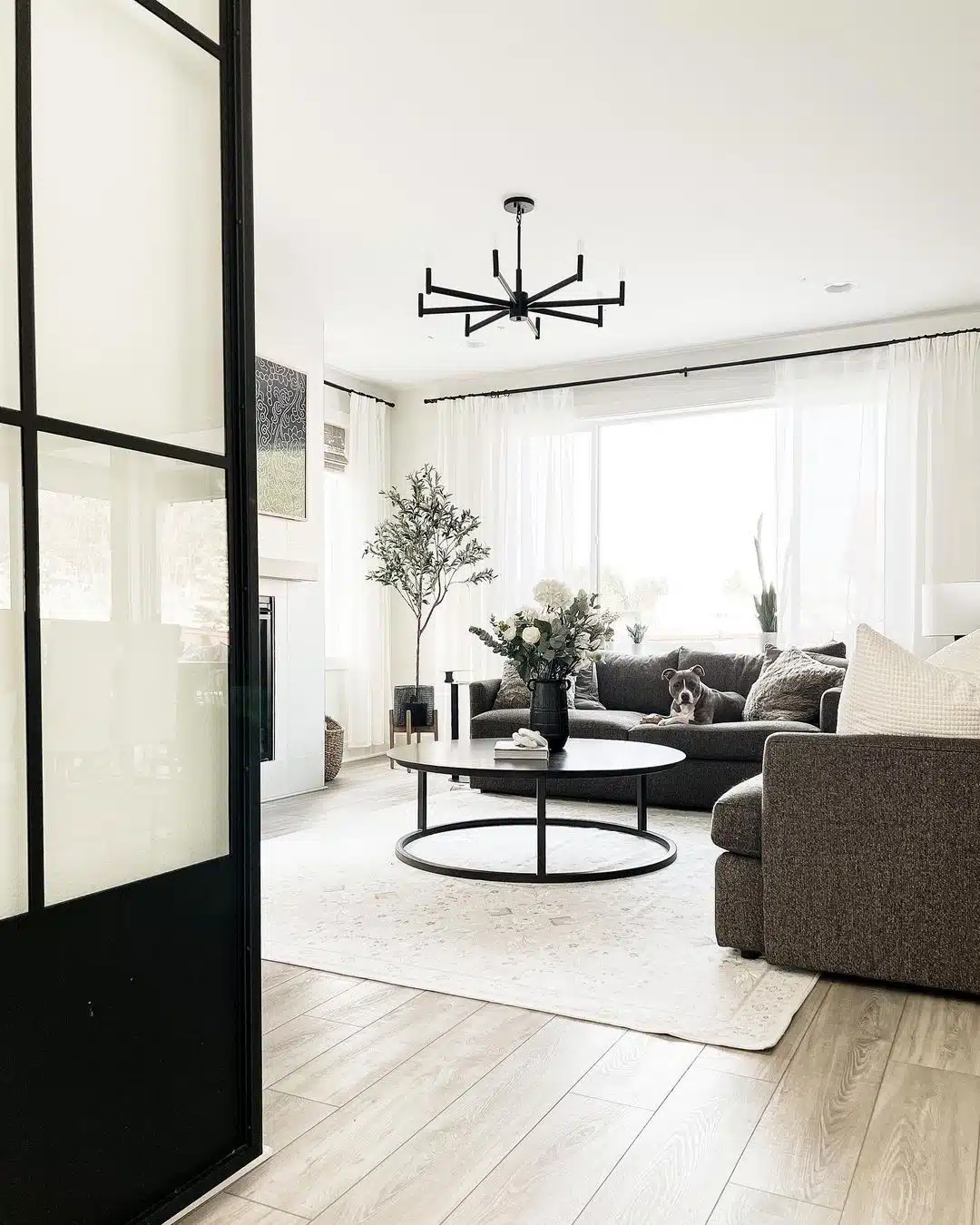 CREDIT: MILISSA MORGAN / LAMB & CO. DESIGN
Curtains are a crucial component of the general décor of modern farmhouse living room décor ideas. They can deliver complexity, pattern, texture, and warmth to a space while also providing isolation and light control. Modern farmhouse curtains usually have a relaxed and cozy appeal.
Furthermore, modern farmhouse living room curtains frequently have simplistic patterns like checkered designs, florals, or stripes, and in neutral tones such as white, gray, or beige, such as stripes.
Keely Smith, the lead interior designer at JD Elite interiors has had success transforming a farmhouse living room, by hanging white curtains with a buffalo check design to give the space a modern farmhouse edge.
She recommends choosing neutral colors and using shades of white, grey, and brown to create a timeless look. Keely likes to incorporate texture by layering different types of fabrics and materials to add depth and dimension.
Solid-colored curtains, on the other hand, can also look great, particularly if they are textured, woven, or knitted. Numerous modern farmhouse curtains display a slightly creased and lived-in appearance, which contributes to the style's overall attractiveness.
Modern farmhouse curtains are frequently made from natural materials. Linen, cotton, or burlap, for instance, might provide a rustic or earthy vibe to the space.
These textiles are frequently unlined or minimally lined to enable light to pass through. Sheer or semi-sheer curtains are also attractive because they give a modern impression and can provide seclusion while creating a soft and airy effect.
Tip: We often suggest choosing curtains with blinds to control light and privacy levels. Aside from they provide insulating properties, it also creates a beautiful aesthetic and a unique design element.
Pair a patterned design with a solid color so it ties together other elements in your living room. Use the mix-and-match approach and make sure that they complement each other.
The style of modern farmhouse curtains might vary depending on the environment. A basic tab top or rod pocket design, for instance, can provide a more relaxed and informal look, whereas a pleated or grommet type can give a more customized impression.
Tie-top or tassel-trimmed curtains can also give a whimsical and charming touch. Curtain ties or holdbacks are another common design detail that may give a decorative finish while also keeping it bright by permitting more illumination into the space.
Flooring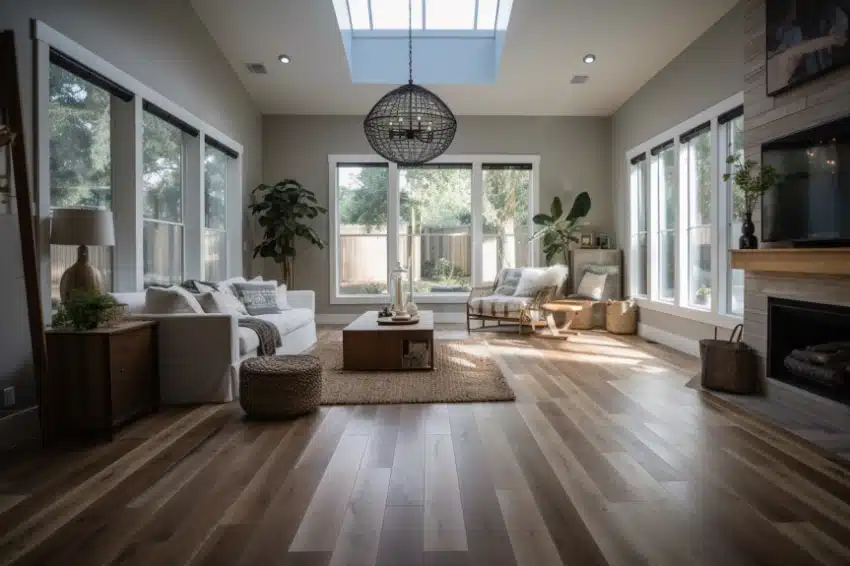 The floors in modern farmhouse living rooms generally have a faded or distressed appearance that resembles repurposed wood. This generates a feeling of reminiscence and history, which is a crucial feature of the farmhouse design.
However, to neutralize the décor with modern elements, subdued color palettes like beige, gray, or white, must also be used for the flooring. These hues contribute to the creation of a nice and comfortable environment that is great for resting and socializing.
Hardwood is the most common choice in our modern farmhouse living room décor ideas. Hardwood floors are long-lasting, simple to maintain, and create a timeless appeal that suits the overall décor. Oak, hickory, and maple are common hardwood flooring options for modern farmhouse living rooms.
Tip: One of our modern farmhouse living room décor ideas is using wide floor planks like 12-inch mixed with 10-inch floorboards. This gives off a less formal feel and makes the space seem like it has been around for a long time.
Hundley says that floors in a Modern Farmhouse design will almost always be a more rustic hardwood or a wood look tile or vinyl. Medium and light flooring colors keep the space feeling light and natural.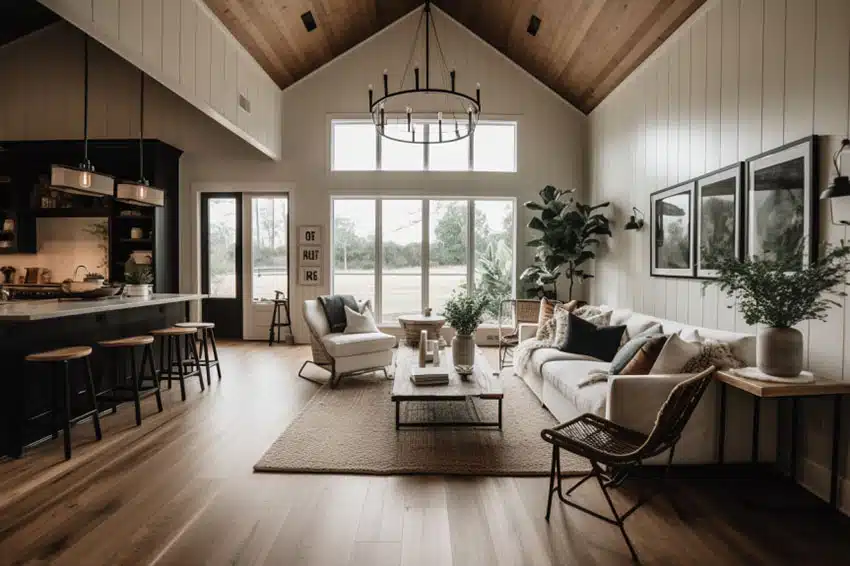 Another common alternative is luxury vinyl plank flooring, which shares the same natural aesthetic as hardwood floors but is less expensive. On the other hand, if you want to achieve a more modern style, ceramic tile or marble floors may be more suitable for modern farmhouse living rooms.
Moreover, the floors in modern farmhouse living rooms must be simplistic and subtle in style. Broad panels or long strips of hardwood flooring offer a more large and open feel than narrow planks or small tiles.
Herringbone and chevron patterns are some of the widely known hardwood floor design alternatives in modern farmhouse living rooms. Nevertheless, tile or concrete floors with a simple design may also be used to match the farmhouse charm.
Rugs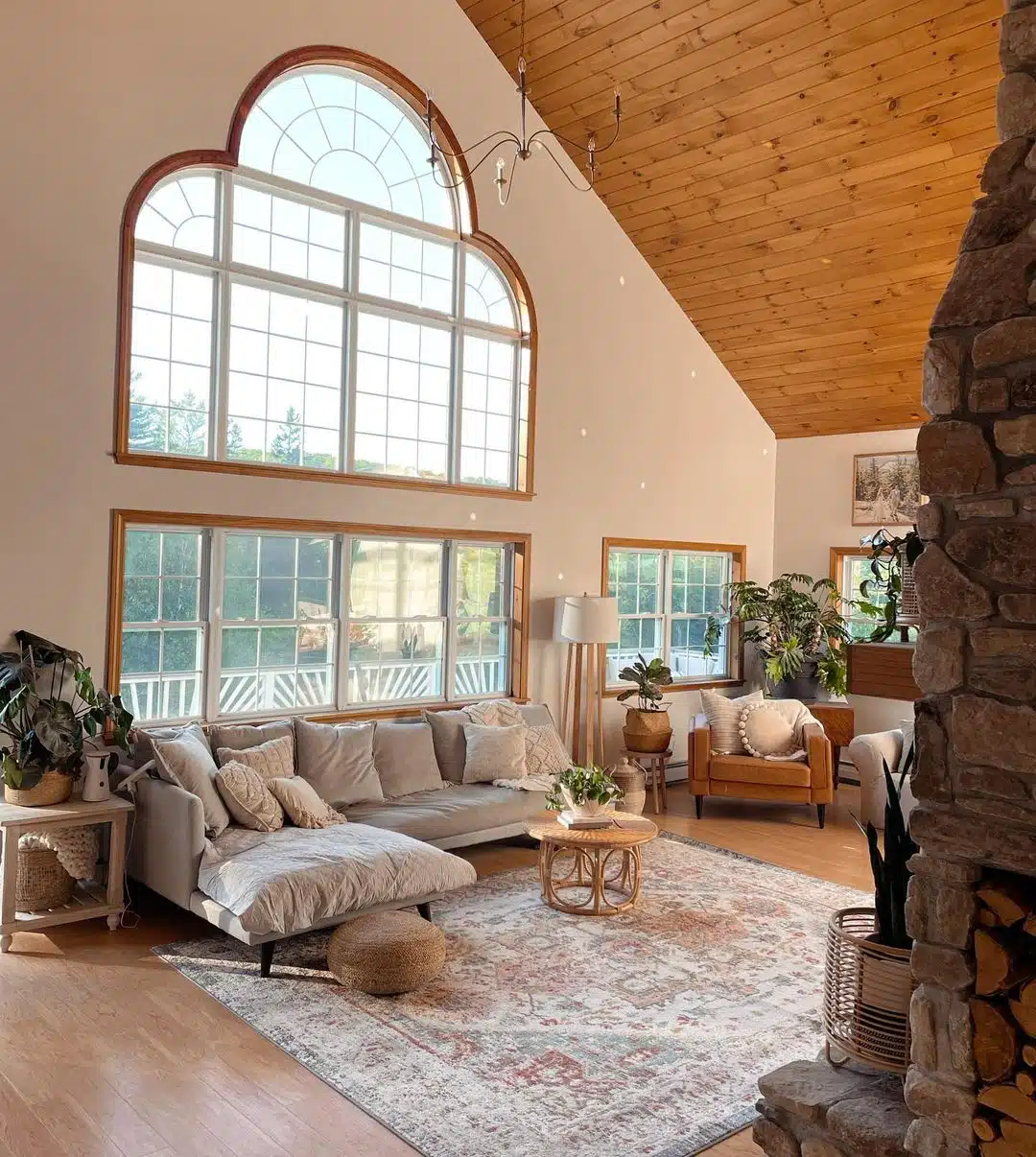 CREDIT: LAUREN / VT DIY HOME INSTAGRAM
In a living room with a modern farmhouse theme, the rugs can serve as a defining theme and anchor for the room's different design components.
When it pertains to the materials used to make modern farmhouse living room rugs, organic fibers including sisal, jute, and wool are among the most popular options. Such fibers create a pleasant and earthy appearance that enhances the farmhouse style's classic appeal.
However, neutral colors like beige, gray, and cream would be the preferable option for your rugs if you want to keep your modern farmhouse style minimalistic. These colors allow the rug to blend in without dominating the environment.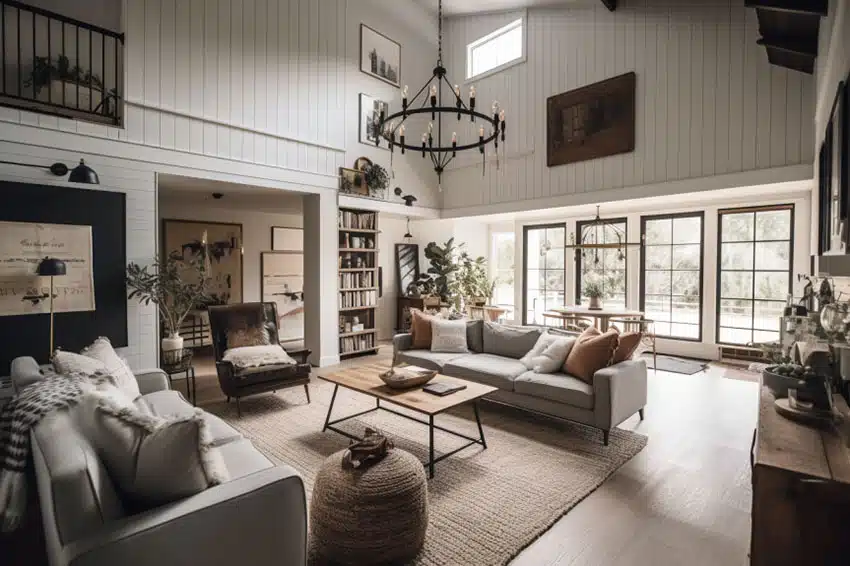 Additionally, geometric patterns, which include stripes, chevrons, and hexagon shapes are widely known options for modern farmhouse living room rugs in terms of style.
These designs provide visual interest without becoming obtrusive. A basic checkered pattern may also serve as a fantastic option for a more classic farmhouse vibe.
Tip: Turn your living room into calming and homey by adding a rug below the couch, or layering different rugs. Using rug can highlight wood tones or the flooring of the living room.
It frames the space if you have an open floor plan that extends to the dining room or kitchen. Plus, it adds texture and pattern, which creates personality to a neutral palette.
What Is The Difference Between Farmhouse Style And Modern Farmhouse?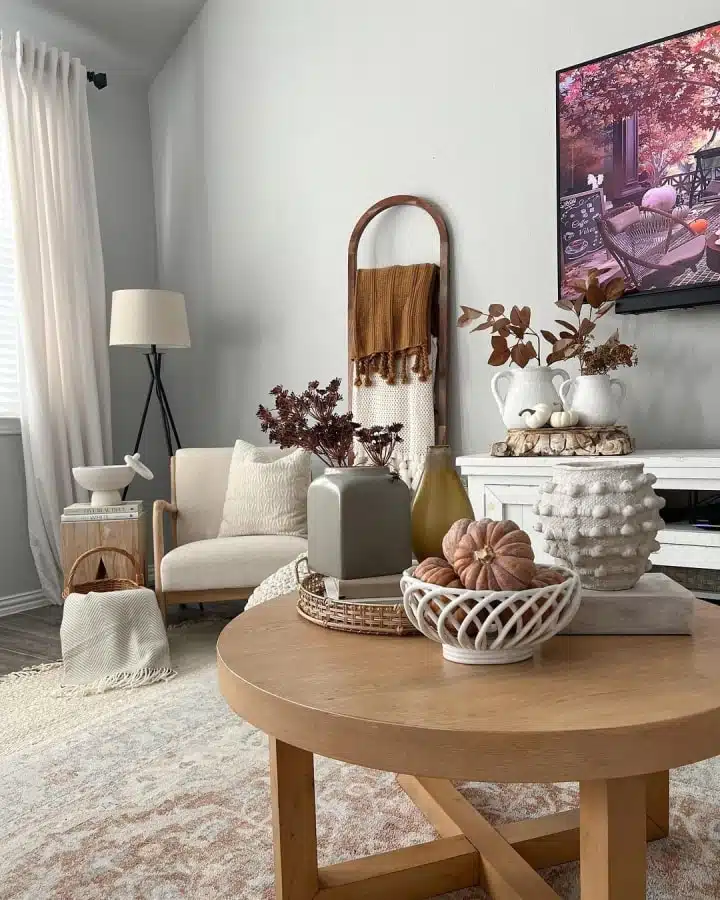 CREDIT: MY BLESSED HOME INSTAGRAM
Both of these styles have certain similarities, but they also have significant differences. Farmhouse style is a classic design style influenced by the traditional American farmhouse.
Natural wood treatments, vintage furniture, and antique décor are among the rustic aspects. Farmhouse style focuses on practicality and functionality while emphasizing warmth and comfort.
Modern farmhouse, on the contrary, is a more modern adaptation of the farmhouse style. It combines classic farmhouse aspects with modern design features, notably clean lines, neutral color schemes, elegant furnishings, and minimalist decorations.
Modern farmhouse design stresses minimalism and elegance, with the goal of establishing a warm and inviting place while remaining functional and appealing.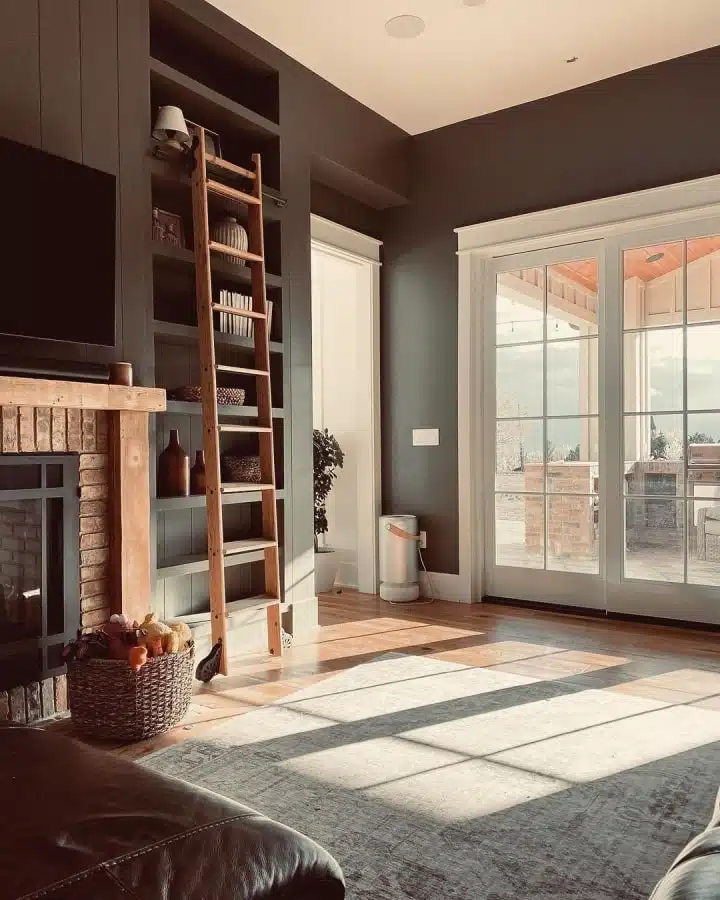 CREDIT: JUNIPER HILLS FARMHOUSE
The architectural difference between the farmhouse style versus the modern farmhouse is the most noticeable. Modern farmhouse style is more sophisticated and minimalist, whereas farmhouse style is more rustic and historical.
Moreover, the modern farmhouse style typically combines industrial components like metal finishes, while farmhouse design focuses on natural materials like wood and stone.
Simply put, although the traditional farmhouse style elicits homesteads with historical furniture pieces as well as traditional fabrics, the modern farmhouse style is less rustic and incorporates more modern accents like a neutral color scheme and sleek lines.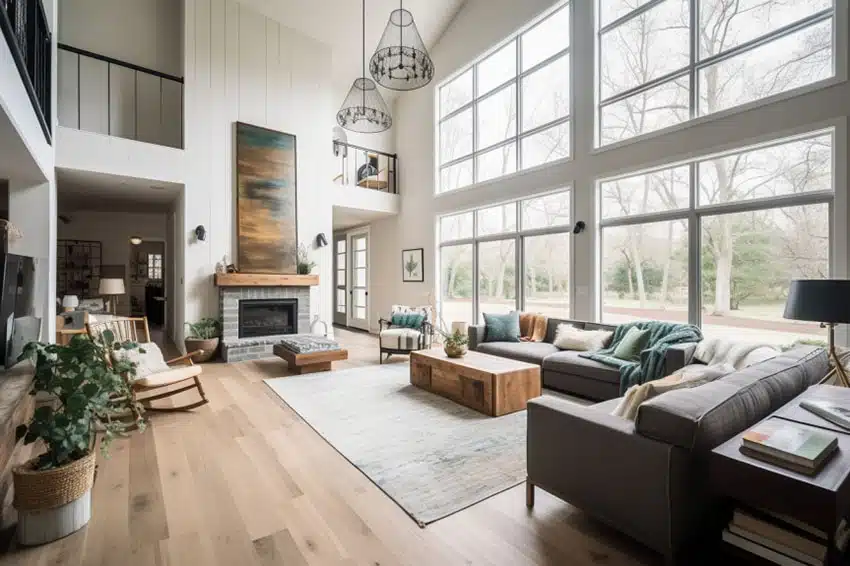 The modern farmhouse aesthetic is all about combining comfortable and modern-style furniture with repurposed elements like reclaimed wood.
Therefore, if you are planning to design your home interiors and are perplexed about whether to go for a farmhouse or modern style, we recommend going for a modern farmhouse style so you get to enjoy the best of both worlds.
Find more information about modern farmhouse bedroom designs on this page.