Here's an inviting modern farmhouse house plan with 2 Story, 3 bedrooms and 1 bonus room.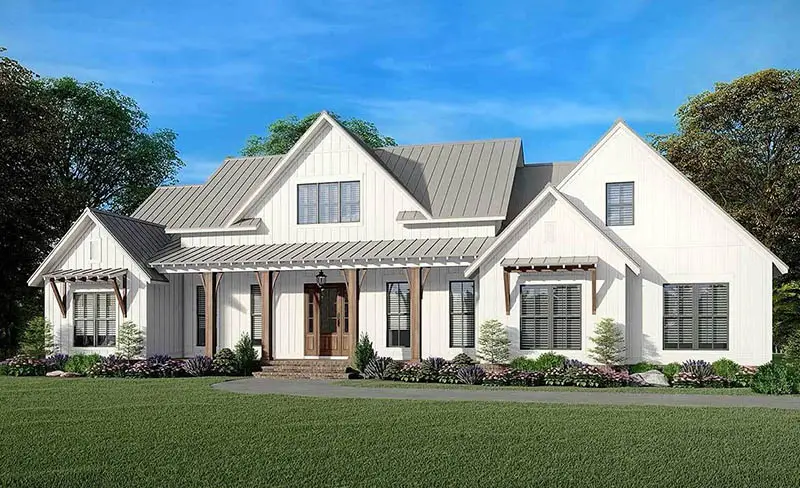 This gorgeous modern farmhouse puts a sleeker spin on the much-beloved traditional home while capturing the heart and soul of cozy country living through a well-thought design.
This Modern Farmhouse Design offers a natural yet refined take of the much-loved rustic styled home as it strikes a balance between the old and new.
With a spacious and open plan, it's an opportunity to create a living space of comfort and functionality. The flexible space is a 2-level property with a sprawling 2,553 square feet heated flooring.
Modern Farmhouse: A Fresh Spin on Beloved Rustic Charm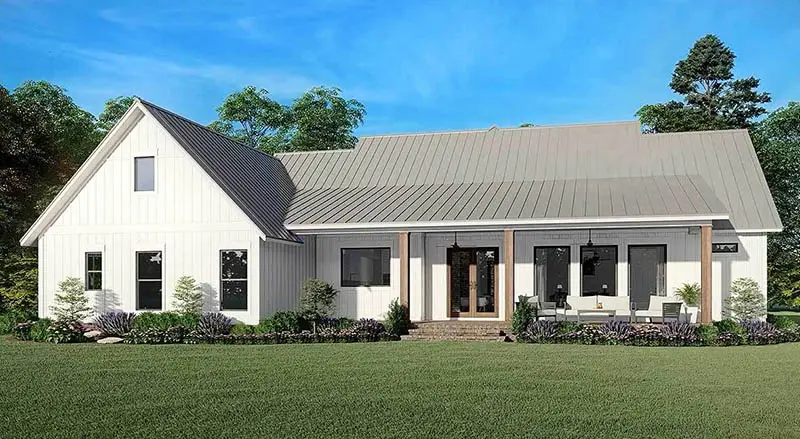 See this modern farmhouse Plan #51814HZ at this link.
Plan 51758HZ is perfect for those who love the rustic farmhouse style and need a space that exudes contemporary sensibilities desirable for casual living.
The modern farmhouse houses 3 bedrooms at the ground-level and an optional bonus room that sits atop the second level. Where convenience is the cornerstone of this design, you'll notice how the common full bath is easily reached by bedrooms 2 and 3, while the powder room is adjacent to the communal areas. All bathrooms are strategically placed within the property with a provision of up to 3.5 baths.
With an open plan, you'll have unobstructed views of the great room, living, dining, kitchen and extending to the rear porch. As sizable as the living spaces, the car garage has a 9 feet high clearance that can easily accommodate 2-3 cars.
Staying true to its rustic roots the design shows its love for the traditional gable roof, the modern twist is its grey metal roof that practically adds that contemporary curb appeal. You can opt for a more striking hue such as black or colors with bluish undertones.
A quick glimpse at the property's façade and you'll get that soothing vibe with its trademark white walls and natural wood-stained materials.
A farmhouse is nothing without having a peripheral view of its surroundings, and the spacious 403 sq. ft and rear porch that extends from the dining area is just the perfect extended space when friends and family come over.
Modern Farmhouse Floor Plan Main Level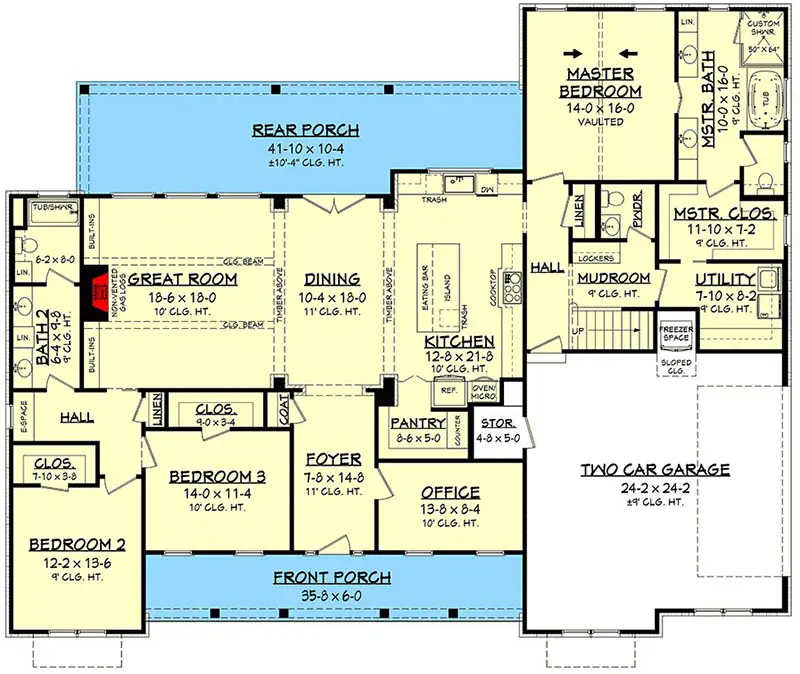 The openness and smooth flow from room to room is a winning feature of this Modern Farmhouse. Where every communal space is easily accessed in multiple ways, while private spaces are tucked away yet easily reached.
The spacious front porch with a notable 214 sq. ft. of welcoming space, directly opens to the dining area then extending to the great room and kitchen. This dramatic entryway from the front porch to the foyer through creates an impression of elegance yet welcoming air.
Bonus Room 2nd Level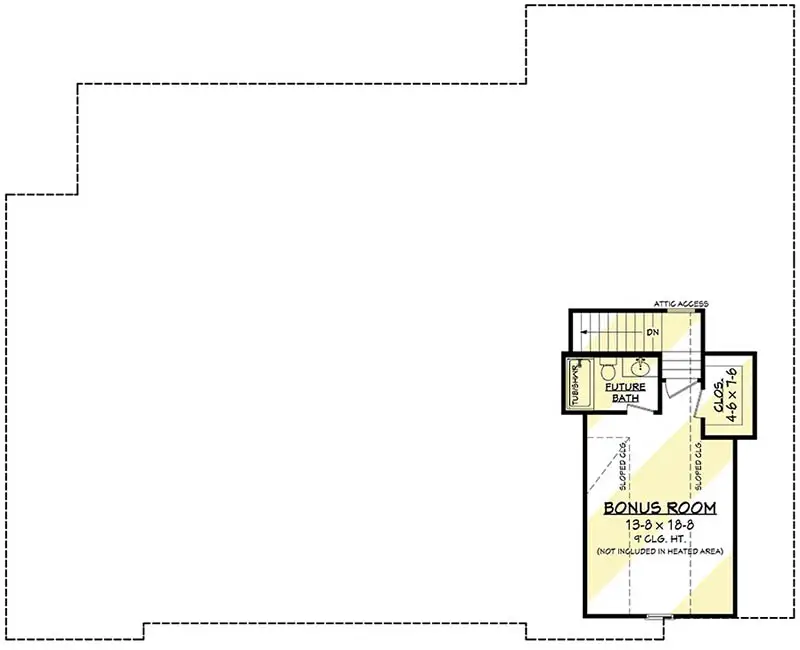 The optional bonus room offers an extra 400 sq. ft. with a provision for a half bath, closet space, and heated flooring. You can utilize the space for a spare bedroom for the guests, music room, playroom, or study area.
Stairs to Unfinished Basement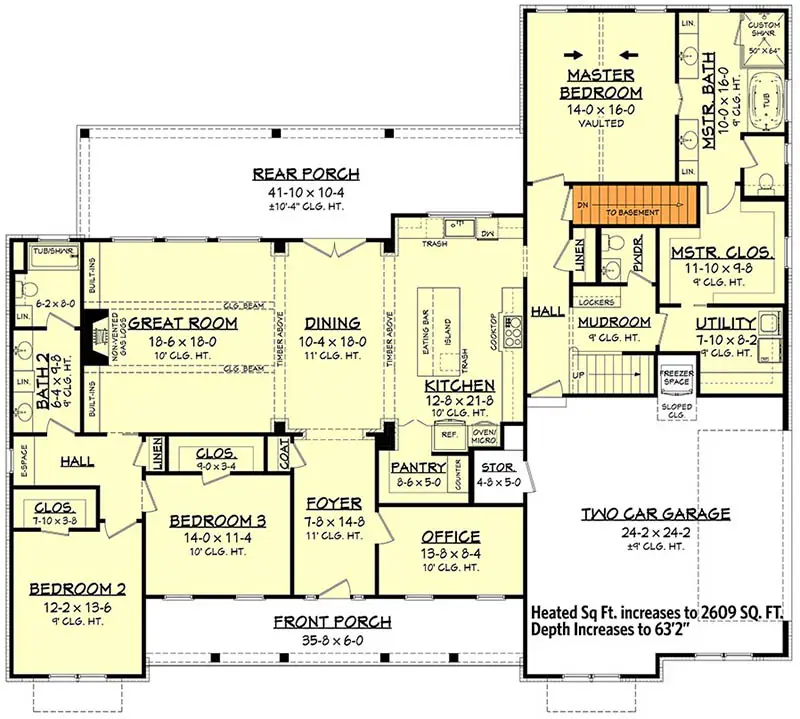 When it comes to the utilitarian elements, this modern farmhouse starts and ends with practicality. A freezer space and an added storage pocket are tucked on your expansive two-car garage which are clever additions for storing food and drinks during the holidays and family gatherings.
Basement Floor Plan
The expansive basement area is a worthy investment adding an invaluable space for your family. A future media and entertainment hub, wine cellar or storage space, or a home gym, the possibilities are endless.
Modern Farmhouse Home Sketch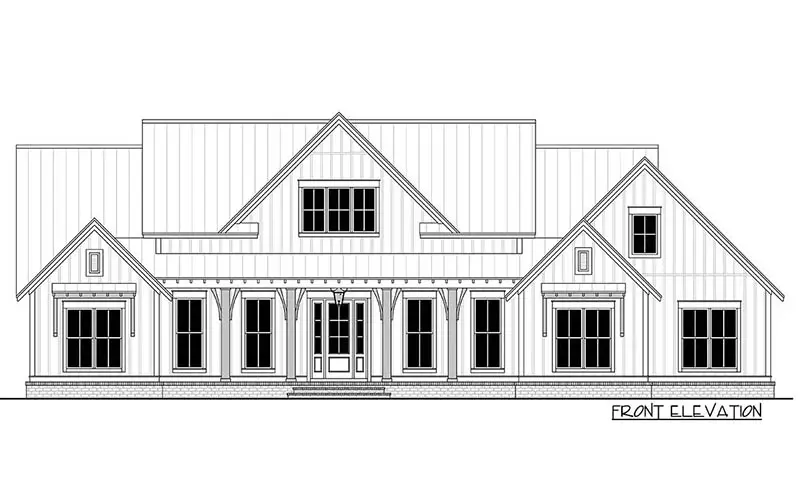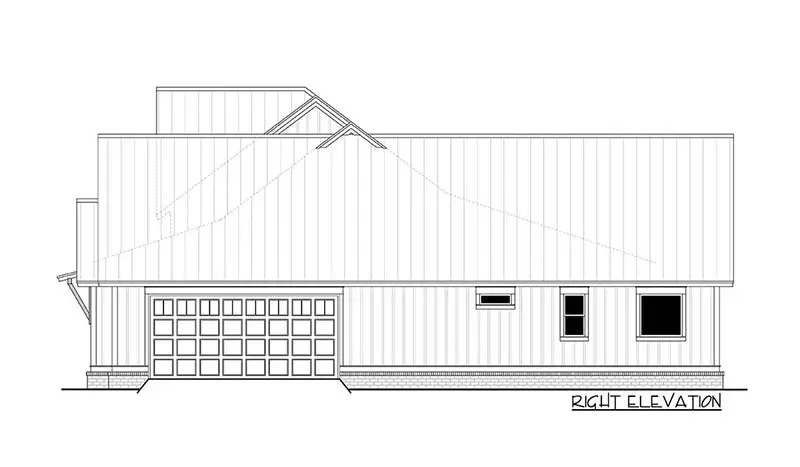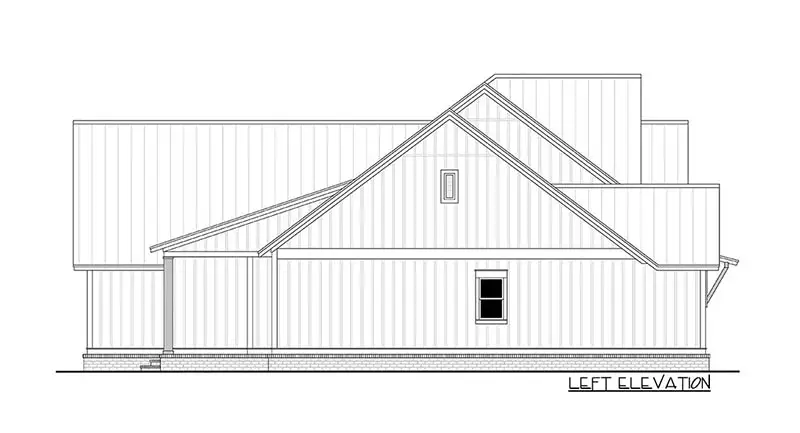 The modern rustic appeal continues into the interior, with its natural finishes and subdued hues recurring throughout the property.
Entryway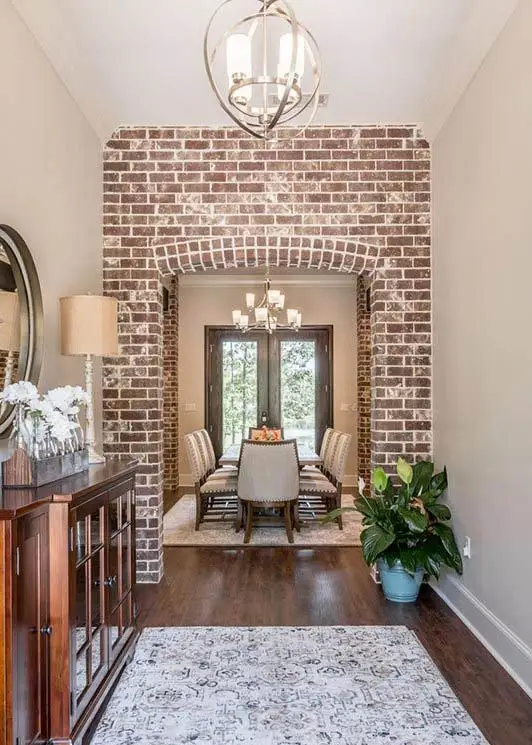 The wide foyer treats its spectators with an awe-inspiring segmented bricked archway. In frame is the 8-seater dining area, the central communal space of the property.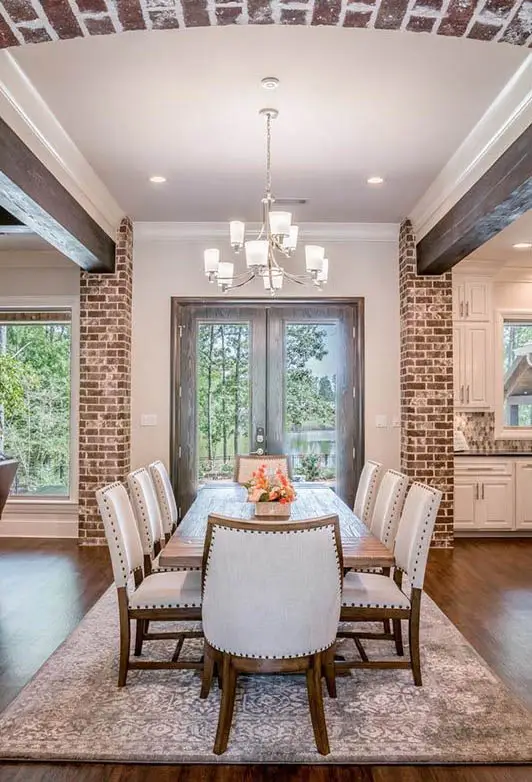 This modern farmhouse harkens back to its traditional rustic roots, starting with its exposed timber beams, distressed flooring, and exposed bricked architecture while continuing its rustic charm through its carefully selected furnishings.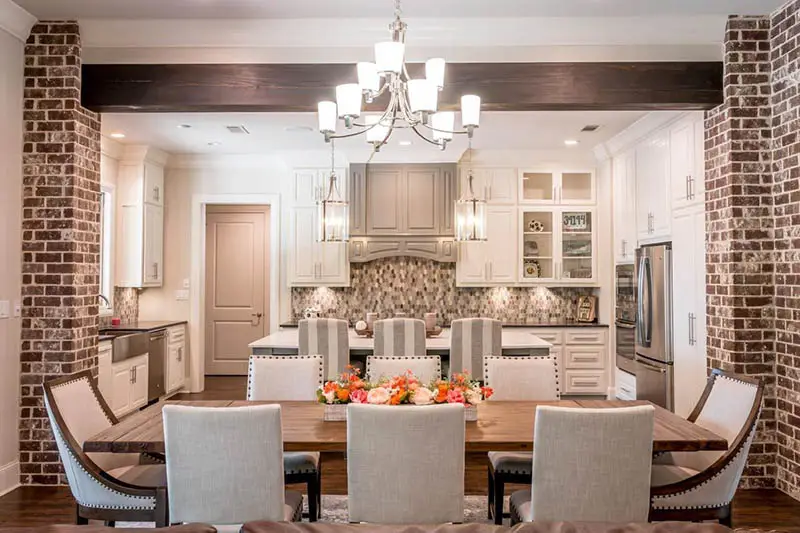 As the central communal space, the formal dining area should be spacious yet compact in design.
Dining in wood never fails to bring that homely feeling, and that's what exactly makes this lovely dining set a more desirable functional and décor item.
Leveraging from the theme's flexibility the modern farmhouse presents a great opportunity to integrate transitional pieces. Such as these comfy upholstered dining chairs with nailhead trims that moves away from the Windsor back chair that we used to see in farmhouses.
Modern Farmhouse Kitchen Layout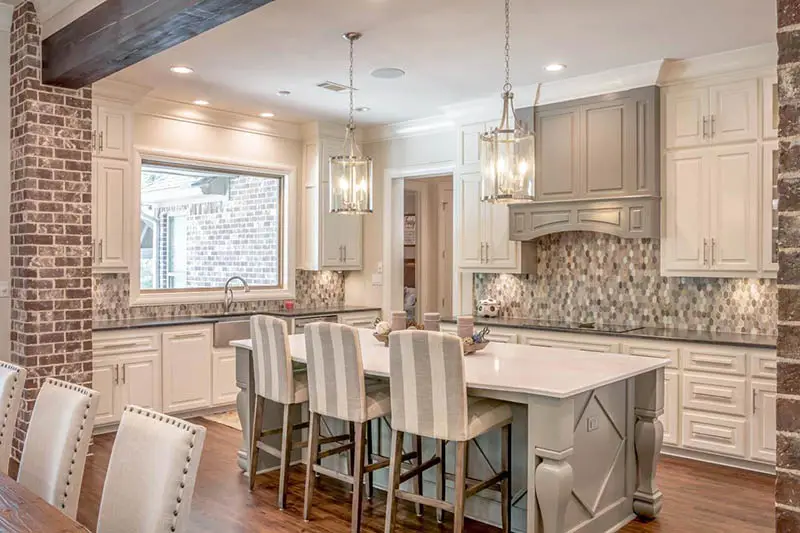 From the right side of the formal dining is the heart of the home. A space that's more casual yet has that controlled luxurious air. This space has an exciting blend of the old and new like how the shaker cabinets blend beautifully with hexagonal tiling underneath, Or, how the striped backrest freshens and adds a youthful personality to the traditional overall look.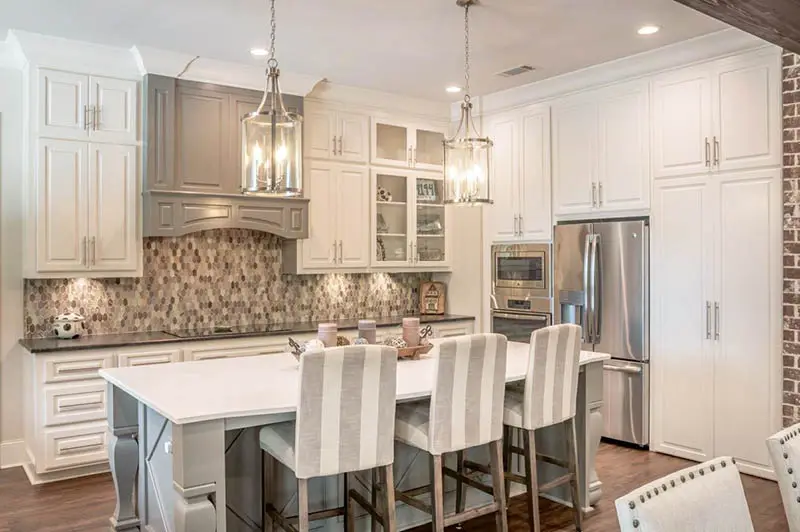 As the heart of the home, this divinely lit kitchen has just the right luxury that never falls short on its functionality and storage. Aside from the shaker cabinets, the built-in pantry can accommodate the bulk of food storage, with its widely spaced and multi-tiered shelving.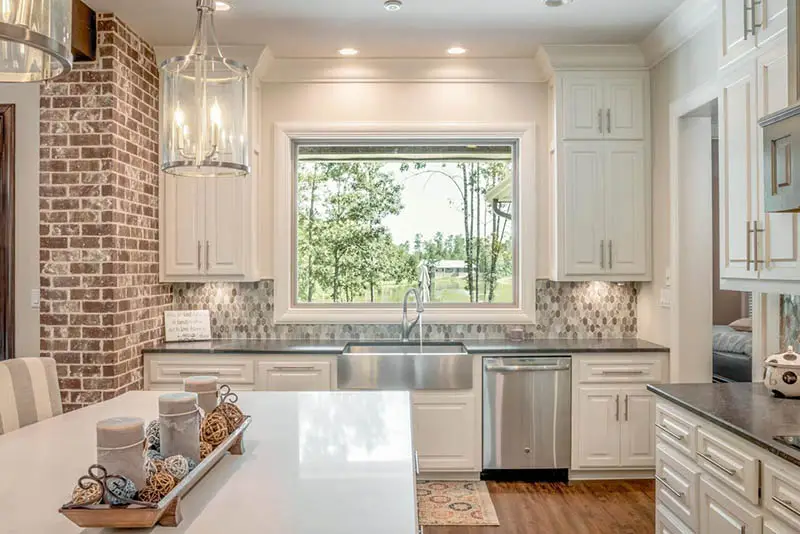 One of the best features of this home is integrating natural and organic elements into the design is essential. This means having unobstructed windows that allow natural light and views that connect the outdoor surrounding to the indoors. And, you'll love the stainless steel countertop and apron front sink that gives an updated sleek look against the classic elements.
Modern Farmhouse Living Room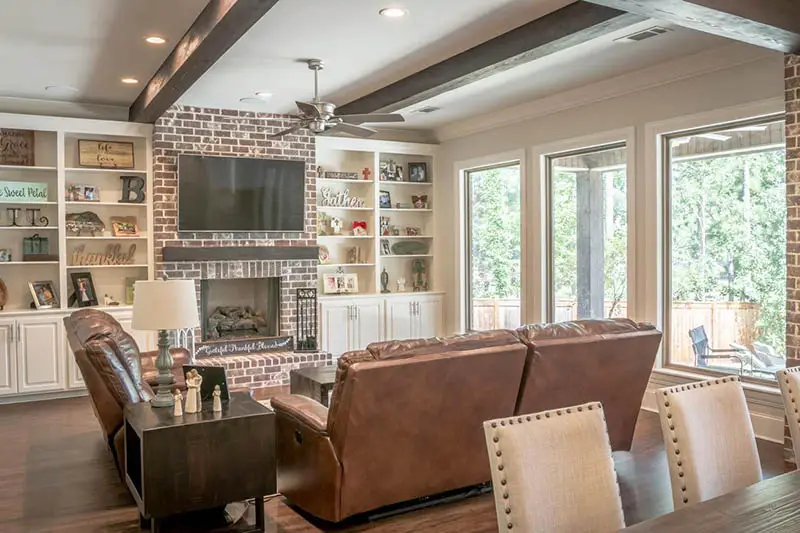 On the left side of the dining area is this cozy living space that has built-in open shelves and overlayed cabinets for limitless décor and storage opportunities. While in focus is the recurring exposed earth-toned brick fireplace surround that pulls together the other architectural elements.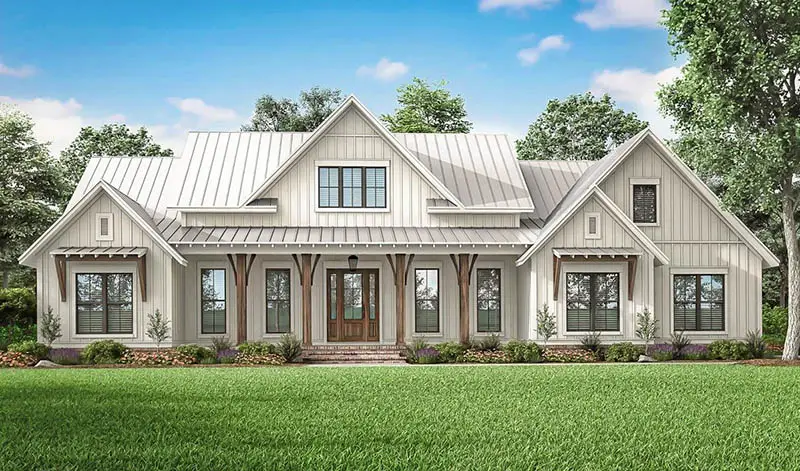 See this house plan #51814HZ at this link.
A home that fosters tranquility and comfort, this modern farmhouse house plan is attractive inside and out. You'll love the spaciousness and openness of the strategic design that's sprinkled with carefully picked elements and cohesively working for a luxurious home living experience for any modern family.