Welcome to our Ultimate Kitchen Design Ideas Planning Guide (with Pictures) Layouts, styles, colors, decor, zones, cabinets, flooring, lighting and more.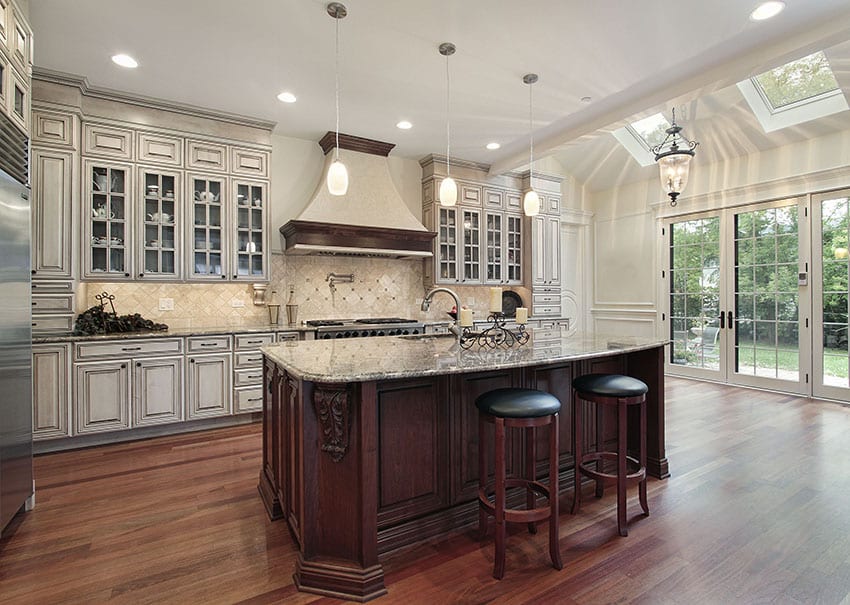 The kitchen is not just a place to prepare food, but it's a place to enjoy the preparation of food. A good kitchen is not just centered on food preparation but it can also be the center and heart of a household. It's a place where cooks can cook while enjoying the company of their friends and family. It's a place where guest can sit and enjoy good conversation among themselves and with the cook and it can even be a place where the guests and cooks come together to enjoy a meal.
Below you'll find tips on creating your dream kitchen. Remodeling your kitchen can be exciting and offer you the chance to get just the space you've always wanted. These kitchen tips will help you select the right colors, decor, and layout based on your own personal preferences. Our hope is that these kitchen design ideas will inspire you to create a dream kitchen you, and your whole family will enjoy.
Kitchen Planning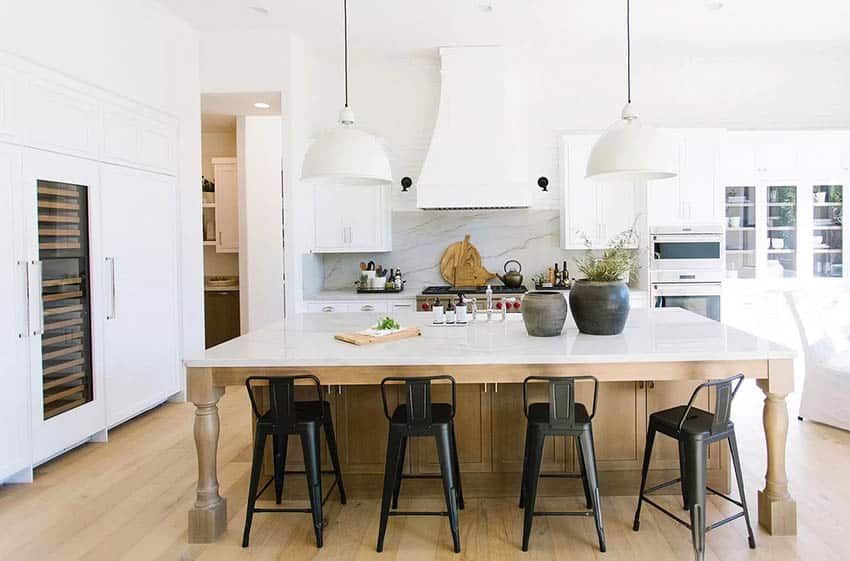 When planning the design of your kitchen, consider your personal preferences. Determine the style of kitchens you love the most. It's helpful to consider the type of layout that appeals to your style of cooking and the way you want to entertain. Those with a large family or who like a kitchen for gathering and socializing will want to think about the type of floor plan that best suits you.
You may also want to include in your plan any essential materials or appliances depending on your usual cooking needs and preferences. For instance some people desire a microwave that is suspended above the countertops. Another example could be positioning the stove directly next to the refrigerator which can have an adverse effect on your work space. The kitchen plan should additionally correlate to the overall design of the house. Its interior design should match the color and structure of the entire house to maintain the beauty and overall aesthetic.
Important Kitchen Planning Steps

1. Have a vision of the kind of kitchen you desire. You may draw it using a variety of kitchen design software programs, or you could ask a professional designer to help you create the ideal layout for your space. Make certain that the image will be presented in a full 3D view. This is important because the detailed overview of the kitchen will allow you to see the actual three dimensional picture of the kitchen to help you visualize your design.
2. Have a floor plan with proper and accurate details. This will include adding the precise measurements on the kitchen essentials such as the walls, doors, windows, cabinets, and various kitchen appliances. With the detailed floor plan created in a 3D view, necessary updates or changes can be done accessibly. You can find free interior design software here to help with designing room layouts and floor plans.
3. Have information on the building codes in your area. This varies from different jurisdictions.
4. Focus on your needs must come first, than your wants to stay within your budget.
5. Your kitchen remodel will increase the value of your home. However, some upgrades will add more to its value than others. Check out our kitchen remodel cost guide to help you determine the best place for your budget dollars.
Kitchen Cost
A kitchen is an important part of the home, where activities take place such as cooking, preparing of food, and washing of dishes. Each and every one deserves a great kitchen and it is important that it is built with accurate and detailed design. Realtors often say that a kitchen can sell a house. It's not surprising why, a kitchen is the heart of the home and where families spend a great amount of their time hanging out and entertaining.
The prices of your kitchen remodel can vary a great deal depending on the materials and brands you select. It is essential that you will include your budget when you plan to have a project like making a kitchen.
You should have an approximate budget which you could use in covering the expenses for purchasing kitchen materials and other stuffs necessary for the completion of the project. Check out this post for more kitchen remodel tips including what to look for when hiring a designer and contractor.
Cheap Kitchens
Working on a tight budget may be a factor when planning your kitchen. You should make sure that you stick to that budget in order to cover the needed expenses. Having a functional and enticing kitchen is still possible even if designed according to a tight budget. Cheap materials which you can purchase can still look amazing and serve their purpose when it comes to both looks and functionality.
When you design your kitchen with price in mind you must take into consideration, selecting the right materials and potentially taking on some of the labor to help in cutting the cost of the project. A cheap kitchen design typically costs from $5000 to $15,000 dollars for a complete renovation if you take on some of the work yourself. Those who need to hire a designer and a contractor could pay upwards of $20,000 for the complete job.
Below are some essential tips in order to make a cheap kitchen possible:
– Make certain that you separate your wants from your needs. Have a list of the needed materials and appliances and make these a priority.
– Consider the materials that you will be utilizing. For instance, you may get the look-a-like laminates instead of having a marble or granite material. Glasses may be expensive so why not go for acrylic or tiles when watching the budget.
– When it comes to labor, you may reduce it by doing some of the things yourself to cut costs.
Mid-Range Kitchens
A mid-range kitchen differs from a budget kitchen because it already includes added customization of the space, replacing cabinets, changing water lines, or flooring. Generally speaking, mid-range kitchen remodels can cost from $25,000 to $75,000. For this amount you can hire contractors to do all of the labor and get a very attractive kitchen design. According to Remodeling.com, the average priced mid-range kitchen renovation project is currently $53,931.
When you consider a mid-range priced kitchen, it means that you will figure out the best materials at the lowest cost while working inside your budget. You may have customized seats or high-end appliances as long as you are still able to cover the expenses. The materials that you can utilize may include an upgraded stone countertop or glass tile backsplash. Stone may be costly however it will last for years or even decades especially when it is properly installed and maintained. Updated cabinets are also possible if existing cabinets are refinished or mid-range cabinetry is selected.
Luxury Kitchens
For a high-end luxury kitchen remodel the sky's the limit. For a luxury kitchen remodeling project one can expect to pay from $75,000 on up.
Many new kitchen remodels cost in excess of $100,000 and since so many people value a luxury kitchen prices continue to climb. According to Remodeling.com, the average cost of an upscale kitchen remodel is $113,097.
Below are some tips for getting the best value in a luxury kitchen:
– Install an exotic countertop, as it poses the biggest first impression in the kitchen. In a large kitchen there will surely be a lot of surface area, so an impressive counter will have a big impact.
– Similar to jewelry, hardware is needed. Just a few top-quality pieces will do to finish the luxury look of your kitchen.
– Install customized cabinets as this will reflect your personal style and individuality and provide you with a highly sought after custom kitchen. With customization, you can create the right ambiance for your personal taste and provide an excellent feature for when you are ready to sell your home.
Kitchen Styles
Kitchens are regarded as the heart of the home for most households, as it is where a majority of social gatherings take place. Depending on your taste and desires, you can choose from many different kitchen themes to get one the best suits you. Here are some of the most popular styles of kitchen:
Traditional Kitchens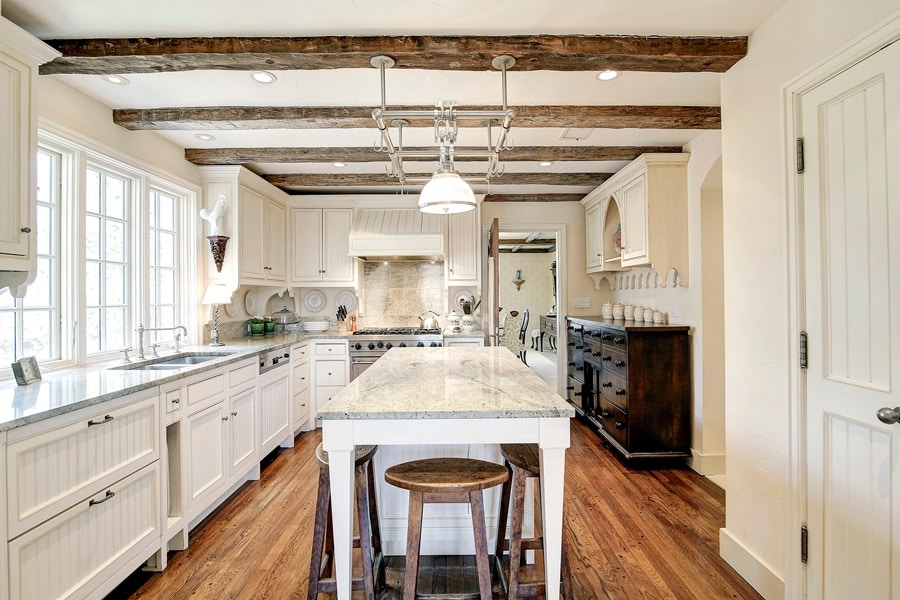 This kitchen has a design with simple lines of contemporary style as well as transitional spaces projecting both balance and harmony. The ambiance offers a wonderful deal of flexibility. Traditional kitchens are featured with an elegant and formal appearance of European and American homes of eighteenth, nineteenth, and twentieth century.
Take a look at our traditional kitchen designs gallery for more pictures.
Contemporary Kitchens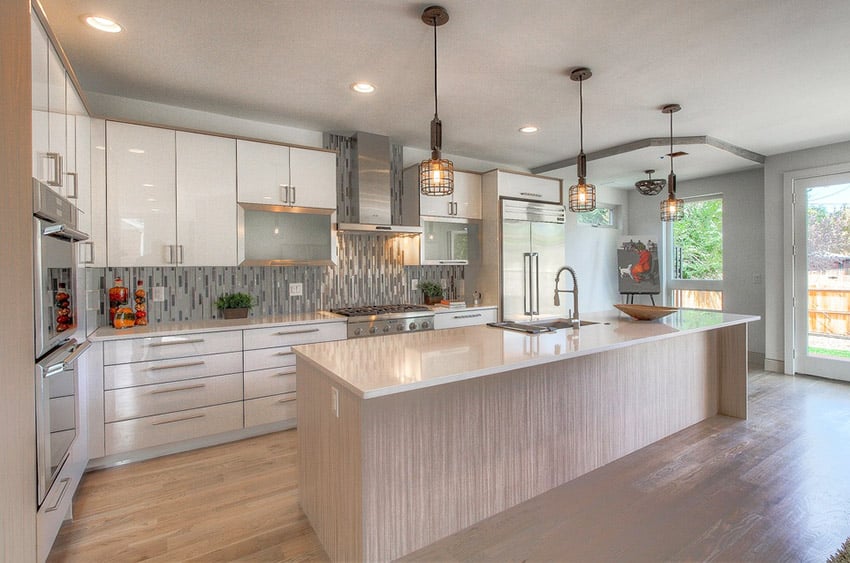 The contemporary kitchen takes a lot of design cues from the modernist style and uses a lot of clean lines with touches of traditional. Using the newest materials from the current time, contemporary kitchens are on the cutting edge and are considered "in the now." This design is generally more playful in both the form and its finishes than a modern kitchen. It still retains a sleek look but at the same time it offers a more softer and livable feel.
For more ideas take a look at our gallery of contemporary kitchens
Modern Kitchens
Modern kitchens do not necessarily need to be futuristic however they need to built out from innovative ideas. This kind of kitchen is designed to be minimalist, modern, and geometric in layout. Its features include horizontal lines, asymmetry, and generally lacking in ornamentation or decor.
The materials utilized are frequently made by man instead of natural materials and include laminate, steel, concrete, frosted glass inserts, chrome, linoleum, and lacquer. There should be a varied color of palettes as well as themes. Most modern kitchens are designed with frameless cabinets, simple hardware, strong horizontal lines and natural beauty of materials which are enticing. Take a look at our gallery of modern kitchen designs
Small Kitchens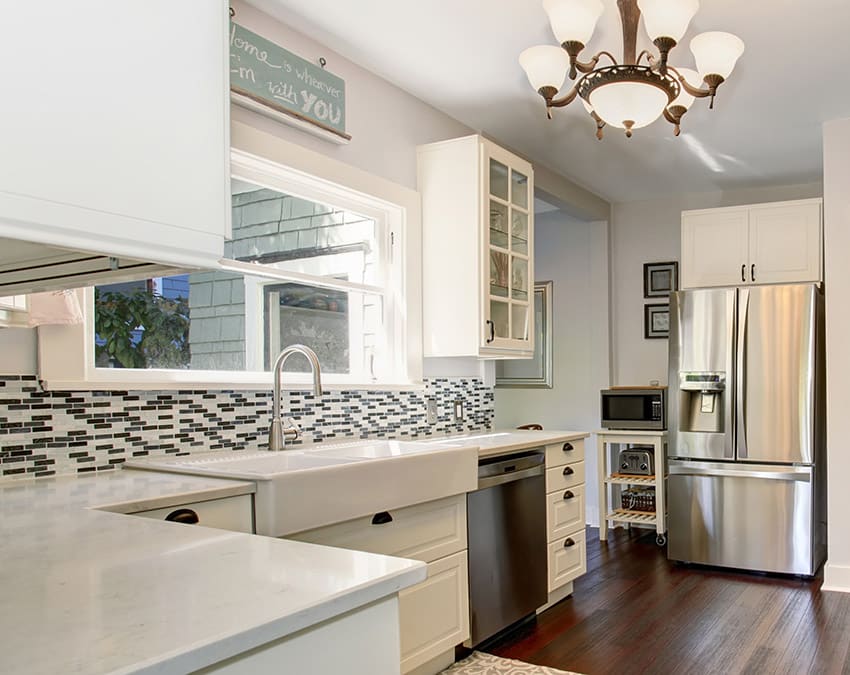 Small kitchens may have little space however they are huge when it comes to both style and efficiency. Space can become limited but it is a way to be able to have smart planning in creating a multi-functional appearance of a kitchen.
Having a small kitchen will not allow you to do homework, laundry duties, or mail storage. You should make sure to have focus on the primary function of your kitchen whether it is a place only for cooking or meal preparation or for hanging out in leisure times. It is important that make use of scaled-down or innovative appliances like the refrigerator, microwave, two-burner stove, and single sink. In this way, you will be able to maximize the little space in your kitchen.
Check out our gallery of small kitchen designs
Family Kitchens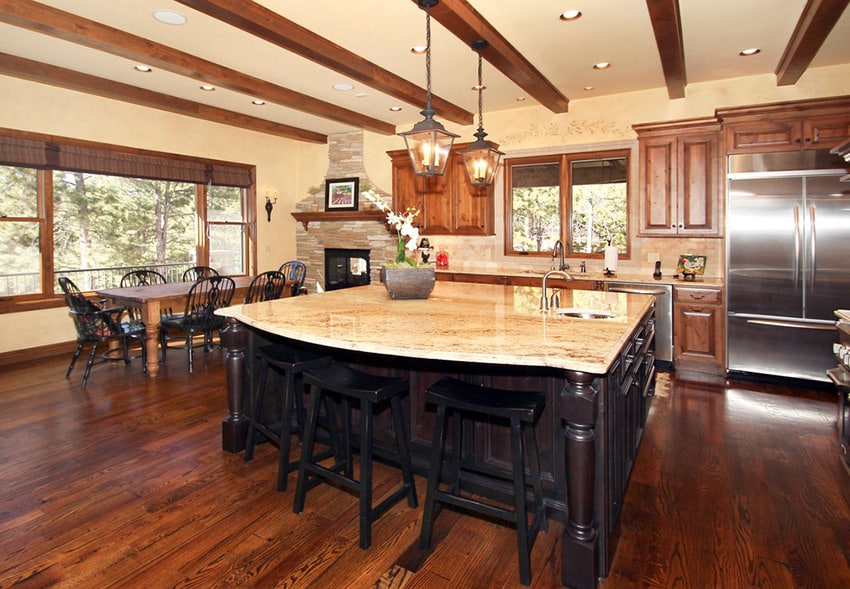 When planning to have family kitchen, it is important to have it spacious. This will serve as a space for the people to gather around. A table should fit in where the family can use in eating especially in times of socialization and relaxation. You need to take into consideration of having a space for the kids in the kitchen. A cabinet for the kids can be placed which is accessible for them to reach and get the needed materials. Kids love to help their parents in the kitchen as they imitate or simply help with the cooking procedure. Toys may also be stored in a small cabinet which the kids can use when they got bored with observing you preparing their meals.
Be mindful about the safety precautions. It is vital to have a fire extinguisher in the kitchen which is located far from the stove. A corkboard or chalkboard panel may also be decorated where the members of the family can leave whatever message they want to share.
Chefs Kitchen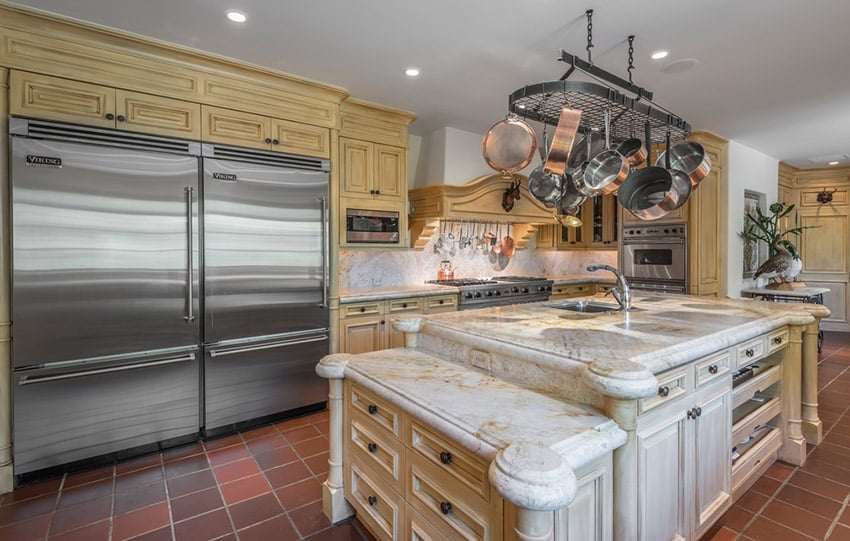 The design of the kitchen of chefs need not have a huge space. What is important is that you are able to maximize the the functionality of the space to have control of the clutter, and create an effective work area. Counter space is essential in close reach to the stoves. In this way, the person can move around and be able to prepare ingredients for a meal most effectively. Having a heat and cut resistant surface to work on is also a big bonus for those doing a lot of cooking. Proper maintenance for those with wood butcher blocks or non scratch resistant countertops is a must by using cutting boards when slicing and not directly slicing the ingredients on the counter.
It is a must for a chef's kitchen design to have proper storage and organization. This means that kitchen utensils, pots and small appliances are stacked well and the clutters are cleaned right away. The appliances to be used depend on one's lifestyle so consider your preferences when buying them.
Rustic Kitchens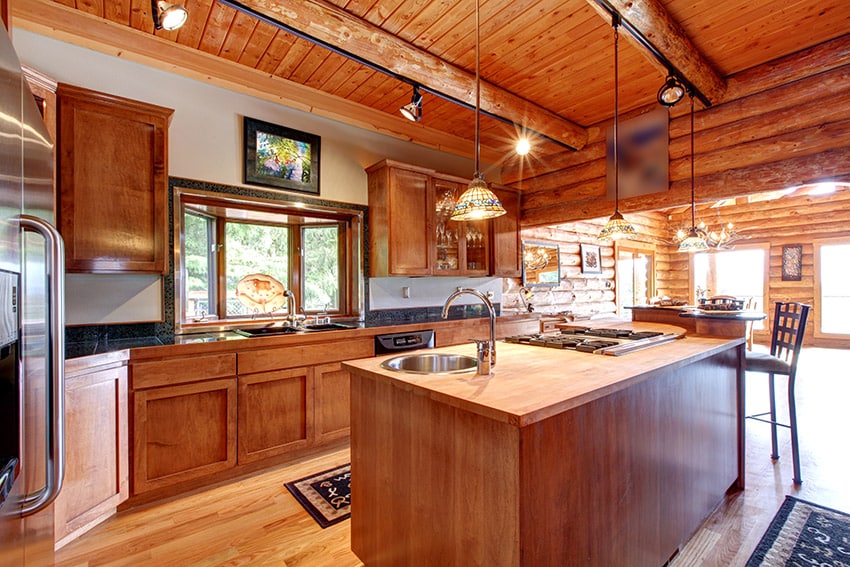 Its characteristic is frequently with American style however other kitchens of this kind have resemblance of a lodge or log cabin. This kind of kitchen popularly appears in solid wood grain or classic white featured with the utilization of timber, brick, stone, vintage appliances, and fireplace. Other features include cabinets in knotty pine, ceiling beams, and having a rich shade of brown, green, red, and yellow. See more examples of rustic kitchen designs here, or check out our log cabin kitchen gallery here.
Mediterranean Kitchens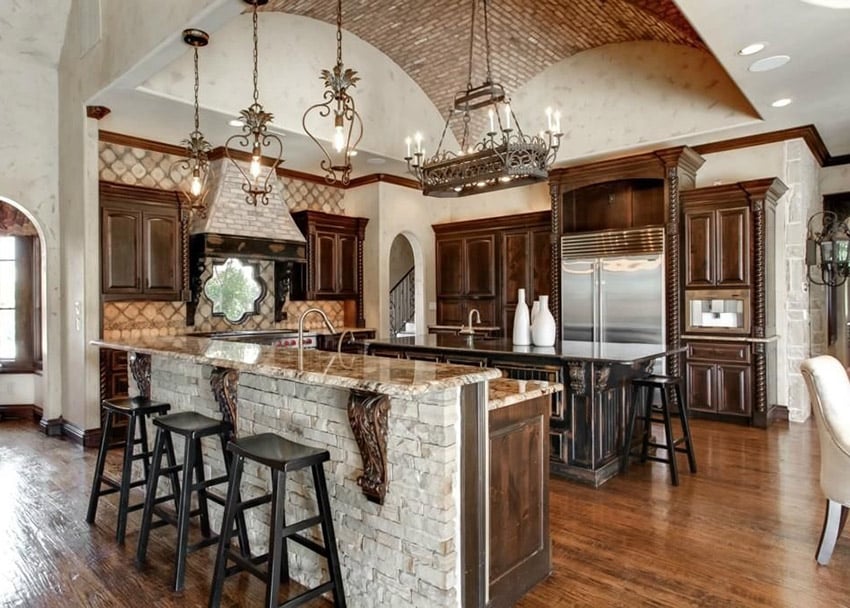 Mediterranean kitchens are often known for their decorative high quality wood cabinets, intricate tile work and natural colors and textures that give an elegant vibe to the space. Special care should be made to incorporate pops of color and keep the theme light and bright. Backsplash materials are frequently mosaic or terracotta tile and used to generate visual interest. These kitchens have a focus on storage since the layout often contains many utensils, pots, and pans for decor pieces. The room can be decorated according to your personality and vibe. This kitchen features flared hoods, warm wood cabinets, hand-painted tiles, beamed ceilings, and arched cooking alcoves.
Take a look at our gallery of Mediterranean Kitchens
Asian Kitchens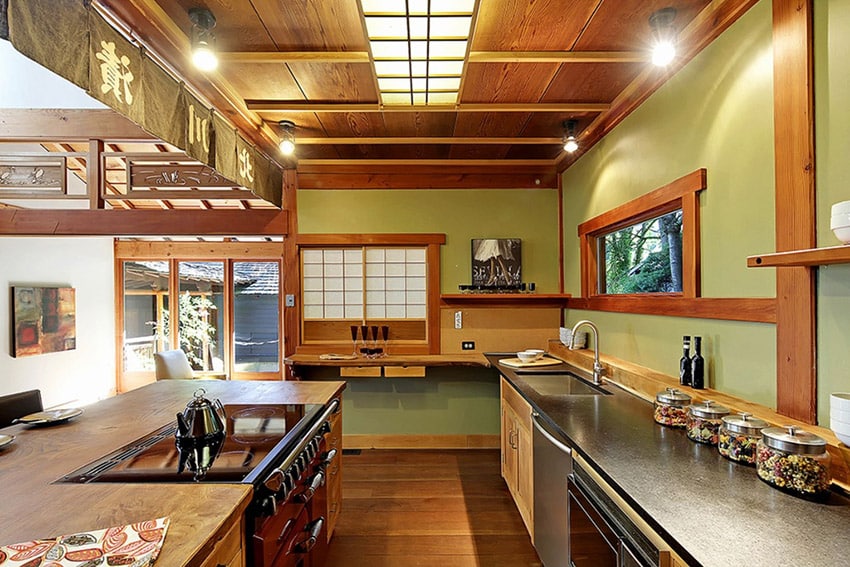 The beauty of Asian kitchens is featured with a sense of calmness as well as tranquility bringing the home along with a sleek design. This design fits in various home styles, may it be minimal or traditional. Having a combined light and dark stain colors with oversized island top makes its appearance to be Asian. Other characteristics include jade-green walls, natural stone, bamboo flooring, and black cabinets.
Country Kitchens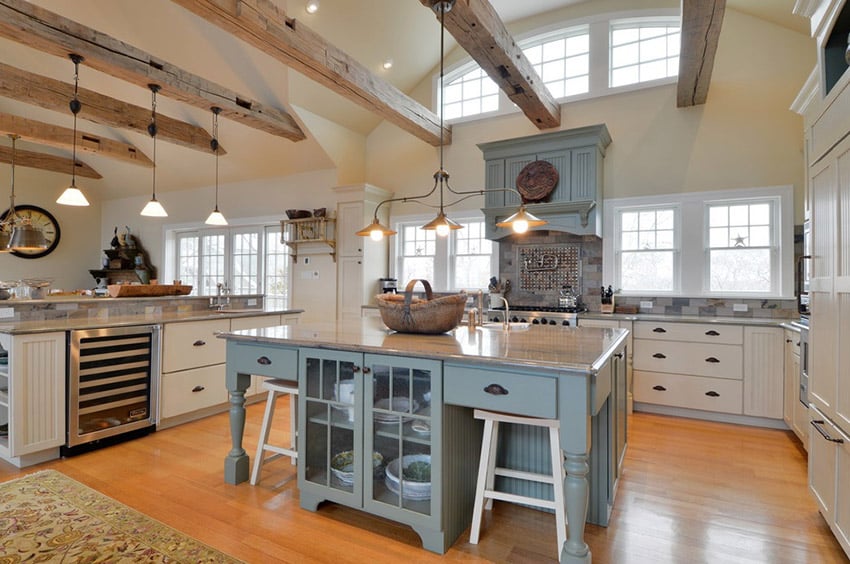 Country style kitchens are best described as having a rustic feel with open plan layouts with a lot of room for breakfast bars, center islands and eat-in dining. These kinds of kitchens are welcoming and cheery. It features traditional cabinetry with bright or light colors and glazed or painted cabinets having metal or wire inserts. There are woven baskets, floral motifs, bead-board panels, and decorative molding as well as shelving. The floors are made of wood and the fixtures are often wrought-iron.
Take a look at out gallery of country kitchen designs here.
Craftsman Kitchens
This style of the kitchen started in the early twentieth century as a response to the mass production of fussiness of Victorian era. It is rich in wood materials and built-ins as well as handcrafted tiles. Its design has focus on both of the beauty of function and materials out from natural sources. See more examples of craftsman kitchens on this page.
Transitional Kitchens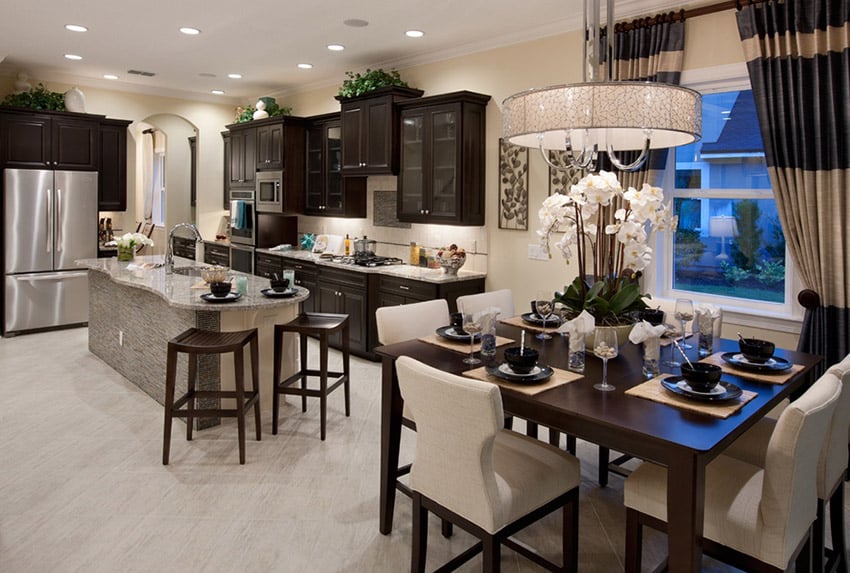 The transitional kitchen style blends contemporary with traditional design elements along with blending seamlessly with a dining area. These kitchens can have practically any variety of layout. Take a look at our gallery of transitional kitchen designs on this page.
Cottage Kitchens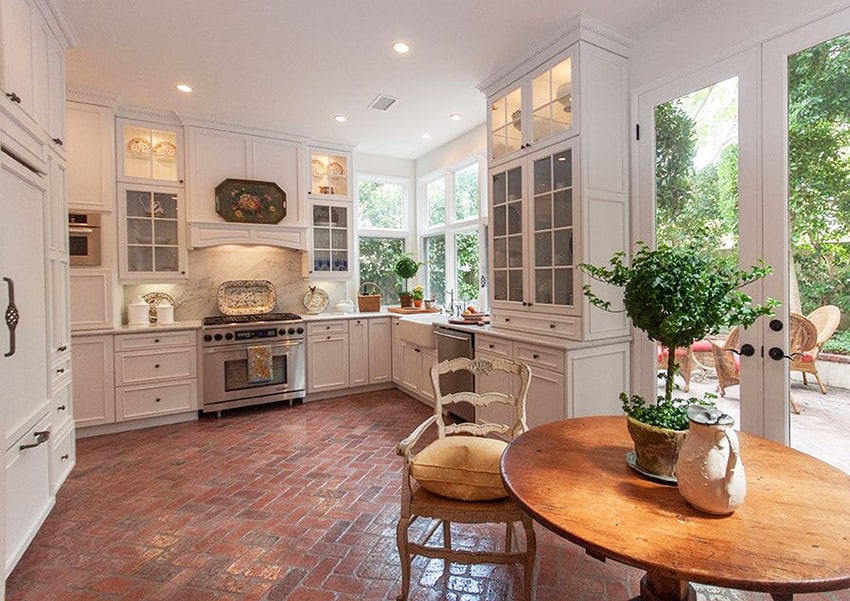 A cottage kitchen is a happy and cozy place. It poses a sense of easiness as well as carefree living with its various characteristics including the bead-board, vintage hardware, soft colors, wooden floors, and colorful curtains as well as accents. Its design offers great comfort when it comes to the ambiance.
Art Deco Kitchens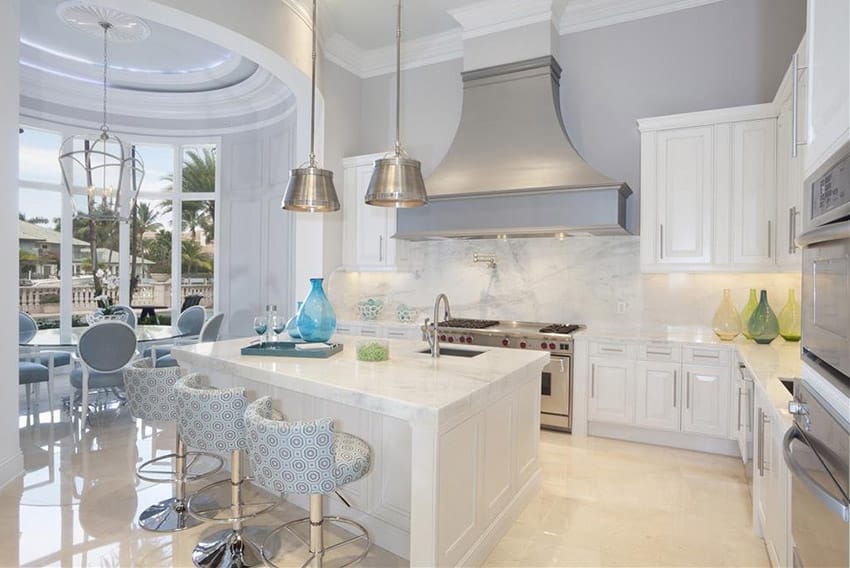 Art deco style gets its inspiration from classic French architecture from the late 1920s, 1930s, and 1940s. The style emphasizes geometric forms with a grand and flamboyant design. Many movie theaters utilize a form of Art Deco in their grand designs and symmetrical patterns.
Kitchen Layouts
The first thing that you need to decide when remodeling you kitchen is, how you are going to layout your new kitchen. The layout of your kitchen needs to take the existing space you have and give you a space where you can cook and prepare food in an efficient way. A good kitchen layout gives you a spacious and efficient kitchen that is nice to look at and a joy to work in.
The layout of the kitchen is the shape which is made according to the arrangement of the countertop, storage areas, and appliances. This floor plan is responsible for making the work triangle of the kitchen including the path which you make when you move from the refrigerator, to the sink, and to the range of preparing a meal.
The layout will certainly affect the functionality of the kitchen. It determines the easiness of cooking, eating, and socializing inside the kitchen. It is responsible for the placement of the appliances, cabinets, sink, counters, doors, windows, and furniture like the table and chairs.
Below are some of the most popular kitchen layout configurations:
Single Line Kitchen (One-Wall with No Island)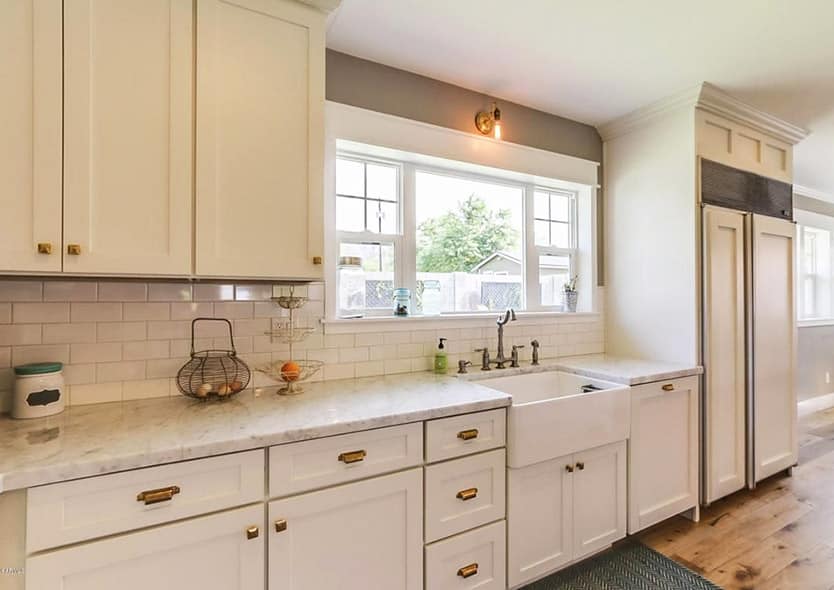 This One-Wall kitchen is a common kitchen layout for small homes or apartments. Basically, a one wall kitchen places all of your work stations along one wall. While this may be an efficient layout for a small space, it is not a good layout if you like to make food preparation a social event.
A one-wall kitchen layout does not take advantage of the kitchen work triangle. A one-wall kitchen crams all three workspaces in one area so it could be difficult for more than one cook at a time to work in a one-wall kitchen. One advantage to this kitchen layout would be that it provides ample floor space to add a dining area so guests could talk to the cook, even if there's no room for them to help the cook.

Most of the time, the single-wall kitchen is utilized to have efficient space within the entire house instead of having the efficiency of the kitchen. This layout appliances, work areas, and cooking utensils are places within the reach of the arms. The space is limited so there is only a little room for food preparation and its design is intended for a single cook. It is best to use this layout in small places like apartments or houses where cooking is of low priority.
Single Line Kitchen (With Island)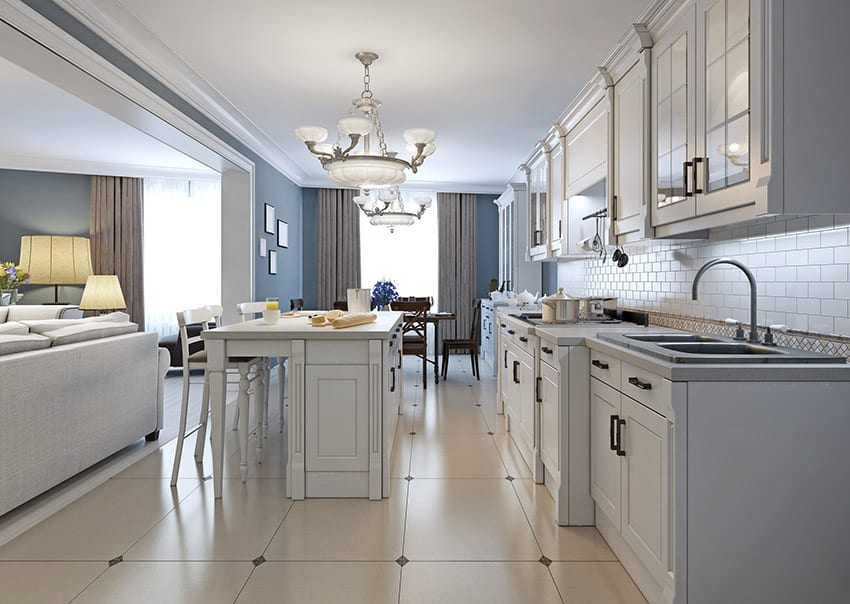 This type of kitchen is often used in rooms with a lot of available floor space. It gives easiness for the individuals to be working together. The set-up of the island is just possible in kitchens which have ample space. Be certain to have enough room for passersby on every side of the island. Many islands provide additional counter space and seating. A lot of them feature stoves, sinks, or cook tops.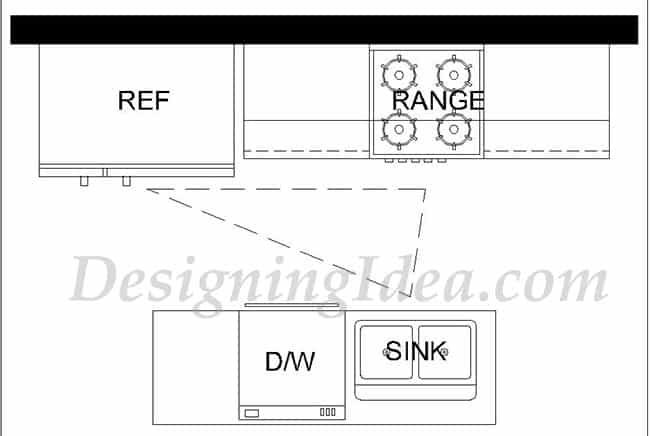 Above is an example of a single line kitchen layout with island including the dishwasher and sink.
L-Shaped Kitchens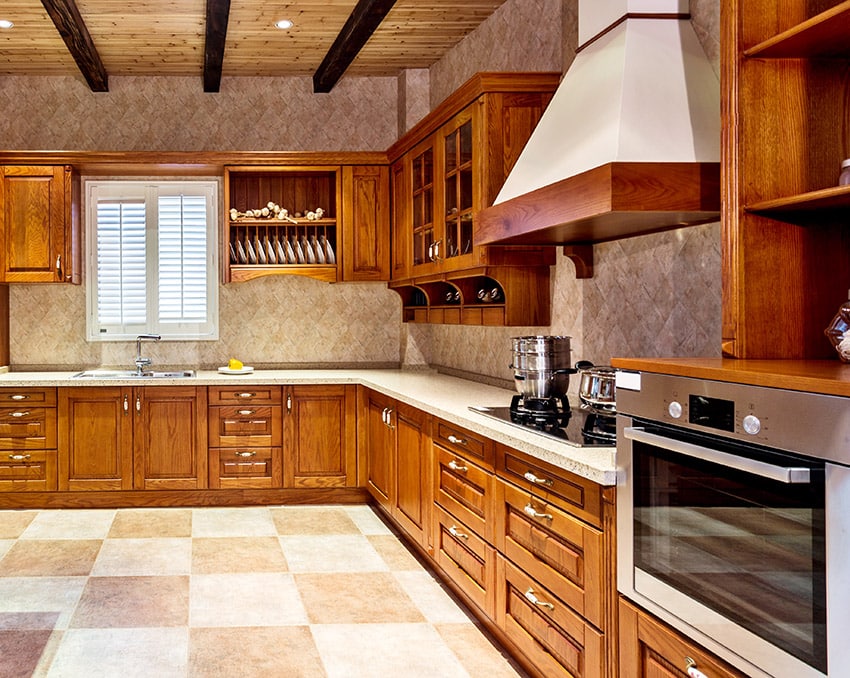 An L-shaped kitchen layout provides you with a lot of extra floor space that you can use to add either a dining area or an island for extra prep space, extra social area or extra storage. A L-shaped kitchen is also a great kitchen layout to use if you like to entertain and believe that cooking is a social activity. The L-shaped kitchen is typically open to the rest of the house or to the next room so that the cooks can interact with guests without everyone having to cram into the kitchen.
This kind of kitchen is preferred for maximum flexibility in cooking, hanging out, and entertaining. It features three zones having ample space for the avoidance of collisions. On one leg is where the sink and dishwater for cleaning is located. The second leg consists of the range with griddle as well as the adjacent wall oven and microwave for the cooking zone. The island makes a great place for casual drinking or dining as it can be designed be under-counter wine cellar together with a raised bar top. The island as well can become the fourth zone when its lower counter is needed as extra surface for kitchen works.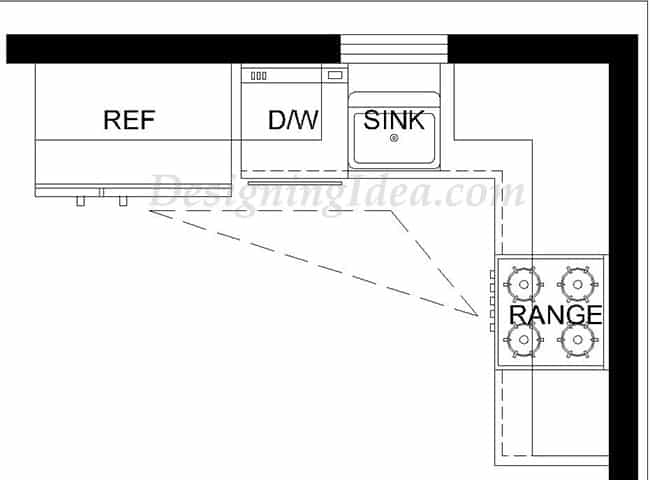 An L-shape design is regarded as one of the popular kitchen layouts nowadays. This kind of layout works best when there is a lot of space and its variations makes it easy for whatever style one desires. The layout has cupboard along two walls which are adjacent to each other. There is no foot traffic that crosses through the work triangle. The design is figured in two perpendicular walls consisting of one short leg and one long leg. It allows two cook to be working simultaneously without having to get in each others way.
L-Shaped Kitchens (With Island)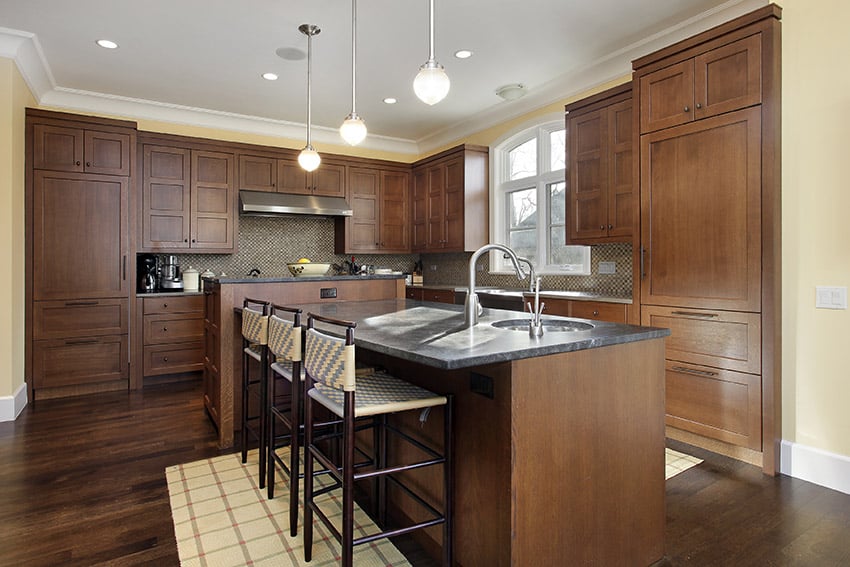 Much like the galley-style kitchen, the L-shaped kitchen uses two walls for your work spaces, but unlike the galley-style kitchen, these two walls are placed at an angle, not facing each other. This kind of kitchen layout provides plenty of space in which two or more cooks can easily work together at the different work stations.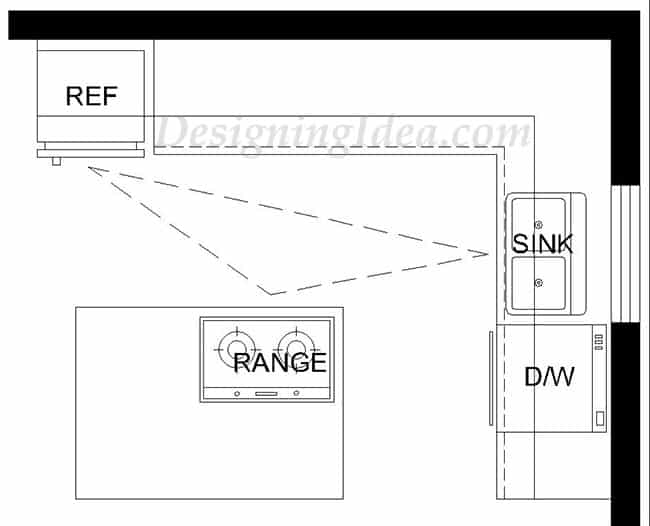 The example above features an l-shaped kitchen layout with an island containing a built-in range.
U-Shaped Kitchens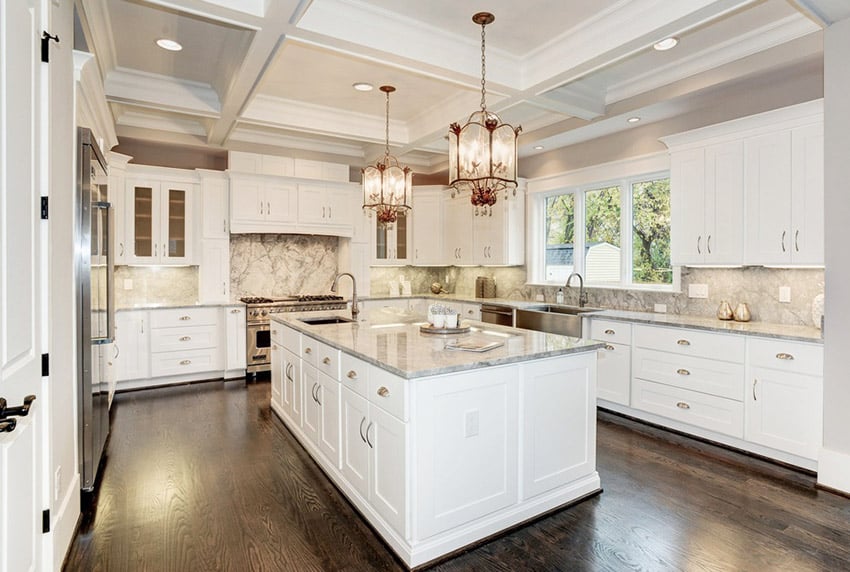 The U-Shaped kitchen design is also sometimes called the C-Shaped or horseshoe kitchen. In this type of kitchen layout, your three workspaces are spread along three walls that are shaped like a "u" or a "c". If you are planning to use this kitchen layout, then you are going to need three available walls where you can put your work spaces. This layout provides you with a lot of work space and storage as there is room for three countertops and three rows of cabinetry.
While this kitchen design doesn't allow for the incorporation of a dining area into the kitchen, it does allow for more than two cooks to work at once. Also, the open area at the legs of the "u" allows the kitchen to be opened to an adjoining room – such as the dining room. This allows the cooks and the guests to see each other and interact without over crowding the kitchen area.
A U-shaped kitchen is also a good design to use if you want to incorporate an island into your kitchen design. You can place the island away from the third wall in the open area between the legs of the U. This ensures that you don't take up to much floor space around the work stations but provides you with extra work space and storage space and can be an area where guests can hang out.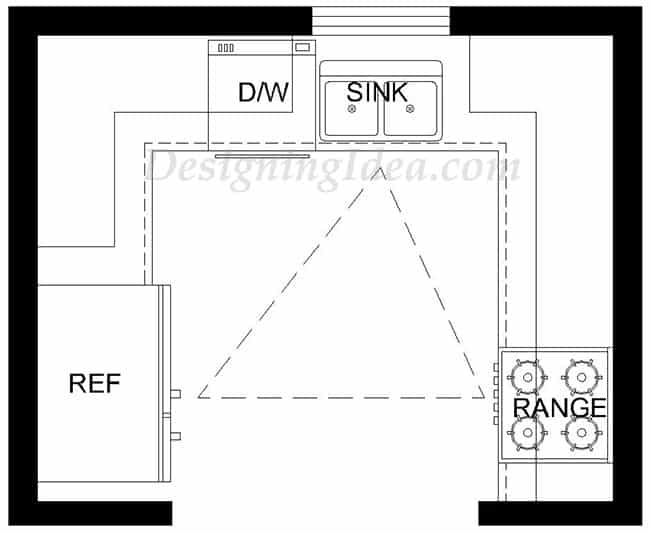 This type of kitchen is ideal for busy cooks because it helps in keeping everything within one's easy reach. It surrounds the cook with the counter space as well as with the appliances. It makes use of the three full walls to maximize both of the storage and work space. It can be used either for small or large rooms. U-shaped kitchens are suited best for condominiums or terrace houses.
C and G-Shaped Kitchens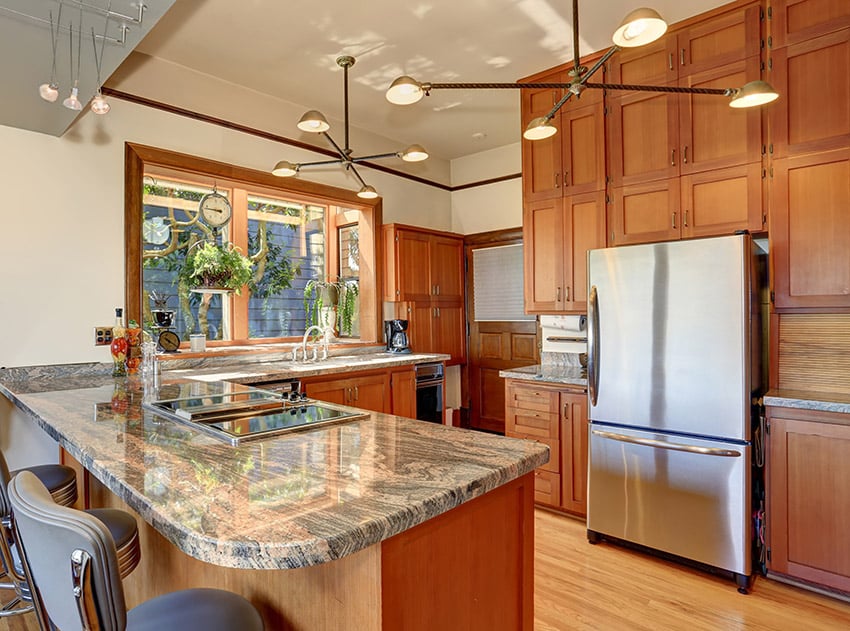 C and G shaped layouts are similar to the U-shaped layout, having the same counter space as well as storage options surrounding the cook on the three sides. Its difference is that a peninsula or partial fourth wall is added for additional cabinets. This area has a small opening where people can enter and exit the kitchen area. The kitchen peninsula can be utilized for hosting guests, serving meals, holding appliances, and functions as extra space for work.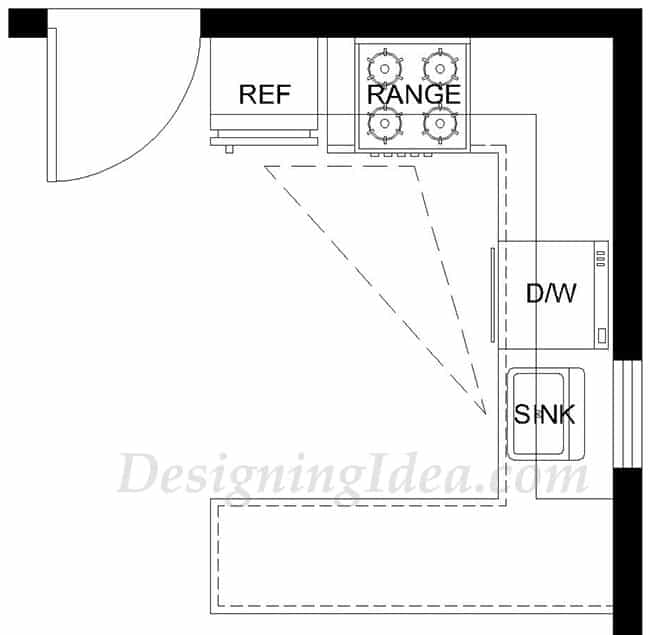 The image above shows an example of a C shaped kitchen layout with attached peninsula and a work triangle design.
The G-Shaped Kitchen is basically a u-shaped kitchen that has an extra, shorter fourth leg attached. The fourth leg is attached at an angle to one of the legs of the U. As this fourth leg is shorter than the other legs, it leaves a gap that serves as a natural entry point into the G-shaped kitchen.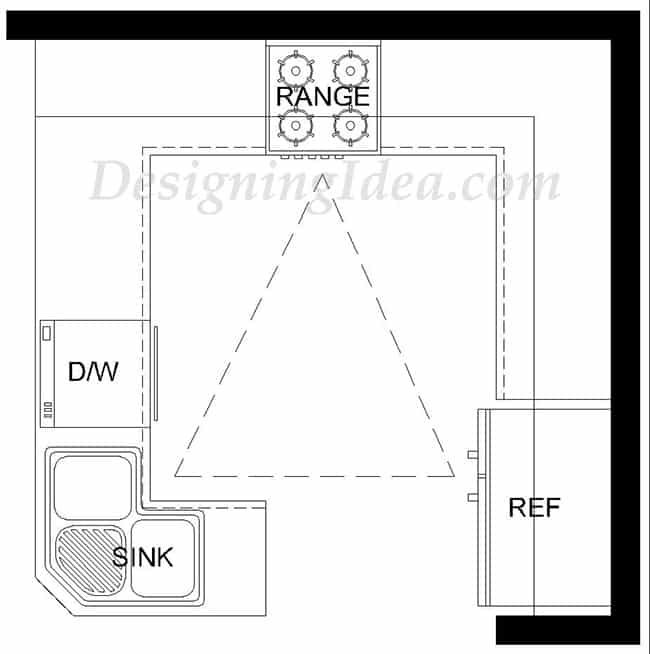 Like the U-shaped kitchen, the G-shaped kitchen is another great kitchen design for a household with multiple cooks. The fourth leg can be used as either an an extra work space or as a social and dinning area. A popular style to have for the fourth leg in a G-shaped kitchen design is to have it be a cut-out of half wall instead of a full wall so that it can be used as a breakfast bar where guest can hang out while watching the cooks work.
Galley Kitchens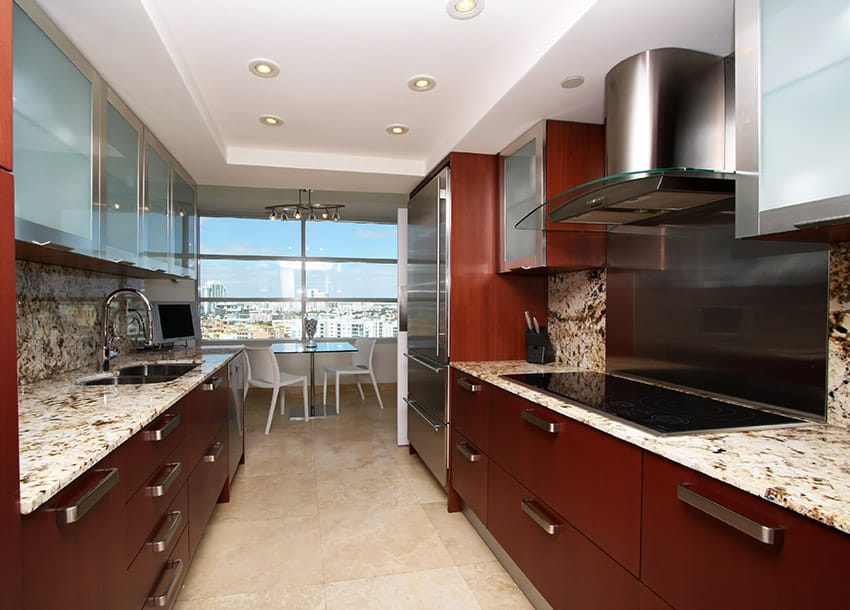 Galley or corridor style is the best type of kitchen layout for a small space such as what you would find in condo's, apartments or small houses. In the Galley Style Kitchen, you basically have two walls that are facing each other. These two walls are where you place your work areas. A third wall is kept open to allow access to the kitchen while a fourth wall is, just a plain wall.
While this kitchen can still follow the kitchen work triangle, it's not a very good layout if there will be multiple cooks working at the same time. Because the work areas in a galley –style kitchen are placed on the parallel walls, floor space is confined to a narrow strip of space or corridor between work spaces. Because of this, crowding can be a problem in a galley-style kitchen and it will be hard to have more than one or two cooks working at the same time. Also, a galley-style kitchen is ONLY a kitchen; there is no room for a dining area in this sort of kitchen layout.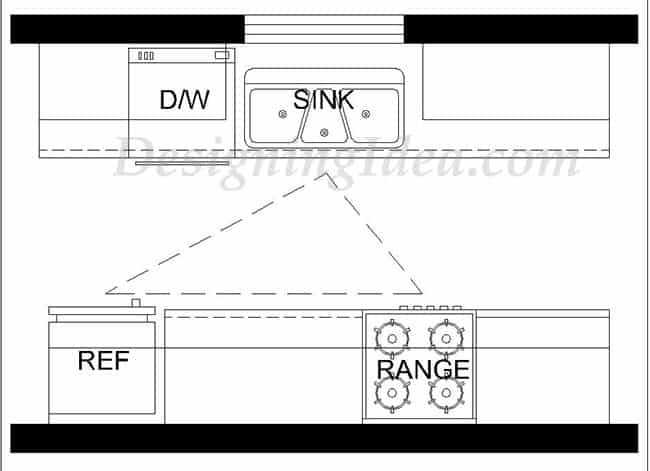 Traditionally, galley kitchens are narrow in nature. It features two parallel counter tops incorporating a walking area in the middle. This layout is efficient but has limited counter space which my lead to foot traffic. The space appears small that is why it is ideal to make use of light colors in the kitchen to have an open and airy atmosphere.
To make the galley kitchen appear bigger one will need to utilize white or stainless steel countertops, colorful backsplash, and cabinets with glass in the front. Dark colors may be used for cabinets, however you need to make sure to offset the color with neutral wall, light countertop, and good overhead lighting.
Open Versus Closed Kitchens
Many home buyers these days prefer an open concept kitchen design for entertaining and socializing with friends and families. An open concept layout is setup with a large room that is open to a designated dining area and living space. An open concept allows the cook to participate in pre-meal entertaining. While a closed kitchen provides separation from the main living space. A compromise of the two is a partially open kitchen also known as a transitional style which includes room for a kitchen and dining area together.
Open Concept Kitchens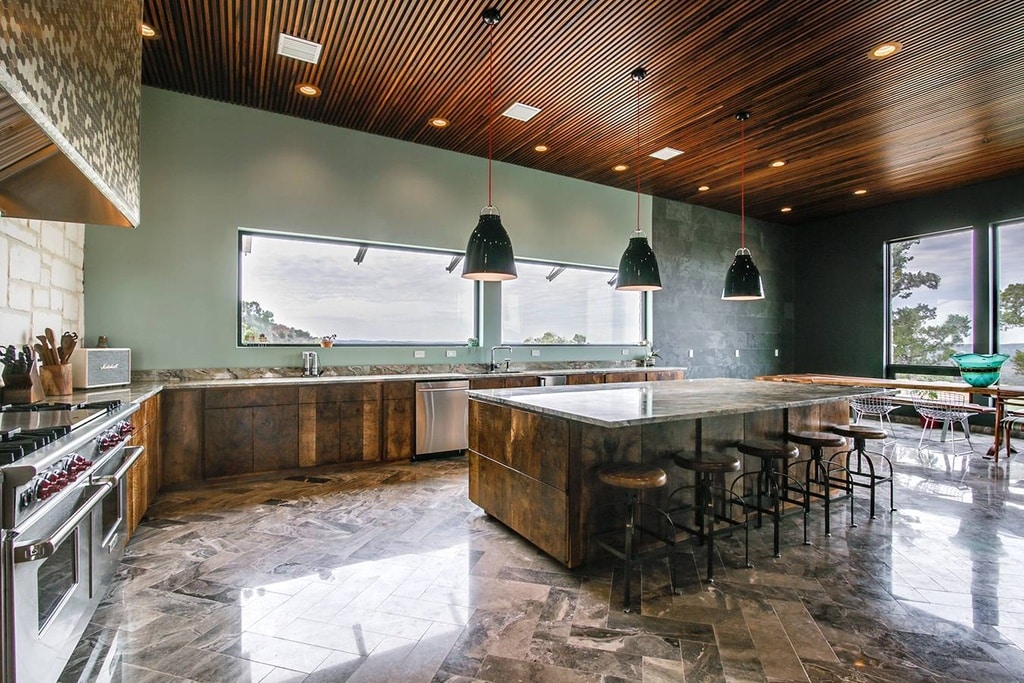 Open concept kitchens are very popular these days. The open concept layout generally includes a large living space that is open from the kitchen to the dining area or family room. This design layout is a great choice for those who like to entertain as the open design makes conversations and socializing much easier. In addition it is desirable for families with young children in order to keep them close by while preparing meals. The caveat to this is the open layout makes the necessity of keeping a clean kitchen much more important. See pictures of more open concept kitchens here.
Partially-Open Concept Kitchens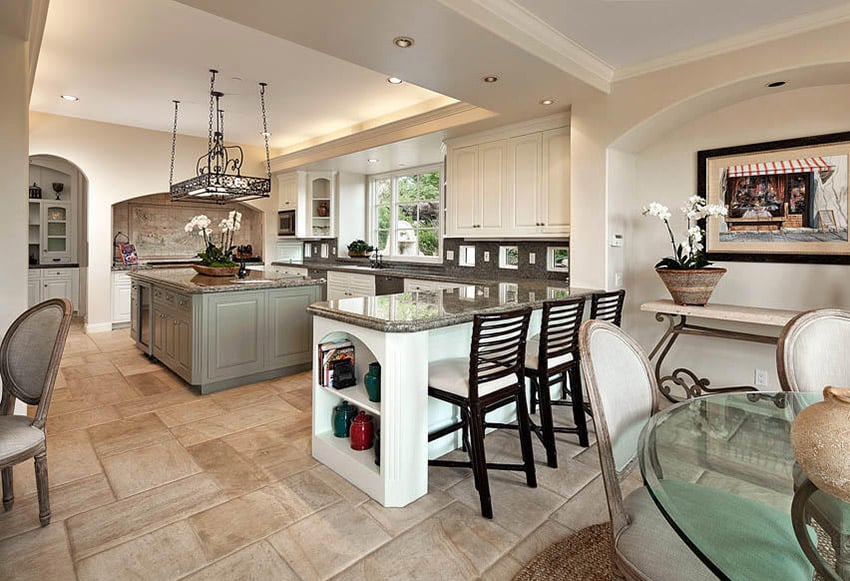 The partially open layout or hybrid allows open access to the dining room and is usually somewhat closed off by cabinets, peninsula and appliances.
Closed Kitchens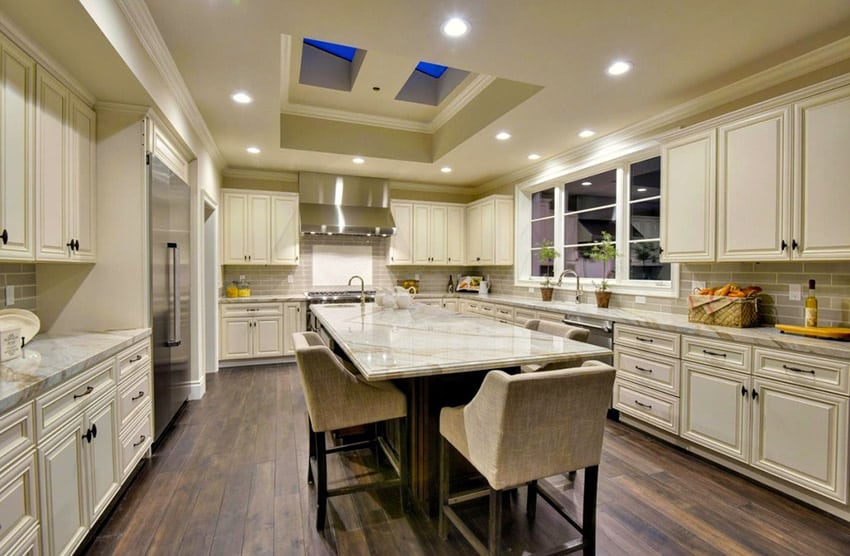 The closed kitchen design of this u-shape kitchen provides plenty of room for cabinetry and a great work triangle.
How To Choose From The Basic Kitchen Layouts
Below is a sort of kitchen personality quiz to help determine your personal wants and taste. When thinking about the layout you want to have in your kitchen, focus on answering the following questions:
• Who will be using the kitchen on a daily basis?
• How many people will be using the kitchen on a daily basis?
• What will the kitchen be mostly used for? Food preparation? Socialization? Eating? A mixture of two or more?
• Are you the only cook in the family?
• Do you have friends who like to cook?
• Would you like to have a dining area in the kitchen?
• Should the kitchen be separated from the rest of the house?
When you figure out who will be using your kitchen and for what the kitchen will be used for, it will be then be easier to figure out which of the following basic kitchen layouts you should use in your kitchen remodel. Of course, your choice will also depend on the size and shape of the area you are working with. After you have determined your basic layout you can move on to finish and materials.
Kitchen Zones
Organization is essential in the kitchen area. This can help the individual in making the food preparation or cooking a smooth one. The zones are regarded as the areas in the kitchen where cooking or working takes place.
The Kitchen Work Triangle: A Smart and Ergonomic Kitchen Layout
The basic and smartest kitchen layout plan to follow is to make sure that you have kitchen triangle. The kitchen work triangle is smart because it's efficient. It makes sure that you have enough space in your kitchen to make cooking easy and keep traffic to a minimum.
There are three major points on the kitchen work triangle and these are the three major work spaces: the preparation area (dominated by the refrigerator and work counter), the wash up area (the sink) and the cooking area (the stove). As a general rule of thumb the distance between these three areas should be no less than 4 feet and no more than 9 feet. The total of all the spaces between these points is about 12 to 26 feet. If the distance between these areas is too short, your kitchen area will feel cramped, if it is too large, you won't be able to move easily from one area to another.
The Work Triangle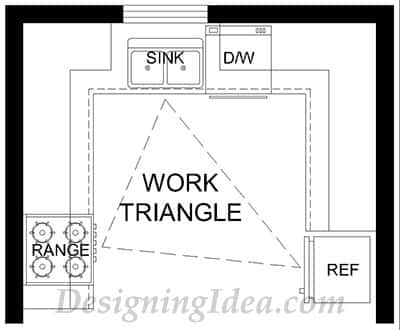 This is a concept used for the determination of the kitchen layouts. It is carried out by the sink or dishwasher, cook top or cooking range, and the refrigerator or freezer. The three points, including the imaginary lines in between, creates the work triangle. Its idea is to have the kitchen made for use with easiness and efficiently, granting that the three elements are in close proximity to each other but to very close. As a general rule, the distance between the three points must be from four to nine feet and the sum of the three sides should reach from thirteen to twenty-six feet. The working triangle is achieved in various layouts depending on the both of the preference and shape of the room.
Zone Design
The zone design is regarded as an expansion of the classic work triangle. It is the practical means of grouping the activities in the kitchen together according to organized spaces. This idea gives an allowance for multiple cooks as well as work centers.
The focus of the zone design is on the full scope of the appliances, gadgets, and plumbing fixtures. It as well considers other activities that may occur in the kitchen area including doing homework, entertaining, charging of mobile phones, and many more.
Below are the basic work zones that you can take advantage of for your kitchen:
Consumables zone – It is an area utilized for storing majority of the food. This may be divided into two sub-zones which are the refrigerator for storing fresh food and the pantry or food cabinets for storing oils and other dry goods.
Non-consumables zone – This spot is used for the storage of the dishes which are used each and every day. These dishes include the bowls, plates, silverware, and glasses.
Cleaning zone – It is where the kitchen sink and the dishwasher can be found. Washing of the kitchen materials and utensils can be done at this area. You may have your fridge situated near this zone for easy food preparation. Moreover, being near to the hob allow you to have easy access in draining the vegetables and pasta.
Preparation zone – It is the spot of the kitchen where majority of the kitchen preparation takes place. This can be featured with a kitchen island or a stretch of a countertop.
Cooking zone – It is where the oven, stove-top, or range is located. The microwave can also be possibly found in this spot. This zone is where heating, frying, boiling, roasting, or cooking happens. Be certain that you will be avoiding crossing the kitchen with hot pans and pots. Take into consideration to put the oven and hob close to the sink and to the worktops.
The purpose of dividing the kitchen according to different zones is to have proper place for storing kitchen items & utensils and to improve the flow of cooking.
Kitchen Colors
As part of planning your kitchen, it is important that you set the mood of the kitchen with the best color that suits your style and personality. You can transform the kitchen from bland to bold just by changing the kitchen paint colors. It is essential to take into consideration of the entire room when you plan for the kitchen colors and these include the floor, walls, cabinets, and countertops. You can read more about the latest kitchen color trends on this page.
Popular Kitchen Designs
Contemporary kitchen designs are always changing. What is in style this year may not always stay in style even a few short years in the future.
Take into consideration these top kitchen trends of 2018:
– Create one cohesive look – make certain that the kitchen designs match with the adjacent rooms.
– Have a shiny detail – the major details and pieces of materials in the kitchen are the pulls, knobs, and handles. Make sure that you will use the same materials for the entire room for uniformity and you may select either stainless steel, gold brass, rose gold, or copper.
– Over the top lighting – it is best to make use of a big round shaded pendants and an artisan lighting above the island, countertop, or dining table. This is to have the projection of a bold statement serving as the room's focal point.
– Range hood – use a wood or metal range hood above the stove to create a dramatic focal point in the kitchen room.
– Colorful appliances – the oven shed its shining steel skin when talking about highlighting commercial range stoves.
– Remember the sink – a textured farmhouse exteriors can add detail to the stainless steel sinks along with an automatic hands-free faucet.
– Show off the counters – quartz countertops can resist the spills, heat, and scratches.
– Use a backsplash – custom backsplashes which are in bold colors and patterns make the whole design become cohesive.
– Choice of color – white is popular however gray colors as well as soft hues like blue and green are also trending.
– The cabinets – mix and match the colors for customization to highlight every section of the room and making the cabinets appear more unique.
White Cabinet Kitchens
White kitchens are the cream of the crop whether the kitchens are designed with entire white or with a touch of another color. It never gets out of style because it is able to blend to any house. The white design shows cleanliness as well as freshness and these two characteristics best describes a great kitchen. Contrasting finishes can be incorporated like having a natural stone or hardwood flooring.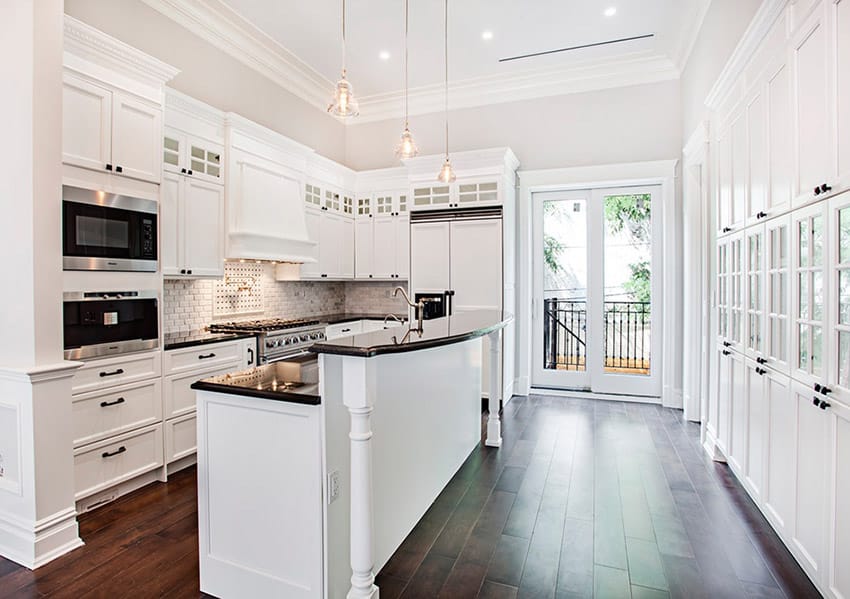 Check out our gallery of white kitchen designs
Dark Cabinet Kitchens
Stained dark cabinets add luxury to the atmosphere of the kitchen. They help in making the center island appear bright. These kinds of cabinets are best against the marble countertop. Dark cabinets work perfectly in big and open spaces where the colors of the walls are lighter. Have the interior of the cabinets colored lighter to have a good balance. Have a contrast with the floor for the creation of a lively space.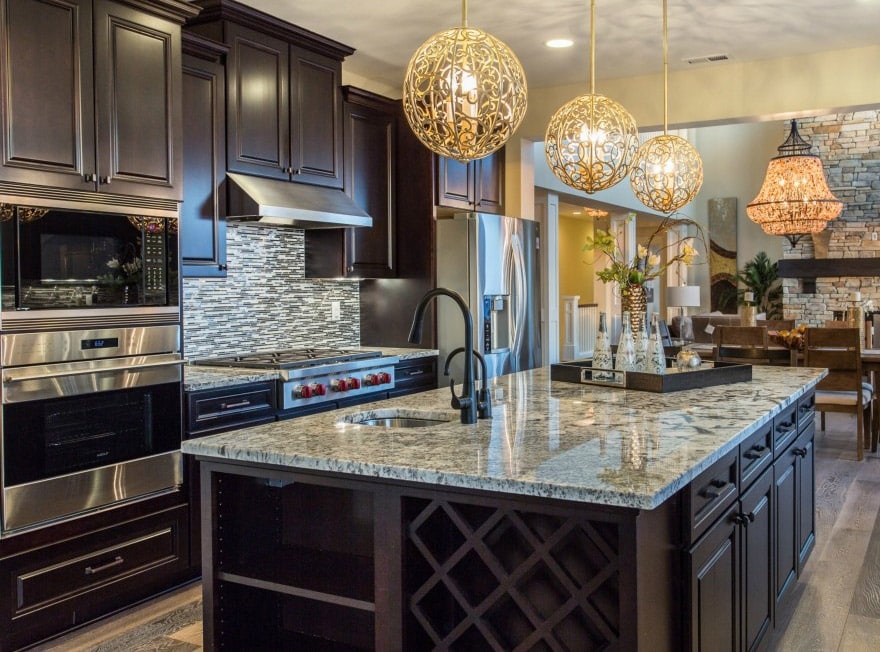 Check out our gallery of dark kitchen designs
Kitchen Budget Guidelines
As part of planning your kitchen, take into consideration your budget. Include in your goals in putting up the kitchen on how you will be able to spend less. You may be dreaming of a big kitchen as a portion of your house but make sure that you will be working on a good budget. It would not be a nice feeling accomplishing the kind of kitchen that you want and in return you have large amounts of debts.
When funding your project for the kitchen, you may take into consideration of these various financing options:
– Cash – Personal loan – Bank loan – Home equity loan or housing loan
It would be of great help when you talk to an expert who is a certified kitchen design professional. This person will certainly be able to help you out in establishing your priorities according to your budget. The expert will be of big help for your avoidance in spending large amounts which are not appropriate in a certain part of the kitchen.
Below are important steps to keep your kitchen project on budget:
1. Decide on the approximate budget. Once you decide what you want to spend make sure that will stick to it as you go along. Know for yourself how much you will be able to afford for each phase of your remodel project. Check your finances to determine the amount of money that you can handle spending.
2. Be knowledgeable of the breakdown of expenses. These expenses may include spending on the following: cabinets, appliances, fixtures, windows, fittings, and labor. It is important to know your personal preferences with regards to wall colors, cabinet doors, appliances, and other kitchen decor to avoid costly changes later.
3. Set aside 20% of your budget. It is important that you will be setting aside twenty percent of your budget because there will certainly unexpected expenses that will arise.
4. Have a list of the kitchen priorities. Do you have absolute necessity items you want to see in your remodel? Set aside money for things like new appliances and new cabinets so that you will have the wanted parts for the kitchen rather than less useful ones.
5. How will you get the funds required for the remodel. Have information regarding the details on how you will be paying for the project so you can know exactly how much to budget. This can include things like savings, company bonus, tax turn, personal loan or other else.
6. Will you live through the remodel? You should decide if you will be staying at home while the kitchen is still being done or you will be staying in other place. If you will be staying elsewhere, take into account the cost of the apartment or moving fees. If you will be staying at home, you may take into consideration of putting up a temporary kitchen in an adjacent room and be sure to have this as part of your expenses to be able to still work on your budget.
7. Add up all related expenses to add to the budget. Include in your budget the expenses for eating out like in the restaurants because you will definitely be eating a lot of time outside home when the kitchen is worked on.
8. Make a spreadsheet for your budget. Having a spreadsheet that you can frequently check will help you keep your budget on the right track.
9. Determine what you can do on your own. Some remodel work can be done on your own. doing it yourself will save the cost of labor and should be calculated at the beginning.
10. Make sure you avoid the extras. It's easy to be tempted to add other items which are not part of the kitchen design to the budget. Once you have a budget set, pay close attention to staying within it to avoid breaking the bank.
Kitchen Countertops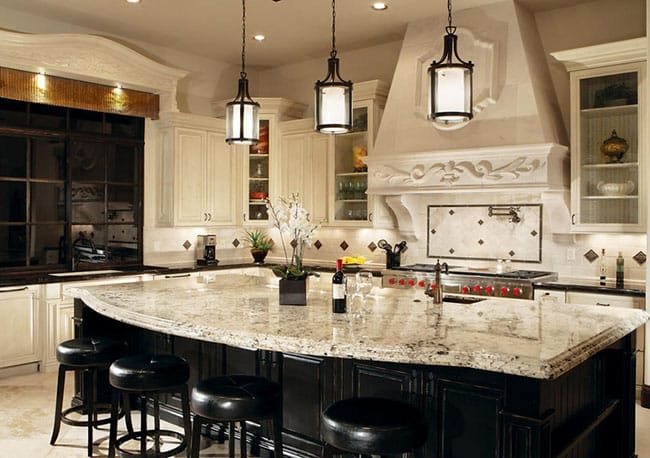 A countertop pertains to the horizontal work surface in the kitchen or food preparation areas. Usually, it is installed with the support of cabinets. Countertops are made from different materials with various attributes for durability, functionality, and aesthetics.
Countertops provide you with a workspace as well as a platform to place essential tools and appliances. They also offer you a nice, open surface where you can strategically display a few decorative items. While you can have a countertop in other rooms, they are an especially important feature in kitchens and bathrooms.
In a kitchen, the countertop is where you can perform necessary food prep, such as chopping vegetables, mixing ingredients, or rolling out dough. They also provide a stable surface on which you can use appliances such as blenders and food processors.
Types of Materials Used for Counters

There are several patterns, colors, and textures of materials that you can choose for your kitchen countertops. Below are the most popular materials used for countertops:
Natural stone
Natural stone is the most common material used for countertops in new home construction and it includes the following:
Granite – it is regarded as the most known natural stone countertop material. It comes in various colors that range from variegate browns and vibrant blues to midnight black, mottled white, and deep red. You can see a variety of granite colors for countertops on this page.
Soapstone – it is often dark greenish-black in color however the .lighter green-gray slabs are as well common. It is porous needed to be sealed with mineral oil for the reduction of stain.
Slate – an extremely dense stone featured in subtle colors including red, green, gray, black, and purple. It is non-porous and is of free maintenance.
Quartz – this is one of the hardest materials on earth making it perfect for a scratch resistant surface. Visit this page to learn more about the pros and cons of quartz countertops.
Marble – for a classic beauty natural marble counters are hard to beat. They are heat resistant and widely available. You can read more about the pros and cons of marble counters on this page.
Solid surfaces
Solid surface materials are made with 100% polyester, 100% acrylic, or a combined poly and acrylic. They are able to highly resist to scratches and stains. These surfaces can be renewed or repaired. You can sand out the burns and scratches as well as fill the deep gouges.
Plastic laminate
Plastic laminate is a hard-wearing material with durability that is able to survive for several years even in the toughest kitchens. It is made out from kraft paper which are impregnated with resins and they come is various colors, patterns, and textures. The ideal kind of laminate for the countertops is the 1/16-in-thick general-purpose.
Ceramic tile
Ceramic tile is low maintenance and may be used for secondary work surfaces. It is being applied to the plywood substrate or over the already-existing plastic laminate countertops.
Wood
Wood counters are usually made from hard maple also known as rock-maple, which is an extremely dense hardwood. Other sources of wood are from walnut, oak, teak, and cherry. The wood is fabricated with end grain, edge grain, or wide plank.
The finishing of wood countertops makes use of varnish or mineral oil. Wood butcher block counters are sought after by chefs due because they are beautiful and functional. However, wood counters due require more maintenance and care to keep their beauty after time and use.
Concrete
Concrete as a counter material is extremely flat and appears smooth. It is usually about one a half inch thick. To achieve the different colors, pigments can be added to the concrete upon mixing. The slabs are then honed and sealed once cured for the prevention of stain. Cracks are the major problems for concretes however this can be solved using wire mesh, fiberglass fibers, or metal re-bar for strengthening the counter.
Benefits of Different Types
Kitchen countertops are the surfaces that act as the workbench in the kitchen. Different kinds of countertops offer various advantages. Visit this page to read more about the types of kitchen countertops.
Laminate – it is affordable, can be maintained easily, and have a wide variety of patterns and colors.
Solid surface – it can be renewed with regards to scratches and cuts by blending out. It can allow the usage of integrated sinks wherein there will be no visible seams between the countertop and the sink. It is not porous and is available in several patterns and colors.
Natural stone – it has a natural beauty which cannot be duplicated by those made by man. If with proper maintenance, it is able to last long or forever. It has greater tolerance to heat compared to other countertop surfaces.
Wood – it has a one of a kind aesthetic appeal. It provides a warmer and good cutting surface.
Concrete – it can be made to various style, shape, or color. It can be incorporated to other decorative patterns.
Tile – it is durable and able to tolerate scratches and heat. It can resist to stains. It is cost-effective.
Kitchen Cabinets
Great kitchen design ideas start with the cabinetry you choose. Kitchen cabinet styles are basically sorted into several main categories, and the ones you will choose will determine your style of kitchen. If you are thinking about remodeling your kitchen its important that you carefully select your cabinetry as they will be a large part of the remodeling expense.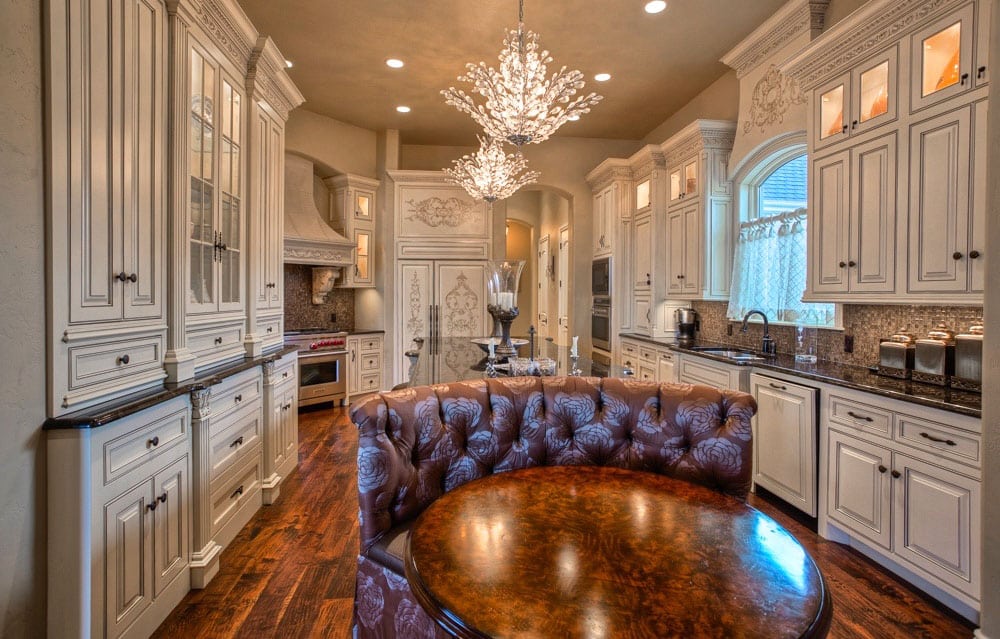 Kitchen cabinets are cupboards are chests of drawers that are utilized in the kitchen for silverware as well as for dishes. Its main function is for storage.
Cabinet Styles
The design style reflects your personality and lifestyle. There are various kitchen cabinet styles that you can choose from according to your preferences.
Casual cabinets – these are the best combination of tradition and modernity. It features a bright and airy atmosphere that adds comfort to blend your style aspects.
o Eclectic accessories – piece of modern art positioned beside a family heirloom
o Bold accents – adds a pop of color and provides a personal statement of design
o Architectural elements – simple arches or moldings are added to the entire design, structure, and form of the cabinet
Contemporary cabinets – its features are modern, sleek, and bold.
o Natural materials – making use of leather, aluminum, glass, or stone. These natural materials can be incorporated with the modern glass cabinet inserts.
o Few Accessories – it is sleek however bold. It is a modern hardware having simple and striking lines.
o Geometric elements – door styles need to incorporate to various shapes like circles, straight lines, or squares.
Rustic cabinets – usually used in cottages or lake homes however they also work well in houses that are inspired with nature.
o Naturally inspired decorations – it shows the wood grain to look natural.
o Worn, country antique looks – small cubbies are incorporated to present your pottery as well as your collectibles.
o Rough or faded paint – to create the rustic look make use of soft, work-looking colors like pale green for the cabinets.
o Pattern through texture – adding to the weathered woods, pattern and texture are incorporated with the use of cabinets.
Traditional cabinets – these are elegant, inviting and warm. It is ornate and decorative. Its design style maintains the refinement of balance and symmetry.
o Patterns and textures – it shows elegance.
Cabinet Finishes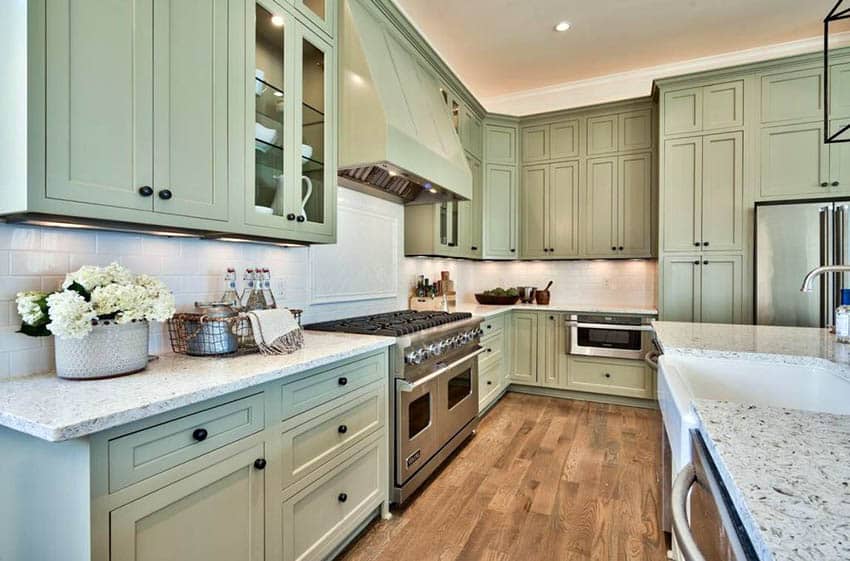 Every finish technique creates a one of a kind look of the cabinet. It gives a raw beauty, depth, and color of the wood. The finish makes the kitchen cabinet appear beautiful. It is important that the natural beauty of the wood is enhanced for the finish.
The topcoats must be durable and resistant to scratches. Moreover, it should be able resist household chemical and UV to be protected from normal wear and tear.
Stain finishes – the stain is evenly absorbed by sanding out the surface or the cabinet.
Glaze – it is a semi-transparent color added to stain to highlight and accentuate the cabinet door's carved details.
Paint finishes – it is started with the sanding process with the joints being filled to have a smooth surface. A primer coat is being sprayed for surface preparation for topcoat application.
Accent glaze – applied on top of the paint using a small brush. Its design is to accentuate the cabinet door's details without having to affect the door's base paint color.
Weathered – its purpose is to have the wood appear like it has been exposed to the sun, rain, and wind for years. Distressed cabinets is another look that has been gaining popularity over the last few years. This process of distressing cabinetry is not as hard as it sounds and can be done at home as a DIY project.
Heritage paint – it creates a series of old-world finish appearance. This is achieved with the use of layers of finish colors, glaze, and various techniques which are hand-distressing.
Heirloom finishes – creates an antiqued appearance.
Patina finishes – the outside edges and corners are air-brushed for the creating of the unique patina.
Cabinet Materials
Kitchen cabinets are made from several materials having some parts which are manufactured from different combinations in order to give cost-effective and durable results. Below are the most common materials used in making the cabinets:
Medium density fiberboard – it is an engineered wood that is strong and durable. With its resistance to warping, a smooth surface is created which is ideal for laminating, painting, and veneering.
Particleboard – it is made out from wood chips or shavings which are pressed into the boards. It has great stability with resistance to shrinking and warping that are commonly caused by humidity.
Hardwoods – A few of the most popular hardwoods used for cabinets are alder, oak, maple and cherry.
Cabinet Prices
Stock cabinets are pre-made and these come in detailed shapes, styles, and finishes. Majority of these depends on the shape and size of the kitchen as well as the entire linear feet of cabinets that are needed.
Basic cabinets, including the top and bottom, for a kitchen with 10×12-foot size usually cost about $4,000-$5,000 and above and this does not include installation of the countertops.
Semi-custom cabinets are built following the placement of your order. They are approximately doubled to the cost of the stock starting at $8,000-$10,000 with costs increasing for hand-crafted finishes, glass fronts, exotic woods, and intricate trim patterns.
Custom-made cabinets for particular designs cost about four times the stock prices from $16,000-$20,000 and above, without the installation and countertops.
Cabinet Door Options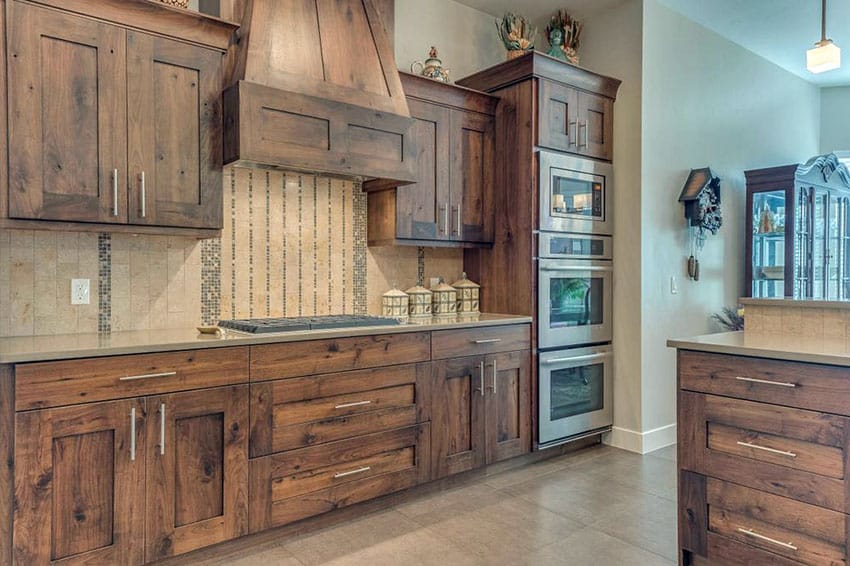 The cabinet door style needs to work with the design and theme according to your preference.
Flat panel – the center panel is flat and these doors are preferred for sleek and clean designs. This can be used in practically any style such as transitional, traditional, and contemporary.
Raised panel – the center panel is being raised with a contour or profile. It works best for transitional and traditional looks.
Slab – it is a solid door without a panel or frame which is used in contemporary and transitional designs.
Mullion and accent – it is not used for the whole kitchen however it serves as a decorative accent including the mullion doors, glass doors, louver doors, leaded glass doors, aluminum frame doors, and many more.
Cabinet Construction
The ways kitchen cabinets are built vary depending on the manufacturers however they conform to the two basic design styles.
Framed construction – the cabinets are incorporated with wood frames around the front outer edges of the cabinet box. The face frame offers rigidity to the cabinet box which helps to remain the box sturdy and square. Framed cabinets have door overlay wherein the door is covering the face frame.
Frameless construction – it is more accessible because there is no inside edge of the frame that could partially block the perimeter of the opening of the cabinet. Its amount of space is greater because of the bigger drawer box.
Cabinet Refinishing
Refinishing the kitchen cabinets helps in livening up the living space and increasing the value of your home. It is a simple and inexpensive activity for the transformation of the kitchen to a favorite spot for gathering. Make sure that you have the right tools and supplies. After completing the needed supplies, remove the cabinet doors, handles, drawer faces, or other hardware.
Do not forget to put labels according to their placement in the cabinet boxes. Thoroughly sand off the finish using an electric hand sander and heavy grit sandpaper. This is for the first sanding because finer sandpaper will be used for the second sanding.
Following the sanding process, apply the stain using a rag by rubbing in to the wood. Refinishing is an amazing way of getting a fresh, new, and real-wood look to your cabinets in the kitchen which you cannot achieve using the paint.
Kitchen Flooring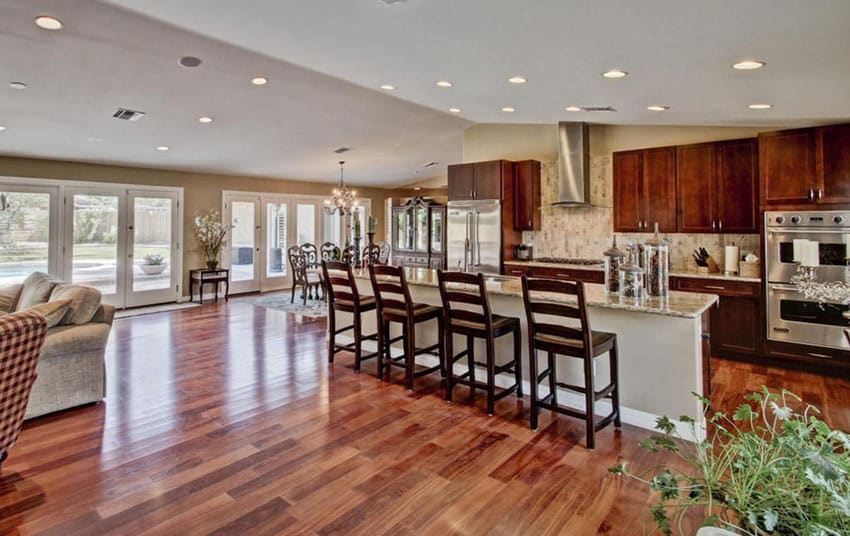 When it comes to kitchen flooring there are many choices. Each type has a variety of features and benefits to consider. Below we've compiled the most common pro's and con's of each kind of kitchen flooring so you can determine what's best for you.
Solid Hardwood
Natural hardwood flooring is gorgeous and feels great underfoot. There are a variety of types to choose from. Most commonly solid wood flooring comes in cherry, white ash, ipe, hickory, pecan, maple, red maple, oak, and red oak. Exotic varieties include Tigerwood, Brazilian Cheery, and African Teak.
Those who buy unfinished hardwood can then stain it any color they want, or leave it in its natural state. One thing to consider is that hardwood is very sensitive to moisture and for this reason a clear topcoat is usually applied after sanding and staining if desired.
To install hardwood it often comes as single pieces of wood with tongue and groove inserts. Since its a natural product it will expand and contract due to changes in the seasons. In the winter when homeowners run their heaters wood flooring can contract and create gaps in between the planks.
Engineered Wood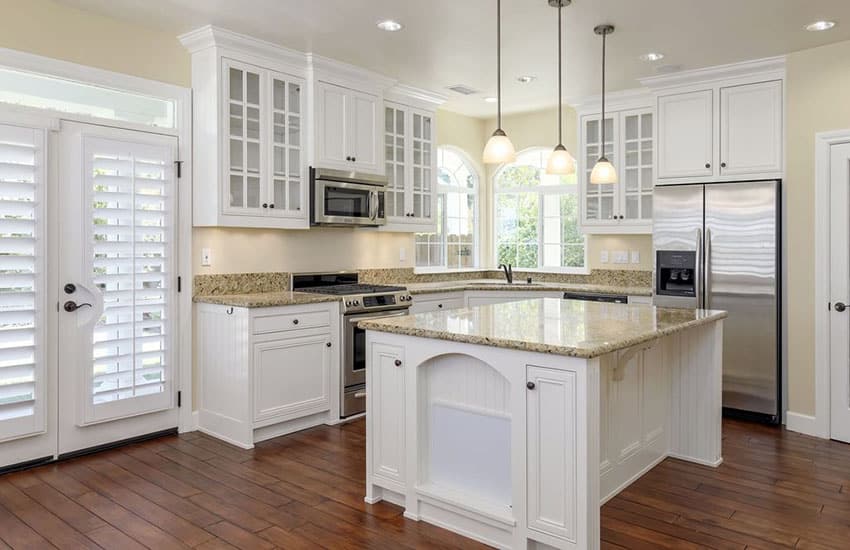 Like hardwood, engineered wood is made up of three or more layers of material that are glued together with a top veneer layer. Usually sold in long planks, engineered wood flooring is more resistant to heat and moisture issues than traditional hardwood. In addition the price point is generally lower.
Since engineered wood planks fit together, installation can really be a snap. These planks are often between 3 and 7 inches wide and in lengths from 7 to 8 feet. They are generally around 3/8 to 3/4 inches thick.
Laminate
Laminate flooring is similar to engineered wood and is manufactured to look like real wood. Laminates can look very much like real wood with the same graining and textures found in natural products. They contains four different layers that are fused together to create a durable material. The four layers are a wear layer, design layer, inner core, and a backing.
Laminate flooring is often a great choice for those who are budget conscious and want something that is both durable and beautiful. Laminate flooring is easy to install and manufactured to look just like real wood. When installing laminate there is no nails or glue required making it an ideal project for the DIYer.
Ceramic, Porcelain and Stone Tile
Tile is durable and makes a great choice for the kitchen. Ceramic, porcelain and stone tiles are frequently used in kitchen flooring projects. Out of the three, ceramic tiles are typically the most inexpensive. Porcelain is priced in the middle with natural stone at the top when cost is considered.
Porcelain tiles are actually a subset of ceramic tiles. Regular ceramic tiles are made using a combination of clay, sand and other minerals. Porcelain tiles are created using mostly sand and other refined materials under higher amounts of heat and pressure during the kiln firing process. For this reason porcelain tiles are more dense than ceramic tiles.
Some of the most popular types of natural stone tiles include marble, limestone, travertine, slate, and granite. Natural stone is quite durable, but even so the stone should be sealed periodically to maintain its beauty.
Vinyl
Sheet vinyl, vinyl tiles and linoleum, are considered soft flooring that provides durability, and long lasting performance. Vinyl flooring is offered in a wide variety of patterns, colors and textures. With vinyl tiles you can mimic the beauty of natural stone such as travertine, slate, and marble or get the look of wood floors. Some of the main benefits of vinyl is its easy to clean, low cost, and easy to install.
Installation of vinyl flooring can vary, however it is often installed with a "loose lay" procedure. This means the vinyl can be layed down without adhesive making the process quick and hassle free. When installing it is common to alternate colors or designs to create a patterned floor.
Kitchen Islands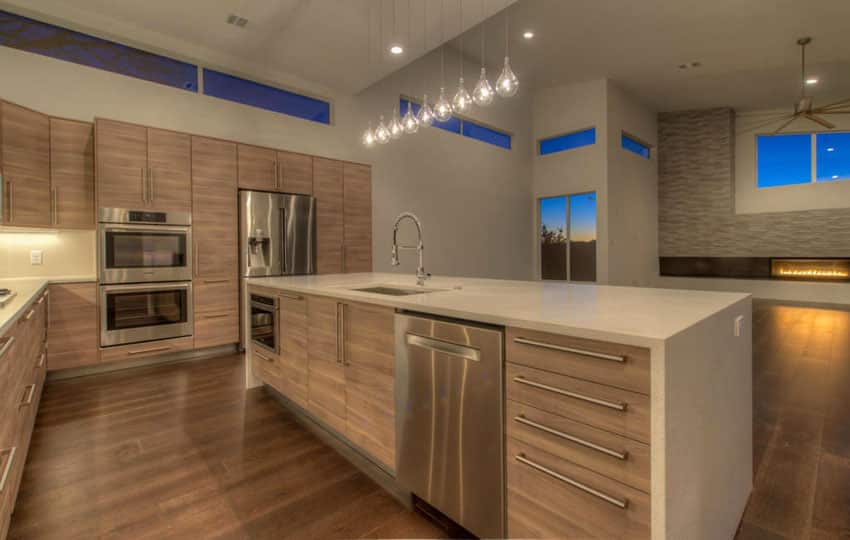 Kitchen islands look attractive, and offer great potential for food prep, storage and eat-in dining. If you are fortunate to have a large enough space to accommodate a kitchen island there are several varieties to choose from. Below are some of the most popular types and functions offered by popular kitchen island designs.
Built-In Island
Eat-in Dining Island
Island With Cooktop
Island With Sink
Two-Tier Island
Butcher Block Island
Irregular Shaped
Portable Island
How to Measure Your Kitchen
Measuring your kitchen is important when you do the kitchen project. Below are the steps in ways of measuring the kitchen.
1. Make sure of the accuracy. It is necessary to make use of a tape measure, straight edge, and a graph paper.
2. Do the measurement clockwise. Have a recording of the total length of every wall starting from the right portion around the room. Do not forget to label the walls, doors, and windows using numbers.
3. You must have the width and the height. Have the horizontal measurements of walls. The vertical measurements would include the following: floor to windowsill, windowsill to window top, window top to the ceiling, then floor to the ceiling.
4. Look for your center. Have an indication of the center line of all permanent features in each and every measurement like the wall oven, sinks, range, doors, windows, closets, ducts, and outlets.
5. The trim should be included. Upon the measurement of the windows and doors, the casing must be of consideration as part of the door or window. Do the measurement from one side to the other of the door or trim of the window and then from the outside of the trim to the middle part of the door or window.
Hiring a Kitchen Designer
Even if you like DIY, for a kitchen renovation, it's best to swallow your pride and shell out some money to talk to an experienced designer beforehand. A kitchen remodel can be costly, complicated and time consuming. An experienced kitchen designer will know a lot of tricks to get the most of your space and will also be familiar with cost-effective materials and could even point you out to good local contractors and suppliers.
A kitchen designer will also have the inside scoop on new trends and materials, and will be aware of the building codes in your area. Their expertise can keep you from making a costly mistake.
The best way to find a good kitchen designer is to ask around from friends and people you know in your community. You can also find a good designer through on-line listings and through the National Kitchen and Bath Association's website (nkba.org).
When you find a likely designer, make sure you ask to see samples of the designer's previous work. Tell the designer about the ideas you have and the styles you want to incorporate and ask if they've done that particular type of project before. Better yet, ask if you can see an example of that particular project. This will enable you to better gauge if the designer is a good match for you and your idea of your dream kitchen.
When meeting a designer, it's best if you have an architectural rendering or to-scale drawing of the existing kitchen to show them. The plans should show then the locations of windows and doors as well as heating, electrical outlets and the plumbing. You should also be prepared to tell them your ideas for what you want in your dream kitchen.
Even during the initial meetings, it's best to be very specific and clear about your ideas and what you wish for your dream kitchen. This is to ensure that you and your designer understand each other from the start. Have a wish list of everything you want to achieve through the remodel.
Another good thing to have and to show to your designer would be an idea folder or scrapbook. Have pictures of kitchens and articles on kitchen features that you think that you would want to have in your kitchen. You and your designer can then begin discussing about the feasibility of these features in your space.
Aside from telling the kitchen designer what you want to have in your dream kitchen, you should also tell them how much you are willing to spend. They will be able to tell you if your dreams match your budget and suggest alternatives that can still get the effect you want within the budget you are willing to spend.
How to Hire a Good Contractor
Getting the right contractor can make or break your kitchen remodel. A general or construction contractor is the project manager of your kitchen remodel. They are the ones who will oversee the project and see to the day-to-day tasks of making your dream kitchen a reality.
A good contractor can also help you get the materials you need and place you in contact with skilled workers who can get the job done. Most contractors take the responsibility of hiring subcontractors for jobs such as electrical work or plumbing.
Though they might not be doing the hands on work, they need to be on-site to ensure the work is being done correctly and on schedule.
A good contractor is the key to getting your kitchen remodel done efficiently. They can take a lot of burdens of your shoulder. It is important that you choose a contractor you like and trust. Look at more than one contractor, tell them about the job and what you want. Ask them a few questions to gauge what it might be like to work with them.
Questions to ask your contractor:
• How long have you been in the business
• Have you handled similar projects to mine? How many?
• Who else will you have working on the project (subcontractors)?
• Are you licensed and insured?
• Can you provide me with references?
The last question, about references is especially important. When you are considering a contractor, it's important that you consider their work as well. By asking them for references, you are in a sense asking them to prove themselves to you through their work.
A good reputable contractor should be able to supply you with references. Make sure that you get the most recent ones and then call them up to ask how the contractor was on the job.
Questions to ask your contractor's references:
• What are their work habits like? Did they show up when they said they would? Were they present on site to supervise?
• Did they follow the plan you outlined with them before you started the job? If any changes had to be made did they discuss it with you first?
• Did they manage to stick to a budget?
• Did they stick to a schedule?
• Were they good in a crisis? Did anything go wrong on the job and were they able to fix it quickly?
If you can, ask your contractor if you can see a job that they have in progress. Going to a job site, you can learn a lot about your contractor. You can see how they actually work and better gauge how committed they are to the quality of their work. Seeing a sample of their half-finished work will allow you better to see any potential flaws and problems better. The best contractors, with good reputations are often the ones with the most projects, so be prepared to wait for quality.
Tips To Saving Money On Your Kitchen Remodeling
With any kitchen project, it is vital to consider these important tips to be able to keep your budget on track.
1. Begin by having a complete design plan. It needs to be comprehensive and detailed. Part of this will include the direction of the cabinet doors or where the refrigerator is placed. Have an estimation of the total cost for the project. You must also have a time frame in working on the project so that you will have a goal as to when the project in making the kitchen be finished.
2. The biggest investment you'll encounter is in your cabinets and appliances. You may order them ahead of time because it often takes four to six weeks before they are delivered. Also, ordering in advance may give you the chance of getting a discount. Another consideration is where you should store the cabinets when not positioned in the kitchen. Most home builders recommend store them in a garage or any room where there is no moisture.
3. Only do upgrades when necessary because the cost will add up if you keep changing your mind. You may reach the end of your budget from unnecessary upgrades preventing you from keeping everything you want.
Think less about the kitchen you want and more about the kind of kitchen that you need. While it might sound great to have a big spacious kitchen with a dinning nook and a breakfast bar, if you are not going to be using these features, why insist on having them?
Think about your life style and the available space you already have in your home when thinking about the kitchen layout that you are going to go for. Ask yourself, how many people will be using the kitchen and what will you be using it for?
Try and work with your current kitchen structure. If you already have an L-shaped kitchen, is it necessary to add another wall so that it is a U-shaped kitchen? If you can keep the existing features of your kitchen intact, there will be no need to redo plumbing and electrical work which can be costly and time consuming. You can also just redo or fix existing features such as cabinets, windows and doors.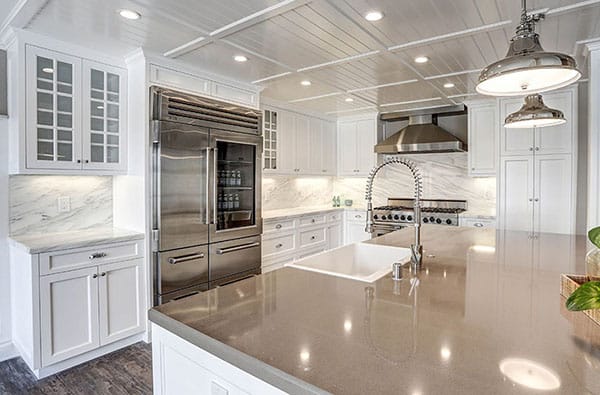 Consider the appliances that you will purchase for your kitchen. Once again, if the appliances that you already have are in good working condition, consider keeping them. However, the remodeling period is also the best time to get new appliances that will be more aesthetically pleasing, work well, and also create a more productive kitchen space.
Energy efficient appliances are always a welcome addition to any modern kitchen. If you pick appliances that are easy to operate and clean you can keep maintenance costs in your kitchen down. Also, try and pick appliances that you will really use. If you do not see yourself using an expensive kitchen gadget often, then it does not matter how time saving or energy efficient it is. An appliance you are not really going to use will just take up space and clutter up your kitchen.
If you can keep your existing kitchen lighting, do so. But if you are going to add more lighting consider using contemporary track lighting. Installing recessed lighting can be a bigger project then most people anticipate. To install recessed lighting in your kitchen, you will need to cut holes in your ceiling so that you can add electrical wiring. While recessed lighting is currently in style, there are many choices for contemporary track lighting that are also in demand. Contemporary track lighting can come in many styles and shapes that can suit your particular kitchen style.
Save on cabinetry. As we mentioned, if your existing cabinets are in good condition, there is no need to take them out and have new ones built. Just have them resurfaced or painted. If you really do want to add additional new cabinets, try to avoid custom cabinets which can cost a lot of money and will also take a lot of time to assemble. Ready-to-assemble cabinetry is more cost effective. They are also easy DIY projects so you will not need to hire someone else to come and install them.
Stock cabinets are also a quick and cheap way to get new storage space into your remodeled kitchen. Stock cabinets can come in many designs, shapes, sizes and colors and you are sure to find a few pieces that will suit your particular dream kitchen design. You can use kitchen cabinet design software to layout your floor plan and help visualize your finishes, appliances and storage space.
Be clear and specific on the materials that you want to use in your kitchen, this is especially important when you are talking with a kitchen designer or with a contractor. Think about every detail before hand, such as what flooring you want, what kind of countertop, how much storage, what kind of lighting, etc. There are now a lot of basic and inexpensive materials out there that would look nice in your kitchen and are easy to care for and maintain.
Do some research beforehand on the pros and cons of the various materials that you are considering using for your kitchen features, where you can get them and how much they would cost. This will help you to estimate the cost of the entire project better and enable you to stay within your budget. Also, if you don't specify materials, there is a chance that a contractor – left on their own – might use all high-end materials that will bring the project over budget.