This gallery is a collection of 50 high-end dark wood kitchens – most with spacious designs and open layouts. These kitchens feature a variety of styles from contemporary to modern and traditional. These open-plan kitchen designs offer darker wood cabinets with materials chosen to match.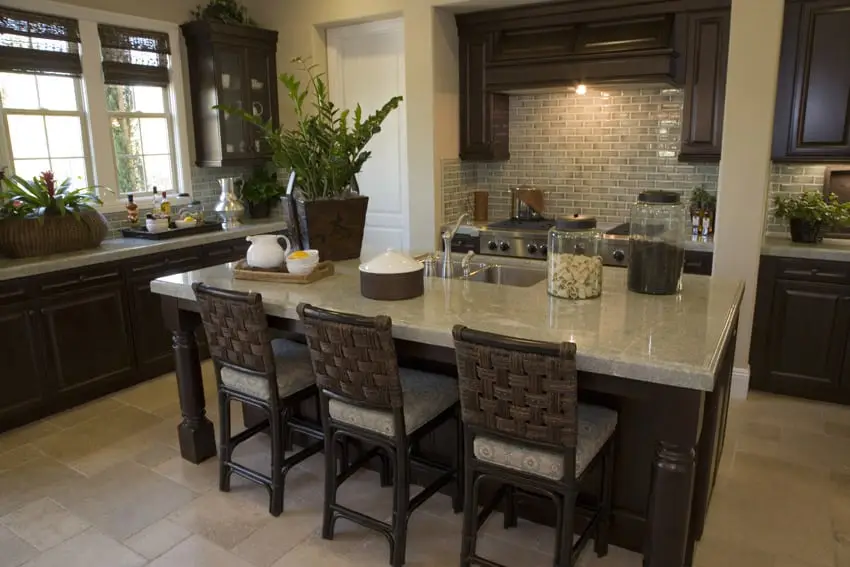 The pictures highlight ways to incorporate dark wood cabinets with flooring and countertops to create a feeling of luxury, and warmth. Dark wood kitchen cabinetry when combined with a light granite countertop or backsplash can really stand-out and make an impression. Below you'll find beautiful dark wood kitchens from top interior designers and home builders.
The kitchen shown in the picture above offers an inviting eat-in dining experience that is ideal for entertaining and spending time with friends and family. The rich dark cabinetry is custom crafted and topped with light granite. The large rectangular kitchen island has a built in sink and a great design for food preparation with easy access to the 6 burner stove.
Kitchens nowadays come in a variety of styles and applies diverse types of materials and finishes available in the market. Because of the wide array of styles and finishes to choose from, one can easily get confused as what to choose, and the decision will definitely boil down to taste preference and the look you are going for.
Some people prefer plain, solid colors for their kitchen, some others prefer the warm feel natural wood finishes are able to give. Solid color finishes gives a cleaner, more modern look, while wood finishes gives a classic natural feel to the kitchen.
If you do decide on choosing wood finishes for your kitchen, you would then have to choose from different types of wood colors and finishes, which can be quite overwhelming for some, as wood finishes are also diverse, with a variety of undertones and grain patterns.
For a more modern look, people usually gravitate towards lighter wood tones like maple or beech, but for a more classy, sophisticated feel, darker wood finishes would be the best choice.
Dark wood finish on your kitchen tends to give it a more mature, mysterious look. It exudes a sense of luxury and elegance, as dark wood finishes were often used on classic interiors and furniture pieces, especially on baroque period furniture, as well as Medieval age furniture.
As such, using darker wood finish on your kitchen gives it a more classic vibe and a timeless appeal. Some people tend to be quite intimidated with using darker wood finishes on their kitchen as they feel it could like a little too heavy or old.
However, with the right combination of finishes, natural and artificial lighting, as well as layout, you will be able to achieve a variety looks and styles using dark wood finishes.

Dark Wood Cabinets
To get the beautiful rich look of dark wood cabinets many different types of woods can be used. Generally hardwood is stained the color you desire and made available for purchase, or you can seek out a custom cabinet maker to get the exact color you want.
The type of wood used for dark wood cabinets can depend on what is available in your area. Popular woods for creating a rich dark cabinet are hard maple, oak, cherry, mahogany, bamboo, birch or walnut. As a cost saving measure a thin veneer of hardwood placed over a substrate surface such as plywood or other inexpensive material is often used.
When using dark cabinets its important to pay careful attention to lighting. Large windows will help provide natural light to keep your kitchen from appearing too dark. To compensate good indoor lighting is essential. rooms with dark cabinets and taller ceilings will call for more light fixtures. Installing lighter color countertops and backsplash that is light reflective will also help your dark cabinet kitchen from feeling too dark.
When designing your kitchen you'll want to ensure that all elements flow cohesively together. If you're doing a remodel get samples of all the materials together to make sure they match each other. Choosing your countertops first is frequently done due to natural stone tending to vary in color and pattern. After selecting a countertop you can have an easier time matching wood stains, paint colors, hardware and other finishes.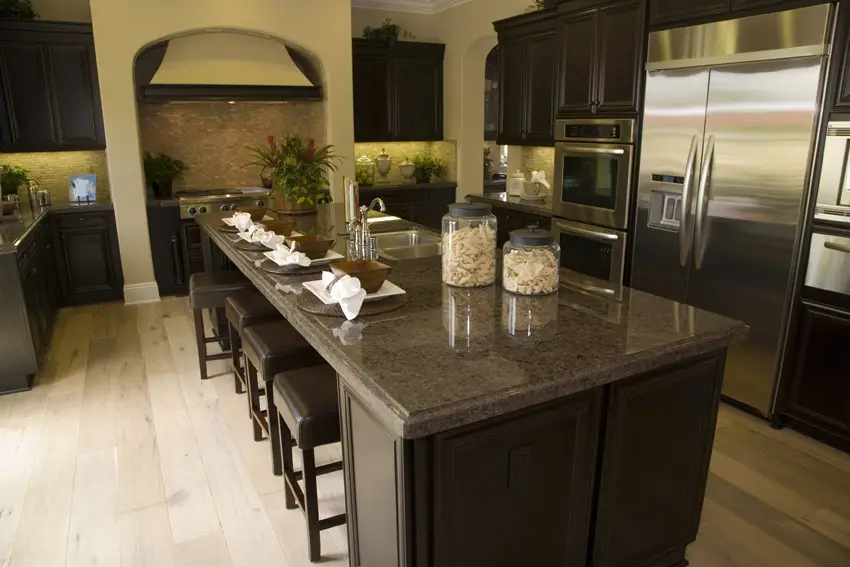 The soft brown used to stain the kitchen cabinets gives this kitchen a rather welcoming appeal, as the shade used is very much reminiscent of milk chocolates.
The granite countertop used throughout the kitchen is also a perfect match because while it has a purple undertone, the soft washed-out color it has is very similar to the stain on the base cabinets.
Natural light, light maple floors and light cream mosaic backsplash balances the dark wood used on the kitchen cabinets, making the kitchen space look bright despite using dark toned wood.
Kitchen Paint Colors
In general, a lot of paint colors work for dark colored kitchen cabinets. Especially if your main material is solid wood, both ends of the color spectrum can be used to either complement or contrast the look of dark kitchen cabinets.
Selecting the right kitchen paint color can get quite confusing once presented with a wide range of choices. Paint comes in endless shades and color, and each one produces a different effect to the overall look of your kitchen.
However, there are a number of key tips which you can use as a guide in selecting the right paint color to with your dark wood cabinets.
Please choose whether you want to blend or contrast: Light and dark paint colors can either enhance the luxurious look of wooden cabinets or tone down its richness.
It all depends on the effect you want to achieve and the main aesthetic attribute that you want to stand out, whether it may be harmony or contrast. This is always the first step to choosing the right paint color for your walls and to formulating a well-balanced color palette for your kitchen.
Use the undertones of the wood as a color guide: For dark wooden cabinets, you can use the undertones of the stain color or the natural color of the material as a complement.
Wood is never in one solid color like dark brown, tan or espresso. It typically has a base color and can be noticed once examined closely.
Dark wood with warm undertones usually have a yellowish base, reddish tones or an orangey tinge, while those which have a cool undertone have shades of gray-casted over their surface. Choose paint colors which belong to the same color temperature.
You can stick with a few principles of basic color psychology: Colors are known for influencing us in so many ways – from our moods, behavior, emotions. Studies even show that even the way we perceive food is affected by the colors that we use for our kitchens.
Some colors are perceived to be not ideal for kitchens simply because they do not stimulate your appetite or promote hunger.
Cool hues like blues, greens and purple are perceived to be appetite suppressants because of their calming effect, while the bright intensity of red is known for enticing one's appetite. The warm shade of red makes kitchens appear livelier, especially if it is dominated by a gloomy dark color.
If you want to use this approach in choosing a wall color which will go with your dark kitchen cabinets, opt for saturated versions of red as too not make your room too shocking or overwhelming.
Keep in mind that there is also no strict rule for choosing the right kitchen color – only guides to help you eliminate the guesswork. Kitchen colors can be selected according to one's personal taste and the look that you aim to achieve for your home.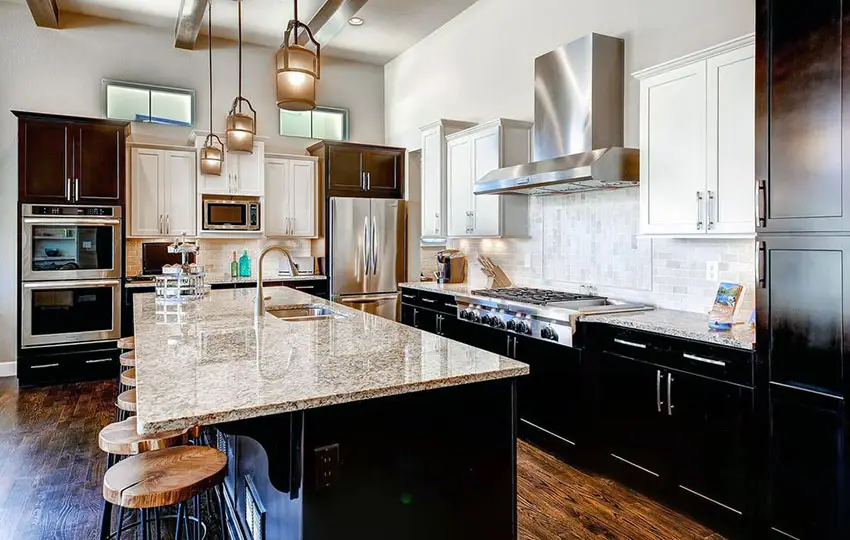 Here are some paint color choices which you can explore for kitchens with dark cabinets:
Create contrast with beige's and white – Aside from "black and white", white and brown is also another classic pairing for both interior and exterior applications. The neutrality of white provides a stark contrast against deep stained woods. Also, when paired with dark wood cabinets, a white wall can enhance the undertones of wood, making it appear brighter.
Dark colored kitchen cabinets and bright white walls are also prevalent in most modern kitchen settings. In fact, it is considered as a fail proof color combination for contemporary and ultra-modern homes.
The crisp color of white combined with the richness of dark wood create a striking look that is best paired with streamlined cabinetry, sleek furniture pieces, granite countertops, brushed metal hardware and stainless steel appliances.
This classic color combination also provides the perfect opportunity to introduce pops of colors into an interior. If you want to make this color combination more interesting, add another accent color through your accessories, lighting fixtures, soft furnishings or furniture.
Beige, on the other hand, is an alternative to white. Some homeowners can find white a bit too plain or dull looking. Compared to the bright, crisp color of white, beige had a more creamy tone and has a slightly yellowish tinge. This yellowish tint creates just the right balance of a cool hue and a mellow warm undertone.
Beige also works well with dark cabinets as it creates the same effect that white has while leaving a cozy and inviting atmosphere to a space. Beige walls and dark cabinets are also well suited for traditional and country homes especially when paired with a stunning light colored natural stone countertop.
Beige and white walls also work like a blank canvass that enables you to formulate any color scheme depending on your personal taste and preference.
Mixing and matching accessories, finishes and other materials for your appliances, countertops, flooring, hardware and fixtures is easy since you are dealing with two neutral colors which are dominant in your palette.
A beige or white wall also does not compete with the richness of dark wood cabinets. So if you want to make your cabinetry and millwork the main focal point of your kitchen, then this is one of the colors you can explore.
Also, if dealing with a limited amount of space in your kitchen, this is also the perfect paint color for you. White, beige and other light colors tend to create an illusion that makes rooms appear bigger and more spacious. If you already have a small kitchen with dark cabinets introducing a white or beige colored wall will help you make the space less heavy on the eyes.
Aside from white and beige, there are also some other shades that belong to the same color family which can go well with dark cabinets.
This includes floral white, off white, ecru, pearl, alabaster, ivory, snow, ghost white, seashell white, frost white and cream. Most paint brands offer endless choices when it comes to the color white.
Enhance with Grays – Gray is another neutral color which is well suited for dark cabinets. It is considered as the new alternative for white by most designers and homeowners. For those who find white too dull or boring, cool gray is the perfect substitute.
Gray comes in different shades, both light and dark and can be paired with a wide variety of colors. It is good base color for kitchens which makes mixing and matching accessories easy.
The color gray is also known for lending a quiet strength to spaces. With the right shade, it creates a dramatic effect – one that is mellow and not overwhelming. When paired with dark kitchen cabinets, gray can either create contrast or harmony.
Cool gray produces a subdued contrast which adds depth and dimension to a space, while warm gray blends beautifully with rich dark wood. Another effect that gray walls crete is that they enhance the natural undertones of dark wood cabinetry.
Although more popular in modern kitchen settings, the combination of gray walls and dark wood cabinetry can also be used for traditional, transitional and contemporary kitchens.
Complement with shades of brown – Sticking with one shade of color for your kitchen produces an overall look that is tied together cohesively.
However, sticking to one color does not necessarily mean that you have to repeat the exact same shade over and over for all the finishes in your kitchen.
You can take a single color and either adjust it to a lighter tint, a mellow tone or a darker shade to produce a well-balanced layering of color.
To create dimension and a visually pleasing monochromatic color scheme, the right intensities of color must be carefully chosen and applied to the walls, flooring, splashboard and accessories. This diversity and variation also makes the overall look less plain and prevents the space from looking too drab.
Shades of brown, such as sand, tan or light mocha are perfect if you want to go with a monochromatic color scheme. Shades of brown complement the inherent color of wood while adding to its natural coziness.
The combination of light brown walls and dark wood cabinets also produces a more "homelike" atmosphere and an inviting feel.
If your cabinets are already dark, ensure you get the right shade of brown for your walls. Do not go with a dark shade because it only camouflages your cabinets.
That's the last thing you want to do especially if your wood is naturally rich and boasts of genuine aesthetics. Dark solid wood kitchen cabinets have a distinct beauty that is worthy to be showcased.
For traditional designs like a country kitchen, choose lighter versions of brown or gold. But keep in mind that is more ideal for large kitchens and open layouts.
Go ultra-rich with deep tones – Deep and rich tones are well suited for dark wood cabinets if you want a pop of color that is formal, opulent and stately. They give off an accent of color that isn't too shocking and does not deviate from the formality of a space.
In addition to that, the combination of deep tones and dark wood give kitchens a rich and luxurious feel. So if you want to create drama, this is the perfect choice for you.
This works for kitchens which are more geared towards a traditional look like historical houses, old world houses or country kitchens. plum, teal, moss green and wine red.
When pairing dark cabinets with deep and rich paint colors, go for the right intensity in order to prevent your kitchen from looking to gloomy or heavy. This is also more suited for large kitchens because it has the tendency to make small spaces feel more cramped.
Soften with muted shades and pastels – If you want to soften the look of heavy dark kitchen cabinetry, muted shades are one option you can explore.
Pastels are the ideal choice if you want to add a bit of color to your color palette. This is perfect for homeowner who want to introduce a bit of color into their palette without committing to the intensity of vivid hues. Pastel colors usually have cool or warm undertones.
Cool pastel colors include light blue, cool gray and mint green. When used as a wall color cool pastels make dark wood cabinetry appear brighter while highlighting its richness and allowing its natural grains to pop out more.
Warm pastels, on the other hand, include peach or pale yellow and they can be used to add charm and to brighten up dark kitchen cabinetry in a cottage inspired home.
Since pastels are light colors, they also tend to make spaces appear bigger. Pairing pastel colors with dark kitchen cabinetry creates a more balanced look and also gives a livelier mood to a space.
In addition to that, you can use a pastel colored wall if you want to make your kitchen cabinets the focal point of the space as they do not compete with the richness of dark wood.
When pairing pastels with dark kitchen cabinetry, opt for the lightest shade of color for your walls and mirror it as darker tones for your backsplash, window treatments and accessories.
This approach creates a layering of different shades and tones for a single color, keeping the overall look of the space more cohesive and tied together.
Aside from pastels, colors can also be toned down into a more subdued shade. Muted versions of colors are also an ideal complement for dark kitchen cabinetry. Toned down or muted shades include sage green, taupe, slate blue, etc.
Muted paint colors are well suited for more traditional settings like a country home. When combined with dark kitchen cabinetry, muted colors make a space more warm and cozy. Subdued versions of greens and blues and also be paired with dark cabinets in a modern setting.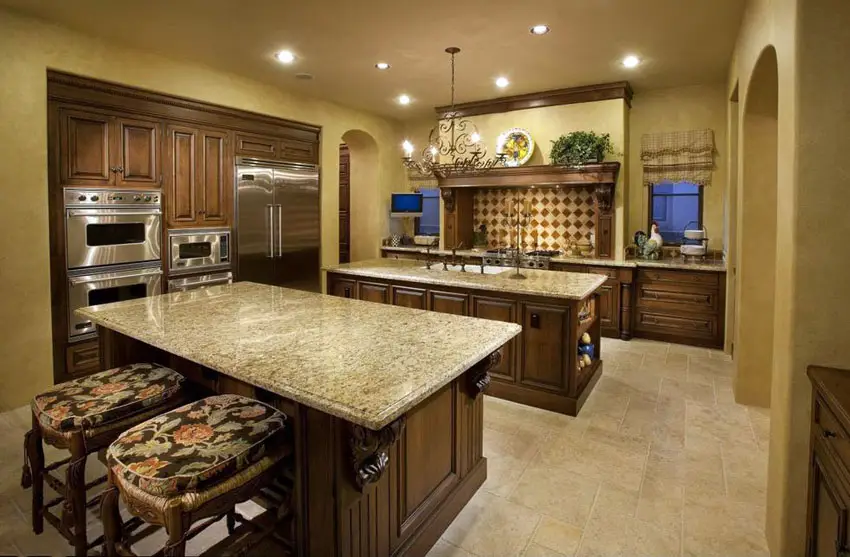 Update the Look with saturated and bright colors – Bright colors also work well with dark wood cabinetry, especially if you are aiming for an eclectic vibe or if you want to showcase a fusion of design styles.
This also works specifically well if you want to update the look of a cottage or country inspired home or if you want to introduce a casual feel into a formal kitchen setting.
However, bright colors must be used smartly in kitchens with dark cabinets. Once used for a wall, you may mirror the shade through the use of matching tasteful accessories like light fixtures, artwork, and kitchen accessories like pots or pans, a decorative wall or as an accent color for your splashboard.
If your kitchen has a modern vibe, a bright and bold hue may also be used for a contrasting kitchen island or as paint for windows and doors. The combination of a bright paint color and dark kitchen cabinets is also more ideal for a space that has plenty of natural light.
Bright colors can be derived from primary and secondary colors. Saturated versions of green, red, yellow are some of the most popular bright colors which can work well with dark kitchen cabinets. Some examples of which are lime green or apple green, rust orange and mustard.
Color Schemes for Kitchens with Dark-Colored Cabinets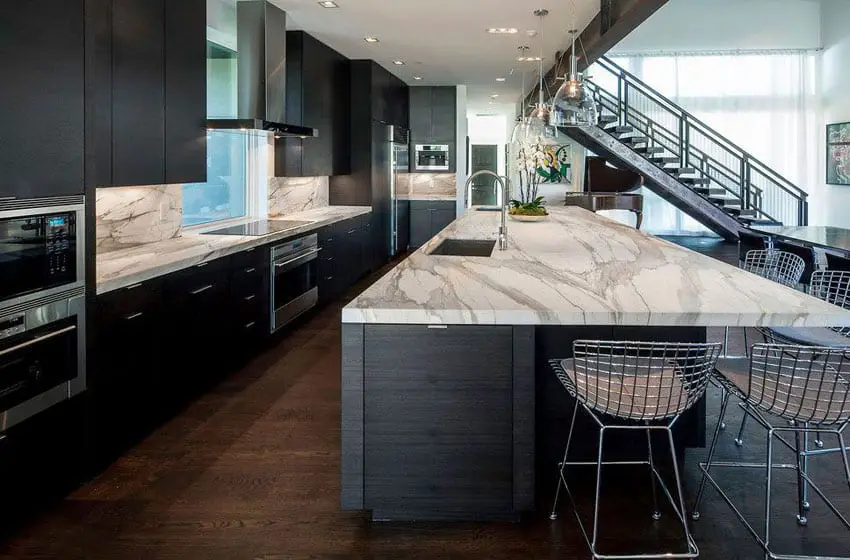 Formulating the perfect color scheme is all about finding the right balance of tints, shades and tones for the different finishes in a space. This can be achieved through the use of different materials for the visual elements in a kitchen namely the cabinets, the walls, floor, ceiling, countertops, hardware and accessories.
Your home's period style is a good guide in composing the perfect color scheme for your kitchen. . Each design style usually corresponds to a specific color palette in order to create their distinct overall looks.
For example, traditional homes usually have deep color palettes and a combination of diverse rich textures and materials, while contemporary and modern homes are typically guide towards neutrals, monochromatic and minimal color combinations. Keeping the style in mind can help you significantly to narrow down your color choices.
The overall feel and mood that you want to achieve can also help you determine the right colors that can work for your kitchen. If you want to create a casual vibe, your color palette must be light, airy and cozy.
If you want to promote a lively atmosphere, your color scheme must include a splash of bold and bright colors. Or if you are aiming for formality, your color palette must include neutrals and colors which are not intense and vivid.
Another key tip to composing the perfect color scheme for your kitchen is to limit the colors into at least three primary tones, mixed with some neutrals. Putting too much color in a space is tricky to pull out and can sometimes lead to a visual chaos. So three colors is a good and safe choice. Also, keep a common element so that your color scheme ties together cohesively.
When it comes to choosing the right color scheme for a kitchen with dark cabinets, there are a lot colors which can be used since the color of rich dark wood works well with both ends of the color spectrum.
It is versatile, flexible and can be matched with a wide choice of materials, textures and finishes. However, the main of goal is always to achieve the perfect balance of light and dark colors, soft and hard finishes, subtle and rich textures.
All of the approaches mentioned above can be applied as a guide in formulating the right color scheme for your kitchen. However, we will be focusing more on sticking with the style for this article. Read on as we guide you to color schemes for kitchens for dark wood cabinets.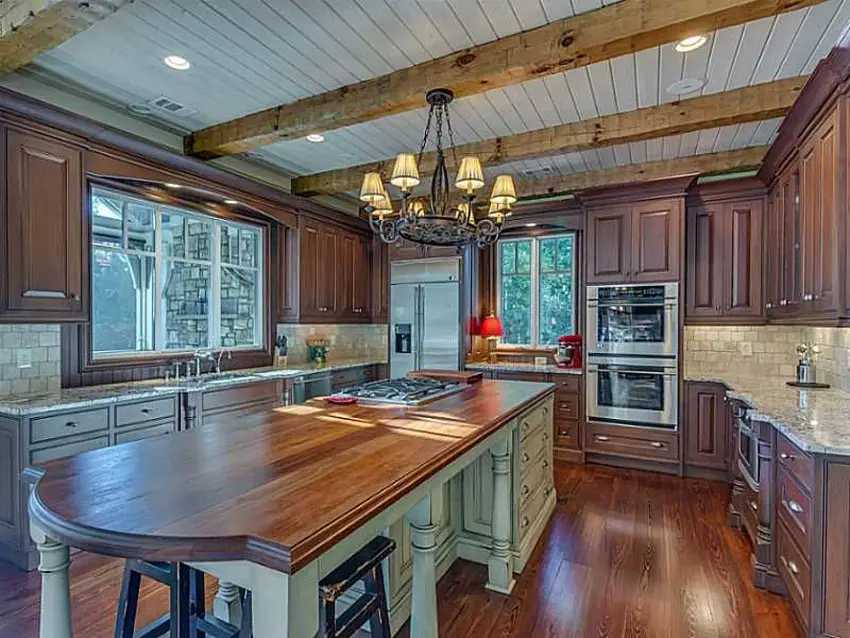 Choosing a Color Scheme for Dark Wood Kitchens by Style
Here are some of the most common kitchen styles that use dark colored cabinets along with some tips for decorating and choosing their corresponding colors schemes.
Country Style Kitchens – The country style or the farmhouse style is generally characterized by a natural appearance that is open, cozy and inviting.
It has a simple casual feel to it that evokes a "lived in" look. Some of its trademarks include wooden open shelving, cupboards, bead board panels and wide plank floors. If there is one thing that perfectly describe this kitchen design style is that it is rustic.
Color scheme for the walls – Country colors range from neutrals like white, cream, beiges and brown to primary colors such as red, yellow and blue. The primary colors may be adjusted into mellow tints or aged hues.
Try to incorporate soft and airy hues into your overall all palette if you want to achieve a charming country kitchen vibe, however if you want a more ornate English country feel, go for stronger and richer colors from nature like greens, reds and purples. Color schemes for country style kitchens go for mixing rather than matching.
Countertops – The most common countertop materials for farmhouse kitchen are wood, marble and soapstone. Go for a countertop color that is light, and has no frill design. Your best bet is soapstone and its inherent grayish color which works well as a complement for dark wood cabinets. Honed or flamed granite with a natural satin appearance or texture.
Cabinetry – Farmhouse kitchens typically go for white cabinets, however, dark wood is also another option. Dark wood finishes and color which are ideal for this are dark walnut, Jacobean, espresso and red mahogany.
With regards to the design of the cabinetry, consider a standard raised panel design cabinets or bead flat panel cabinet doors. Alternatively, you can also explore more traditional cabinet designs with moldings or beveled glass doors.
Flooring – Use wide plank wood flooring in a light to medium color like ash, maple or pine. This type of flooring adds a natural coziness and warmth to the space. For an ultra-rich and opulent look, try pairing your classic dark wood kitchen cabinets with ebony hardwood floors.
Accessories – Go for antique brass hardware, antique accessories and knick knacks with a hand spun or timeworn feel. Use accent colors in traditional tones like soft blues, shades of greens and grays for the accessories and soft furnishings like area rugs, curtains, linens, etc.
Cottage Style Kitchens – Cottage charm kitchens are characterized by a cozy and welcoming ambiance. Finishes for this type of kitchens are usually imperfect or raw and are typically highlighted by a homespun touch.
Traditional English cottage kitchens usually have dark colored exposed wooden beams in the ceiling to create that added timeworn feel. Natural elements like stone, bricks are also often added as accents for walls to add an earthy color and a dramatic feel.
Color scheme for the walls – Wall colors for cottage inspired kitchens are usually light and bright. The most common wall paint is white or a creamy beige tone, while for those who aim to add a touch of color to their palette, pale blue and soft yellows are also another option.
Countertops – Countertops for farmhouse kitchens are typically light colored or earth colored natural stone. Beiges, whites and light colors with a touch of honey are good options for your color scheme. Wood is also another option for countertop if you want to add a natural coziness to the space.
Cabinetry – Cabinetry for cottage style homes are usually white or light colored, however dark wood can also be used as long as they are balanced with a light colored wall and flooring. Use paned glass cabinet doors or simple recessed panel cabinetry.
Flooring – The most common type of flooring of cottage style kitchens are solid wood planks, while their color typically range from light to medium tones. Natural stone flooring can also be used if you want to add warmth and create a more rustic feel.
Accessories – For cottage kitchens, choose brushed antique brass or copper handles and knobs. Another option is black metal handles. When it comes to accessorizing, cottage charm kitchens are the perfect backdrop for dainty art and collectibles. Flea market finds and other novelty items are also common for this style.
Craftsman Style – Craftsman style kitchens are characterized by a simple design and puts emphasis on emphasis craftsmanship, a sturdy build and rugged construction. For this style, functionality is put at premium rather than ornamentation.
The most dominant material which is used for this style is wood, which is abundantly used for the cabinetry. Accent colors are typically introduced through the use of an artisan tile backsplash in cool hues of blue and green.
Color scheme for the walls – The craftsman style culinary space color palette derives inspiration from nature. Its color scheme is typically composed of shades of brown, and other warm earth tones. Accent colors for this type of kitchen style are deep reds, warm golds, rust oranges and shades of greens like moss green.
Since craftsman style kitchens makes abundant use of wood, color for the walls must be light or cream colored. Choose paint colors such as beige, a mellow shade, or a cream colored base with a soft bluish or yellowish tinge. Keep in mind that your wall color must not compete with the natural beauty of the wooden cabinetry.
Countertops – Countertops for craftsman style kitchens are made up of natural stone or wood. The colors range from light colors such as beige, cream, sandy shades to dark colors like black.
Cabinetry – Superior quality wooden cabinetry takes the center stage for craftsman style kitchens. Design wise, cabinet doors and faces have clean lines and little ornamentation.
Wood used for cabinetry are often stained or left unfinished to showcase their natural graining patterns. Rich and deep colored wood are also popular for this culinary space style. Opt for dark cherry and oak as they have a warm, lustrous undertone.
Flooring – Solid wood and hardwood planks are commonly used as flooring materials for craftsman style kitchens. Typically, the color of the floor complements the color of the cabinetry and almost have the same tone. Also, the stain color for the solid wood floors are usually rich in color and add a warm feel to the kitchen.
Accessories – Cabinet handles which have a brushed antique finish, satin metal finish or black metal are well suited for craftsman style kitchens. Their design must also be geared toward s functionality, must be easy to grip and have a strong architectural style with defined lines.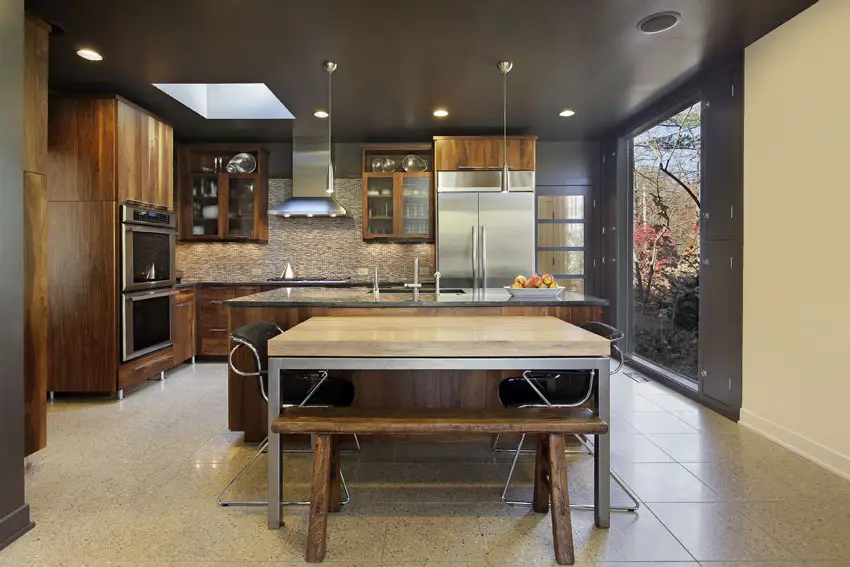 Modern Kitchens – Modern style kitchens are sleek, streamlined and sophisticated. This kitchen style is characterized by clean lines, angular forms, smooth surfaces and a minimalist look. Stick to reflective surfaces and highly polished wood.
Color for the walls – Since modern kitchens have a minimalist look, try to stick with neutral colors for the walls. The most popular paint color used is white, giving the space a brighter and more airy feel.
For those who find white too lacking, go for a more modern alternative such as a cool gray hue. Neutral color schemes are prevalent for this style, but in some cases a bright pop of color is introduced to the palette through an accent wall or splashboard.
Countertops – For countertops, opt for materials which are smooth, sleek and unornamented. The less fills, the better. Granite, solid surfaces and quartz countertops are commonly used for this style because of their simple aesthetics and lustrous flecks and speckles, adding interest to the space.
If your modern kitchen makes use of dark colored cabinetry, stick with a light colored countertop such as white, to create contrast. Alternatively, stainless steel can also be used for a modern industrial feel.
Cabinetry – For dark colored cabinetry, modern kitchens go for highly polished and exotic wood colors in ultra-gloss finish.
These shades are typically found in the dark end of the color spectrum, like ebony, dark espresso and black. In terms of cabinet design, the cabinet door and faces are typically flat, plain and have no moldings or paneling.
Flooring – Flooring materials are commonly made up of large cut semi polished and polished ceramic tiles in neutral colors like white, shades of gray or black. Alternatively, hardwood flooring which range from light to dark colors may also be used.
Accessories – Cabinet handles and hardware for modern inspired kitchens are typically simple and defined by clear lines. Again, there is minimal ornamentation involved.
Cabinet handles are typically long, slim and in brushed metal or satin finish. In some cases, cabinet handles are not needed and only require a simple push mechanism.
For modern kitchens, other accessories are also commonly used to introduce a splash of color to make the space livelier. Typically accent colors for modern kitchens are bright and bold hues of lime green, red and orange.
What Color Flooring Goes with Dark Kitchen Cabinets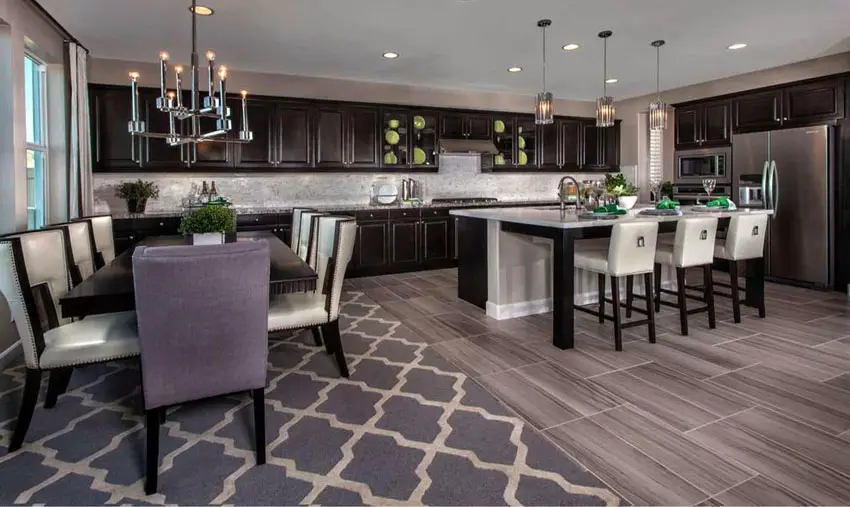 When choosing the right flooring color to go with dark kitchen cabinets, determine first if you want to enhance the richness of dark wood or if you want to create contrast. The color of your flooring will greatly depend on the main aesthetic attribute that you want to stand out in the space.
Pairing dark kitchen cabinets with light-colored flooring is a classic pair that works timelessly for most design styles. White and light-colored floors create contrast, break off heaviness and introduce balance between the dark-colored cabinetry.
To enhance the color of dark wood cabinetry, choose a dark color for your floor. To pull this off, try matching wood with wood. Dark kitchen cabinets and dark hardwood floors create an ultra-rich and opulent look, making kitchens feel more luxurious and elegant while introducing a welcoming feel to the space.
Your color choices for the flooring will also depend on the type of material you use. Some options for flooring material include wood planks, natural stones and tiles.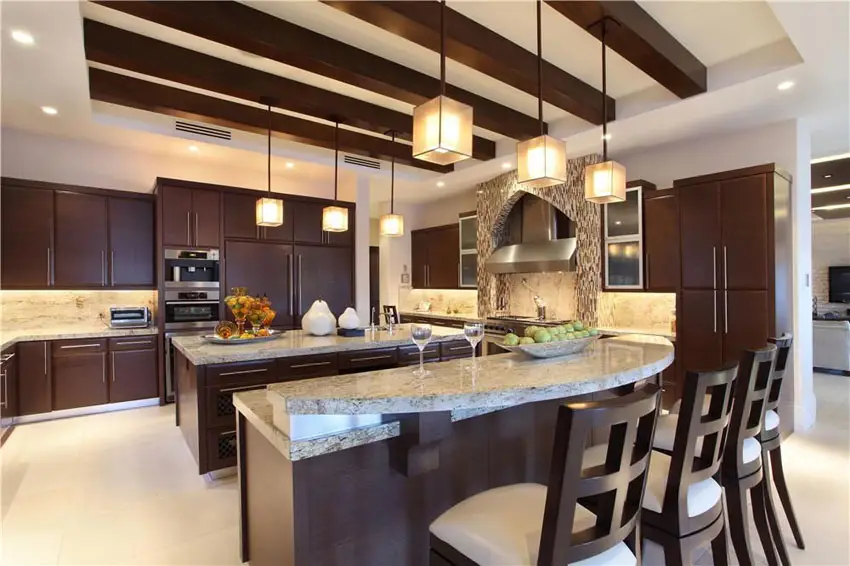 Contemporary double island kitchen with raised breakfast bar, light porcelain tile floor and dark wood cabinets.
Dark Kitchen Cabinets with Light Wood Floors
Light wood floors are more commonly paired with dark wood kitchen cabinets because they create contrast. Wood floors which have a white finish are one of the most common options for a dark wood kitchen as they go well with anything.
They break the heaviness of the room, make the space feel more airy and bright, while creating balance between the materials and finishes used in a space. Also, light wood floors do not compete with dark wooden cabinetry.
There are a number of wood species which belong to the light wood category and these can be used as stunning flooring materials. The most popular type is maple and oak, but there also other options to choose from like hickory and ask. Light wood floors usually come as hardwood floor planks, strip flooring, bleached wood or white wood.
Maple is a type of softwood characterized by a nearly white or off white color. Sometimes, its cream color is mixed with a slightly reddish or golden hue. The graining pattern for this light colored wood is generally straight and has a fine even texture.
Maple wood floors are a perfect match for dark kitchen cabinets because they allow the natural beauty of rich wood to stand out in a space.
Another light wood species is Ash. Ash or white ash has a very light brown to medium brown color. Its grain texture is almost similar to oak which is regular and straight, but can sometimes be curvy. This type of flooring almost has a bleached appearance and works perfectly in balancing the look of heavy dark kitchen cabinets.
Hickory is also another light wood species which has a light to medium brown color that is accentuated with as slightly reddish tinge. Its rustic appearance makes it well suited as a flooring material for cottage inspired kitchens with dark colored cabinets.
When using light wood floors to match dark kitchen cabinets, make sure that your materials are coated well with stain or a sealer to protect it.
Clear finishes may be used to give light wood floors a more "white" color while oil based stains can be used if you want to add a slightly yellowish tint to natural wood flooring's color.
Kitchen Backsplash Ideas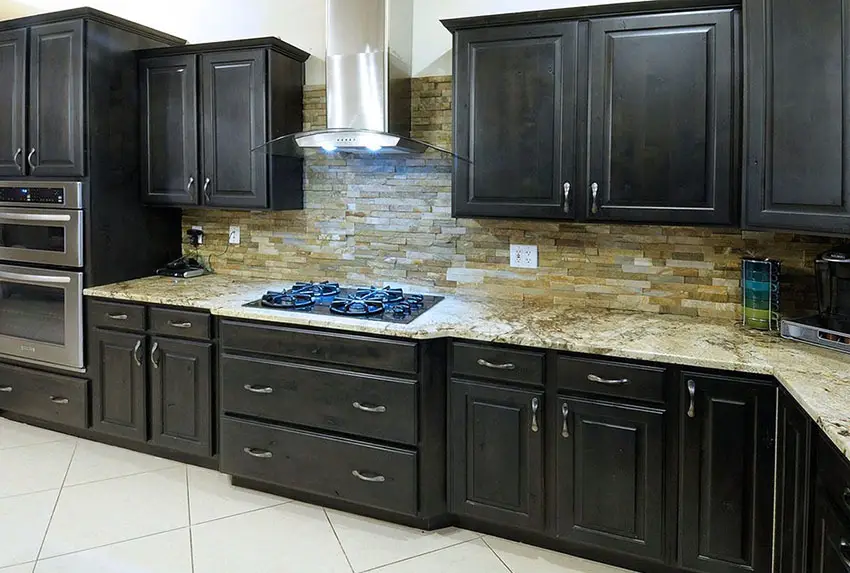 Kitchen backsplashes do not only protect your walls from stains but they also contribute a great amount of visual interest to a space. It offers the perfect opportunity to introduce color and an accent to your color scheme.
There are a number of materials which can be used as backsplash for kitchens and each type has their own positive and negative attributes. The real challenge in choosing backsplashes is to find the right color that will match for dark kitchen cabinets.
Typically, the first step in choosing the right color would involve determining the main visual attribute you want to stand out in your kitchen.
Your backsplash may either blend or contrast with the rest of your cabinetry. However, for dark wood kitchen cabinets, the latter is more preferred.
Rich and dark wooden cabinets already have a strong color and in order to create the perfect balance, contrast can be used.
Typically, dark wood kitchen cabinets are paired with light colored backsplashes and countertops in order to break their heaviness and to make the space look brighter. Depending on the style of your kitchen, different materials may be explored to create distinct visual effects for your space.
But also, try to keep in mind that design is a matter of personal choice and preference, and that you can choose any color and material that suits your personal taste and style.
Neutral colored backsplashes are a perfect match for dark wood kitchen cabinets. Light colors such a beige or cream are a classic pair which do not go out of style. They also keep the backsplash from competing with the richness of wooden cabinetry. This also works for most kitchen design styles.
Another color option is brown and earth tones. Earth tones and sandy shades perfectly match dark wood kitchen cabinetry.
Brown has a natural coziness and warmth that makes it one of the best color choices for creating an effective monochromatic color scheme. This color combination works well specifically for rustic and old world style kitchens, especially if the materials are natural stone.
However, you can also introduce some color to your overall palette by pairing dark kitchen cabinets with an accent color like golden honey tones or shades of green as they complement dark brown very well.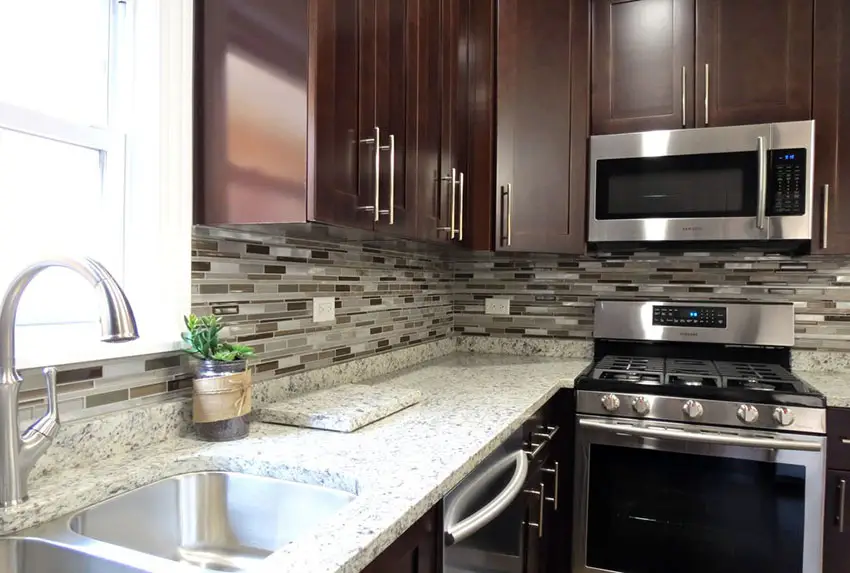 Here are some other tips in choosing the right backsplash for dark wooden kitchen cabinets:
• Mosaic and Glass Tiles. Mosaic tiles and glass tile make an eye catching backsplash which contributes an amount of sparkle that softens the heaviness of dark wooden kitchen cabinetry.
Also, one main advantage of using mosaic tiles is that it is highly customizable. Most suppliers present endless color choices which come in different finishes like a metallic finish, pearl finish, glossy and matte.
These colors may be mixed according to different percentages, allowing you to create your very own mix of colors for your backsplash material. You mix 3 to 4 shades, or even more depending on your preference.
Alternatively, you can also choose one solid color. Mosaic and glass tiles can be installed in different patterns.
• Subway Tiles. Subway tiles are a perfect match for dark wooden kitchen cabinets because of their neutrality. The crisp, white color of these small 3 inches by 6 inches ceramic tiles contribute a bright and airy feel to kitchen spaces.
The classic and timeless vibe of subway tiles make them a perfect match from most design styles, ranging from traditional to modern kitchens. Their clean and uncluttered look makes them the perfect backsplash material for minimalist kitchens with dark kitchen cabinets.
It also creates a simple statement, that isn't too overwhelming and does not overpower the look of rich dark wood cabinetry.
• Ceramic Tiles. To give dark traditional kitchens a more updated look, try giving them a twist by using a contemporary tile backsplash.
Tiles are another popular choice for backsplash material because of the wide range of colors, textures, design and patterns that they come in. With the endless choices, design possibilities are also limitless.
Tiles which have a simple striped pattern are versatile backsplash materials and make a stunning addition to dark kitchen cabinets especially if they introduce a subtle pop of color. Horizontal lines and a mix of warm colors and natural materials make kitchens more welcoming and cozy.
Designer's Tip: Try matching stainless steel appliance with a mix of cool and dark gray contemporary tiles to bring in a harmonizing common element to your space.
• Strip Tiles. Strip tiles are ceramic or porcelain tiles which are cut into strips and arranged in a specific pattern. Think of it as mosaic tiles but instead of having a square shape, they are elongated in form and instead of glass, they are made with porcelain or ceramic.
Just like mosaic tiles, strip tile are highly customizable and can be used to produce a myriad of colors and textures. They make kitchens more visually interesting but have a sense of formality and neutrality to them.
Tile is probably the most versatile of all backsplash options. The range of colors and finishes available in field tile for under $10 per square foor is literally unfathomable. – Old House Interiors, Jun-Jul 2009
Balance colors for kitchens with dark kitchen cabinets by using neutral colored strip tiles, specifically those with shades of gray. Gray keeps the color scheme from getting to dull and lends a quiet strength to a space.
• Patterned Backsplash. Patterned backsplashes are one of the trendiest backsplashes nowadays. Pattern can be achieved in many ways – one is to use a printed wallpaper and lay tempered glass panels over it to make it more suited for backsplash use, while another way is to use printed tiles.
Patterns can also be used to break the heaviness of dark kitchen cabinetry. However, this can be a bit tricky to pull off. If your pattern is too busy, the tendency is that your kitchen can look to overwhelming.
Find the perfect balance using subtle patterns and try to incorporate harmonizing colors like browns to match with dark kitchen cabinets.
Also, find the appropriate pattern which matches the prevailing style of your kitchen. Each style has a corresponding motif – traditional, for example, reflect floral, brocade or paisley prints while contemporary styles have more simple, straightforward and geometric patterns.
• Natural Stone. Natural stone backsplashes accentuate the richness of dark wood cabinetry and enhance their colors. One of the primary advantage so of natural stone backsplashes is that they are versatile as it works well for almost any cabinet color and for most design styles.
Natural stone backsplashes contribute a natural coziness and gives warmth to kitchens making them feel more inviting.
This type of material is well suited for traditional kitchens such as country kitchens which have a rustic, timeworn feel and a demand for natural finishes. Marble, travertine and slate are among few of its examples.
You can choose the appropriate natural stone backsplash based on the style of your kitchen. Marble backsplashes, for example, are perfect if you want to add an element of sophistication and a luxurious feel to traditional inspired kitchens.
Their natural veining pattern and smooth surface brings in a variation in texture to the overall look of a kitchen. Although light colored, marble has a rich appearance which can stand out in a space. For dark wood kitchen cabinets, go for light colored or white marble backsplash to soften the look.
Travertine is also another type of natural stone which can be used as a backsplash material for rustic, old world, antique, traditional, country and cottage inspired kitchens.
Travertine is naturally light colored and has a mix of creamy beige background with undertones of brown and light tan. When paired with dark wood kitchen cabinets, travertine backsplashes bring in the right balance of contrasting and complementing colors.
It gives off a warm feel and an old world flair to kitchen spaces. To make your backsplash for dark wood kitchen cabinets more interesting, opt for natural travertine in brick form. The interlocking pattern adds visual interest and diversity in terms of texture.
Countertop Colors for Dark Wood Kitchen Cabinets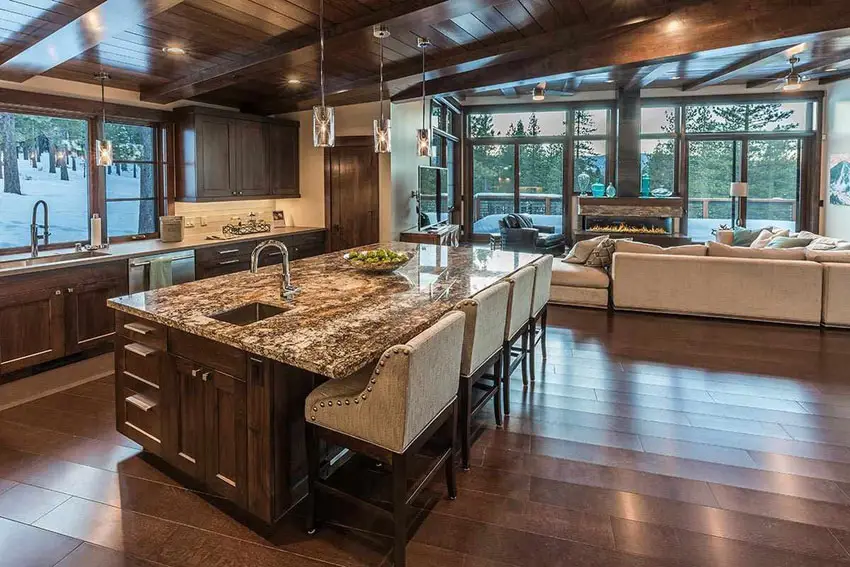 The most dominant feature in a kitchen are the cabinetry which take up about 80% of the total space. The backsplash, on the other hand, are another visual element which brings in the decor and accent to a kitchen space.
But aside from the cabinets and backsplash, countertops are also another major component of kitchens. Together, these three elements help make up a well-balanced look for your kitchen.
There are a number of countertop materials which can be used to pair with dark kitchen cabinets. These include natural stones like marble and granite, engineered stone like quartz, solid surfaces or Corian, solid wood and stainless steel. Each materials comes in a variety of colors and designs.
Just like choosing paint colors or backsplash materials, choosing countertop colors to go with your kitchen cabinets can get quite confusing because of the numerous choices that one can explore.
Below we present some of the best countertop color choices for kitchens with dark wood cabinets.
Gray Countertops. Shades of gray are a well suited countertop color for dark kitchen cabinets because of its neutrality. This classic cool shade pairs well with a variety of design styles and suits different color palettes.
The subtle color of gray brings in a cool element that contrasts well with the warm tones of rich dark wood. At the same time, it also brings in harmony as it blends well with natural materials and finishes.
To pull of the classic pairing of gray countertops and dark wood kitchen cabinetry, try to blend in the colors and by using it as a unifying element.
Match it with stainless steel appliances and choose a backsplash which has gray and brown undertones. Think classic kitchen styles for this look. Some examples for this color combination would be gray granite countertops and maple cabinets.
Gold and Brown Countertops. If gray countertops brings in a cool element to dark kitchen cabinets, gold countertops add warmth and natural coziness to a space.
Countertop colors which have a neutral base that is accentuated with gold flecks and honey colored metallic minerals enhance the colors of dark wood cabinetry. They also serve as a complementing accent color.
Gold and light brown countertops are more suited for espresso colored cabinets rather than dark cherry cabinets, because cherry has red undertones. Together this pairing creates a monochromatic color scheme.
To allow the natural color of gold countertops to shine, choose a simple edging style and then pair it with unornamented and plain cabinetry with simple hardware. Some examples of golden colored countertops are New Venetian gold granite and Santa Cecilia granite.
Contrasting Colors. Pairing dark color wood kitchen cabinetry with light colors is a classic combination. Some even consider it as a fail-proof formula when it comes to kitchen design.
Contrasting your kitchen cabinets with your countertops add depth, dimension and create a more visually interesting aesthetic for your kitchen. Whether your kitchen is contemporary or traditional, this classic color combination will suit both of the styles.
Contrasting colors for dark kitchen cabinets include white and beige colored countertops. White countertops are perfect for dark wood kitchen cabinets because they break off the heaviness of rich woods while making the space appear more clean and bright.
Beige and off white countertops, on the other hand, have more creamy color which is mixed with a very faint warm yellowish tinge.
Beige works like white, but introduce a perfect balance of cool soft tones and warm hues. Compared to white, beige countertops are more warm and inviting.
White countertops are perfect for dark wood kitchen cabinetry in any design style. For modern kitchen styles with dark brown cabinets, white is more commonly used compared to beige. While beige countertops, on the other hand, are more prevalent in traditional and antique kitchens with dark wood cabinetry.
Some examples for the classic pairing of dark wood kitchen cabinets and light colored countertops are: ebony colored wooden cabinetry with flat panels and an icy white granite countertop (modern or contemporary), Jacobean wooden cabinetry with recessed cabinet panel and Kashmir white granite (country), Red Mahogany shaker cabinets with bianco antico cream granite (traditional).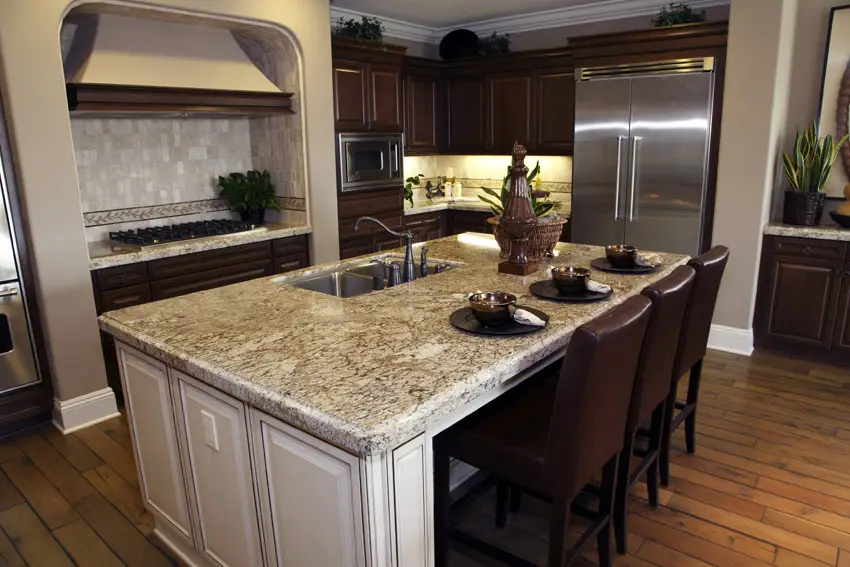 The natural reddish tone of Mahogany brings out the beauty of traditional kitchens, and this example you will see how this is combined with a more modern finish.
The main kitchen cabinets keeps its original natural mahogany tone and is set against capiz-shell backsplash and cream granite.
Meanwhile the rather large island counter paints the mahogany finish over with white paint, making it pop out from the darker wood finish, but also emphasizing the dark wood of the main kitchen cabinets. The combination creates an interesting and pleasing balance of light and dark colors.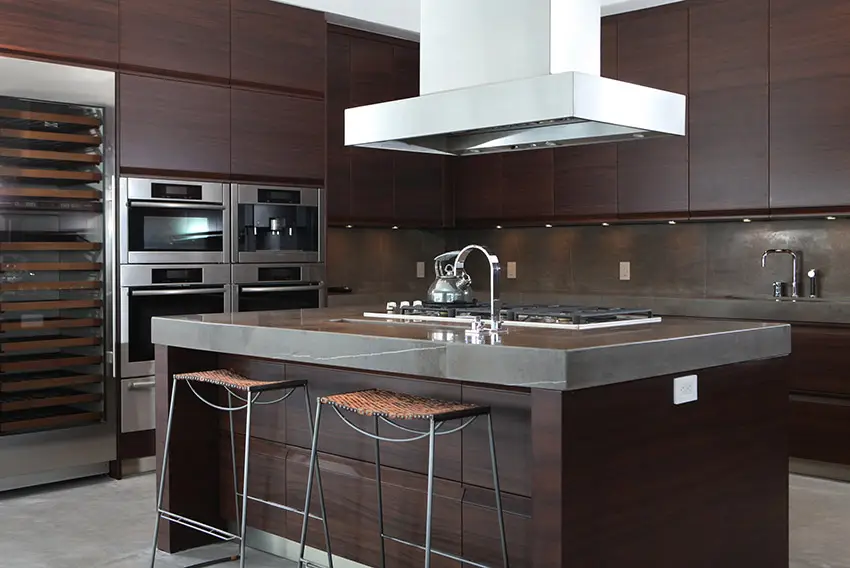 For this kitchen, dark-stained Mahogany was used for all its cabinets. The dark wood was combined with black soapstone counters and dark gray ceramic tiles on the back splash.
If you observe more closely, you will notice that instead of using aluminum or stainless steel drawer pulls or cabinet doors, this design uses a carved notch on the wood itself to simulate a continuous drawer pull. This kitchen's simplicity and dark look makes it look elegant and classy.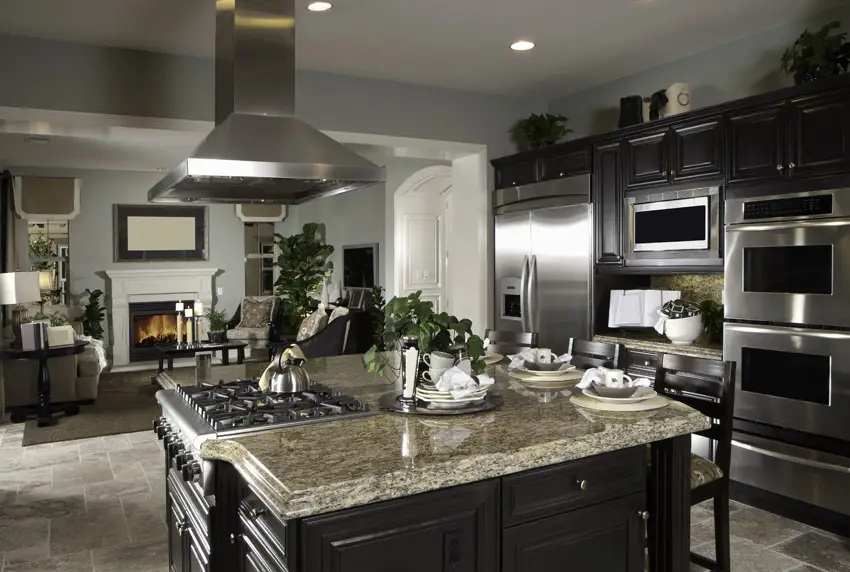 An open layout makes for a brighter, more laid-back looking space, and in this classic kitchen example, with the help of its open floor plan & adequate natural light, the paneled cabinets goes for a very bold dark color.
The paneled cabinets were painted with a dark gray duco finish which gives a nice contrast to the beige granite countertop used.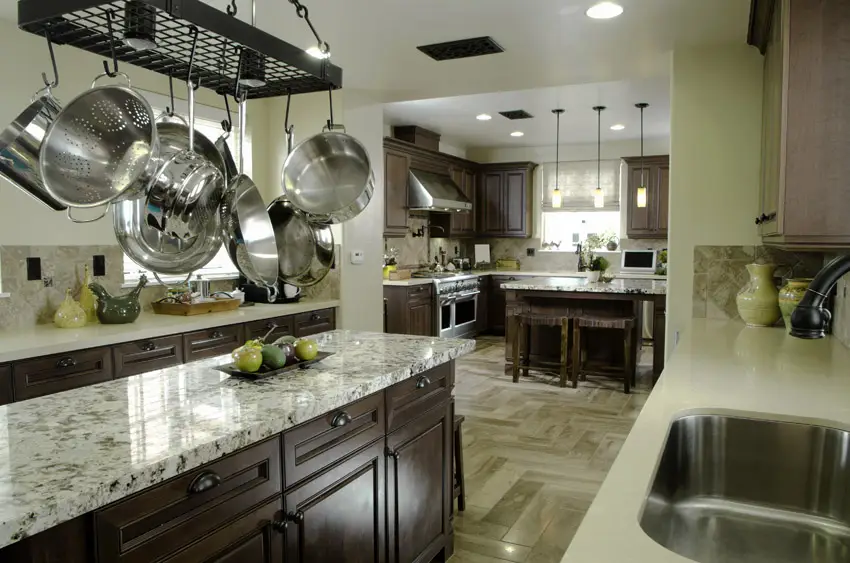 This kitchen is large and is separated into two areas. It does, however, use the same style of kitchen cabinets and the same stain and finish of wood throughout the kitchen.
The kitchen countertop material on the mail cabinets are plain white and paired with natural stone tiles on the backsplash.
On the kitchen island, however, white marble with prominent veining was used. The base cabinet doors are paneled with a very elegant oiled finish, creating a smooth surface.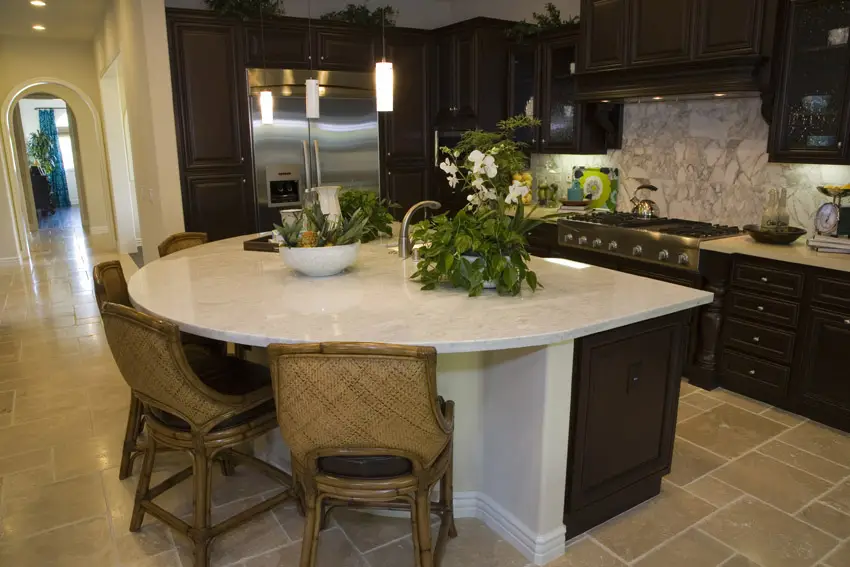 A simple classic kitchen which uses dark Mahogany stained cabinets with paneling details, and a variety of marbles seen on the backsplash and kitchen counter tops.
The stain used on the cabinets is rather dark, however, the very large semi-circular island counter sort of "conceals" most of the dark cabinets and makes the kitchen look rather bright.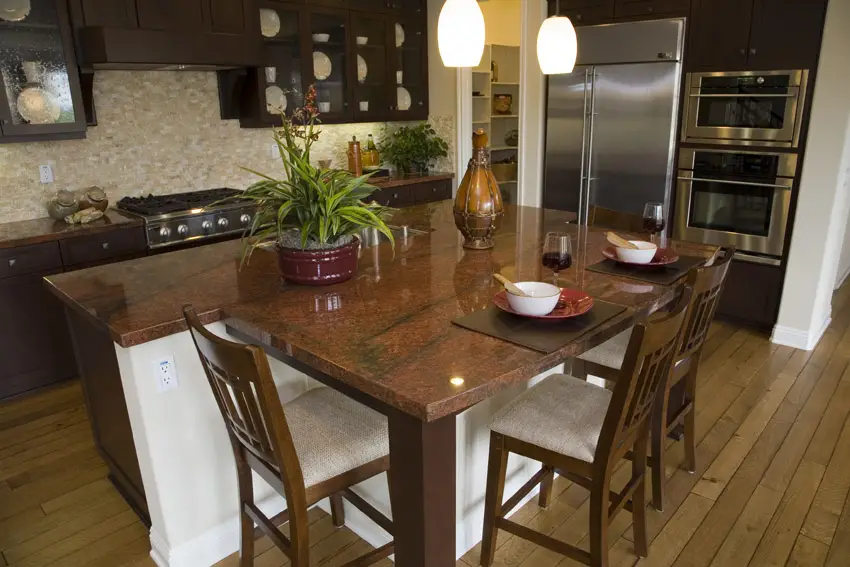 Since this kitchen is designed to fit in a small space, the natural light leaking from the windows really helps in making this kitchen look batter.
Starting from the countertop, you will notice that the whole kitchen uses a thick slab of a red-orange granite, creating instead impact because of its bold and unusual color. The base cabinets uses modern paneled doors and is finished in a red-brown/sienna duco finish.
The red undertones of both the base and the countertop creates a natural good combination, while the yellow tone of the teak wood bar stools adds more variety.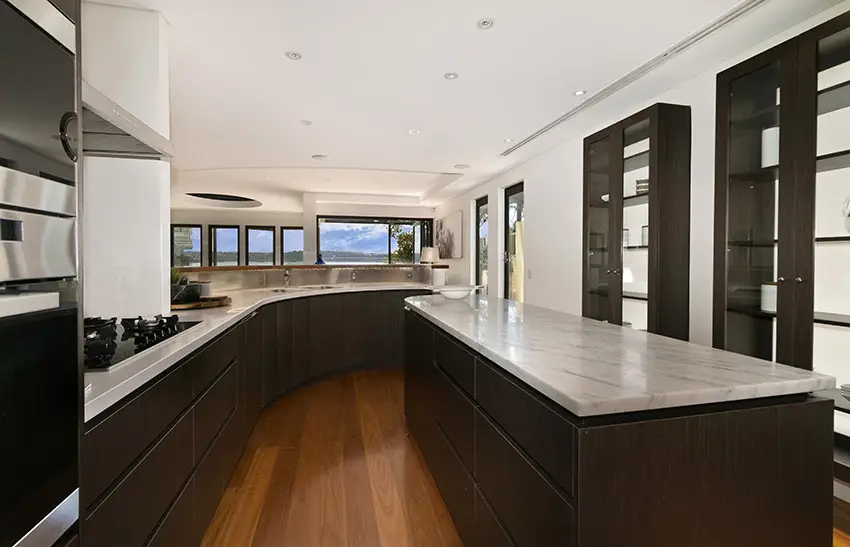 This is a modern kitchen design which uses dark Mahogany laminates as its choice of finish for its cabinets. Because the clash of orange and red of the Oak wood floors and the cabinets already prove to be a bold but pleasant combination.
The countertop materials used were simpler – marble for the island counter and white solid surface for the main cabinets. The combination of wood tones with harsh, sharp edges of the cabinets gives it a more welcoming vibe.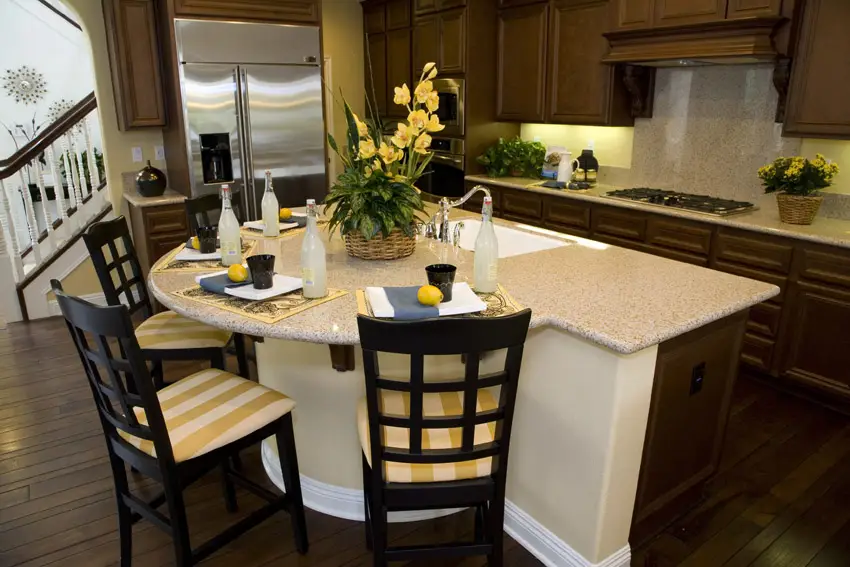 For this kitchen a more yellow-tone wood was used instead of the usual red-based tones of wood, as the floors are already quite dark. Looking closely, you will notice the natural burly pattern on the surface of the wood giving it a unique look and texture.
The yellow tone also helps brighten up the space despite the dark hardwood flooring used. For the countertops, white quartz with peach-colored crystals were used, adding more visual texture to the design.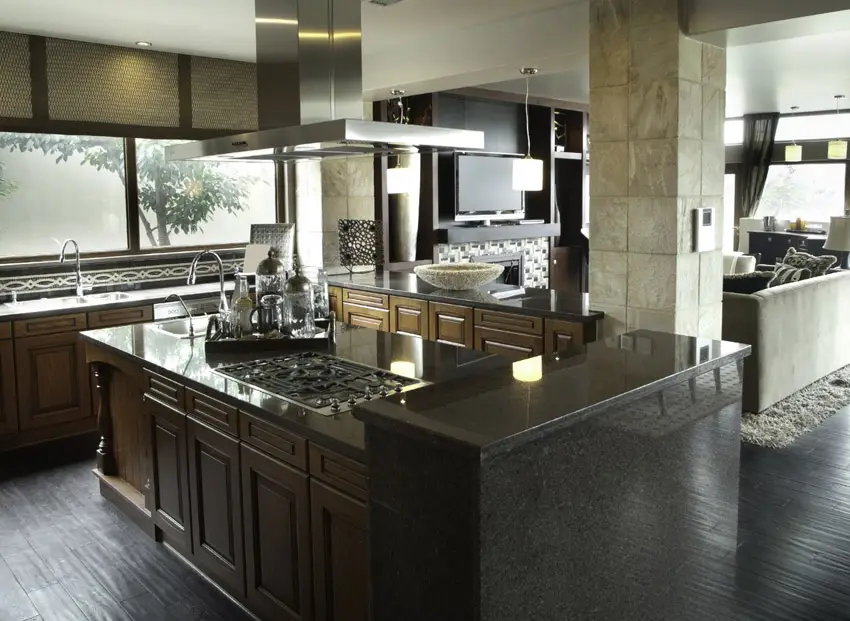 This modern kitchen has a great balance of colors. First of all, the open plan of the space helps make the kitchen look more spacious and inviting.
Aside from that, there is a nice balance and contrast of colors – there's a good amount of light and dark colors playing around the space. The floors are black-stained wood planks and its dark color brings out the light beige of the stone-clad columns and white ceiling.
Most walls are also kept light, using an off-white color and large windows that brighten up the space. The kitchen uses black galaxy granite counters over dark walnut wood cabinets. The the classic look of the cabinets coupled with the modern look of the counter top and the rest of the house is both refreshing and elegant.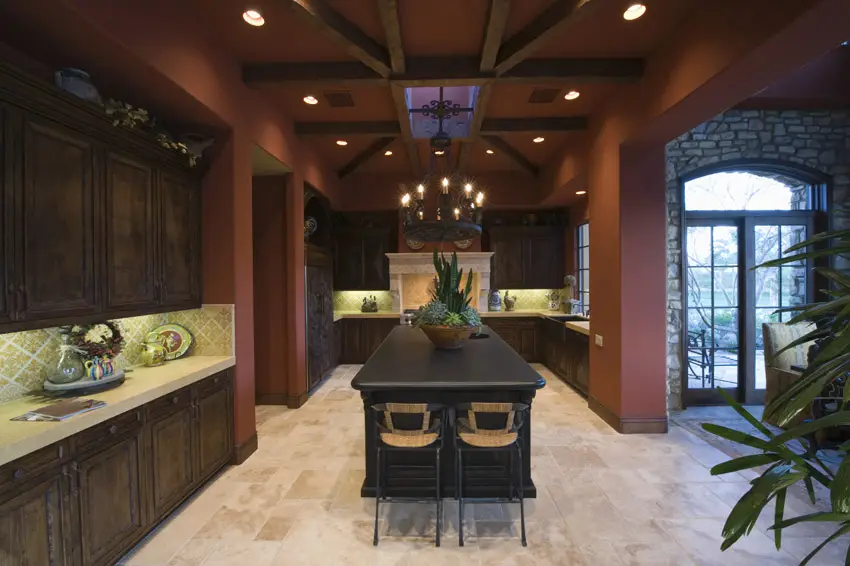 The maroon walls of this culinary space makes it look elegant and classy and gives it a sort of romantic warmth. The chandelier also adds to the romantic appeal, complemented by the solid walnut paneled doors.
This is topped by a light beige quartz counter top and has backsplash tiles with golden patterns. The island is all wood, including its top, and is finished in black.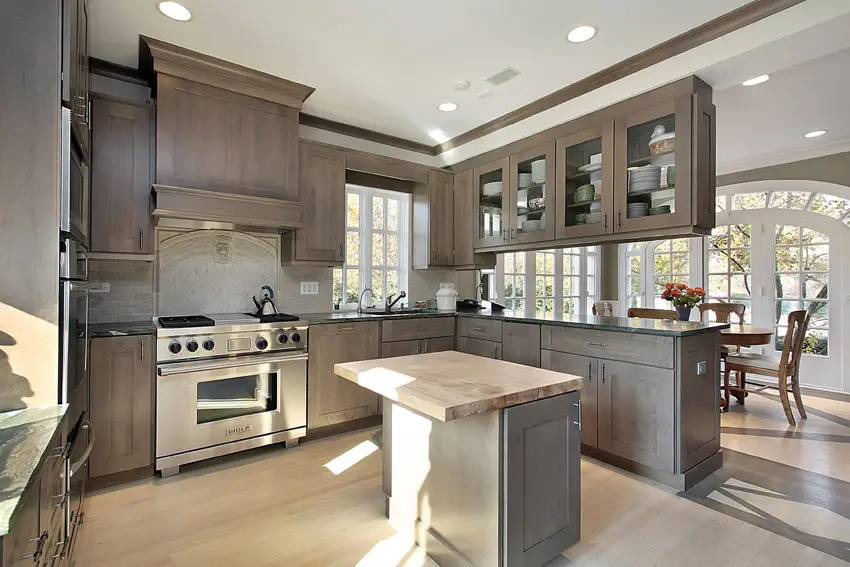 This kitchen has a softer, lighter feel compared to the other examples. The floors are light maple engineered planks, and the cabinets are solid Oak with a nice weathered finish and modern profile.
It was topped with green granite and the small center island has solid butcher's block instead of stone top. The clean edges and profile of the cabinets makes it look modern despite its classic details, and makes it look refreshing whilst maintaining that classic elegant appeal.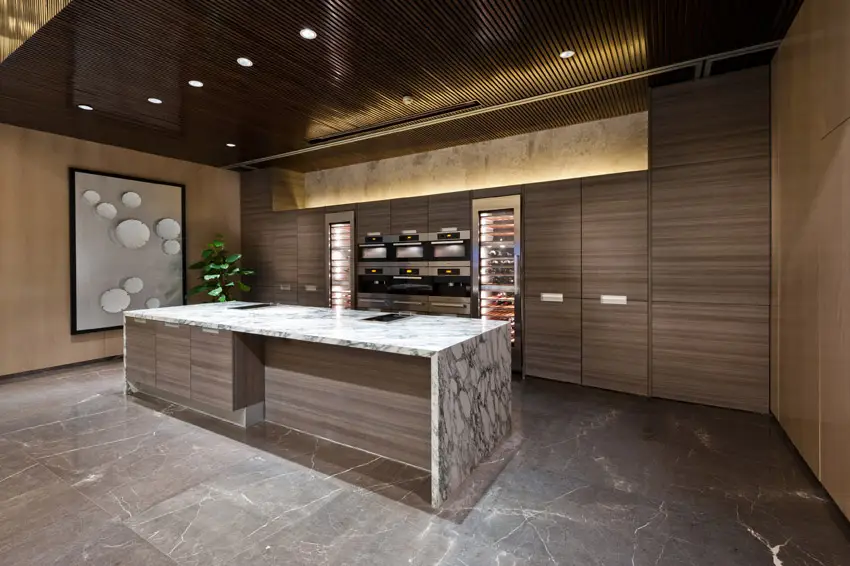 A very modern kitchen in which the storage space is maximized. One whole wall is dedicated for storage wall, as well as 2 wine refs and built-in ovens.
Aside from that, there's a large kitchen island in the same chocolate-toned laminate of the storage wall and is topped with marble.
The ceiling uses wood slats for its finish which adds texture and pattern to the space. The colors used are mostly dark – floors in gray and wood finishes in dark wood tones, but the balance and patterns of materials used creates a pleasing combination.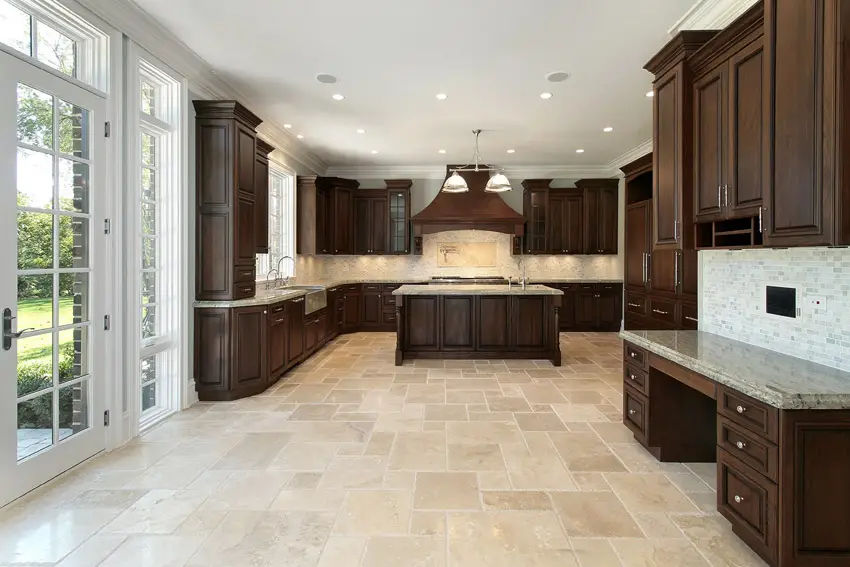 This kitchen is quite large, and this is even more emphasized because it has very sufficient natural lighting and uses light finishes on its walls and floors.
The kitchen cabinets however, provides a nice contrast to the light-colored surfaces as it uses dark walnut finish on its cabinets and tops it with gray granite counters.
The balance of light and dark colors creates a pleasing appeal, and gives this kitchen design that classic elegance of traditional kitchens.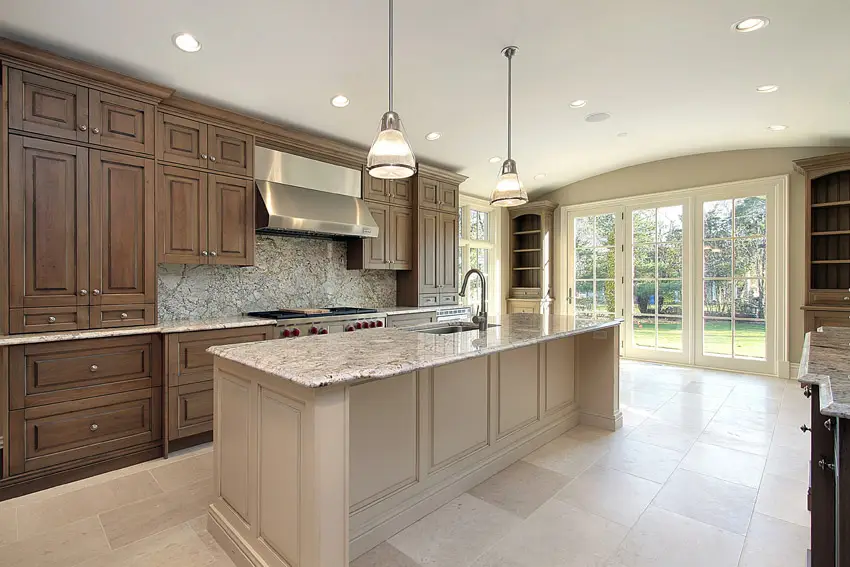 This luxurious kitchen plays with a combination of light and dark finishes for its cabinets. You will notice that the main culinary space uses solid walnut paneled doors and combines it with marble counters and backsplash, while the kitchen island's base cabinet is painted over with an off-white duco finish.
The rest of the space uses neutral colors – beige walls and cream stone floors, which makes it easy on the eyes and timelessly elegant.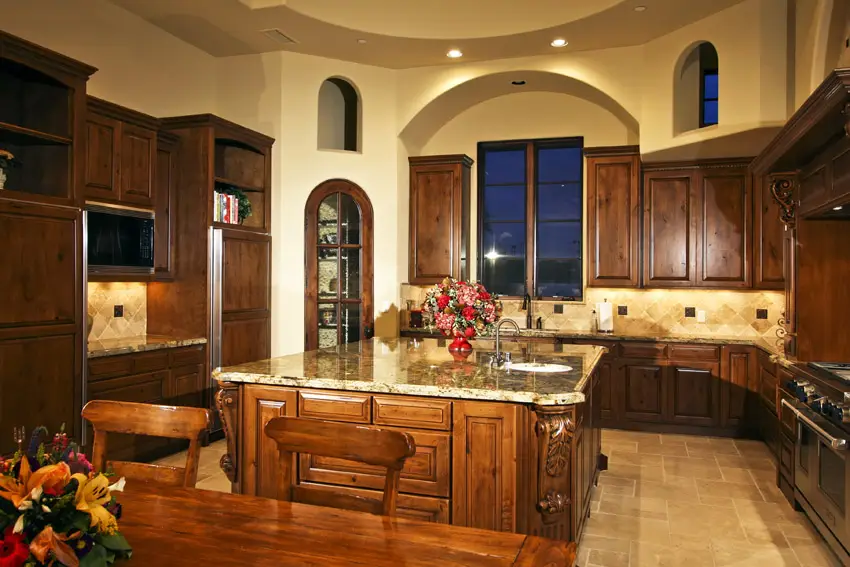 High ceilings instantly give an imposing feel to any space and make it look more spacious. In this example, the height of the ceiling is emphasized as the cabinets of the kitchen barely reach the fully height of the ceiling.
The cream-painted walls serves as a nice light background to the solid oak cabinets and blends with the cream-colored backsplash tiles and granite counters. The classic details of the cabinets furthers its regal appeal and imposing quality.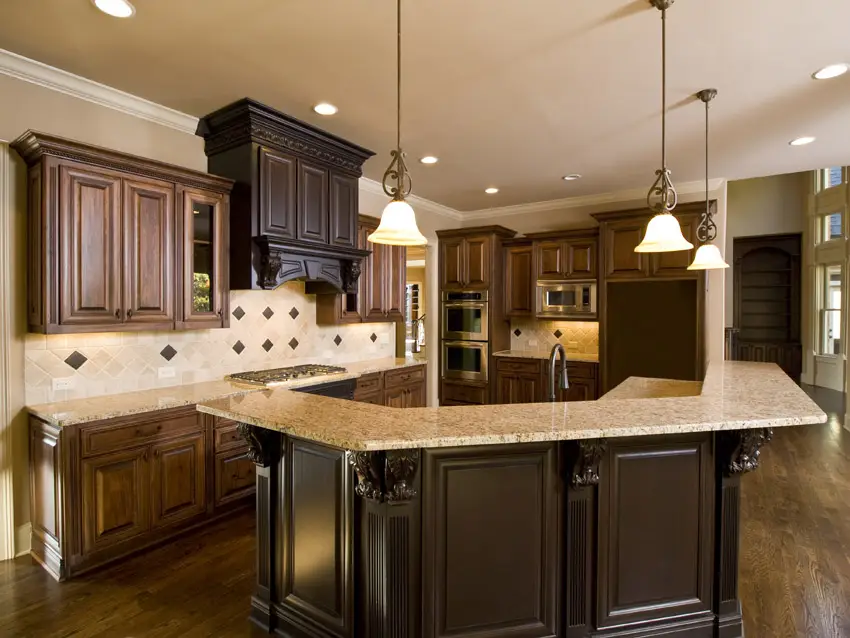 This kitchen combines two dark wood tones in order to create this fun kitchen design. The main kitchen cabinets are solid wood in a gorgeous golden walnut tone.
They're topped with cream-colored granite, but the cabinet beneath the range and above the range uses a darker wood, stained in a dark mahogany color, contrasting it from the lighter walnut cabinets.
The large island counter also uses the same dark mahogany stain over it which helps bring out the pattern of the cream granite counter. Dark wood kitchens that play with different wood tones can achieve an interesting contrast and unique design.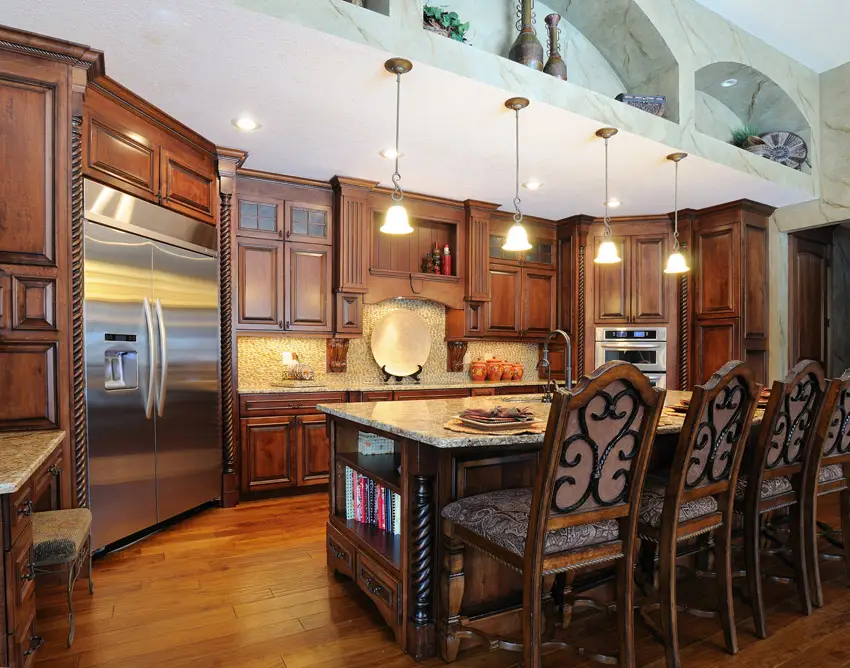 This kitchen design shows the beauty of traditional kitchens with its very bold wood on wood combination. All kitchen cabinets, including its large kitchen island, is made of varnished solid oak wood, giving it that heavy and expensive look typical of classic kitchens.
This is set against solid teak floors and further combined with wooden chairs – the all-wood combination making it look heavy, imposing, and yet maintain a regal and classy appeal.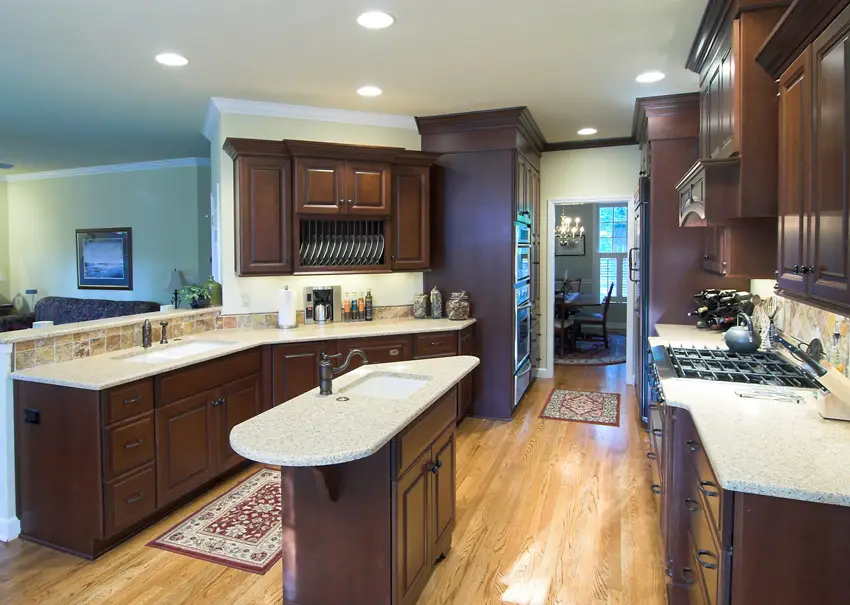 A more modern open-plan helps this kitchen look bright and inviting despite the dark wood used on its cabinets. The cabinets are fashioned out of classic kitchen cabinet designs and furthers its classic look with paneled doors and red Mahogany finish.
But a touch of modern elegance adds to its beauty as white quartztite is used for its kitchen counters instead of typical granite or marble, giving it a lighter & more modern feel. The light maple wood floors also helps brighten the space up and offsets the dark color of the kitchen cabinets.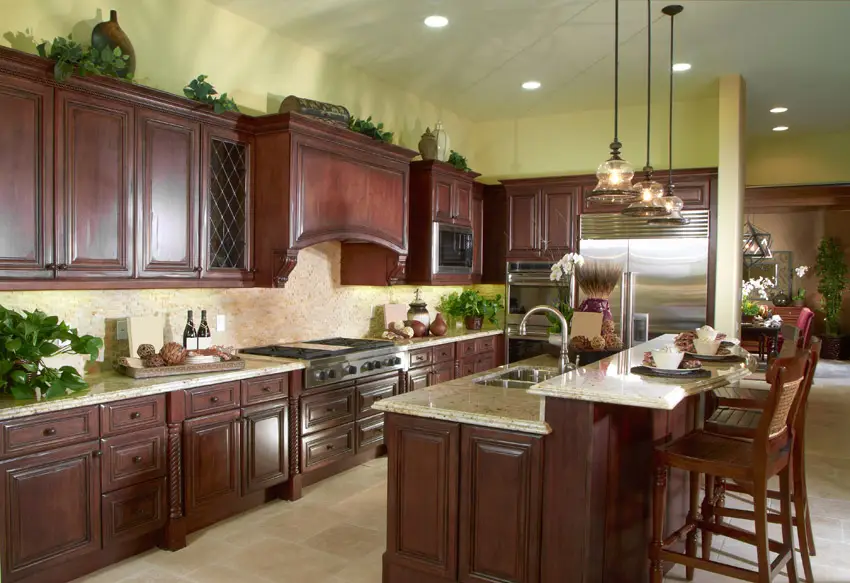 Bright kitchen spaces – with adequate natural light, light-colored floors and walls – enables you to experiment with using darker wood finishes for your kitchen cabinets without fear of making your kitchen look too dark and drastic.
This kitchen design is one of those examples as you can see how the cream-colored stone floors and light yellow floors accommodate and balance the dark red tones brought about by the dark cherry wood kitchen cabinets.
The lighter background helps tone down the imposing look of the kitchen cabinets, and this is further aided by the use of cream-toned granite counters and backsplash.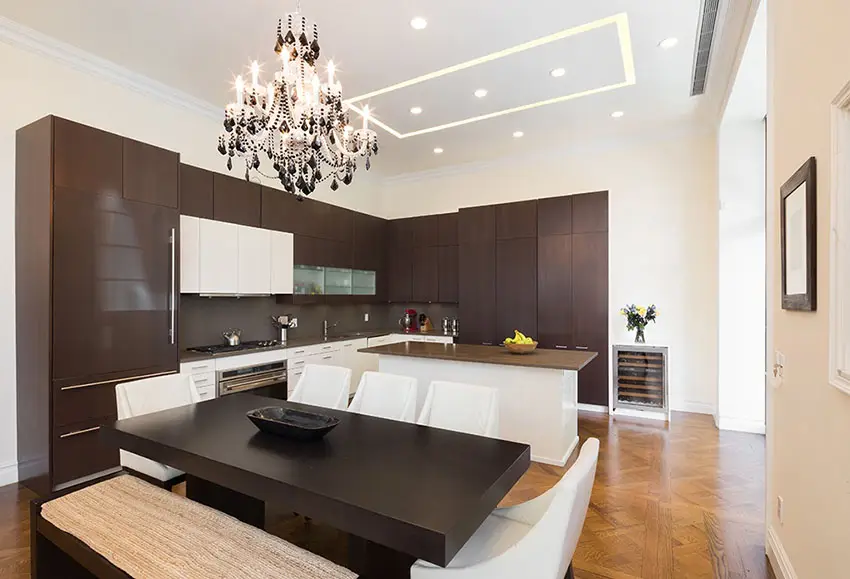 A very modern kitchen design which uses modular cabinets with minimalist aesthetic. Walls are in plain off-white color, giving you a nice neutral background, and helping the dark mahogany laminates used on the cabinets pop out more.
While most of the kitchen cabinets is laminated in the same mahogany tone, some parts of the overhead cabinets and most of the base cabinets, including the kitchen island's, were instead laminated in a plain white color, helping bring out the coffee brown solid surface countertop and backsplash.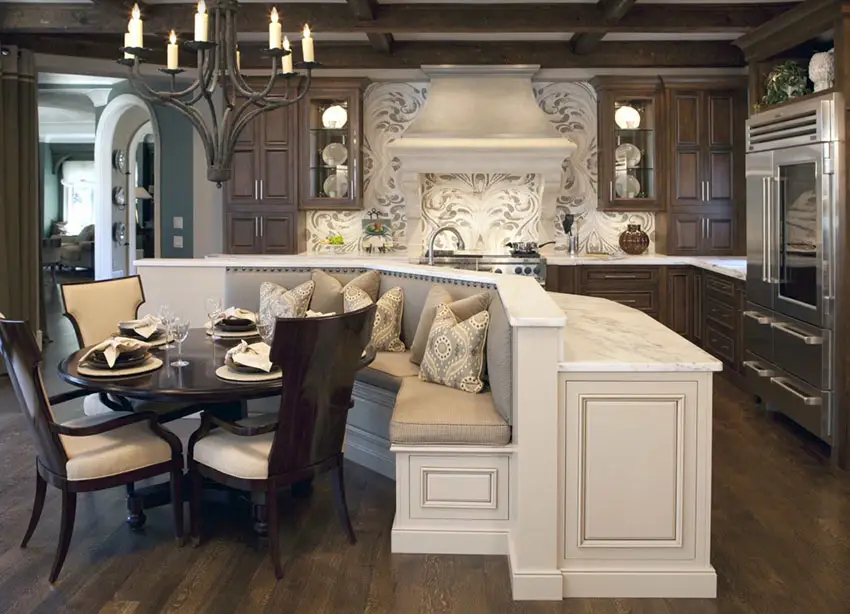 This kitchen design remains consistent with its choice of wood finishes, staying faithful to the natural oak tone of the floors and ceiling wood trusses, introducing it to the kitchen cabinets used and matching it with the rest of the space.
In order to keep it from looking too boring or dark, white wall paper with elegant flourish designs was used on the walls and white marbled topped the dark oak cabinets.
It also has an island with a built-in banquette seating finished in a soft-oatmeal color and topped with marble, which helps balance the dark colors present mostly in the space.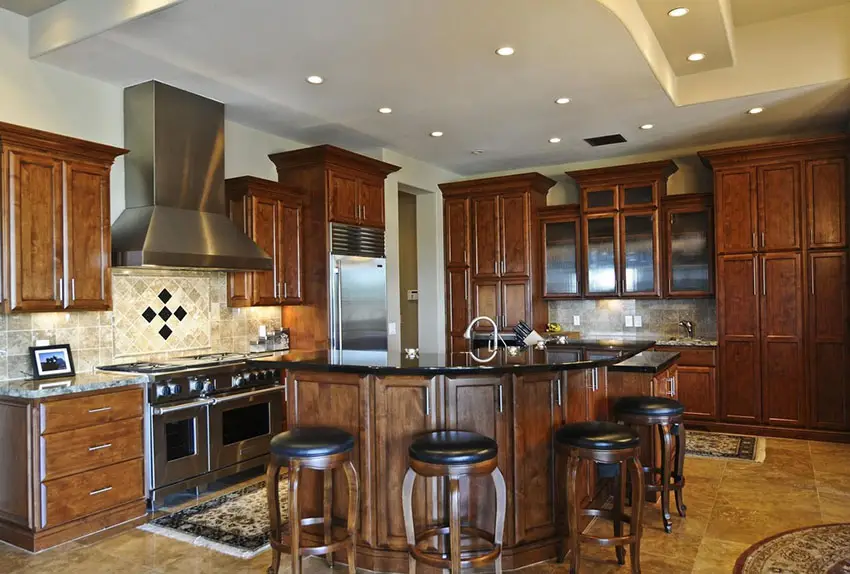 The kitchen above tends to emphasize the natural streaks and burls of its wood and simply varnishes it over to bring it out more, giving this kitchen a nice natural texture and a warm orange tinge which matches well with the yellow-toned polished stone floors.
The traditional design of the kitchen is a contrast to the modern structure evident in its unique ceiling design and simple wall finish.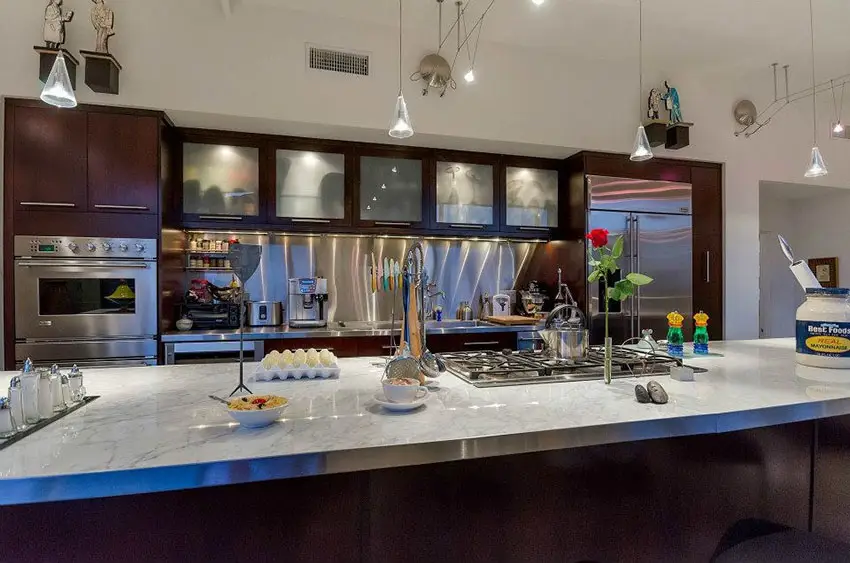 This modern kitchen uses natural solid cherry wood instead of using laminated planks to create this look, giving it a more natural appeal.
While the kitchen cabinets are plain and kept free of carvings and other ornamentation, the use of solid wood gives it more warmth, texture and personality, even as it is set against stainless steel counter top and backsplash.
There is also large kitchen island which spans the whole width of the main kitchen cabinets and is topped with white marble to add a classic finish to the otherwise modern kitchen space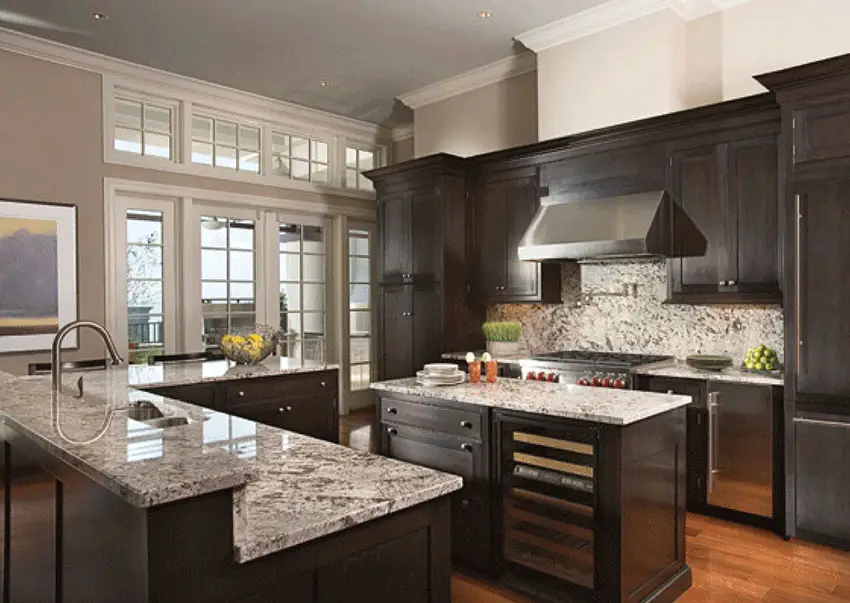 Despite the popularity of modern design and architecture, the appeal of classic kitchen still lives through and proves to be a timeless beauty. This examples shows how you can easily combine modernity and classic kitchen design aesthetics.
For this kitchen, simplified paneled doors were used for all kitchen cabinets and is finished in dark wengue, giving it a nice contrast to the light gray walls, as well as an elegant appeal.
This also helps bring out the natural beauty of the gray stone countertop used, creating a pleasing balance of colors and textures.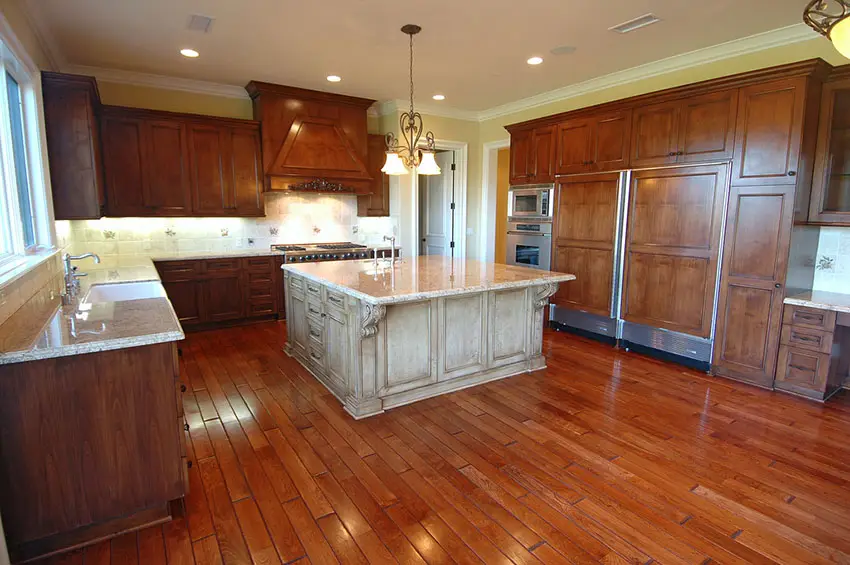 (Attribution Flickr #1)
Being rather spacious, this kitchen boldly experiments with a combination of wood tones/finishes. The floors are already bold by itself – they are solid teak wood floors with a strong orange undertone, which matches well with the yellow paint on the walls.
The kitchen cabinets also uses a stain finish on its wooden base with a similar orange undertone, but reveals a smoother surface in contrast to the wooden planks on the floors, and it also has a large kitchen island with a unique antiqued finish, adding more texture into this simple kitchen.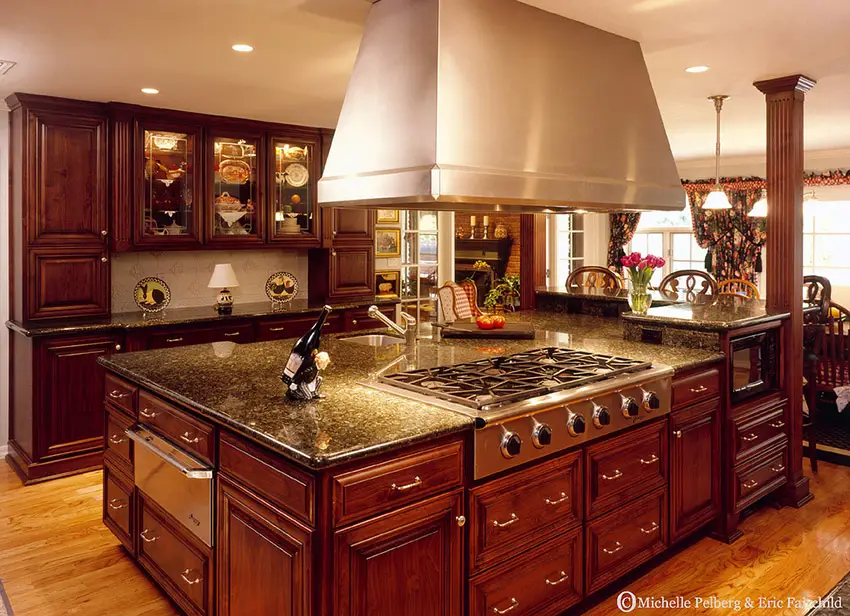 (Attribution Flickr #2)
The elegant appeal of solid Mahogany kitchen cabinets seems to last through time, and in this example, you will see how the classically-styled kitchen manages to look updated despite its traditional inspiration.
The cabinets used modular, but uses red Mahogany finish to give it a more elegant appeal. This is paired with lack galaxy granite, an easy-on-the eyes combination, and white backsplash tiles. Modern lighting and appliances were also used, helping this kitchen achieve that updated look of a traditional kitchen.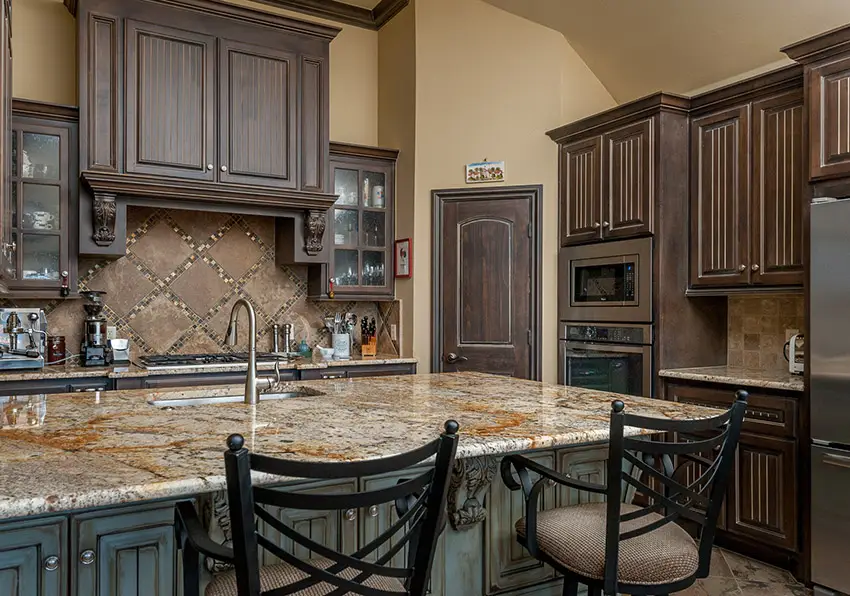 (Attribution Flickr #3)
A lighter shade of brown used to paint the walls help soften the overall look of this kitchen, but also help emphasize the beauty of its traditional kitchen cabinets with a gorgeous walnut finish.
You will also notice the beautiful combination of brown ceramic tiles with bronze mosaic tiles used to adorn the kitchen's backsplash.
The large island counter gives a refreshing appeal to the warm browns of the kitchen as it has an antiqued gray finish over the natural wood base, introducing a different texture into the kitchen.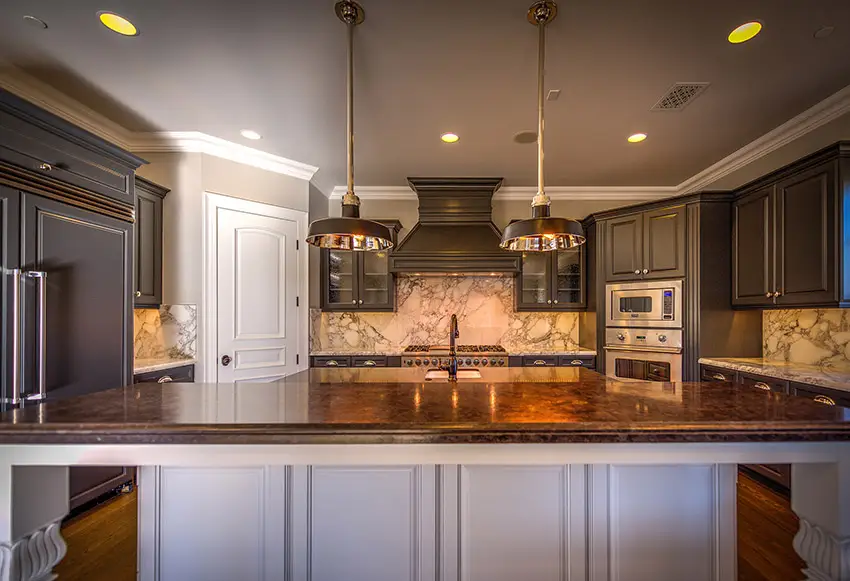 (Attribution Flickr #4)
Despite the classic style of the kitchen cabinets, the finish it uses is definitely a more modern update to the classic kitchen look.
Instead of the typical natural wood finish, this kitchen opts to paint over the paneled cabinets in a dark gray color, maintaining the elegant appeal of classic kitchens, while giving it a more modern appeal.
This is combined with retro lighting fixtures, warm under-cabinet lighting and a seamless application of marble on its counters and backsplash.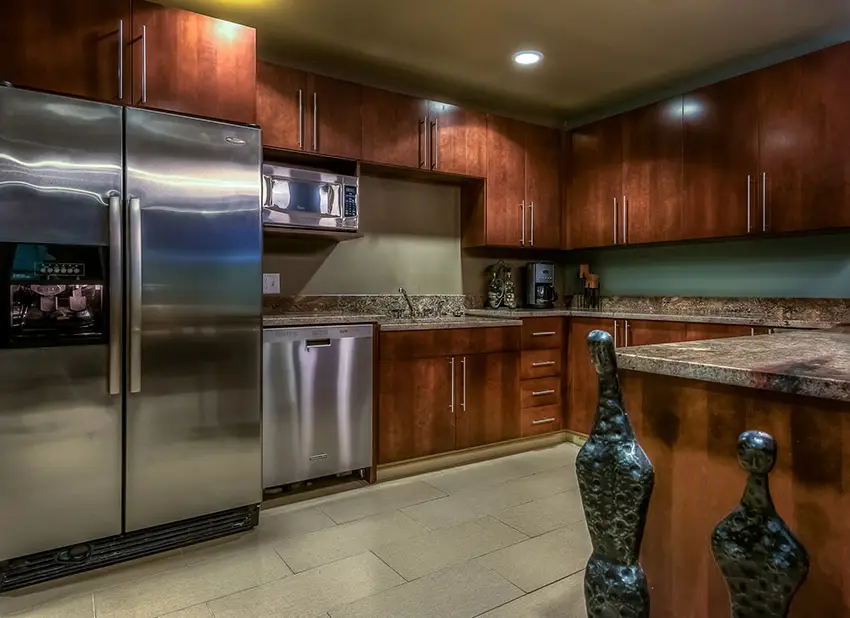 (Attribution Flickr #5)
Natural wood sometimes help bring a warmer, homier feel to a very angular modern design, and as shown in this example, despite a modern design, the kitchen cabinets uses natural wood finishes to give it that natural glow.
The natural timber used was sanded, polished and stained in a nice red mahogany tone, giving life to the plain gray surfaces of the walls and floors.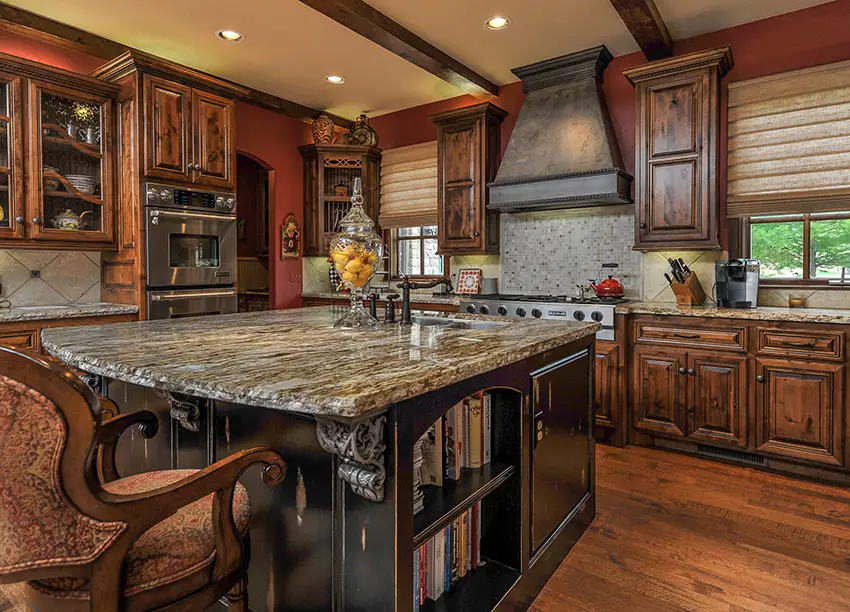 (Attribution Flickr #6)
The solid Mahogany floors and dark red paint of this kitchen sets a pretty warm and dark background to work upon, but adequate natural lighting helps alleviate the dark tendency of its choice of finishes.
The kitchen cabinets uses gorgeous solid walnut, while the large kitchen island has a black-painted based in antiqued finish, exposing its natural wood base. As reprieve to the darker colors, the countertop used has a light gray base, which complements the gray tiles used on the backsplash.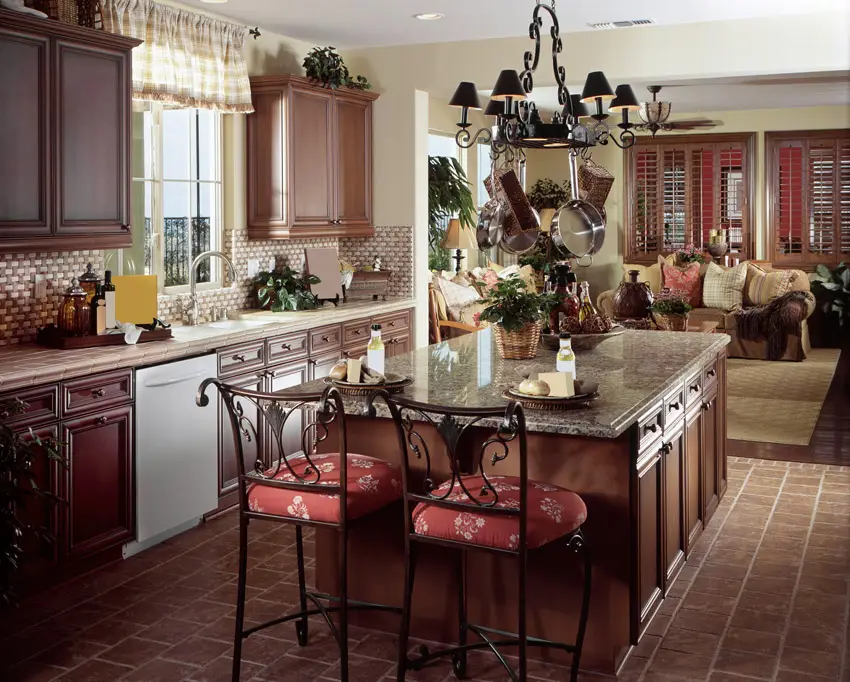 This is a simple traditional kitchen with traditional materials and finishes, but maintains a classy and elegant appeal. The wood used on the cabinets is solid Mahogany, which gives it a nice red undertone.
The countertop uses 100×100 ceramic tiles which was commonly used in old kitchens and the backsplash is also ceramic tiles with a weave pattern.
For the kitchen island, however, it uses gray granite instead of ceramic tiles but uses a more neutral walnut cabinet base. To further the classic look, you will see pans hung above kitchen island on the iron chandelier above it.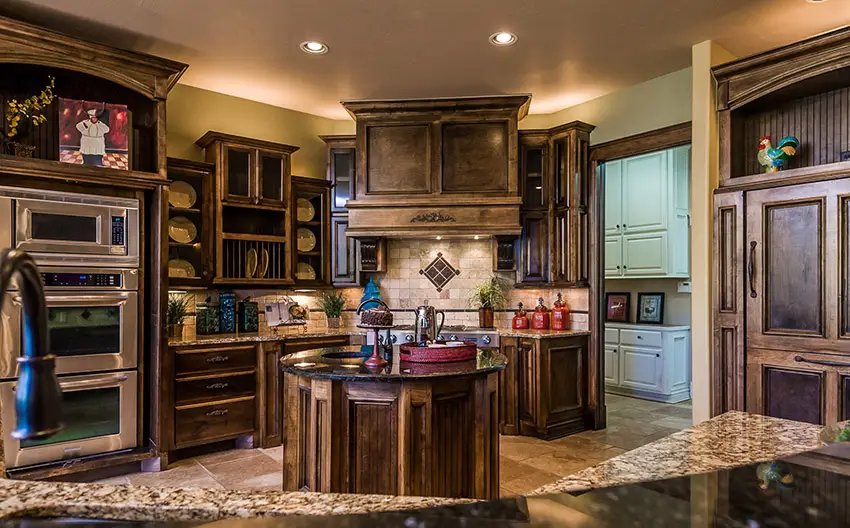 (Attribution Flickr #7)
Traditional kitchens have a timeless beauty and elegance to it, and sometimes, it needs only a little improvement to give it an updated look.
As in this example, all cabinets are of solid wood and has a sort of aged/antiqued finish. and even combined with natural granite counters and similarly-toned backsplash tiles.
The lighting and use of modern appliances, however, updates this classic design a little. You will see how under-cabinet lights were integrated, as well as accent light above the overhead cabinets, sending a warm wash of color to the plain white ceiling.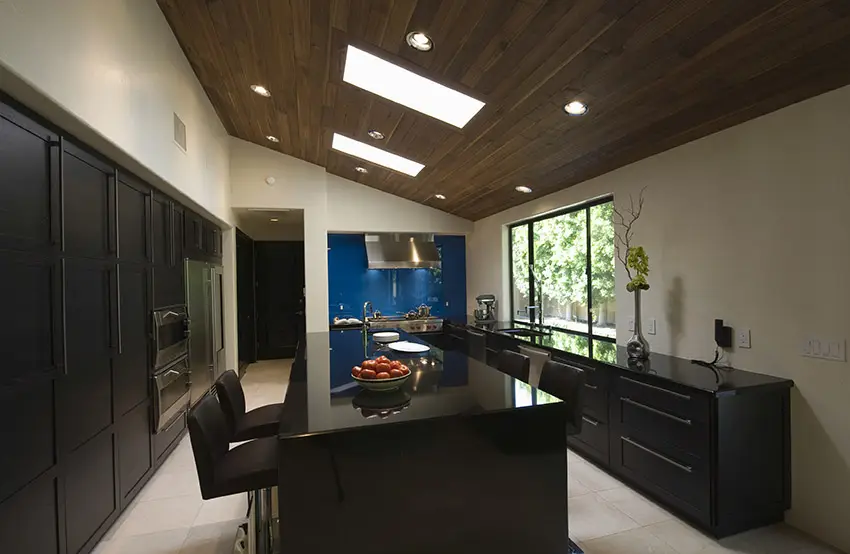 Dark wood kitchens work great when combined with the modern style. The culinary space occupies a separate room with typical modern finishes – white tiled floors and plain white walls.
The interesting architectural finish would be found on its ceiling with skylights, as it is clad with teak wood planks.
To add to the drama of contrasting colors, the whole culinary space uses wengue-finished cabinets topped with black solid-surface counters which makes the cobalt blue graphicote backsplash stand-out.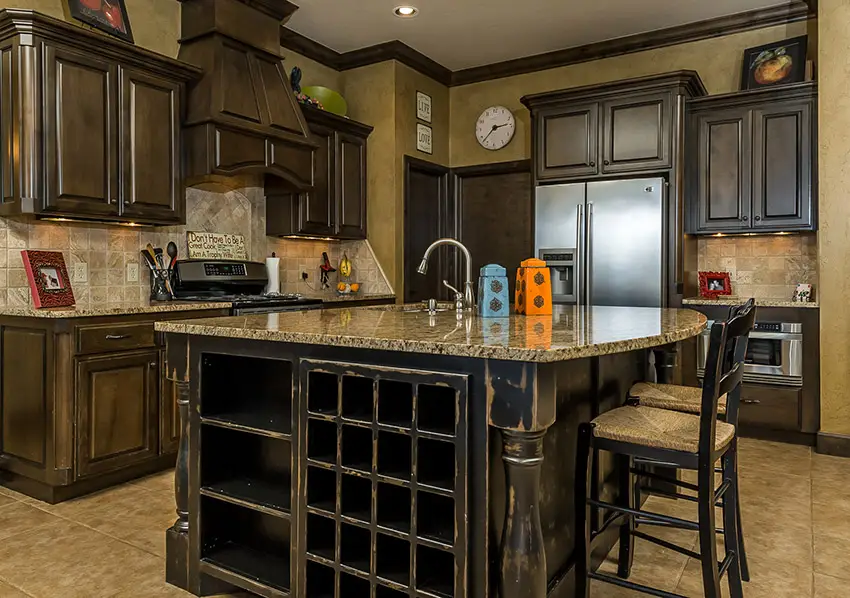 (Attribution Flickr #8)
Earthy tones and warm colors are present in this culinary space design, and you will see these elements throughout the space, from the tiles used, to the light beige rag-rolled finished walls and even to its cabinets.
The main cabinets are of solid wood in a golden oak finish, giving it a natural warm look, while the large island counter in in an antiqued black paint finish, revealing spots with some natural wood coloring and giving it an antiqued/aged look.
The warm earth tones are also present in the beige granite counters and the cream stone backsplash tiles, as well as the rush seats of the bar counter.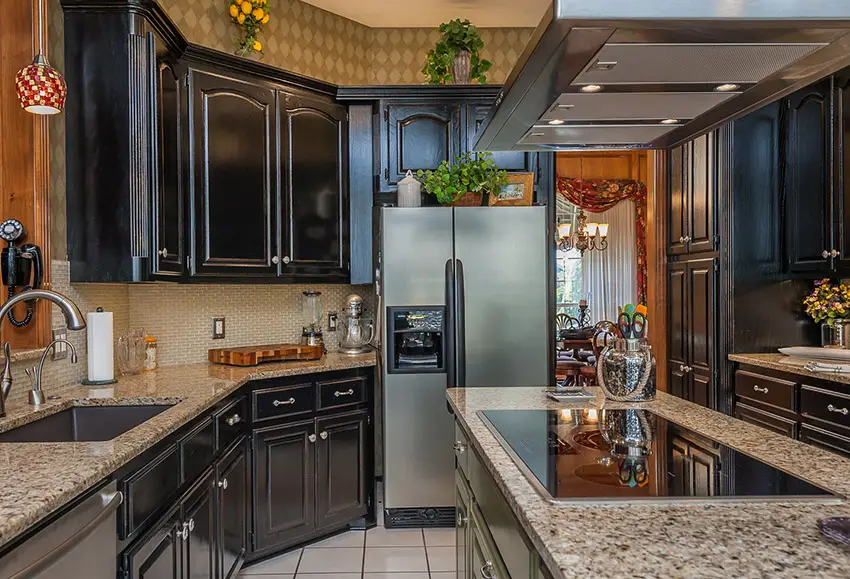 (Attribution Flickr #9) Placed in a rather confined space, this dark wood culinary space design utilizes the limited space rather well, being able to use both of its main walls for counters and even able to fit an island counter.
What's more interesting is its use of ebony-stained wood, giving you a very dark and bold color of cabinets which nicely balances with the white tiled floors, beige granite counters and cream tiles used on the backsplash.
[expand title="Show Image Sources" swaptitle="Hide Image Sources"]
(1) SherwoodRealEstate from Flickr (Creative Commons License)
(2) Okchomeseller from Flickr (Creative Commons License)
(3) Okchomeseller from Flickr (Creative Commons License)
(4) SherwoodRealEstate from Flickr (Creative Commons License)
(5) Okchomeseller from Flickr (Creative Commons License)
(6) Okchomeseller from Flickr (Creative Commons License)
(7) Okchomeseller from Flickr (Creative Commons License)
(8) Okchomeseller from Flickr (Creative Commons License)
(9) Okchomeseller from Flickr (Creative Commons License)[/expand]