Below is our temporary patio enclosure for winter guide including what it is, materials, cost, different patio enclosure ideas, and DIY tips to consider.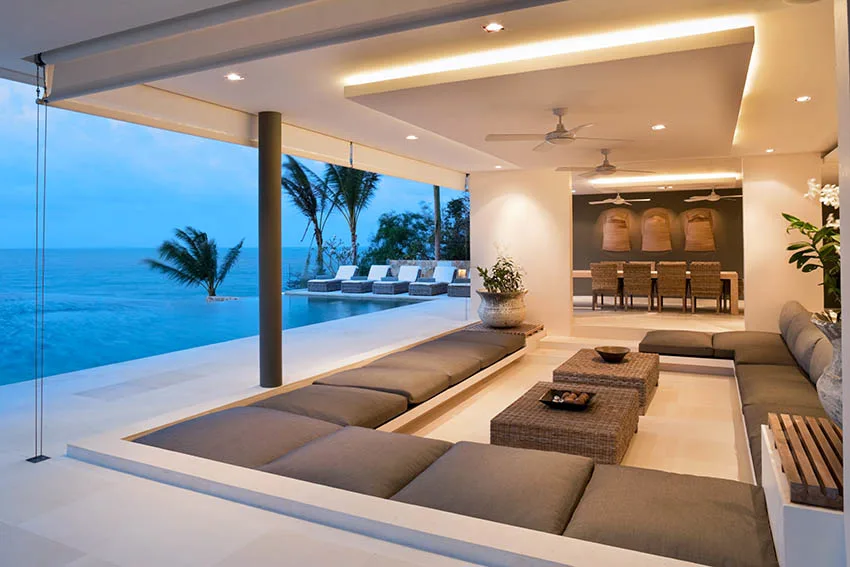 A home's patio is a wonderful area to rest in during the summer and springtime. However, it is an entirely different matter when there is rain, wind, and snow.
The biting cold of the weather will be hindering all kinds of fun you could have on your patio. So, what's the solution?
A heated patio may be great for these harsh weathers but definitely not for the heat of the summer. Another option you can have is to install a temporary patio enclosure.
What Is A Temporary Patio Enclosure?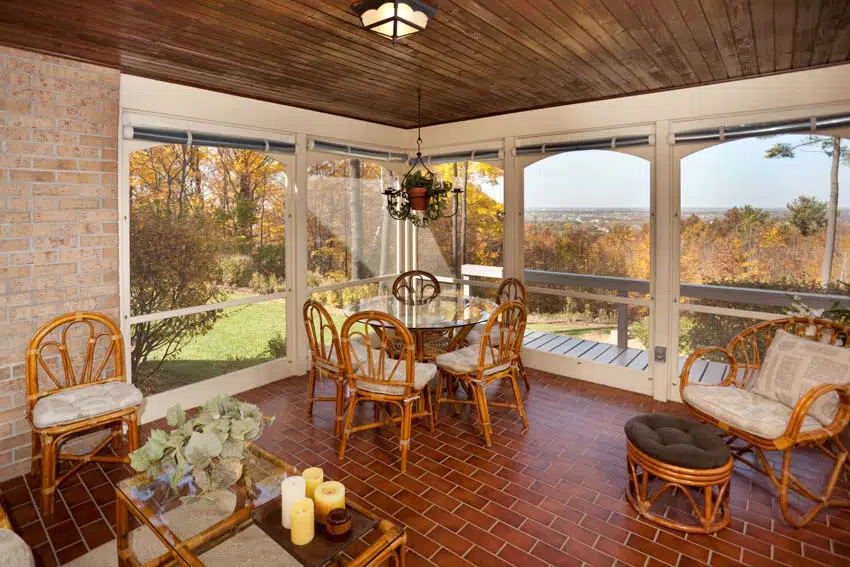 A temporary patio enclosure is durable protection installed around the patio to shield the area from weather elements.
Since it is temporary, you can easily transition it back to an open-air space perfect for great weather days. This option to customize the patio whenever it is needed is what makes it a good choice to achieve more use throughout the year.

An industrial-grade vinyl is a good material to be used for this temporary patio enclosure.
While it may not fully protect the area from freezing, it is enough to protect the space that you can install a small heater to aid with the temperature. And this will turn the area into a comfortable space where you can host parties even at the height of the winter.
Will The Outdoor Heater Work For Winter?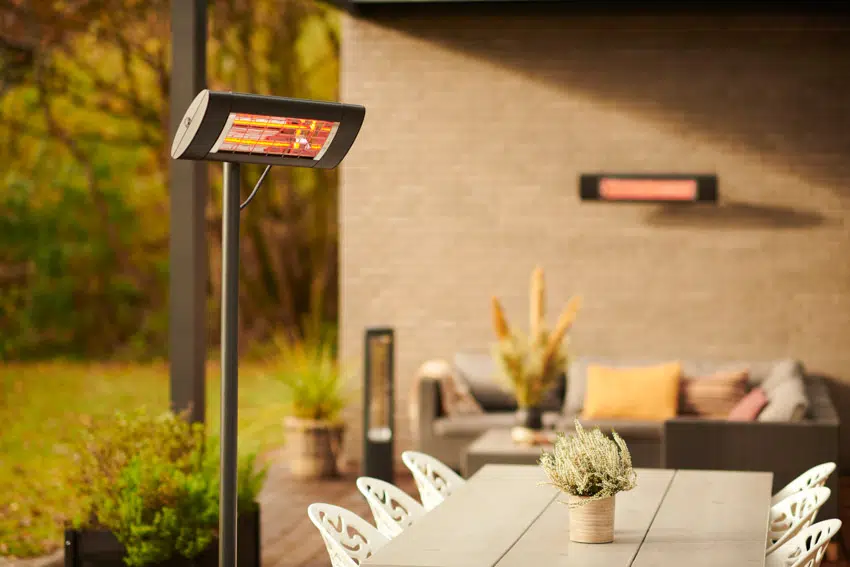 Outdoor heaters can work excellently in your temporary patio enclosure. Depending on the kind of heater, it can provide warmth in different ways.
A good example of this is an infrared heater. Compared to other heaters that warm the air, infrared heaters warm up the objects. It can be difficult to heat up a room though if the space is open.
With an enclosed outdoor space, cold wind will be blocked and the warmth will be trapped in the area.
How Much Will It Cost To Install A Temporary Patio Enclosure?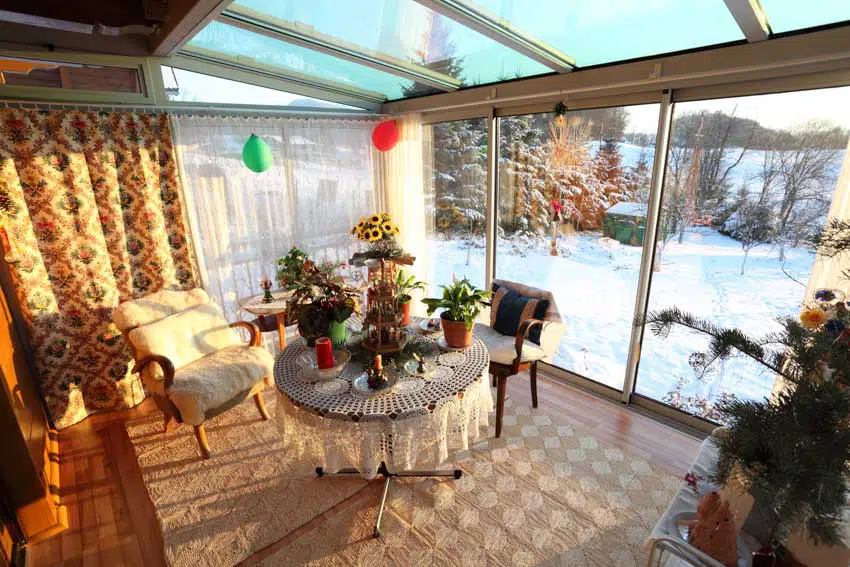 If you plan to install a temporary patio enclosure, the cost plays an important role in it. Determining the cost will depend primarily on the area you live and the cost of labor and the materials selected.
Typically a temporary patio enclosure will cost from $25 to $75 per square foot including labor and materials.

Some of the factors that you would have to consider in installing a temporary patio enclosure include:
• Materials to be used for the enclosure (Depends on what you'll use, including vinyl sheets, insulated curtains, curtain rods, and mounting tools)
• An existing structure where the enclosure may be installed (Roof or porch railings)
Winter Patio Enclosure Ideas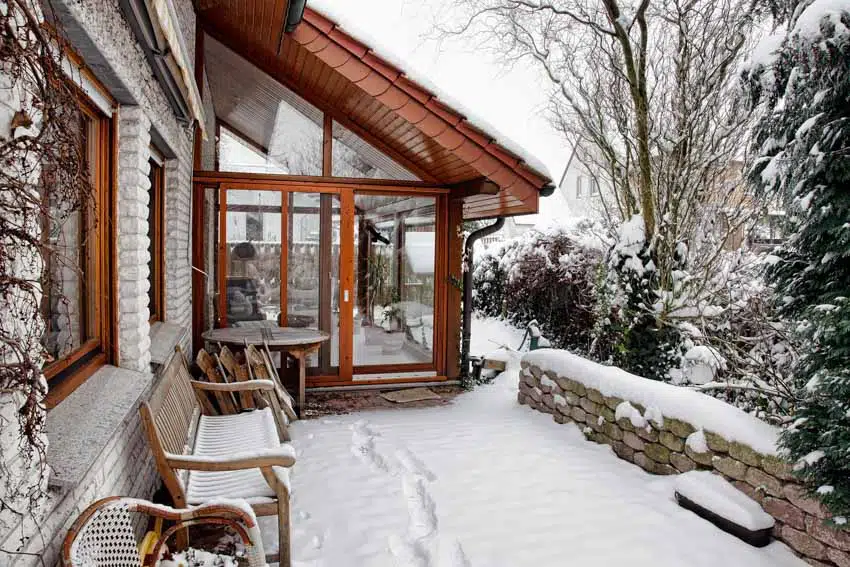 The focus of a winter patio enclosure is to be able to provide warmth in the given space. It is to make the patio a comfortable and welcoming space despite the cold and harsh weather outdoors.
And considering the patio is usually an open-air space, normally elements from the harsh weather can easily come in and make the place an uncomfortable area to stay in. But it can transform into a cozy space once you install a temporary patio enclosure.
If you have no idea which types of patio enclosures to use, there are different ways to do so and different materials to use. You only have to check out your options and choose the one that is ideal for your home and your needs. Here are some of your options to close off your porch.
Vinyl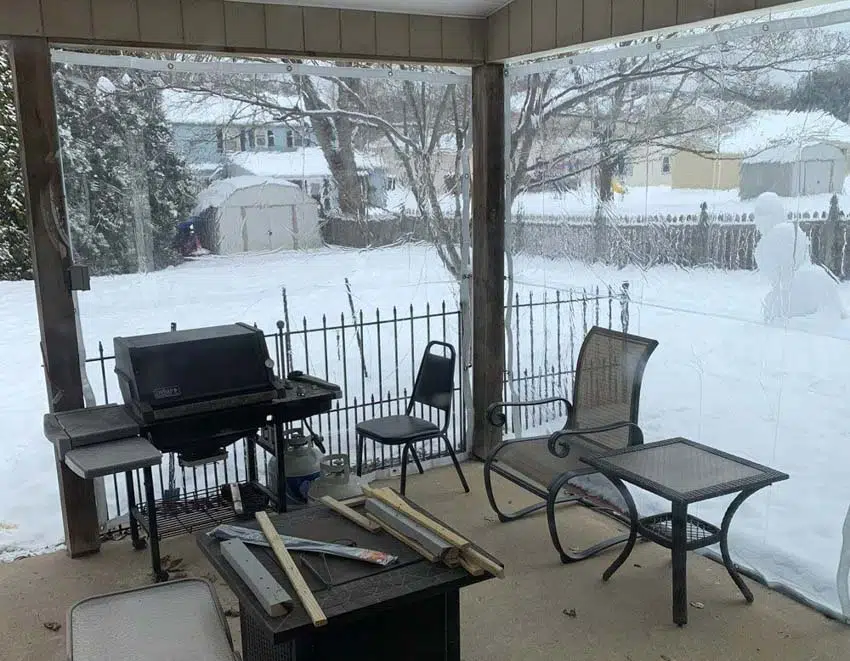 See this vinyl tarp at Amazon [sponsored link]
Choose clear vinyl if you want your porch to be visible from the outside and the outside to be visible from the porch despite the enclosure.
Since the enclosure is clear, it can reflect the sunlight towards the interior, giving the porch natural light. This is the best thing about using clear vinyl. Well, besides the fact that it's also affordable and easy to find.
For installation of clear vinyl, you will need to measure and cut rolls of plastic and build the enclosure from there simply by using a tape measure and a pair of scissors. Install them on the patio using a staple gun.
Dropdown Panels
See this roll-up privacy screen at Amazon [sponsored link]
If you don't want to do all the work, dropdown panels are an ideal option for you. Dropdown panels are vinyl or cloth already pre-installed and ready to be attached as patio or porch enclosures for winter.
You don't even need to uninstall everything once you don't need it anymore, You only need to release them to cover any opening for cold months and neatly roll them up when not needed.
Installation of dropdown panels comes with instructions and all the parts needed for it. Lightweight, they are easy to install too.
Insulated Curtains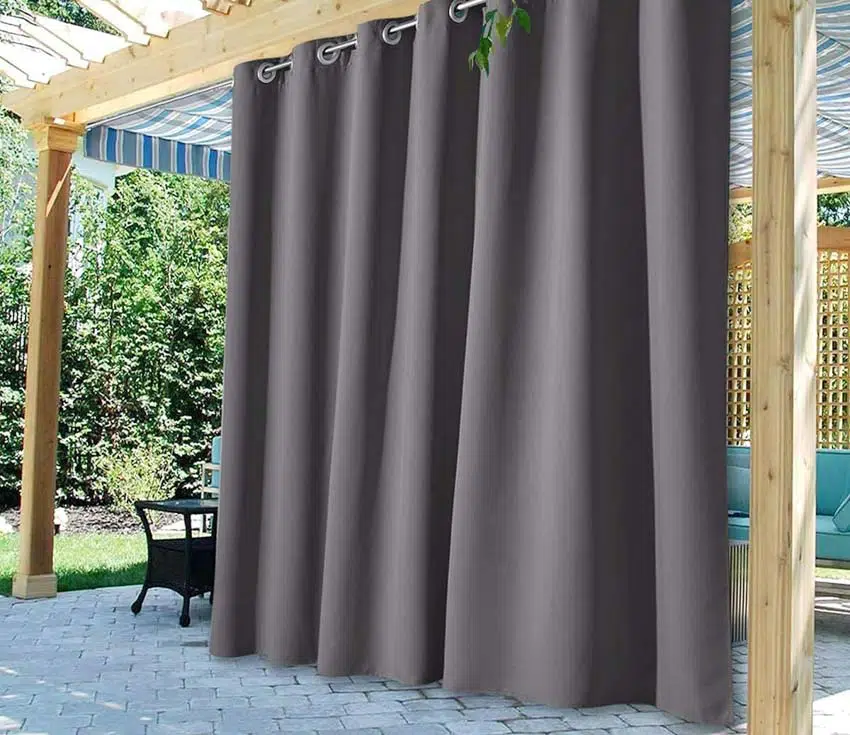 See this insulated curtain at Amazon [sponsored link]
Insulated curtains easily block elements from the harsh weather, making your porch a comfortable place to hang out in whatever the weather may be.
While perfect for winter, this might not be a good idea though during the summer and springtime.
They come in different curtain sizes, colors, and patterns that you're guaranteed to find one that you will like. They are easy to use since they are retractable but you won't be able to see the view outside from the inside unlike if you use clear vinyl.
To install these insulated curtains, ceiling curtain rod brackets are needed. Depending on where you want to install it, you can place these curtains on the roof of your patio or into the joists of the ceiling.
DIY Temporary Patio Enclosure For Winter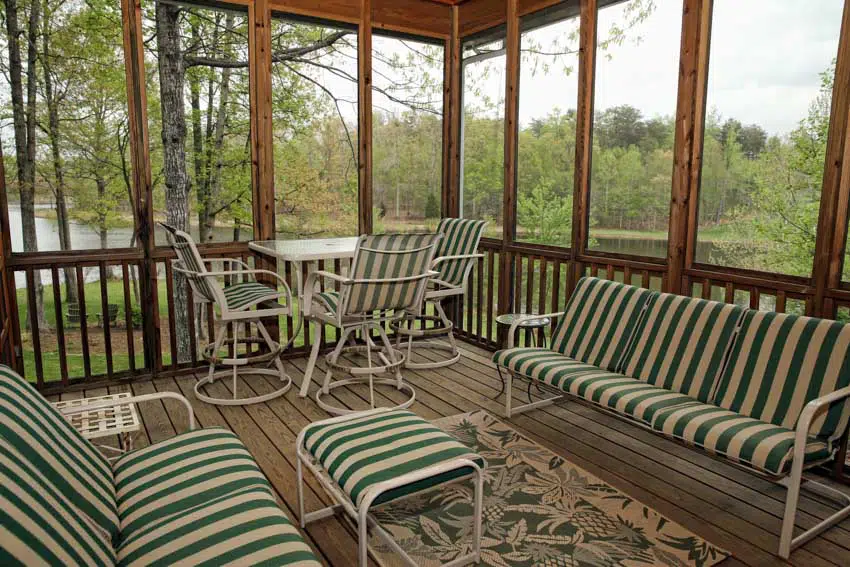 DIY projects have their benefits and two of these are; (1) they are more affordable and (2) you have control over how you want it to look. The same goes if you DIY your temporary patio enclosure for winter.
The first step in DIY-ing your temporary patio enclosure is to check if you already have a screen ready. This screen is where the enclosure will be added but this is only if you chose clear plastic vinyl.
There are different ways for you to create a temporary patio enclosure for winter. In general though, here are simple steps you can follow.
1. Inspect and measure your patio: whatever enclosure you choose to install, you have to know how much of the material you will need
2. Build the skeletal frame of the enclosure: create a strong frame that can hold the enclosure you chose (ignore this step if the enclosure you chose already comes with its own frame and installation parts)
3. Treat the wood used for the frame: make sure to start with a good primer, especially if you are using untreated wood for its skeleton
4. Install the patio enclosure: for some enclosures, the installation comes with instructions but for DIY, you only need a staple gun to complete this step.
See more related content in our article about enclosed patio ideas on this page.