Here we share our slate patio ideas guide including what is, the different materials you can use, the cost of building a slate patio & cleaning and maintenance tips.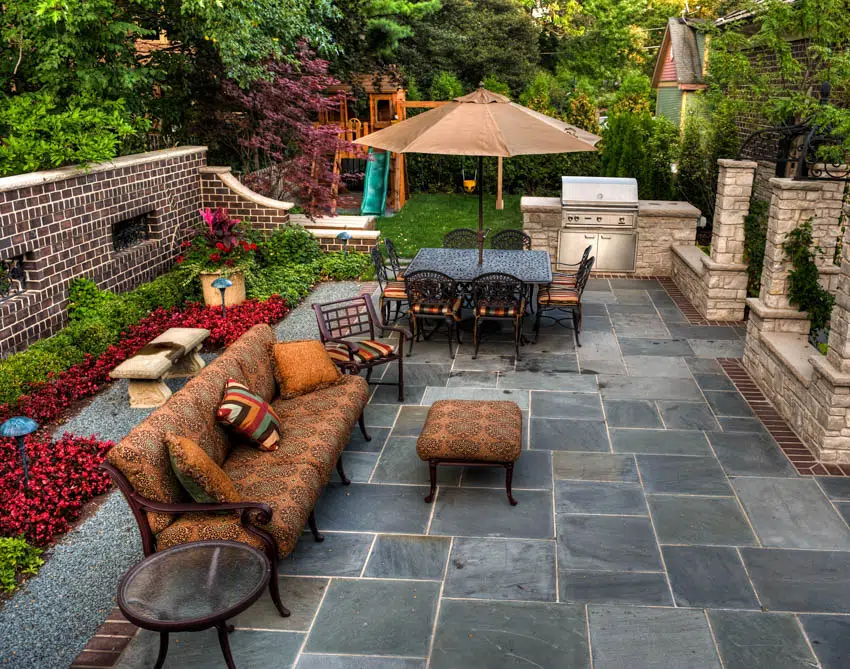 Enjoying the outdoors is not only a great way for unwinding and spending time with our loved ones, but it's also the perfect way to reconnect with nature.
And what can be more suitable for a relaxing surround than the warm and natural look of slate patio tiles? Rich in character, a slate patio offers various design configurations thanks to the wide array of colors and its workability.
The organic texture of the stone also offers a more random or natural look without any constraints on the graining or color combination, making it a truly versatile patio material.
What Is A Slate Patio?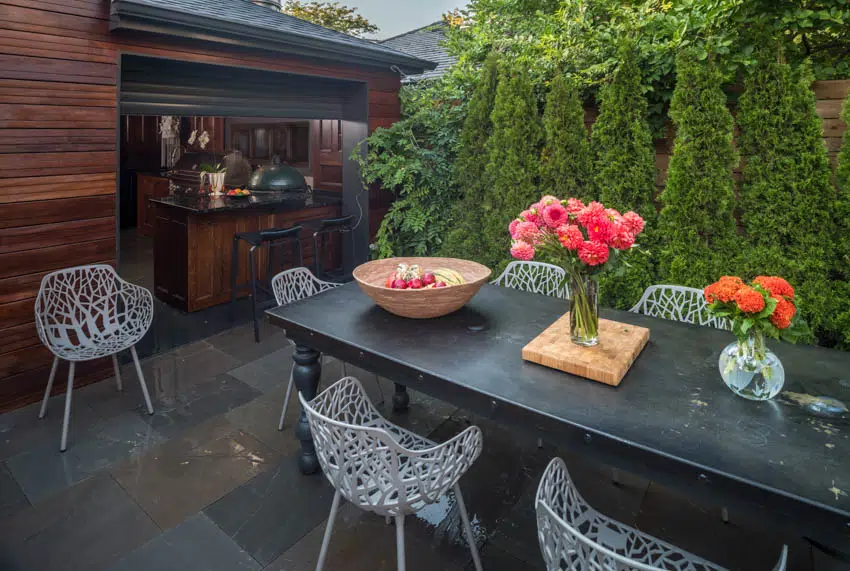 A slate patio is a design for the outdoor space of a home or building where it employs the use of slate stones in the pavement and/or as a walling material for patio enclosures.
Slate patios remain one of the most popular patio materials because of their unique aesthetics, durability, and other features that make them perfect for outdoor use. They don't stain from leftover leaf debris, are not damaged by freezing temperatures and won't fade from direct sunlight.

Slate stones are made mainly of clay, volcanic ash, and shale that have undergone low-grade metamorphism millions of years ago. Compacted to extreme temperature and pressure, these are natural stones that are dense and very durable.
Color variations are due to the different mineral structures and grain sizes from different regions. The most popular slate colors for homeowners today are slate stones with gray hues and undertones such as Grey Riven Slate, Gris Riven Slate, Black Riven Slate, or other dark shades.
For years, slate stones have been used in different building applications but mainly as a roofing material. Durable and visually pleasing, slate patios with prime slate stones and sound installation can last over a century without significant damage or even appearance deterioration.
Slate Patio Tiles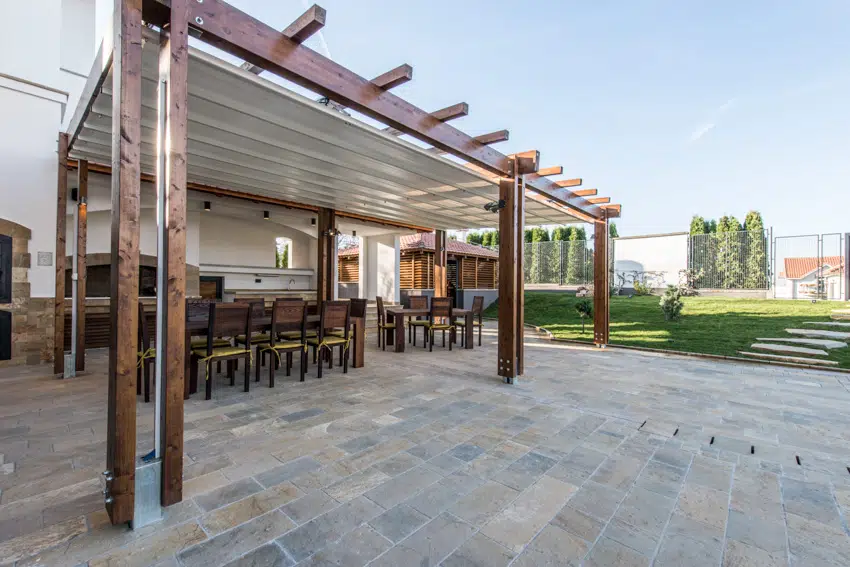 Slate tiles on your outdoor patio give it a permanent and uniform look and work well for low to medium traffic areas due to its thinner profile compared to slate pavers.

Although slate tiles' thickness can vary due to the nature of the material, the standard slate tile can range from 1/8" to ¼" in thickness.
If you're going more along with a rustic look, irregularly shaped slate tiles are perfect for that traditionally themed hardscape. But for a more customized appearance, use square slate patio tiles that usually come in 12" x 12", 12" x 24", 16" x 16", 18" x 18", and 24" and 24" sizes.
Like installing any tile, make sure to have a stable ground and subflooring. Concrete is considered the best subflooring material for any type of installation due to its smooth finish and where you can easily anchor down the slate tiles.
While there are ready-mix slate tile adhesives in the market, experts recommend using a latex-Portland cement mortar mixed with acrylic (not water). The thinset helps reduce water absorption, reduces movement from temperature changes, and has a durable bond between the tiles and the subflooring.
If you are ready to embrace the natural look, then you might do away with a sealer. But these have downsides. It can look dull and chalky with heavy traffic backyard area or space with lots of spills such as a barbecue grill area.
When you decide to use a sealer instead, use an enhancing sealer that can add an amount of glossiness and maintain a wet look. Read more about our guide on the different patio tile ideas here.
Slate Patio Pavers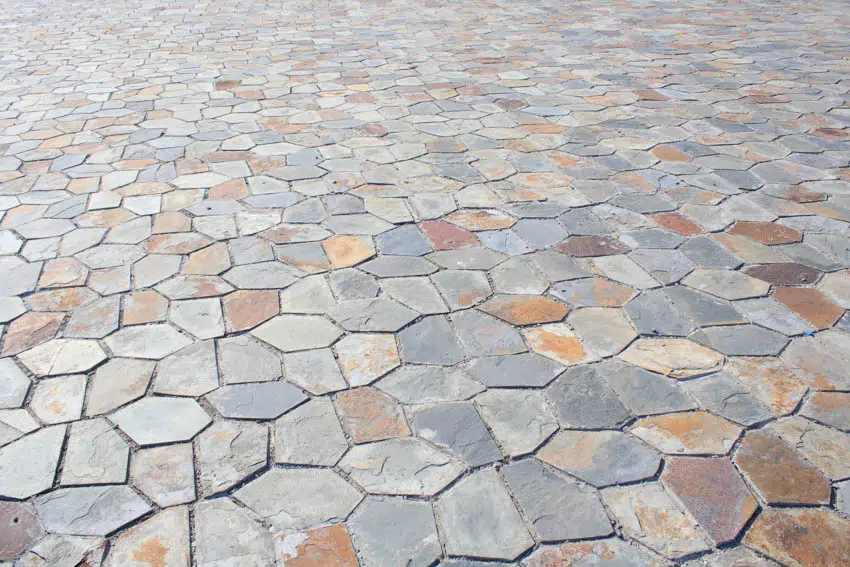 When you have a patio that hosts plenty of guests and activities, slate pavers are a more suitable option as it has a thicker profile that can withstand the heavy foot traffic. In addition to patios, slate pavers are frequently used for a walkway, driveway or retaining wall design.
Like slate tiles, the thickness can vary from end to end due to its organic nature, but the usual thickness is about 2 inches. You can purchase slate patio pavers at standard sizes such as 12" x 24", 24" x 24", 18"x 18", 18"x 24", and 24"x 36".
Aside from the profile, the main difference between tiles and pavers is that slate patio pavers can be laid out directly on the ground without the need for subflooring.
This makes slate pavers less expensive to install than slate tiles, though take note that slate pavers are more expensive to purchase than their tile version because of their size and thicker profile.
Expect to have an informal patio design when using slate pavers as the large interlocking pavers do not have the luxurious appearance of slate tiles. Instead, you have more freedom from the other slate patio ideas to create interesting configurations.
An advantage of pavers over tiles is that you can easily replace the unanchored hardscape when damaged.
Like tiles, apply sealers or top coatings to add an amount of sheen and protect the surface from staining by oil and other greasy substances. Read more about our guide on the different paver patio ideas here.
Slate Patio Slabs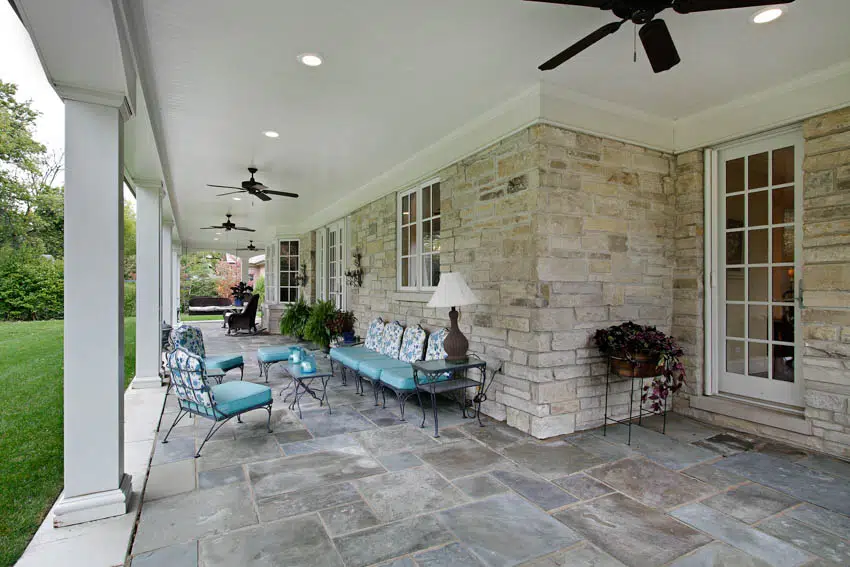 The use of slate patio slabs is the most common option for outdoor hardscapes because of the cleaner look and larger coverage that reduces the installation time and use of adhesives.
The large-sized slate stones also mean they are heavier than your typical slate tiles and pavers, preventing them from moving out of place. This makes them ideal for the front porch or steps leading to the house entryway.

Traditionally, a slate stone or block is classified as a slab if it has a surface area of 100 square inches and that anything under 100 square inches is sold as pavers.
Though, in practice, the difference between pavers and slabs becomes blurred as some suppliers would label slates over 100 square inches as pavers.
To distinguish the difference from other slate patio ideas, it is better to focus on the thickness and function of the slate. Slate patio slabs are larger than tiles and pavers but usually have the same thickness as slate tile.
Slate tales are purchased in a uniform look or a mix of sizes to create a more interesting patio pavement. If you have a circle patio, there are patio slabs that also come as circle packs or are cut to form a circular pattern.
Slate Chip Patio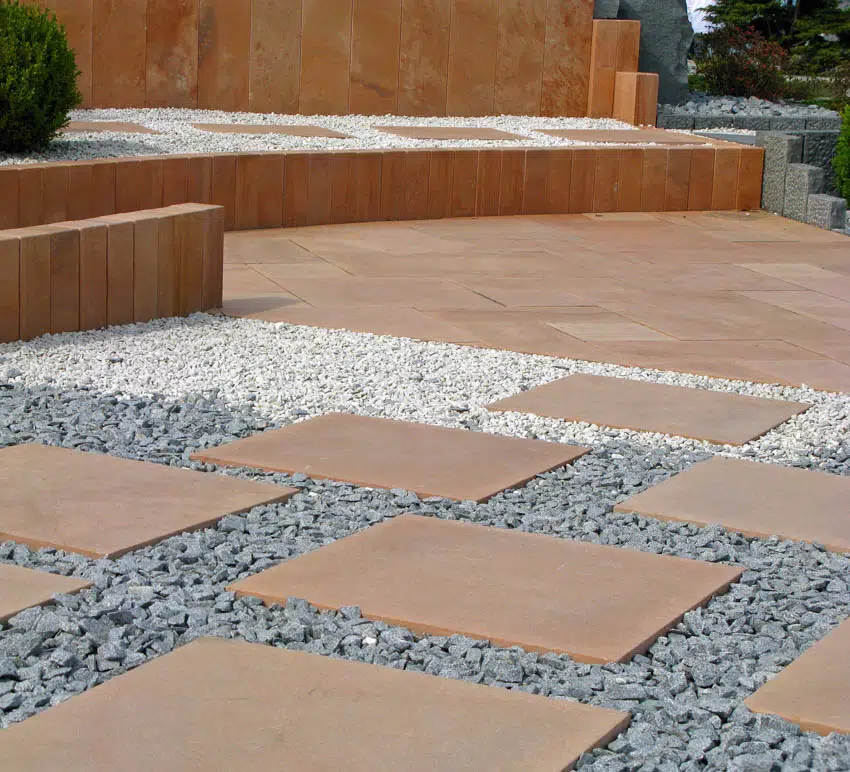 A combination of slate tiles, pavers, and slabs can create an interesting design. But if you want to add more to your patio design, slate chips are one of the easiest ways to add texture.
Slate chips are thin pieces of slate with an average size of 1" to 3" in diameter. Like gravel stones, they are usually laid out as path or border materials.
The versatility and ease of installation makes slat chip ideal for a DIY patio design. You can place them in between slate pavers or flagstone to add visual interest to your patio hardscape.
Faux Slate Patio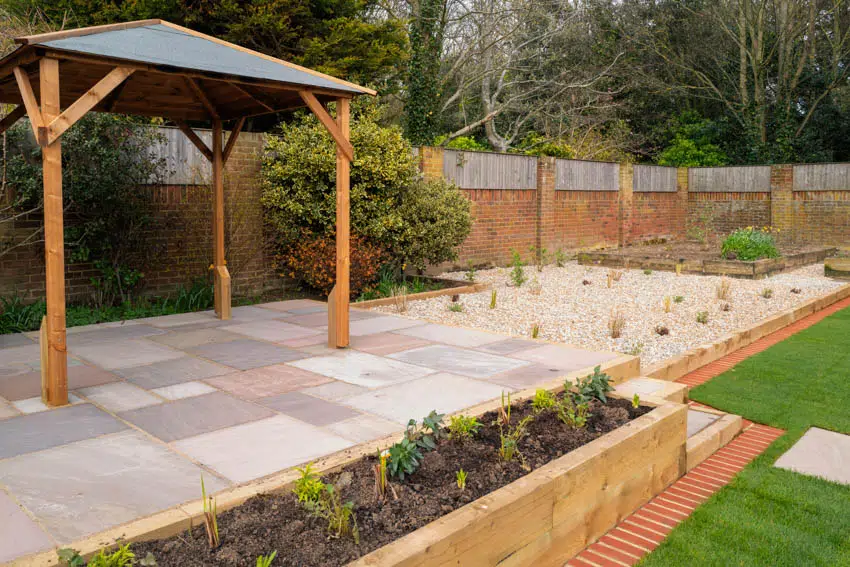 If you love the look of slate on your patio but simply don't have the budget, a faux slate patio is a perfect solution.
A faux slate patio is also an easy and fast design option if you want to upgrade the look of your worn-out concrete slab.
Some alternatives to slate that can have a similar appearance are ceramic or porcelain tiles, fiber cement tiles, stained concrete, flagstone or clay tile flooring.

Can You Paint A Concrete Patio To Look Like A Slate?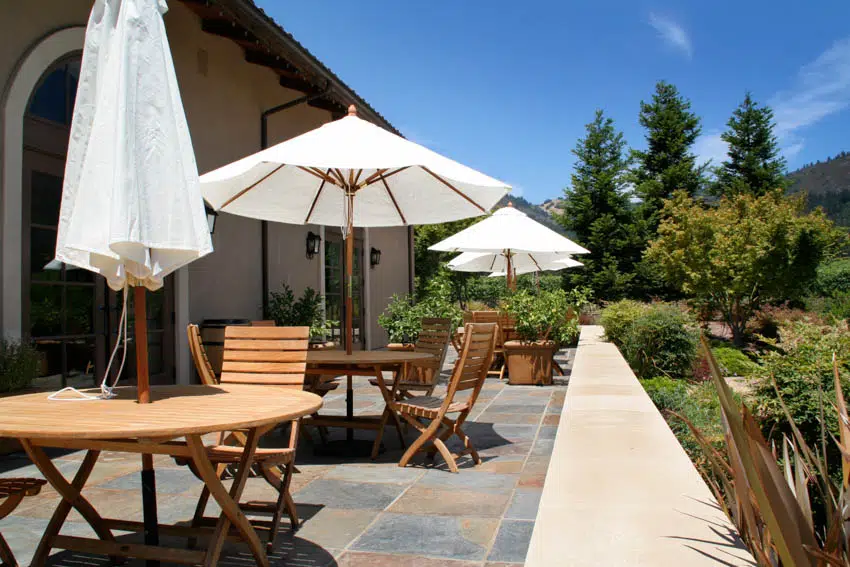 Yes, you can. To achieve the look of slate tiles, you can purchase a stencil that comes in various designs, either in irregular or squarish shapes.
The most popular is country-themed mold or Ashlar slate designs. You only need one mold for the whole project if you're considering this option from other slate patio ideas, where you can paint over the stencil and move along each section.
Spray paint 5 to 6 different colors is the fastest way to simulate the slate look. After covering the entire concrete slab with the pattern, you'll need to repaint each with a different color to achieve a more natural appearance.
Slate Stamped Concrete Patio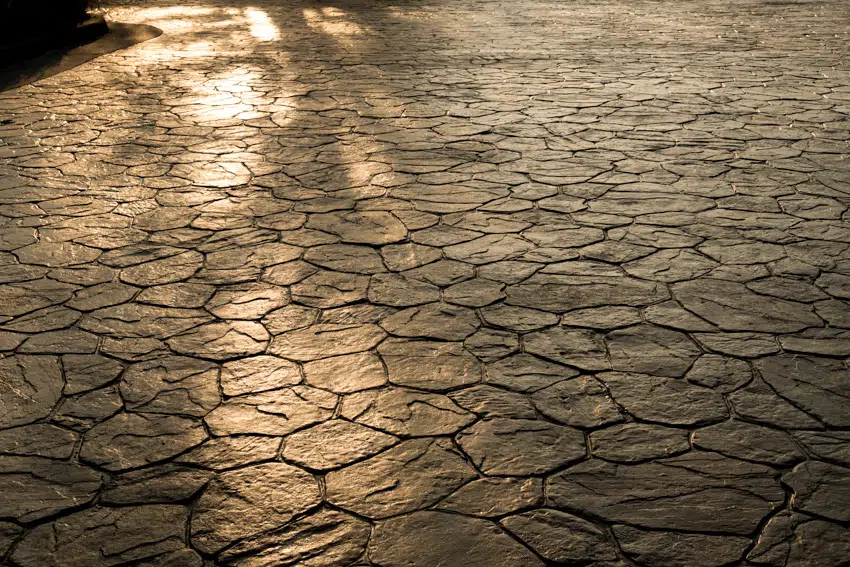 For adding depth and texture to a new patio slab, you can slate stamp on concrete to simulate the look of slate. Using a thin concrete stencil fill the holes with fresh concrete, then flatten the surface using your trowel to fill in any gaps present in the infill.
After a few minutes, lift your stencil. Your freshly stamped concrete slab should retain its design with a good mixture of cement. For general uses, a mixture of 1:2:4 or 1 part cement, 2 parts sand, and 4 parts coarse aggregate is sufficient for patio pavements.
Let your newly stamped concrete cure for at least a week before filling in joining sand. You can now paint on your cured cement using your stencil as a guide.
Also, make sure to find a reputable supplier. The best-recommended countries that sell most of the best slate materials are those that come from the U.S. and Spain. Read more about our guide on stamped concrete patios here.
Slate Patio Cost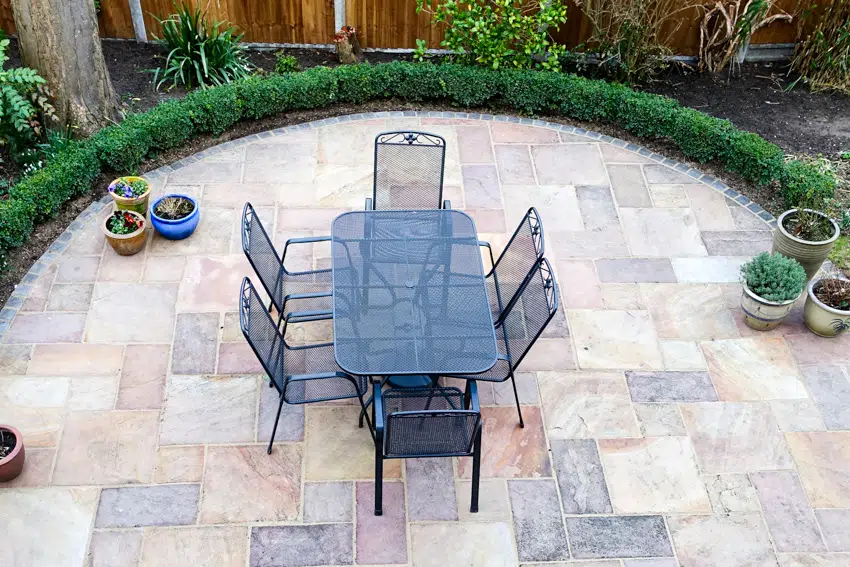 Building your slate patio can cost more than your average concrete tiling and will depend on the slate tile, paver, or slab to use.
For both materials and labor, you can expect to pay anywhere from $9 to $40 per square foot as an outdoor material.
Other expenses can include:
Lawn costs: $980-$2,960 for most homeowners
Excavating land prices: $50-$200 per cubic yard
Cost to remove a tree: $750 on average
Backyard renovation costs: At least $15,000
You'll also need structural reinforcements that can include veneer underlayment or subflooring. Moreover, the cost can go up with the addition of customized features. For instance – this beautiful contemporary slate patio features an outdoor gas fireplace and stone dining table.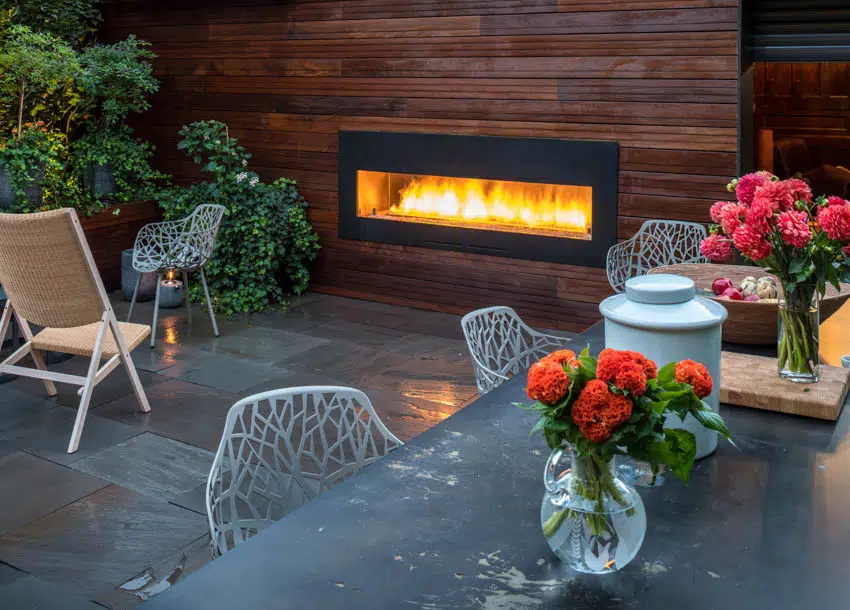 To get a good range of the costs for these slate patio ideas, several project quotes should be sourced from various contractors. This will help you determine the overall cost of this project.
How to Clean A Slate Patio?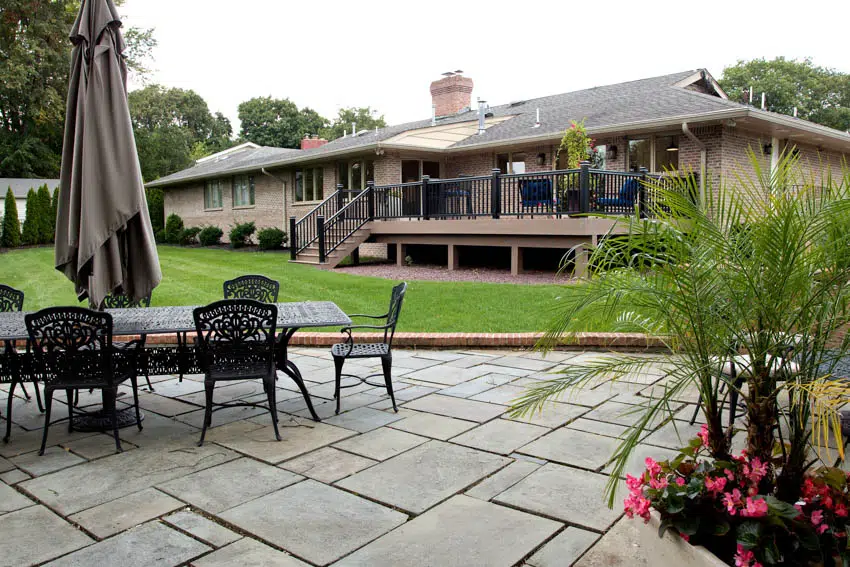 Cleaning quarried stones are relatively easy and do not require much thorough maintenance. You can sweep off dirt, dust, and other debris daily to prevent accumulated particles that can embed themselves on the crevices or holes of your slate.
Using mild detergents and pressure washing, grime, and other tough dirt should be easily rinsed off.
There are eco-friendly slate cleaners that are premixed and are safe for your slate tiles and more to bring back the original color of the stone.
After cleaning your slate patio, you should let it dry for several hours before using it. See more related content at our article about the different types of patios on this page.