Here we share our types of glass front doors guide including the different materials, front door options, and effective ways to preserve privacy.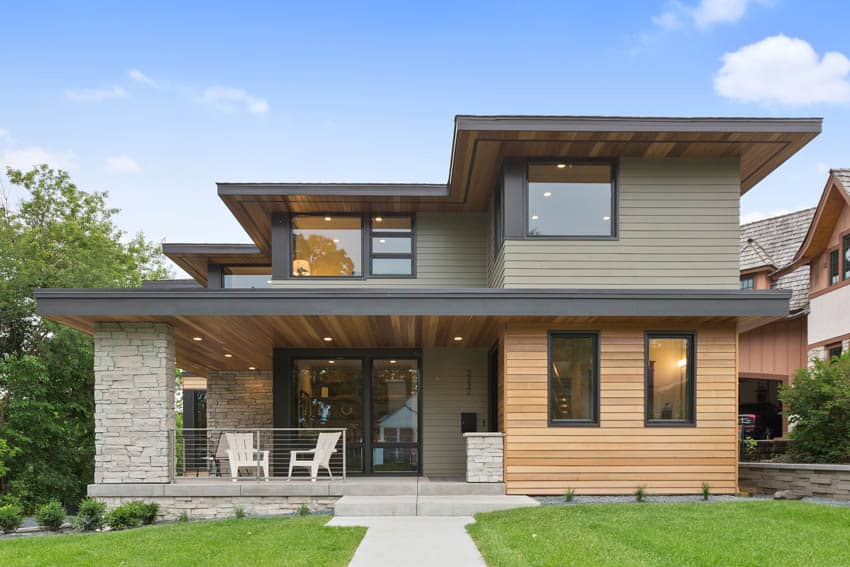 Choosing the right type of glass for your front door can be a lengthy process. There are just so many options available out there. To choose the best type of front door for your home, you need to make a decision on what features you want.
Did you want something that offers a little bit of privacy? Did you want something that looks rain-streaked? Did you want something stately? Something that lets the maximum amount of light in? There are many options available to find the type of glass door that suits you best.
Clear Glass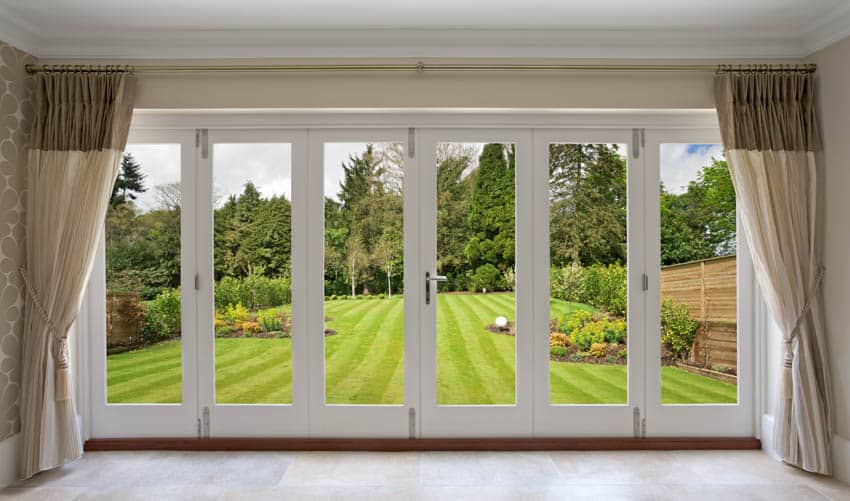 Clear glass offers the best view sans the distortion of light and colors. Because of its low iron content, its reflective properties are drastically minimized as well; allowing the maximum amount of sunlight to pass through.
Light transmission aside, it provides more heat gain which makes it a perfect front door material if you happen to be located in an area that is prone to cold temperatures for the most part of the year.
It also provides extra aesthetic value because of its clarity. You wouldn't need a lot of artificial lighting in your reception area with this type of front door.
Frosted Glass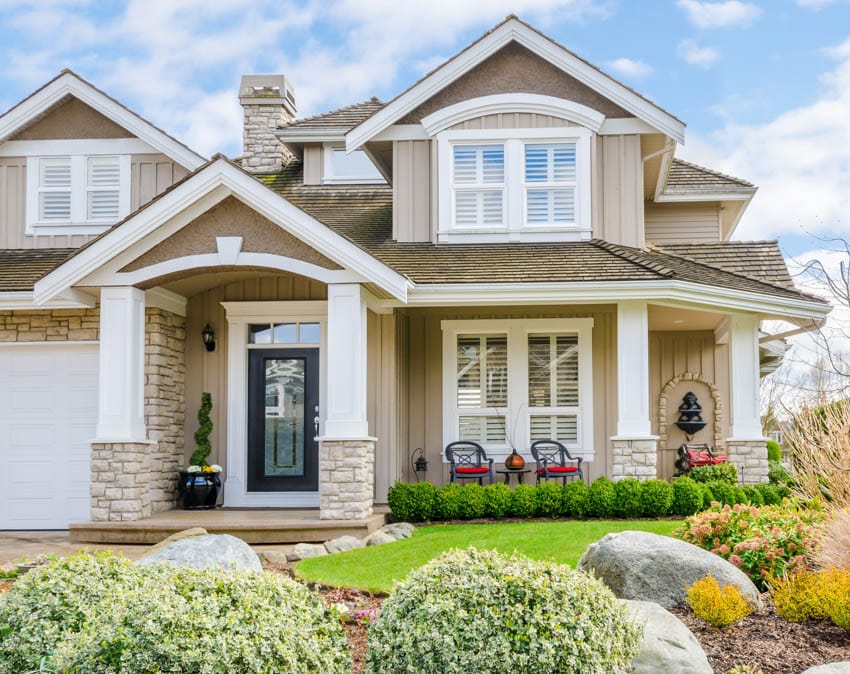 A frosted glass door is perfect for you if you're quite particular about maintaining a clean home. This particular type of glass is quite easy to clean and it's even much easier to maintain it that way.
It allows a sufficient amount of sunlight in. But on the other hand, if you like a little bit of privacy, this glass door can provide that as well.
Frosted glass is also known to maintain indoor temperature as it allows the sunlight to filter through during the day without it getting too hot while at the same time blocking out the cold during the winter months.
This means you get to conserve a significant amount of energy monthly, helping you save up on your utility bills.
Rain Glass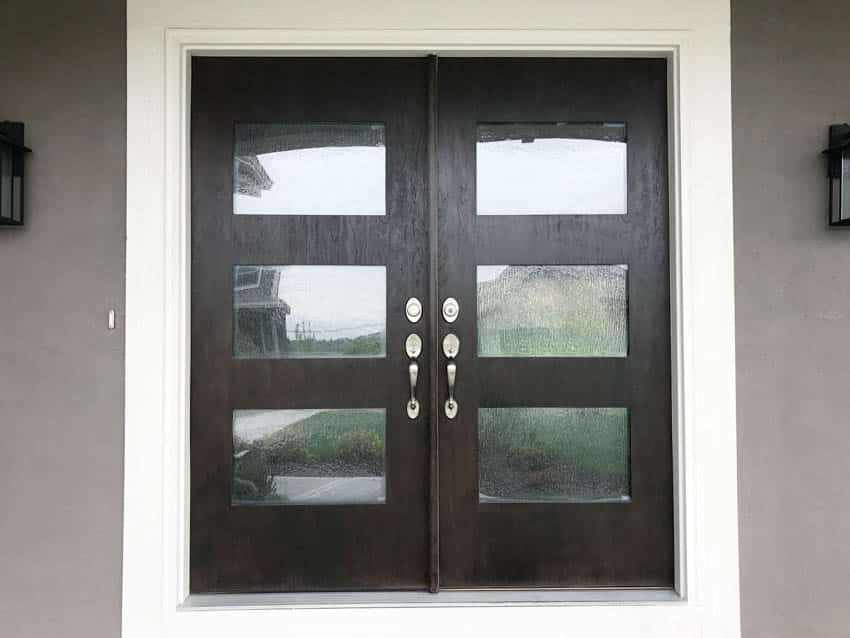 Rain glass holds true to its name. It can make your front door look like there are streaks of rain pouring down against it. There's a dreamy feel to it that other types of glass can't really deliver.
It's perfect if you have a modern space to complement it with as it's also grounded with a bit of an earthy vibe to it. if you're up for it, you're in for quite a treat because this type of glass is the perfect décor splash you could ever need.
Stained Glass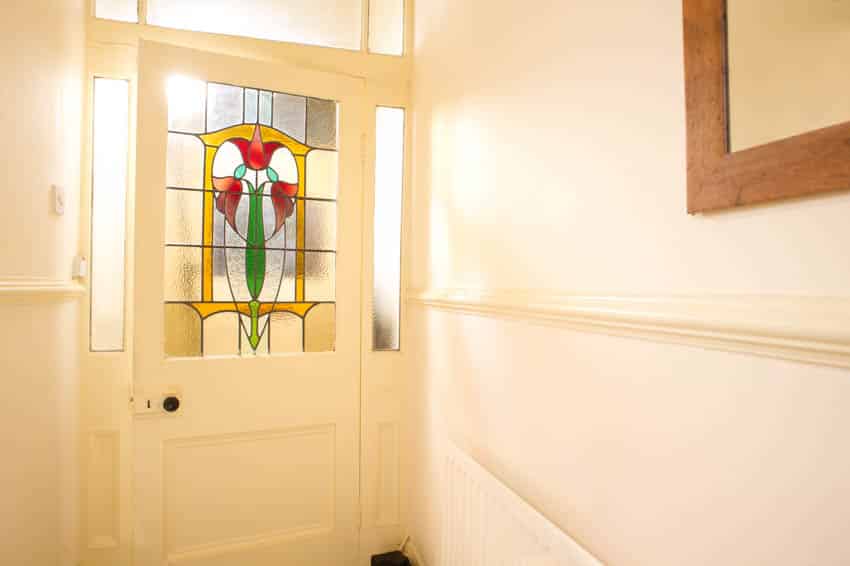 A stained glass door provides elegance and beauty beyond your imagination. It has interesting light patterns when the sunlight hits it and shines through it.
Among all the other types of glass front doors, it can bring in an explosion of colors and add brightness and beauty to the entryway of your home all throughout the day. It's certainly a conversation starter right from the moment guests step into your front door.
Ornate Glass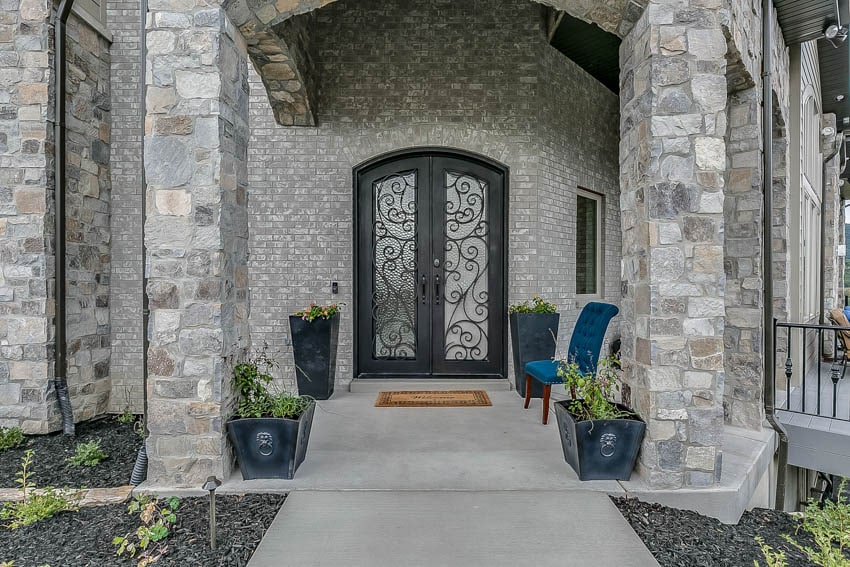 Ornate glass is also known as decorative glass. Aside from its obvious functions for your front door, it is particularly built to be pretty so if you are keen on upgrading the overall look of your front door space, then this is definitely the way to go.
It's usually paired with elaborate wrought iron framing and door knobs with a similar finish.. This means that on top of its obvious beauty, it also provides a good amount of structural support.
Tempered Glass
The biggest advantage of a tempered glass door is that it's safer compared to annealed or ordinary glass. There's no risk of it breaking off into big shards that can be a danger to anyone around if it breaks. Instead, it disintegrates into granular chunks which are relatively harmless.
It's also much tougher because it went through a thermal tempering process and can withstand temperatures of up to 470 Fahrenheit. And although it's tough, it maintains its clarity so it remains crystal clear.
Annealed Glass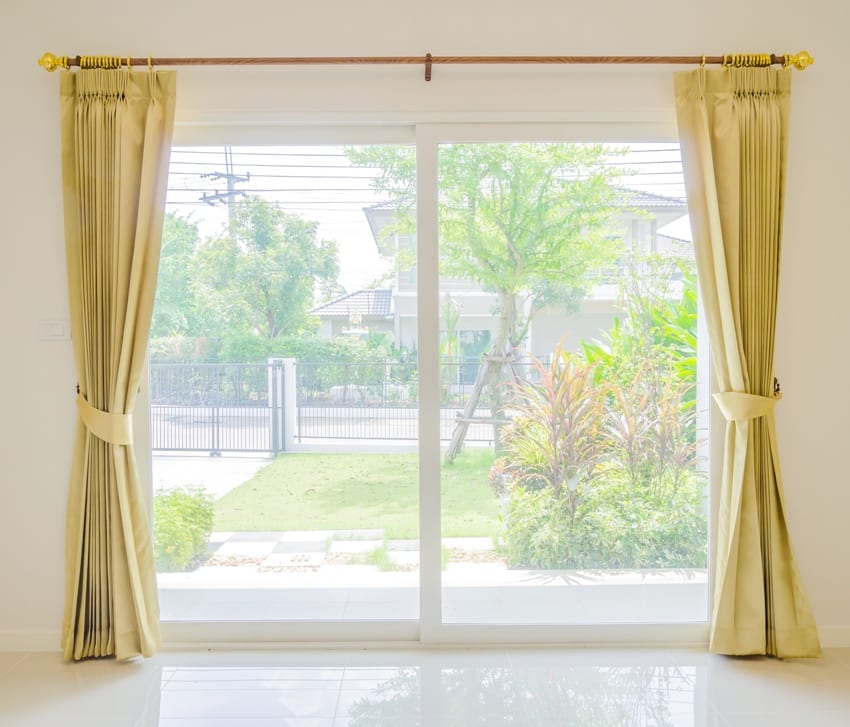 Annealed glass is very brittle and is compressed quite strongly. It's commonly referred to as plate or window glass but it can definitely be a candidate for your front door.
It got its name from a slow annealing process wherein the glass is slowly cooled, releasing any internal stresses once the glass has been formed. It's great if you're on a budget because it's a cheaper option compared to the other types of glass doors out there.
Laminated Glass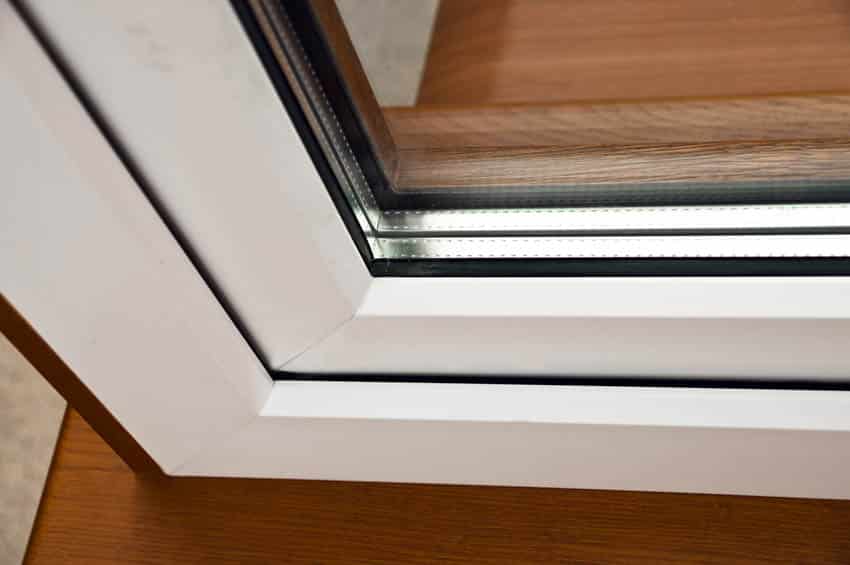 A laminated glass door offers increased security. It's a type of glass that's almost impossible to break and even if it does, it makes it difficult to widen the gap which gives you an added layer of security in the event of a break-in.
It can reduce heat emissions coming from the sun so if you have air conditioning indoors, emissions are drastically reduced. It's acoustically advantageous because it reduces noise pollution. It comes in plenty of designs and colors.
And lastly, it offers protection from natural disasters because it doesn't shatter when broken. It stays in its frame the whole time.
Impact Glass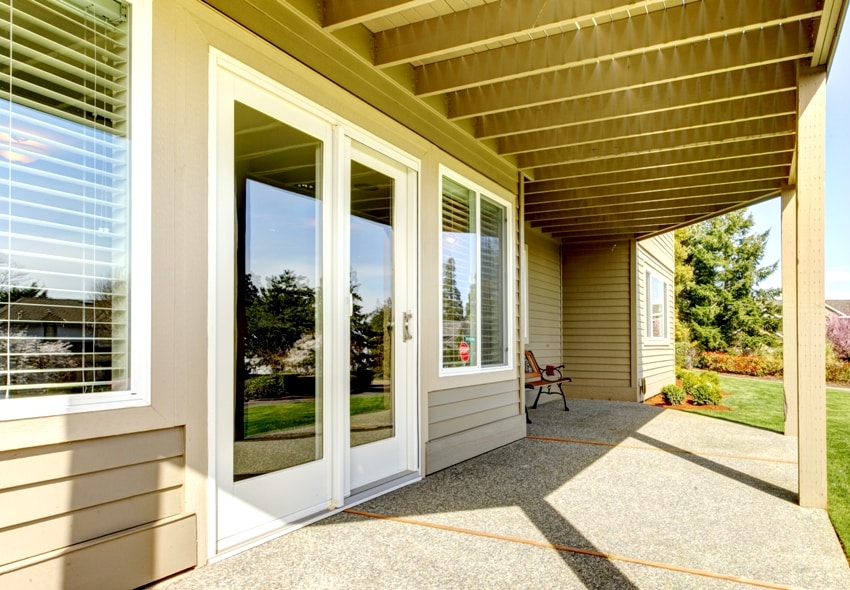 Once your impact glass doors are installed, there isn't anything else you would need to do. Aside from the occasional wiping off with some soap and water, you can pretty much forget about it because they're low maintenance.
An impact glass door can improve your home's energy efficiency because they're specifically designed to reduce heat from emanating through the door during the hot summer days as well as from letting the cold in during the winter months. It offers noise reduction, giving you added privacy from the outside.
Insulated Glass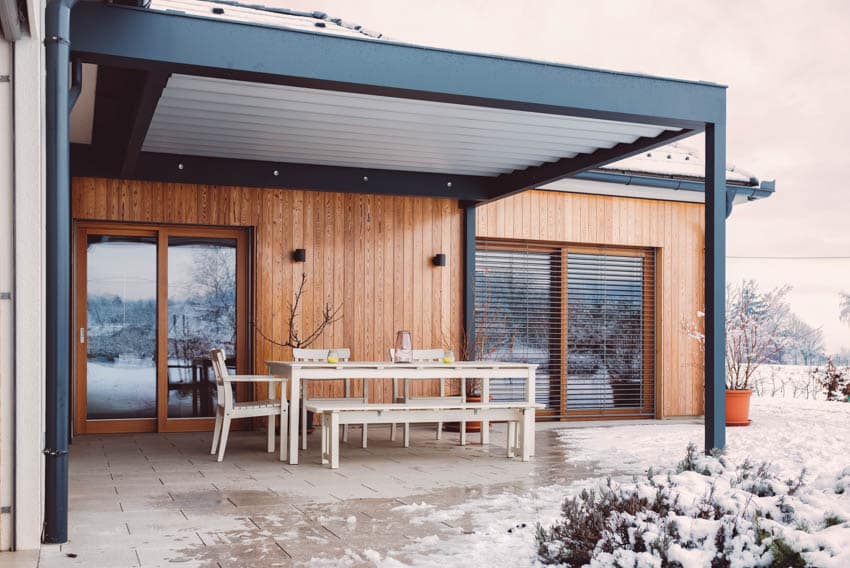 Getting an insulated glass door, as its name suggests, helps insulate your home by reducing heat loss as well as heat gain. This can make your home energy efficient because it lowers your energy consumption for air conditioning during hot days and your heating requirements during cold ones.
It also helps with sound insulation, improving your entryway acoustics. It is also very difficult to break into an insulated glass door compared to a regular clear glass one. Read more about our guide on how to soundproof a door here.
Textured Glass Options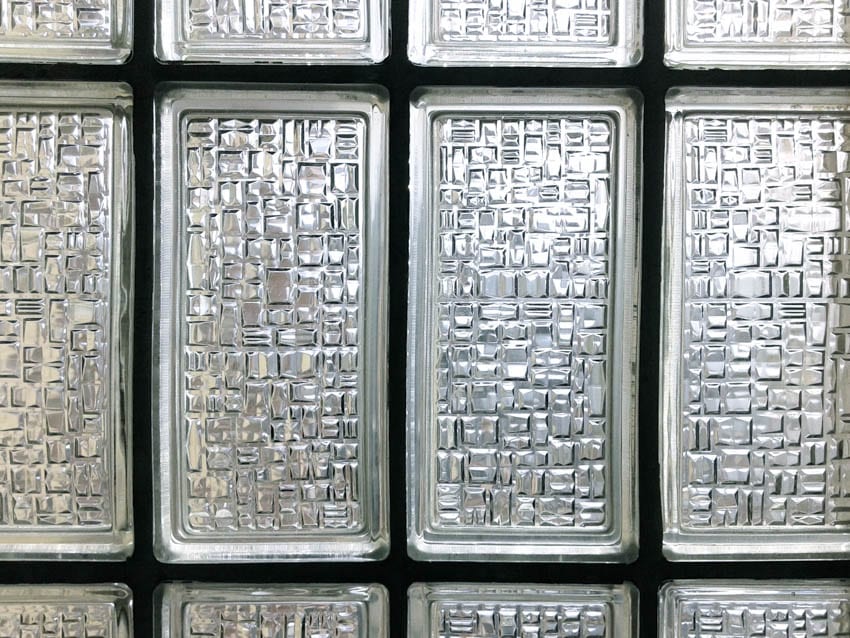 There's a wide assortment of textured glass options to choose from and they come in all levels of opacity that will definitely suit your privacy needs as well as your style preferences.
They all come in triple-pane construction so thermal efficiency is guaranteed and it also makes the glass surface easy to clean.
Flemish Glass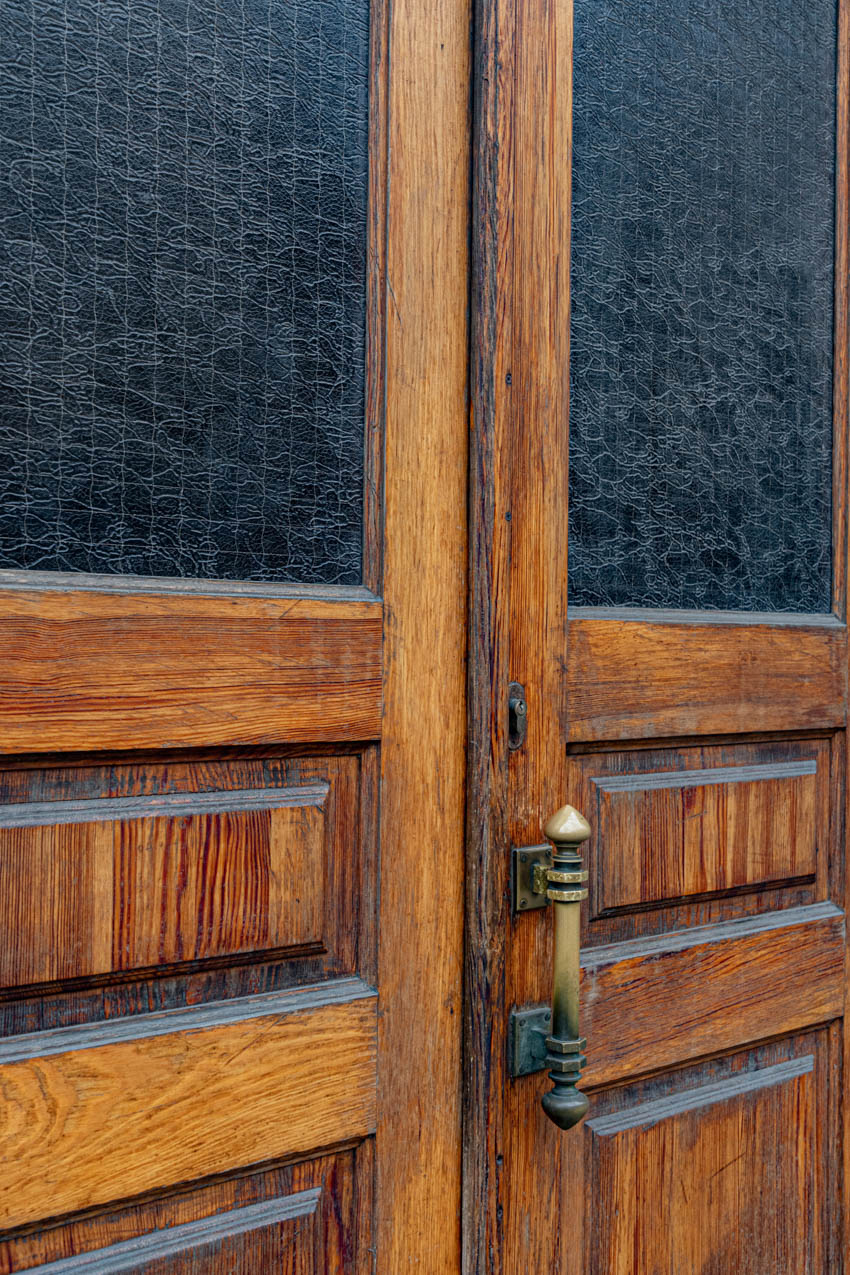 Flemish glass is popular because it has the appearance of hand-blown glass sans the bubbles and seeds. It provides partial distortion of view so it allows light to shine in while at the same time, also guarantees privacy for your entryway.
It has an antique look and offers an old-world charm to your front door and once paired with a stately wooden or wrought iron frame, it can be very elegant.
Crested Glass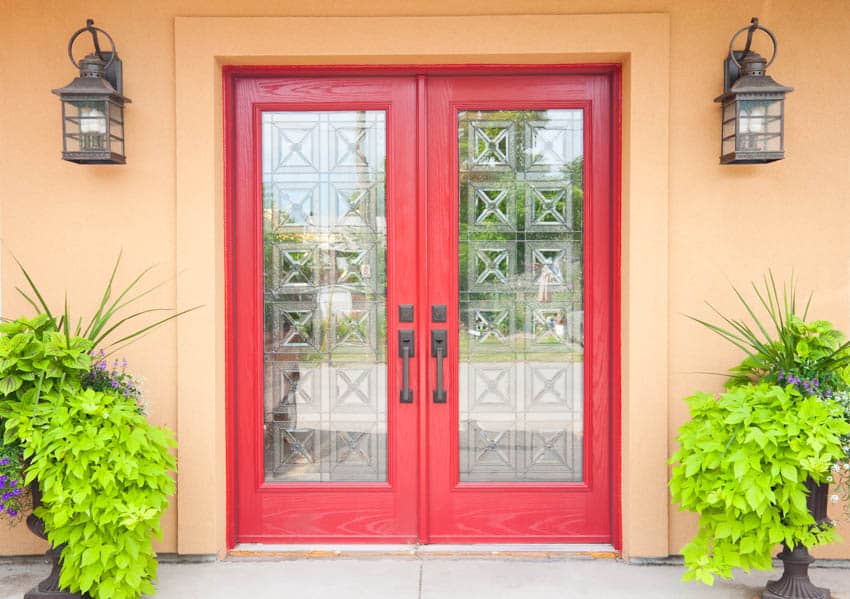 Crested glass has crested patterns embossed on the surface. They can be very elegant and can come in a while variety of designs that are bound to suit any preference or style.
If you want something stately especially if you're upgrading a high-end home, this can give you the visual impact your front door demands.
Citrus Glass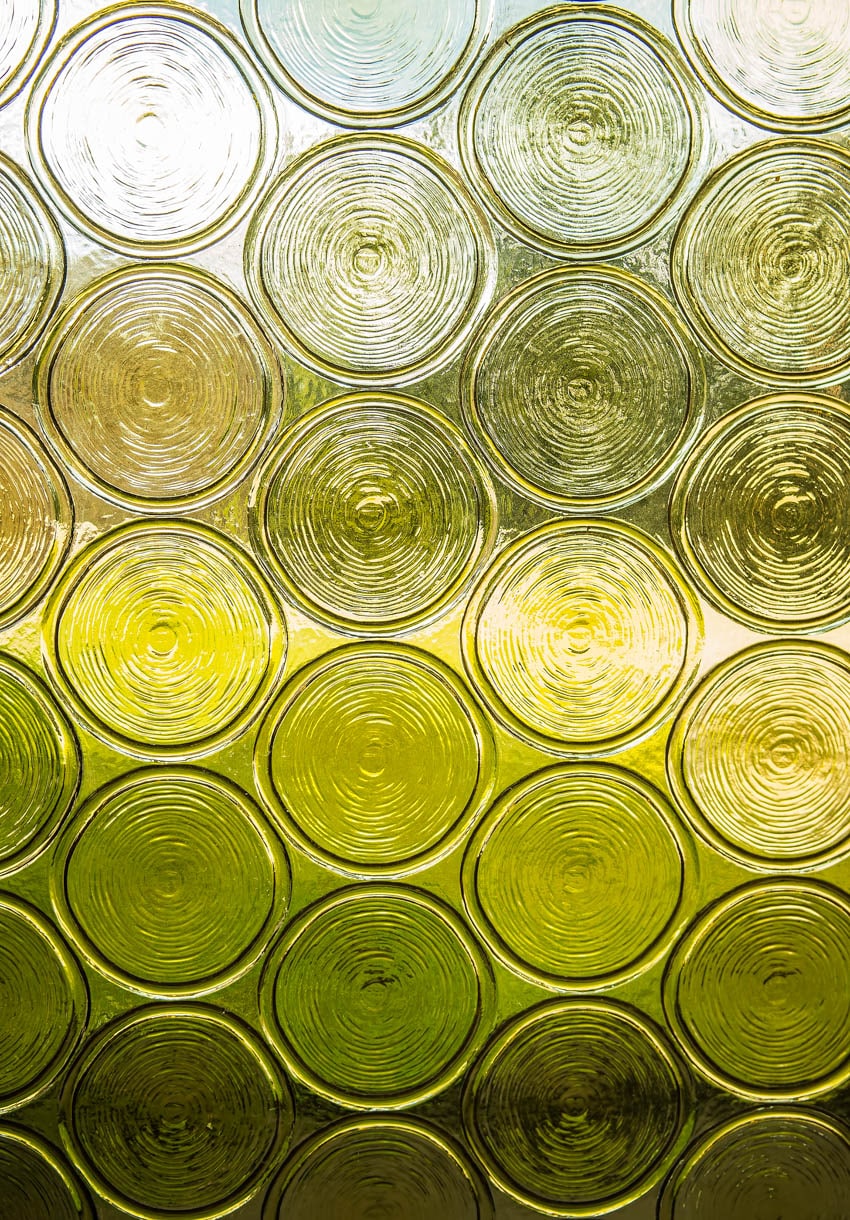 Citrus patterned glass is a whimsical take on class texturing as it resembles the look of cut fruit. If you want something fun and laidback, they're a fun option to consider.
Taffeta Glass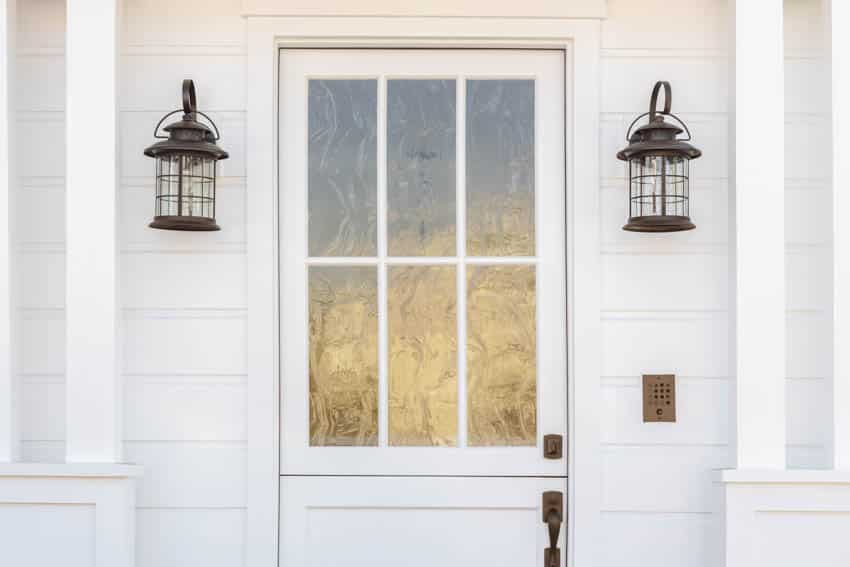 Taffeta glass comes in an embossed swirling pattern. It provides a mid-range optical illusion that can be quite aesthetically pleasing while at the same time, provide you with a certain layer of privacy as it isn't completely see-through.
Digital Glass
If you like the combination of a trendy and modern pattern while still maintaining the classic beauty of a glass door, digital glass may be the textured glass for you. It comes in pixelated patterns that serve as an homage to the digital age.
Reeded Glass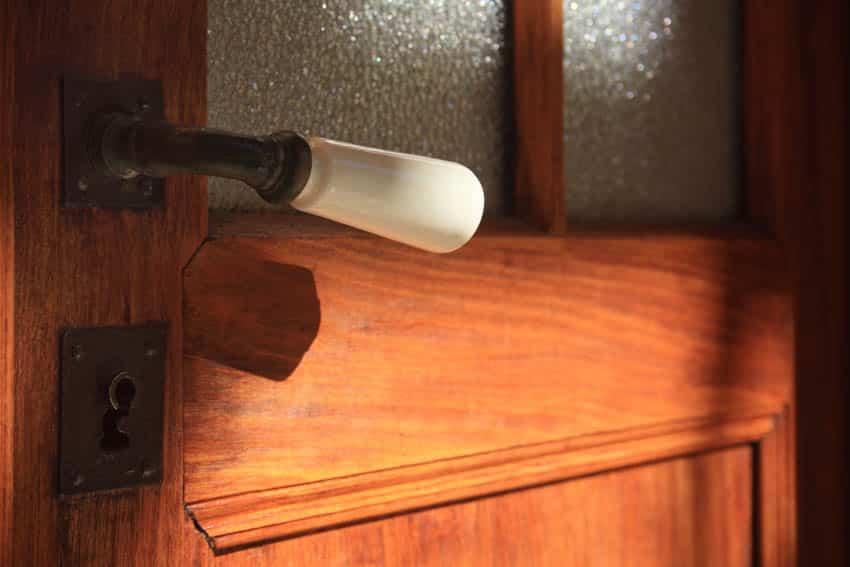 Reeded glass comes in a pattern similar to reeds that have been arranged vertically. As with other types of textured glass, they also provide some privacy.
On top of that, they have the added benefit of making your front door look taller because of the optical illusion brought in by the embossed vertical lines or "reeds".
Stippolyte Glass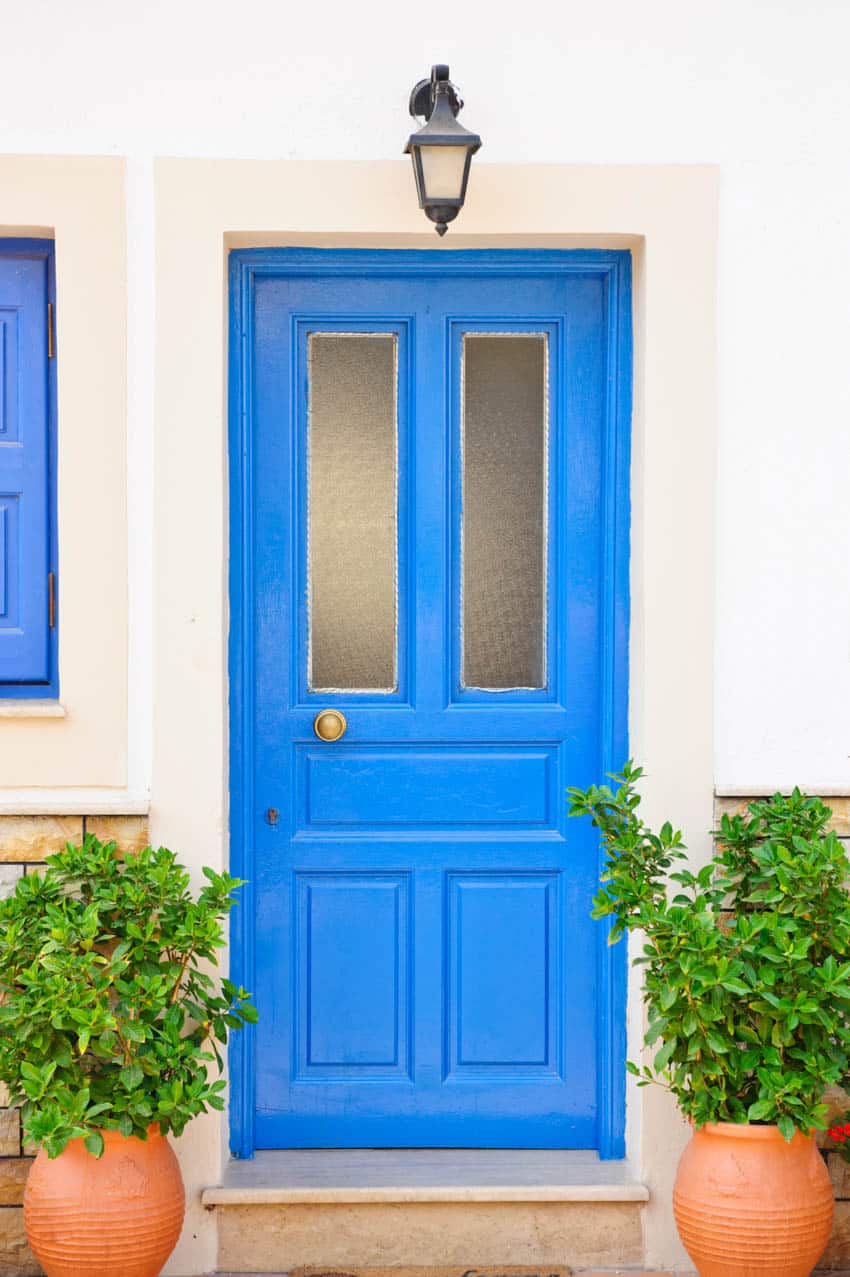 Stippolyte glass has a texture of structural paint that has been perked up by a stipple brush. It provides maximum opacity on top of its elegant appearance so if you're the type who values and enjoys privacy, this type of glass may be perfect for your front door.
Everglade Glass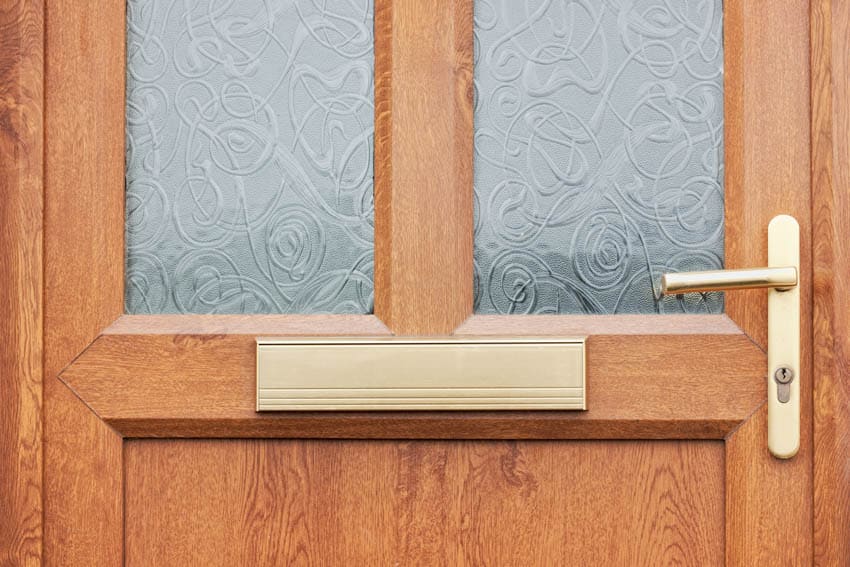 Everglade glass comes in the unique pattern of what resembles ampersands being lain on top of each other. It's a visually striking texture that reminds you of swirled vines over a pebbled surface. If used as a glass door, it can be the perfect complement for when you have potted plants in the surrounding area.
Glue Chip Glass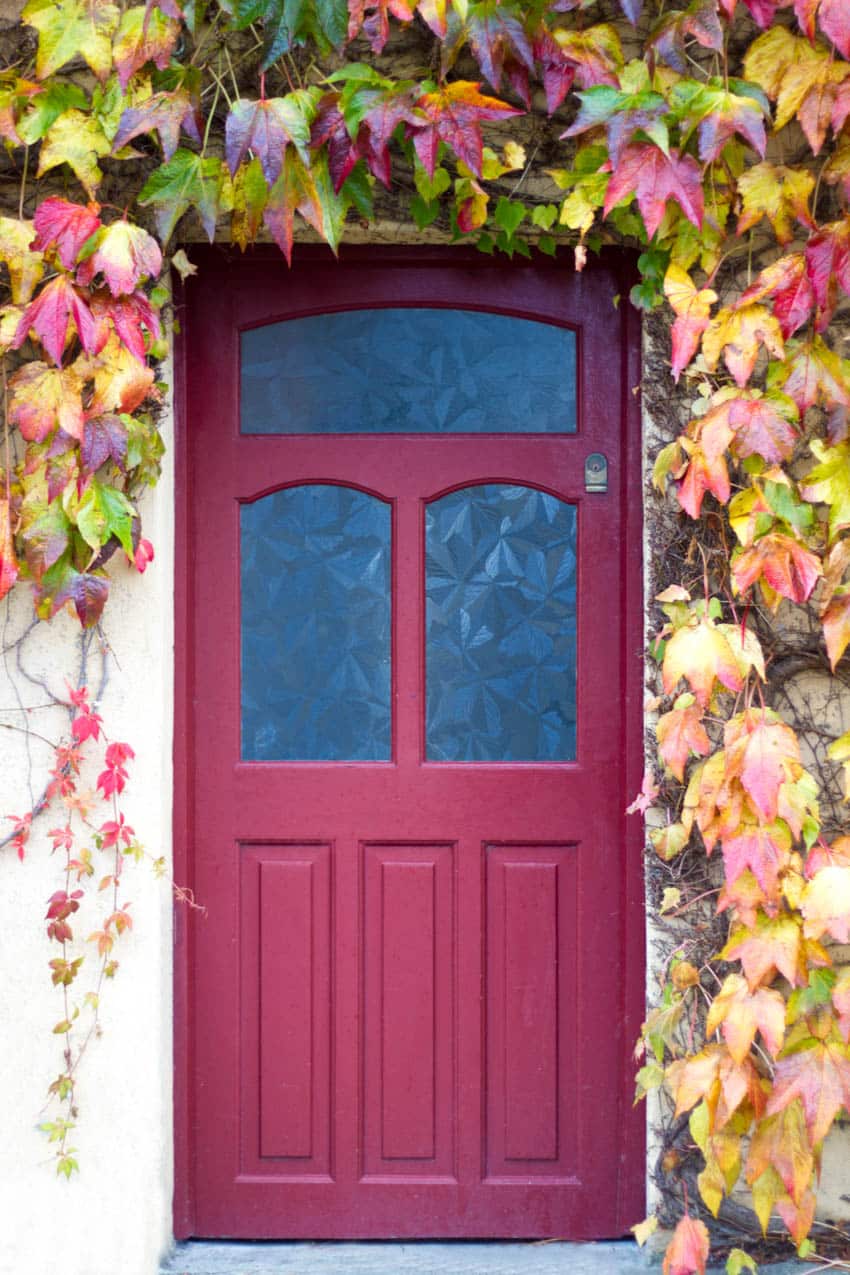 Glue chipped glass is reminiscent of the childhood charms of frost on your window during the winter. This is an attractive random pattern that's achieved by allowing animal glue to dry under controlled temperatures on the sandblasted surface of clear float glass.
Granite Privacy Glass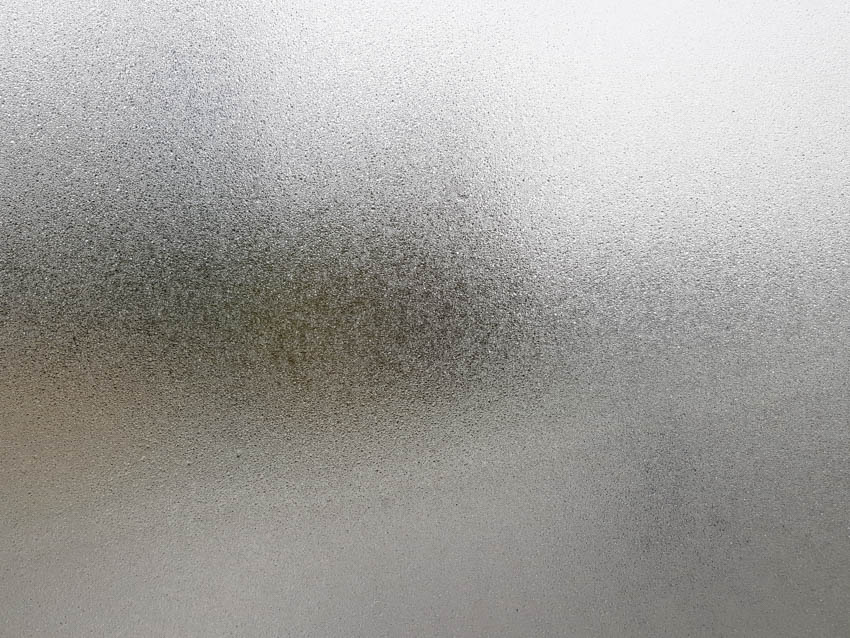 This type of textured glass offers maximum privacy as it is completely opaque and it resembles the structure of a natural slab of stone.
It brings in the element of design while at the same time, it stays minimalist so if you prefer something that marries form and function, this might be the textured glass for you.
Sandblast Glass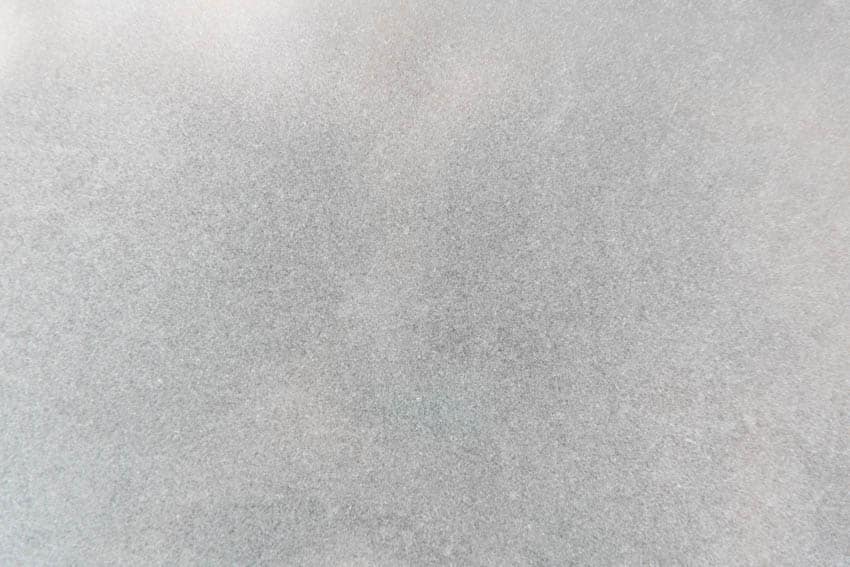 Sandblasted glass is a texture that's achieved by mechanically applying sand or some type of abrasive on a clear float glass surface.
The result is a dainty texture that looks very similar to frosted glass and it offers optimum privacy as well so it can be a good choice among the other types of glass front doors.
Glass Front Door Options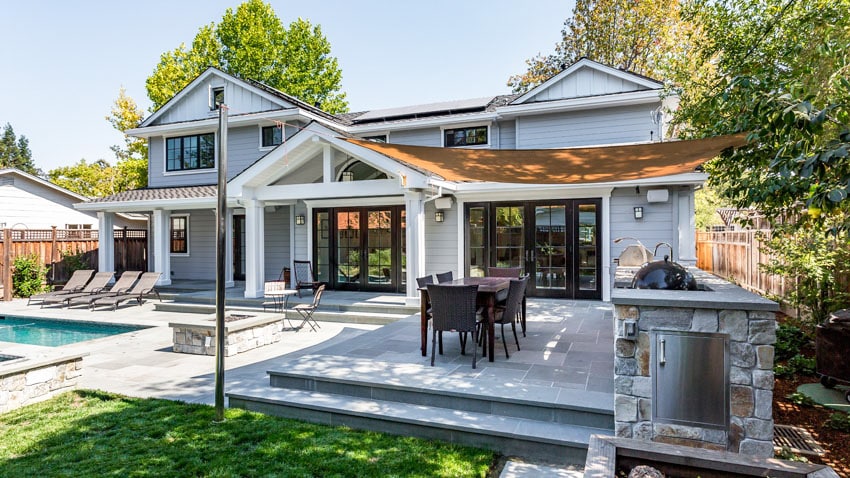 There is usually a lot of emphasis put on sidings, paint colors, and other elements in interior design that it comes as no surprise that glass front doors aren't really given the attention that they deserve.
However, the front door is the first and last thing that a person sees when they are visiting your home. It's definitely the perfect place to make a design statement if any. Here are some options that you can review and check out.
Single Door
Single doors are usually recommended for smaller homes. Admittedly, they're also the most popular ones. They're the smallest of all the other options and also the most affordable.
It's also generally considered a safer option compared to the other door options because when locked, it's securely latched onto one of the sturdy mainframes.
If you don't want to think too much about it and if you don't have a particularly large entryway, a single door should suit your home just fine.
Double Door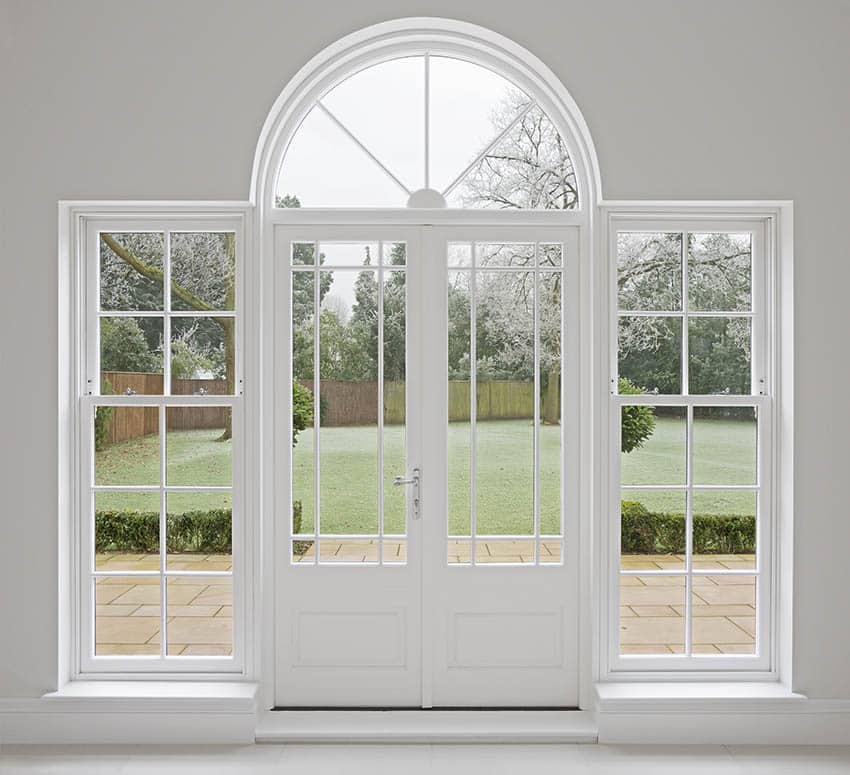 Double doors are much more suited for larger homes. Aside from the element of grandness that they can bring into your front door, they can be quite practical too.
It can be very easy to lug big pieces of furniture in if you have a double door installed simply because it has a much larger opening. It's important to consider that with double doors, you might need to adjust them from time to time.
The midsection where the two doors meet doesn't have as much support as the other portions of the door. Stay aware of any changes in functionality. They can be easily remedied by adjusting the hinges or just replacing some of the malfunctioning moving parts.
Glass Door With Sidelights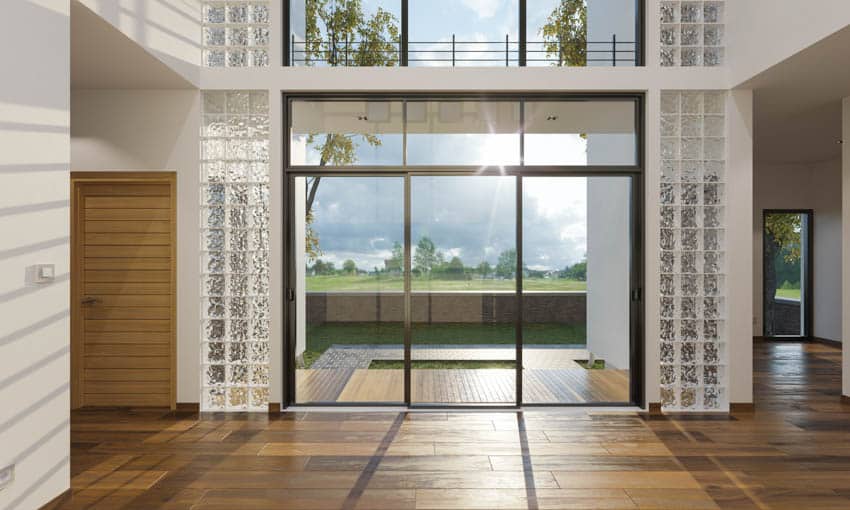 If you want to add a bit more style and allow a lot of natural light to filter in through your front door, you should consider getting a glass door with sidelights.
Glass is an attractive material and can instantly make the door elegant as is. The added option of sidelights can compound the visual appeal of your entryway as they can come in the color and style of your choosing. Read more about our guide on doors with sidelights here.
Oval Glass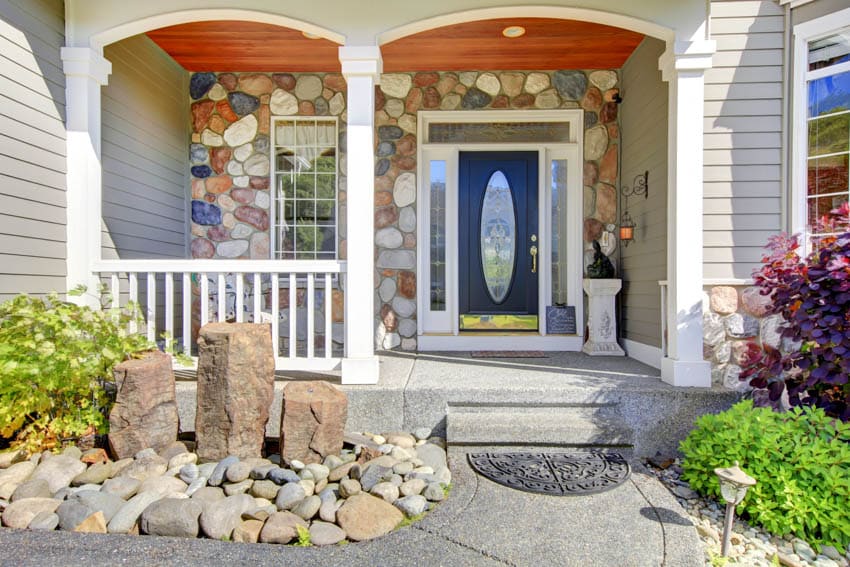 Oval glass is a classic and timeless design and with good reason. It's comprised of having an oval piece of glass embedded in the front face of a wooden door frame and usually occupies the upper half of its space.
It's highly customizable as it can come in any color or texture you prefer and is highly reminiscent of the charming glass door from the 80s.
Rustic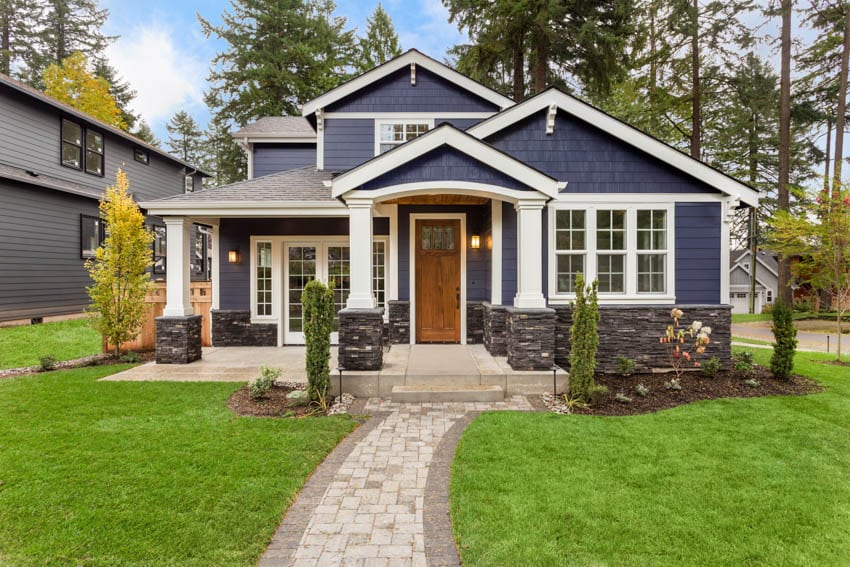 Rustic glass doors usually come with brushed or distressed wood frames that further add to its appeal. They're among the highly versatile types of glass front doors because they can complement a modern or even a laidback farmhouse aesthetic.
Another popular pairing with this glass door option is the iconic wooden exes reminiscent of wooden barn doors.
Craftsman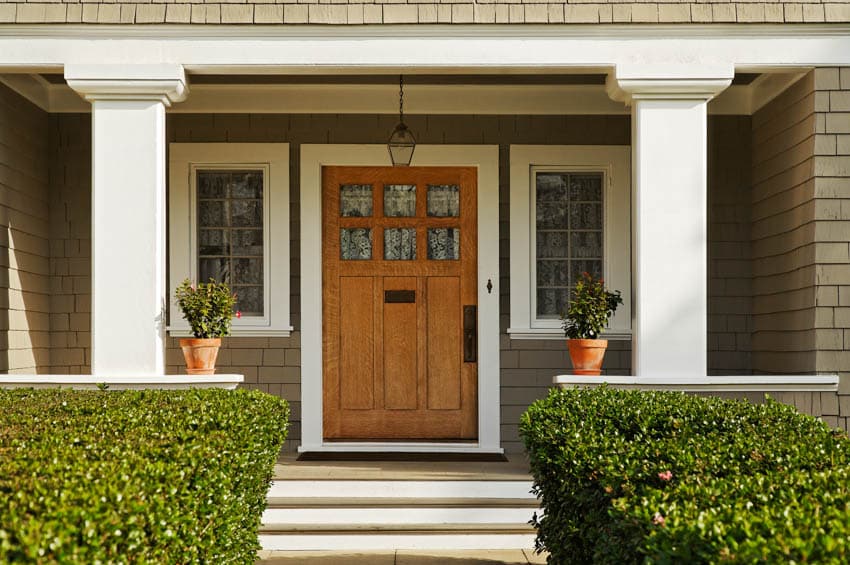 Craftsman glass doors usually have their glass panes installed on the upper third of the door and it usually has a separated lower section that's made prominent by either a thick trim or molding or some sort of flatwood panel.
They're quite simple in design but if you want an added aesthetic feature, you can get it customized or get it grooved. They were quite popular back in the early 20th century and to this day, they can be seen in cottages and cul de sacs.
Modern Glass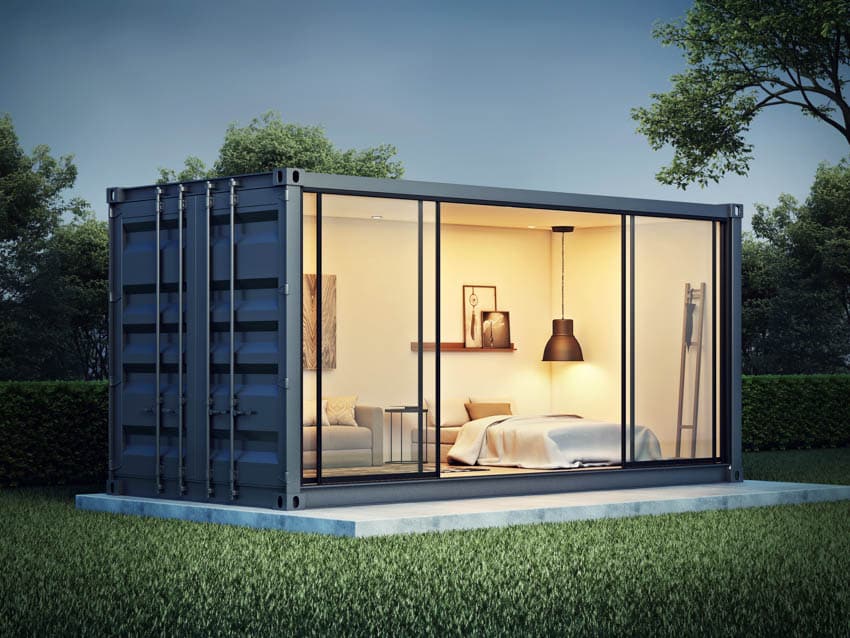 Modern glass doors are great if you want to maximize the space that you have and if you would like to bring in the illusion of having way more room. They are usually framed thinly, making the glass pieces the main stars of the show.
If you're located in vistas with stunning views and lush greenery, this is among the perfect types of glass front doors for you to go for as it maximizes the views from the outside while showcasing the aesthetics from within.
Wood And Glass Door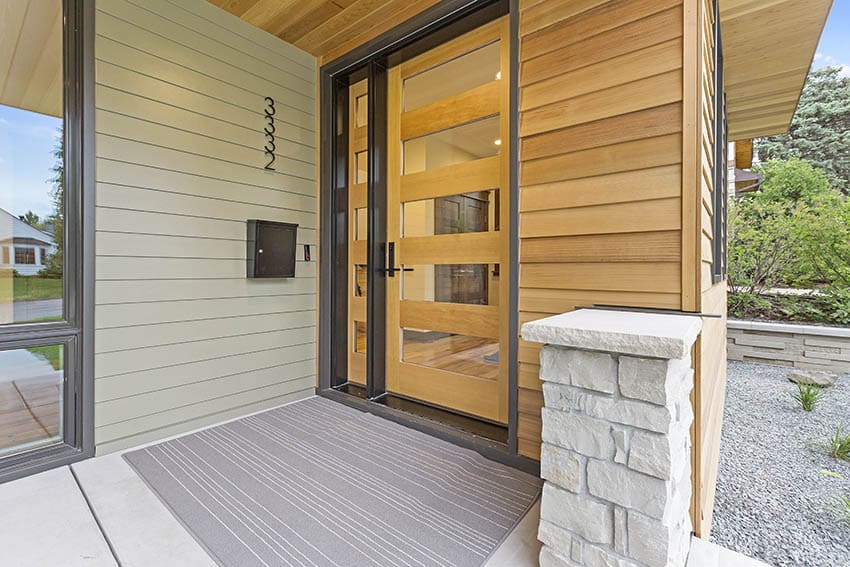 Wood and glass door is a classic combination and it can come in an unimaginable variety of design options and glass to wood ratio. You can go for full glass with thin frames or you can go for more of a wooden door with glass patches in some of its parts.
You can pick out your glass type depending on the type of insulation, opacity, texture, thickness, or color you prefer and of course, you can update the wood in literally any type of wood material and paint color or stain you could possibly think of.
When it all comes down to it, you can't really go wrong with a classic that has withstood the test of time and trend changes.
Glass And Metal Door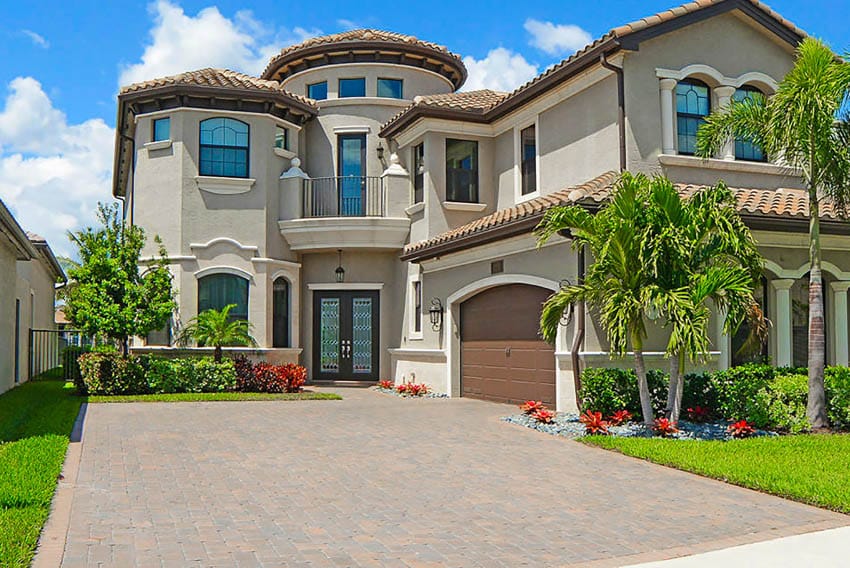 There's something very European when you think about a perfectly combined glass and metal door. Much like wood, they're elegant and timeless.
Glass and metal doors, however, have the added advantage of brightening up the home in ways that only a few glass and wooden doors can. This is mainly because steel is a much sturdier material compared to wood and can withstand the weight of the glass without eating up too much visual space.
They can complement any home design from contemporary, to modern, to classic. There's bound to be one that can perfectly suit your home's aesthetics as this option stands out from the other types of glass front doors
Glass And Wrought Iron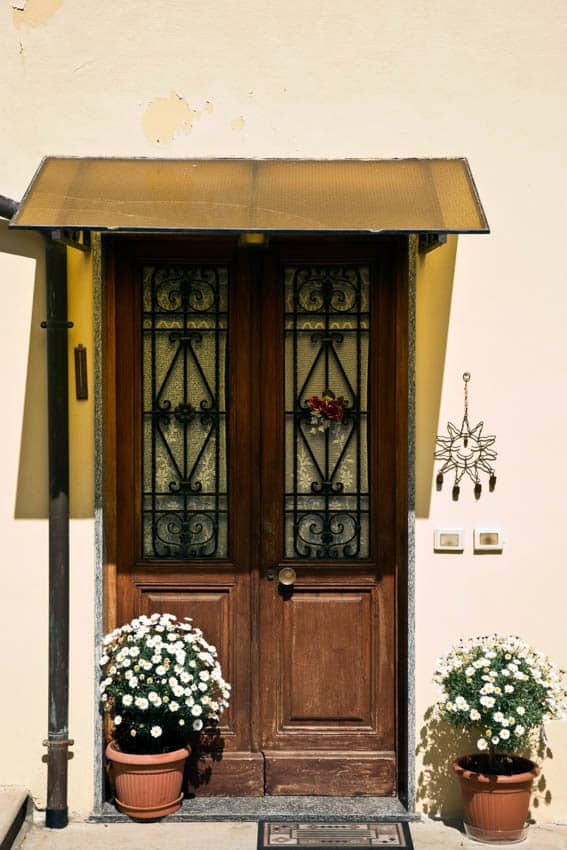 Glass and wrought iron doors have become a bit of a must-have for the home design fanatics out there because of their virtual indestructibility and timeless beauty. Wrought iron also has quite a history that dates back from the very dawn of civilization.
The craftsmanship from the wrought iron alone paired with the sophistication of glass can enhance the look and feel of any home right off the bat. Among all the different types of glass front doors, they're also incredibly secure as they're usually made out of 12-gauge steel with mounted flush bolts that can lock the door securely.
Fiberglass With Glass Window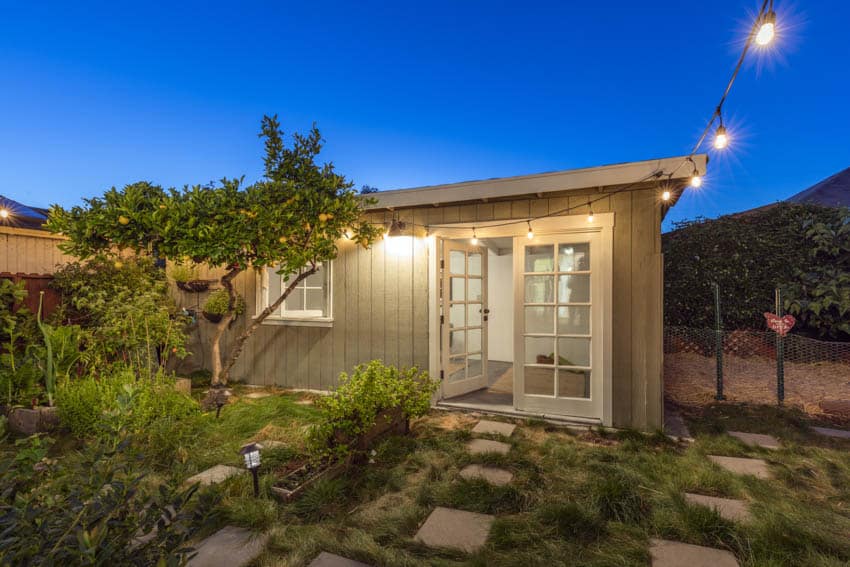 Among the types of glass front doors, what's so great with this particular option is that you can pick out the glaze style for the fiberglass; be it traditional or contemporary. They're highly durable yet low maintenance and can also be quite affordable options.
Most of these frames come in rot-resistant composite materials so you're sure to enjoy your front door for many years to come.
The glass can come in different ornate and beveling patterns that can surely upgrade the entryway look of any home. Read more about our guide on vinyl vs fiberglass windows here.
Arched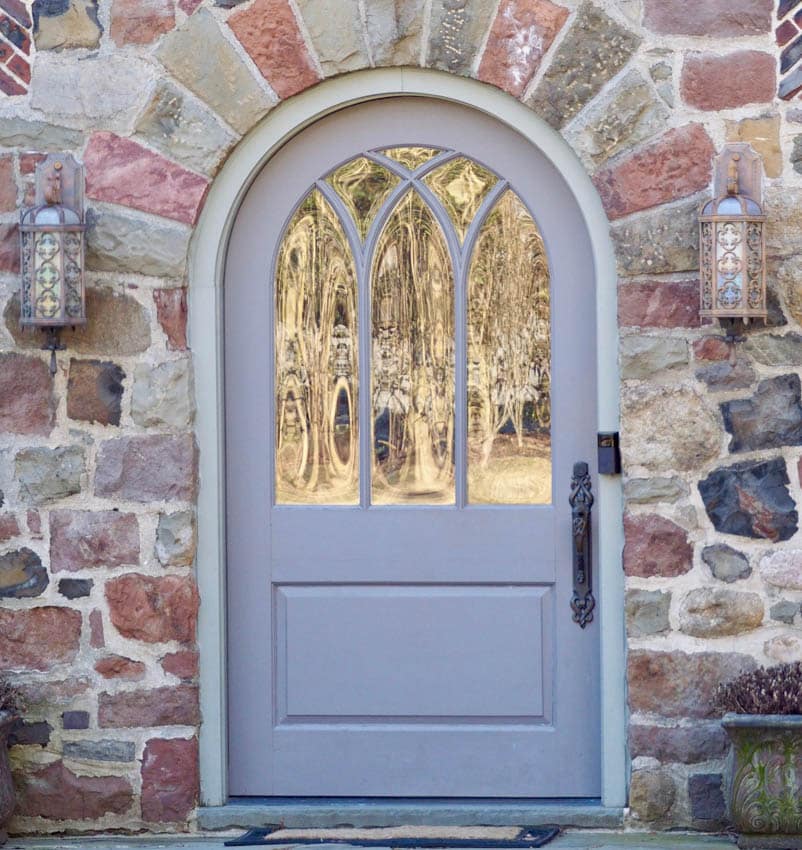 Arched doors are one of the most unique types of doors you will ever find. You can opt for a full arch or for a semi-circle one.
They come in different types of arches from the full arch, to the camber top, curved top, pointed top, and the famous cathedral top that can usually be seen in church doors and windows. They're very stately and elegant.
The only downside to these doors is that you need to have them envisioned along with the construction of the house or if not, you would need to make a few structural modifications to accommodate the unique shape.
They are also among the types of glass front doors that can be a bit of a challenge to replace as they usually come custom-made with your specific door measurements for your entryway.
How Can I Make My Glass Door More Private?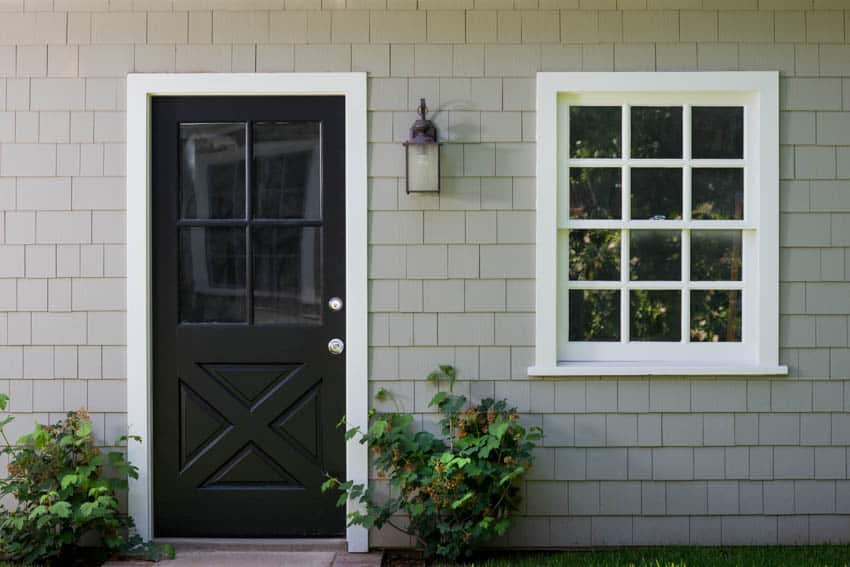 If you're a fan of glass doors but aren't too fond of being seen from the outside in, here are some options you can go for to make them more private and more suited to your tastes.
Privacy film – This film can come in a variety of designs and colors that allows you to see from the inside but not from the outside. It also has the added benefit of UV blocking and temperature control. It has no adhesive and clings through static so installing it is a breeze.
Glass paint – This is a kind of paint adhered directly to the glass and is a permanent fix to your privacy woes. It's also very easy to apply as you just need to wipe the glass surface clean and spray paint it on.
You can adjust the opacity based on the number of layers you apply. Just make sure that you allow it to dry for about 2 hours before spraying another layer on.
Etching cream – This is also known as acid cream. This is a great product to use if you're only applying it to a small area of glass. You can usually apply it with a sponge, brush, or cloth and if you want to be more creative, you can use a stencil while you're at it.
Let it dry for about 20 minutes and wipe the surface clean and you're set. Etching creams are also very cheap when bought by the bottle.
Curtains – If you want privacy but don't want the mess of installation or if you want to still be able to peep through the glass, curtains can be a great option. They're easy to swap out in the event that you change up the look and color of the place.
Blinds – They can come in plastic, wood, or even cloth. Installation is usually pretty easy with some brackets, some screws, and a drill.
The plastic and wood types are easy to clean while they're still hanging whereas the cloth ones can be easily removed and thrown in the washer.
See more related content at our article about the best front door colors on this page.