In this guide to the types of sliding door locks you'll find the different styles for your home and effective tips on how to make your sliding door more secure.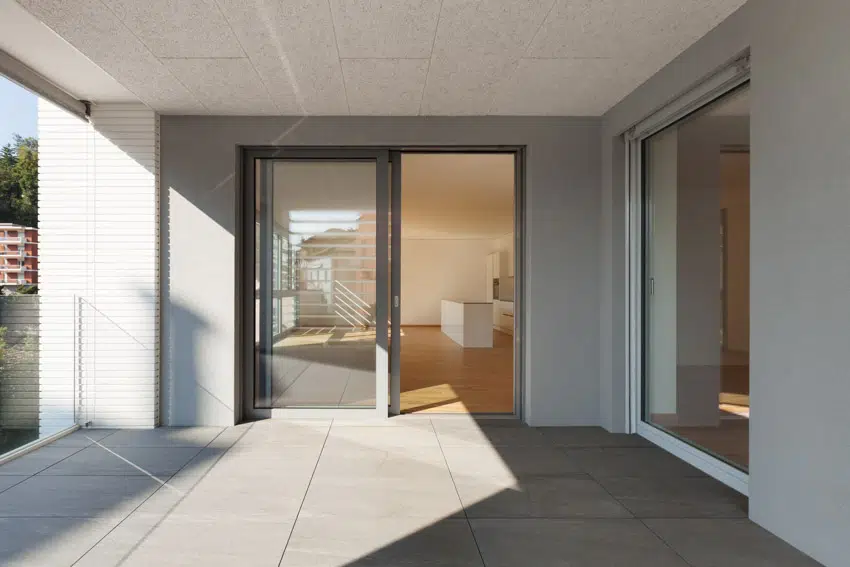 Sliding glass doors allow in plenty of natural light, but since they don't close and open like conventional doors, how would you secure them? In our households, we generally desire to feel protected.
Sliding doors may be a stunning and useful aesthetic display, but they also come with their own set of security concerns. Sliding doors feature flaws that are distinct from those seen in standard wood and steel doors.
Many homeowners are aware of the dangers of sliding doors and may be hesitant to have them installed on their property.
Fortunately, there are a variety of door locks available to make your sliding door extremely safe and secure. Let us talk about each of the most popular types of sliding door locks.
Lock with Key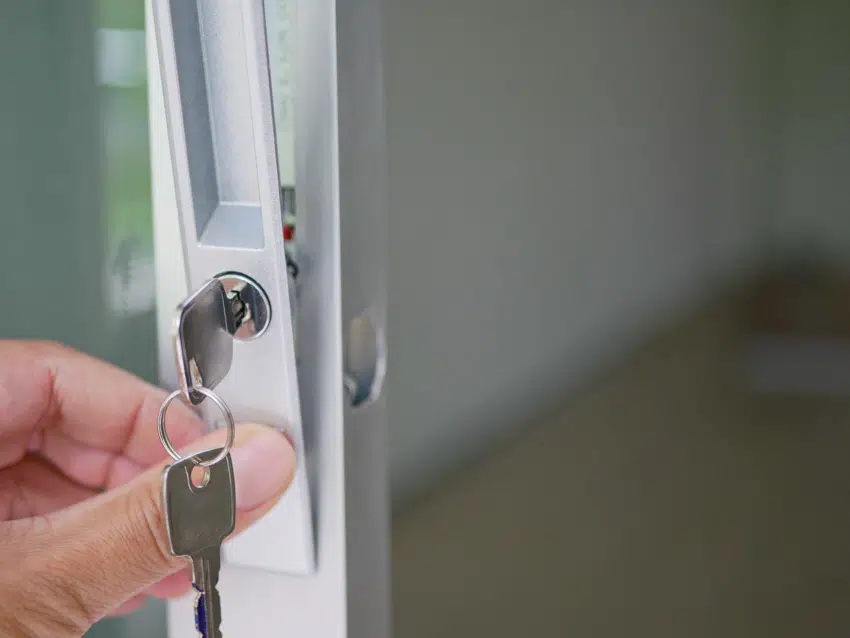 This is the most typical external sliding door lock mechanism. With this mechanism you may secure your sliding glass doors from the inside or outside with keyed locks.
They are available in a number of configurations, including the thumb set and mortise set. We cover these two styles below. This is a flush mount lock with a keyed outside alternative.
These locks will fit into the hole on your sliding glass door if one is included. You'll need to double-check to see whether the lock will work with your door hole design.
Mortise Lock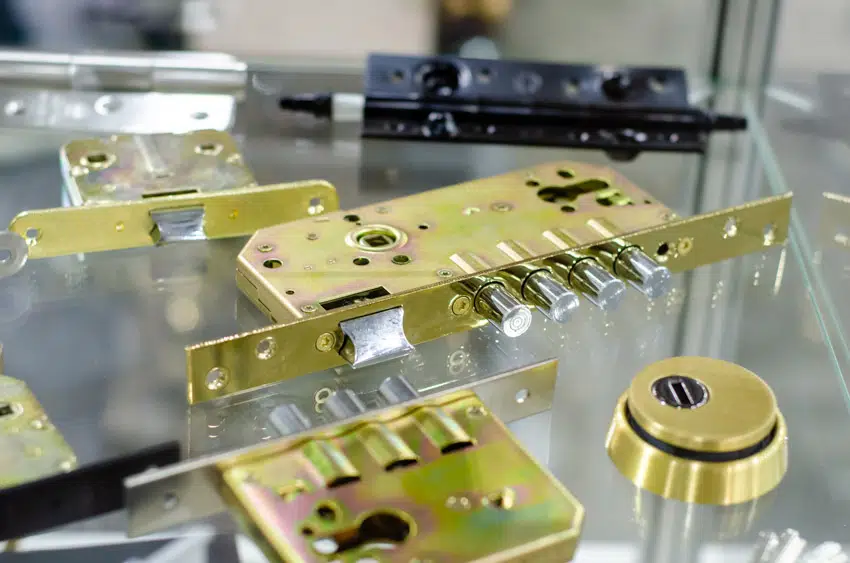 The types of sliding door locks in the mortise style fit into the door panel of your sliding glass door. The thumb latch activates the lock hook, which is separate from the handle.
This kind of door handle accommodates a wide range of outside trim selections and is uncomplicated to mount on conventional patio doors with pre-existing handle holes.
The drawback of this lock is that it can only be locked from the inside. If you're outside on the patio and the door is locked from indoors, you'll need to go inside through another door.
These are among the most popular types of locks found on screen and patio sliding doors though.
Thumb Door Lock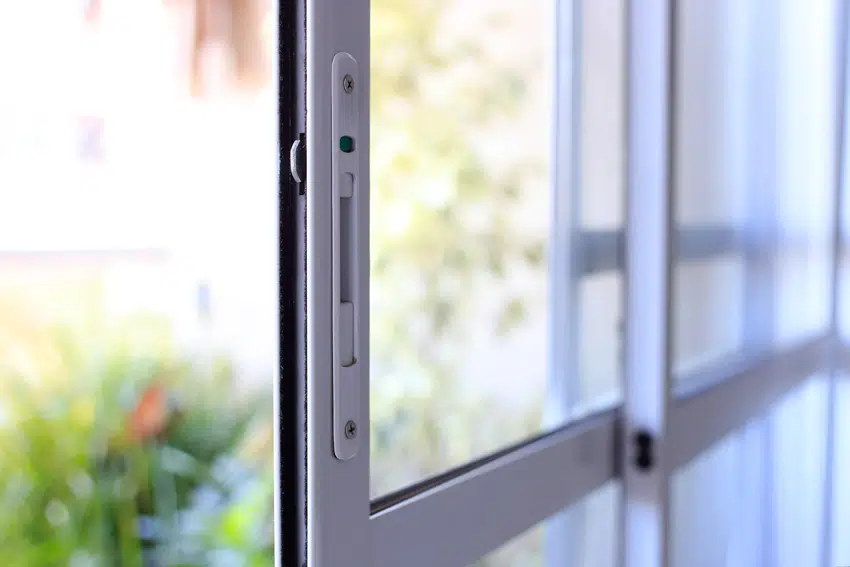 The mortise and hook type lock is quite similar to the thumb-door lock. The latch is located on the door and links into the receiver that attaches to the frame in this type of lock.
The thumb latch on this lock is built into the handle, which is a unique feature. This has the benefit of being quicker to reach while securing the door.
This, like the mortise lock, is operated from the inside and does not require a key from the exterior.
If you wish to be able to access your locked sliding door from the outside using a key, you can search for those keyed variants that could be purchased in the marketplace.
Double Bolt Lock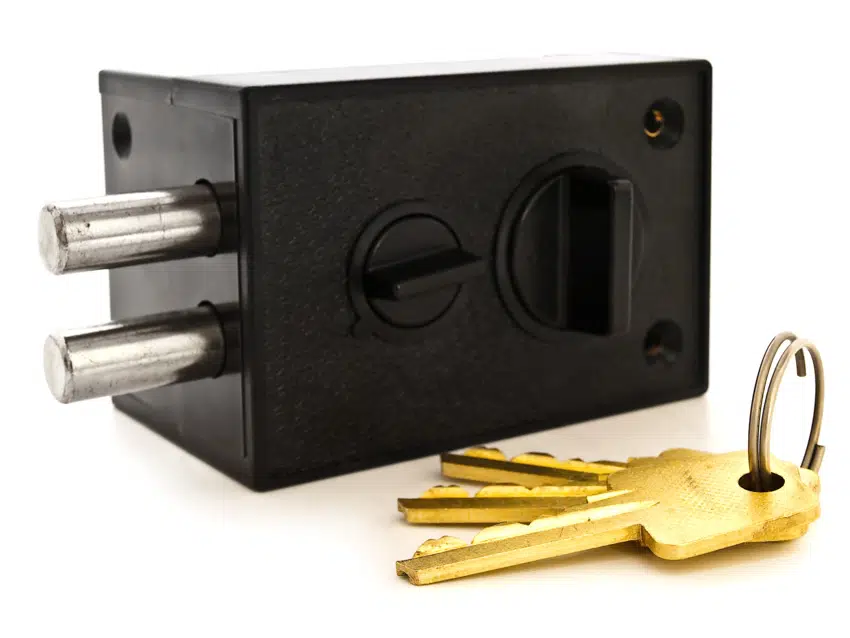 Double bolt locks are a convenient and wise choice in terms of keeping your sliding door safe and protected. This is a simple method to install a lock to an existing door if it doesn't have one.
This is among the types of sliding door locks that are quick to set up into the door jamb and onto the door. The interlocking bolts keep them secure, even though some homeowners wonder how well they'd hold up against a persistent attacker.
Cheap plastic parts may deteriorate within a year or so of usage, depending on the type you choose.
However, because of their ease of use and affordability, they are indeed easy to replace whenever they need to be upgraded.
Pin Lock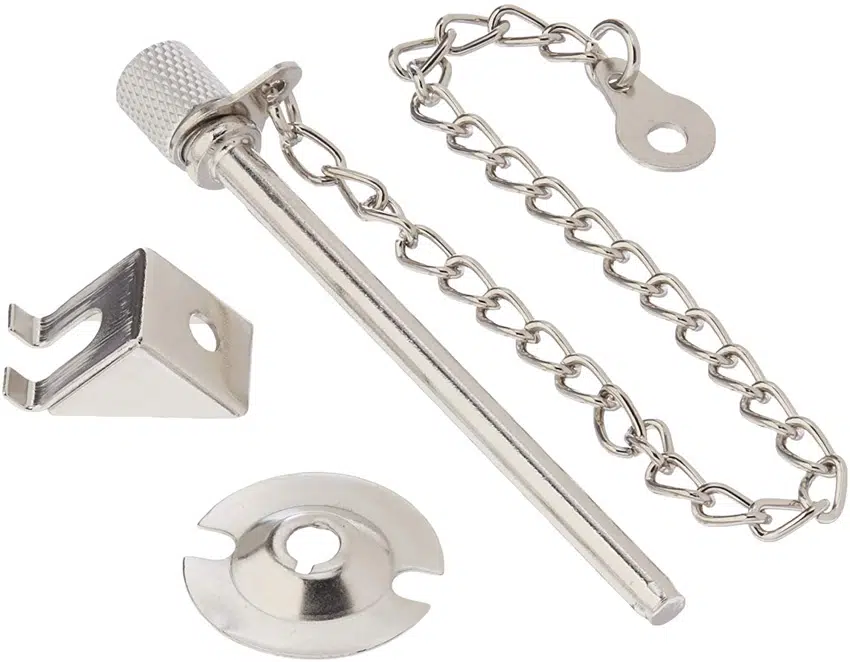 See this sliding door pin lock at Amazon [sponsored link]
A metal pin extends through the frame of a sliding door panel in this form of lock. To lock the door, it engages in the frame of the immovable panel.
When the pin is not in use, it is stored in a metal holder. This proper security mechanism secures the active door panel in a closed or ventilating configuration, preventing it from slipping or lifting off the rail. It can't be yanked out of the door, either.
Similar to other types of sliding door locks, this is operated on the inside and does not accompany a key. It's easy to put together and operate using common household repair tools, and it's a rapid solution for securing those sliding doors.
Loop Lock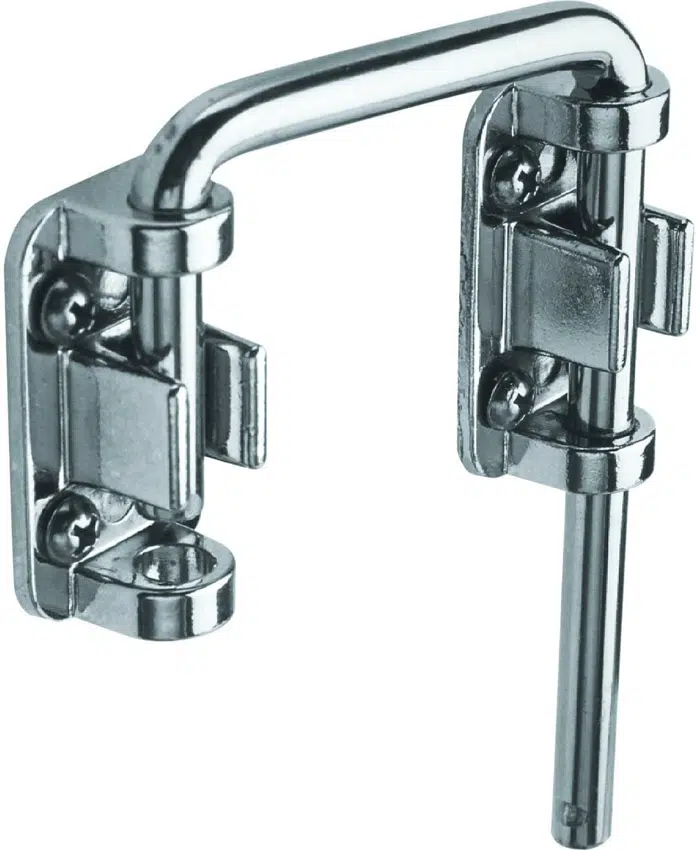 See this chrome-plated sliding door loop lock at Amazon [sponsored link]
The loop lock is an alternative lock that is quite effortless to operate. These locks may be installed on the inside of your door at its top.
The frame is attached to one side, while the door is attached to the other. It's also a great technique to link double doors if you have them.
Just raise up the longer loop and insert it into the receiver. Pull it up and out to unlock it. Since there is no key, this lock can only be used from the inside.
Anti-Lift Lock
One of the most serious dangers associated with the different types of sliding doors is that they may be lifted off their tracks and pushed over whatever impediment is preventing them from being breached.
Anti-lift lock systems, on the other hand, when installed on the top of the door frame, minimize the space between the frame and the top of the door, preventing the door from being raised and thus removed from its rails.
Anti-lift door panels can be used to secure a door while it is closed as well as when it is partially open to prevent it from being opened wider.
Slide Under Door Lock (Flush Bolt)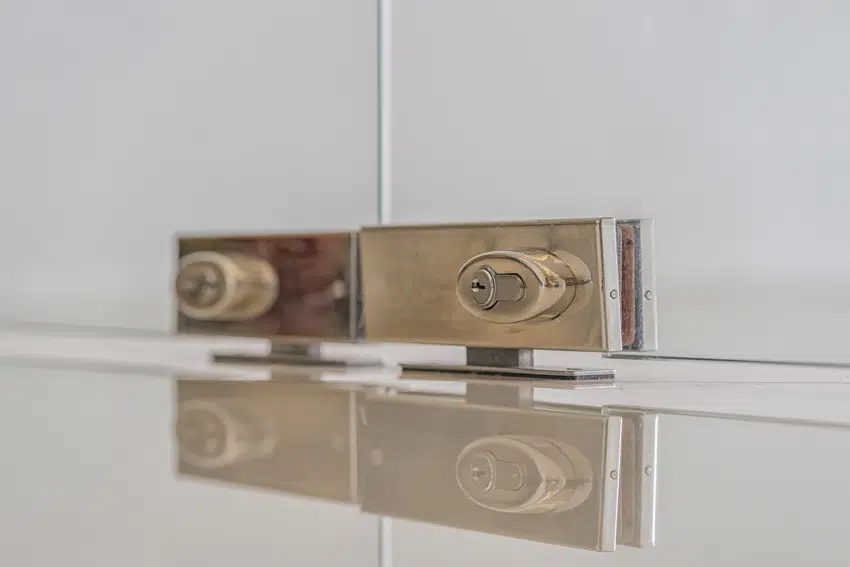 To hold the door closed, flush bolts are mounted into the bottom of the sliding door and slide downward or upward into the casing.
Flush bolts come in square and rounded corners, as well as a variety of sizes and finishes to complement your current or new door hardware.
However, flush bolts generally come in pairs. It is not only mounted on the bottom of the door but on the top as well for added protection and safety.
Sliding Door Lock Bar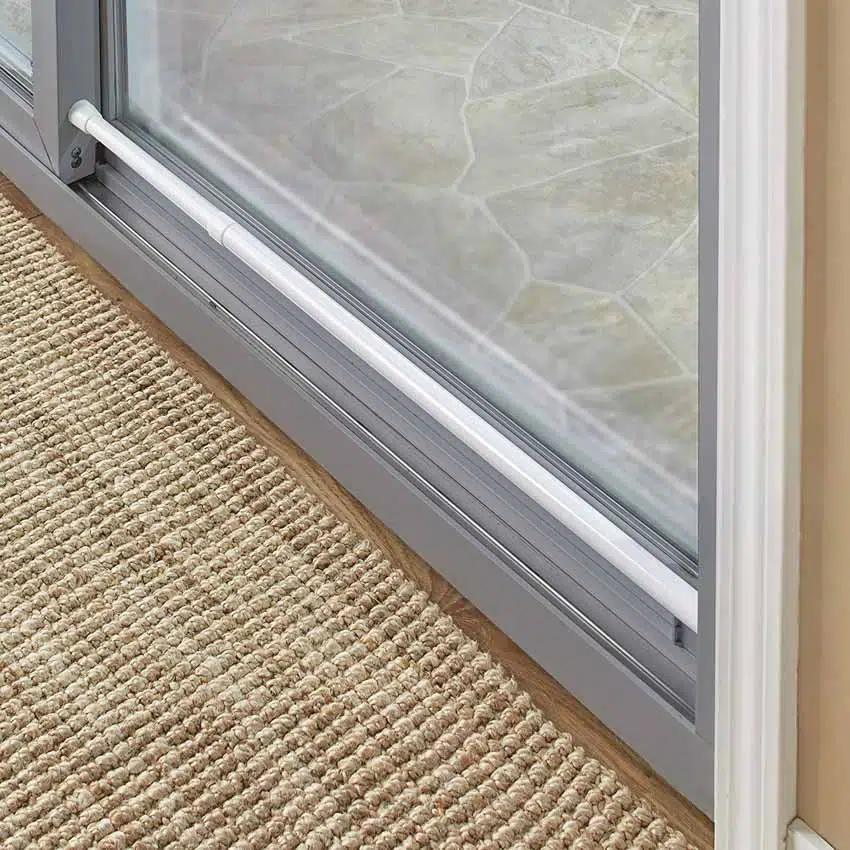 See this sliding door security bar at Amazon [sponsored link]
A lock bar operates by sliding into the gap between the operational slider and the wall at the bottom of the doorframe.
It effectively provides a barrier for anyone attempting to access the door. If your sliding door does not have a locking system, this is a brilliant solution.
It features a stopper on one side that fits into the jamb and a groove on the other side that fits into the door.
It may also be adjusted to accommodate any size patio doors you have. If you live in an apartment and don't want to drill openings but still want to secure a sliding patio door, this would be an ideal option.
Sliding Door Child Lock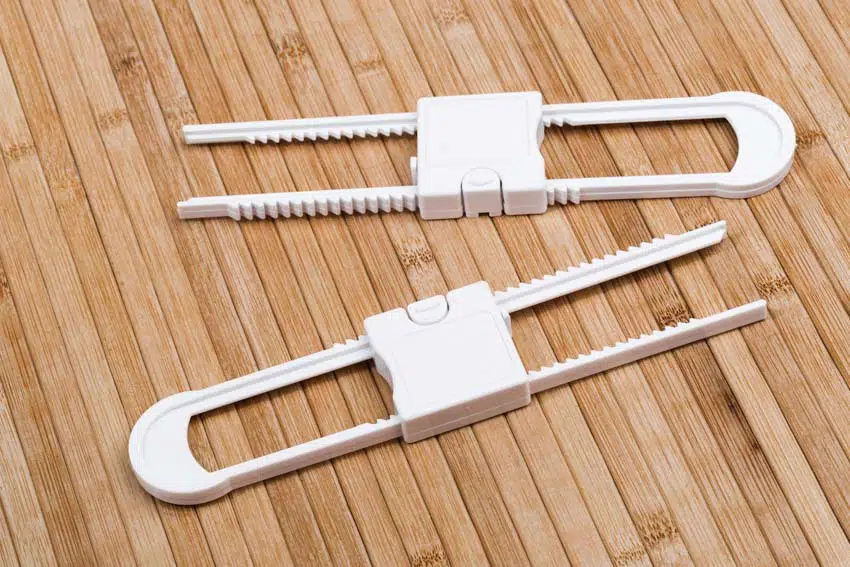 Curious youngsters will not be able to obtain entry to off-limit areas because of the sliding door child lock.
The door generally opens 3 inches when the lock is engaged, which is enough to let in the fresh air on a hot summer day but too narrow for a youngster to pass through.
The compact design fits into the door frame, and the placement on the top of the door makes it difficult to access by infants and small children. For times of inactivity, the lock readily disconnects.
Electronic Door Lock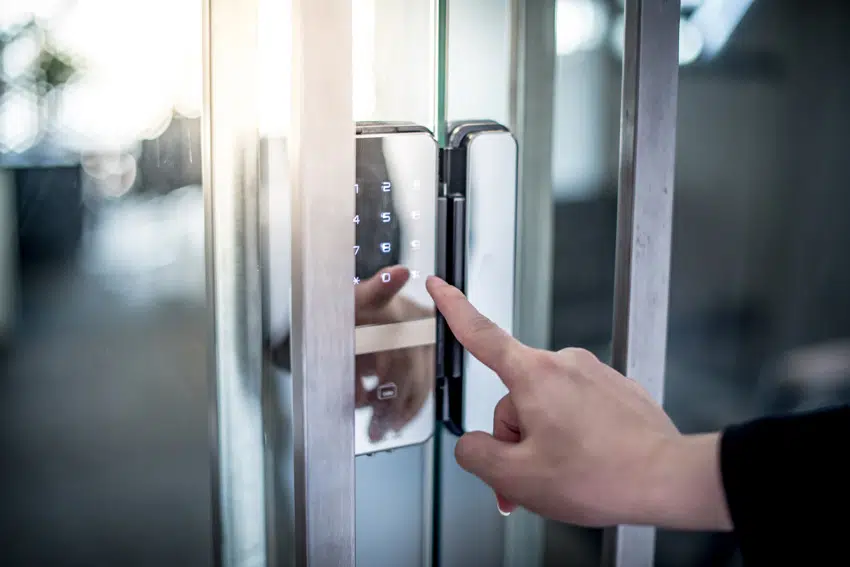 Electric types of door locks are a new and better method of securing your property. They can be used instead of or in addition to your keys.
You will be able to remotely lock and unlock your sliding doors, and also monitor whether they are locked or not if you use electronic door locks.
To open them, you may use a key remote, your automobile, a smartphone application, or a key code. These were initially seen on automobiles, but they are now also seen in residential properties.
The lock system has a latch and a bolt, much like a standard lock. Traditional keys use a pin and tumbler mechanism, in which the lock cylinder is fastened while the key rotates the pins and moves the lock at a predetermined distance, allowing the door to open.
There are alternative techniques to unlock this, but they usually need a considerable level of expertise and significant duration.
Actuators are often used in electronic door locks to push the lock's bolt into position, allowing the sliding door to move. All you have to do now is activate the actuator, and your door will unlock.
How Can I Make My Sliding Door More Secure?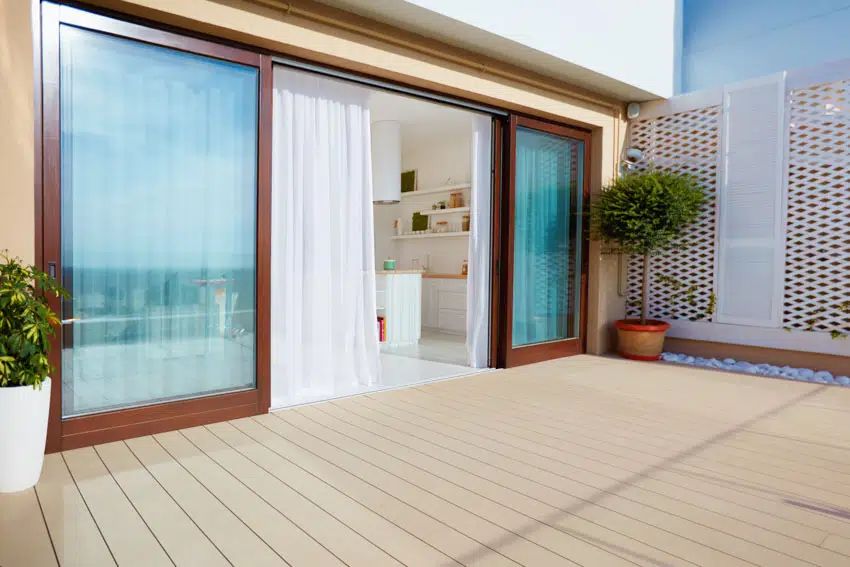 • Incorporate alarm sensors into the mix: Mounting alarm sensors connected to a surveillance system is a beneficial approach to secure your sliding door.
The majority of alarm systems include door or entrance sensors. These sensors, which are affixed to a door frame, track open and close actions. If the door is forced open, the alarm sounds, and a call for assistance is made.
• Install a window film: Sliding glass doors are extremely delicate. We recommend using a window film to keep intruders out.
This polyethylene protection prevents a cracked sliding glass door from breaking apart entirely, making it extra challenging for an unwanted person to penetrate.
• Place a rod in the railings: A metal rod is included with certain sliding doors for increased security. Use this function if your sliding door already has it. It contributes to the reinforcement of the door against the unauthorized entrance.
• Activate a surveillance camera. Security cameras aren't the first thing that comes to mind when we think of a solution. They're typically pricey, complex to set up, and demand continuous subscriptions.
A security camera, on the other hand, is an excellent choice for a susceptible area such as a sliding glass door.
See more related content in our article about sliding door dimensions on this page.