In this guide we share the most popular sliding door dimensions including standard sizes for glass, screen, closet and barn doors.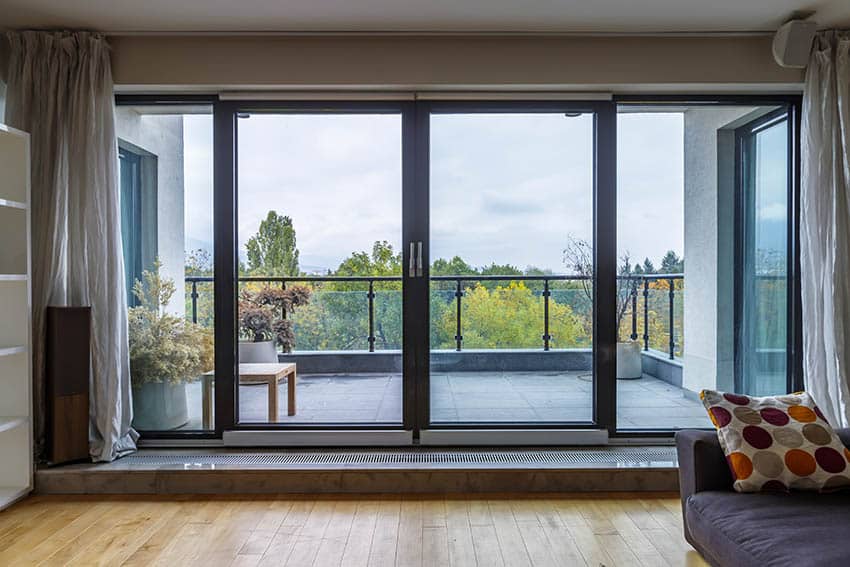 When discussing upgrading or replacing sliding doors there are a few things you should take into consideration.
With more choices than ever one needs to know the standard size of the door. It is also a good idea to consider the operating style, whether it is an interior or exterior door and if you want a solid or glass door.
Even knowing whether you will need a patio screen door can save you time and help avoid another trip to the store. Additionally, you may need to know the sliding doors opening to determine the right size of curtains you need to get for any of these types of doors.
Standard Sliding Door Size
There are a few standard sizes when it comes to the different types of sliding doors. These in particular will be sliding doors without glass, this could be for closets, exterior doors, or interior doors.
The standard height of sliding doors is 80 inches tall with panels that are typically anywhere from 60 inches to 72 inches wide.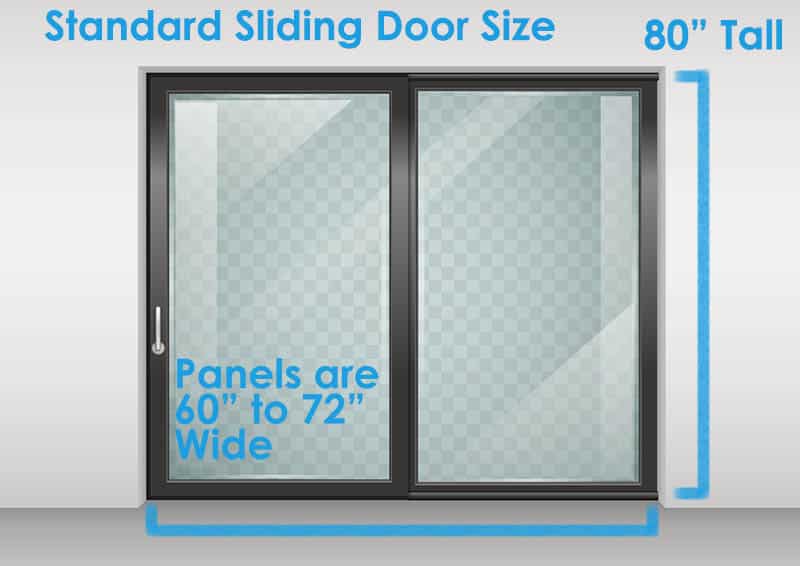 Each of the panels are placed in a track around the frame of the door, the sizing of the tracks depends a lot more on the thickness than the length, but you will need to get a track that fits the length as well.
Non glass sliding doors typically only come in the two panel option, making the standard total lengths 5 feet, 6 feet or 8 feet. Each panel should not exceed 5 feet long (60 inches).
If a larger space is needed to be covered, additional panels can be added. There are always options for custom doors when it is desired as well.
Standard Sliding Glass Door Size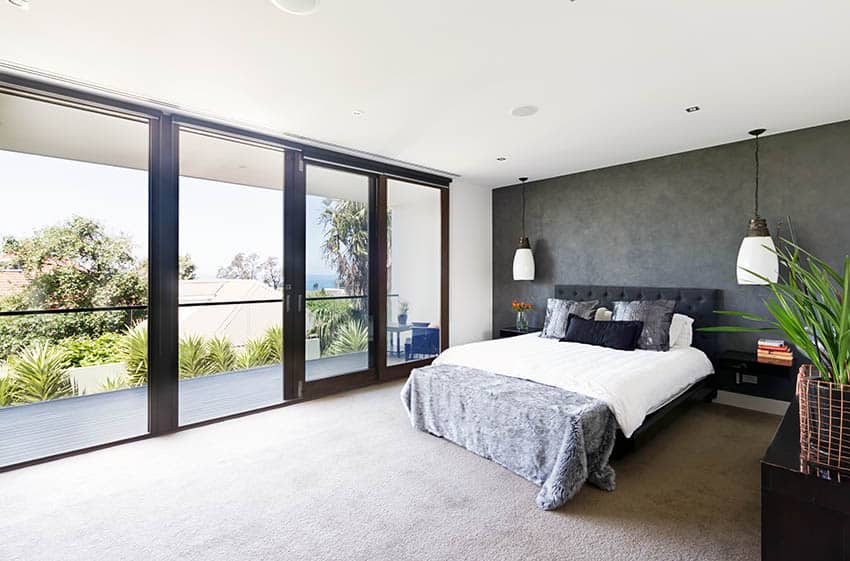 As with the above mentioned standard doors there are a few standard sizes for glass sliding doors as well. These are most commonly used for exterior doors, but can always add a decorative element indoors as well.
As with the standard sliding doors these doors can have two or three panels, and if so desired more custom options of four or five panels.
The standard heights for all of these doors are also 80 inches to match the rest of the doors. However, there are two other popular sliding glass door sizes which are 6 feet 10 inches (82 inches) or 8 feet (96 inches).
The standard lengths for glass door sizes are typically 60 inches to 72 inches wide.
Two panel sliding glass doors can often measure: 5 feet (60 inches), 6 feet (72 inches), or 8 feet (96 inches).
Three panel sliding glass doors can often measure: 9 feet (108 inches), or 12 feet (144 inches).
Sliding Screen Door Sizes
The most common widths for sliding screen doors are 36 inches and 48 inches with a height of 80 inches.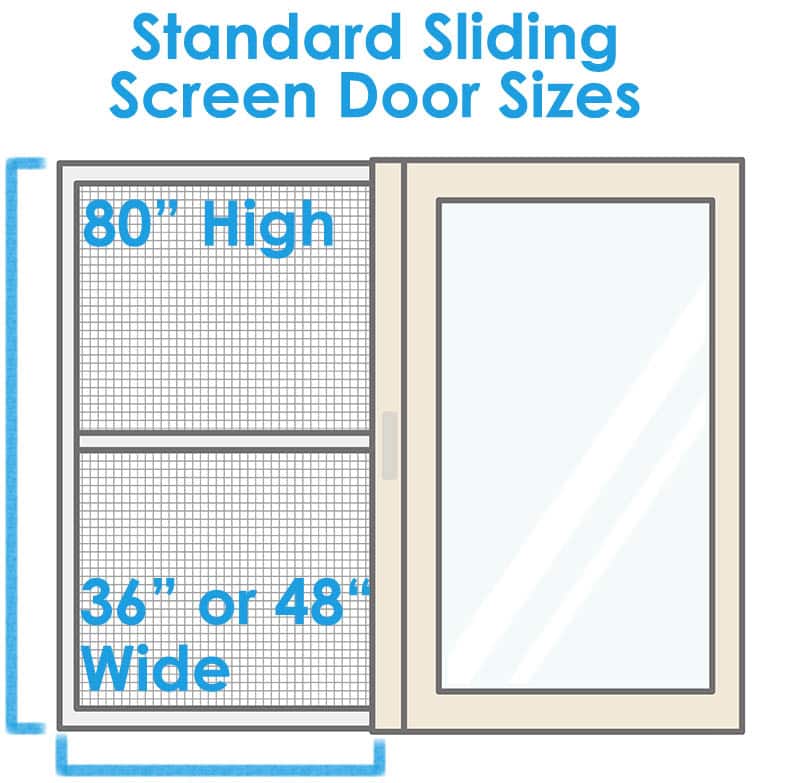 The screen door is going to depend on the size of the sliding glass door that is selected. The glass door and the screen door have the same sliding door dimensions.
This measurement does not include the frame in either the sliding glass, regular sliding, or the sliding screen doors.
Make sure to select the same size and brand if using both a sliding screen and sliding door.
Sliding Closet Door Sizes
Sliding closet doors are a great space saving option, as they do not need as much clearance as say bi fold doors or standard swing doors.
Because of that great feature, sliding doors are very common for closet, and have a standard size. Like all doors, the size can be custom sized to meet any needs.
The standard size of a sliding closet door is 6 feet long (72 inches) by 80 inches tall. This will be a two panel sliding door.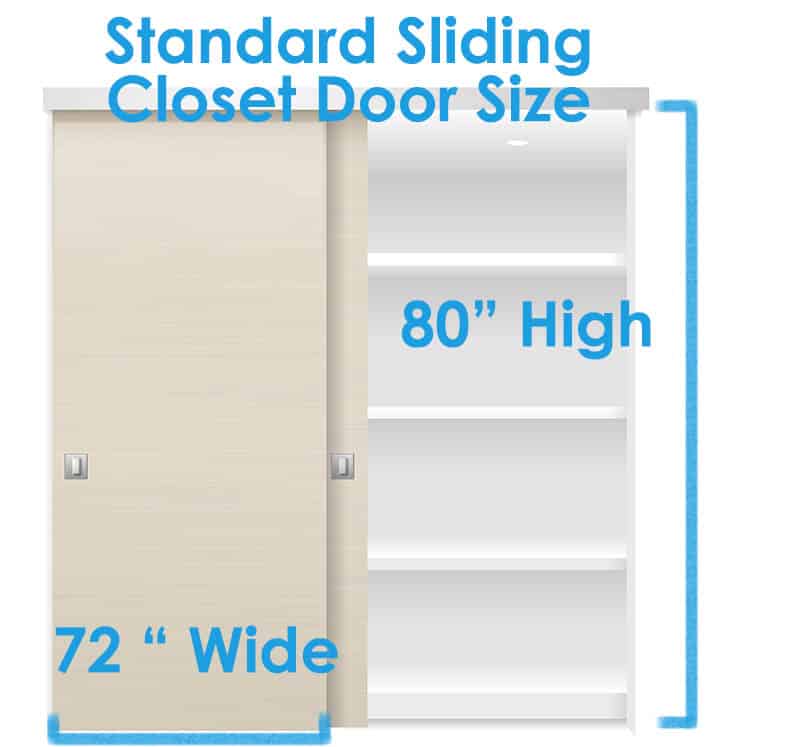 These types of closet doors are measured by not including the frame, as the frames are typically a more decorative part of the door. Based on the size of the door deflected will determine screen sizes as well as the size of curtains.
Sliding Barn Door Size
Another choice for sliding doors are barn doors, which have been growing in popularity. The sliding barn door typically only has one panel, as it can slide in or out of place.
The standard width of barn doors is 3 feet (36 inches), 4 feet (48 inches), or 5 feet (60 inches) by 80 inches to 84 inches high.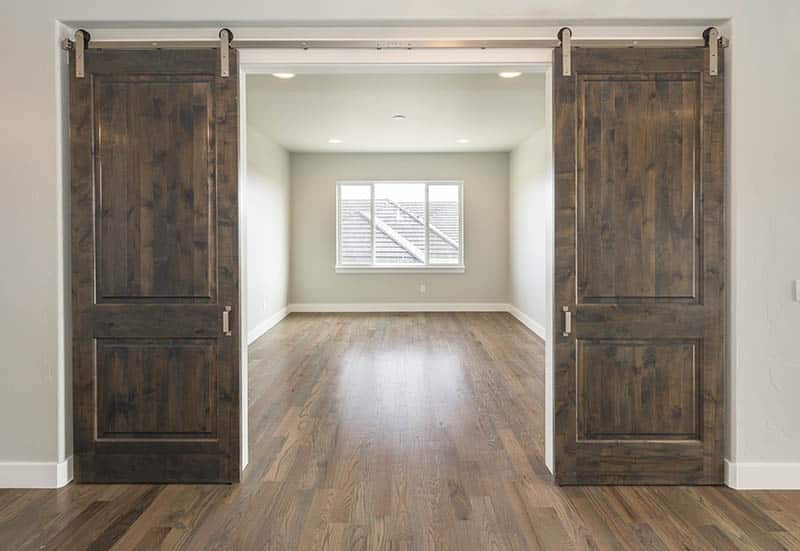 Barn doors do not have frames, or are placed above the existing frames. This being said, they also need to be a little bit raised off of the floors, since they are in tracks located above the door frame. This means the door is often a little raised above the door opening and is attached to track hardware.
The barn door should be hung at least 6 inches from the ceiling to ensure there is no difficulty operating and installing the door hardware.Check with the specific door hardware instructions to ensure you have adequate room to from the ceiling to install and operate the door.
Curtain Size For Sliding Door
The curtain size is the only time you need to take the frame size into account. The curtain rod should be about 2 to 6 inches longer than the frame of the sliding door.
As for height, the same rule applies, 2 to 6 inches above the frame. The curtains themselves can either hang a few inches off the floor, or can touch the floor if it is desired.
Getting curtains that are 84 inches high gives about 3 inches above the door frame and 1 inch below the door frame, and is the most common size for curtains over the sliding glass door.
Have any feedback regarding these sliding door dimensions? Please let us know in the comments section.