Here we share our faux chimney design guide including what it is, why houses use them, different types, interior & exterior styles and how much a faux chimney fixture costs.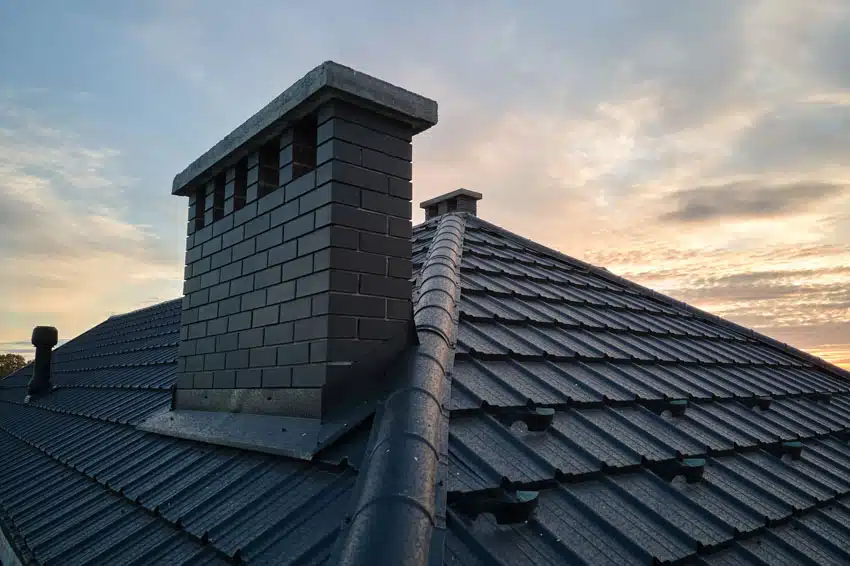 From a traditional open fireplace to a gas fireplace, you can install whatever type you want at home as long as you have the space and budget for it. But if you just want the aesthetics of the chimney and do not really want to deal with possible hazard issues that come with a real fireplace, a faux chimney might be the ideal option for you.
If you want to install a faux chimney, you will have to learn everything about having one at home. This includes what a faux chimney actually is, its cost, installation, and maintenance, along with the different types you can consider.
What Is A Faux Chimney?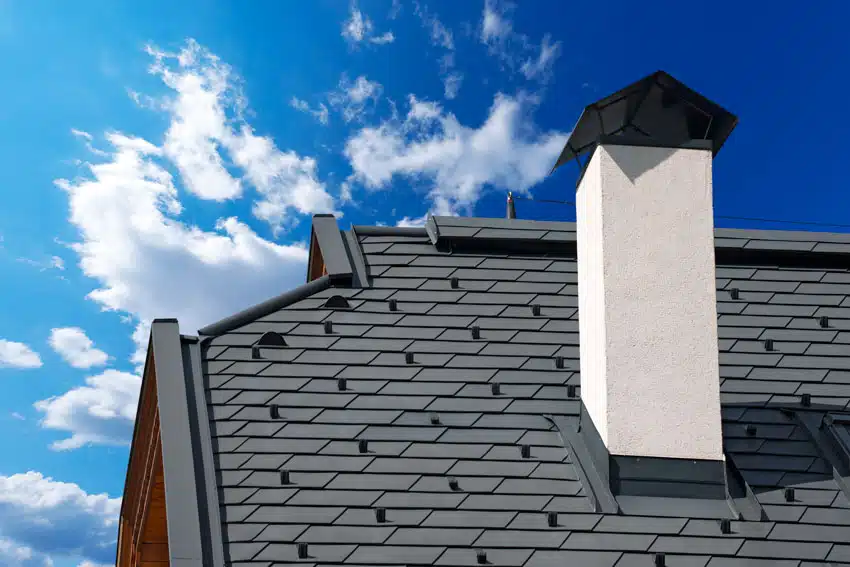 Faux chimneys can come in different types and forms, depending on different factors including materials, systems, and designs. Popular in the 2000s, they are commonly installed on roofs just to give the distinct appearance of a chimney despite not having an actual and legitimate fireplace installed in the home. They are usually built into the roof structure with normal roof material placed surrounding it as a covering.
Faux chimneys can have plastic or metal frames, depending on your choice, clad with bricks or render facing. They can be attached on the building's gable-end, mid-pitch, or ridge and can stay in place by relying on how it's been fixed into the roof structure.
If the roof structure is damaged and its joists weaken, the faux chimney will also come down along the way. While faux chimneys may not be real, they also come with faux fireplaces that are designed and structured to mimic fireplaces without using real flames and heat.
These fake fireplaces can either be solely decorative and aesthetic, without any functionality to provide or come with a system that generates flame effects and heat that they can work similarly to how fireplaces do.
Technically, as long as it acts like a fireplace but doesn't produce real flame and smoke, then it is a faux fireplace.
Types of Faux Chimneys
If you've decided on installing a faux fireplace and chimney in your home, here are some of the options you can explore.
• Fireplace Surrounds/Mantels: The inside of the mantel of this type of faux fireplace is designed with the appearance of a real fireplace hearth for decorative purposes. You can put in fake candles and logs to make it more realistic.
• Electric Fireplace Mantels: Compared to the first type that's solely decorative, this type is both decorative and functional. It easily displays fake flames and even somehow provides heat through a space heater to mimic the function of a fireplace.
If you're choosing to install this type of faux fireplace, ensure there's a standard home electrical outlet nearby.

• Electrical Fireplace Variations: You can also choose from different variations of electrical wall fireplaces, including one that's wall-mounted, with a TV stand, with electric stoves, and then with electric logs.
• Electric Fireplace Inserts: If you have an existing fireplace but don't want the risk of causing a fire in your home, you can choose these inserts to turn the real fireplace into a fake one.
Faux Chimney Exterior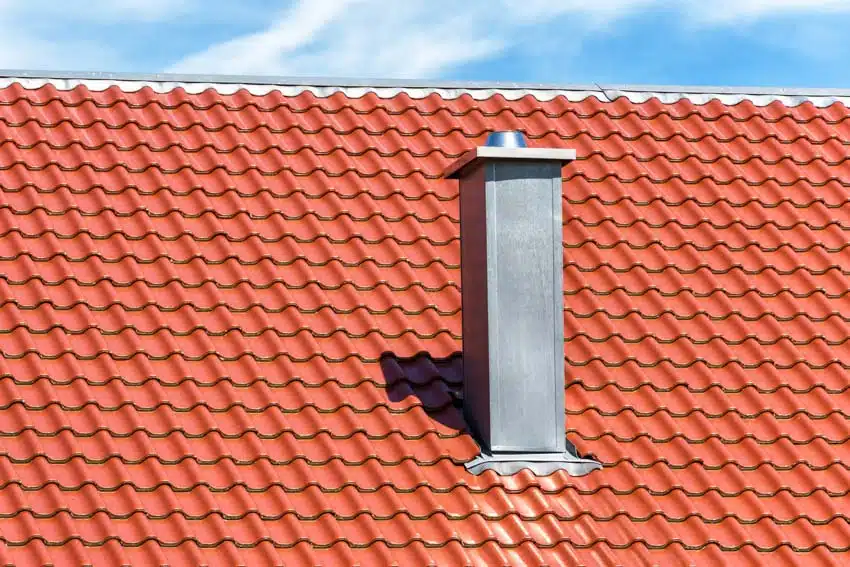 The exterior of the faux chimney involves the top covering that can either be made from plastic or metal. For a real chimney though, this covering is usually made of a heavier chimney cap or even a slab of cement.
The chimney's exterior is responsible for keeping water from entering the chimney so depending on how you constructed and designed your faux chimney, you will need to make sure that the covering is durable enough and capable of keeping water out.
You won't have to worry about this though if your faux chimney does not go all the way down with a pipe inside your home but just really on the roof just to add to the aesthetics of your home. If you have a traditional chimney you can read more about chimney cap sizes here.

Faux Chimney Interior
A chimney interior involves the flue people that extend above the roof, which can go the same way with a faux interior. This usually goes with the surround and is topped with the chimney exterior.
The interior of a faux chimney can be optional but if you somehow want to maintain a real feel to your chimney, or leave the option to convert it back in the future a chimney liner can be installed.

Faux Chimney Surround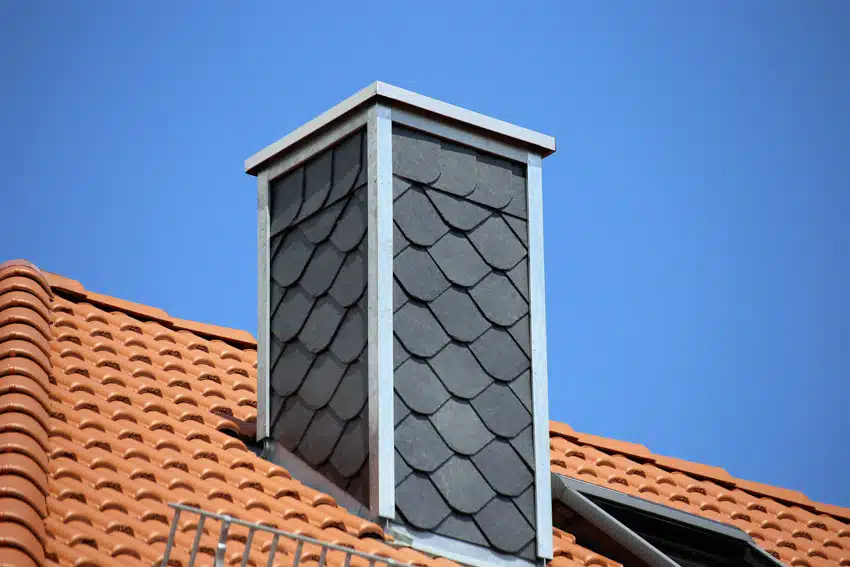 This chimney surround is typically the part that covers the flue pipe or the interior of the chimney both for added protection and for aesthetics purposes. This is usually a metal box that hides the ugly pipes that stick out of most roof types. Technically, this is the actual faux chimney even if you have a real fireplace and a real chimney functioning in your home.
When it comes to aesthetics, designing your faux chimney surround is a creative freedom you can explore. While it may usually come as a metal box, you can use other materials and design it however way you can so that it can fit and match the aesthetics of your home's exterior.
Faux Brick Chimney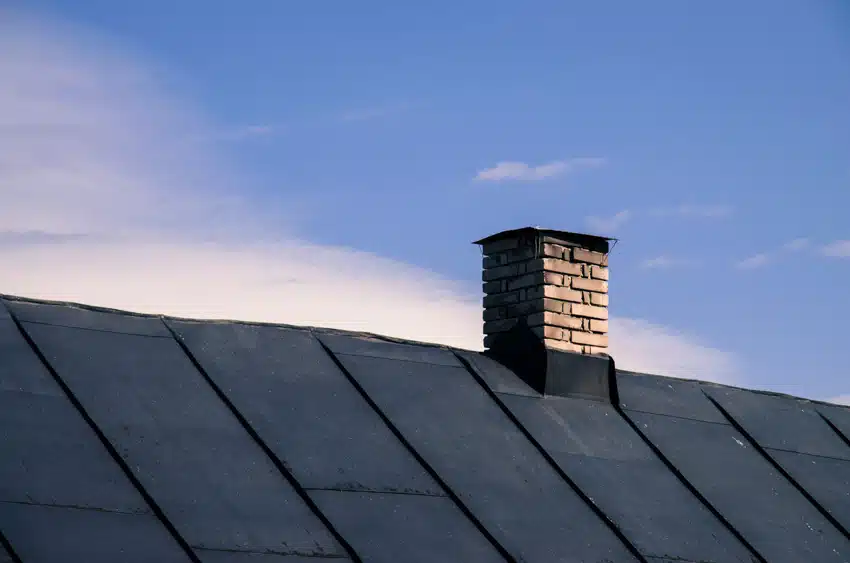 Bricks have become the standard look for old chimneys and it is still an excellent choice if the exterior of your home is made of brick. This material was first used in the past because of its ability to withstand high heat levels.
For a faux brick chimney that's focused on aesthetics, you don't have to use real bricks for it. There are fake bricks you can use or you also have the option of painting bricks on a mantel to cover the chimney top.
Faux Stone Chimney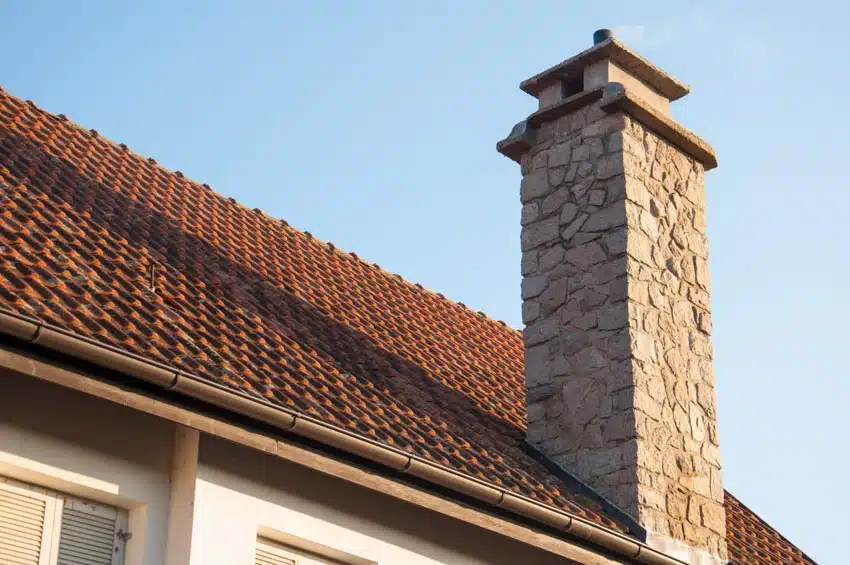 Another material that brings you to the past when dealing with chimneys is stone. If you want to have a rustic vibe for your faux chimney but are not that fond of bricks, stones can be added to your home.
Compared to bricks, stones are easier to match your home's exterior. If you choose a faux stone chimney, similar to faux bricks, you can look for fake stones or just have the design painted instead.
DIY Faux Chimney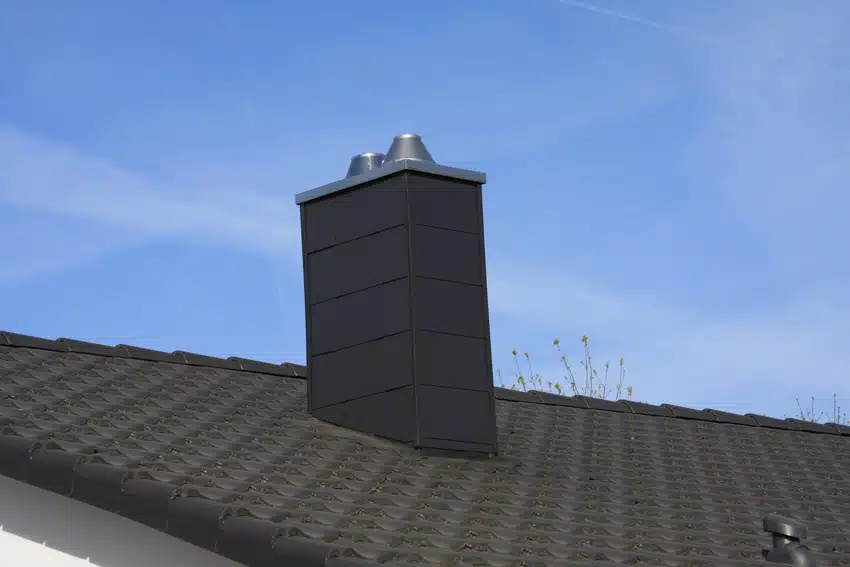 Choosing to build your faux chimney means that you will need to decide on many things before starting the project. You must decide on the specific "material" you want to use and the design you want to incorporate into your chimney.
Given that you have access to your chimney, here are the simple steps you can follow to build your DIY faux chimney:
1. Measure the area of your chimney: Take accurate measurements in the exterior of your chimney to know how many panels you will need for this project (whether you choose stone, bricks, or wood).
2. Place the orders you need: Make sure to consider corner pieces, trims, and ledgers more than just the usual panels.
3. Cut your panels to desired sizes: Use a handsaw, circular, and radial saw to cut the panels to the sizes and shapes you want them to be in.
4. Install the panels to your chimney exterior: Use industrial adhesive, screws, or nails to affix the panels to the chimney and roof.
Faux Chimney Panels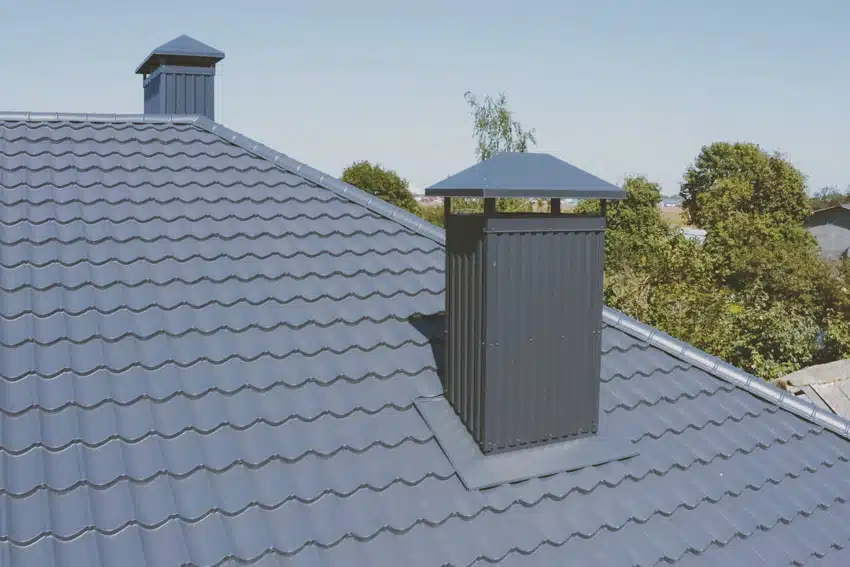 Panels are most often the materials used to build a faux chimney primarily due to the flexibility of patterns and designs you can have with them. With the panels, you can use bricks, stones, and wood without having to pay and worry about the drawbacks that come with these materials and instead focus on their aesthetics and vibe.
How Much Does A Fake Chimney Cost?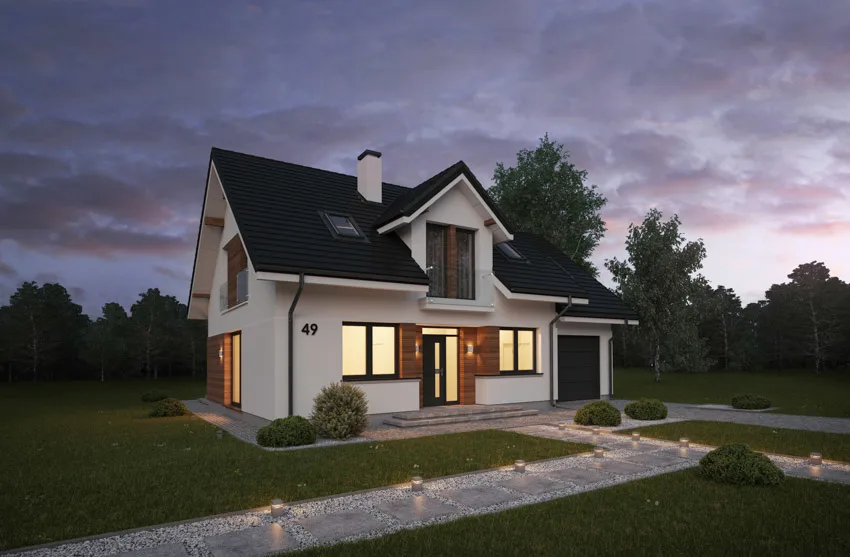 Fake types of chimneys are very affordable and highly dependent on how big your chimney is and the designs you want it to have. If you will use faux stone panels, you can spend around $8 to $12 per square foot.
It can increase in expense if you pair it with a faux fireplace, which can range from $2,000 to $5,000. Check out the costs of the different types of faux fireplaces at a glance.
| | |
| --- | --- |
| Types of Faux Chimney/Fireplace | Estimated Cost (Average) |
| Fake Brick and Stone Fireplace | $2,000 |
| Fake Mantel and Surround Fireplace | $2,500 |
| Fake Stack of Wood Fireplace | $5,000 |
| Fake-real Fireplace | $2,000 |
| TV Stand with Fake Fireplace | $2,200 |
| Fake Wall-mount Fireplace | $2,000 |
| Fake Fireplace with Storage Area | $2,000 |
| Theme Fake Fireplace | $3,500 |
Are Fake Fireplaces A Fire Hazard?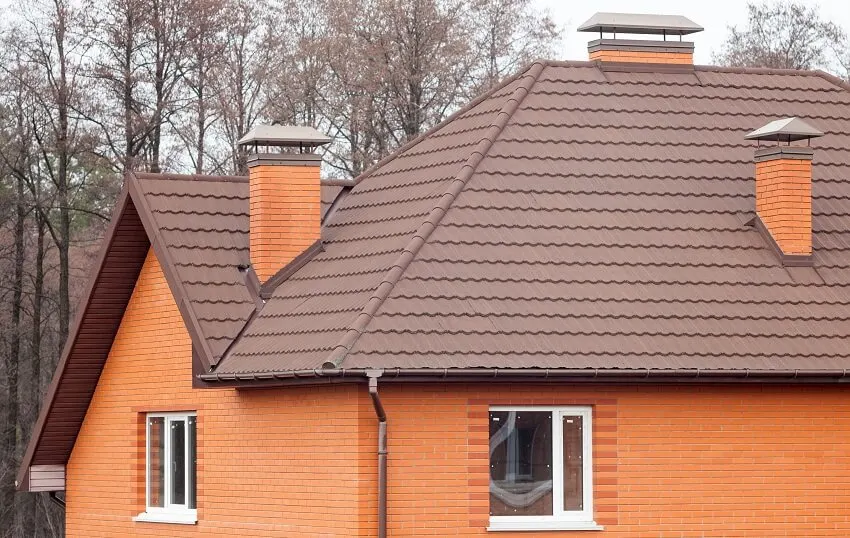 Nothing's really risk-free and this goes the same way with fake fireplaces. Some of the potential hazards you need to know about faux fireplaces include burns if the electric fireplace becomes too hot to touch and can cause a fire if flammable materials are in close vicinity.
Generally speaking most modern electric fireplaces are perfectly safe when combined with faux chimneys. They do not create the soot, sparks or flames of the traditional gas or wood burning fireplaces and are built to be safe for long-term use.
Even though they do not produce smoke most fireplaces will still have a damper inside the firebox to keep cold air out. They also should have chimney caps to prevent water and debris from entering and causing damage.
Why Do Houses Have Fake Chimneys?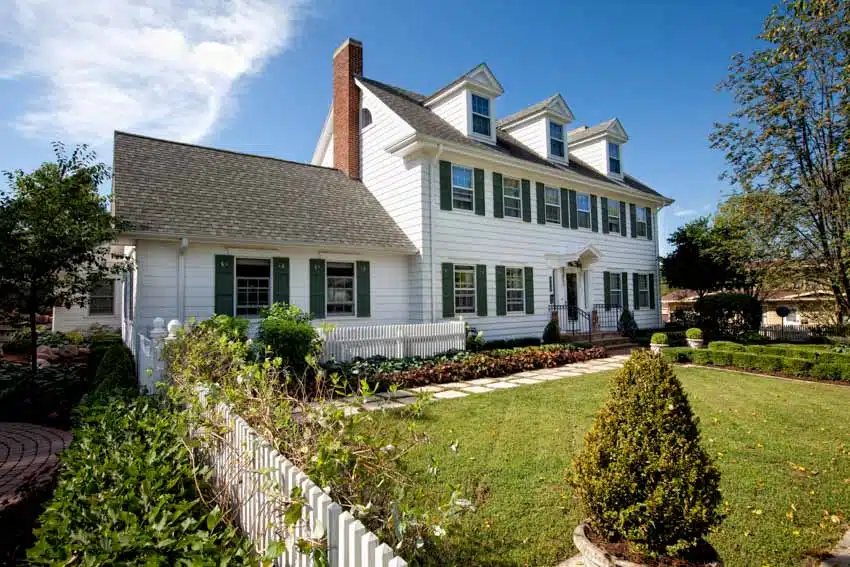 Many houses built in the 2000s have fake chimneys because of the benefits that they provide compared to real ones, including the following:
• Better Aesthetics and Creative Freedom: Many fireplaces are focused on their function, which is to provide heat to a home. With fake ones, you can focus on the aesthetics and have more freedom in styling the chimney without having to think about the impact it will have on the fireplace's function.
The other way around, whether you style the chimney by hand-painting it, heat from the fireplace won't be able to damage the design.
• Low Maintenance: Unlike real chimneys, you will have to go from the fireplace to the top of the roof to clean the chimney and check out possible areas that will need repair. For faux chimneys that are just glued on the roof, that's all you really have to deal with.
See more related content in our article about what color to paint exterior chimney on this page.