See the types of bedroom wall sconces with what they are, light fixture wall placement, different designs, features, and bedroom wall sconce ideas.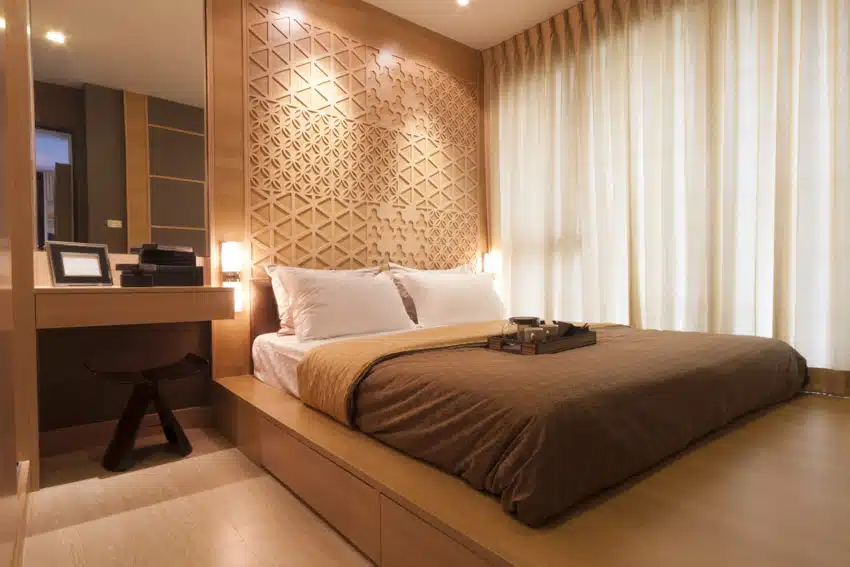 Wall sconces are among the unique light fittings that homeowners and designers set up for a variety of purposes and light intensities. It is also probably the earliest style of lighting fixture that is still being used.
There are several methods to enhance the lighting effects in your bedroom – you are free to choose between a chandelier, pendant, or flush-mount lighting. However, you should know that bedroom wall sconces are indeed an outstanding selection for subtle task lighting at the bedside.
Wall sconces represent a more classic style of lighting that is gradually becoming fashionable in newer home designs. Sconces are often wall-mounted light sources that allow you to conserve space on your bedside tables and minimize the number of cords that travel along the floor.
What Are Bedroom Wall Sconces?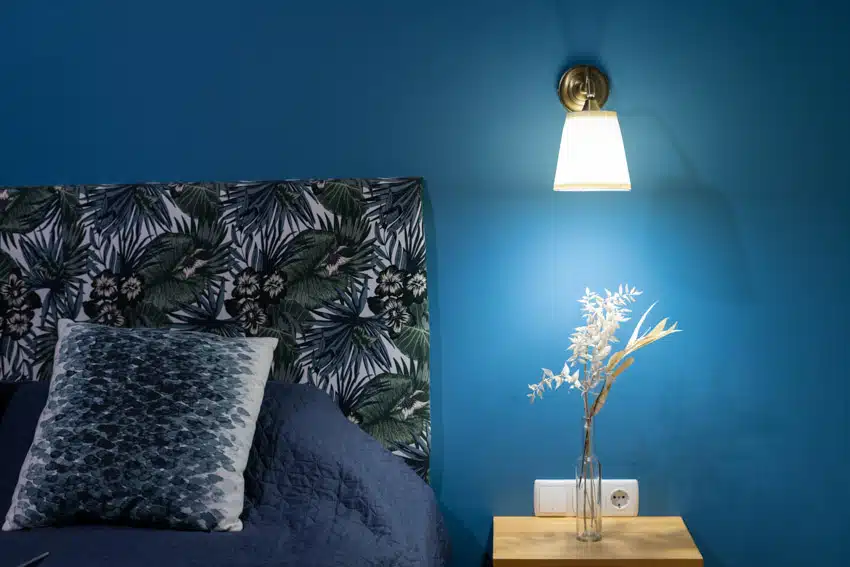 A wall sconce is a light fixture that is fixed to the wall instead of being suspended from the ceiling. Unlike pendants, chandeliers, or recessed lights, the illumination from a wall sconce is directed upward instead of downward.
Wall sconces are sophisticated light fittings that may be utilized in your bedroom to set a unique mood, accentuate architectural details, and enhance your bedroom décor. Such wall-mounted sconces are available in a range of styles to complement any bedroom design and deliver the ideal level of illumination.
Bedroom wall sconces are typically installed above a bed or nightstand. They are frequently placed on each side of the artwork or window to effectively draw more attention to the centerpieces of your bedroom.
Nevertheless, bedroom wall sconce lights do not necessarily need to be in partners; a single bedroom wall sconce can already create an excellent standout element.
Sconce Placement in Bedroom Walls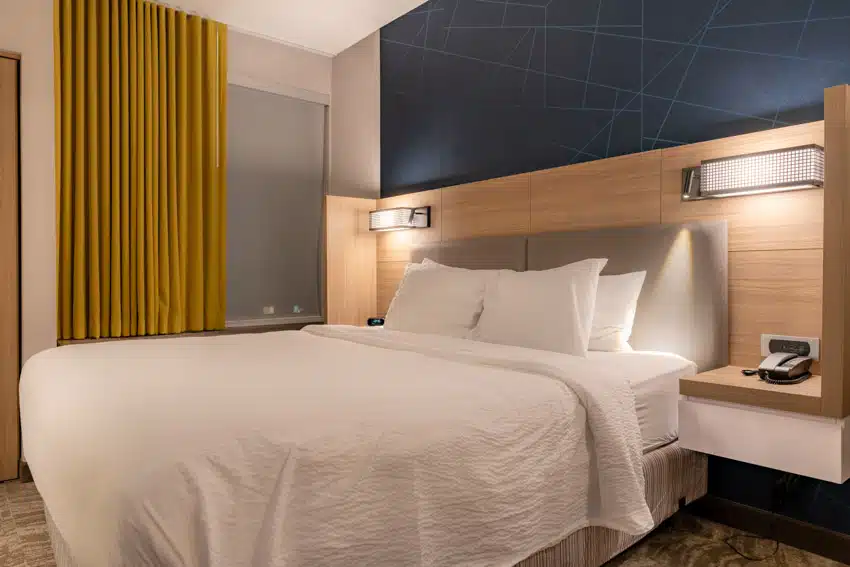 Wall sconces are typically installed bedside because they are incredible study lights and provide a great alternative for nighttime when the overhead light source is excessively bright and you are not yet ready to switch off the lights.
However, below we will discuss the ideal placements of wall sconces inside a bedroom.
Bedroom Sconce Height : The excellent location to start when installing a bedroom wall sconce is 30 to 36 inches just above the highest part of your mattress.
You can alternatively position it 6 to 12 inches above your shoulder while actually sitting towards the headboard and not more than a foot from the bed's borders.
This will differ considerably depending on the sconce's style. A dimmer also serves as an excellent alternative for bedside placement, allowing the user to reduce the light intensity as the night progresses.
Height restrictions are also important from an aesthetic standpoint. You should prevent hanging the bedroom sconce so low that you can see the bulb from above.
Alternatively, you should set it at a height where the lamp's top is hidden while still providing ample lighting for the task being performed.
Where To Hang Sconces Next To Bed: Bedroom wall sconces should normally be positioned more closely to bedside types of lighting fixtures. The sconce must be hung slightly above shoulder height and near enough to turn on without stepping out of bed.
One method to use for hanging is called the 5 and 8 foot rule. Simply put, this means that sconces should be installed five feet up from the floor and 8 to 10 feet apart from each other.
One may choose to adhere to the 5- and 8-foot rule for sconces, but it is not obligatory. The most significant factor to take into account is whether the sconce can be accessed and utilized when sitting in bed.
Nonetheless, bedside wall sconces present unique lighting difficulties; for practicality, some individuals want the sconces to have a switch that can be touched while sitting in bed.
The 5- and 8-foot rule aforementioned might be too wide or too high for this scenario as they may not allow for sufficient distance from the bed, depending on the height of the occupants and the height of the bed from the floor.
Hence, it will still depend on the user's needs and preferences in terms of hanging the sconces next to the bed.
How Big Should A Wall Sconce Be?: Wall sconces come in a variety of sizes ranging from 4 to 20 inches wide. Task light sconces must be proportionate to the subject they are highlighting.
If your sconce fixture will be next to the bedside, it's important that you have the fixture positioned between your head and lap. That way you can have proper illumination for reading or sitting in bed.
Picture lighting for artwork is typically about 1/2 to 2/3 of the width of the art. Smaller artwork will require a fixture near the smaller side, while larger will require a larger fixture for adequate illumination.
Types of Wall-Mounted Sconces for the Bedroom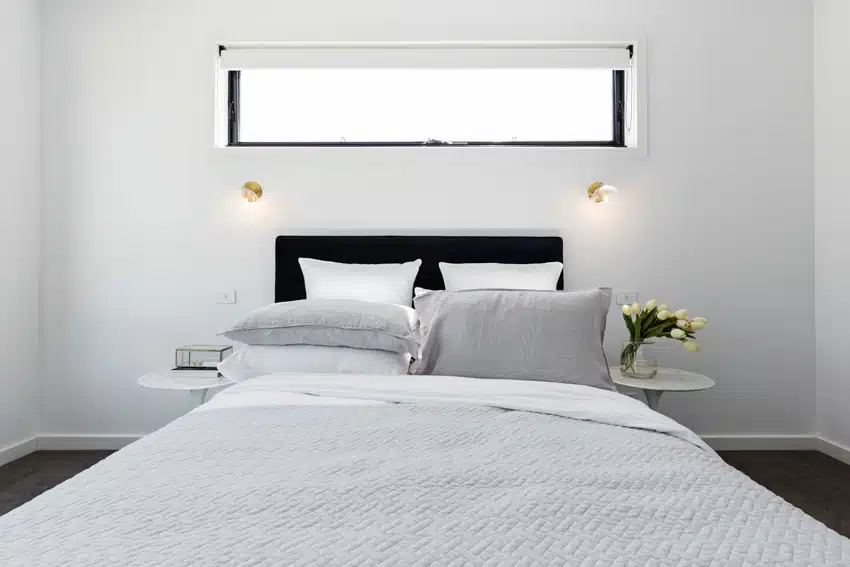 Here we share the different wall sconce types for bedrooms.
All-Around Sconces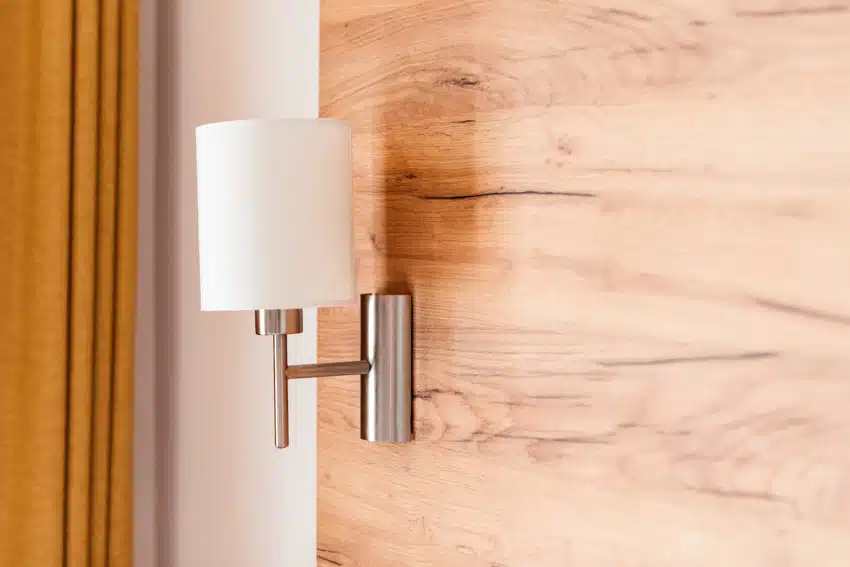 Most sconces provide light in both the downward and upward directions. This all-purpose lighting choice has the advantage of providing a sense of harmony in space. If you want to bring a lot of illumination to a gloomy bedroom, this might be the ideal sconce option.
Down-Light Sconce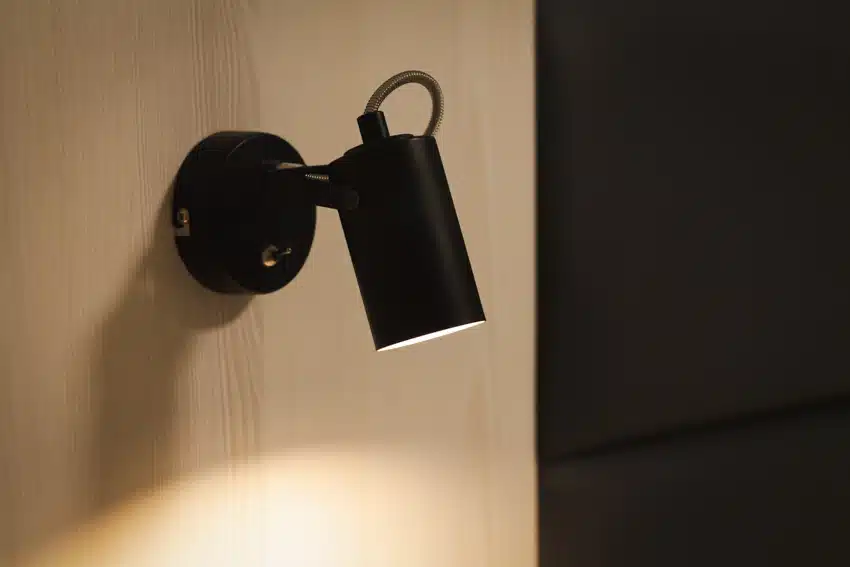 A down-light bedroom sconce adds warmth and coziness to a bedroom by projecting light downwards. A down-lit wall sconce can make a large bedroom feel more intimate or add a romantic ambiance.

Up-Light Sconce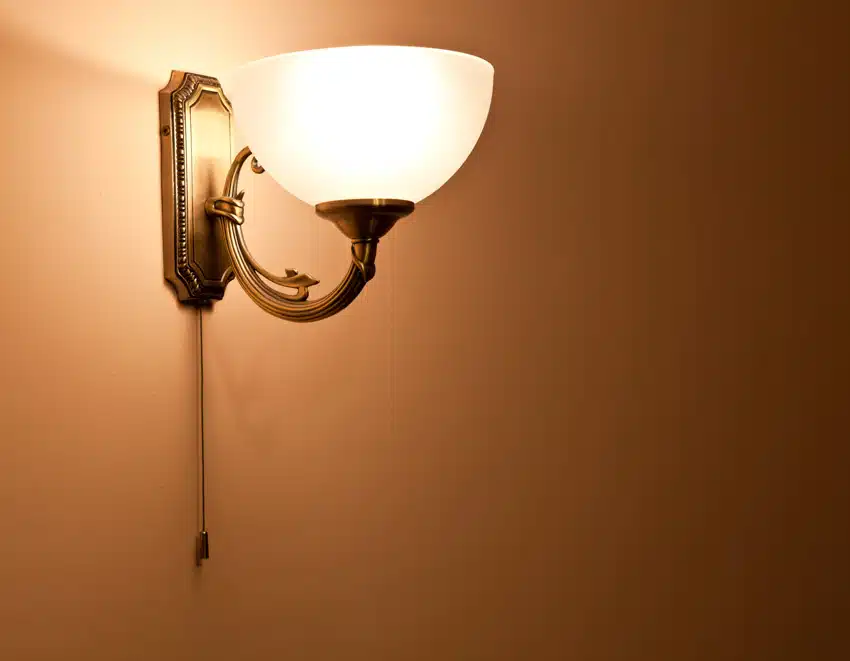 Light is directed upwards by an up-light sconce. This provides the impact of making your bedroom appear larger. Numerous homeowners prefer up-lights for small bedrooms since they offer a more spacious feeling.
Sconce with Arms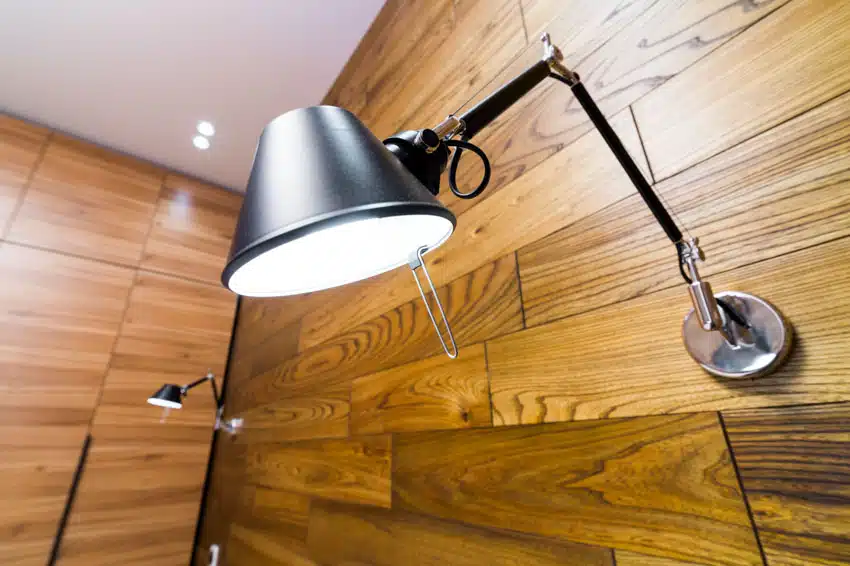 An armed wall bedroom sconce has a light fixture that is fastened to a wall-mounted plate by an arm. In certain situations, the arm is fixed, while in others, you can swing, swivel, and modify the arm to change the orientation of your source of light.
Armed sconces are among the most prevalent sort of wall sconces, with styles that fit classic to modern bedrooms.
Flush Mount Sconce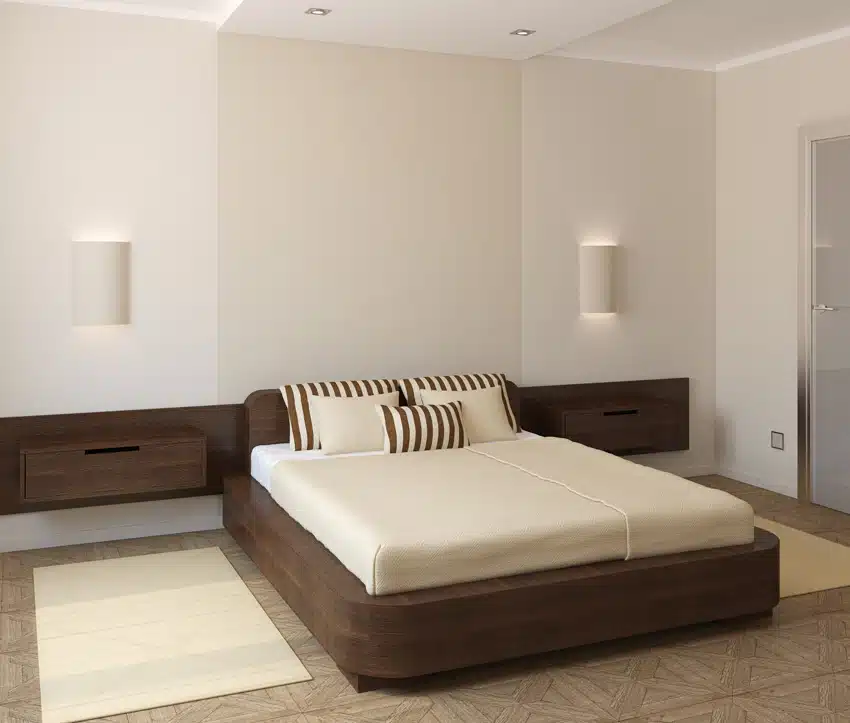 The flush-mount sconce is yet another popular style of wall sconce for bedrooms. As the name implies, a flush-mount sconce is one that is positioned flatly with the wall as opposed to an armed sconce, which is set back from the surface bracket and wall.
Wall sconces that are flush installed have a small footprint as well as a low profile. They seem to provide the impression that a soothing sweep of light is washing the wall on which they are installed.
Additionally, flush-mount sconces can make excellent decorative lights but are not the ideal solution for a bedroom's main light source.
Wallchiere Sconce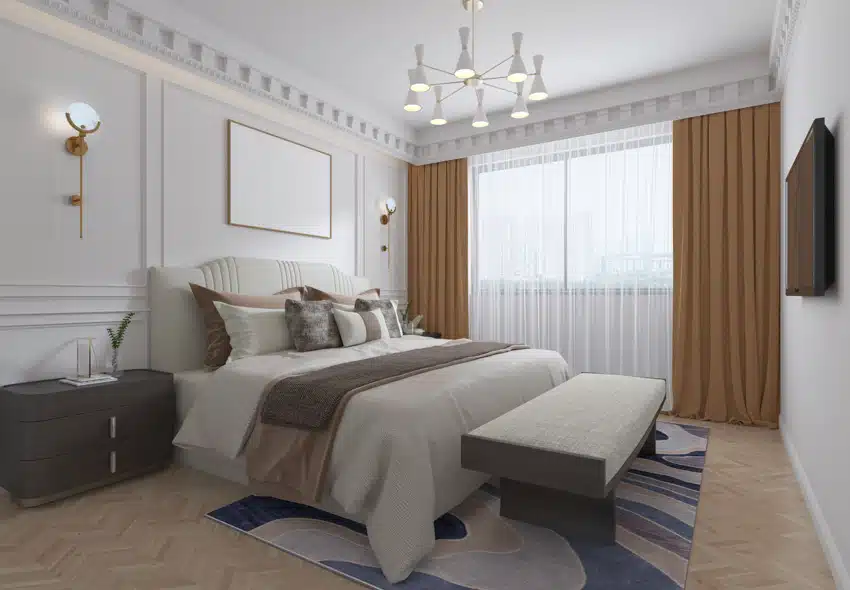 The decorative components of the light itself serve to characterize Wallchieres. A Wallchiere is presumably unsuitable for you if you are searching for something inconspicuous and low-key in a wall sconce.
Most of those advantages of torchiere light fixtures are also available with Wallchieres without occupying extra floor space in your bedroom.
Wallchieres also frequently have artistic components that are missing from other kinds of wall sconces and are tall and slender in appearance.
The same as torchiere floor lights, Wallchieres have a tendency to point the light upward toward the ceiling. This upward lighting direction looks good over a huge furniture piece within a bedroom.
Half-Moon Sconce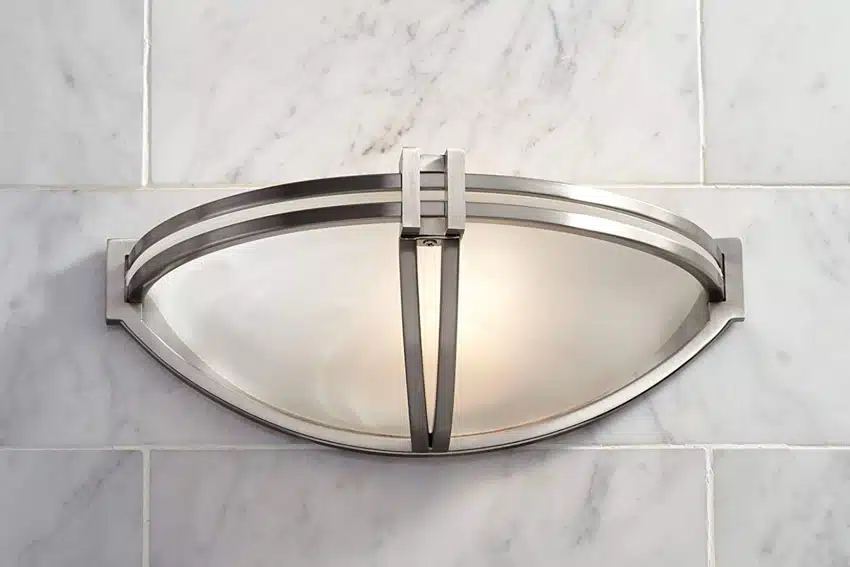 See this half-moon wall sconce at Amazon [sponsored link]
A particular kind of flush-mount sconce is called a half-moon sconce. You might picture it as a sizable dining bowl that has been split in half and put on the wall on the sliced side. Numerous individuals usually picture the half-moon sconce whenever they hear the words "wall sconce".
A multitude of designs are offered for half-moon sconces. There are also a lot of modern, low-profile half-moon sconces currently offered, thus there is sure to be one that suits your preferences as well as the design of your bedroom.
Recessed Light Sconce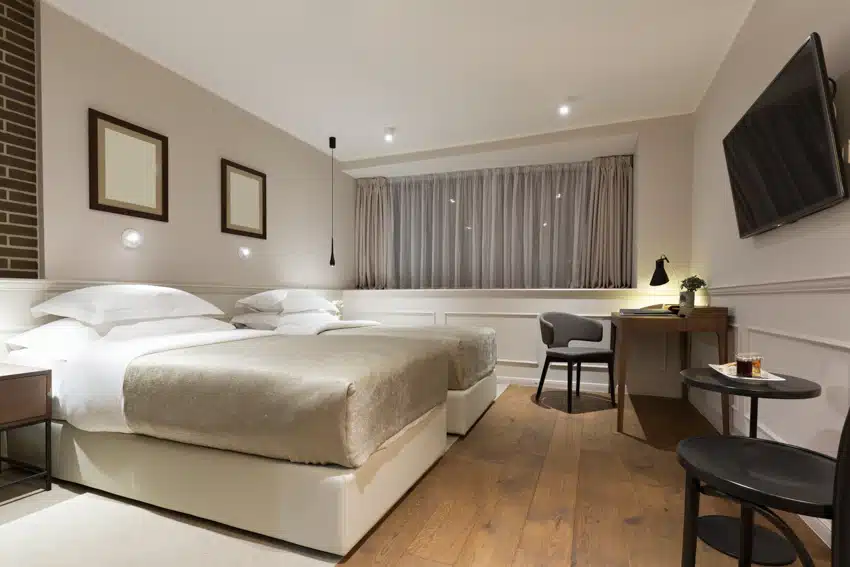 You typically picture very low-profile lighting that has been placed and sunken into the ceiling whenever you conceive recessed lighting. Similar to ceiling-mounted sconces, recessed light sconces are sunken into a wall instead of the ceiling.
Recessed lighting necessitates hard-wiring, thus your options for where to put recessed light sconces could be relatively restricted unless you are conducting new construction development or extensive rewiring.
Flood Light Bedroom Wall Sconce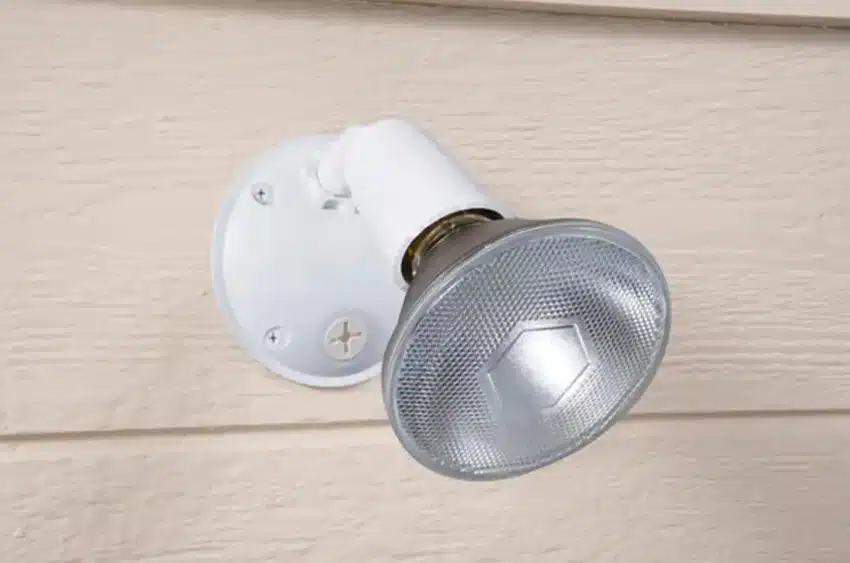 See this flood light wall sconce at Home Depot [sponsored link]
Flood light wall sconces are likely to provide a significantly brighter light source than many other wall sconces, but are less visually stunning compared to other options.
The bright lighting produced by these types of flood lights has a wide but narrow beam. Flood lights could be a wonderful choice for you if you are looking to completely illuminate your bedroom.
Corner Wall Sconce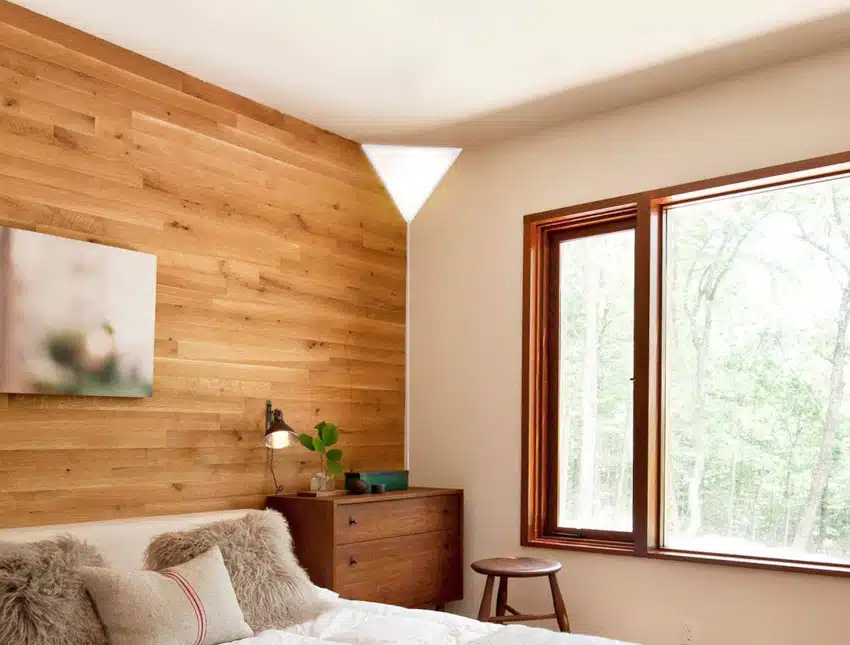 See this corner wall sconce at Amazon [sponsored link]
Corner wall sconces, as you probably expect, are wall sconces made especially to slide into 90-degree ends of a bedroom.
Plug In Wall Lighting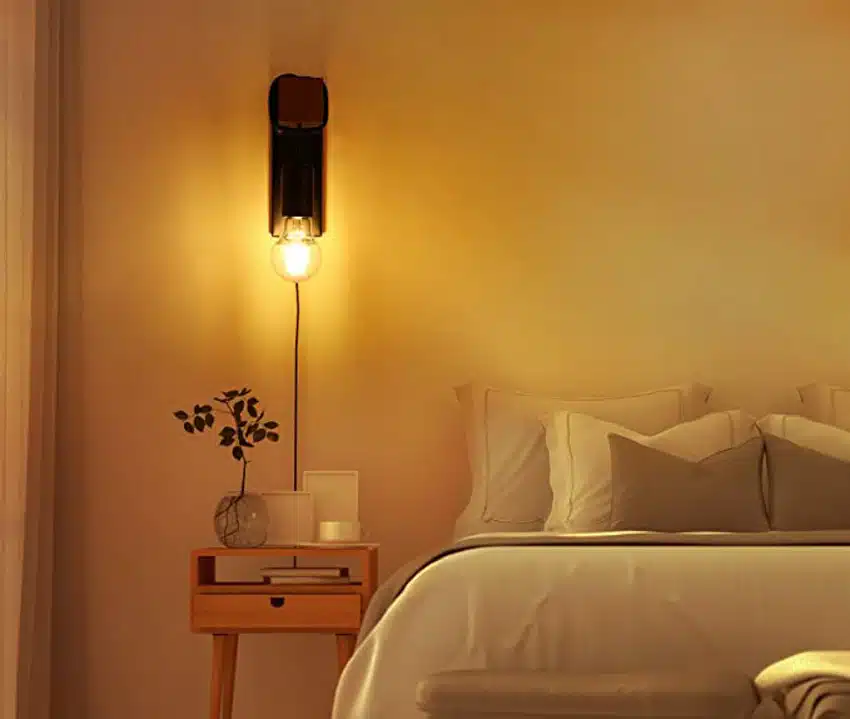 See this plug-in wall sconce at Amazon [sponsored link]
Plug-in sconces are versatile enough to fit into a wide range of bedroom styles, from conventional to more modern. It is a reasonably simple approach to add appealing illumination to your bedroom that blends in with other fixtures. Such plug-in wall sconces are ideal for task or ambient lighting on the wall.
Rather than employing an electrician to hard-wire the lighting installation, this set of wall lights just plugs into a nearby electric socket. This versatility will come in handy in the bedroom whenever you choose to reorganize your furniture and wish to adjust the position of your light source.
When combined with the light from a pre-existing ceiling light fixture or a ceiling fan with an incorporated light assembly, you will have more than enough light for the bedroom.
Battery-Powered Sconces Now, one bedroom sconce option to examine is a battery-powered sconce. Although it is a less common option, battery-powered sconces provide numerous advantages.
Bedroom sconces that run on batteries have the unique advantage of being able to be placed practically anywhere. You are not restricted to placing the sconce near an electrical outlet, nor are you restricted by the constraints of your home's electricity networks.
Battery-powered sconces, meanwhile, will necessitate more work and recurring expenses of buying batteries in conjunction with light fixtures because the batteries will have to be updated sometimes.
On a positive note, its cost is partially compensated by the actuality that battery-powered wall sconces are frequently less costly than hardwired and plug-in solutions.
Hardwired Wall Lighting Fixture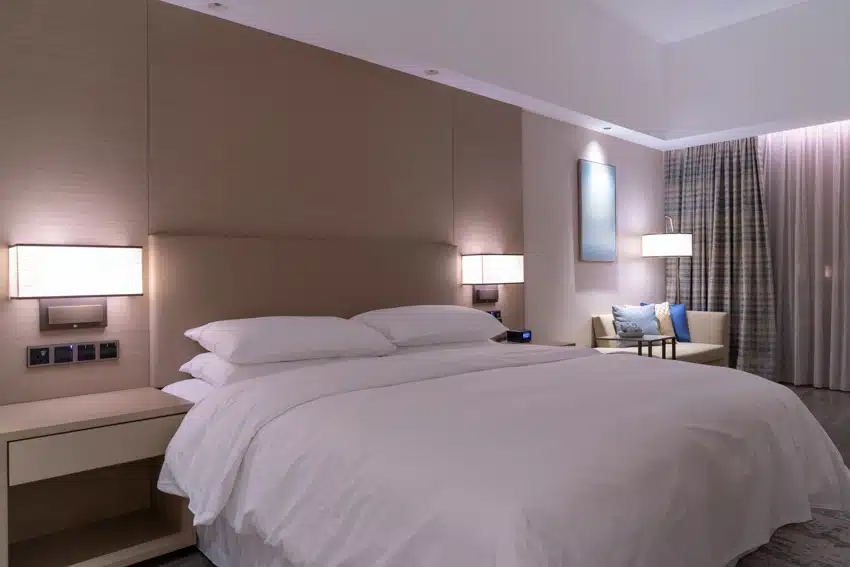 Wall sconces that are hardwired are indeed a widely known option. They are easy to use and add a sophisticated appearance to your bedroom. Being hardwired indicates that these lightbulbs, like ordinary overhead light sources, are attached to your home's interior electrical connections.
Hardwired sconces have the benefit of being conveniently controlled by a light control. Furthermore, hardwired wall sconces illuminate the bedroom like a typical light bulb. There are also several variations of this type of bedroom wall sconce available on the market.
Nonetheless, similar to any lighting system, the bulb will need to be replaced sometimes. Even though these bedroom light fixtures provide a finished, polished touch to any bedroom design, you might be confined to where you can position them.
Wall Reading Sconces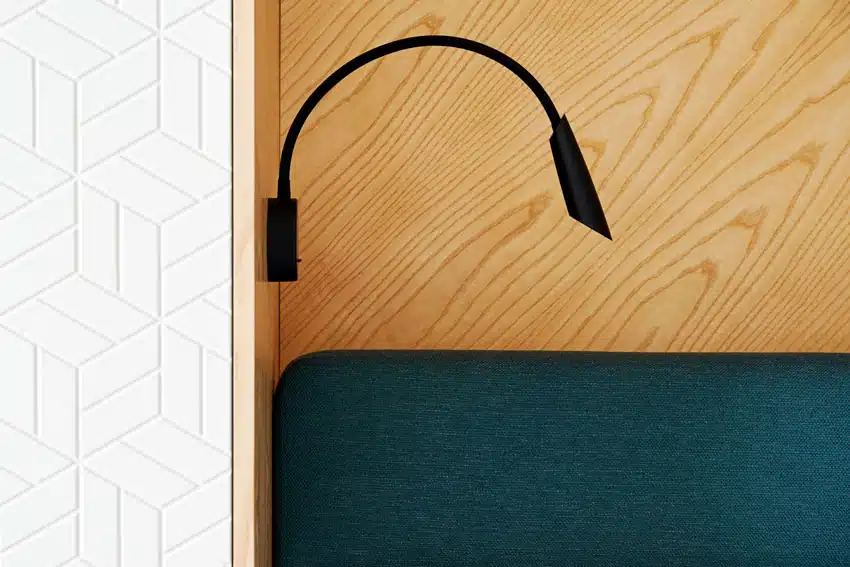 Spotlight bedroom sconces are a form of the armed sconce. As the name implies, spotlight sconces let you direct the lighting by relocating the sconce's arm to "spotlight" or illuminate a particular object or location, particularly reading spots.
When highlighting the paintings in your bedroom, spotlight sconces are frequently utilized as image lights hung over a framed piece of artwork. They are also effective when installed over a bed to give a reading light.
Furthermore, a lot of motion-activated lights are spotlight wall sconces that are designed to illuminate a specific area of your bedroom. A half-moon or other flush-mount wall sconce, on the other hand, is intended to provide a soft flood of illumination across the whole wall.
Although a lot of wall sconces transmit light upward, such as flush-mount sconces and Wallchieres, most spotlight sconce lights point light downward and unquestionably focus light in a specific area, particularly a reading zone.
Candle Carrier Sconces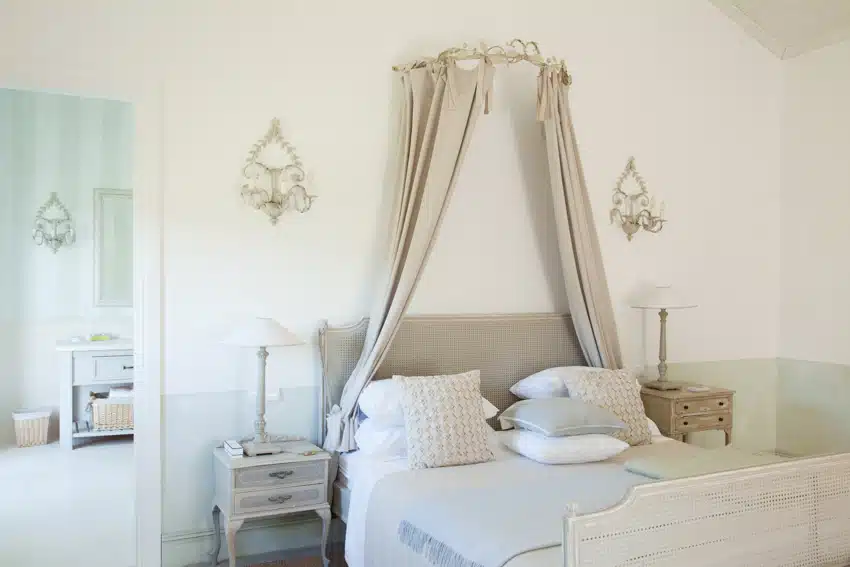 A wall sconce that doubles as a wall-mount candle carrier or an electrical or battery-operated light supply and is fashioned to resemble a candle holder is known as a candle wall sconce.
Numerous people implemented candle sconces as a source of light in their bedrooms hundreds of years before electric or perhaps gas lighting was widely available. Therefore, this particular type of wall sconce has a vintage feel to it.
Even though this style of wall sconce might not be ideal for other types of interior design, it can appear outstanding in a formal and traditional bedroom.
Since they are a specialized sort of lightbulb, the lighting systems for electric candle sconces that replicate actual candles can be a little challenging to find. But numerous homeowners enjoy the distinctive appearance that these lights offer.
Sconce Ideas for the Walls of the Bedroom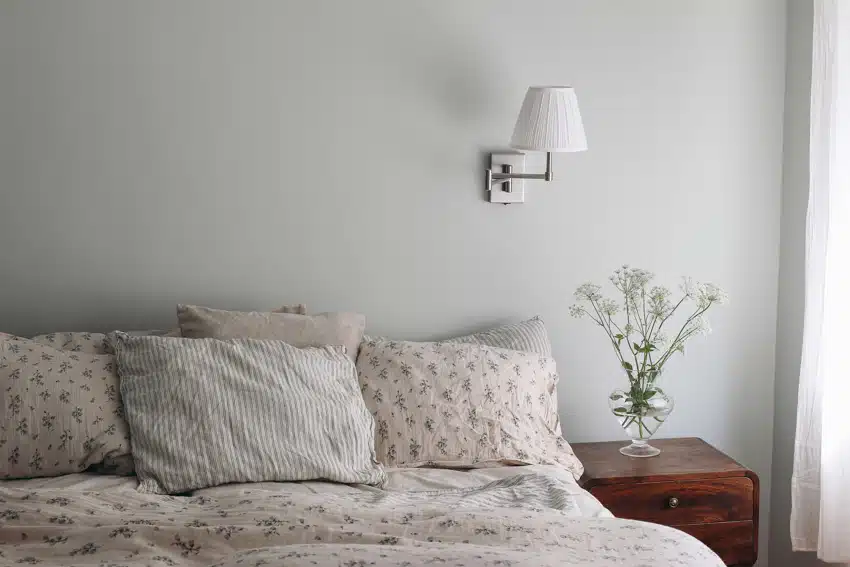 Here we share the best ideas for bedroom wall sconces.
Modern Style Sconces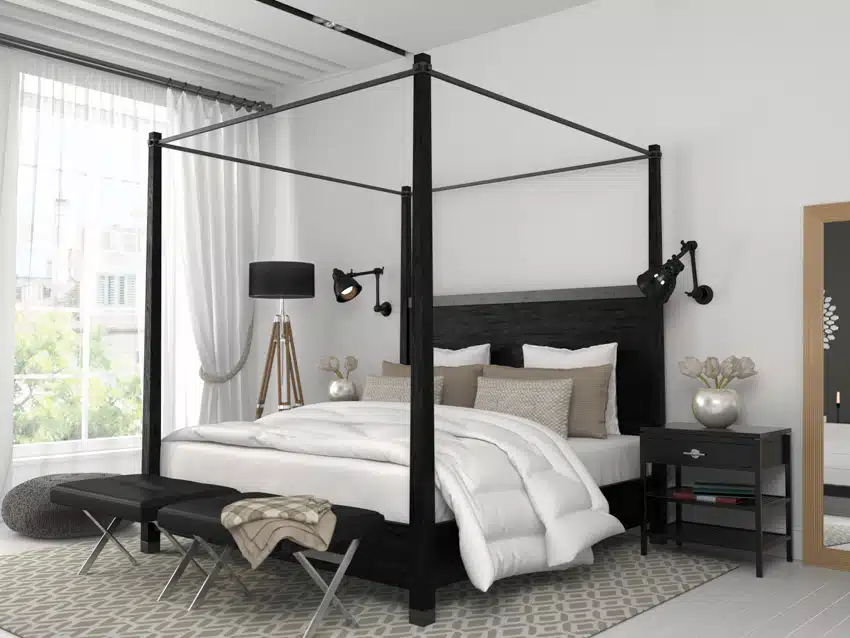 A modern sconce can be the best option for you if you desire a clean, sleek, and minimalist appearance. A modern-styled sconce typically has a fairly streamlined appearance and places a greater focus on utility than on design.
Modern sconces fit in well with homes that have a trendy aesthetic and are usually found in silver tones like stainless steel. Sconces in the modern or minimalist style are frequently flush-mounted or armed, although you can also buy modern-looking sconces in other forms.
Contemporary Sconces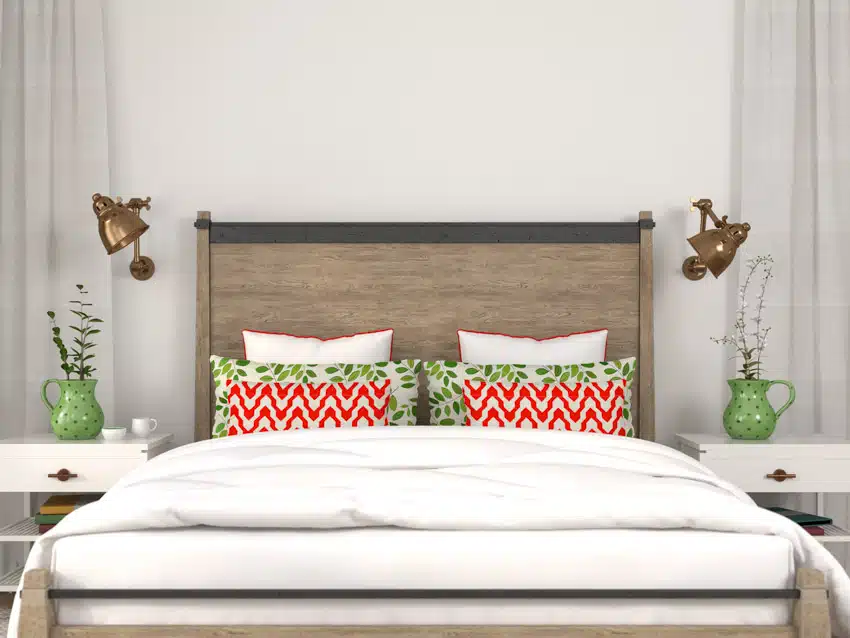 If your bedroom is furnished with contemporary pieces, go with a contemporary-style wall sconce. The glossy chrome or metallic finishes and clean lines typically characterize this sconce style.
Flat wall sconces can have a contemporary design and using horizontal LED downlights above wall art can give the impression of a gallery. For a straightforward appearance and soothing light, you can consider a two-light wall sconce with a simplistic fixture and square shading.
Farmhouse Sconce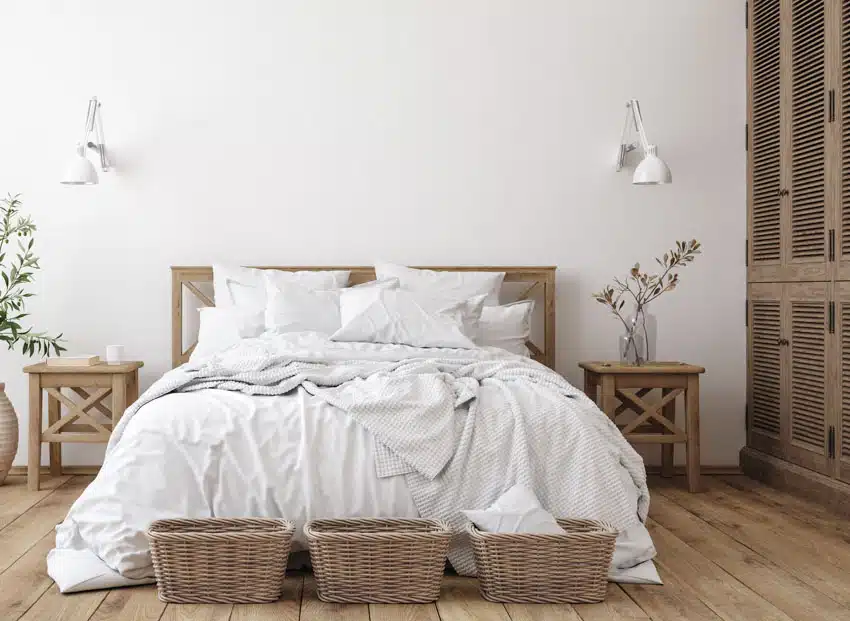 There is undoubtedly a wall sconce for you if your style is more on the vintage side. If you require a farmhouse-style lighting fixture, you can locate one that suits your needs, whether you want an up-lit, down-lit, or all-around illuminated bedroom wall sconce.
Farmhouse-style wall sconces can be a charming addition to any bedroom with this design because they are often distinguished by their cozy and farmhouse-inspired architectural aspects.
Some farmhouse-style sconces differ from cottage-style sconces in that they offer an appearance that is more cabin-inspired. Some varieties of farmhouse-style sconces might be ideal for you if you are totally into the rustic theme. Farmhouse sconces are more relaxed than many styles, and they go nicely with a rustic or cabin theme.
Traditional Sconces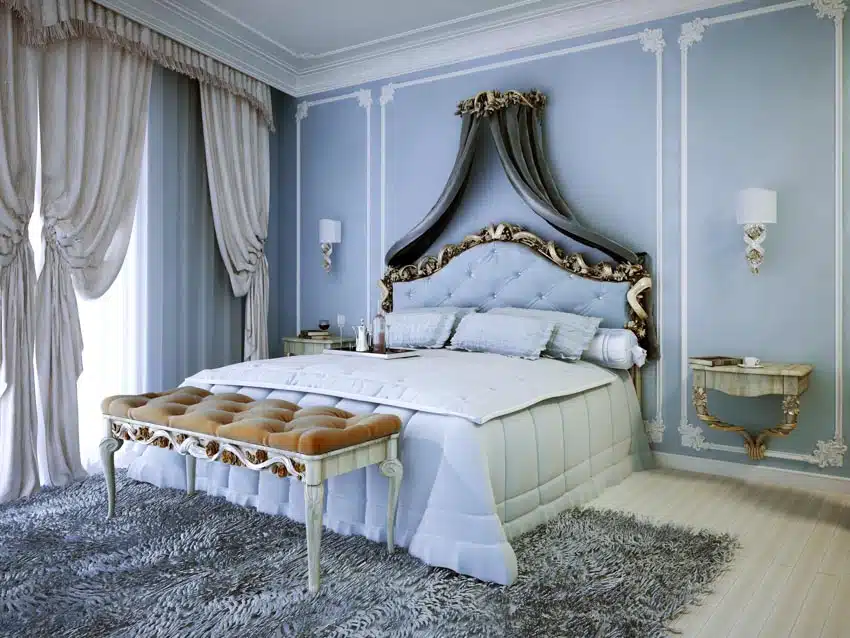 You can choose traditional wall sconces for bedrooms that maintain a historical aesthetic. Such sconces may have wooden or wrought-iron accents and frequently have a brass or nickel finish.
A pleasant glow that is ideal for nights spent reading in bed can be created by mounting candle wall sconces on each side of your bed. You can also get Tiffany-style wall sconces that provide lovely colored light or sconces with metal scrolls and gems for a more regal appearance.
Transitional Sconces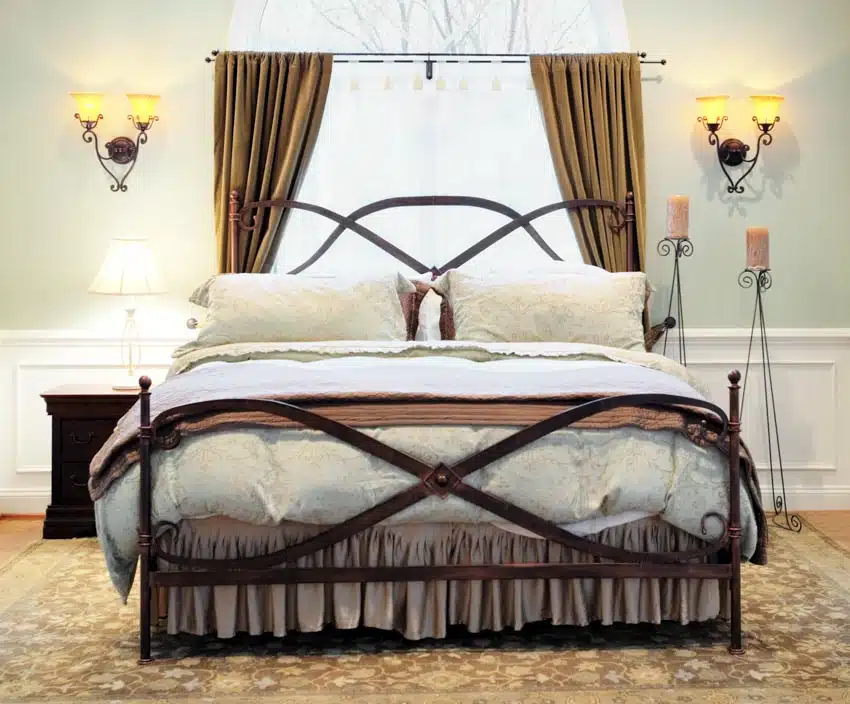 A lot of modern bedrooms combine elements of traditional and contemporary design. If your bedroom fits this description of transitional design, you can, without a doubt, opt for transitional wall sconces.
This is a simple approach to give the space a touch of glitz without going overboard. Sconces are available that combine the aggressive, angular designs of contemporary wall lighting with the exquisite metal finishes of classic wall sconces.
Features You Need for Bedroom Wall Lights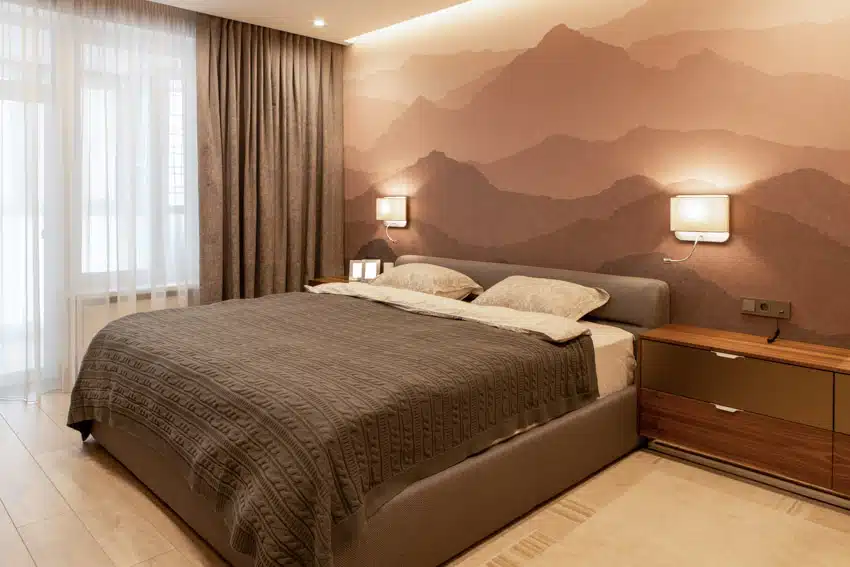 LED Wall Sconce Bedroom: Wall sconce LED lighting has a long lifespan. Since they consume very little energy compared to many other types of illumination, these lights are regarded as an environment-friendly option. You can efficiently highlight a certain object with the focused lighting that LED lights provide.
LED wall sconces are favored components of a room's lighting design, ranging from dramatic sconces to precise and customizable task lights. Numerous fixtures may be dimmed to further improve the ambiance in the bedroom, and shadows and light dance against the walls to create artistic effects.
Sophisticated LED wall lights and sconces come in a variety of styles, from retrofits of conventional incandescent sconces to designs that were formerly unthinkable and make the most of LED's small size and distinctive shapes.
Designs can be smooth and aesthetically pleasing with an LED light source, projecting only to the extent that the developer intended. They are quite adaptable and work well in both classic and modern settings.
For reading and other tasks in the bedroom, contemporary LED wall sconces can also incorporate accurately aimed task lighting.
Bedroom Wall Sconces With On Off Switch: You have versatility in just about any type of bedroom when you use a wall sconce with an on-and-off switch.
The proper type of illumination can be delivered by these wall-mounted lights to optimize your bedroom's brightness and minimize dark areas while taking up minimal space.
Sconces with on/off switches are easier to install and operate because you do not need to bother about attaching them to a power outlet. Wall sconces in bedrooms that include on and off switches are more sophisticated than standard wall sconces.
Above everything else, these lights with switches are practical. They frequently come with pin-up kits, making it simple to remove and rearrange them whenever the mood strikes you.
In some cases, the design incorporates two separate lights: a standard sconce for ambient lighting as well as a customizable spotlight for reading.
Additionally, the designs are not merely traditional. There are a lot of extremely attractive modern wall sconces available with switches that complement the current design without sacrificing their functional advantages.
Should Sconces Be Face Up or Down?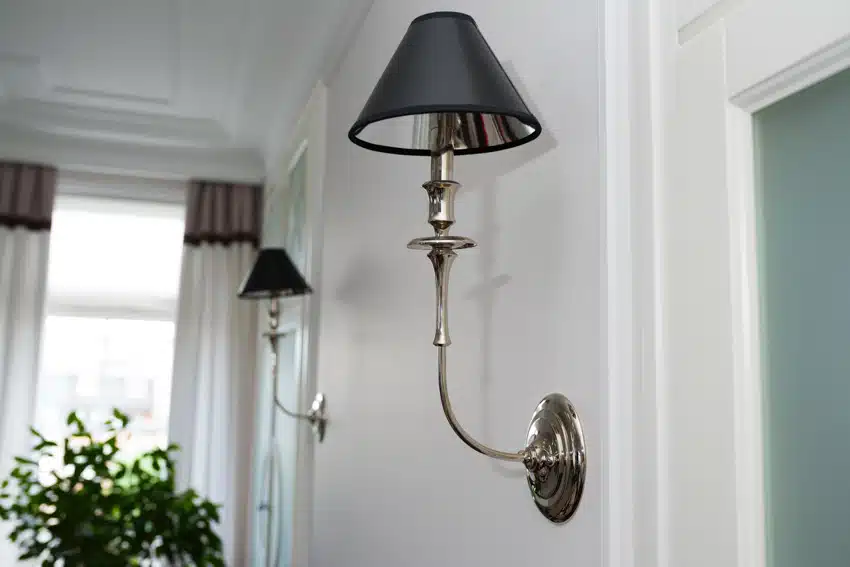 How you plan to use the wall sconces will determine the answer to this question. You must choose where to place your lights because wall sconces can provide quite diverse lighting effects depending on whether their shades face upwards or downwards.
This selection, which can be made relying on a variety of considerations, will eventually come down to choosing between aesthetics or functionality.
Lighting fixtures including flush-fitting ceiling lights, chandeliers, as well as wall-mounted sconces frequently have upward-facing lights and light shades.
Based on the size and placement of your lights in the space, shining light upwards will either generate accent or ambient illumination.
Wall sconces that face upwards will give your room dimension and visual intrigue, but they will focus most of the light in a single, condensed space.
By bouncing and scattering light off the ceiling, an upward-facing arrangement of lights on a central chandelier fixture will produce more diffused and gentle ambient lighting.
Conversely, downward-facing bulbs and shades are typically used on pendant lighting fixtures, spotlights, and floor or tabletop lamps, although they can equally be used on wall lights as well as chandeliers if you want.
A centralized chandelier will throw a lot more concentrated, bright light into the central core of the bedroom with its shades pointing downward, which is very helpful for lighting your bed and other such surfaces. When placed over desks, downward-facing wall lights can also offer efficient task lighting.
See more related content in our article about kitchen wall sconce lighting on this page.