Discover what is a cottage bedroom style including its design characteristics, paint colors, lighting, decorating ideas, and furniture styles to use.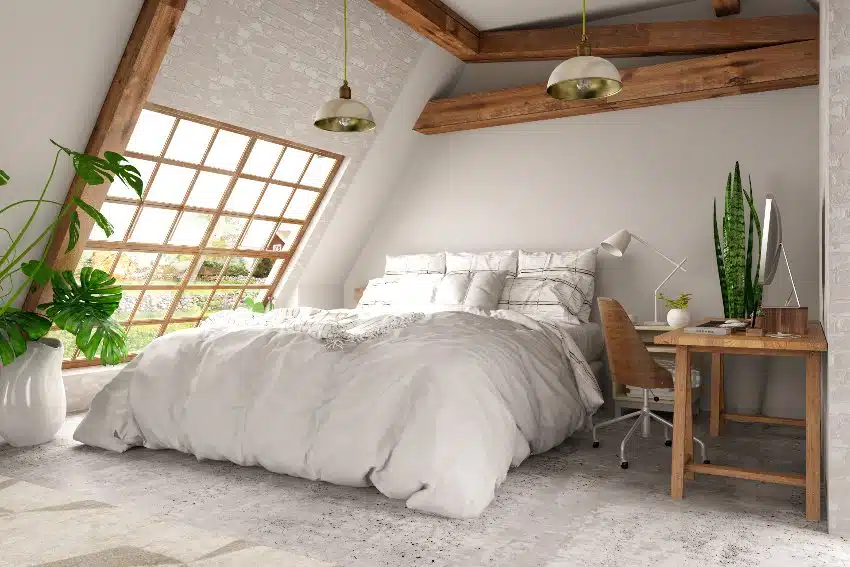 Although based on older cottages, cottage-style houses are still famous today and will continue to do so since they foster a cozy and welcoming atmosphere. The cottage vibe is cozy and personal because of the creative use of colors and patterns.
The cottage style also gains an organic familiarity and warmth through the use of natural features and accents. To assist you in creating the cottage bedroom of your dreams, we have compiled the essential components for a cottage bedroom style.
What Is a Cottage Style Bedroom?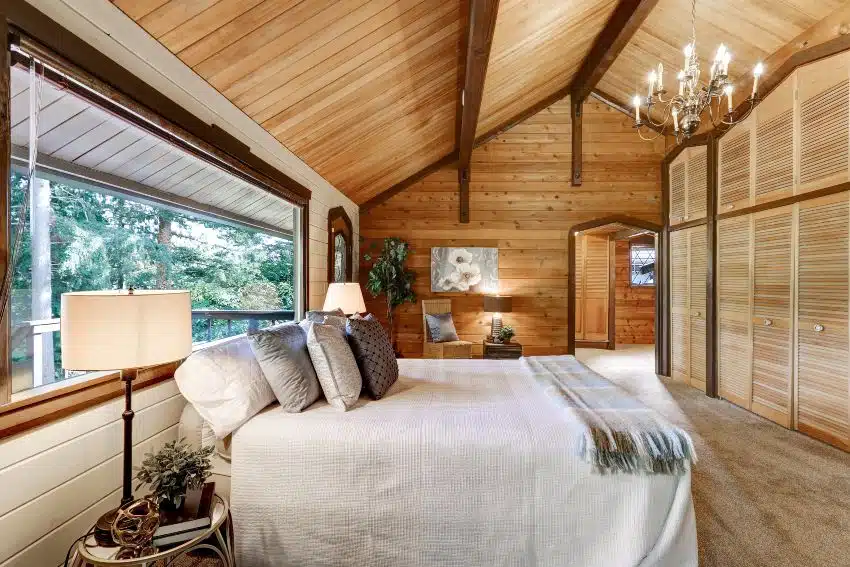 Initially constructed for workers, the interior of a cottage should be simple and rustic to honor its history. Low ceilings, exposed beams, hardwood flooring, sloping ceilings, and tiny windows define the cottage style.
French vintage, shabby chic, and rustic all come together in cottage style; however, you may choose how much each affects the atmosphere you like. It's essential to create a natural, vintage-like setting in the lightest, airiest manner possible, whether you lean conventional or rustic.
The cottage bedroom design also includes pastels and neutral hues and is complemented with floral motifs. In cottage designs, experimenting with color and pattern is encouraged, for as, by combining floral motifs with stripes.
The cottage style is cozier, softer, and more ornamental. It could incorporate unique trinkets and ornaments, antique finishes, old rugs or cushions, and other natural materials into the room. Cottage interior design is simple to customize and make your own.
Characteristics of Cottage Bedroom Style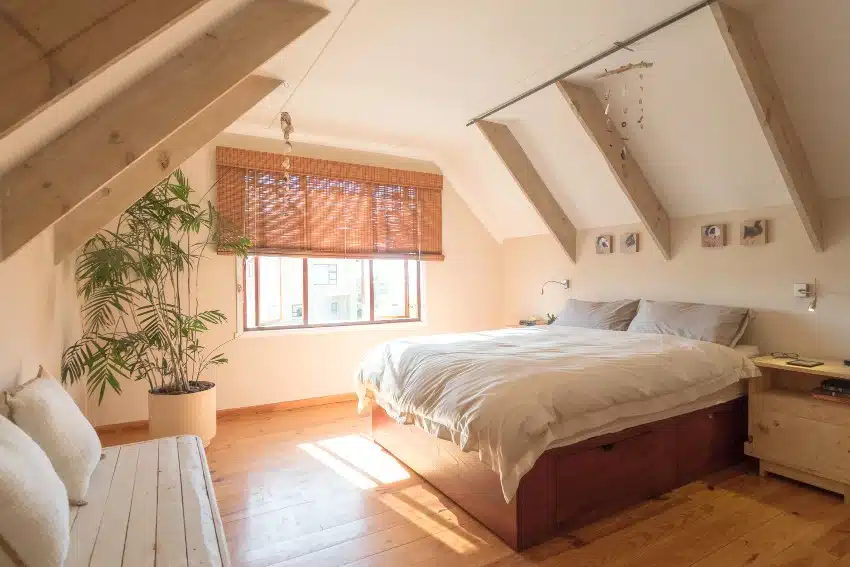 You may create a cottage design by incorporating natural materials and colors, mixing patterns and flowers, and introducing cozy furniture.
• Natural materials – Use natural materials in your decor, such as iron, wood, and organic textiles. For a delicate touch to the design, use cottage lighting ideas made of softer materials like wood or plaster.
• Wood flooring – A sturdy foundation is provided for cottage-style rooms by flooring made of wood or stone. Keep the original old flooring visible by using rugs rather than wall-to-wall carpeting.
• Sentimental decor – Use decor that evokes memories using old and antique elements. Above and around the bedhead is a perfect spot to build a small gallery wall with antique accessories and old family photos. For a focal point and to assist a room with low ceilings, reflect light, including an antique mirror with foxed glass.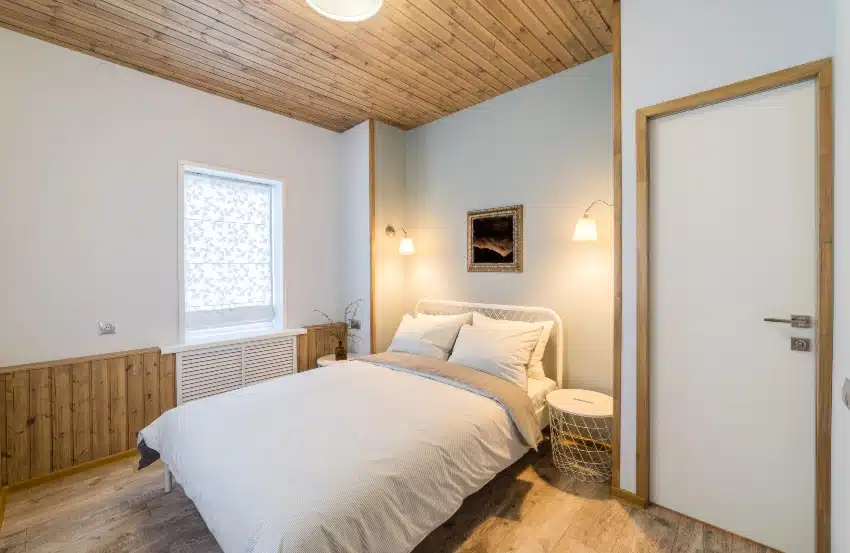 • Antique lighting – Antique wall sconces or layered lighting with recycled lamps look great in cottage-style houses. Additionally, a small chandelier may enhance your bedroom cottage design.
• Cozy nooks: Make areas perfect for cuddling up in specific places in the bedroom. You can also build a reading nook or create a sitting area.

• Crafty decors – Recycled, repurposed items or DIY creations are acceptable for crafts displays. Cottage decorating calls for quilts, antique or replica furniture, treasures from flea markets, trunks, and copper or iron accessories. These offer cottage-style furnishings with a rustic, homey, cozy, and welcoming rural atmosphere.
---
Ask the Designer
We asked architect and designer Ellen Siloy what she considers the characteristics of the cottage bedroom style and here is what she had to say:
The cottage bedroom style as the term implies is inspired by the cottages in the rural setting during the 19th century in England and the French countryside. Characterized as shabby chic with a balance of rustic and refined features.
• Light and airy color palette: Cottage bedrooms are often painted in light, soft colors such as white, cream, light blue, or pale pink. Pastels are my favorite color layering palette. Pair white colors with Sherwin Williams 7012 Creamy with a light pink such as Ballerina PPG11831, PGG.
• Cozy and comfortable bedding: The bed is the focal point of a cottage bedroom, and it is often dressed in soft, comfortable bedding such as cotton sheets and quilts.
• Vintage and eclectic furnishings: Cottage bedrooms often feature a mix of vintage and contemporary furnishings, such as an antique dresser or an upholstered headboard.
• Distressed wood finishes: Distressed or weathered wood finishes, such as whitewashed or shabby chic, are common in cottage bedrooms.
Cottage Style Bedroom Decorating Ideas
1. Use light and soft colors. Paint the walls in light, airy colors like white, cream, light blue, or pale pink to create a cozy and inviting atmosphere.
2. Include antique luminaires such as sconces or vintage side lamps. Glass and metal chandeliers can bring together elements and can also be a source of inspiration for the other decorative elements.
3. Invest in comfortable bedding. Dress the bed in soft, comfortable bedding, such as cotton sheets, fluffy comforters, and plump pillows.
4. Mix vintage and contemporary furnishings. Incorporate a mix of vintage and contemporary furnishings, such as an antique dresser paired with a modern bedside table, to create a relaxed and eclectic vibe.
5. Add distressed wood finishes. Use distressed or weathered wood finishes, such as the popular whitewashed finish on furniture pieces to get that rustic charm.
6. Incorporate floral patterns and prints. Florals and botanicals can give a feminine touch and welcoming vibe to the bedroom space, it can be as a feature wall or decorated in furniture pieces.
7. Use charming and handmade accessories. Add charming accessories, such as vintage mirrors, lamps, picture frames, or vases, to enhance the cozy and inviting atmosphere of the room.
8. Keep it comfortable.
The key to a successful cottage-style bedroom is to keep it comfortable and inviting, so be sure to prioritize functionality and comfort in decorating choices. – interior designer, Ellen Siloy
---
Cottage Furniture for the Bedroom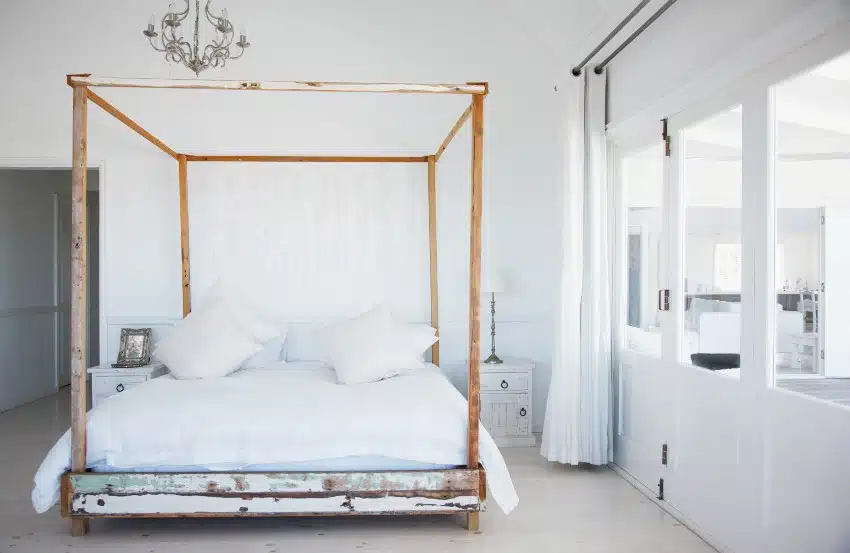 When looking for furniture for your cottage-style house design, consider flea markets, antique stores, and vintage, recycled, or reused materials. You can incorporate a cozy spot to relax and enjoy the room by putting in traditional furniture, which enhances the cottage style. Fabrics like cotton, wool, and linen work nicely for upholstered cottage furniture.
Consider getting passed-down furniture from relatives or used items from yard sales. Use or repurpose antique furniture creatively, such as turning a vintage wooden bench into a coffee table or using an old sewing table as a workstation.
For a more bohemian style you can mix in eclectic furniture and decor pieces that display your own sense of style. Just make sure to give an emphasis to natural organic materials and keep the colors light and bright so it doesn't feel too much like a traditional farmhouse style.
Country Cottage Type Furniture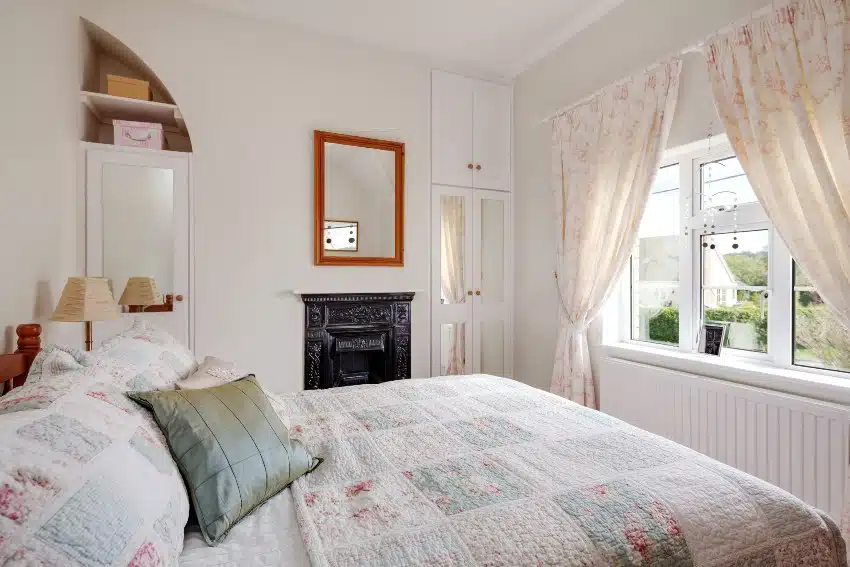 The country cottage uses vintage home furniture items often found in a farming or rural setting. You may find goods at flea markets, antique stores, exhibits, and online.
You may blend certain modern pieces with a few country-style accessories to create a fresh design. But remember that simplicity, ingenuity, and initiative are essential in decorating a country cottage bedroom.
Refrain from scrimping on texture if you want to provide interest and balance. Use several tactile fabrics to cover a couch, chaise, and ottoman. Maybe a white wool rug piled over worn-out floorboards, accompanied by linen chairs, a brocade ottoman, and a table with a soft cotton skirt.
Also, excessive whitewashing or sanding tends to give off a more rural, rustic, or farmhouse appearance, so stay away from doing it.
Furniture for Beach Cottage Designed Bedroom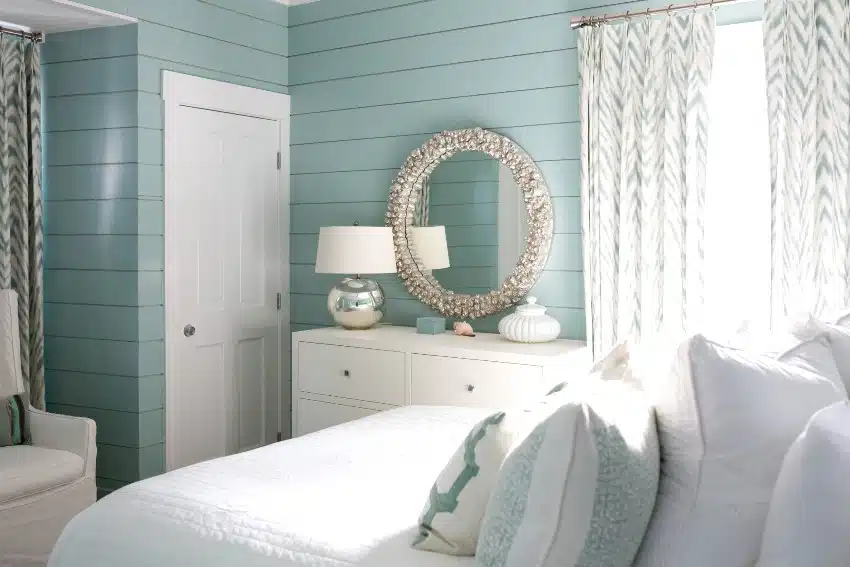 Beach cottage bedroom styles are just as fantastic as they seem. They combine the beachy ambiance with the quaint elegance of a cottage to reflect the breezy mood of the seaside, with its sunny days and laid-back environment.
Wicker furniture will look excellent inside your beach cottage bedroom. This furniture is lovely and comfortable enough for any quaint cottage bedroom. Furniture with slipcovers is also popular in this design. It is hardy, strong, and comfortable—the perfect item to sit on.
Stock up on woven seating if you don't like the feel of rustic wood seats. A simple method to make a piece of furniture seem more in keeping with a beach cottage style is to paint its legs blue. The simple DIY should give the item a creative beach atmosphere, giving it a homemade feel ideal for any beach cottage bedroom.
French Cottage Style Furniture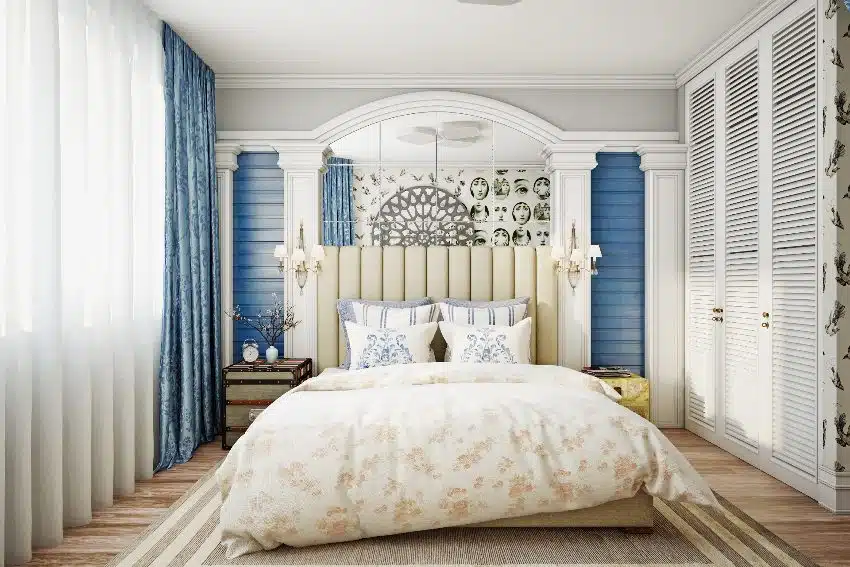 French cottage style is effortlessly elegant, carefree, and refined. Any French cottage-style bedroom may benefit from a cane bed since it is a stunning, classic piece of furniture. The headboard and footboard of a traditional French cottage cane bed typically have bed posts on each side.
Another standard option is Louis chairs. These French chairs have a timeless, traditional design that makes them both stylish and comfy. They come with and without armrests. They are ideal for usage in a variety of spaces.
You can also incorporate an armoire. It's a huge cabinet to store clothing and linens, sometimes with elaborate carvings and hardware. A French armoire is a way to go if you want a piece of furniture that will stand out in your bedroom.
Paint Colors to Use for Cottage Inspired Room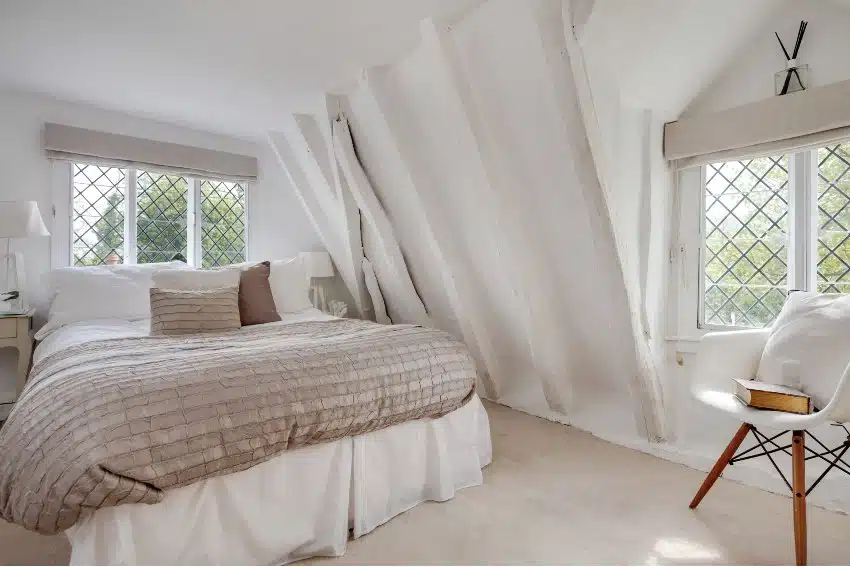 Cottage bedroom color schemes often focus on cozy neutrals like whites, creams, and pastels with accents of little splashes of blue, green, and pink. The color palette comes from floral motifs and the cozy nostalgia of old or antiques.
White
White is a traditional and timeless cottage-style color. Warm White Dove OC-17 by Benjamin Moore is a go-to color for walls with a cottage aesthetic. White is a traditional cottage hue that looks stunning when painted. To create a striking contrast, match white with a light-colored trim or stronger accent colors. White Dove OC-17
Cream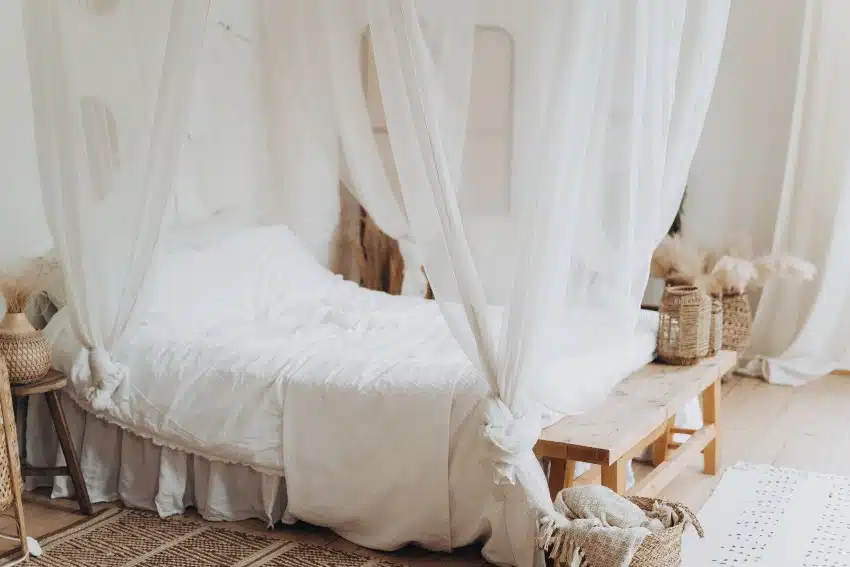 A cream-colored seashell and light-blue ocean might serve as the inspiration for your beach cottage's color palette. Sherwin Williams 7012 Creamy is another excellent choice for a cream paint hue. It's a great middle-ground for any lighting setting since it is not soiled, not too yellow, and not blue! It's a warm cream that looks great on furniture, cabinets and trim. Sherwin Williams 7012 Creamy
Pastel
Muted pastel hues, such as gentle blues, pinks, corals, and yellows, also make for excellent cottage bedroom colors. In a cottage bedroom, the vintage-style fixtures go well with the soft pink walls. Cerise pink with a rose-pink undertone, Ballerina PPG1183-1, PPG is a light, cheery, and joyful color. It is the ideal hue for a bedroom's whole wall space. Add white trim to it. Ballerina PPG1183-1
Your house's color scheme may change based on your desired cottage design. Consider the area's décor you want to evoke when developing your color palette. Enjoy working with patterns!
Cottage Design Decorating Ideas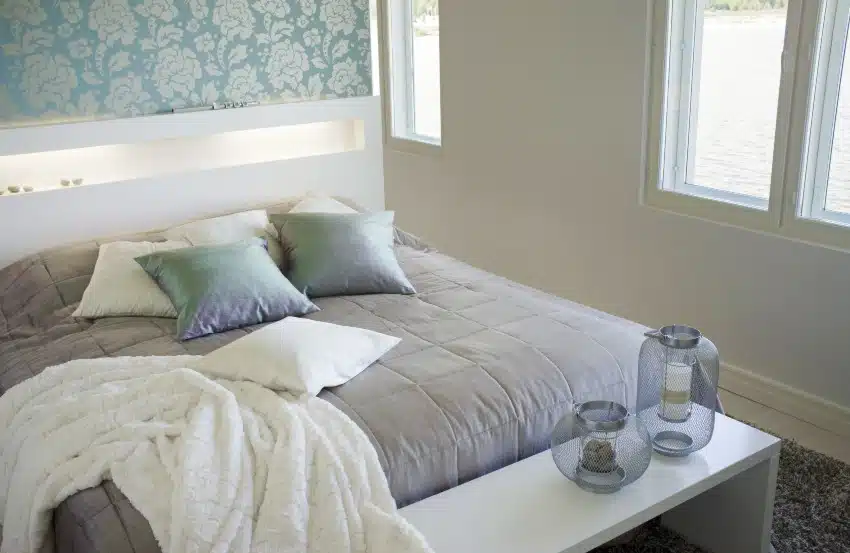 The key to designing a cottage-style bedroom is to make it seem lived-in and cozy while maintaining a clean aesthetic. Here are some concepts to get your mind racing:
Floral Prints For Walls and Fabrics
Nothing should be beyond limits, even walls, mattresses, and upholstery! Use subordinate patterns in linen or a weave if you want to mute the impression. Contrast piping will break up the shape and offer visual interest if you use plain linens, which may refer back to the colors in a more striking pattern.
Complimentary Stripes and Checks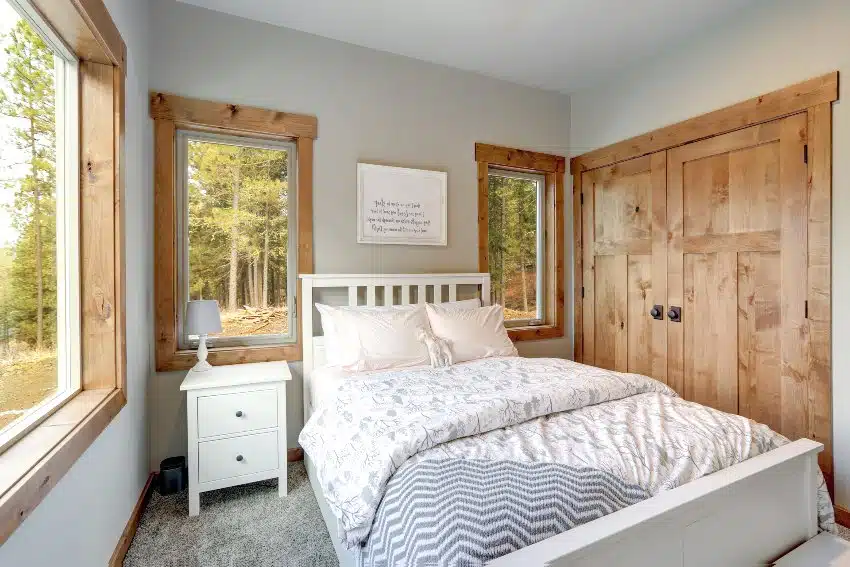 Choose all two if you can't decide between checks and stripes. Just make sure the patterns and colors go nicely together. In addition, self-patterned weaves, checks, and stripes with a geometric structure contrast nicely with the organic shapes of floral designs.
Ingenious Storage Methods For Spaces
Keeping things clutter-free is even more crucial in smaller places. To conceal extra walk-in clothing storage, you may design a clever paneled closet to accommodate the sloped ceiling and a fake wall below the headboard.
Antique and Classic Bedroom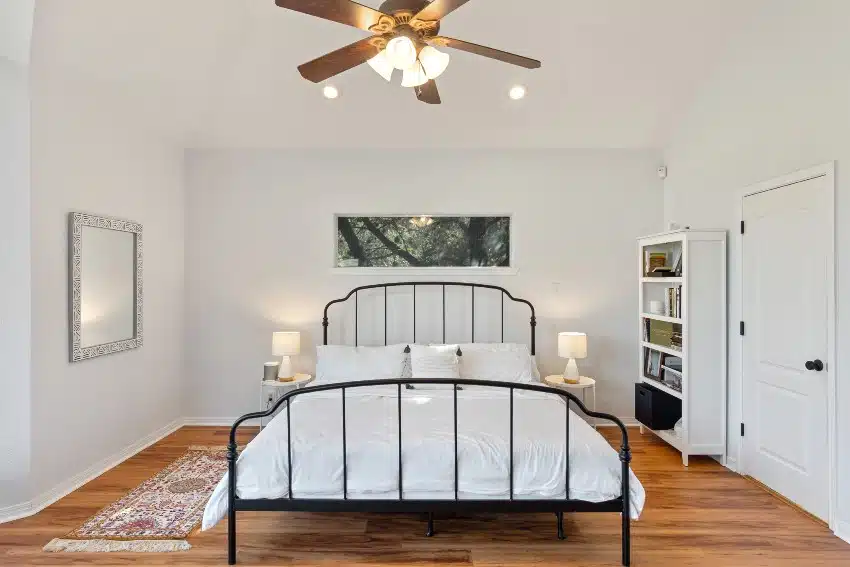 It's ideal for making an antique bed the center of attention when it has excellent details and keeps the other aspects of the room simple. With several layers of blankets and pillows, the bed should make a bold statement. Maintain the rest to a minimum.
Nothing Beats Simplicity
Bright raspberry pink cushions can serve as an accent color, while simple furniture works together to produce a pleasing aesthetic. The style is calm and uncomplicated, with a straightforward bed frame, natural sisal floor covering, and an antique rug.
Bedroom Lighting Ideas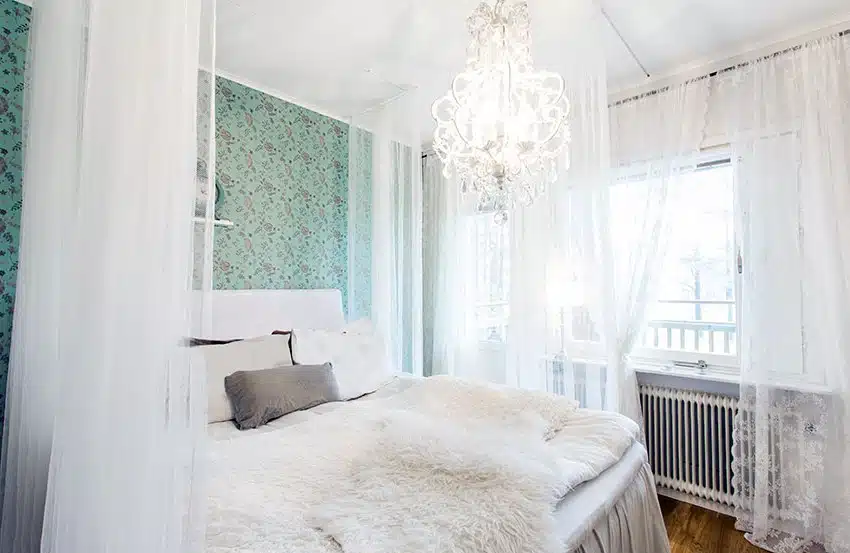 Cottage-inspired bedrooms should, by their very nature, exude warmth and charm. Lighting is quite essential when it comes to achieving this mood and pulling off these cozy looks.
1. A pair of white seashell lamps are a terrific way to incorporate the beach look into a beach cottage-style room subtly.
2. A glass pendant is a fantastic option for the room's primary light since it will gradually disperse light to produce a soothing atmosphere ideal for calming down before bed.
3. If you want to read in bed, smaller task lamps mounted to the wall on each side of the bed are a terrific option and will offer enough light.
4. Selecting a pendant with a clear glass shade is one approach to increase the amount of light it casts. A glass shade has a sleek, minimalist design and makes a stunning centerpiece while dispersing light over the whole space rather than simply downwards.
5. Handmade pendant lights provide a cottage-style environment with a deep character that is hard to match.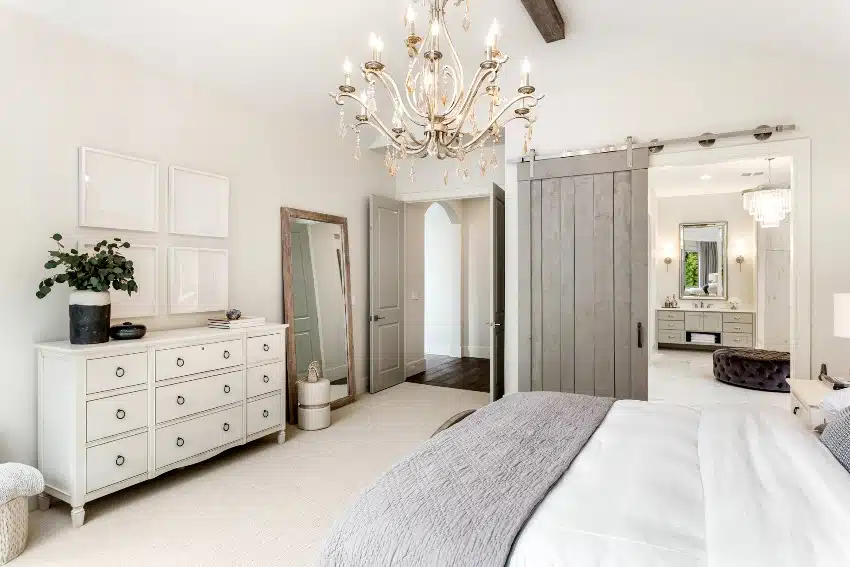 6. When candles illuminated dwellings, mirrored sconces were a must-have accessory. They provide volume and a more substantial architectural element to the cottage bedroom.
7. Rise-and-fall pendant lights are perfect for cottage bedrooms where having a fixed pendant may not be possible due to the low ceilings. Instead, you may lower your light when required and raise it again when not.
8. Lamps are essential for any design plan since they provide a cozier, more relaxed light source than overhead lighting.
Cottage interior design should reflect the warmth and friendliness of the place, particularly when considering cottage bedroom lighting ideas.
Where to Buy Cottage Influenced Furniture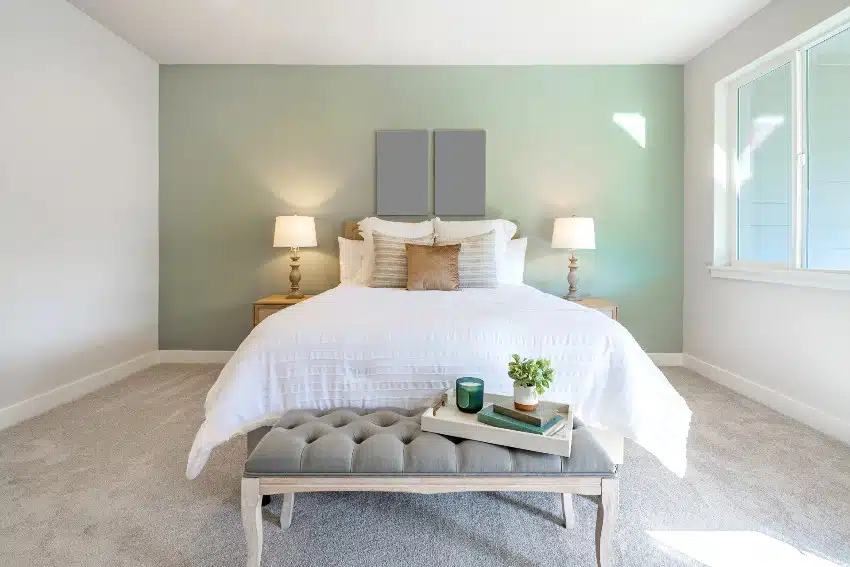 You should purchase furniture from a shop with a wide selection of products, whether seeking a single important statement piece or a large piece of furniture.
For all of your home's furniture needs, turn to Wayfair. The massive online retailer provides anything from sectionals to dining sets and is notable for its choices for free delivery. The combination mainly favors affordable furniture items, making it a wise choice if you're on a tight budget.
Burrow is an excellent option for comfy modular furniture. This business makes attractive and practical couches, bookcases, and coffee tables and quickly diversifies into carpets, lighting, and accessories.
Home Depot offers a surprisingly wide range of products. Find furniture in classic, modern, contemporary, and other interior design styles for the bedroom and more. You can purchase online and set up free delivery to your house or a local Home Depot store.
On Amazon, you may quickly discover the furniture you need. The majority of things ship for free and arrive fast. Amazon is a fantastic resource if you're looking for matching furniture items to complete a guest room or furnish your cottage-style bedroom.
Etsy provides a unique, individualized purchasing experience for those prepared to go outside the conventional big furniture merchants. On the e-commerce platform, there are an infinite number of independent sellers and small firms, so customers may anticipate finding high-quality goods for a fraction of the price.
Takeaway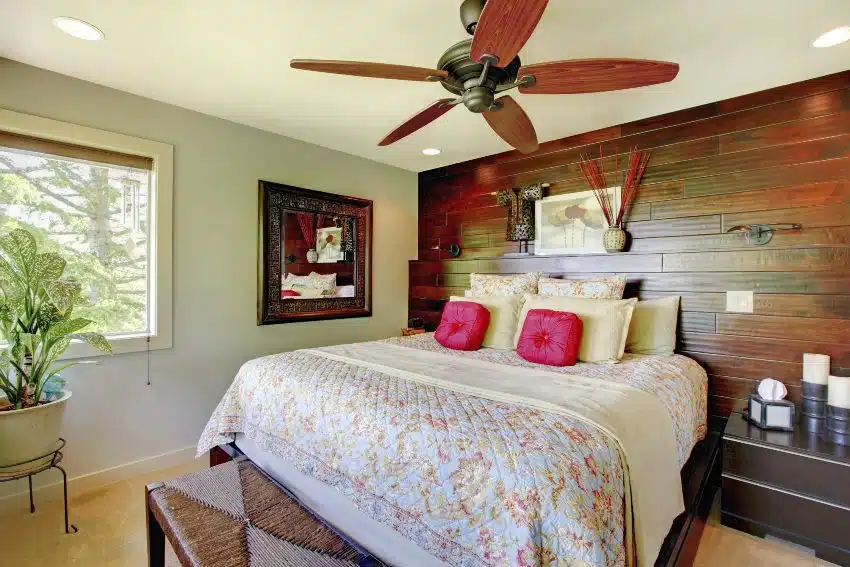 The main secret to achieving cottage style is to design an area that seems lived in and familiar, which feels like it has been home for a long time, collecting cherished knickknacks and history along the way.
Finding your ideal color scheme, pattern appeal, antique furnishings, and furniture can help you create a cottage bedroom style that appeals to you and makes you feel at home.
If you have any favorite cottage bedroom decorating tips you use please share them with us in the comments below. For more related content, visit our gallery of beautiful cottage kitchen ideas.