This gallery of armoire design styles shares what it is, the different design types, materials, features, where to use an armoire, and comparison to a wardrobe.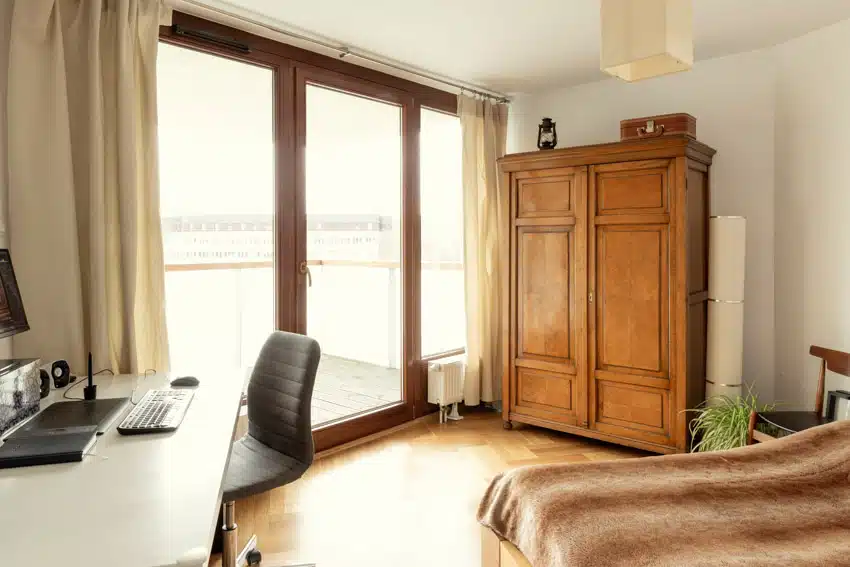 The word armoire brings to mind tall, ornate furniture with recognizable styles such as the rich swirls of Victorian furniture, the twisted details of Gothic and today's clean-lined contemporary designs. An armoire was commonly used in a bedroom to store clothing
Even though it's still an excellent choice for an overflowing closet, it's really a multifunctional piece of furniture that can be used to store just about anything. Keeping your home or office neat includes de-cluttering and putting things away to create a more organized environment. An armoire provides the space to do that with the style to match your décor.
Read this informative article to learn what an armoire is, the many types and styles, the materials used to build an armoire, how to restore and repurpose an armoire and where to use one. We'll cover all the many possibilities this versatile piece of furniture offers your home or office.
What Is An Armoire?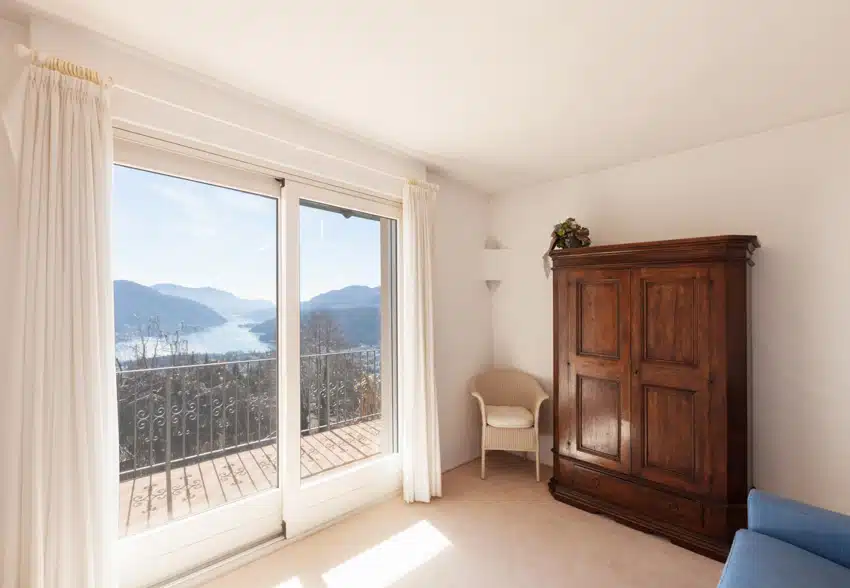 Armoires, with their multi-configured storage solutions, were designed initially as cabinets to store weapons. By the 17th century, nobles decided to use them to hold their royal clothing instead of keeping clothing in a stuffy chest.
The armoires today are known for storing anything from jewelry, craft supplies, linens, sheets, towels, clothing, and accessories. Tall and stately, these cabinets make a statement in any room and are commonly free-standing.
Standard armoires have a rod for hanging clothing, pull-out drawers, shelves and two doors that open out. Doors can also be made to slide and often have mirrors on the outside for dressing.
They can be custom-designed types of furniture pieces, or their interior can be rearranged according to where someone needs the most space. Usually, vintage armoires are restored and repurposed, finding their way into many types of rooms in a home.
Types Of Armoires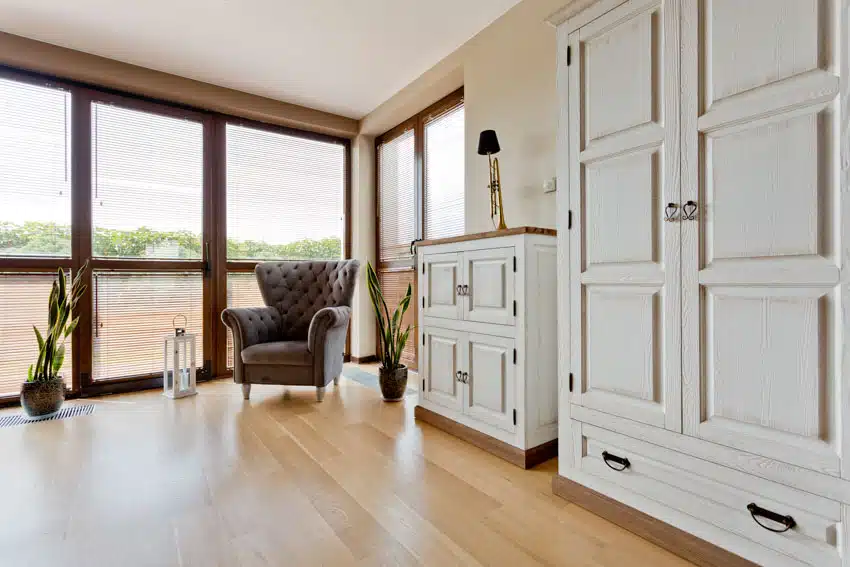 Armoires provide tall, spacious cabinets for storing anything from clothing to kitchen utensils and pantry items. An armoire takes up mostly vertical space, working well for homes and rooms with limited space.
There are many uses for these versatile pieces of furniture, affording home and office designers to use armoires in almost any room.
Armoire Wardrobe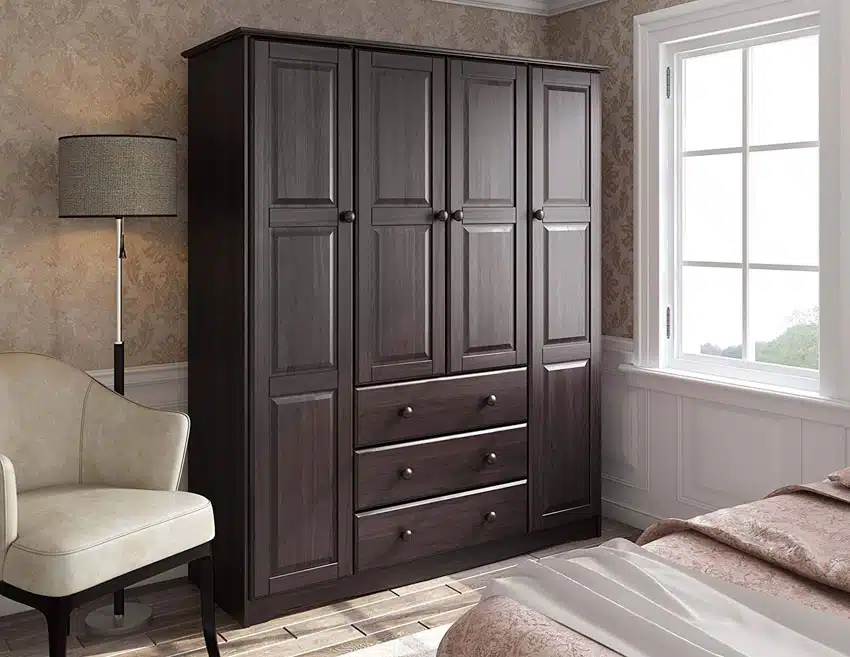 See this armoire wardrobe at Amazon [sponsored link]
An armoire wardrobe usually represents a bedroom piece that's a large, free-standing cabinet with doors that open to reveal shelving or hanging spaces for clothes and other items.
Wardrobe armoires are commonly found in master bedrooms and can be free-standing or built into a wall. They also provide a place for extra lines and pillows and help to keep a bedroom free of clutter for a comfortable and calming environment.
Armoire Dresser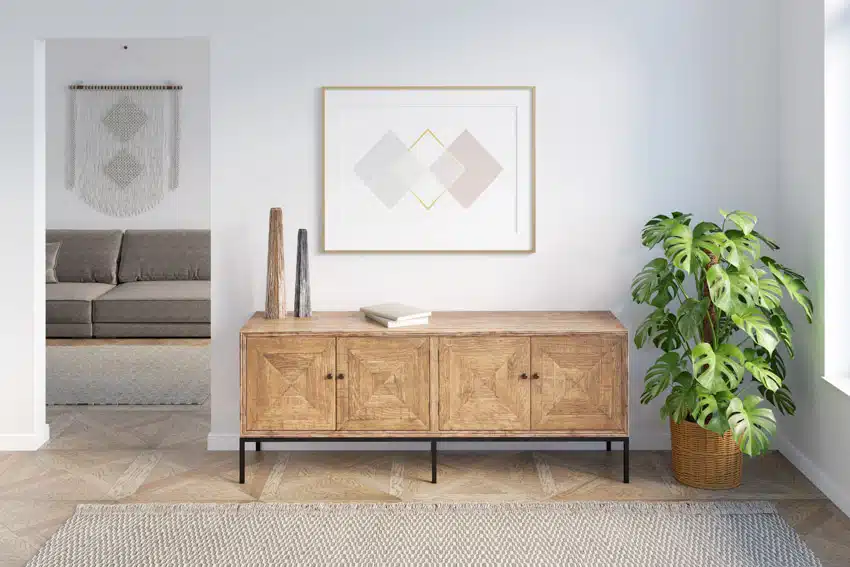 An armoire dresser is a type of cabinet that combines the function of a dresser with that of an armoire. It typically has drawers for storing clothing, certain types of shelves and cubbies for storing other items such as linens, shoes, accessories, or other apparel.
Armoire dressers aren't typically tall and don't usually offer a rod for hanging clothing. These handy pieces of furniture are an upgrade from a single dresser.
Jewelry Armoire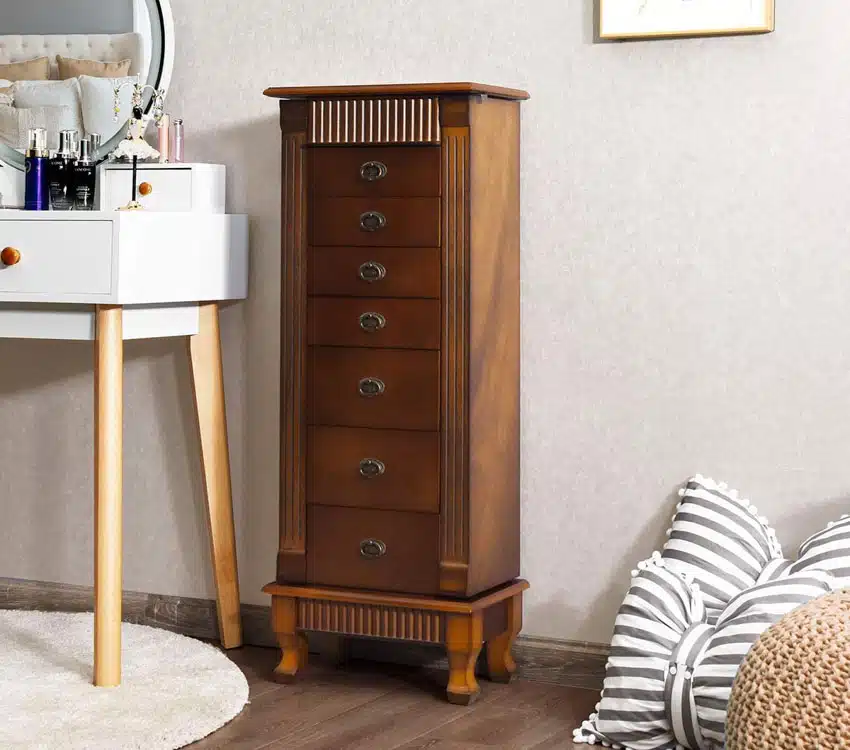 See this jewelry armoire at Amazon [sponsored link]
Jewelry armoires are specifically designed to store and organize jewelry. Jewelry armoires can come in a wide range of styles and sizes and can be made from a variety of materials, including wood, metal, and plastic.
They typically have multiple drawers and compartments and may also have a mirror. Many jewelry armoires also provide a spot to hang necklaces and can include trays, drawers, and hooks to hold bracelets, rings, and earrings.
Jewelry armoires are usually lined with velour or other soft fabrics to protect fragile jewelry pieces. If you're concerned about security, look for one with a lock and key option.
Wall Mounted Jewelry Armoire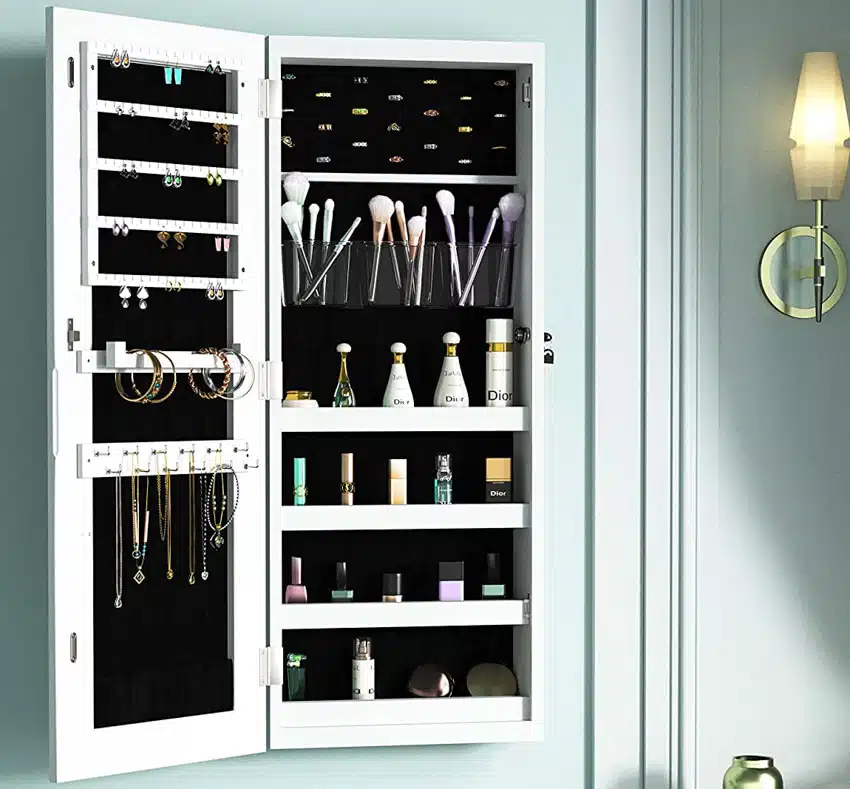 See this wall mounted jewelry armoire at Amazon [sponsored link]
A wall mounted jewelry armoire is mounted on a wall and often used in small spaces where a traditional jewelry armoire would not fit.
Wall mounted jewelry armoires come in a variety of styles, including mirrored options that don't use any floor space at all. Their space-saving design and multiple storage options are perfect for smaller jewelry pieces.
Armoire Desk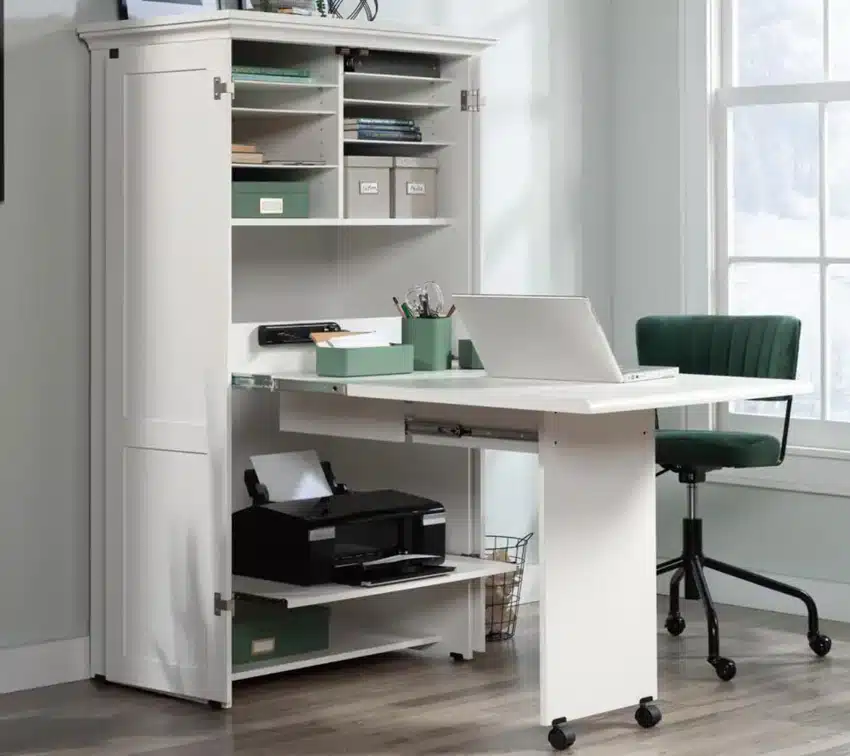 See this armoire desk at Home Depot [sponsored link]
Armoire desks are types of desks that are typically characterized by their tall, vertical structure and storage space. Armoire desks are often used in home offices, as they provide ample storage for office supplies and equipment.
Many armoire desks also feature built-in shelving and drawers, making them ideal for storing paperwork and other materials. An upper shelf corrals reference books and magazine holders, and built-in cubbies are great for storing pencils, pens, scissors, and letter openers.
Computer Armoire
See this computer armoire at Amazon [sponsored link]
Sometimes called a hutch or secretary, a computer armoire is a tall, narrow cabinet with shelves and doors designed to hold a computer, printer, and other office supplies. A computer armoire typically has a drop-down desk or work surface, making it an excellent choice for small spaces.
The back panel typically has pre-drilled holes to run wires and cables to power the computer and other peripherals. These functional armoires are great for those who work at home, allowing a complete space to work and store supplies without using an entire room as an office.
TV Armoire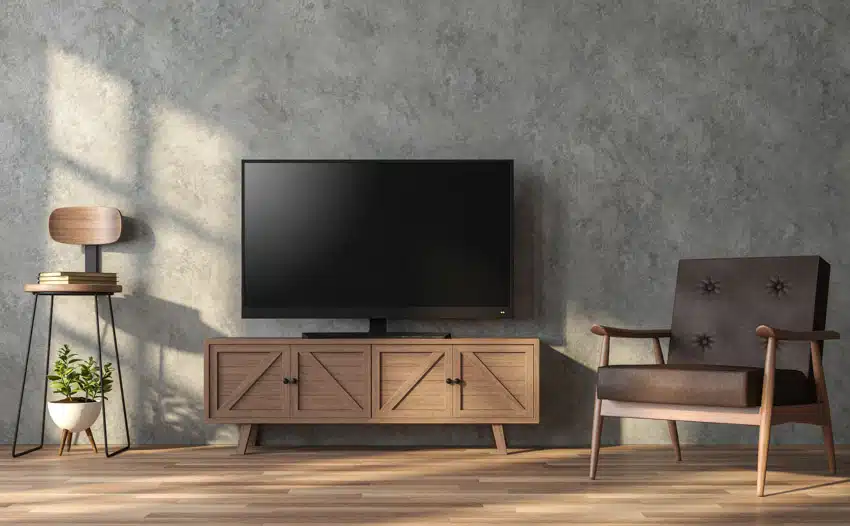 A TV armoire provides a place for a television, speakers, video game systems, tablets, and storage for DVDs and other forms of movies and shows such as VHS and Blue-Ray. Most TV armoires only have a platform for a television but can be designed to store all your media devices for easy access.
They also come with holes in the back for wires, power cords and cable connections. These armoires are great for having one place to keep all the associated remotes, and the front doors conceal the TV and all devices when not in use.
Mirror Armoire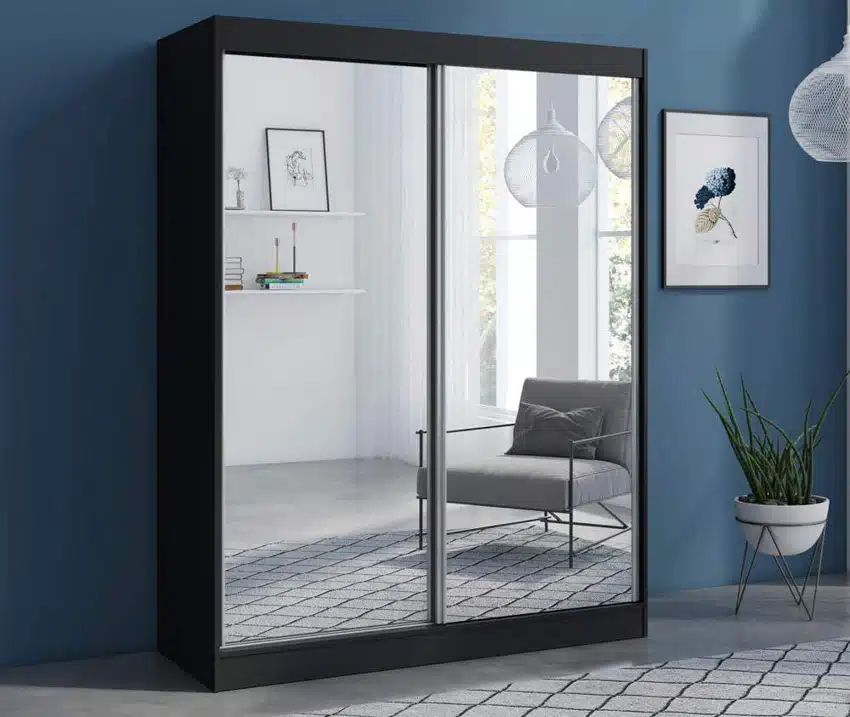 See this mirror armoire at Amazon [sponsored link]
Mirror armoires commonly have mirrored doors on the outside or mirrors on the inside of the doors and makes a convenient dressing area. The full-length mirrors make it easy to get dressed by not having to go between your vanity and armoire.
Craft Armoire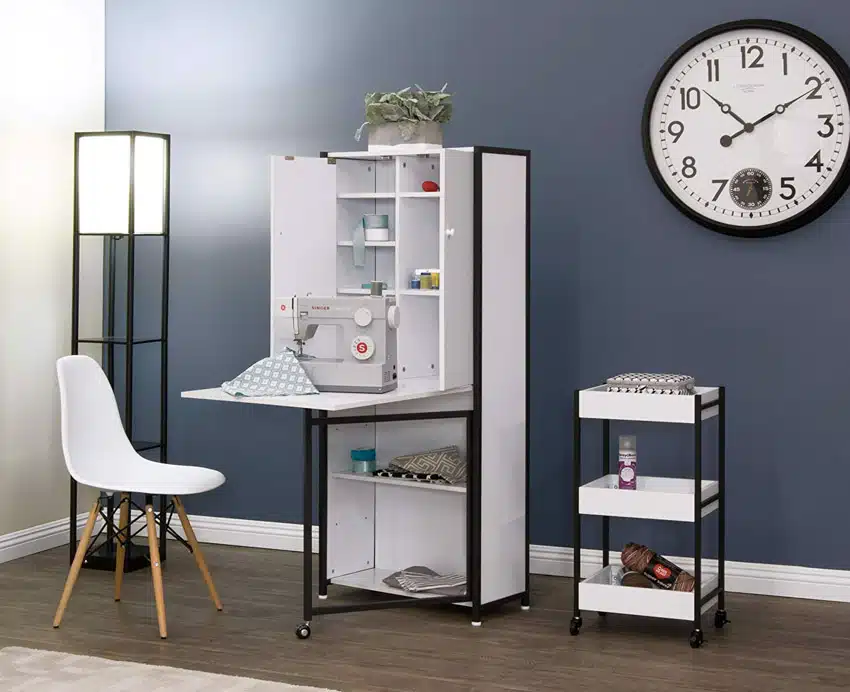 See this craft armoire at Amazon [sponsored link]
For those who love crafting, a craft armoire makes a great organizer to keep all the many items and accessories used to make crafts. From beads, connectors, glue guns, tools and supplies, craft armoires help keep everything easy to find and organized. Many craft room armoires include a pull-out table to work on.
Modern Armoire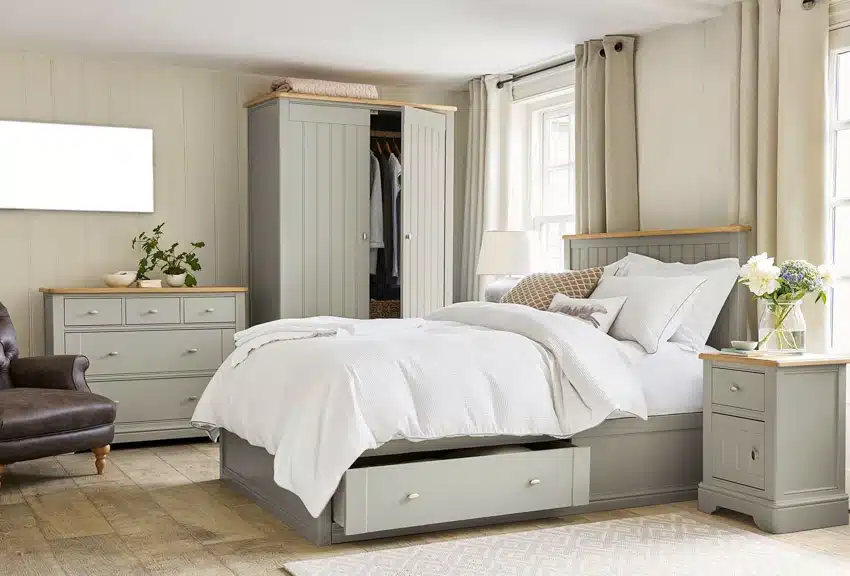 Styles from Scandinavian, Danish, and Swedish designers create a modern furniture design recognized by rounded contours, clean lines and ergonomic elements.
Modern armoires reflect contemporary characteristics with simple materials and bold colors. These sleek armoires reflect a homeowner's grasp of modern concepts and create a calming feel in homes with clean-lined décor.
Boho Armoire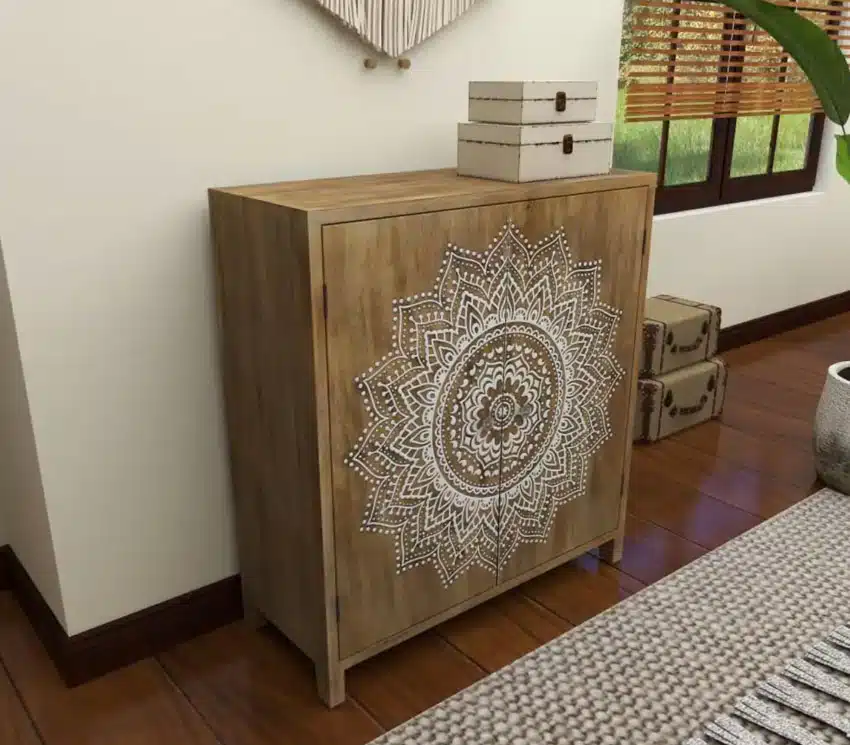 See this boho armoire at Home Depot [sponsored link]
Add a Bohemian style to your home with a Boho armoire. Bohemian-styled furniture includes intricate carvings and is often adorned with mandala patterns.
The mandala is considered a spiritual symbol representing sacredness and peace. Boho armoires have crisp lines and an artistic look reminiscent of an eclectic mix of natural elements.
DIY Armoire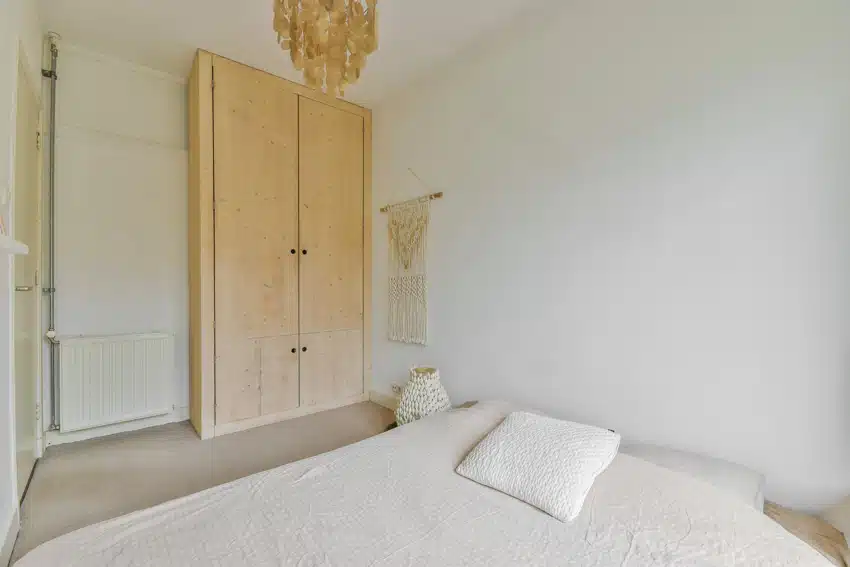 Often, hand-made furniture enthusiasts decide to build a DIY armoire. Countless plans can be found online and in books and magazines using materials like wood, manufactured wood, mixed materials and wicker.
DIY means the armoire can be designed with a custom configuration, and depending on the material used, it can be stained, painted a solid color or combination of colors, or painted with a base coat and then decorated with hand-painted scenery.
One of the simplest DIY armoires is a makeover armoire. Armoires can be purchased at estate sales, vintage used furniture stores and thrift shops. Repairs are done; stripping the material allows for a custom finish, and upgrades to hardware result in a custom DIY armoire.
One of the easiest DIY armoires is to simply add two doors on the front of a bookshelf creating perfect storage for pantry items, shoes, magazines, or kitchen tools.
Shoe Armoire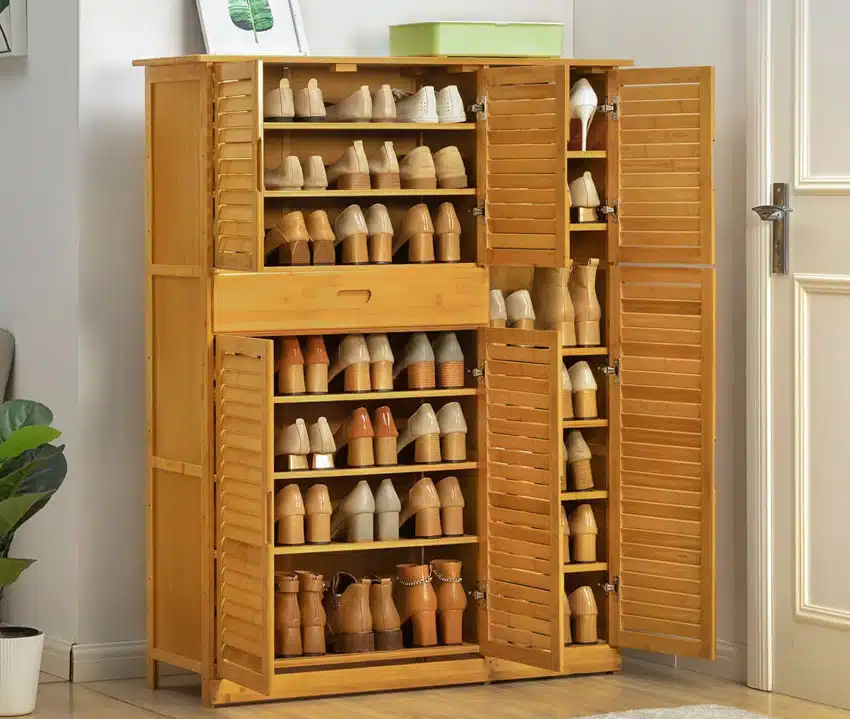 See this shoe armoire at Amazon [sponsored link]
A shoe armoire is used to store shoes either for one person or an entire family. Show armoires contain divided cubbies for pairs of shoes and often include loops to hang dresses or snow boots.
An armoire can be the best shoe storage solution for those who own any pricey pairs of shoes. Many shoe armoires feature slatted doors that allow control over the temperature, but they also keep the closet's interior pretty dark to protect more expensive shoes.
Armoire Features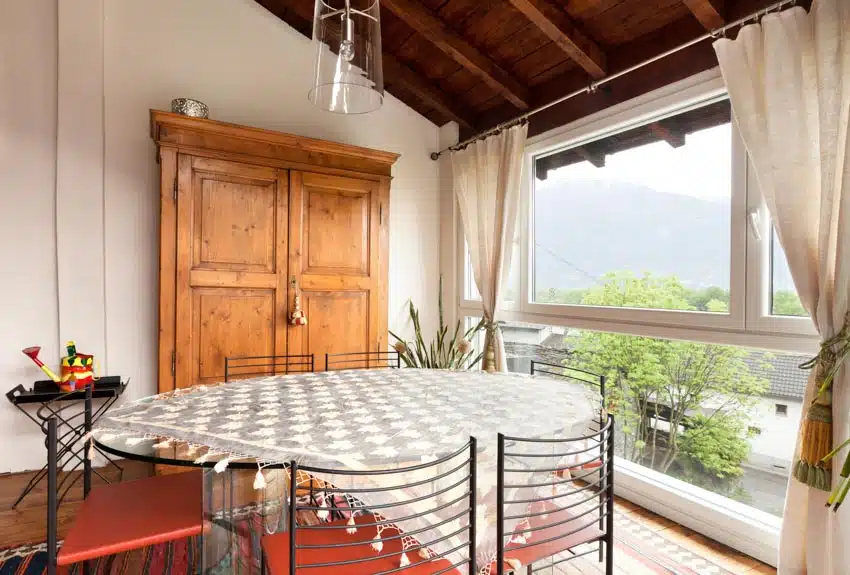 An armoire offers expanded storage space and includes features to meet the needs of different applications. These versatile furniture pieces provide space to keep things neat and organized and hidden from site in a home or office.
Drawers: Unlike a wardrobe with only a rod to hang clothing, an armoire includes draws to store items. Anywhere from 2 to 8 draws is an average number for any armoire allowing organization and easy-to-find storage.
Most drawers have ball-bearing guides for smooth operation and come with linings such as felt and cedar to protect items from moisture and dust.
Shelving: Shelving can accommodate items such as paperwork, magazines, and books or can be used to store shoes, sentimental items, or other personal belongings.
Shelves may be configured to hold storage items or media devices, as with a TV armoire and come in handy for storing boxes of photos or letters.
Clothing Racks: Most armoires only have one clothing rack to hang items, and they are typically mounted at the top of the armoire with clearance to the bottom for long items such as gowns and coats.
Several racks can be mounted to hang pants or tops and must be placed, so they leave enough room for the length of hangers.
Double Doors: Armoires typically have double doors that open out but may include two short doors on one side and a full-length door on the other. There are endless combinations with wider armoires having three or four doors across.
Sliding Door Armoire: For an easy way to access your belongings in an armoire, sliding doors allow you to slide either door on a built-in track smoothly. Most sliding armoire doors have a bottom track, but for a stylish addition, sliding doors can slide on a top track.
Some examples that can be used are barn-style hardware pieces. An entry armoire with sliding doors makes it easier to access when there isn't a lot of room to open doors outward.
Standing Mirror: A standing mirror armoire is commonly used as a jewelry armoire and includes inside storage such as necklace hooks, cubbies, shelves, bracelet rods and storage for rings and earrings.
Standing mirror armoires are made the size of jewelry armoires and have a front mirror the entire length of the piece to give a complete view of your outfit and jewelry accessories. Many standing mirror armoires have an adjustable tilt and lockable door and can be stored in a closet or used as a decorative display.
Where To Use An Armoire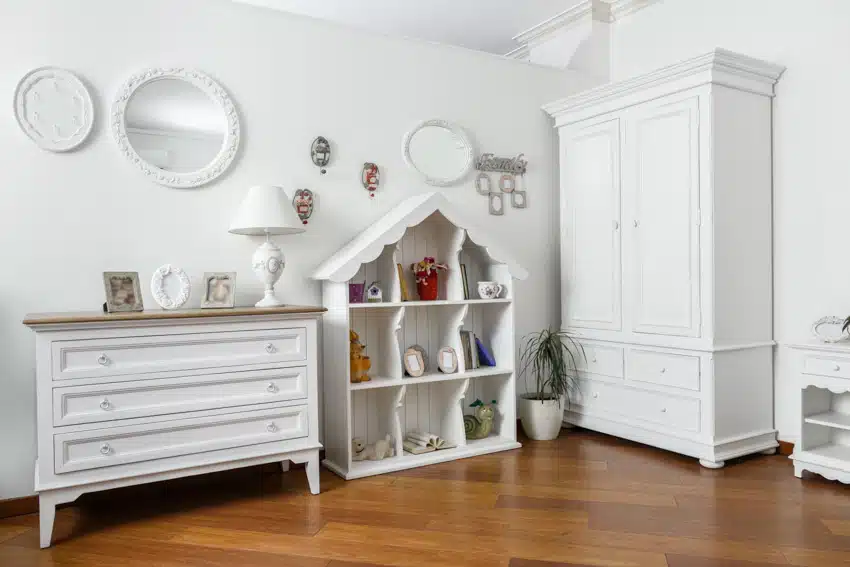 Armoires are the most versatile piece of furniture in any home or office. In fact, a home with an armoire in every room is one without clutter and disorganization, as these majestic and even petite pieces of furniture can be used virtually anywhere.
Bedroom Armoire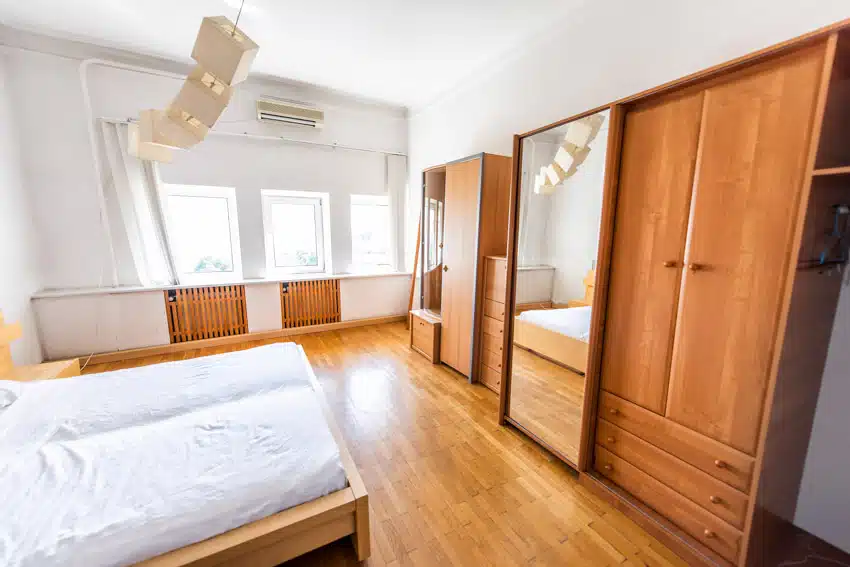 A bedroom armoire is taller and wider than a traditional dresser. They often have doors that open to reveal shelves or hanging space for clothes, making them a great storage option for smaller bedrooms.
Some armoires also include drawers, making them even more versatile. These armoires come in a wide variety of materials, colors and designs to match your bedroom's décor. If you have small children its a good idea to attach an anti-tip kit to prevent this heavy furniture piece from being pulled over.

Closet Armoire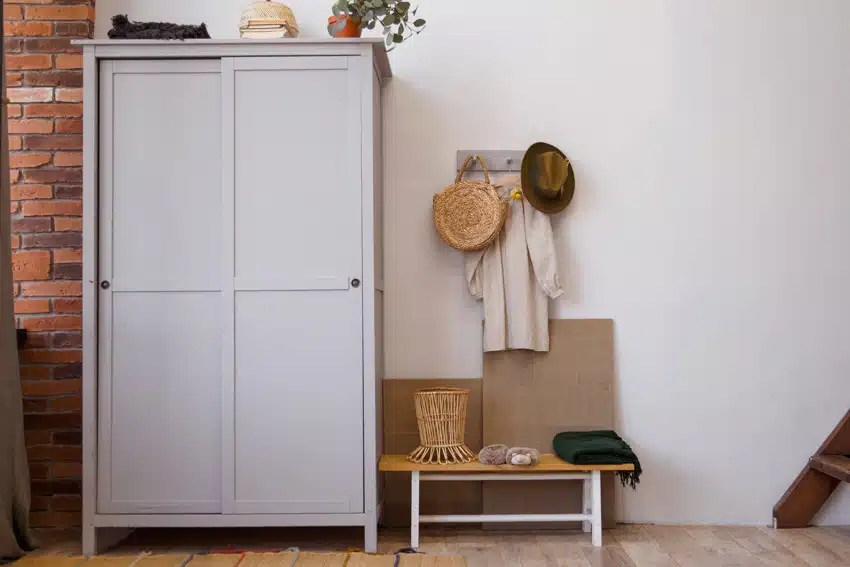 Closets are made to store, organize and keep out of sight all the items in your home that you need but would rather not have lying around. A closet armoire is an extra extension of this valuable space providing even more use for a closet.
These smaller versions of their larger cousins are made from a variety of materials and, when opened, reveal shelves, draws, and cubbies to store socks, underwear, accessories or any other small items that are part of your wardrobe.
Closet wardrobes are perfect for a walk-in closet, handy in a kitchen pantry, and invaluable in a craft room closet. The possibilities are endless.
Kitchen Armoire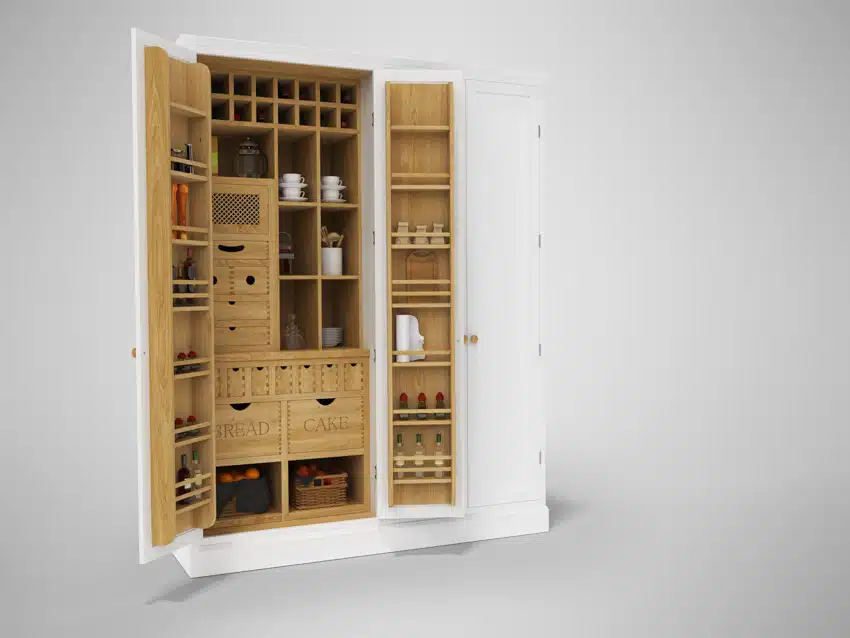 For the perfect kitchen addition, a kitchen armoire provides space to store dinnerware, glassware, serving utensils, trays and other china pieces that need to be kept safe from breakage.
Kitchen armoires also provide an easy-to-find storage solution for kitchen gadgets, small appliances, tall pitchers, and bulky items you'd rather not store on your countertop.
Armoire Pantry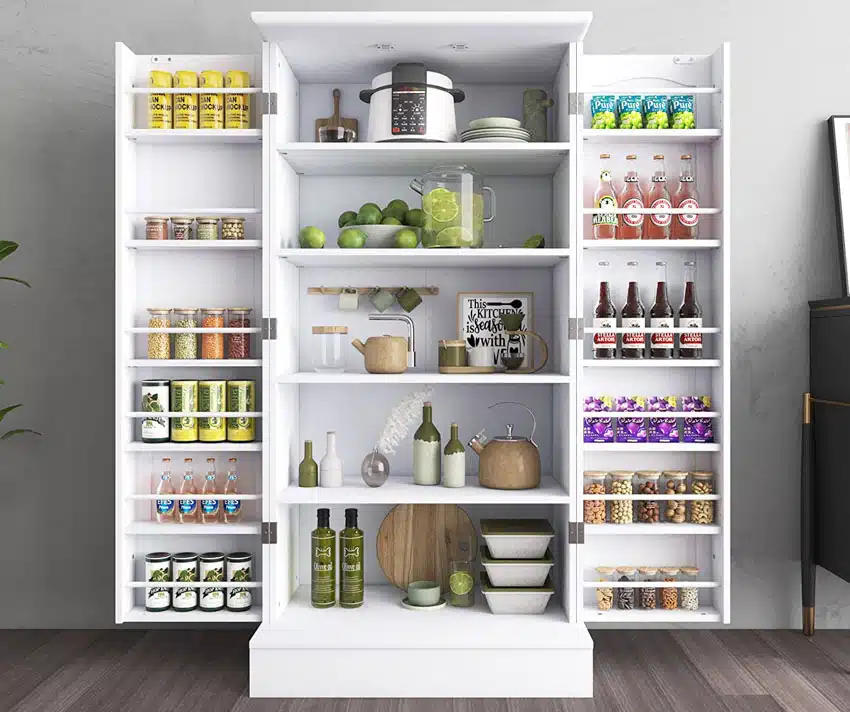 See this armoire pantry at Amazon [sponsored link]
There's nothing better than a pantry built-in to your kitchen. When you're cooking or trying a new recipe, all the ingredients can be stored in an armoire pantry for quick, easy access.
An armoire pantry is typically free-standing and useful against a kitchen wall near where you do your most cooking. Armoire pantries also provide a dark, free-of-dust and dirt place to store dry goods and spices, helping to keep them fresh and ready to use.
Bathroom Armoire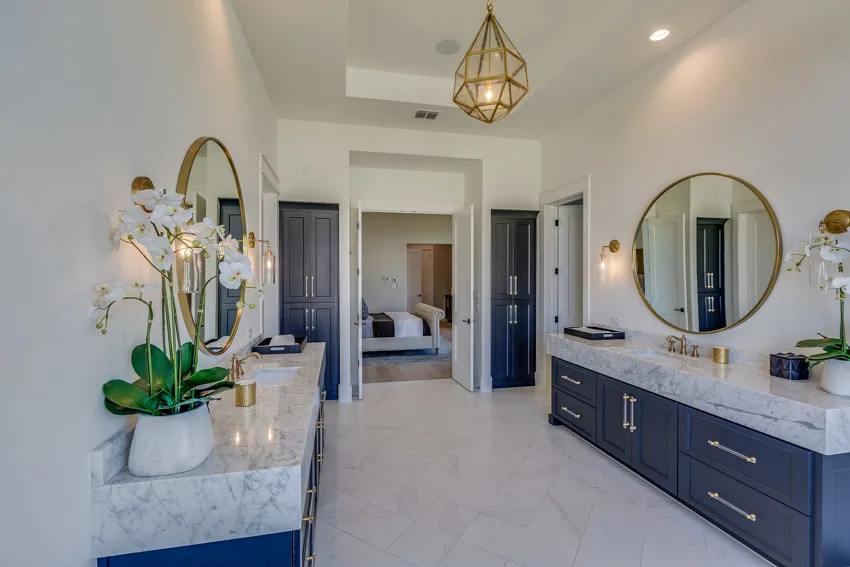 A bathroom seems to never be large enough to keep all those small items that create mess and clutter. Bathroom armoires are great for storage for extra tubes of toothpaste, soap, shampoos and conditioners, along with washcloths and other personal toiletries.
These armoires allow for a bathroom to maintain a calming and soothing atmosphere with extra items out of sight. Decorate the top with silk flower arrangements and make this valuable storage solution part of the bathroom's design.
Entryway Armoire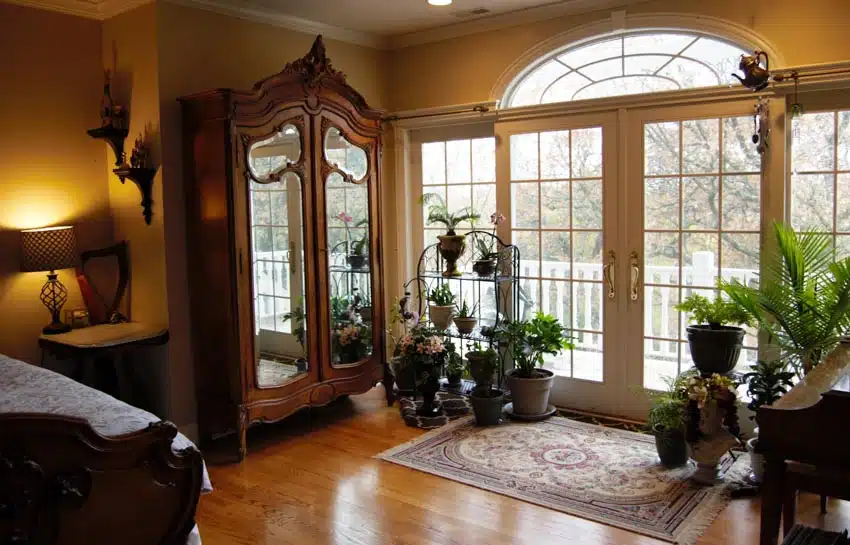 Not only does an entryway armoire create a stylish first impression, but it also gives you plenty of space to leave shoes, hang coats and scarves, and store umbrellas.
Entryway Armoires with draws allow you to store grocery bags, purses, hats, and the day's stack of junk mail. Adding key rings on the outside and some large hooks creates a catch-all place for anyone coming or going from your home.
Living Room Armoire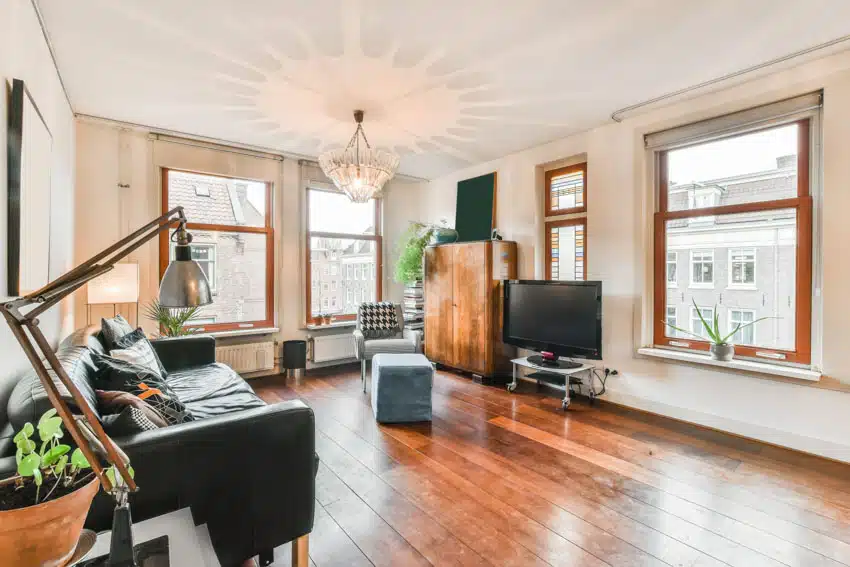 Armoires provide storage without taking up a lot of space. Placing an armoire in the living room not only provides storage but can also add a beautiful design element to your home. Living room armoires can either match the existing furniture or add to the design by creating a focal point.
If your living room is styled with a farmhouse design, add an armoire with sliding doors adorned with barn door hardware. For a nautical living room, a driftwood-styled armoire with glass doors makes a great piece to store books and magazines.If the living room space is somewhat cramped, try adding a corner armoire with glass doors to display figurines and china pieces.
Armoire Materials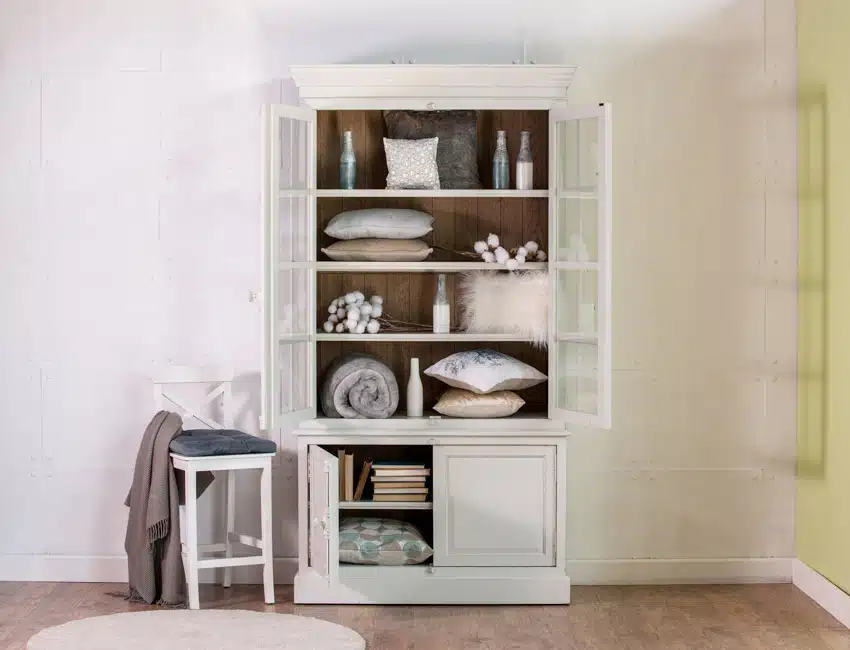 Armoires come made with different materials according to their use and when they were designed and built. Early armoires were often made from mahogany, oak and hardwoods and were heavy pieces typically adorned with ornate carvings. Today's armoires aren't as heavy and can be found in several materials.
Wood: The material of choice for a long-lasting and durable armoire is solid wood. Natural wood holds its shape, is resilient against dampness, can be refurbished easily and wears well. Solid wood armoires last for countless years, and although they are heavy, the timeless look of wood never goes out of style.
During the 17th and 18th centuries, the French used only indigenous wood to build armoires, including oak. However, like in the American colonies, oak wood was ravaged, so furniture builders shifted to walnut wood.
Many Amish furniture builders favor hardwoods for building armoires, including mahogany. Mahogany is more flexible than many hardwoods and less brittle. Its naturally rich, deep red-brown hue and straight grain look stunning under a satin finish, providing an old-world look.
The Shakers often use regional wood from maple, oak, walnut and cherry trees. These timeless choices create fine furniture like armoires providing exquisite colors, sturdy options and beautiful patterns. Many armoire manufacturers also embrace reclaimed wood using white pine barn wood, chestnut and oak.
Wood Composite: To create affordable armoires without sacrificing size and design, manufacturers often turn to wood composites. These fabricated wood alternatives include a variety of mixed material wood products, such as sawmill scraps from wood waste, thermoplastic resin, and wax.
Often, wood composite is labeled medium-density fiberboard, or MDF. Additional materials added to the mix can include UV stabilizers, coupling agents, colorants, and lubricants.
Armoires made with wood composite are less expensive and provide sturdy substitutes for solid wood, and the finishes used will recreate the beautiful look of wood. Wood composite, however, is more susceptible to damage from water and moisture exposure.
Rattan: Rattan is a material made from rattan vines woven together to create furniture. The rattan can be natural or synthetic, with synthetic rattan being used more for outdoor furniture. Rattan armoires provide a classic texture, are sophisticated and always in style. Rattan comes naturally in grays, browns, and blacks and can be painted in other colors to match your design and style.
Rattan armoires are not as heavy as solid wood, but even though it's a lighter material, it's equally durable and long-lasting. Hardwood armoires are challenging to move, but rattan armoires are easily slid on a smooth surface or carried.
Natural rattan is easy to clean but is prone to mold if exposed to long-term moisture. An old toothbrush is a great way to reach in grooves and crevices to remove dirt and dust. Always wipe dry after cleaning and remove stains immediately.
Wicker: Wicker is a weaving process that creates a distinctive pattern. Wicker armoires are made from several material choices, including willow, reed, rattan, and bamboo, and wicker can also be made from synthetic materials for outdoor use and patio furniture. As with its cousin rattan, wicker is durable and lighter than natural wood, and it's easy to move.
The materials used for wicker are woven together using vines, grass and plants. Although wicker types of furniture look similar to rattan furniture, the two are technically different; rattan is used to make wicker, but rattan also stands alone when used to make furniture such as armoires. Read more about rattan vs wicker here.

Armoire Vs Wardrobe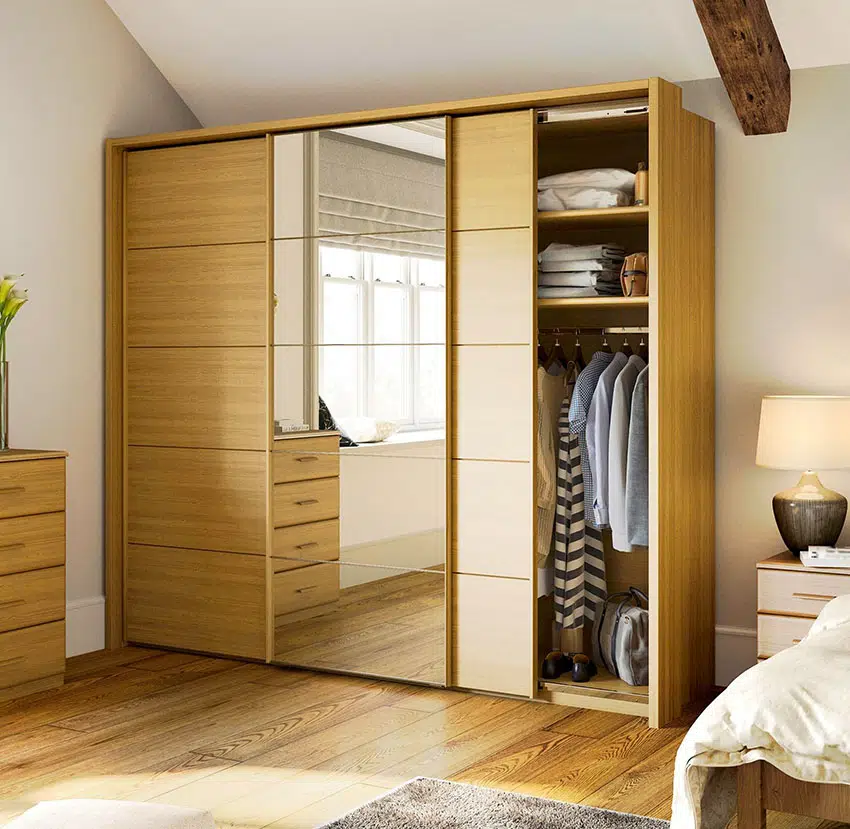 While an armoire is a tall, free-standing cabinet with doors, a wardrobe is more commonly used for hanging clothing or long coats and outfits. Both pieces of furniture can accommodate hanging clothing, making each fall into a wardrobe category.
However, an armoire includes other types of storage space, including drawers, shelves, and cubbies. Armoires, compared to wardrobes, are customizable, and adaptable, and create organized storage for almost any item.
Often, wardrobes are used to store clothes made from delicate fabrics or real furs that require specific humidity levels, a dark environment, and protection from dust and dirt. Read about how wardrobes compare to closets here.

Armoire Makeover Ideas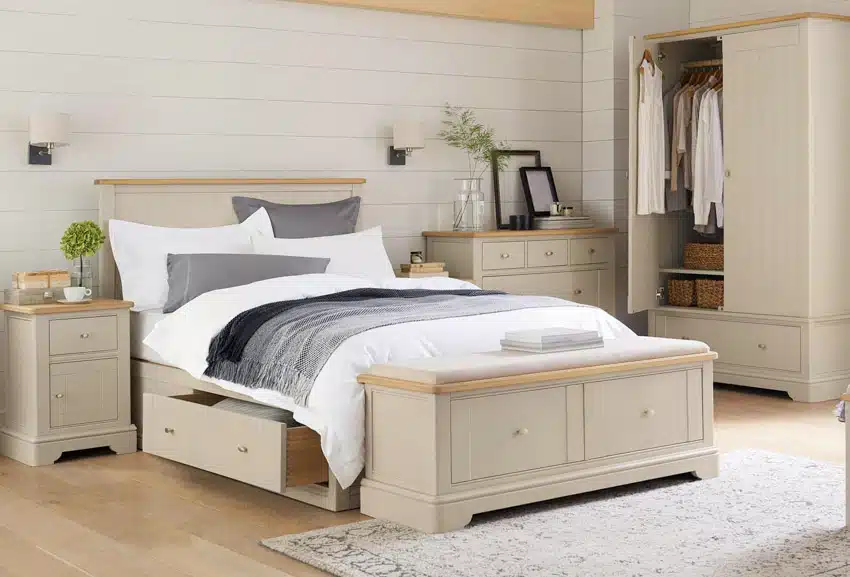 If you want to change up a room while creating storage space, used armoires can be purchased online, at estate sales or at neighborhood garage sales. Often, you can purchase one for a great price when it needs to be restored or refinished.
Depending on the original finish, some sanding and smoothing of the wood, along with a new coat of stain, can renew a vintage armoire. Adding new knobs, hinges, and drawer pulls will also provide some exciting touches. Many people enjoy painting an armoire and adding a design such as floral arrangement, art deco artwork, landscapes, or natural scenery to match their home décor.
Armoires can also be repurposed by rearranging draws and shelves or removing all the interior hardware to create storage for long dresses, evening gowns, formal attire, or coats. Once hollowed out, you can use a larger armoire to create a private home office spot or a craft workspace.
An armoire with the front doors removed can serve as a bookcase or a display case for artwork or figurines and comes in handy when used as a place to hang keys, coats, and store boots by an entryway.
How To Decorate The Top Of An Armoire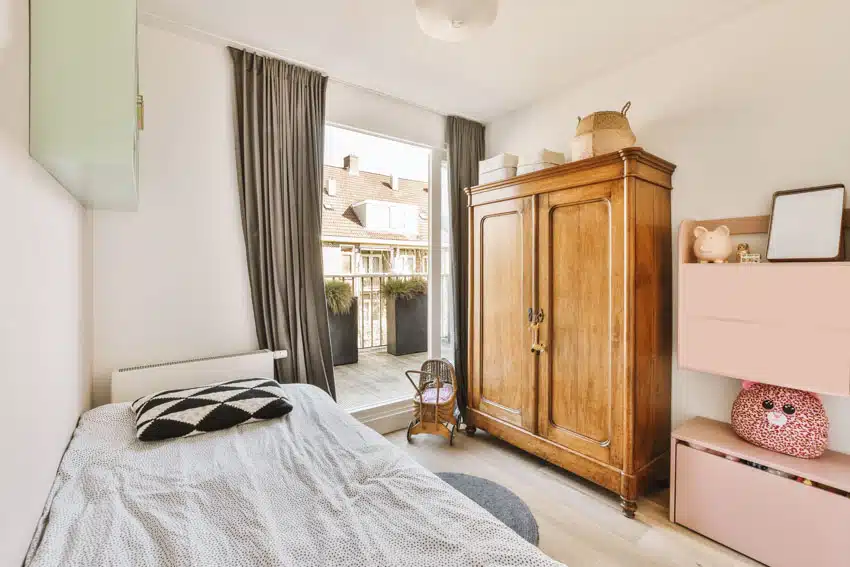 Armoires are often tall pieces of furniture, which can make it difficult to know how to decorate the top. Choosing what to display has a lot to do with the amount of room between the top and the ceiling, the size of the room, the interior design style and the room's theme. Besides decorating the top, you could use the extra space as a shelf to keep books or magazines.
Placing decor pieces on the top of an armoire can add symmetry to the room's design. For large armoires, adding decorative elements such as wicker baskets placed close together at different angles helps finish off the look, especially for rooms with a country or outdoorsy style.
Smaller armoires look more central to a room when topped with tall types of vases or figurines amid a backdrop of silk flowers. If there's enough space, a wall hanging is also a great idea, such as a wreath, painting or framed photograph.
Place the wall décor on the bare wall over the height of the armoire and leave enough room above it to balance out the remaining wall space. A rectangular piece is perfect or several smaller square hangings the length of the armoire works just as well.
How Much Does an Armoire Weigh?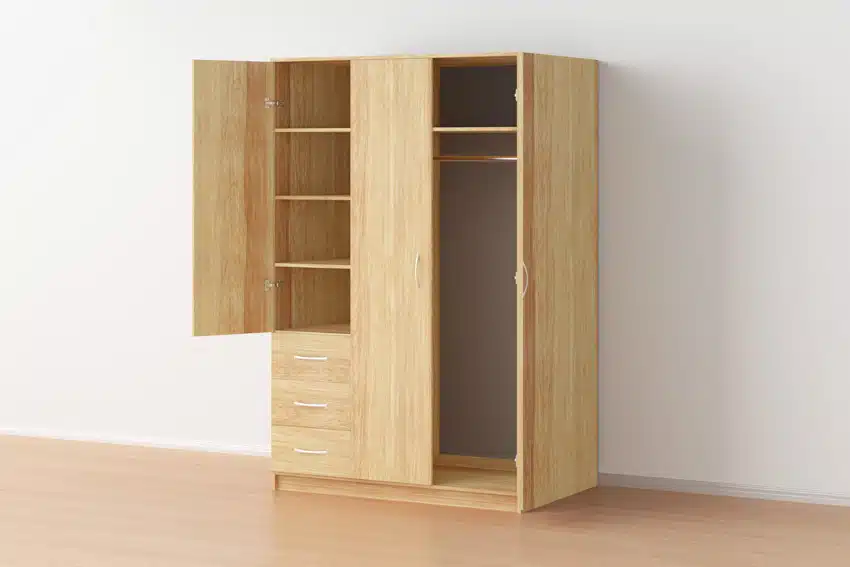 Depending on the type of armoire, its materials, and how large it is, weights can vary greatly. Bedroom armoires are usually larger and heavier, while a jewelry armoire is made smaller making it easy to move.
Armoires made of solid wood are much heavier than pieces made from wicker or rattan, and much of the weight depends on the size and amount of interior options, such as drawers and shelves.
Smaller wicker TV armoires start at about 42 pounds, an MDF sliding door armoire comes in weighing about 157 pounds, while a larger wood wardrobe armoire can weigh about 165 pounds.
Below is a chart of types of armoires and their dimensions and weights to help you plan for your space before buying an armoire.
Armoire Size & Weight Chart
TYPE

MATERIAL

DIMENSIONS

DRAWS

SHELVES

RODS

WEIGHT

DIAGRAM

Wardrobe Armoire

Solid Wood

H

W

D

2

2

1

165 lbs.

72″

60″

22″

Jewelry Armoire

Solid Wood

H

W

D

8

0

0

58 lbs.

40″

18″

12″

TV Armoire

Wicker

H

W

D

0

2

0

42 lbs.

76″

42″

22.5″

Computer Armoire

MDF Wood

H

W

D

0

3

0

130 lbs.

67.3″

31.5″

20.3″

Kitchen Armoire

Rattan

H

W

D

1

4

0

84 lbs.

42″

30″

18″

Boho Armoire

Solid Wood

H

W

D

3

2

0

137 lbs.

72″

42″

17″

Craft Armoire

MDF Wood

H

W

D

0

9

0

180 lbs.

62″

35″

22″

Sliding Door Armoire

MDF Wood

H

W

D

0

3

0

157 lbs.

70″

31″

21″
How to Move an Armoire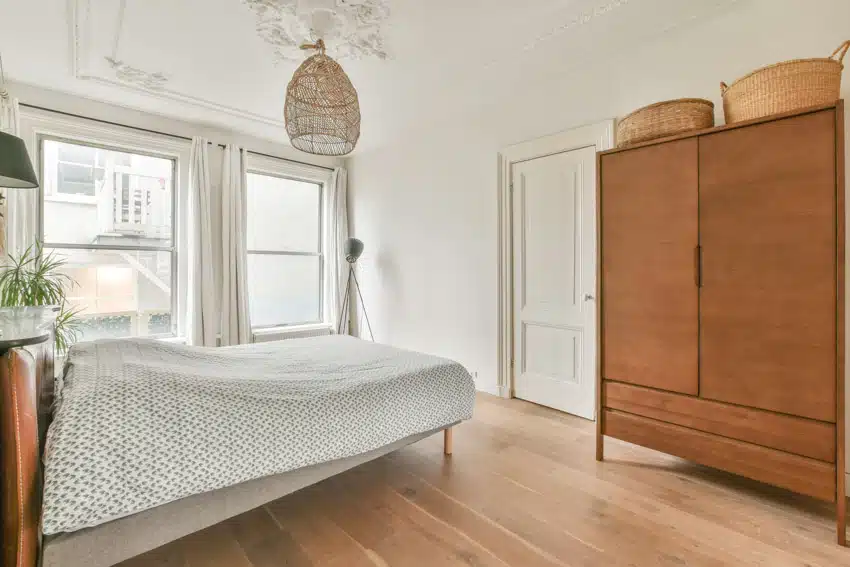 Moving an armoire may be challenging for many reasons, including getting such a large piece of furniture to fit through doorways and stairwells. The first thing to do is to measure the outside dimensions of your armoire and then measure the doorways and the stairwells.
If it doesn't fit through the openings, you will need to dismantle it and move it in pieces. At times, it may only be necessary to remove the doors and any other ornamental additions to fit it rather than dismantling the entire piece.
If it will fit, empty and remove the drawers and other removable parts. Then, on the outside, unscrew and remove any mirrors or glass. You may also want to remove the doors or secure them with strapping to prevent them from opening.
Remove any shelves from the armoire, and if necessary, the back panel will come off as well. Wrapping each piece in furniture pads or blankets will protect the surfaces from being scratched or damaged. Label each piece as you pack it, so you will know where it goes when you reassemble the armoire.
The weight of a wooden armoire may require at least two people or three to maneuver it. Place a dolly underneath the armoire and slowly tilt it back to secure it. Make sure the armoire is balanced before you start moving it. If you need to go up or down stairs, be very careful and plan ahead. It is best to have someone on each side of the armoire to help guide it and prevent it from tipping over.
An armoire is more than the original large, ornate, and bulky pieces they were originally. Today, there are armoires to fit any purpose, any interior design, and any space requirement. Don't underestimate the versatility of these useful and beautiful pieces of furniture.
See more related content in our article about the types of tables on this page.