These are the different types of kitchen wall panels like PVC, vinyl, marble, tile, wood, laminate, stainless steel, glass, FRP walls, and decorative wall panel options.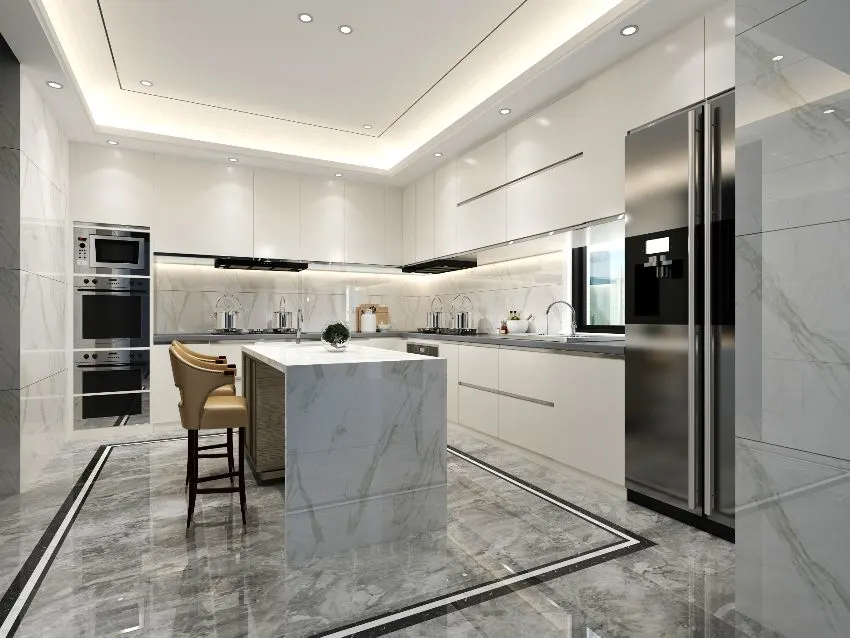 Kitchen wall panels are pretty straightforward. However, the end result can be quite innovative and aesthetically pleasing. If you want to upgrade your kitchen look without spending too much money, or without any major structural changes, adding kitchen wall panels can be a great choice.
There are so many things to kitchen wall panels that more than meet the eye. They can be decorative, functional, and in some cases, even acoustically beneficial.
Wall panels in the kitchen can be great in case you have some construction flaws that you would like to conceal but you don't want any major renovations done to the space. You can also use wall panels to keep some exposed wiring out of the way.
If there's a kitchen wall that you would like to turn into an accent or a focal point for the space; that can also be achieved by your kitchen wall panels. A majority of these panels are pretty durable. With the right style and combination of products, you can transform your kitchen into a functional and aesthetically pleasing space.
They're also oftentimes pretty easy to maintain and easy to install as well. And the best part of it all is that they are meant to withstand against humid conditions, which is very much the case in the kitchen. With proper care and regular maintenance, your panels can protect your refrigerator, faucet, and other kitchen appliances from moisture damage for years to come.

Here are the different types of kitchen wall panels you can consider.
PVC Panels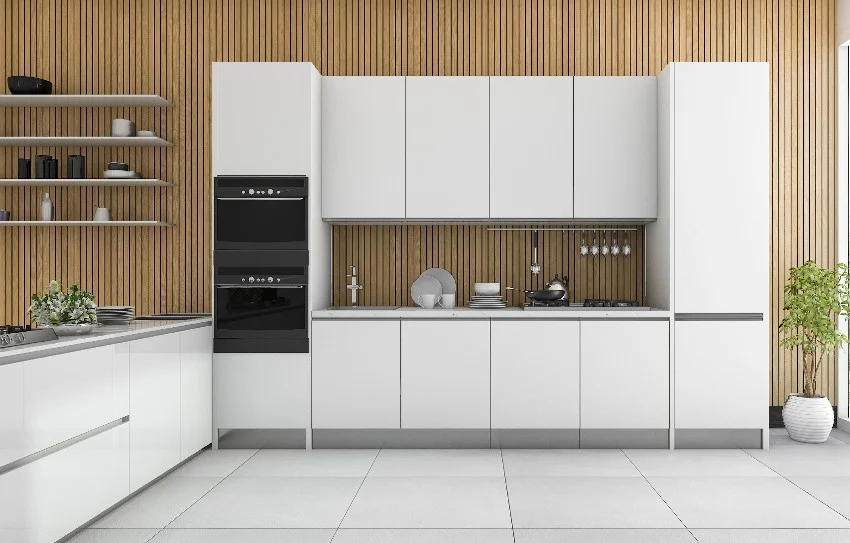 PVC stands for polyvinyl chloride and are frequently used for wall panels. Wall panels made out of PVC are used both for commercial and residential uses. They are very lightweight, strong, and manufactured as composites. They can come in with a wide variety of surface finishes, sizes, colors, and so much more.
It's one of the most versatile design options you can ever get your hands on for as far as wall panels are concerned. They also come in with far lower costs and this is why they make for really great substitutes for traditional wood panel materials, especially if you happen to be on a tight budget.
PVC wall panels are strong and durable. As a matter of fact, they have been known to last for several years without any signs of bending or warping or anything similar to that. They come cheap, or at least far cheaper than marble and natural stone panels and wood.
They come easy to install since PVC panels are easy to trim and cut. And because they are predominantly made out of a plastic composite, it also means they are very lightweight so they want strain your main kitchen walls. This also makes for easy handling, transportation, and actual installation which contributes a lot to its lower costs.
They're easy to maintain. They don't need any special coatings such as paint and the like. All you really need to do is to quickly wipe them down with a damp cloth to clean any dust and other substances off. And of course, they are highly resistant to moisture.
PVC is waterproof so it means that zero water will be absorbed. This is highly helpful in the kitchen where mold or mildew can end up growing in abundance because of the moist and hot environment.
Take note though that PVC panels have a very plastic looking appearance. It can cheapen the look of the space and does not deliver the same high end look that wood panels will be able to deliver.
They aren't heat resistant so make sure that you keep it out of reach from the stove and the oven or any kitchen peripheral that might generate considerable heat.
Vinyl Panels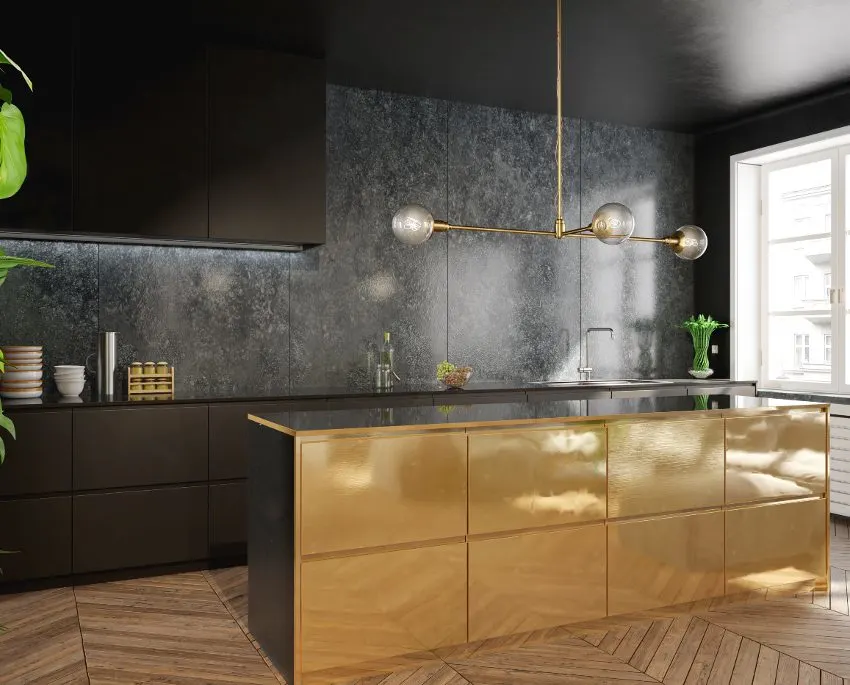 Vinyl wall panels aren't really panels per se but they count as one because they're an additional layer added on to your kitchen walls.
How this usually works is that the kitchen's drywall is coated with a vinyl layer. This is oftentimes mixed in with a gypsum product that has a consistency that's fairly similar to wall putty.
Its main difference is that it has a decorative layer on its front face. Another format that vinyl wall panels can come in with is as a wallpaper. Don't let the wallpaper description fool you though as vinyl is anything but paper-like.
Instead, it has a plastic consistency or material and is highly recommended in humid environments in the home such as in bathrooms and kitchens. This is mainly because of the fact that vinyl is a material that is water resistant.
It doesn't absorb water and it is quite effective in inhibiting the growth of mold, mildew, and other problems that are common or typical in humid spaces in the home such as the kitchen.
Vinyl wall panels, installed around kitchen appliances such as a range hood, dishwasher, pantry, and microwave, offer an alternative to traditional kitchen finishes.
Maintaining vinyl wall panels is fairly easy. You only usually need to wipe it down with a damp cloth or with a cloth that's sold in a basic cleaning solution.
Vinyl though is highly susceptible to heat so make sure that you don't use it against wall backsplashes close to the gas range or the oven. It will melt and peel off immediately and it will not only end up ruining your kitchen aesthetics but can turn out to be a real fire hazard as well.
Marble Panels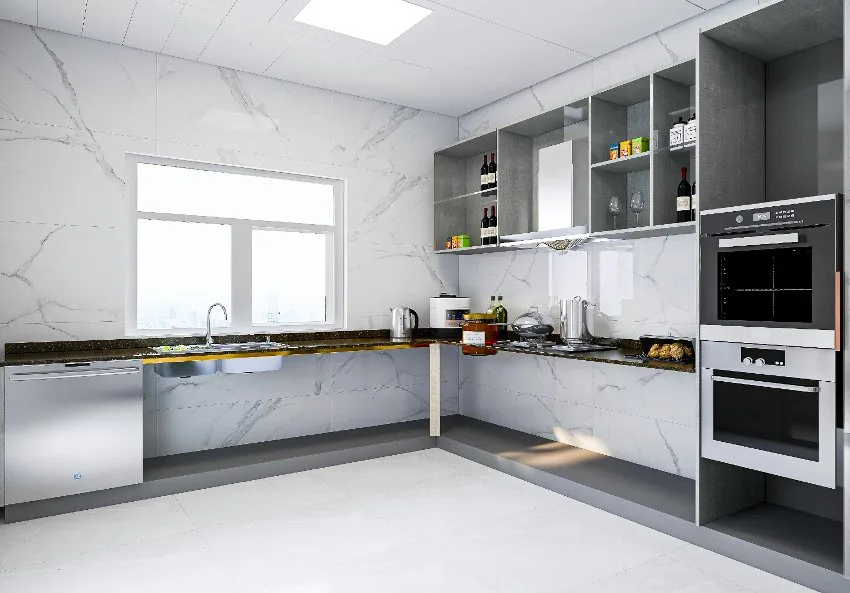 Marble wall panels are made out of thin sheets of marble. This can be fairly costly as a wall panel as it is made out of natural stone. It also requires care and a professional touch for the installation. However, it looks really great.
It can be overlaid on top of a lot of different materials. If you are planning on retrofitting your kitchen, we suggest that you consider marble wall panels as an alternative option.
Marble is a type of natural stone and has been prized not just as a construction material but as a medium for art as well. It polishes very nicely and can come in colors that have patterns, swirls, or veins. It depends on the impurities found in the actual rock and how it has been formed underground.
Since it has traits that crystallize, this also means that there may be some degree of crystallization in the marble panels that you install in your kitchen walls. This adds in a certain degree of visual interest and aesthetics that you might want to have for your kitchen space.
How they're done is that from a main marble slab, thin sheets are sliced from it. These sheets are then cut to size and as a finishing touch, polished.
Once they are ready for installation, they are bolted into place against your kitchen walls. It's great because it can protect your kitchen walls from dust, heat, and even wayward grease splatters and other food particles that are common in the kitchen.
Stainless Steel Panels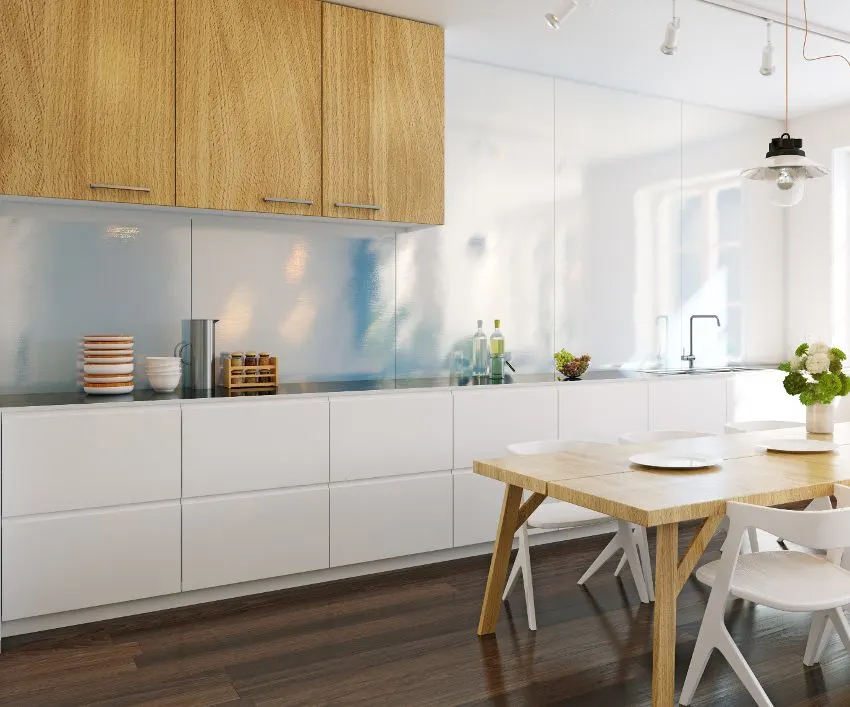 Installing stainless steel wall panels is a bit of a modernist approach to your kitchen space but can be well worth the cost and the effort. This alternative choice works well with today's appliances and adds a contemporary touch to the existing design.
Stainless steel is a material that is highly resistant to corrosion, making it a popular choice for many applications. It is also highly resistant against harsh substances like acids, other similar chemicals, and even heat, based on the information gathered from experts in the field.

It has a tensile strength that's intrinsic to it which is why it comes as a highly durable and long lasting material. It is also so much stronger than copper and aluminum, as many contractors with experience using these materials can attest.
Its color does not degrade over time and it's a great option if you want to keep your interior decorating options environmentally friendly. This is because its manufacturing and installation does not emit any fumes that may be harmful for your health. It is also 100% recyclable.
Stainless steel wall panels can come in different finishes, and some have intricate textures and details that make them visually appealing. The most common finishes are in linen or leather-like surfaces.
There's usually a thin layer of metal coating applied to the main stainless steel surface in order to attain this effect. Some higher grade stainless steel materials come with self-repairing qualities so the occasional knife etch in the kitchen won't ruin its surface.
A major downside to these wall panels though is that they come in with a high upfront cost. However, if you can foot the bill, its pros will definitely outweigh the cons. It's great if you want a professional looking kitchen.
It can immediately elevate an otherwise mundane looking kitchen design into something more sophisticated. Commercial kitchens are padded with stainless steel countertops, backsplash and wall panels because they are easy to clean, maintain, and they have prolonged life spans.
Tile Panels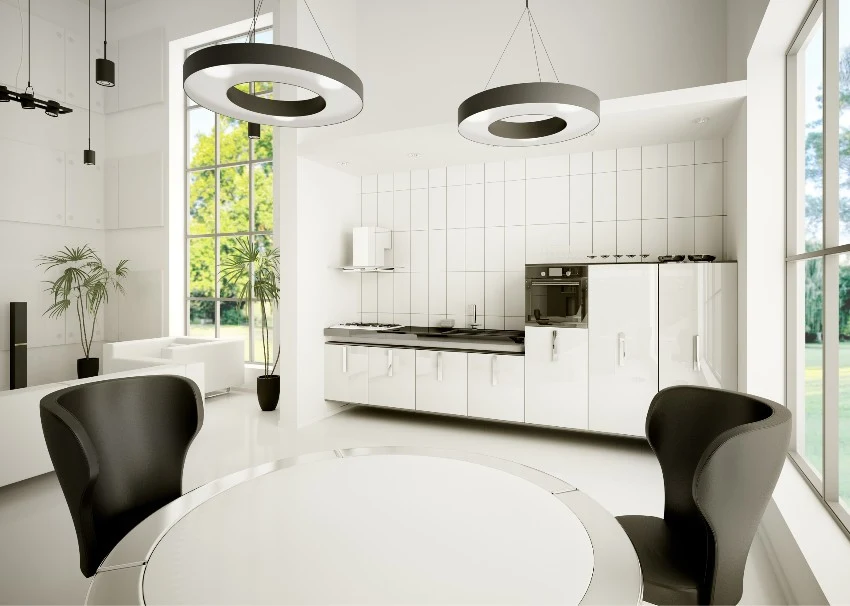 Tile panels are also quite common in kitchen walls. They can be seen in most homes and it's easy to understand why. For starters, the design options are so varied that you are bound to find just the perfect tile color, shape, and pattern that will bring your kitchen aesthetics to a whole other level.
The most common types of tiles used as wall panels in the kitchen are ceramic tiles. They come much preferred, as a matter of fact. This is because they come in a lot of finishes but the most popular ones are either polished or glazes ones. They are highly elegant. And can really transform the space.
Tile wall panels can actually double over as kitchen backsplashes as well so it's very safe to have them up against the sink, against stoves, ovens, and other kitchen peripherals that might expose the wall panels to heat and moisture.
They are also slippery when wet so this means minimal maintenance for you. It usually doesn't take more than basic wiping down with a wet rag or with some household cleaner.
Laminate Panels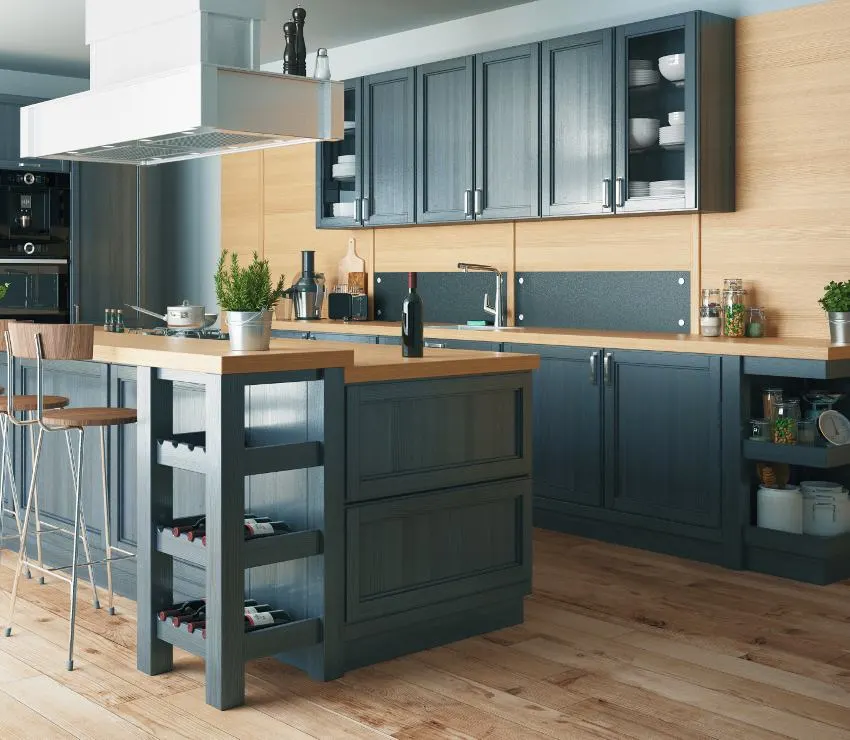 Laminate panels are another popular wall paneling option for the kitchen walls. This is also widely available in most Home Depot stores or Cabinetry manufacturer.
This material is usually made out of multiple layers, resulting from an intricate estimate and process. It is a combination of kraft paper and resins that have thermosetting qualities.
It can handle variances in heat and it can also take on pressure if applied to it. Laminate panels usually have thicknesses that range anywhere from 0.6mm and 1.5mm.
They are great at mimicking the look and feel of wooden panels and they usually come cheap. If you would like to have a wooden effect for your kitchen walls but don't want to pay for the high price tag that usually come along with wood panels, laminate panels are a great option to consider.
Experienced contractors can help you with installation and questions regarding their use.It comes in a variety of shapes, colors, textures, and sizes, catering to a diverse range of family needs.
Laminate panels are highly resistance to wear and tear for the surfaces. However, one thing to take note of is that prolonged water and heat damage could end up stripping its protective layers. Also try to avoid banging heavy and sharp objects as this may dent or permanently damage the laminate's surfaces.
Glass Panels
Glass wall panels are great for the kitchen if you would like to visually expand the space and meet your family's needs. This also works well for kitchens that don't get a lot of natural light as they're quite effective in encouraging luminosity as well.
For starters, glass wall panels are pretty great at providing breadth to your walls. This means that it can give particularly cramped kitchen spaces with a feeling of being bigger and airier than it normally is.
It's also quite nice for the purpose of improving eyesight. Kitchens need a lot of natural light but if ever that isn't readily available, you need something that isn't dark and cramped looking and glass panels will be able to take care of that for you.
Glass is also something that's easy to clean and maintain, streamlining the process of keeping your kitchen spotless. As the surface is smooth and doesn't have any grooves or seams in it.
A disadvantage though is that glass wall panels can come at a high cost. There are different elements that may affect the pricing from the thickness of the glass, to the quality of metal frames being used, to the cost of the installation in your area.
There are also other additional features to consider such as whether you would like to go for tinted glass or something that's tempered or armored, even.
Wood Paneling For Kitchen Walls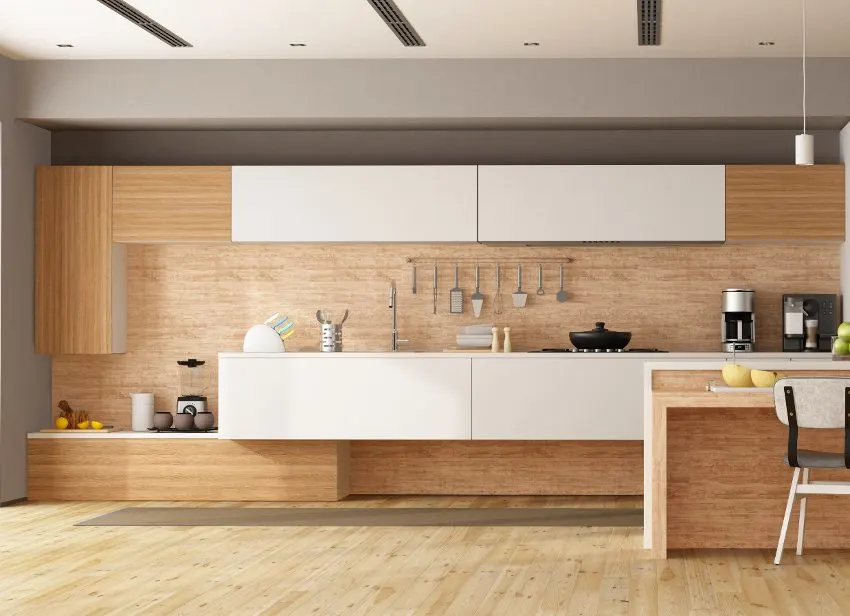 Wood panels have been around and they're the most popular panel materials used in kitchen walls. They can come as solid wood, veneers, and MDF or composite materials.
Here are the different types of wood paneling available.
Shiplap Paneling
Shiplap wall paneling was originally used as an exterior embellishment to structures. During the time that it started being used for home interiors, there was usually some type of cloth that covered it or kept it hidden away from sight.
These days however, there's a certain appeal to actual and visible shiplap wall paneling. It has become quite popular as it offers texture and a somewhat cozy point of interest to the space.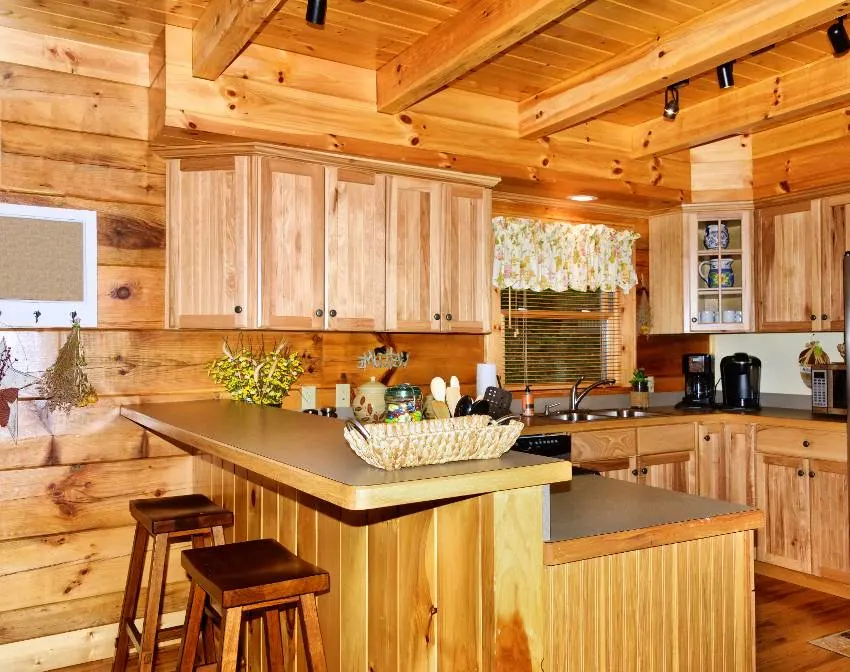 Shiplaps can be installed either horizontally or vertically. When installed in your kitchen walls, they can easily add character to the space. What's great about shiplap is that they can be painted or stained to easily match the décor of your kitchen. They're easy to install. These days, there are even variants of shiplaps that are in a peel-and-stick form.
The advantage of hanging shiplap horizontally is that it runs perpendicular to the wall studs, allowing you to nail along the shiplap plank where it crosses a stud. – Cozy White Cottage Seasons, Liz Marie Galvan
A downside to shiplap that you need to be aware of though is the fact that it can accumulate dust and grime as the paneling design has grooves and gaps in between. However, with some basic cleaning maintenance, you should be able to get this taken care of and out of the way.
Board And Batten Paneling
Board and batten wall paneling is great for when you want to accomplish a more traditional look for your kitchen space. It's usually characterized by battens or narrow wooden strips. These battens are installed against a wide board, specifically on its seams.
This type of wall paneling is very durable and efficient. For the aesthetics, it has a geometric effect which can be quite aesthetically pleasing. These boards can be positioned either vertically or horizontally.
If you want the added effect of something asymmetrical, you can play around with the board sizes. You can mix and match boards that come in different sizes for different types of effects. It all depends on the type of design that you would like to come up with for your kitchen at home.
What's great about a board and batten wall paneling in the kitchen is that you can be as creative as you would like to be. If you're a bit handy with the tools and basic construction materials, this is also something that you ca opt to more or less do yourself. It's a very unique and interesting design and something that's definitely worth looking forward to in the kitchen space.
Wainscoting Paneling
Wainscot wall paneling is a type of wall panel that covers only either one third of the bottom part of the wall or half of it. Back in earlier times, wainscot panels were used in order to reinforce the house and make it a little more durable. These days, the main purpose of wainscot wall panels is for the purpose of aesthetics and an improved interior design and layout.
The top part of wainscot panels can be decorated in a lot of different ways. It can come in a standard cap. This look is something that's simple, clean, and fairly contemporary. If you want to go more formal and decorative, you can opt for a decorative molding.
If you want some added storage for basic things such as spice bottles and other kitchen items, you can actually opt for a shelf at the top cap that extends out for a few inches or so. This is great for added storage and can come quite handy. You can never really have too much storage in the kitchen space, after all.
Wainscot wall panels can be installed either pre-fab or from scratch. They can come in a lot of different materials from MDF wood, to actual wood, to plywood, or even PVC. For areas like the kitchen where there happens to be a lot of foot traffic around, wainscoting is great because of the added protection it gives to the walls.
Beadboard Paneling
Beadboard wall paneling is another wall paneling option in the kitchen. It comes highly recommended if you would like to accomplish a look that's timeless and classic. How this type of paneling is initiated is that there are wood slats that are attached with small spaces in between them.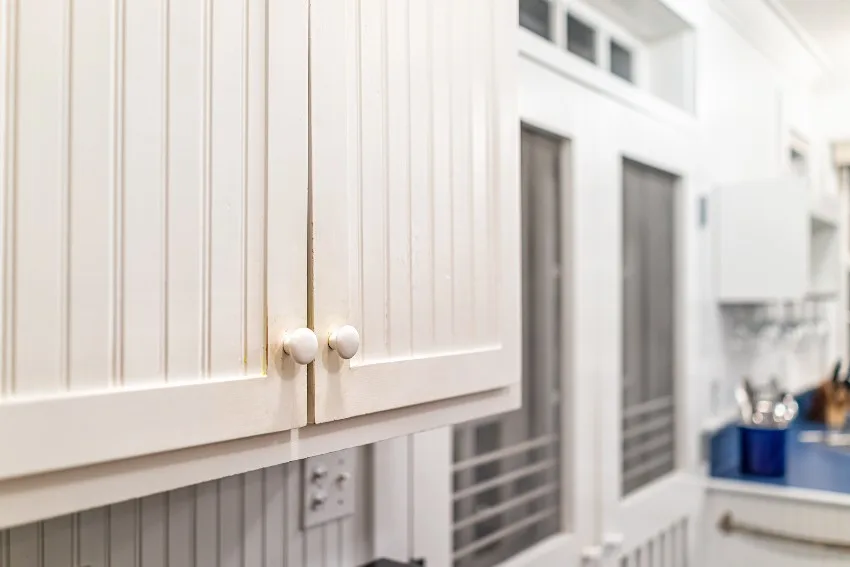 These small gaps are called "beads", hence the name beadboard wall paneling. Similar to the board and batten wall paneling, you have the creative liberty to use strips or slats that come in different sizes. They can be styled in a lot of different ways.
This wall paneling option is highly durable. It is resilient enough to withstand the harsh conditions in the bathroom so it makes sense that you would go for something like this in the kitchen as well.
The kitchen is also mainly humid and moist and is exposed to food splatters and stove greases. A beadboard backsplash wall panel will be able to easily withstand that.
Depending on what your preferences are, your beadboard wall paneling can either come in slabs or can come as individual planks. If you are on a bit of a budget, instead of going for the mainstay wood material, you can opt to have it via beadboard wallpapers.
They can easily mimic the look and feel of real wood without the high price tag that usually comes along with it. Take note though that this type of paneling is tedious and meticulous to install. It can also be a bit costly. Still, it is well worth the price tag that comes along with it.
FRP Panels
FRP or fiberglass reinforced panels are wall paneling made out of a flexible and thin plastic panel that's oftentimes made out of resin or some type of plastic. It is then reinforced with some fiberglass material.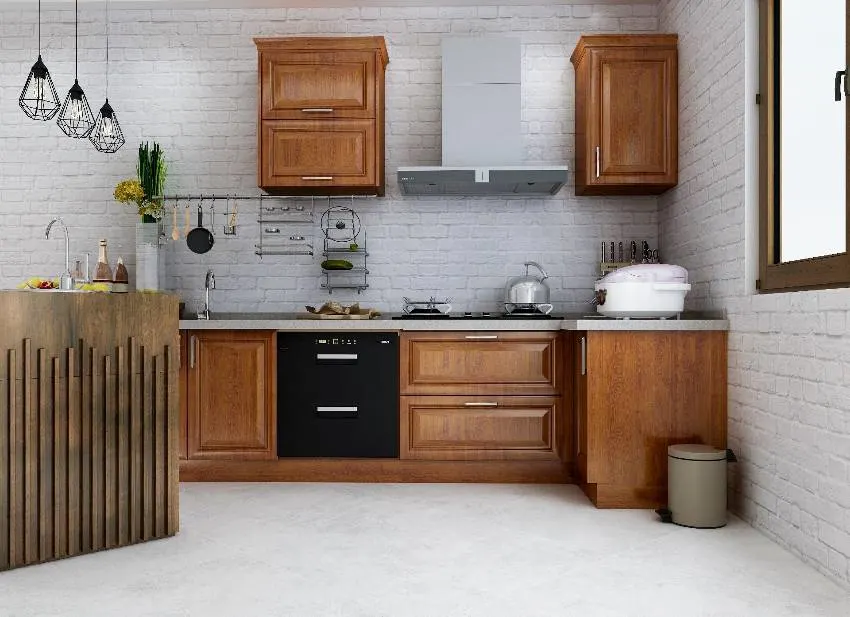 FRP wall panels are great and convenient to have. They can be installed directly on a wall made out of any type of material from wood, to drywall, to concrete, and so on. Basically, the main and only requirement is that the wall material would have to be made out of a solid type of material at the end of the day.
You won't be needing any adhesives in order for you to get your FRP wall panels installed. It is usually instead by screwing the panels directly into the walls with the use of screws or studs. Because of the fact that the material is so thin, there isn't even any need for you to screw both of the panel sides.
You only need to have it screwed on one side. FRP wall panels usually come with an interlocking system for the trusses. This will then allow your installer to screw with only one side of the panel.
These panels can save you a lot of time and effort. This means that you will have considerably lower costs for the installation because it is something that is fairly easy to do.
Decorative Panels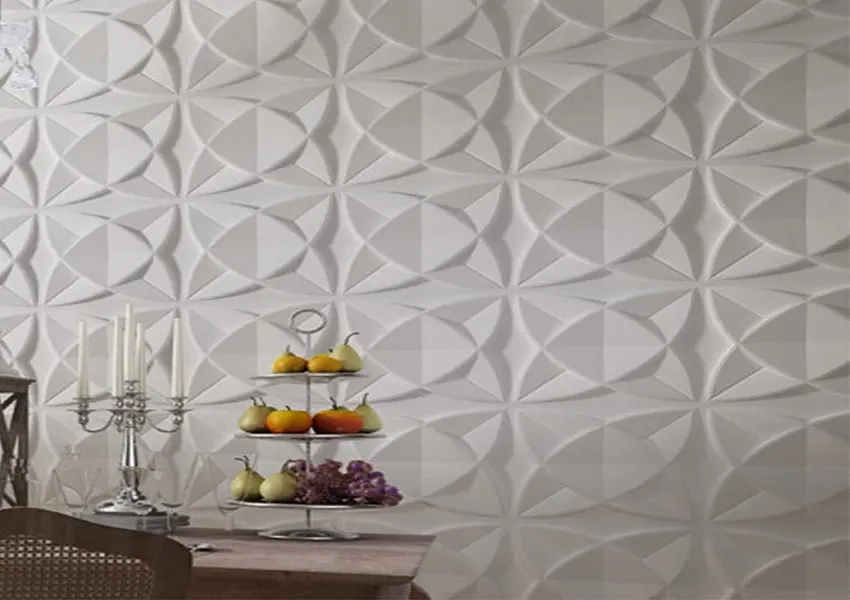 See this textured 3d wall panels at Amazon [Sponsored link]
3D Panels
3D wall panels are a type of decorative wall panels that usually come in patterns and various shapes and designs. They are also 3-dimensional. 3D wall panels make for interesting wall treatments in the kitchen.
They're great for covering up structural imperfections in your kitchen walls as well as for covering exposed or unfinished surfaces. Depending on the type of material that's being used, there are a lot different added features that 3D wall panels can provide from insulation to soundproofing.
These wall panels are pretty great if you want to add some texture and dimensionality into your kitchen space.
Peel And Stick Panels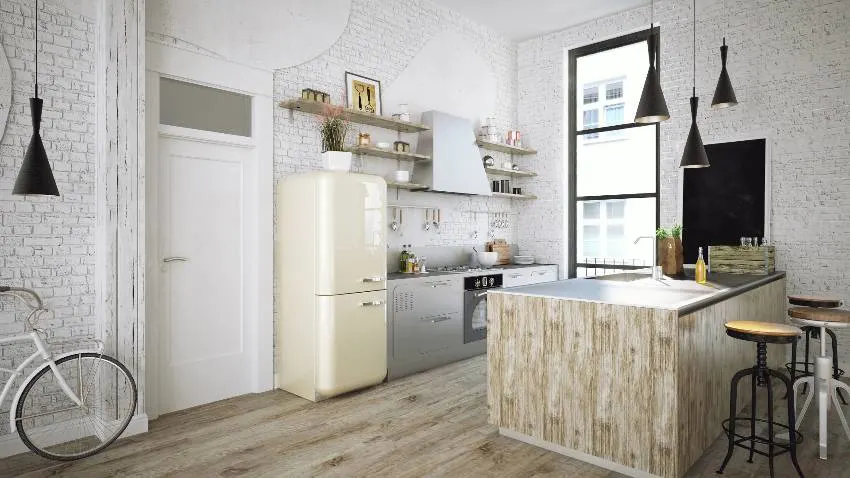 If you're on a really tight budget but you would like to proceed with a kitchen renovation or redo, you can always opt for the budget friendly peel and stick wall panels for your kitchen walls. They're the most affordable but they can also be impressively stylish. These materials are usually made out of self-adhesive and tile-like materials.
They can also come in a wide variety of materials from stone textures, to vinyl, to actual tiles, and even to wood tiles. They look and feel great and the best part of it all aside from the low cost is that the installation is something that you can opt to do yourself.
You can also remove them easily should you want to change your kitchen design further down the road. They're easy to clean and maintain for as long as you take note of the special instructions given by the manufacturers. See more peel and stick backsplash ideas here.

Best Panels For The Kitchen
When it comes to looking for the best wall panels that you can use for your kitchen, always keep an eye out for materials that mix aesthetics along with function and easy maintenance.
On top of this, make sure that it ticks all the boxes as well for practicality of costs, durability, and of course, how it looks like in terms of design. Here are some of the best materials that will work well for your kitchen walls.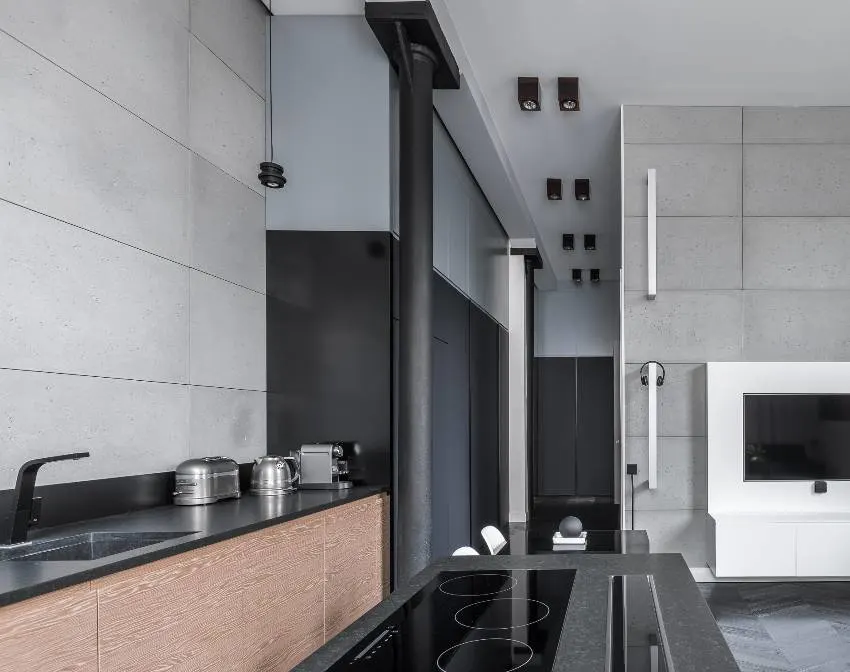 Tiles – They're easy to clean and they are highly resistant to moisture. They come in all types of styles, colors and shapes. And more than that, they're great for creating that kitchen vibe.
One issue with tiles though is that dirt and other particles can accumulate in the grout in between the tiles but with the proper cleaning and maintenance, this is something that you will be able to easily do.
Natural stones such as marble or granite – Natural stone is elegant and is unmatched when it comes to design and beauty. They can also come in a lot of different other stone materials from quartz, to slate, to granite, marble, and so on.
They're easy to clean and they are also known for durability. However, they can come with a high cost.
Stainless steel – This is another popular kitchen wall panel and is quite popular in the commercial kitchen scene. It is prized for its hygienic traits. It can be easily wiped clean.
It doesn't show any stains, and more than that, it can resist moisture, which is quite common in the kitchen. Take note though that this might not be suitable for overly formal or traditional looking kitchens.
PVC – PVC wall panels are cost effective and stylish and they are easy to install. If you're OK with a modern looking kitchen, PVC panels will work well for you.
They also come in a wide range of colors and designs so you can match it well with your main kitchen décor. And of course, they're very easy to clean as the dirt just slides right off when you wipe it down.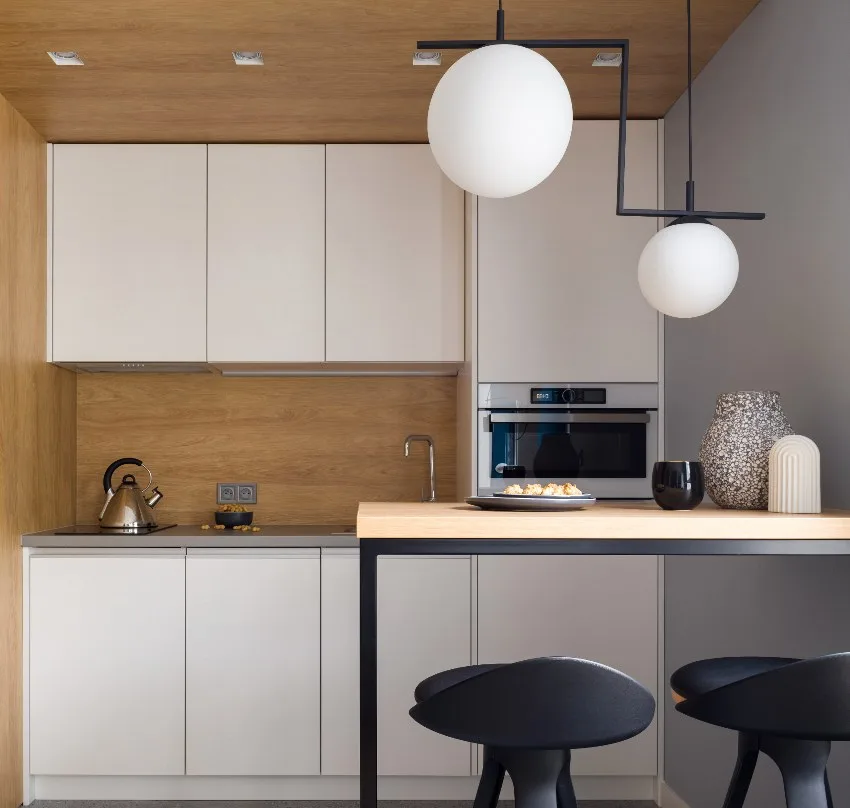 Wood – And of course, the most classic choice for kitchen walls would have to be the wood panels. Wood can be easily painted, stained, or even stenciled.
It comes up with something that can range anywhere from looking modern to looking traditional or ornate. It is also readily available and highly customizable so if you like to play around with the designs, wood panels are a great option to have for your kitchen walls.
If you want to add more character to your kitchen wall panels, visit our guide to painting wood paneling ideas here.