This guide to inset kitchen cabinets features their designs, pros and cons, cost, inset cabinet door styles & hinges, and their comparison to overlay kitchen cabinets.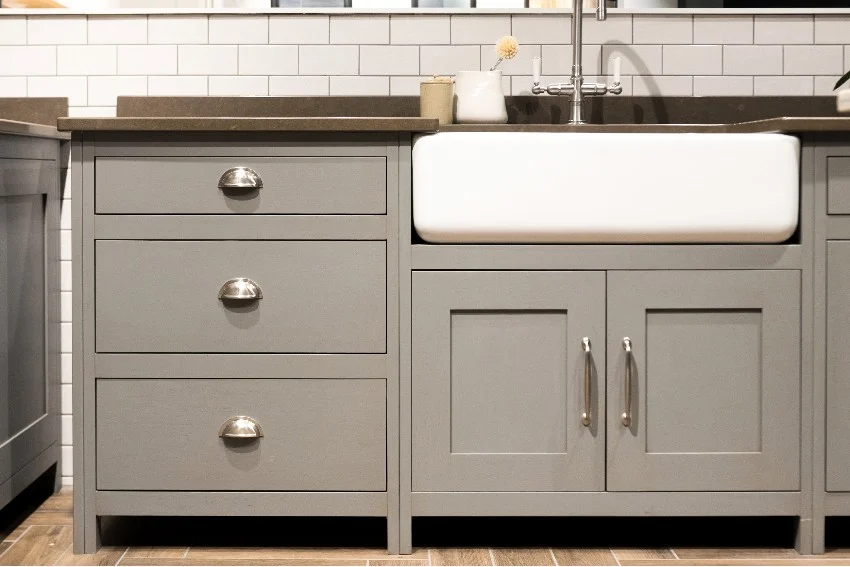 There are several reasons why inset cabinets are a suitable choice for your home. These kitchen cabinets are making a comeback and are one of the latest trends in home décor because of their design appeal, durability, and craftsmanship.
Inset cabinets integrate well with multiple styles and eras especially if your design preference leans more toward traditional, transitional, or even contemporary. This type of cabinetry can also be a wise investment, as this style adds value to the home. Inset kitchen cabinets are timeless and tend to look elegant and giving the space a luxurious feel.
What Are Inset Kitchen Cabinets?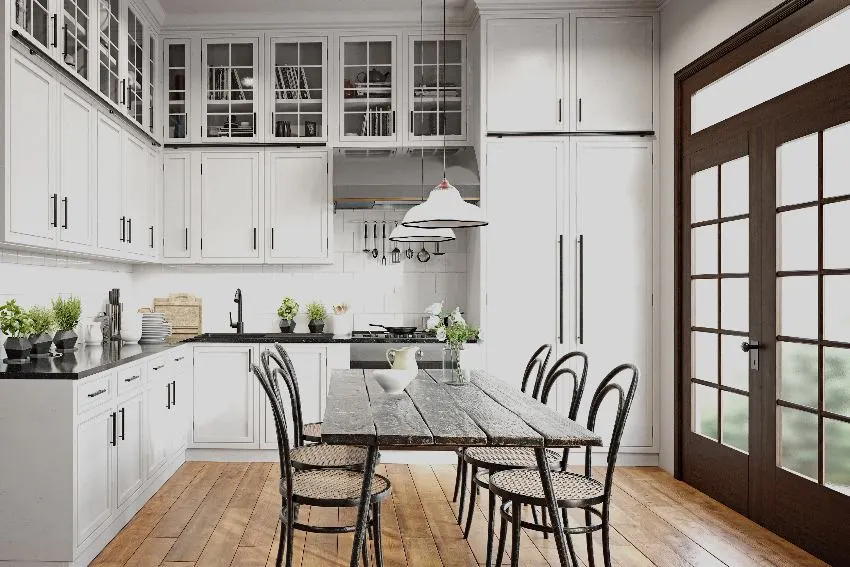 Inset kitchen cabinet doors are set into the front edge of the frame and fit seamlessly with the door frame. The inset construction gives the cabinets clean lines and a smooth appearance while allowing easy opening and closing of the doors.
These inset kitchen cabinets have tight, consistent spacing that looks elegant and sophisticated. Typically, the gap between doors and the frame measures around 3/32 inches.
Inset kitchen cabinets have two popular types of frame profiles – the standard construction of these profiles is the flush frames with square edges that create an even look to the face of the cabinet.
These flush inset cabinets have a door hinge completely hidden inside when the door is closed. It is also considered a concealed inset cabinet that is extremely popular because it is classier, and the hinge is hidden from view.
The other type of profile is the beaded inset cabinets as opposed to the flush inset kitchen cabinets. The hinges are sticking out from one side of the frame, and this visible single bead edge detail of the cabinet creates a more decorative element used to accent drawers and door fronts.
The beaded inset cabinets have a recessed lip around the frame. So, when the inset cabinet door is closed, these decorative hinges are left on the outside to add aesthetic value.
These flush inset cabinets and beaded inset cabinets are most likely to be framed inset cabinets. They are more popular than frameless inset cabinets due to their low manufacturing and installation cost. The frameless design is not so popular due to the extra cost that comes with it, but it requires excellent skills and a high level of workmanship, making it more expensive to manufacture and install.
Inset Cabinet Designs
Inset kitchen cabinet designs are ideal for those who love the look of an open cabinet and want their cabinetry to appear as one smooth, flat furnishing that gives their countertop a different appearance.
Inspired by the work of craftsmen and artisans of the Georgina and Victorian periods, inset kitchen cabinets provide a unique and nostalgic style that offers an edge detail that highlights fine craftsmanship.
Inset kitchen cabinets have recently seen a contemporary revival and have been adapted to fit the innovative designs of today's modern times. An inset kitchen cabinet works well in modern or transitional kitchen design.
The clean-cut lines and minimalist design on insets are becoming popular with designers and homeowners for their modern layouts. Inset kitchen cabinets offer a full view of the cabinet frame while taking up less space and making them an excellent choice for smaller kitchens that need to use the area thoroughly.
Inset Cabinets Vs. Overlay
Inset cabinets offer a timeless and classic character to kitchen cabinetry and add function and value to the kitchen area. They create clean lines and a fitted, smooth effect that can work with any style and give a more refined, elegant, and historic feel that even fits today's modern homes. It adds a feeling of custom craftsmanship and charm to the kitchen cabinetry.
Modern homes incorporate these doors for the cabinets since inset cabinets look streamlined and stylish. Inset cabinets consume less exterior space and are great for small kitchen as it provides more workspace.
Its opening is drastically smaller than the overlay type of cabinetry. Thus, access is limited even if the interior storage space remains the same.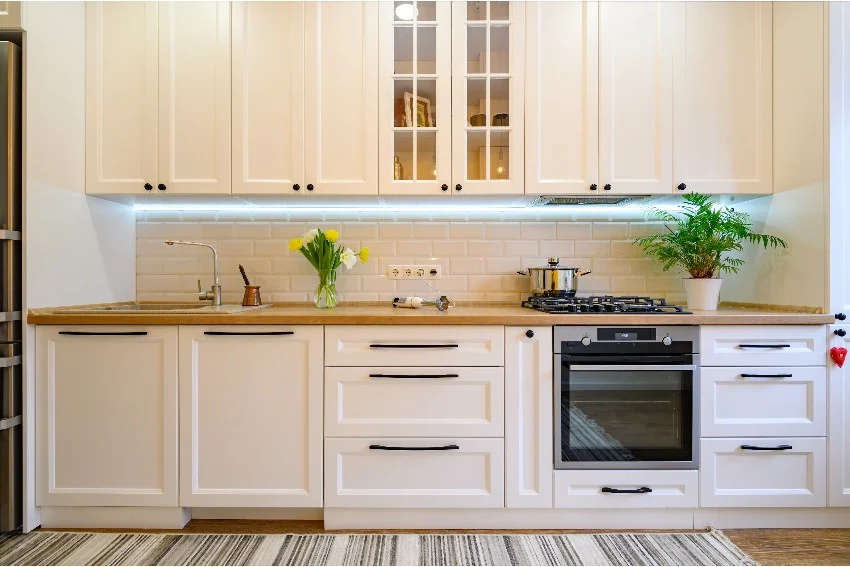 Overlay cabinet doors are sometimes called "reveal" doors and are a much more common style for kitchen cabinets. Overlay cabinets have doors larger than the cabinet face frame openings and come in two types: full overlay and partial overlay.
Full-overlay doors cover entirely up the cabinet frame, and the doors almost meet edge to edge when closed, resulting in a sleeker and tighter look. Full overlay cabinet doors are not set inside the cabinet frame, and double doors in full overlay cabinets come without the vertical stile on the face frame; therefore, they can provide more storage space than inset cabinets.
Partial overlay cabinet doors are more traditional, and the doors are usually installed with a 1-1 ¼ inch gap between the doors, allowing the face frame of the cabinet to be seen. Partial-overlay doors only cover up part of the frame giving the depth and dynamism of the cabinets.
With overlay cabinets, there are fewer issues concerning gaps, and the doors are also less likely to get misaligned since they do not have to fit inside the cabinet frame.
Pros And Cons Of Inset Kitchen Cabinets
One of the essential factors to consider about your kitchen cabinets is how the doors and drawers are framed. Inset doors are designed to sit flush against the face frame. To understand the option of inset cabinets, here are the advantages of inset cabinets which can help you decide if inset cabinet doors are suitable for your kitchen.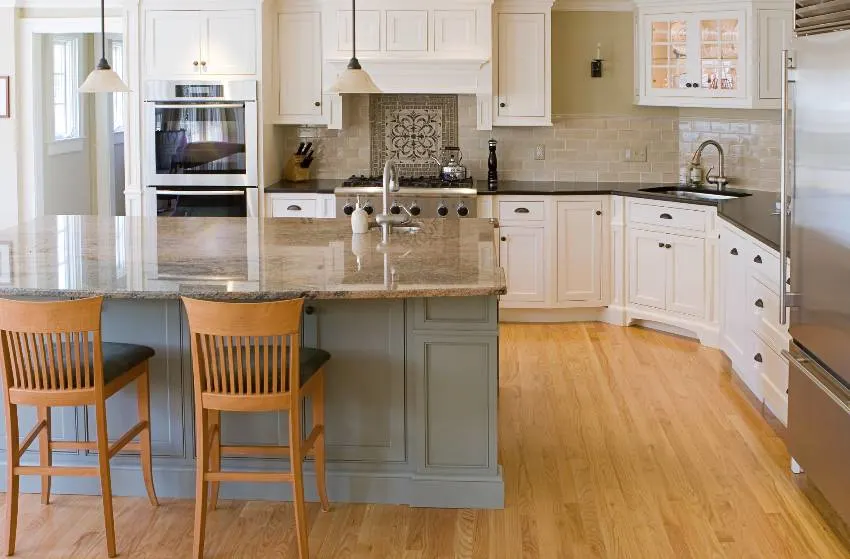 The Pros of Inset Kitchen Cabinets:
• Inset kitchen cabinets have minimal lines and a smooth front face, giving the cabinetry a clean look that fits seamlessly with the interior.
• They have become so fashionable due to their design flexibility. They can be adaptable and customizable in various ways with colors, finishes, and moldings.
• Features a low-profile design for a kitchen cabinet that creates a sleek and modern look.
• The corners of the inset kitchen cabinet doors won't be easily nicked because they're protected within the cabinetry when closed.
• Inset kitchen cabinets have a vintage charm that helps mimic a particular period style that is timeless and classical.
• The craftsmanship that insets kitchen cabinets require more skill to install and offers the best overall quality.
• Inset kitchen cabinets are durable, especially when made with a thicker cabinet face frame that creates a sturdier construction.
Although inset kitchen cabinets are an excellent option for many kitchens' design styles due to their versatility, they have a few drawbacks that every homeowner should be aware of and consider before making a final decision. It is essential to consider your resources, and if you're on a budget, inset kitchen cabinets may not be the best option for you.
The Cons of Inset Kitchen Cabinets: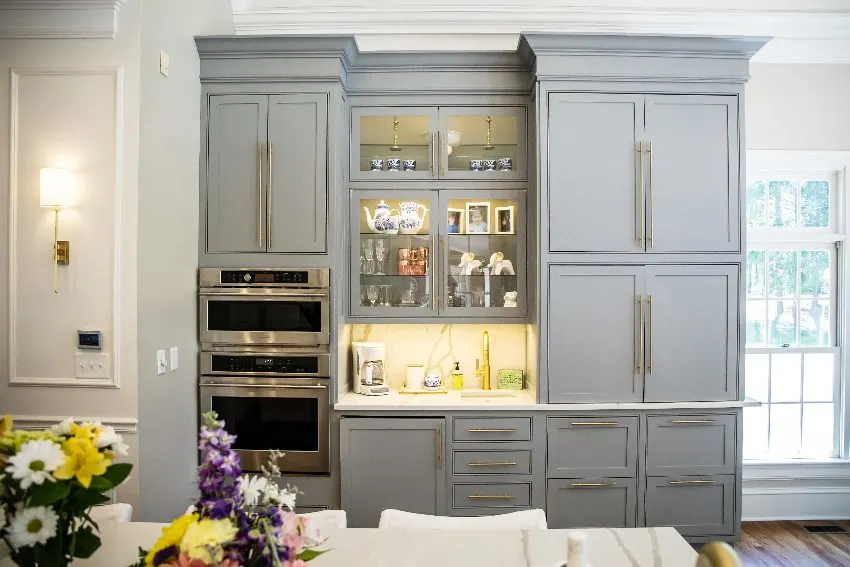 • Inset Kitchen cabinets have a 15 to 30 percent higher price due to their craftsmanship and require more time to make.
• Since the doors are inset, these kitchen cabinets have less storage space in both cabinets and drawers.
• Doors and drawers would need to be adjusted from time to time to maintain that clean, tight look.
• It requires more maintenance to keep the doors opening and closing properly.
• As the wood expands with temperature changes, the wood may cause to rub between the door and the frame when humidity occurs.
• The temperature change can also cause the gaps within the frame more noticeable.
• Inset kitchen cabinets do not work with modern interior design.
Inset Cabinet Doors
There are popular styles with inset kitchen cabinets variations – the most common are Shaker doors. This timeless classic kitchen cabinet door style features simple square indents that add a sleek modern design for an inset kitchen cabinetry. Since Shaker cabinets are assembled with 5-piece construction, this helps reduce warping during weather changes.
The second variant is the traditional style of raised cabinet inset doors, wherein the center panel is raised above the rest of the door. Although they do not fit flush with the face of the cabinet, they add dimension and detail to the kitchen cabinets.
Another is the mission style inset panel cabinet door which is more of a traditional design. It features a handcrafted, recessed panel with a built-in arched door front.
Hinges For Inset Cabinet Doors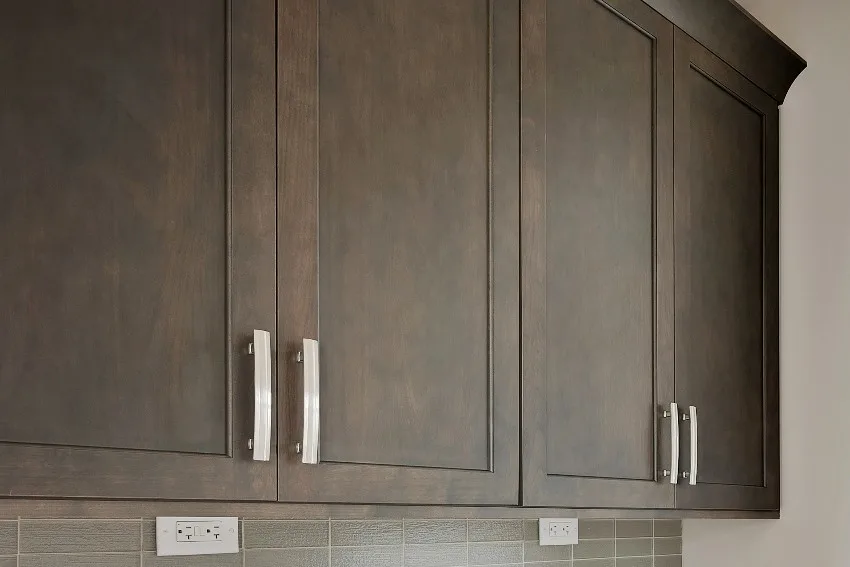 There are multiple options when it comes to hinges for inset cabinet doors.
European Hinges
These door hinges are entirely concealed inside when the door is closed. It is sometimes referred to as concealed hinges. It is classier and trendy among many homeowners because the hinge is hidden from view.
This type of concealed hinge matches modern and minimalist aesthetics. These hinges can have a soft close capability which offers an excellent opportunity for adjustments and support for heavy doors.
Surface Mount Hinges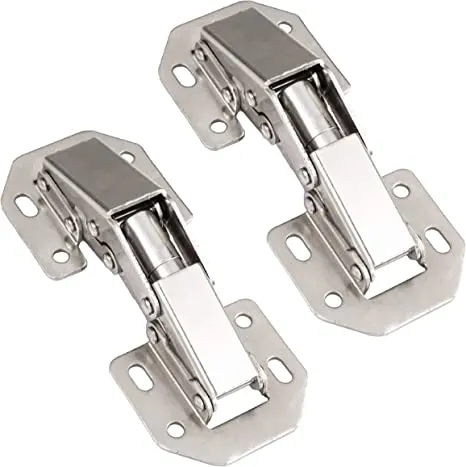 See this surface mount hinges at Amazon [Sponsored link]
Instead of the hinges being hidden from view, they are mounted to the outside of the frame and the outside of the door, making the entire hinge visible. In a creative sense, the visible hinges are used as decorative elements. So, when you close your inset cabinet door, the decorative hinges are left on the outside to add aesthetic value.
Butt Hinge
Butt hinges are made of two mounting plates called leaves and a barrel secured by a hinge pin. One of the plates is mounted to the side of the frame and the other mounting plate to the side of the door, with the barrel being visible between the door and frame.
Flush Hinge
This type of hinge is similar to a butt hinge but has a slimmer profile which takes up less space than a butt hinge, and its barrel is also visible from the outside.
Full Crank or Inset Hinge
This is another type of European hinge that is offset from the edge of the door so that the door can sit flush with the cabinet face when the doors are closed. It has a bend in the hinge arm and creates a sleek, flush look. Check out more types of kitchen cabinet hinges here.
Are Inset Cabinets More Expensive?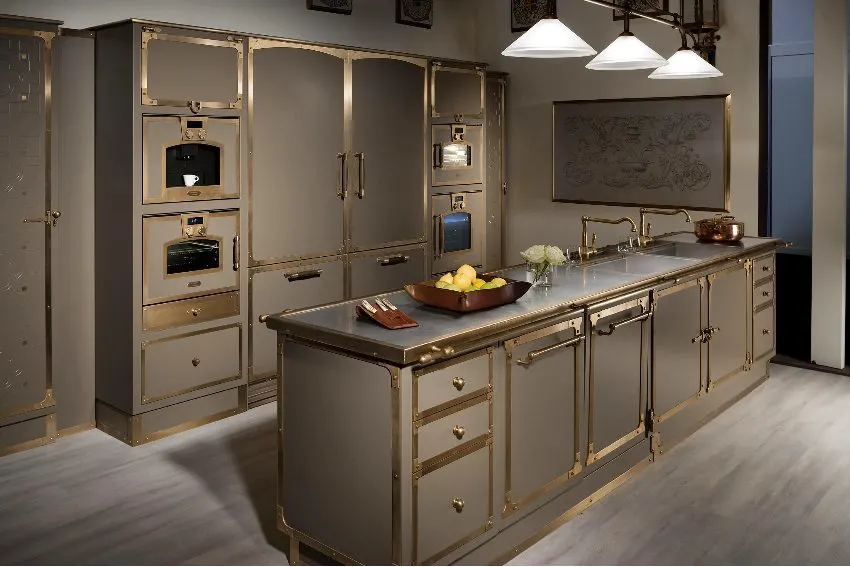 Inset cabinetry is more expensive than other cabinets since they require precise measurements and construction to fit perfectly inside the cabinet frame. The door and the frame should be the same height, and the gap should be almost undetectable.
The price of inset cabinets is between 15 to 30 percent more than overlay doors because the installation of doors and drawers is much more labor intensive. Another factor for the higher price is installing the drawer front on inset cabinetry, as it requires a little more work to line things up exactly right.
As more details are added to the construction of inset cabinets, the price also goes up. Here are some options to consider:
• Decide on what frame style to use – either a square inset face frame style or a beaded inset face frame style
• Decide on the number of drawers and interior roll-out drawers for the whole cabinetry.
• Determine how the visible cabinet ends will be finished – whether it be a simple flat panel cabinet door, a matching door panel, or a matching door panel set into a face frame.
• The toe-kick detail is also a factor to be considered.
• The paint or stain finish to apply will also add to the cost.
• The quality of knobs pulls hardware, and the types of cabinet door hinges will significantly affect the pricing. Remember that barrel hinges cost more than concealed hinges since traditional exposed barrel hinges require more time to install.
How Much Do Inset Kitchen Cabinets Cost?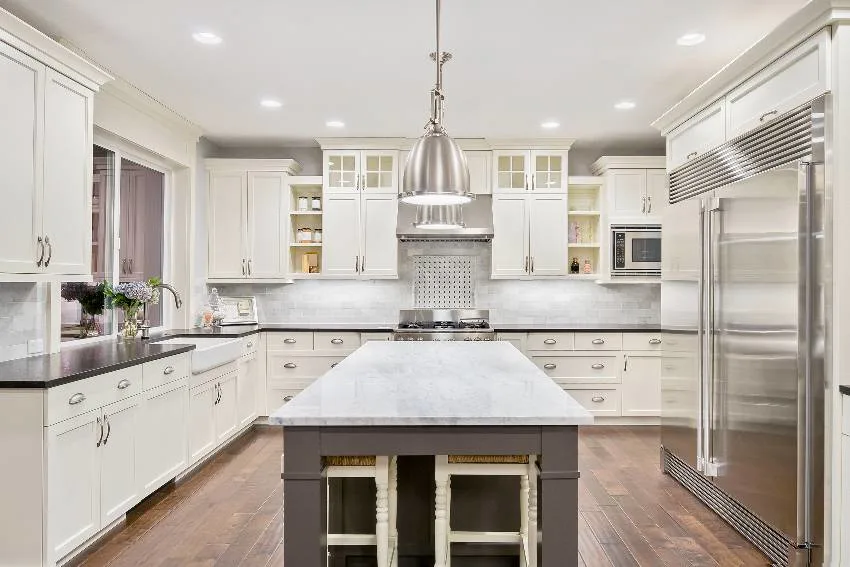 Since inset kitchen cabinets are typically considered a custom-built type of kitchen cabinetry that evokes fine craftsmanship thus, homeowners pay for the privilege. In most cases, the budget is one of the factors homeowners are carefully considering when they opt to have inset cabinets for their kitchen. Inset kitchen cabinets cost more than semi-custom cabinets and significantly more than stock kitchen cabinets.
Inset cabinets range from $150 to $1,200 per linear foot, similar to most other semi-custom and custom-made cabinetry. One must consider that inset cabinet take longer to install and expect to pay about 20% more for flush mounts than a similar traditional design with the same grade of materials.
Inset kitchen cabinets have a unique design where the drawers and doors have to be accurate and square; if not, the doors will never fit when closed. Both drawers and doors have to flush with face frame openings.
There is also the factor of hiring a professional installer with higher expertise for custom-built cabinets such as inset kitchen cabinetries, which will also increase the cost. The kitchen layout and the shape configuration, including the construction process, will affect the price.
While you will pay more upfront, inset cabinets offer customizable cabinetry that can match any home design style. Homeowners who prefer inset kitchen cabinets are those who desire unique custom-built kitchen cabinetry. They are the ones who have an eye for the exquisite and a budget to match their taste.
Do You Lose Space Using Inset Cabinets?
Inset cabinets are an excellent choice for homes that need to consolidate their space. But some homeowners argue that inset cabinetry provides less storage than other kitchen cabinet designs. The reality is that you don't lose space inside the cabinets.
The interior storage space remains the same. However, the opening is smaller and limited than full overlay and partial overlay types of cabinets since they do not have a center stile between double door cabinets.
The usual size of inset doors is 0.125 inches to 0.25 inches smaller in width and height because these cabinet doors are set inside the cabinet frame. Framed inset cabinets have a smaller opening space than the size of the cabinet due to the frame, while flush inset doors have a much larger frame that overlaps the cabinet box.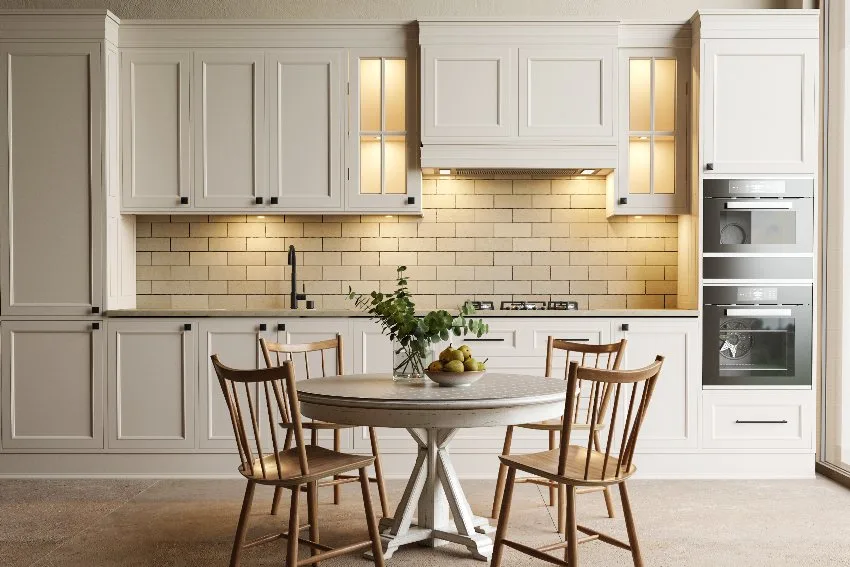 Inset cabinetry has a larger frame on the door's sides and in-between its double doors. For example, a 24-inch cabinet will thus lose about 9 inches for a cabinet opening.
The extra space in the cabinet is known as a reveal. The reveal should always be consistent on all sides, and to achieve the perfect inset door, the reveal should measure a 0.125 of 0.06. The doors and drawers of inset cabinets require 13 inches of depth.
This size of space will have room for the storage you lose. High humidity can affect the performance of inset cabinet doors, and certain moisture levels can affect how the doors settle.
To maintain inset cabinet doors' functionality, the rooms' humidity must stay between 30-55%. Inset cabinet doors must be adjusted to function correctly and maintain their clean, sleek look.
In conclusion, the striking aspect of inset kitchen cabinets lies in their design construction. Usually, this style is fully custom-built cabinetry reminiscent of a piece of furniture and attains a unique design style.
Inset kitchen cabinets offer personalized storage with a relaxing charm and are carefully made to fit perfectly inside the cabinet frame. It takes a skilled craftsman to build quality inset kitchen cabinets that can influence the feel of the entire kitchen area and create a space for gathering and entertaining with a flair of elegance.
For more related ideas, visit the different types and styles of frameless cabinets gallery.