This gallery of frameless cabinets includes what they are, how frameless cabinets & doors are constructed, different types, and comparison to framed cabinet designs.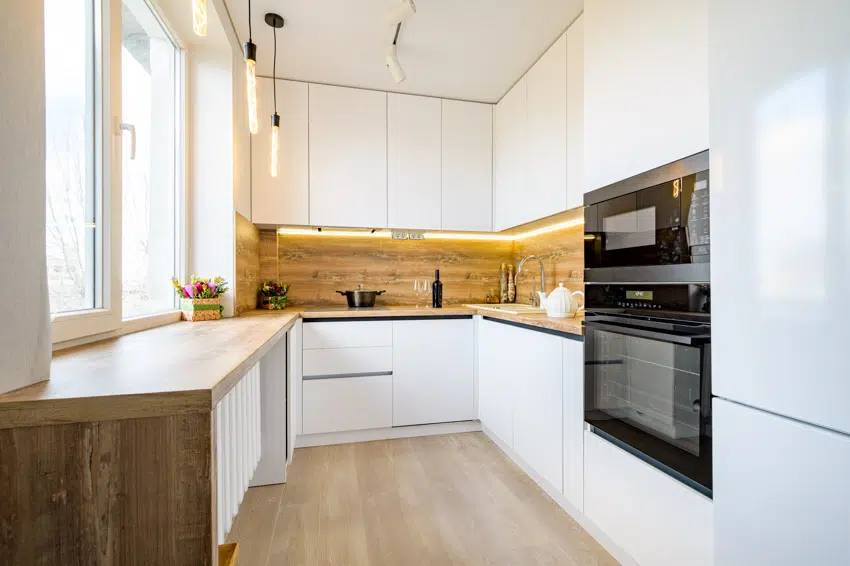 Whether you're building a new home or renovating your existing home, a kitchen's most significant design impact are the cabinets. Cabinets are typically made of wood, particleboard, or fiberboard covered with laminate, and some cabinets include glass doors. However, there's a growing interest in European-styled frameless cabinets, also known as Euro-style or contemporary cabinets.
Frameless cabinets are not a new design and have been offered in Europe for decades, but have taken the spotlight in the U.S. over the past 15 years. The durable construction and quality are the same for frameless and framed cabinets, but the methods and styles are distinctly different.
This contemporary cabinet style presents a sleek design and smooth look for the modern American kitchen. Read this informative guide to learn about this type of cabinet, their construction, styles, drawbacks, and comparison to traditional framed cabinets.
What Is A Frameless Cabinet?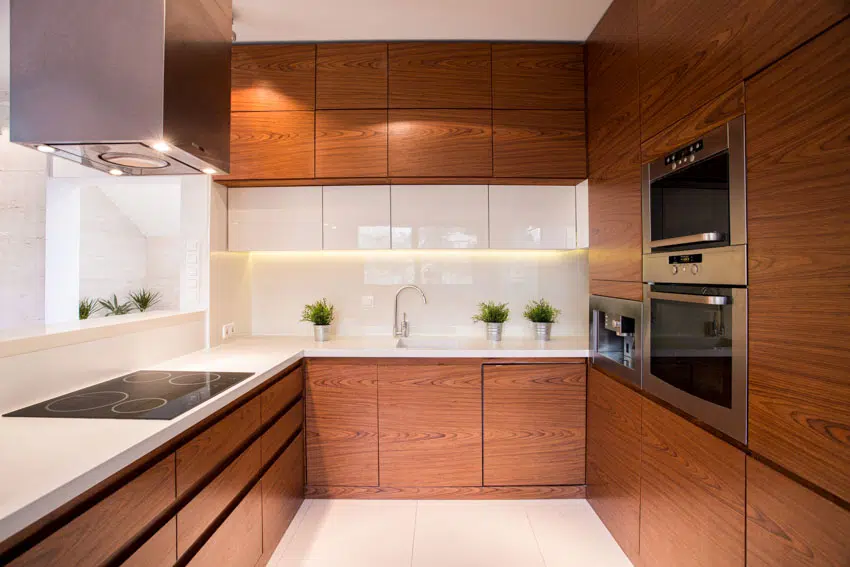 Frameless cabinets are commonly associated with slab cabinet doors; flat doors without any raised wood or design. But this type of cabinet is now made with traditional doors, including raised panels, arch panels, cathedral, and Shaker styles.
A frameless cabinet provides an elegant look for any room with the door edges and drawers aligned flush with the cabinet box. Using slab doors makes an entirely seamless design unable to achieve with framed cabinets.
The smooth, modern look of frameless cabinets offers a clean-lined style perfect for a busy kitchen with numerous countertop appliances, spices, and utensils a busy cook needs to create meals and discover new recipes.
Another benefit of frameless cabinets for the serious cook or chef is the lack of a face frame. The frame is mounted under the doors and creates a lip around the cabinet's opening. These cabinets don't have this lip, making it easier to store essential chef appliances such as juicers, bread machines, and restaurant-style food processors.
Frameless Cabinet Construction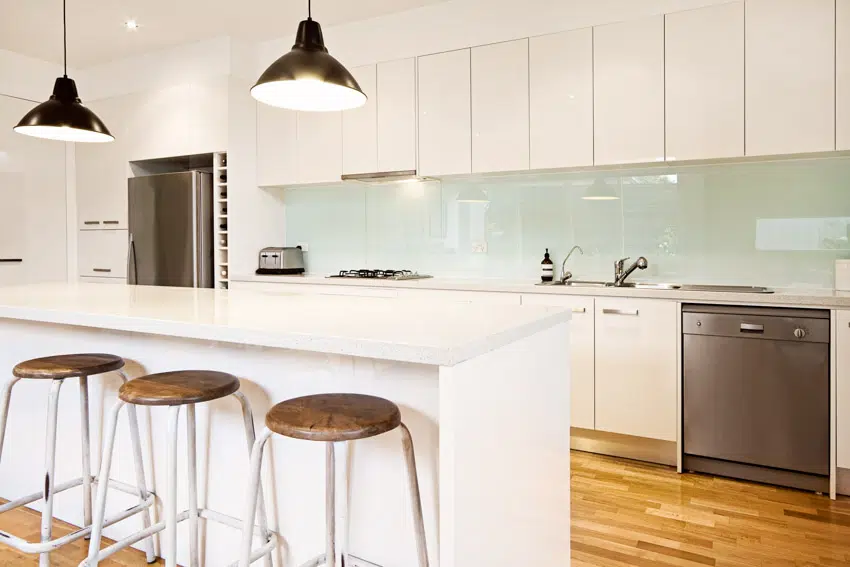 With frameless cabinets, the face frame is left off, leaving seamless contact between the door and cabinet box. The doors are mounted to the sides of the cabinet box, making the hinges invisible, resulting in a clean design. The cabinet box must be sturdy enough to handle the attached door; only full-overlay doors will work without a frame.
The construction methods for these cabinets allow for more flexibility. This cabinet style can offer both a traditional and modern design style depending on the material, finish, and configuration.
And they provide more flexibility than framed cabinets. Without an inside edge that projects into the cabinet opening, these cabinets provide easier access and a larger opening for storing platters, cookware, and appliances such as slow cookers.
Framed cabinets require a frame and a center stile to support the frame and doors, making access more cumbersome. These cabinets don't need a center stile and are often referred to as full-access cabinets.
Frameless Cabinet Doors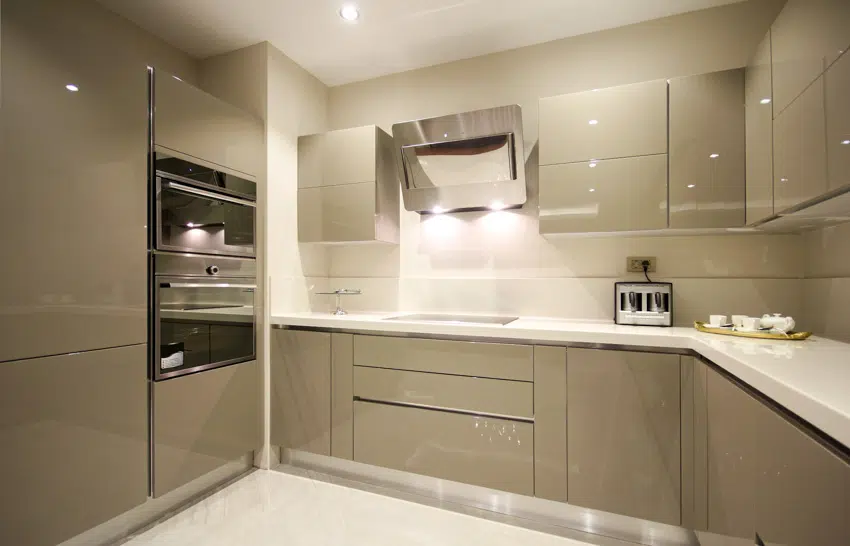 A frameless cabinet door is also called a slab door, referring to the flat, solid construction without a frame around it. This simple door construction and style look even more contemporary with solid color and a high-gloss finish.
Frameless cabinet doors are made without contours that add the look of a raised or recessed finish and are very popular when installing frameless cabinets.
Frameless Kitchen Cabinets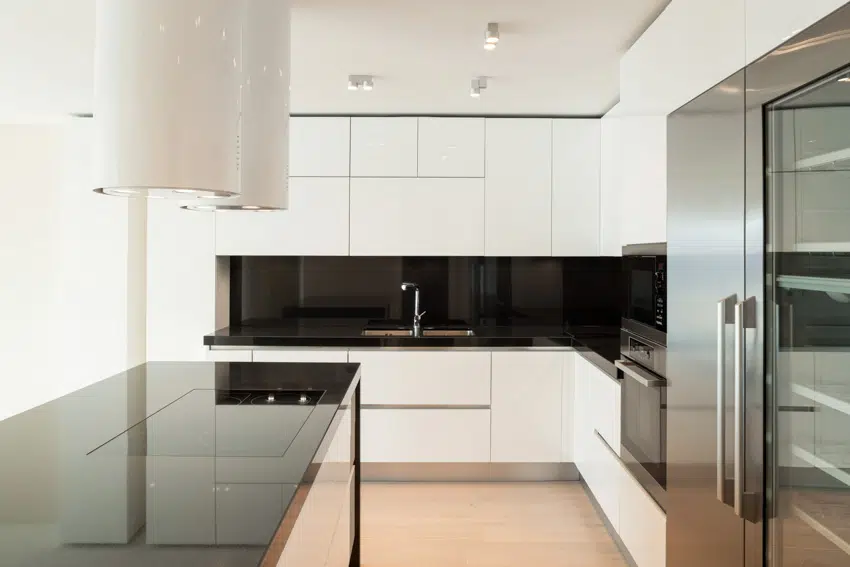 Frameless kitchen cabinets offer more storage, up to 15% more than framed cabinets. They're perfect for smaller kitchen layout dimensions that need more cabinet space and drawer space.
Their clean-lined style, especially when paired with slab doors, provides an unassuming style for a simple kitchen design. However, there are other options for these types of cabinets to match your desired kitchen style.

Frameless Shaker Cabinets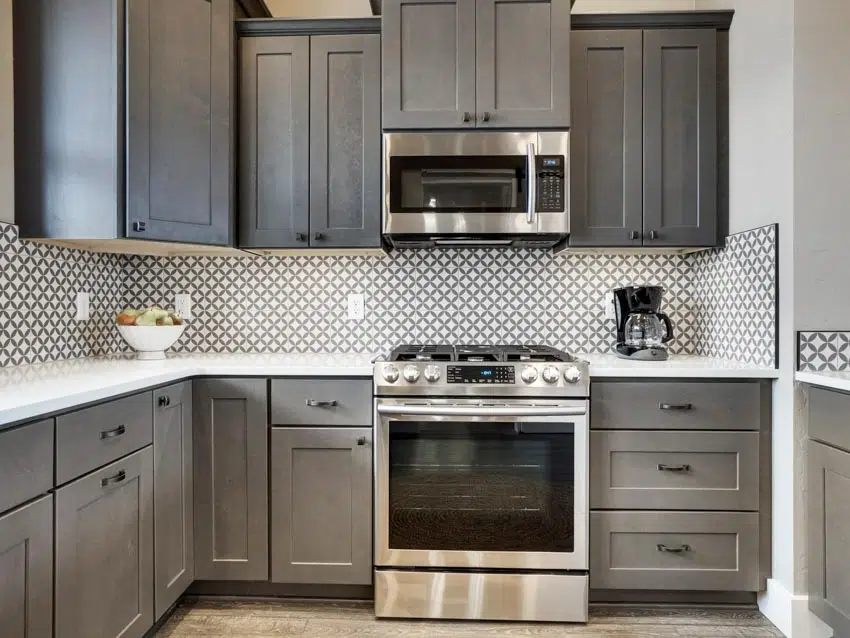 Shaker cabinets originated with the Shakers, a religious group from Manchester, U.K., touting simple living and simple furniture, including cabinets. Frameless Shaker style cabinet doors are made from cope-and-stick construction with recessed panel doors and clean edges.
Cope and stick doors are made with a frame joint forming a 90-degree angle at each corner and provide extra support to prevent slab doors from warping due to humidity.
European Frameless Cabinets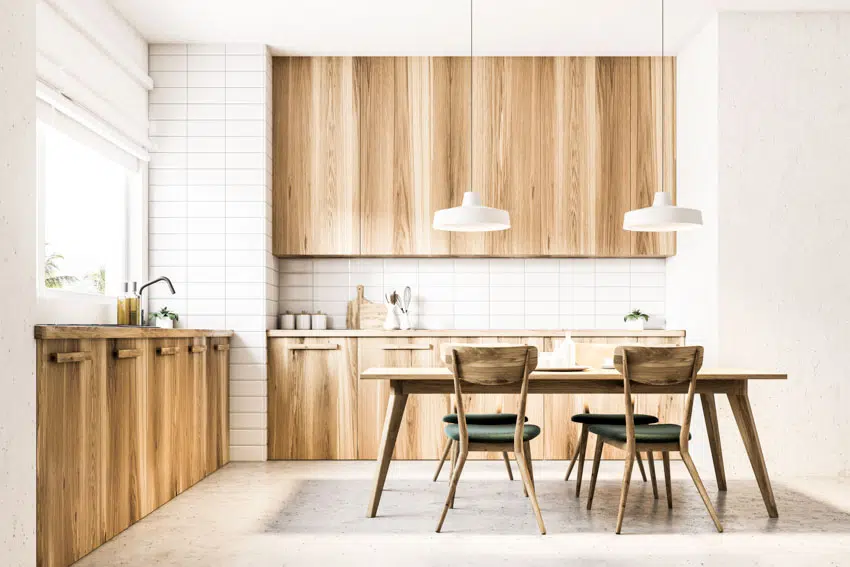 European frameless cabinets offer a minimalist style and work well for the contemporary kitchen. They have no frame around the cabinet box, and the hinges are attached to the sides of the box, creating a simple design.
European cabinets without any frame can be left with a plain slab cabinet door or fitted with doors that have raised or framed surfaces.
Frameless Inset Cabinets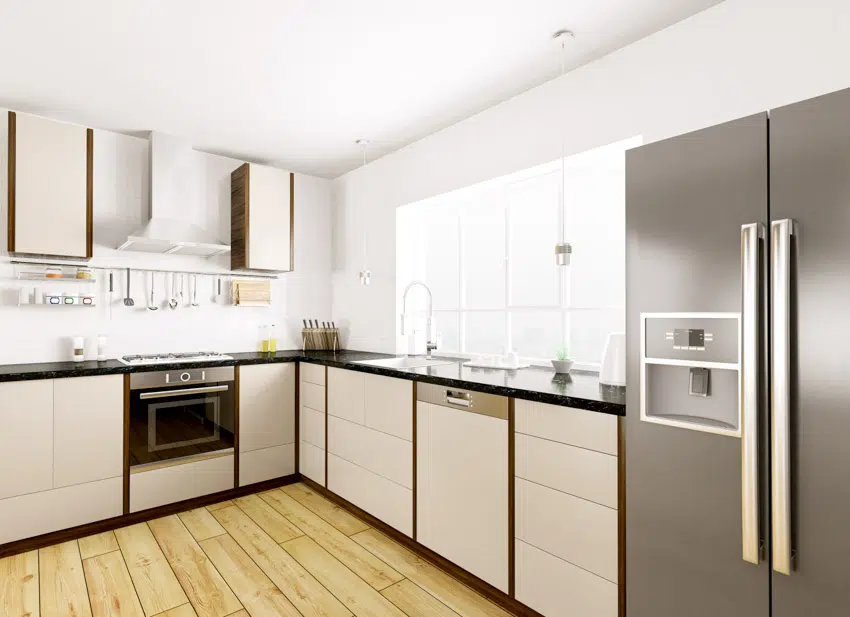 Frameless inset cabinets are often used by high-end interior designers and cabinet makers. The cabinet doors and drawer fronts are inset; they're placed inside the door opening.
By constructing these as a frameless style cabinet, there is no room for error—the door has to be adjusted and aligned perfectly in order for it to open and close properly. Inset cabinets require more maintenance to keep the doors aligned.
Frameless RTA Cabinets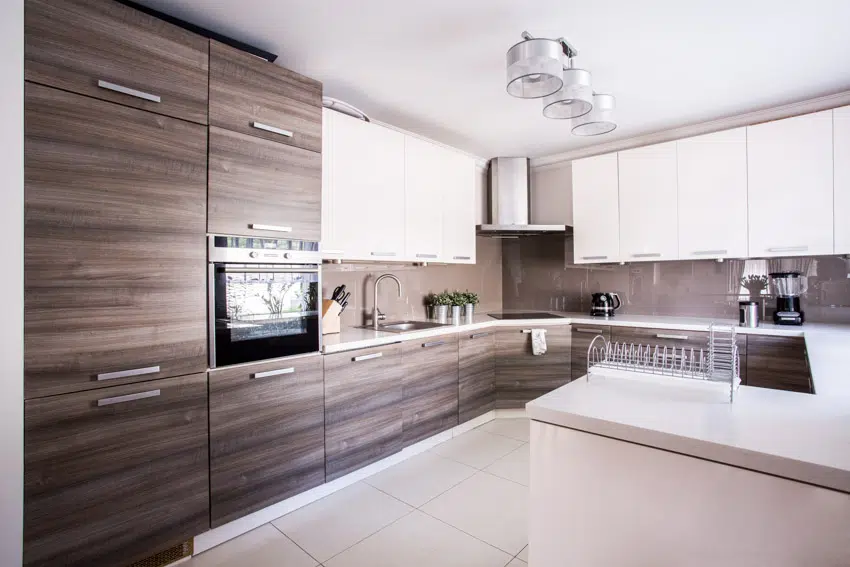 Frameless ready-to-assemble cabinets (RTA) are much easier to assemble. The design eliminates gaps between the doors and cabinet fronts and requires fewer parts and screws. Putting these cabinets together is more intuitive and offers less opportunity for incorrect or crooked assembly.
Problems With Frameless Cabinets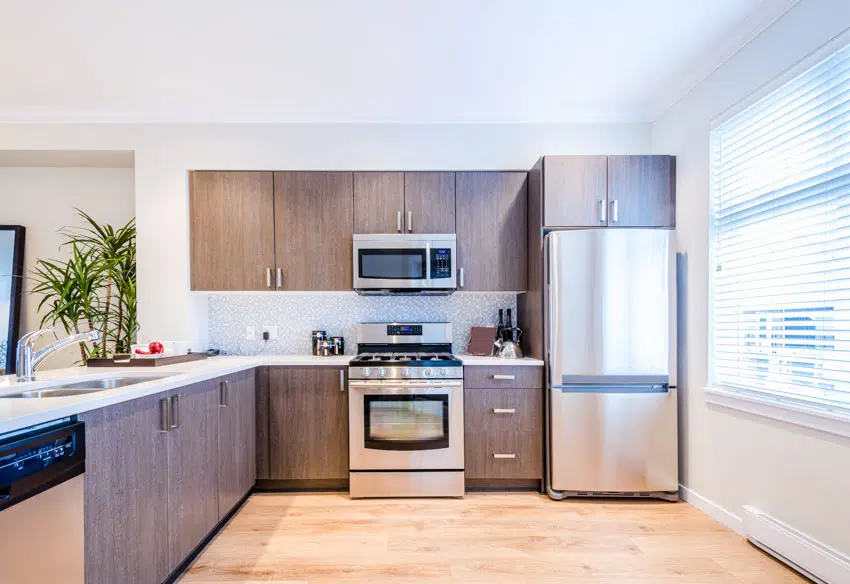 Frameless cabinets come with drawbacks and problems not found with framed cabinets. Because the hinges are attached to the side of the cabinet box, they may become loose and need constant adjusting.
This is especially true for cabinets manufactured from recycled and mixed materials instead of solid wood. Hinges that become loose or out of line will cause cabinet doors and draw fronts to be out of alignment.
Unless these cabinets are made as RTA for DIY homeowners, they will be more challenging to assemble and install. Manufacturers design frameless RTA cabinets to be DIY-friendly to avoid a complex installation.
The face frame found on framed cabinets reinforces the sidewalls where they're mounted. Frameless cabinets, being attached directly to the cabinet box, may not be as sturdy.
Because this cabinet style have become trendy and popular, they're priced higher than framed cabinets. Although they contain the same amount of materials as framed cabinets and are no more difficult to manufacture, their demand drives the prices higher than framed cabinets.
Framed Vs. Frameless Cabinets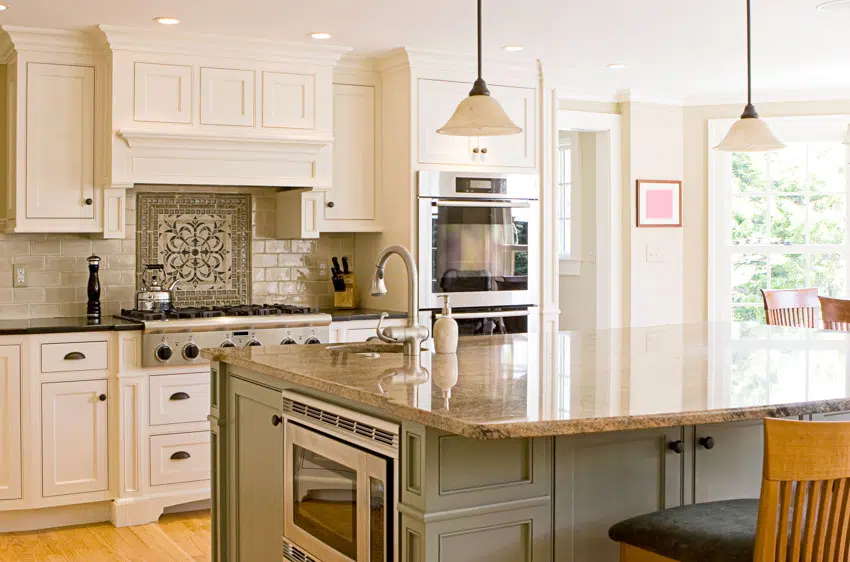 Framed cabinets offer sufficient space for larger cabinets and provide the traditional look cabinets have been known for including options for decorative hinges, door design options, and glass door inserts.
The construction methods for framed cabinets include a frame made from rails and vertical support in the middle of two cabinets called the stile, making framed cabinets sturdier.
The frame also reduces racking, an alignment issue that occurs, making the cabinet box out of square. When a cabinet racks, the doors, and drawers will not be aligned anymore.
Framed cabinets also create a classic look and numerous style and design possibilities not always available with frameless cabinets. Framed cabinets can accommodate countless door and drawer styles that include various materials, surface textures, and embellishments.
Frameless cabinets may be somewhat limited versus framed but offer the unique and stylish look of European design, catering to the homeowner who prefers the simplicity of their look. Kitchens that get a lot of use and foot traffic do well with these cabinets, allowing for busier décor and more practical access to kitchen tools and appliances.
Although this kind of cabinet carries a reputation for not being as durable as framed cabinets, a bit of maintenance goes a long way to keep them aligned and functional.
Additional benefits of these cabinets include their full-access design allowing them to be mounted without doors and used as open-shelf storage. Shelves are also easier to place in this kind of cabinet without having the center stile in the way.
Face Frame Vs. Frameless Cabinets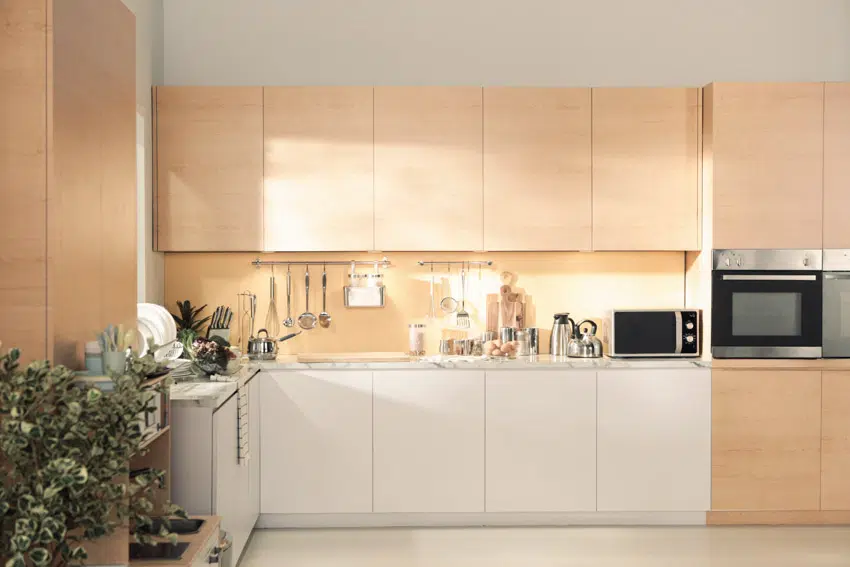 The main difference between face frame and frameless cabinets is the omission of the face frame between the door and cabinet box. The face frame is constructed using rails at 90-degree angles on all four corners and creates a gap between the door and drawer fronts and the cabinet box.
Face frames prevent racking and make the cabinet stronger and less likely to need adjustments. Frameless cabinets require more care and precision when installing them to ensure straight lines and angles.
Frameless Cabinets Vs. Full Overlay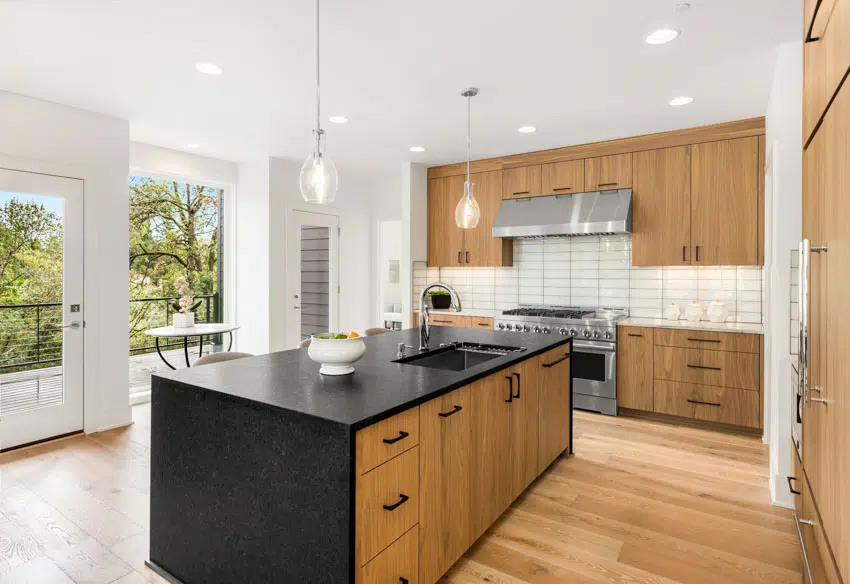 Frameless cabinets are slightly different from full overlay cabinets. Full overlay cabinets reveal ¼ or ½ inch of the cabinet face between the doors, adding a traditional look and style. They're easier to install and are less expensive.
Frameless cabinets are tightly aligned, showing none of the cabinet face. Part of the extra cost for these cabinets includes the difficulty in aligning them properly as there is no space between the doors and drawer faces and the cabinet face. these cabinets only offer the full overlay style and typically cover the entire cabinet box front.
In conclusion, frameless cabinets are the best option for a minimalist design and style with a contemporary, clean look. These cabinets also offer more functional advantages, such as being easily assessable and providing more storage.
If you prefer the European influence of frameless cabinets, there's no better way to bring this modern look to your home than to install these sleek cabinets in your home.
See more related content in our article about matte kitchen cabinets on this page.