See if wood tile backsplash is best for your kitchen including what it is, different types, materials, their pros and cons, and the best design styles.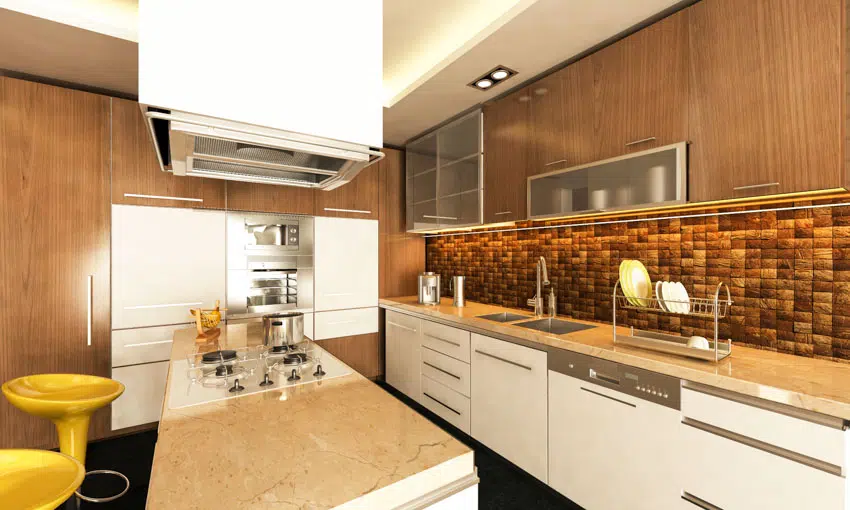 An authentic wooden backsplash made from wood is not a practical choice in the kitchen because of its vulnerability to moisture. If you choose a wooden backsplash, you will have difficulty maximizing its use since you have to be careful about liquid splashes and splatters, which you can never avoid. You will end up having a backsplash with moisture damage, and worse, a rotting one.
This is the reason why when it comes to building and designing a backsplash, tiles are considered a common choice for many homeowners. Tiles come in a variety of colors, shapes, and even textures, and when it comes to aesthetics, anything can be made into tiles. And yes, that includes wood!
If you want to make the most of the awesome characteristics of tiles but would want the natural feel and aesthetics of a wooden backsplash, the only option you have is to choose a wood tile backsplash. And to solidify this decision, exploring the world of wood-like tile backsplash is the best place to start.
What Is Wood Look Tile Backsplash?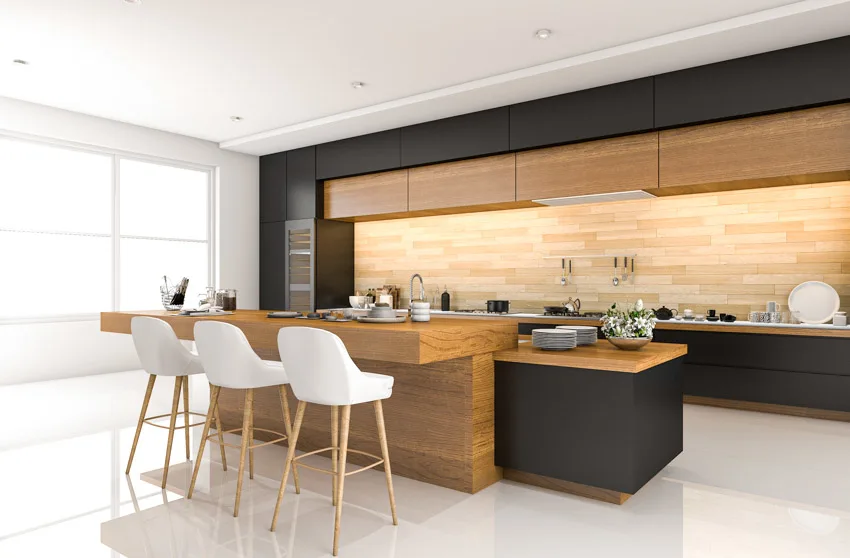 A wood look tile backsplash simply refers to a backsplash made of tiles with an appearance of wood. You get the best of the two materials, which are the durability and flexibility of tiles and the stunning and elegant aesthetics of wood.
And the best thing about this tile backsplash is that it looks and feels like real wood that no one will really notice the difference unless they are experts. The details on the tiles are simply too precise that you get the same feeling and vibe when you're looking at authentic wood.
This wood-look tile is the result of advancements in technology and manufacturing. And it is the ideal material to consider for your backsplash if you're set on benefiting from the elegant and rustic aesthetics of wood without having to suffer from the drawbacks that usually come with the said material.
Here are some of the advantages from choosing a wood look tile backsplash for your kitchen:
• A variety of options to choose from: Wood tiles come in different sizes and shapes, even mosaics and other unique trims and styles, rather than just being limited to traditional sizes and shapes. This means you have more freedom to style and design the backsplash however you want.
• Can be installed in any room: It can be installed in your bathroom or kitchen and you won't have any problem with moisture since the material you're using is tiles but only with the aesthetics of wood.
Moisture is a problem you will encounter if you have an authentic wooden backsplash but not with a wood-like tile backsplash.
• Low maintenance: Wooden backsplash is a stunning addition to your home but the material is usually vulnerable to fire, water damage, staining, scratching, and even denting.
With wood tile types of kitchen backsplash, you won't have this problem since tiles are durable, fire-resistant, waterproof, and resistant to staining, scratching, and denting. They are also very easy to maintain compared to authentic wood that will require you to re-seal and re-stain the material every year or every few years.
• Easier cleaning: This kind of backsplash is strong enough to tolerate disinfectant cleaners and stringent solvents that would usually damage real wood but won't compromise tiles.
• Flexible for outdoor use: This backsplash can be used for your outdoor kitchen since it can stand weather elements and won't be breaking, cracking, and splintering due to weather changes. This backsplash can easily take freezing and extremely hot temperatures easily.
• Highly sustainable: If there's an increase in demand, an authentic wooden backsplash can create a problem in deforestation.
And some of the chemicals (sealants, finishes, and stains) used on the wood can be harmful to the environment including air pollution, and cause possible health problems, especially for people with compromised immune systems.
Types Of Wood Tile Backsplash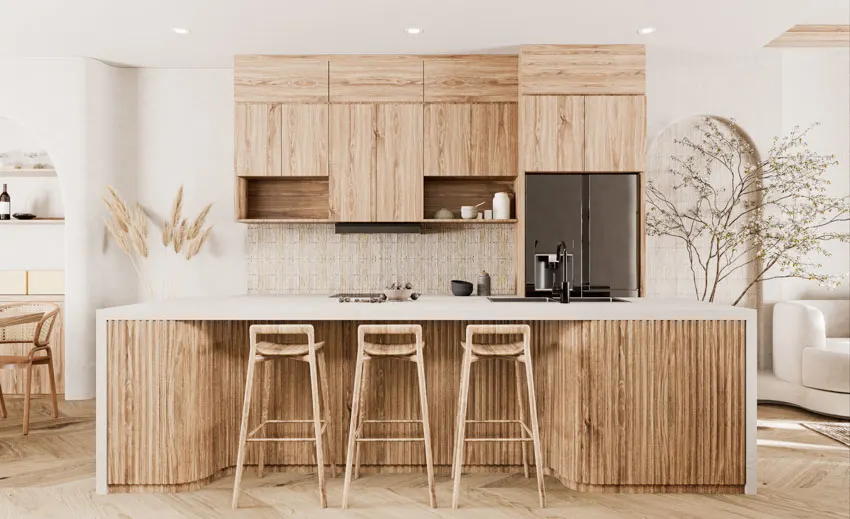 Tiles are known for their flexibility and wide range of options, based on colors, patterns, textures, and styles. And with the introduction of wood look tile to the market, many consider this an opportunity to actually integrate wood elements into the home without spending too much.
With a wood-look tile backsplash, you get to have the best of both tiles and wood. Wood-look tiles are popular since they offer the durability and flexibility of tiles and the stunning aesthetics of wood.
The tiles can also come in different wood styles, from the usually sophisticated plank with a parquet finish to a tile with a reclaimed wood texture look. And they also come in a variety of types you can choose from once you decide on a wood tile backsplash.
Since there are several options to choose from, you can compare them against each other and match them with your needs and the sprucing up you're envisioning for your kitchen or bathroom.
Porcelain Wood Tile Backsplash
Porcelain is a durable but more expensive material for tiles compared to its ceramic counterpart. Porcelain tiles can come as etched, textured, and glazed, depending on what you choose.
The most popular version resembles hardwood planks, which can be a good option if you're going for the traditional aesthetics of wood.
Porcelain is guaranteed to be water-resistant, which is what makes the material a great option for bathrooms and kitchens, which are areas usually exposed to moisture.
It's also a good material for high-traffic areas and outdoor applications. This is why porcelain wood tile backsplash, whether installed outdoors or not, is a good match.
Some of the benefits you can get from porcelain backsplash are the following:
• Highly durable and can tolerate wear and tear and heavy foot traffic
• Less prone to chipping and breaking
• Resistant to moisture and mold growth
• Basic cleaning involves a broom, vacuum, or a damp mop, whichever may be needed
• Increases the resale value of your home
The drawback with porcelain backsplash includes the following:
• Higher price compared to other types of tiles like ceramic tiles
• Requires an expert for the tile backsplash installation since porcelain is more difficult to cut and would need a diamond blade wet saw for it.
Ceramic Wood Tile Backsplash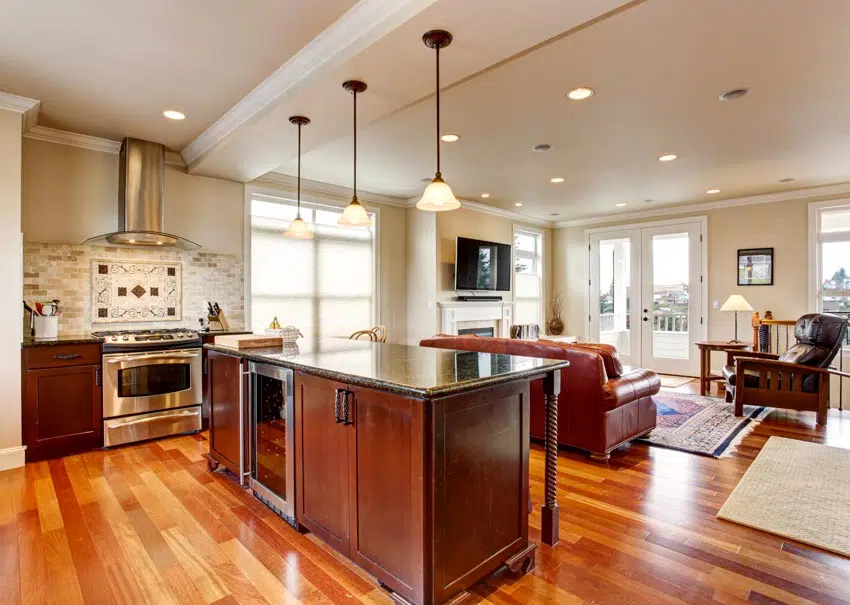 If you're not that fond of porcelain, you can try a ceramic wood tile backsplash instead. It offers the durability of ceramic and the warmth and welcoming vibe of wood. Ceramic tiles are great for wall designs, both in the kitchens and bathrooms.
There are also a wide variety of wood styles and aesthetics to choose from, including but not limited to the following:
• Sophisticated parquet tile shapes

• Hardwood planks with wood grain and texture
• Boasting boards with subtle vintage lace top imprint
• Different finishes: walnut, black burn, oak, and white
• Can integrate floral or pretty scrolled details
More than the selection of wood patterns and styles, there are other benefits to using this backsplash to take advantage of, including:
• Can boast stunning antique wood effects that come at more affordable prices
• Made to last for a lifetime
• More affordable option compared to porcelain tiles
• Resistant to moisture but not entirely when compared to porcelain
• Easier to DIY and customize
• Same with porcelain, easy to clean (using vacuum or broom) and maintain (resealing grout every few years)
• Resistant to staining
For the disadvantages that come with using ceramic backsplash, you can expect the following:
• More chipping compared to porcelain because it is less dense and softer
• Not compatible for outdoor installation since ceramic can crack when exposed to heat and frost over time
• Chipping or other possible damage will be noticeable and visible on the tiles
Distressed Backsplash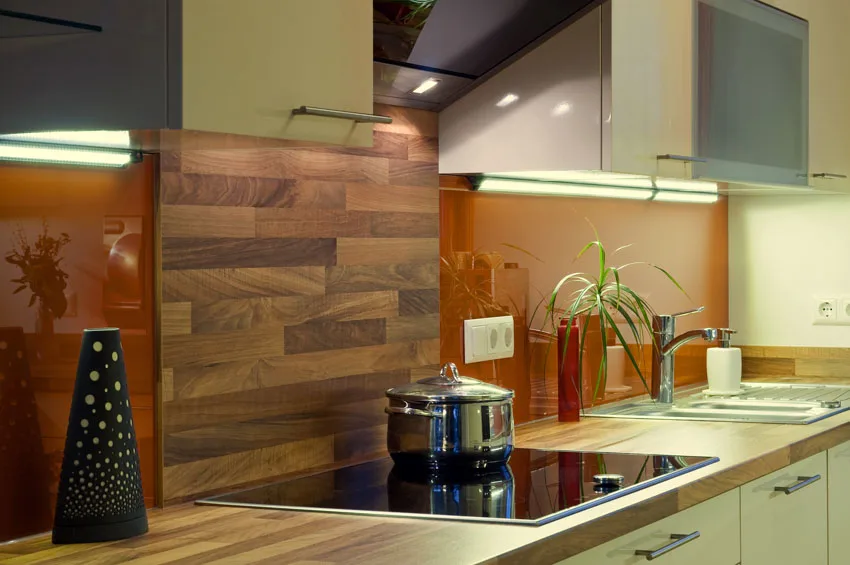 A distressed wood involves the combination of reclaimed and salvaged timber and wood that looks to be a product of old boats, railway sleepers, and other pieces of furniture. When it is applied as a style, it looks antique and naturally haunting.
And let's face it, an old wood, while stunning in aesthetics, especially with its rustic vibe, can be scary to use when it comes to quality and durability. But this won't be the case with distressed wood look tile since they won't technically be distressed wood but only look like one.
Distressed wood offers stunning aesthetics that can add texture and elegance to a room. But it will be difficult to make a backsplash out of it. This is the reason why distressed wood look tiles would be a better choice for a backsplash. You get the haunting aesthetics of distressed wood with the durability of tiles.
Since it's not really wood, a distressed wood look tile won't have issued with moisture like other wooden backsplashes would normally have. But the gnarled wood effect will remain and look haunting in your kitchen.
Herringbone Backsplash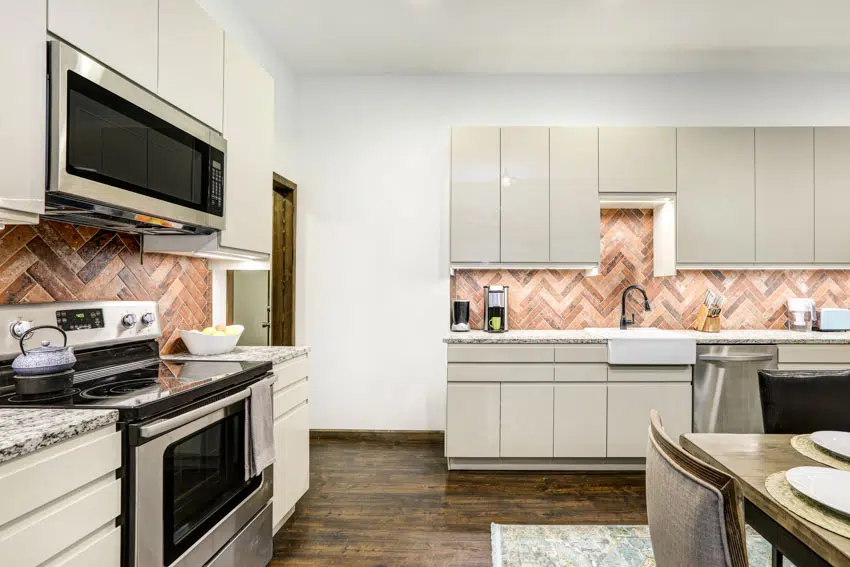 Herringbone is a tiling pattern that looks like a fishbone with a form of a broken zigzag. This style, while unique, is actually a classic that has stood the test of time and has become timeless. It is a style that's highly popular for kitchen setup, specifically backsplashes.
While this style is normally associated with tiles, wood look tiles give you the opportunity to combine two aspects that are usually not associated with each other – wood and herringbone style.
A herringbone wood tile backsplash protects your wall from food and water splatters in a unique wooden style. More than just the rustic vibe of wood, you also get the unique and trendy style from the herringbone tile pattern. This backsplash is the perfect pairing of function and aesthetics.
Wood Look Subway Tile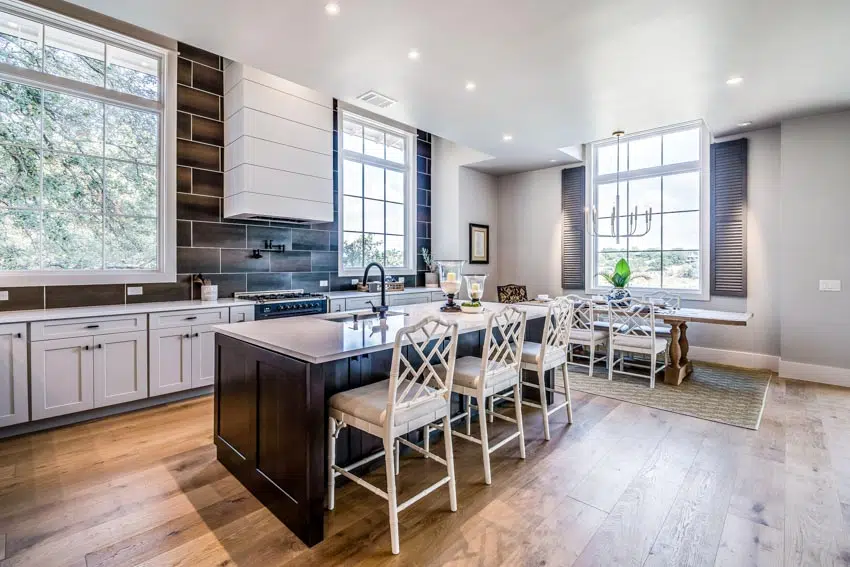 Subway is a tiling style that's been in existence since 1904 and the reason for its name is because this is usually seen in the walls of the subway stops on the New York City line.
The underrated classic look of the subway tile became a timeless trend that you can choose whenever you hit the fancy, especially if you are sprucing up your kitchen. And with the addition of wooden aesthetics in the mix, your kitchen will be a whole lot more interesting.
A wood-look subway tile kitchen backsplash can easily be paired in different styles and vibes. Its aesthetics thorough is one of class and elegance.
Wood is all about a rustic and elegant vibe and putting these wood-like tiles in a subway pattern brings it a unique and special appearance that your kitchen may want to take advantage of.
Peel And Stick Backsplash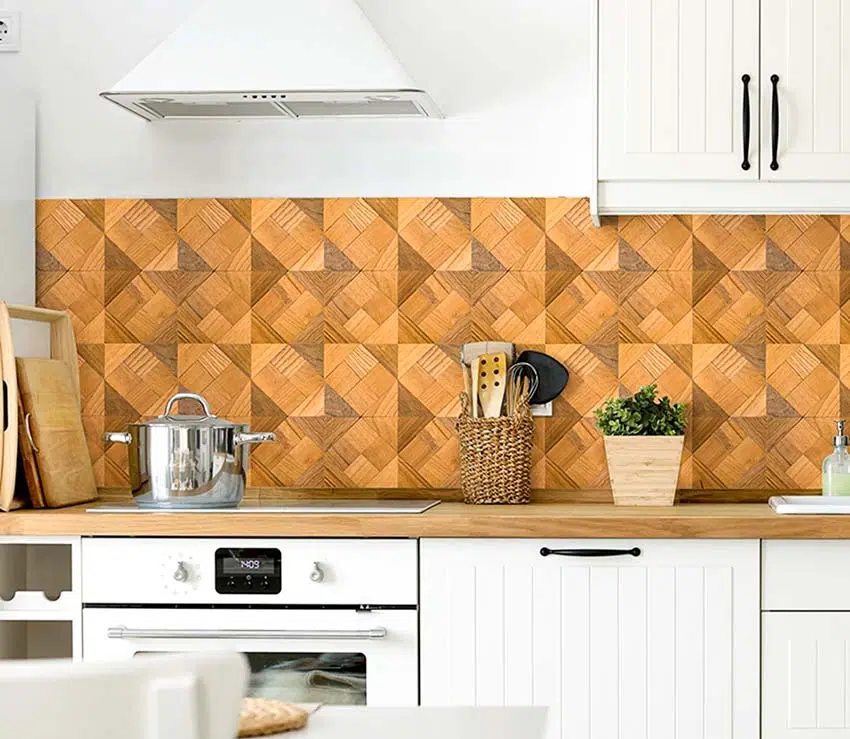 See this peel and stick backsplash at Amazon [sponsored link]
Peel and stick wood tile backsplash is another option to consider if you want to integrate wood in your kitchen without suffering the repercussions of moisture and water damage. Compared to other types, a peel and stick backsplash is more convenient and affordable to use.
Here are some benefits you will experience with peel and stick wood tile backsplash:
• Easy and simple installation process
• Durable yet affordable
• Easy workability since you can easily cut the vinyl tiles as needed and you won't need any special cutting tool for it
• Wide variety of colors and patterns to choose from
Like all other options though, there are also disadvantages you will have to consider when you choose this backsplash.
• May be cheap-looking in some cases
• Don't have depth and may be low quality compared to other options
• The messy adhesive on the backing
• Possible issue with moisture during installation
Backsplash Kitchen Designs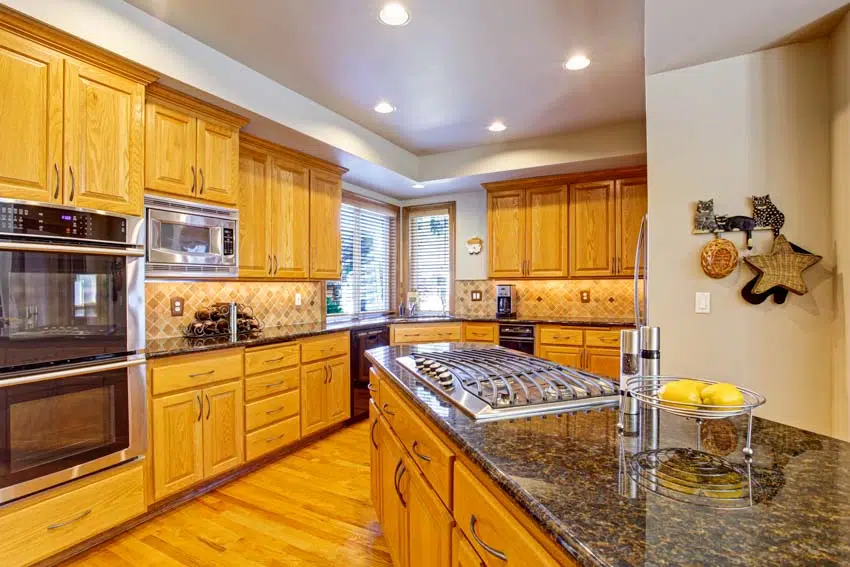 Porcelain and ceramic tiles are the most popular options for backsplash and they can be the ideal choice for wood tiles. If you're thinking about possible designs, you need to take into account several factors to make sure that your choice is the best one.
You need to consider the general style and ambiance of the entire kitchen, the color palette used in the area, and the materials and pieces of furniture installed in the kitchen.
For recommendations, here are some options worth exploring:
• Full-on wood style: backsplash and countertop pair
• White backsplash and grey tile countertop
• Dark backsplash, white painted kitchen cabinets, and sleek white marble countertop
• Black granite countertop with white backsplash
• Rustic backsplash in long planks paired with dark-colored quartz
See more related content in our article about frosted glass backsplash on this page.