See if Formica kitchen countertops complete with color options, sheets, materials such as marble and wood, paint, cost, durability, and cleaning tips.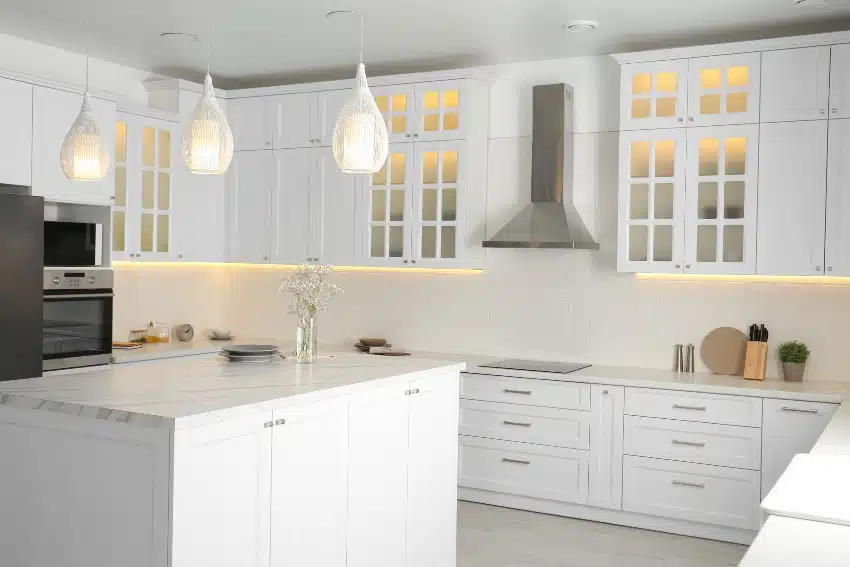 Planning your kitchen countertop design can both be taxing and fun at the same time. The fun part is choosing the type of countertop that will meet your vision and plan for what your kitchen will look like. However, there are many options to explore that make it challenging to settle on the best one.

If you're looking for something unique and different, you can check out Formica kitchen countertops. These countertops deliver many advantages that you need to explore before you commit yourself to adding them to your kitchen.
What Are Formica Kitchen Countertops?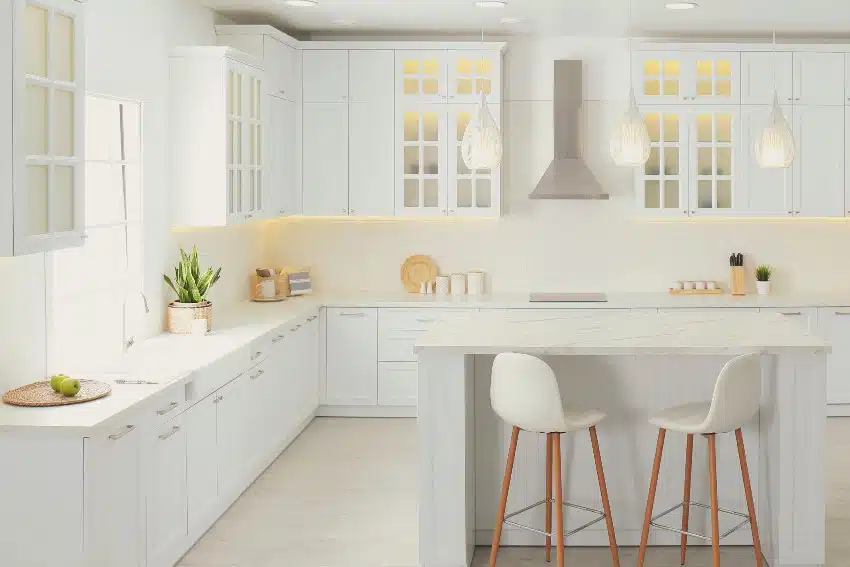 Formica countertops are made from plastic layers that are glued on a solid countertop surface, which can either be kraft paper or particleboard. They're available in a wide selection of patterns and colors, and some designs mimic the appearance of natural materials like wood, stone, and stainless steel.
Formica countertops are considered legendary as a brand and type of countertops. Formica started out as a brand name for a specific countertop but due to its popularity, people started referring to it as a generic type of countertop until it turned into just that. The brand was created in 1913 as a replacement electrical insulation but delved into tabletops and countertops in 1937 using a barrier sheet the company patented in 1927.
Formica countertops became so popular that by 1950, you can find the laminates everywhere, including the walls of the Queen Mary ocean liner, passenger train cars, and finally new homes. More colors and textures have been introduced in the 1960s and 1970s. Today, the selection comes in a wide variety you can even get them in patterns that mimic natural materials.
Formica countertops are created starting with resin-soaked paper and placed in the oven to dry out, adding thickness and strength to the paper. The patterns and designs are then added through high-grade prin paper with clear melamine resin to show the pattern.
Hydraulic rams apply 800 to 1,500 pounds of pressure every square inch on stacks of resin-soaked paper. The resin liquefies and spread as it is pressed heat and then bonds all the layers together in the process.
The resulting product is then trimmed and sanded after getting pressed until what you get is what you usually see in the market. This entire process is what makes Formica durable and strong to be used for kitchen countertops.
Benefits of Using Formica for Your Countertops
Formica kitchen countertops can be an amazing addition to your home and there's actually a reason for their popularity and it's because of the many advantages that they can offer, including the following: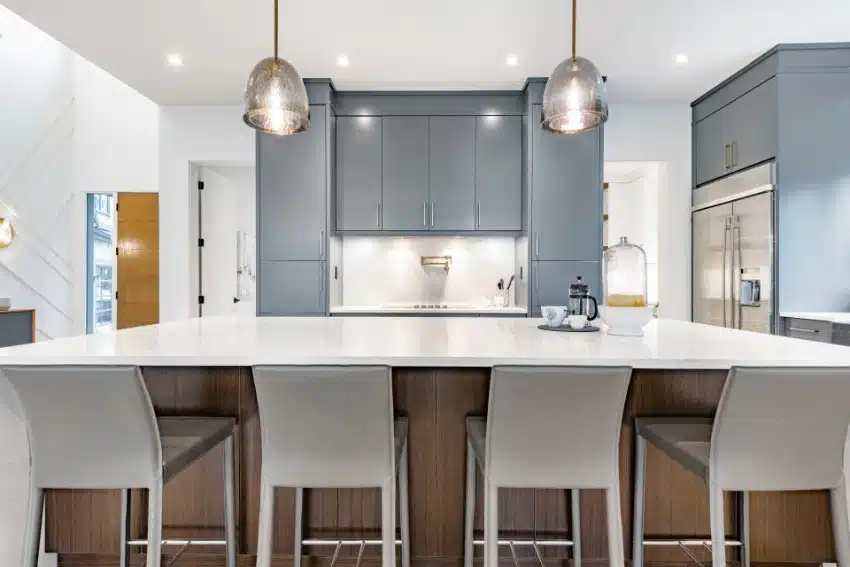 • Lightweight – This is one of the best advantages of Formica countertops compared to standard stone countertops. Since they're basically made of paper, they are naturally lightweight and won't be difficult to handle.
• Incredibly durable – Because of how Formica countertops are created, they become extremely durable and resistant to both heat and scratches. These features make them a great option for kitchen installation.
• Affordable – Formica countertops are considerably more affordable compared to natural stone countertops like marble or granite. And since they're easy to install and also easy to maintain, they can be considered cost-efficient.
• Clean and adaptable aesthetics – These countertops feature a clean and finished look that can be matched and added to your kitchen, whatever style you have in the area.
• Easy to install – Since Formica countertops are lightweight, they are easier to install and you won't need the help of a professional just for their installation.
• Easy to clean – When taking care of your Formica countertops, you won't need special cleaners just to do the job. A mild soap will do to make sure that the surface won't be damaged by harsh cleaning solutions.
• Many options to explore – Formica countertops come in different designs, patterns, colors, and textures so you will definitely find the look that you're looking for. You also have the option of choosing an appearance similar to other materials like wood, granite, marble, and quartz.
Formica countertops, while offering many advantages, may not be ideal for everyone. Some of the drawbacks you can experience with these countertops are the following:
• Not trendy – Formica countertops were popular in the past but they might not have as much impact today. Some may even refer to these countertops as dated and won't look that good in a modern kitchen.
• Vulnerable to sharp objects – While incredibly durable, Formica countertops are still susceptible to damage, specifically when you use a knife or set hot items on the countertop. They become more vulnerable as they age so make sure to consider that.
• Less aesthetically pleasing – Formica countertops may be flexible in patterns and designs but they are still no match with authentic natural stones and wood, not just in terms of the aesthetics and vibe but most especially the value.
Formica Countertop Colors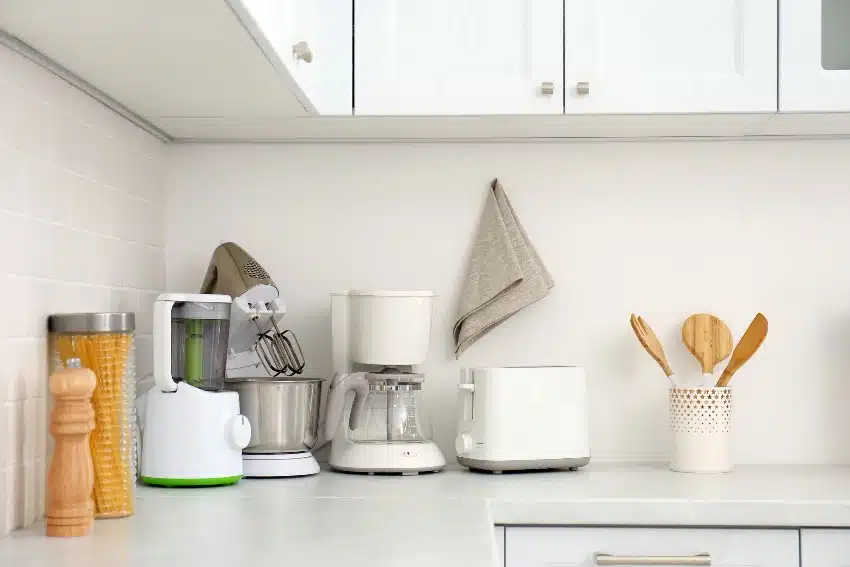 Formica countertops can be an affordable option for your home, especially when compared to granite and quartz. These countertops are popular not just because they are sturdy and have great quality but also because of the mixing and matching of solids and graphic patterns, along with finishes.
Here are some stunning color options you can explore:
White Formica
This is a classic and safe option as shades of white work well to keep a kitchen space feeling bright. These shades are a good choice especially if you don't have a specific color in mind. For stunning and elegant white countertops, Formica White Ice Granite and White Shalestone are both great choices.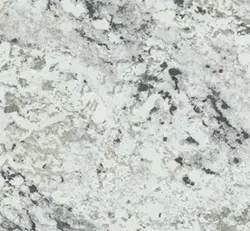 Formica White Ice
If you want something similar to marble, Formica Neo Cloud, Formica Calacatta, and Formica Carrara Bianco also work well. These countertops usually have a dominant white base with subtle veining – mostly gray with different undertones).
There are also a variety of solid Formica colors to choose from if you want something that looks less like granite or marble. Brite White (459) Sail White (463)
Black Formica
For a bold and eye-catchy color option, black is an ideal choice. You can check out Formica Black Shalestone and Formica Basalt Slate.
One of the most popular black Formica countertops is Formica Jet Sequoia because of its high-end black backdrop with subtle white and gray veining and high-gloss finish as a cherry on the top. Graphite (837) is another popular shade that can give a darker contrast to your white cabinet kitchen cabinets.
Gray Formica
This color option is another safe shade to consider and since it is known as the true neutral, you won't have a hard time matching your countertops with other elements in your home.
You can look in Formica Paloma Dark Gray for a darker shade of gray and Formica Silver Quartzite for a lighter option. You can also go for Formica Soapstone Sequoia for a dominant warm gray color mixed with beige and cream veining. Graystone (464)
You can skim through hundreds of colors to consider for your kitchen countertop and to be honest, going by them one by one will be exhausting. Simply choose a color that will look stunning in your kitchen and stick with it.
Formica Sheets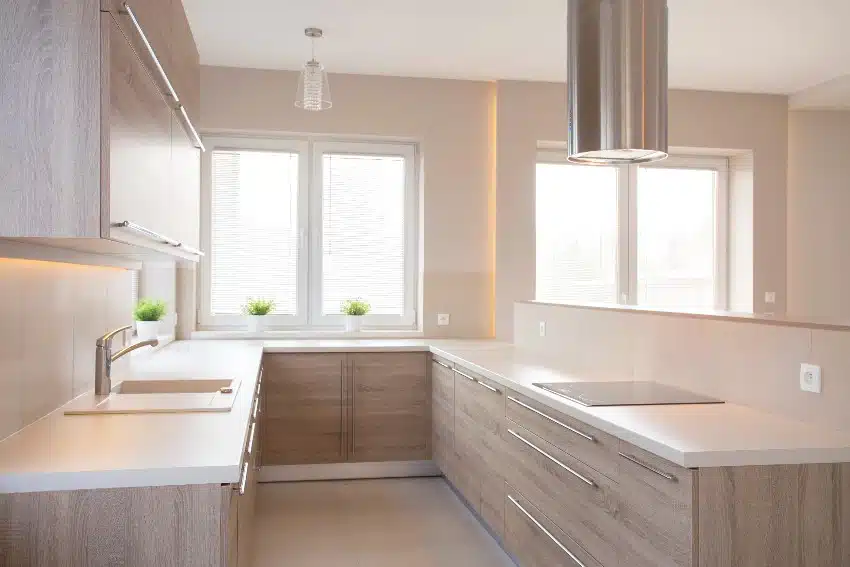 Formica usually comes in sheets because of how they are created and formed in the first place. The laminate sheets are high-definition, delivering optical clarity that can easily characterize and showcase realistic stone veins and wood grains.
If you will be creating your own Formica kitchen countertop, it means that you will be working on laminate sheets. And depending on the thickness of the Formica sheets you've chosen, you can get a durable and heavy countertop or a thin and quite vulnerable one. At the end of the day, these Formica sheets are built to be strong and durable so you won't have to worry about it.
Formica Marble Countertops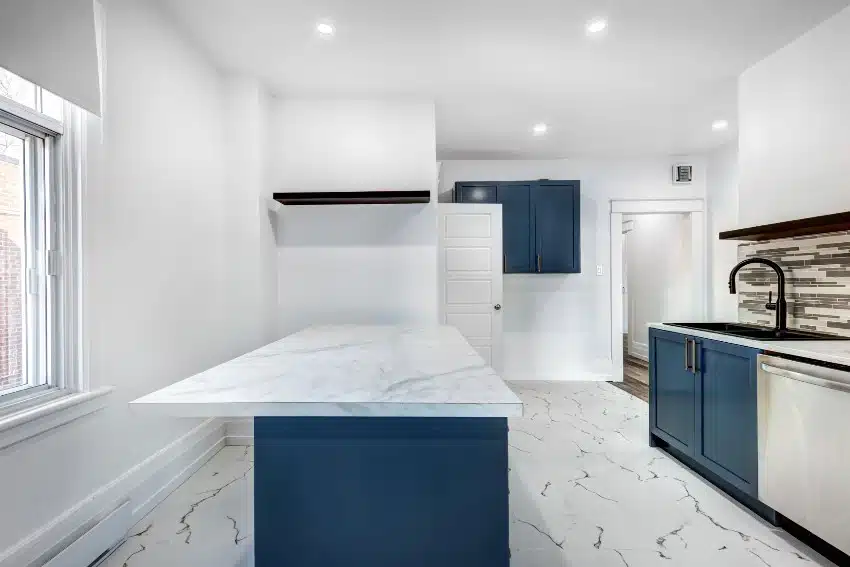 The evolution of Formica gave way to the use of new printing technology that made modern laminate countertops the way they are now. This allows the production of laminates that feature patterns, designs, and textures mimicking natural materials.
Marble is one of the most popular designs used for Formica countertops, in order to mimic the elegant and luxurious look that marble countertops add to the kitchen.
The best thing about getting Formica marble countertops is that you get to enjoy the aesthetics of authentic marble without having to pay for the costly price of the said natural stone.
Formica Calacatta Marble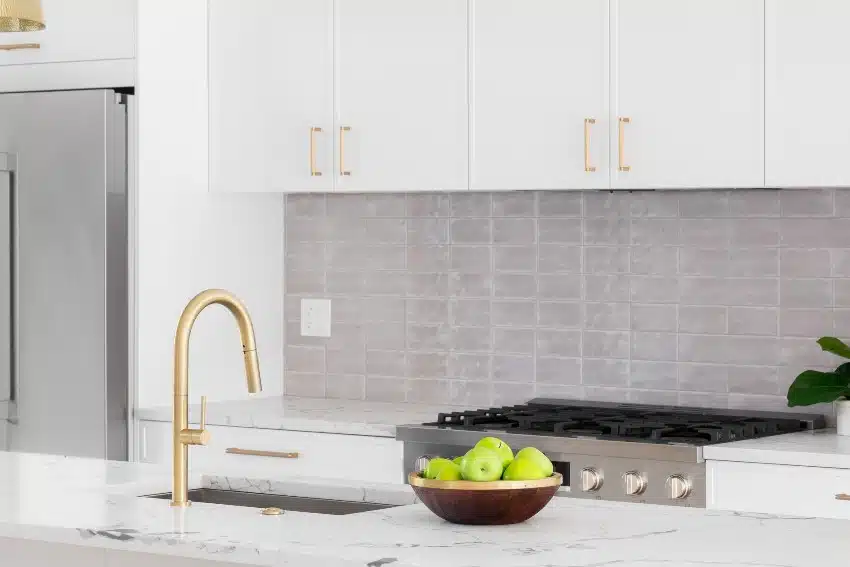 One of the most popular Formica marble offered in the market today is the Formica Calacatta marble laminate. This specific marble look can work in a classic style kitchen but can also easily add elegance to any type of kitchen.
Formica Calacatta marble laminate countertop showcases the expensive aesthetics of authentic Italian marble without having to pay for the high value of the material. In addition to that, they are also a lot easier to maintain so they're definitely more affordable and cost-effective to choose from.
If you're going for a Formica Calacatta marble countertop, you can pair it with white cabinets, gray cabinets, or navy blue/blue-green cabinets.
Formica Wood Countertops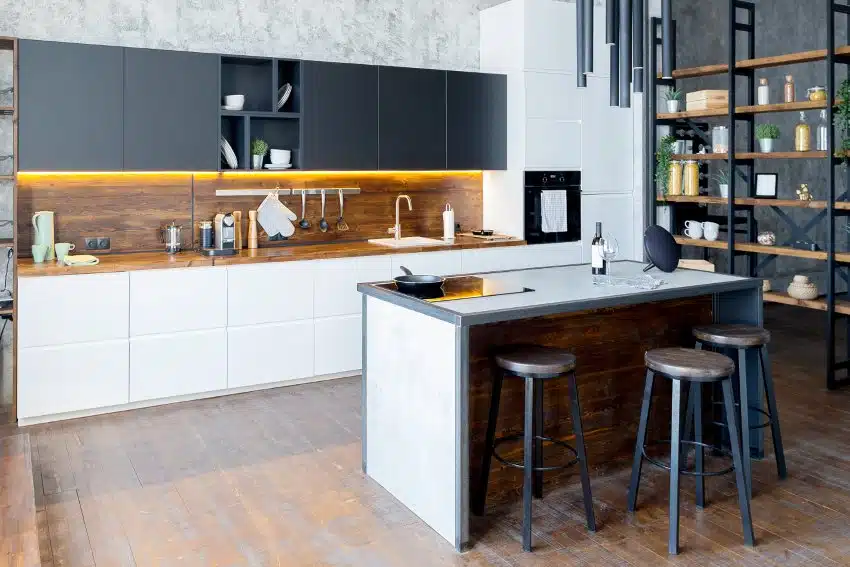 If you're not a fan of natural stone and want the aesthetics of wood instead, Formica wood countertops will be an excellent investment to consider. Unlike authentic wood, Formica wood countertops are actually more durable and won't be susceptible to moisture compared to plywood and softwood, especially when there's an overlay.
You also won't have to worry about the maintenance that comes with real wood. This means that more than just the more affordable option, these Formica wood countertops are also the more cost-effective ones.
Formica wood countertops would fit well in a country-inspired or rustic-style kitchen. The stunning aesthetics will be a great addition to your kitchen. You even have the option of going for dark-colored wood or light-colored ones.
Formica Type Countertops That Look Like Granite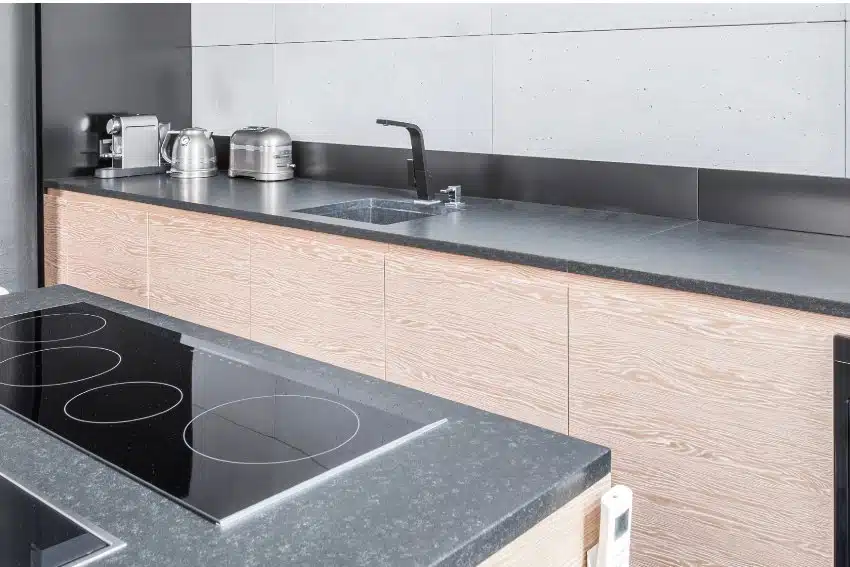 Besides marble, granite is another natural stone that has become a favorite pattern to mimic in Formica countertops. Made from fabric or paper added with melamine resin, Formica granite offers the same durability and wide variety as real granite but is only more affordable and cost-effective.
If you want to add a stunning and elegant granite countertop in your kitchen but you don't have the budget for it, Formica granite countertops can be the solution to your problem.
You even have many options to consider in terms of colors and veining, like a cream granite countertop with a unique combination of black, chocolate, and gray veins.
Edges for Countertops Made of Formica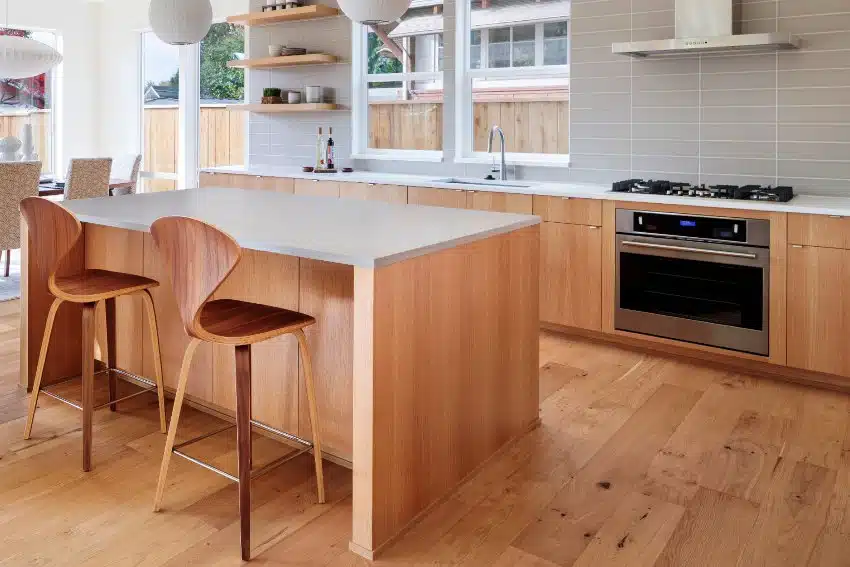 Formica countertops, just like other types of countertops, have different edges you can use. The creation of Formica sheets resulted in the laminate having exposed brown lines and flat edges.
And these are the standard look that Formica countertops are known for. Today though, there are other options you can look into for your Formica countertops besides the classic flat edge, including the following:
• Double Radius – This type of edge is perfect for wood and stone looks and offers the Formica countertops a classic touch.
• Ogee – This popular edge is sculpted and would add an elegant finish to your countertops.
• Waterfall – This edge adds texture and layer to your Formica countertops, adding dimensionality to the surface and not just the standard flat look.
• Bullnose – Physically curved at the bottom and top of the surface, this countertop edge helps make your Formica countertops look more realistic, especially when they mimic natural stone countertops.
How to Cut a Formica Kitchen Countertop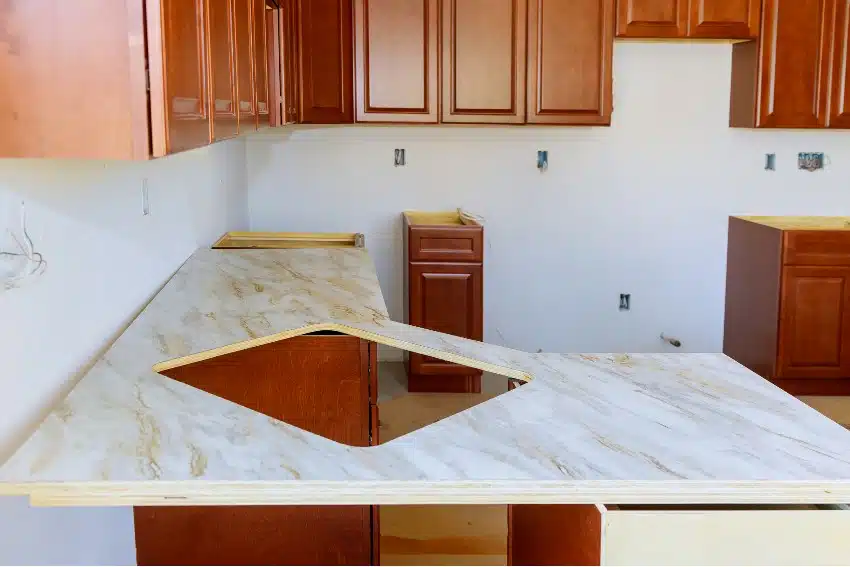 Formica countertops are built and structured to be extremely durable even if they are lightweight. If you will be working on your Formica countertop hands-on, you will need to learn how to cut the laminate sheets in order to properly install them.
Of course, you always have the option of hiring a pro to install the countertop but if you want a personal touch, installing the countertop yourself is a good activity you can enjoy.
Before you can accomplish this task though, you will need to know how to properly cut the sheets without chipping, cracking, or breaking the material. And using the right cutting tools will help you make this possible.
To help you with this task, here are simple steps to follow:
Step 1: Measure your Formica sheets – Get a tape measure and mark your Formica sheets to the length you want them to have. Get a pencil and trace the shape you want to cut from the sheets.
Step 2: Set the Formica on the worktable – Carefully place the sheets on top of the worktable and choose a wooden surface to work on instead of cement since it will not be a good surface for cutting the Formica sheets. You can put masking tape along the line you plan to cut into.
Step 3: Use a circular saw to cut your Formica sheets – While you can use any tool to cut the sheets like a hand saw or knife, a circular saw will give you the best result. And it's also important to cut the sheets in one go.
Paints for Formica Kitchen Counters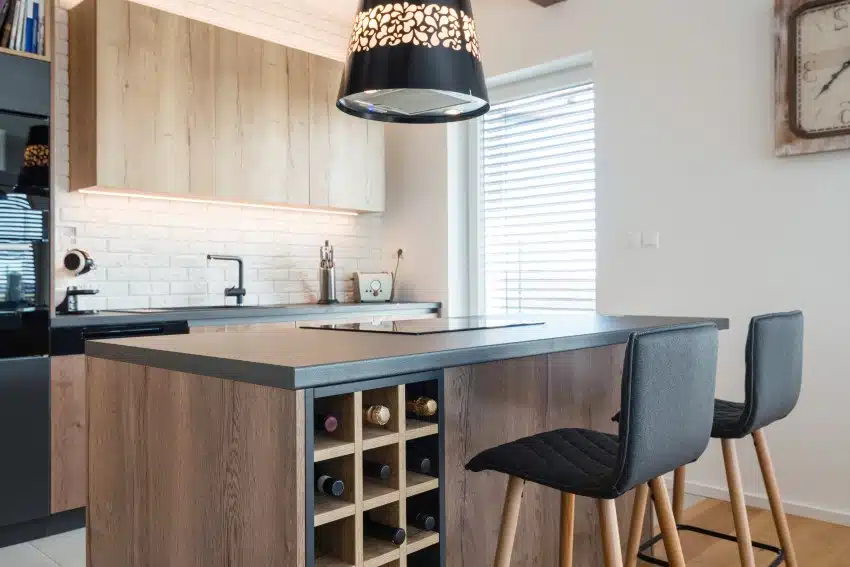 Formica countertops already come in specific patterns, colors, and designs but if you want to paint on the sheets, you can also do that. You can customize your Formica countertops by customizing artwork on the surface since it is a material that can easily hold paint.
When painting Formica countertops, here are tips to help you:
1. Clean the surface of the countertop – Make sure to prepare the surface of your countertop by cleaning it with soapy water for general cleaning and with denatured alcohol for grease and soap residue. Allow it to completely dry up.
2. Sand the countertop surface – Get light-grade to medium-grade sandpaper and work on the entire surface and make sure to fill in deep scratches and nicks with good quality wood filler. Vacuum the counter to get rid of all the dust and sand.
3. Paint the countertop – Start with a quality primer to make sure that the paint can stick well on the surface and once it dries out, apply the first coat of paint. Wait for around 24 to 48 hours before you apply the topcoat.
In painting your Formica countertop, oil-based paint can work best. For the topcoat, a polyurethane one can be a better option to avoid future chipping and cracking.
Once you've painted on these countertops though, make sure you know that you avoid laying hot plats on the surface and use a cutting board for all your cutting and chopping needs. In addition to that, regularly re-apply the topcoat to maintain the look of your Formica countertops.
Formica Laminate Countertop Cost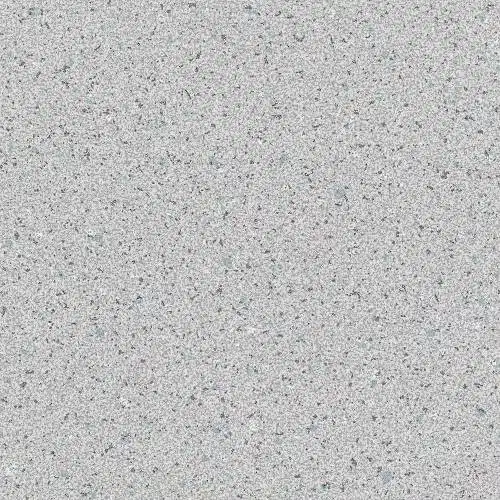 See this formica sheet laminate at Amazon [Sponsored link]
For homeowners with a limited budget but who would love to install a durable and elegant countertop in the kitchen, Formica countertops would be a great consideration.
They are actually one of the most affordable countertops that you can purchase. These countertops can cost around $40 to $80 per square foot, depending on the colors and patterns you've chosen.
Solid Formica countertops with standard color and texture can cost around $29 per square foot. For solid surfaces though like Corian, it might cost you around $52 per square foot. And for stone mimics like granite, expect to spend around $58 per square foot.
How Long Do Formica Counterts Last?
Formica countertops are made to be durable and withstand daily wear and tear, which makes them a good investment for your kitchen and home in general. If they are cleaned and maintained regularly, your Formica countertops can last for about 15 to 40 years, with an average of 25 years.
And you will know if they need replacing since they will significantly look worn and faded. Heavy use of the countertop will guarantee that the lifespan will be shortened.
In making sure that the Formica countertops last as long as possible, use a cutting board when chopping something on the countertop. Make sure to avoid laying the pan directly on the surface to avoid burns and scratches.
Avoid exposure to unusual levels of moisture since it can cause delamination of your countertops. Finally, avoid using abrasive cleaners that can completely remove the printed surface on your Formica countertops.
How to Clean Countertops with Formica Material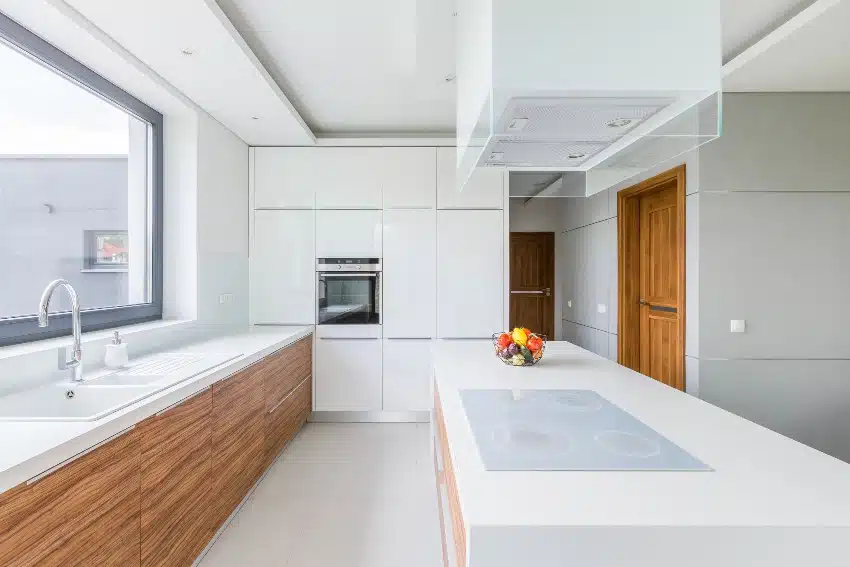 Cleaning your Formica countertops regularly is one of the ways to make sure they last long. But you also need to learn how to keep them in good condition more than just the occasional wiping.
Here are some of the basic cleaning solutions and tools you can use for your Formica countertops:
• Sponge or a soft cloth with a small drop of mild dish soap
• Window cleaner
• Plain white vinegar
• Baking soda and white vinegar
For general cleaning, get a damp (make sure it's not soaking) cloth or sponge and run it on the surface of the countertop at least once a day.
Run a clean cloth after cleaning to dry the surface. And if you are dealing with a more persistent stain, use baking soda and white vinegar paste and leave it on the stain for at least 24 hours before cleaning everything with a warm wet cloth.
While Formica countertops are extremely durable, you will need to avoid abrasive cleaners if you want to keep them in their top condition. Here are some things you should avoid:
• Commercial products with a grit
• Cleansers with an acid content
• Heavy-duty solvents
How to Cover Laminate Counters

Formica countertops often come with an overlay sheet on top to make them wear-resistant. The overlay is named as such because the concrete layer is used to lay over the laminate to make the material stronger and more durable.
A concrete overlay is usually used on Formica countertops for better protection but it can also come in a specific stain, color, or texture, depending on what's chosen. This overlay can be one way to repair a crack or refinish the countertops.
When working to cover Formica countertops, you need one day to spend on this task. After making sure that the countertop is reinforced, scuff the surface using 120-grit non-loading sandpaper. After scuffing, take out the dust and debris using a damp cloth and let it completely dry.
Carefully add the overlay countertop to the surface edges and let it dry for 3 to 6 hours. You will know it's completely dry when it gets this uniform light gray color.
Replacing Formica Made Countertops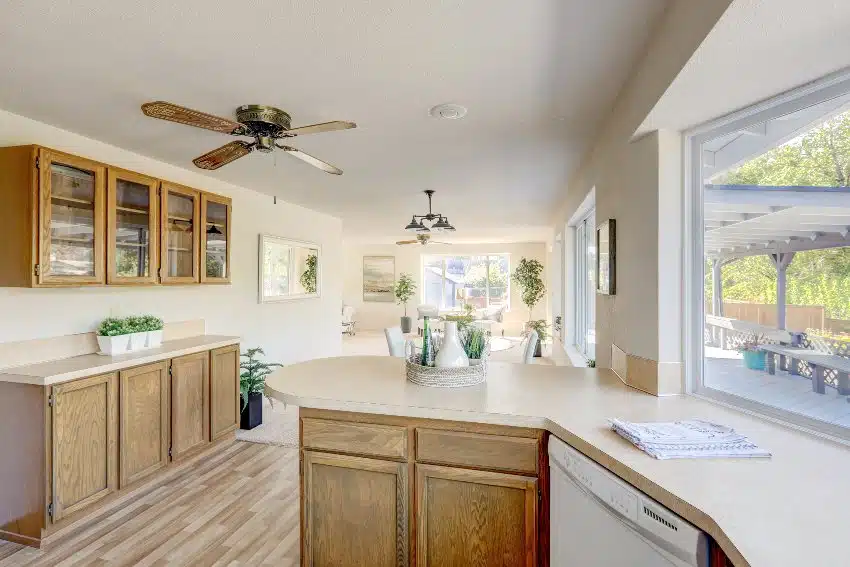 When replacing Formica countertops, the first step is to remove the existing ones. Before starting the task, wear safety goggles and rubber gloves.
Prepare all the needed tools, including a putty knife, paintbrush, heat gun, and glue solvent. Here are the step-by-step instructions for removing the old Formica countertops.
1. Apply a layer of solvent on the seams of the Formica countertops.
2. Get the geat gun, turn it on low, and point it at the seam of the countertops.
3. Insert a putty knife into the seam, separate the Formica sheets from the underlying base, and take out the old countertops. Make sure not to use the putty knife back and forth since it may scratch the underlying surface and require you to refinish it before installing a new countertop.
4. Apply solvent and heat along the entire area to dissolve the glue so that you can just lay the new countertop on top without extra work to do.
5. Slowly lay down the new Formica countertop on top of the dissolved glue.
Formica Vs Laminate Countertops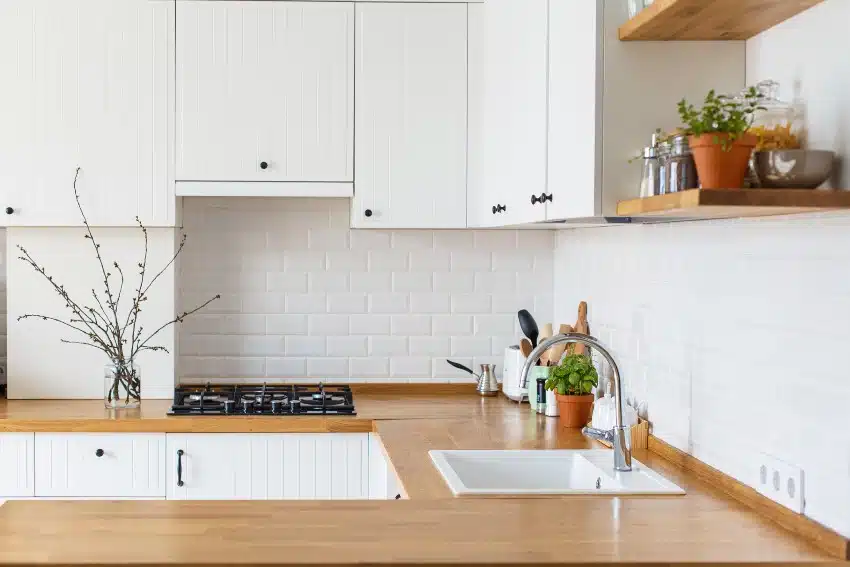 Formica and laminate countertops can be the same but they can also be different. All Formica countertops are laminate countertops but not all laminate countertops are Formica countertops. They can sometimes be used interchangeably by many homeowners.
Formica is a brand name that was patented way back in the late 1930s and because of its popularity, these Formica countertops became the name that people refer to that specific laminate countertops, especially the ones that mimic wood, granite tiles, and marble tiles. But they also come in a variety of patterns and colors you will enjoy exploring.