Welcome to our gallery of creative kitchen pass through window ideas including a variety of designs.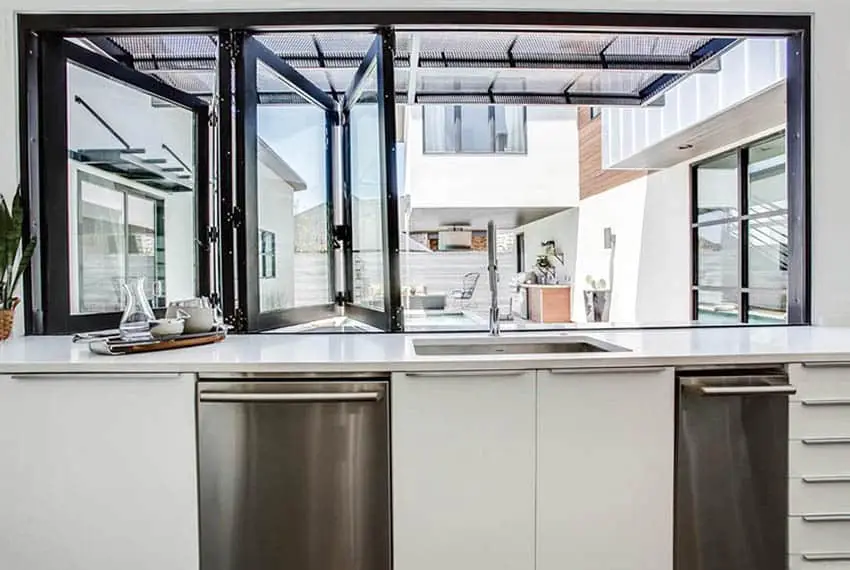 Kitchen pass through windows has been traditionally installed indoors, to easily serve or transfer food from the kitchen to the dining area.
These can also be often found in restaurants, allowing kitchen workers to directly send the food orders to the counter or food servers without leaving the kitchen. It's a simple design solution that simply involves making a hole through a wall or a door and adding a small a window large enough for food and dishes to pass through.
More contemporary applications of the kitchen pass through window involves connecting the kitchen to the outdoor areas. Not only does it allow additional ventilation and light for the kitchen, but this is also the perfect idea if you don't have the space for an outdoor bar, but would like to efficiently serve food and drinks in your backyard or porch.
In the picture above an accordion kitchen pass through window directly connects the modern kitchen to the pool area of the house. The accordion window is gathered on one side of the frame, allowing a very wide window opening.
Types of Pass Through Windows
Different types of windows can be used as a kitchen pass-through window. The appropriate type will depend on the design of the space, and the available wall space of the window installation, budget and personal preference. Here's the most common pass through windows used:
Awning Window – These are a great choice especially for those located in tropical countries or anywhere with constant rains and monsoons. These are available in a variety of sizes and designs. The large, modern style awning windows would have hydraulic technology so you can easily lift the window open or close as needed. When open, the opened window also serves as a canopy.
Swing Up Window – Swing up and awning windows could often be confused because both technically "swing upwards". The main difference is that, awning windows swing OUTWARDS, while swing up windows swing INWARDS. This option is good if you don't have any overhead shelves, lamps or cabinets that will block the way of the window. This is also an idea option of you current window opening is a casement type with a sill, where it would be difficult to install an awning window.
Pocket Window – If you don't want open windows to obstruct anything indoor or outdoor, or if you are simply short on space, a pocket window might be the perfect option. This is easy to install on drywall, and such design allows your windows to slide "inside" a pocket hidden between the walls, for a large and obstruction-free opening.
Garage Door – You can use an existing garage door track to convert it into a pass-through window as well! A little bit of DIY skills would be needed to complete this, but is very doable!
Accordion Window – This type of window slides to either one or two sides of the window frame. Accordion windows is specially ideal if you have a bigger or wider area where you need a pass through window. This is usually the choice for bigger openings.
When looking for kitchen pass through window ideas its best to consider your home's layout to determine the style for you. You can try using kitchen design software to enter your exact specifications and visualize your ideas.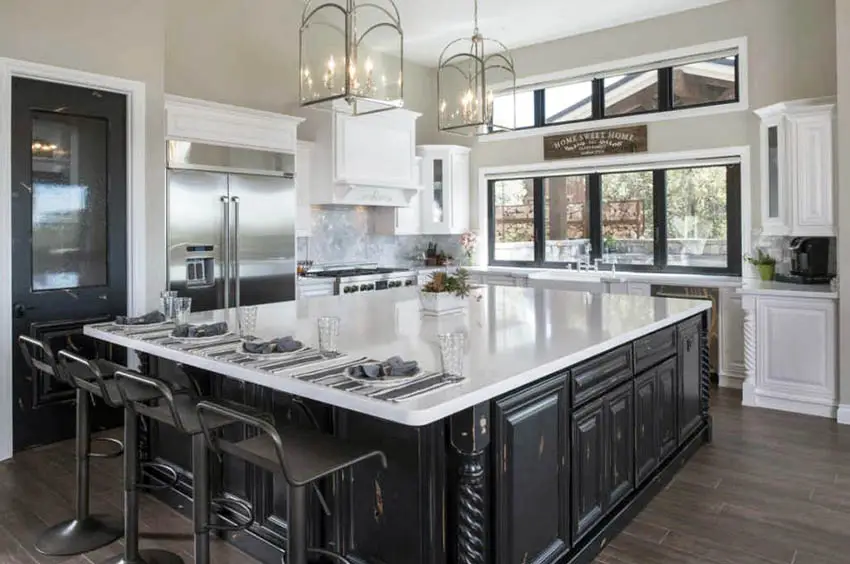 This is a great example of a kitchen design with an accordion pass through window. However, this one folds the windows into two sides of the window frame, and has a more classic silhouette to match the classic Spanish colonial style of the kitchen.
Window to Outside Patio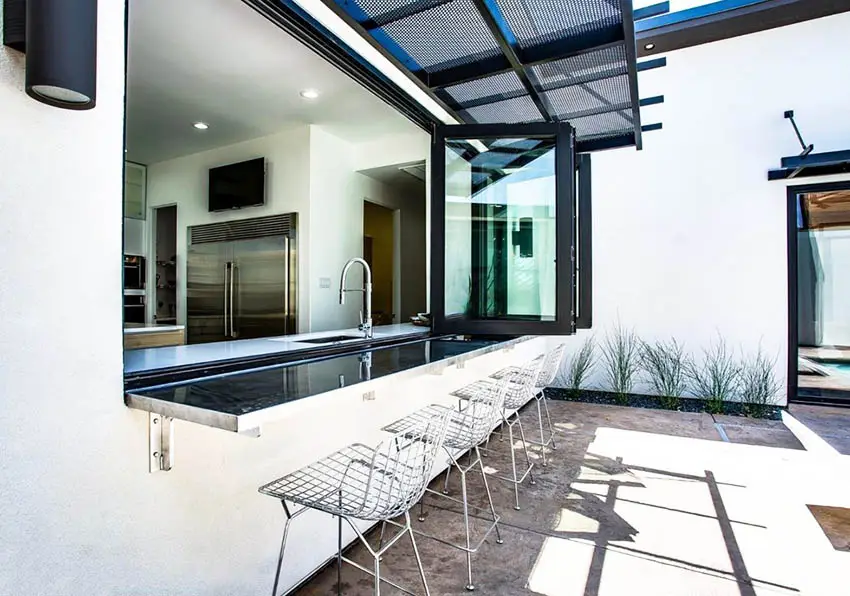 This example shows an accordion kitchen pass through that folds outwards. On the edge of the window opening, a metal-framed bar ledge was installed and fixed with barstools for an instant outdoor bar area.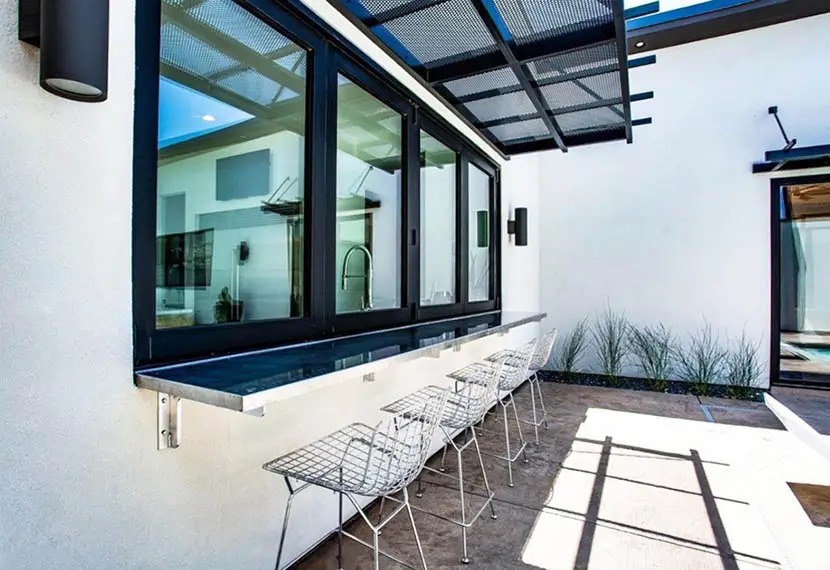 Even when closed, you can still make use of the bar ledge as a small dining area or food serving/preparation station.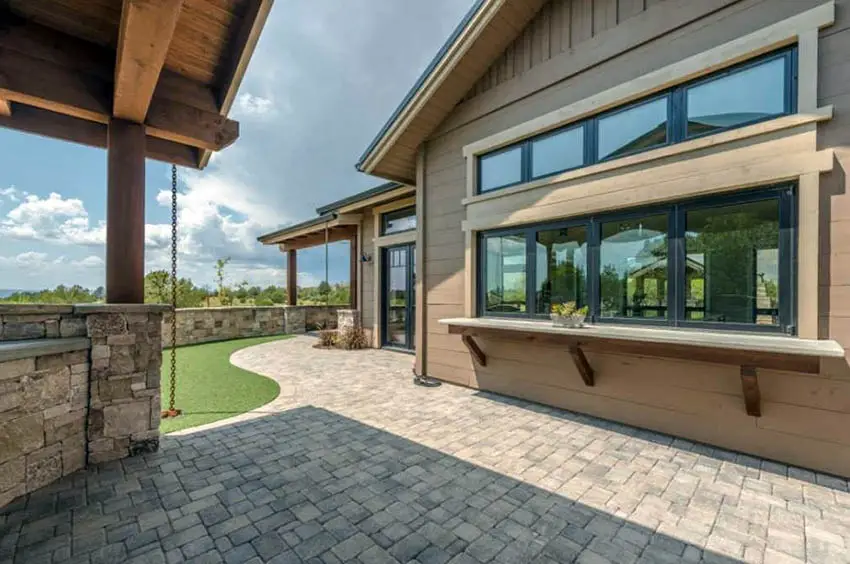 This kitchen pass through window is very wide, so an accordion type window was used. This allows you to fully utilize the whole width of the opening.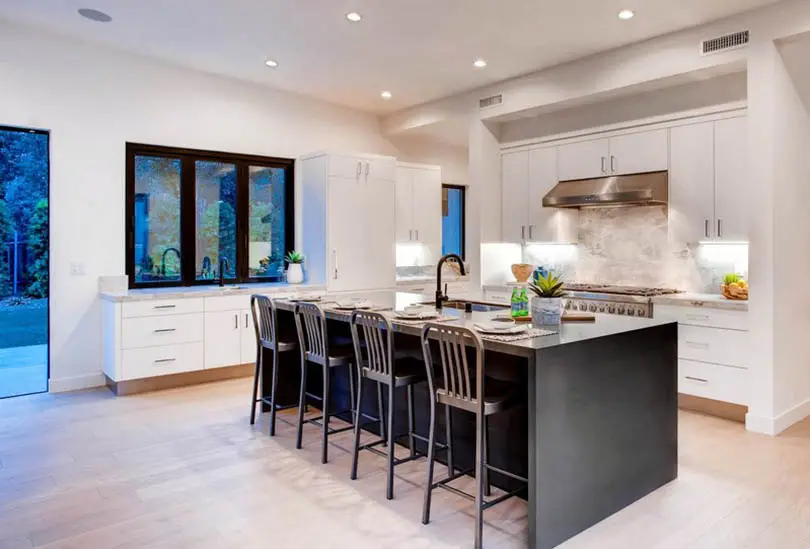 Smaller window widths can also use accordion pass through windows. Because this window was installed by the sink, the accordion folds outwards so it doesn't hit the faucet. See our guide to standard window sizes on this page.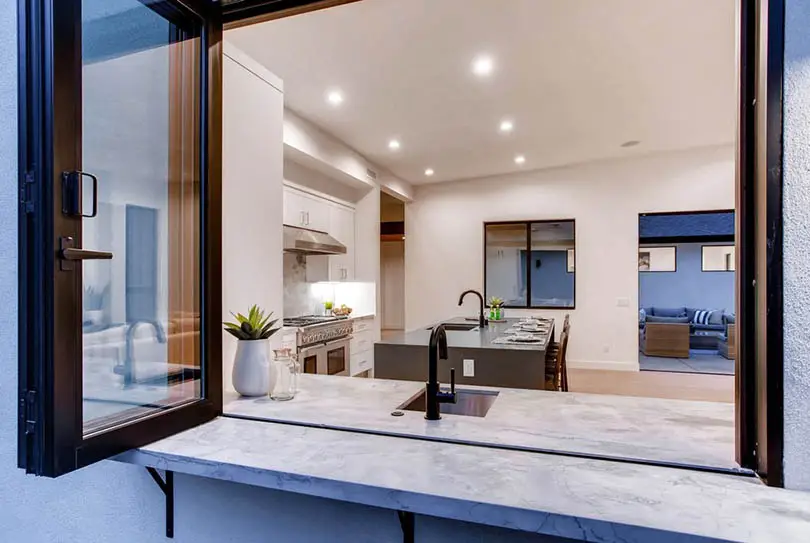 This is the view from outside, showing how it folds outwards on the small marble ledge outside the pass through window.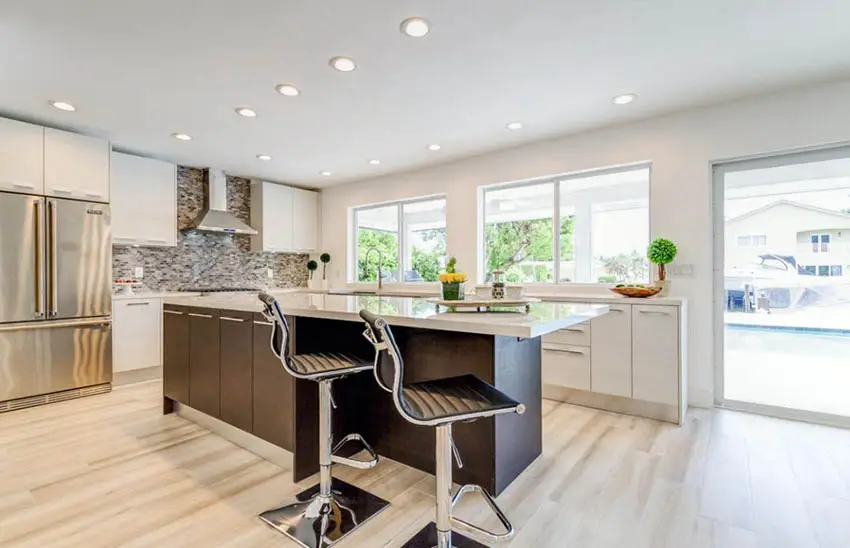 Top match the clean and minimalist aesthetic of the kitchen, narrower framing was used for this kitchen pass through window. It has a white powder coated finish to match the white kitchen cabinets.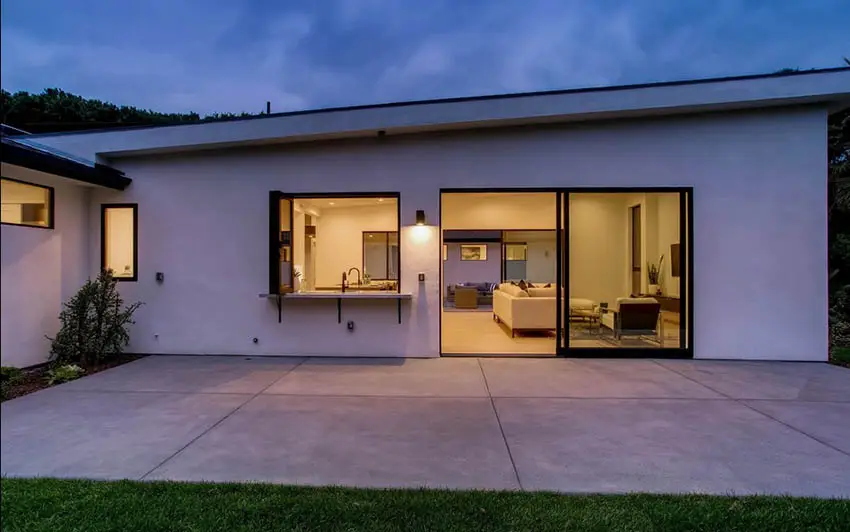 This accordion pass through window conveniently connects the kitchen to the outdoor patio through an opening that matches the window size of the house. This is a great option for those who'd love to entertain and serve food in the patio, but don't have roof or covering to protect an actual outdoor barbecue area.
This backyard patio with pass through window also helps include the person cooking and preparing the food in on the action.
Galley Kitchen with Pass Through to Patio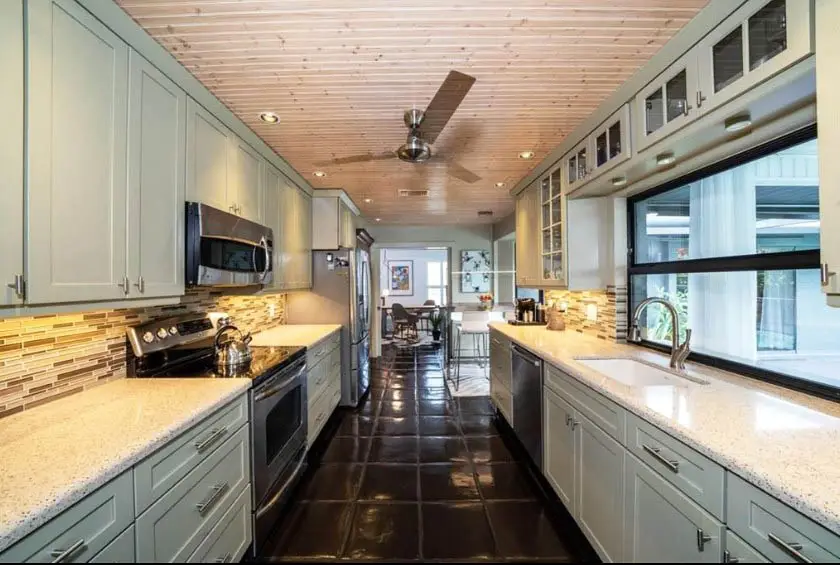 If you don't like the obstruction of folded windows from an accordion window, the canopy, an awning window or cannot use a swing up window for your space, you can also consider a slide up window as used in this galley kitchen. This allows you to still give efficient access between the outdoor area and the kitchen, allows a wide window opening as well, but sacrifices a bit on the opening height.
U-Shaped Kitchen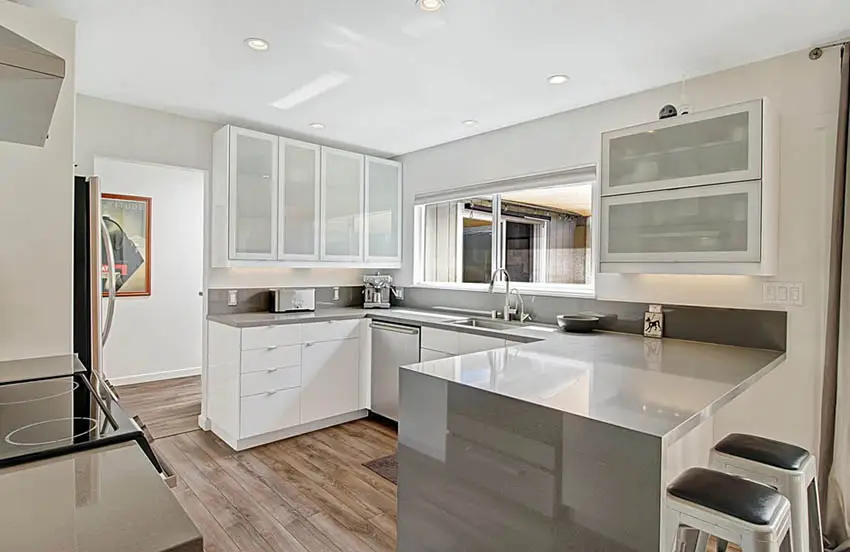 Pass through windows works just as well on U-shaped kitchens as they do with any galley or L-shaped kitchen. This example features a simple, white framed accordion window that matches the overall color scheme of the kitchen.
Large Window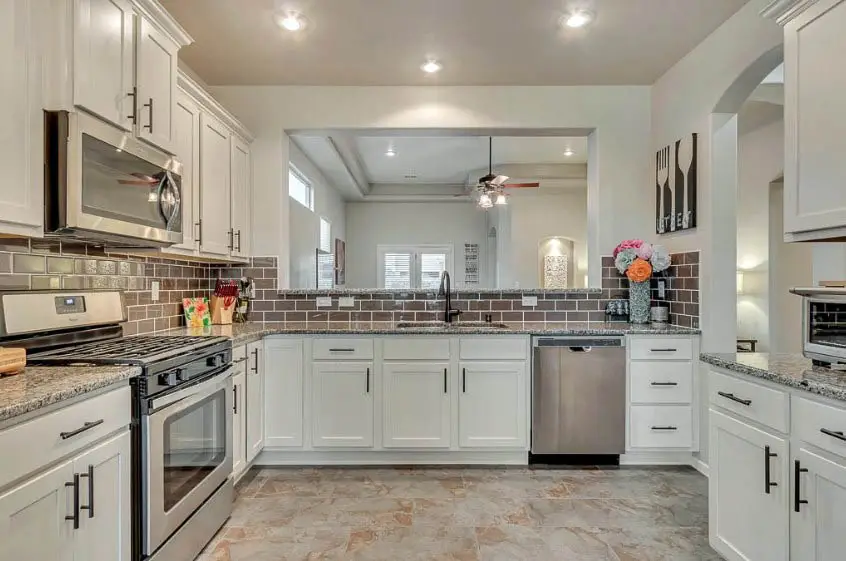 Pass through windows have traditionally been used indoors, and they don't necessarily need an actual window to work. This example shows a large pass through opening from the kitchen to the dining area.
The kitchen and dining rooms are separate areas, but the large opening of the pass through window helps connect the two areas of the house. The large opening helps make the kitchen feel less stuffy or small, and also helps efficiently serve food and dishes from kitchen to dining and vice versa.
For those who wish to remove the wall to open up the space there are kitchens with columns that still provide support for the ceiling without adding costly beams overhead.
Peninsula to Dining Room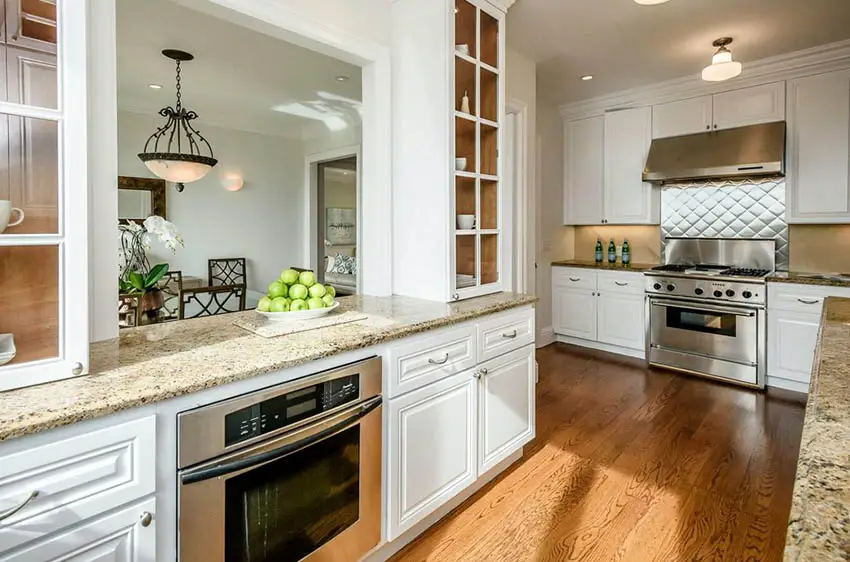 What's unique about this design is the clever use of French cabinet doors placed on both sides of the large pass through opening, which makes it look like open window panes instead of storage/display cabinets.
Peninsula to Breakfast Bar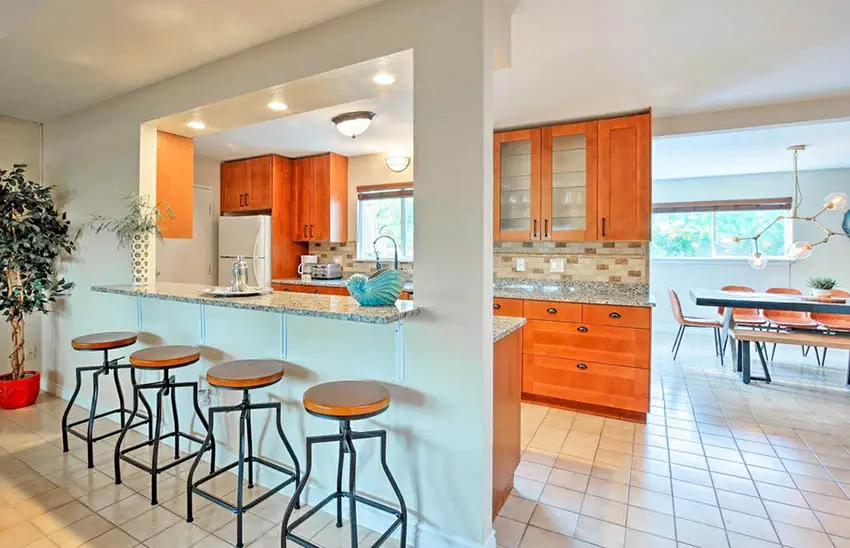 This breakfast bar is a simple and functional use for pass through windows. A large opening was made on the dry wall, and a slab of granite was installed as a ledge on the opening so that it can be a functional breakfast bar.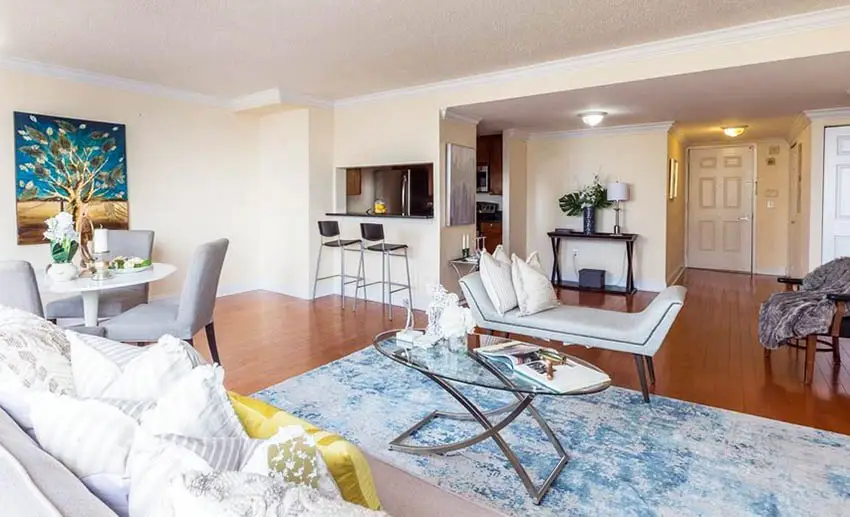 Space is really a challenge in apartment buildings or flats like this example does. The small kitchen is on a separate enclosed corner of the unit, and because it doesn't get any sunlight because of its location, it tends to look dark and stuffy.
By creating the large opening on the dry wall, we allow natural light to seep into the small kitchen. The added granite ledge also adds more function to the opening by utilizing it as a breakfast bar.
Sliding Up Window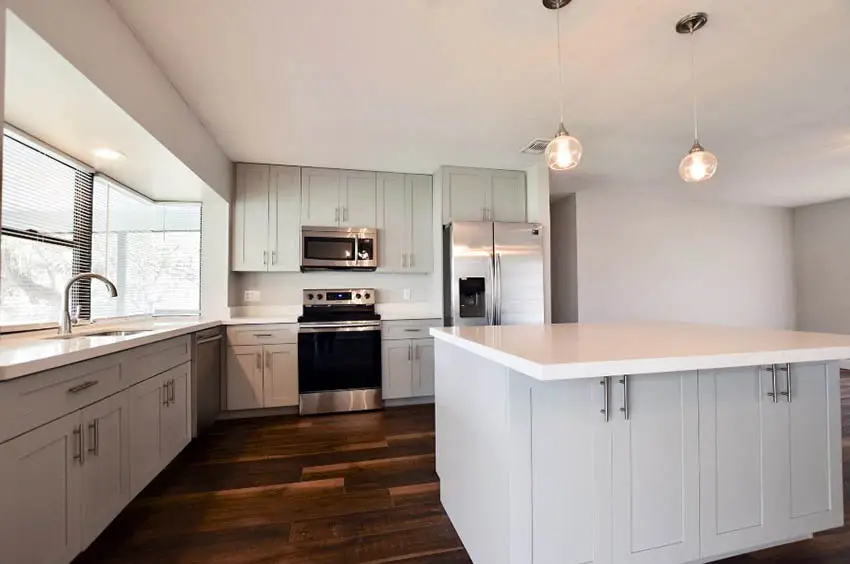 Depending on structural, architectural and layout restrictions, awning or accordion windows might not work. Like in this example, a slide up window was used instead of awning or any other window types.
Dining Area to Kitchen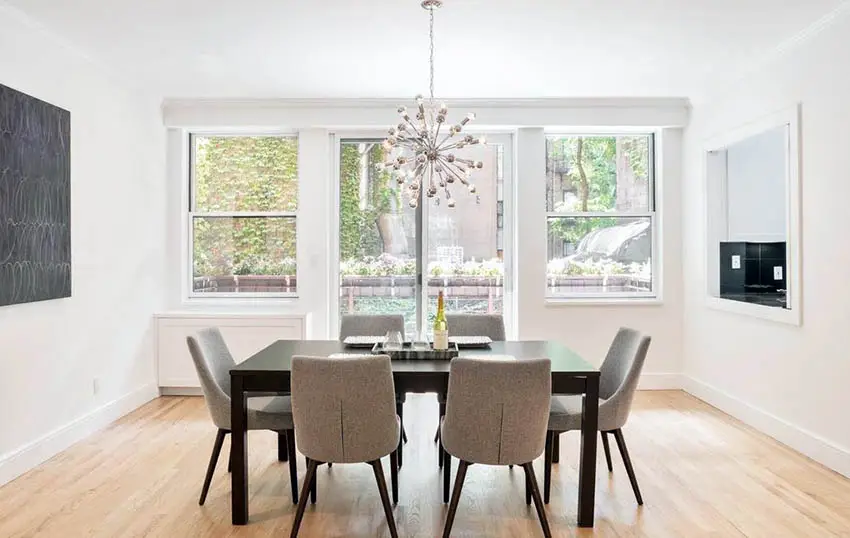 The traditional use of pass through windows is to connect the kitchen to the dining area, whether it may be a residential space or a restaurant. This example shows a small opening used as a pass through window to connect the small kitchen to the formal dining area.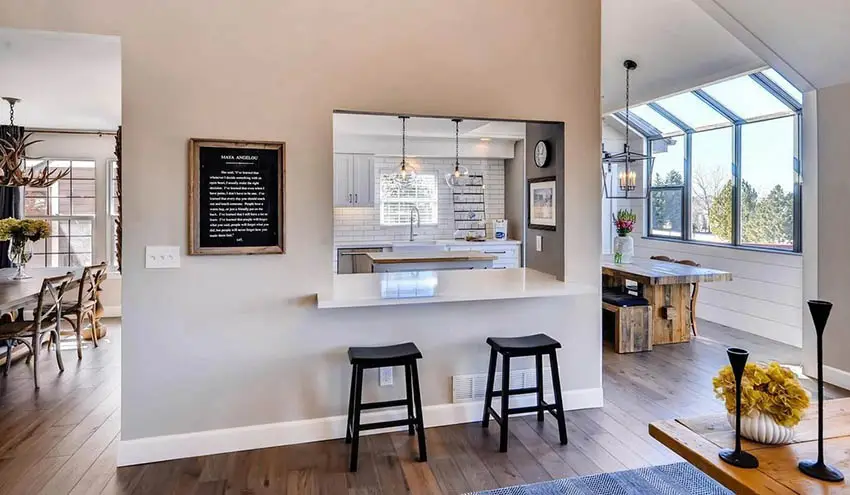 This pass through window from the kitchen to dining room opens up the kitchen space and provides another space for dining. By creating a large opening from the dry wall and extending the countertop past the opening, a small breakfast bar was created, in addition to connecting the kitchen to the dining area.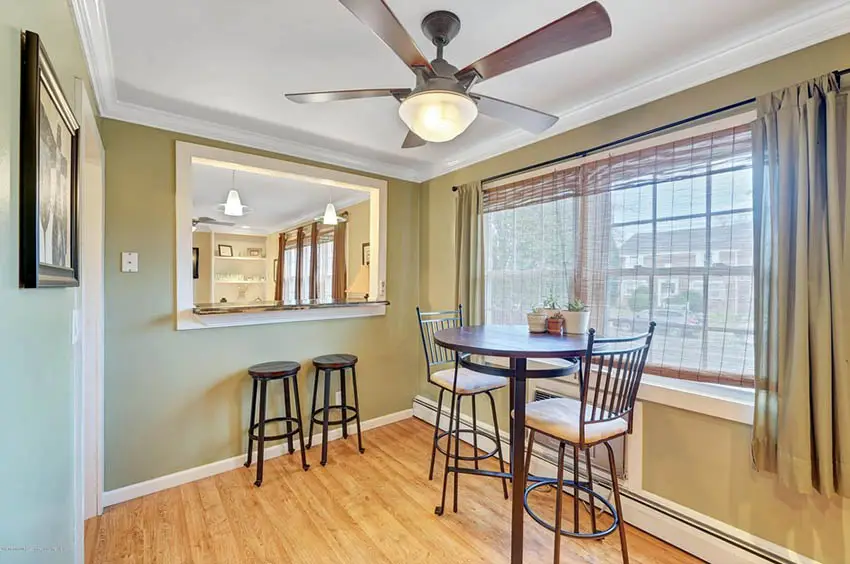 For this example, a higher bar counter height breakfast bar was installed to connect the kitchen to the small breakfast area/room.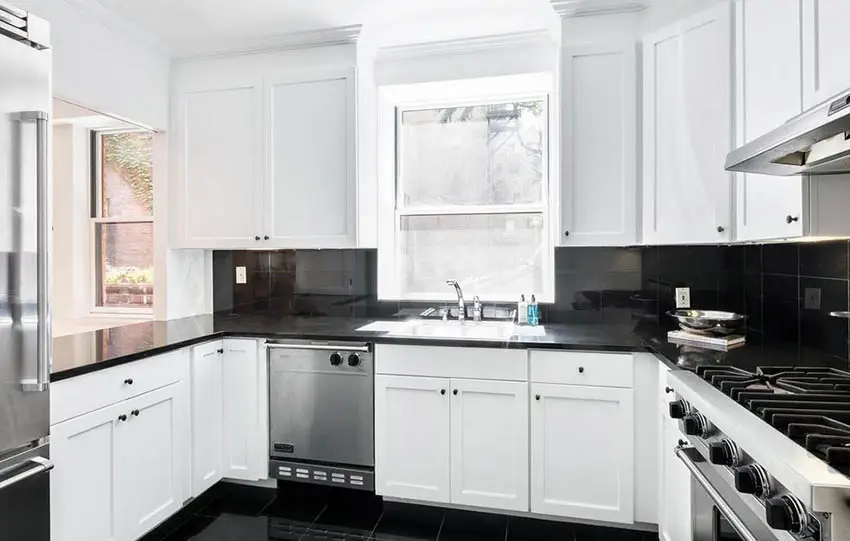 This is how it looks inside the kitchen area. There's a U-shaped counter that uses white cabinetry and black granite countertops. The countertop is the same height as the opening, so you don't need to add extra cut or stone material as you would if you want a bar-height pass through.
Kitchen with Small Window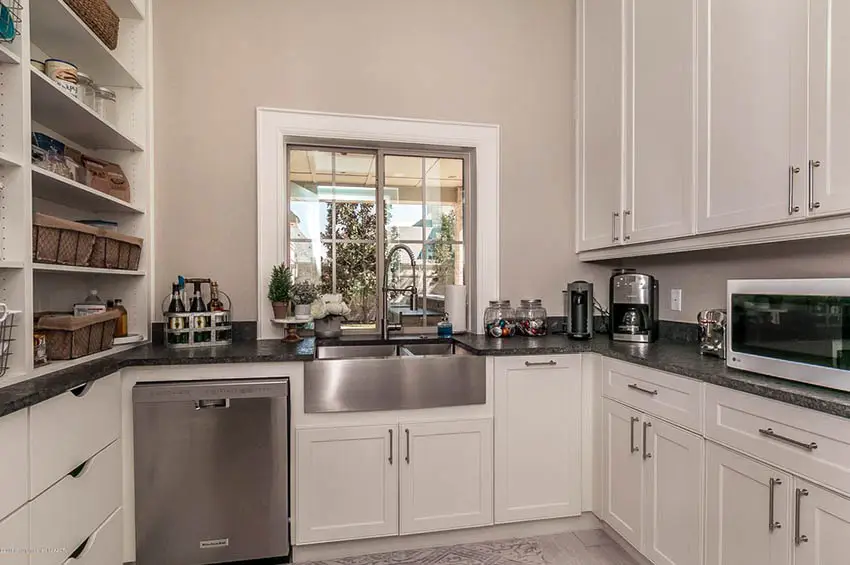 Sometimes, we have to make do with whats already there – an ordinary sliding window was used in this example to connect the kitchen to the outdoor patio.
Kitchen with Round Window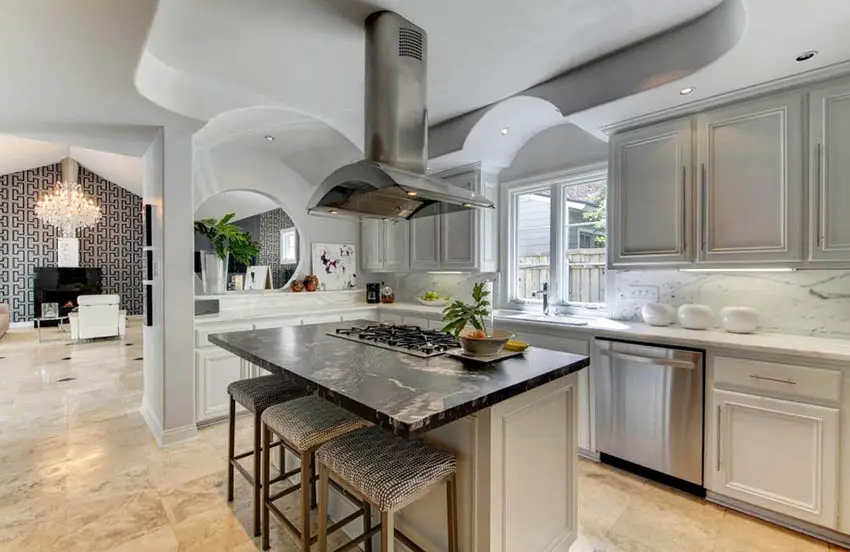 Following the unique architectural details on the ceiling of this house, the kitchen uses a unique round opening as a pass through window so that it matches the whole theme and silhouette of the architecture of the space.
Dining Space with Window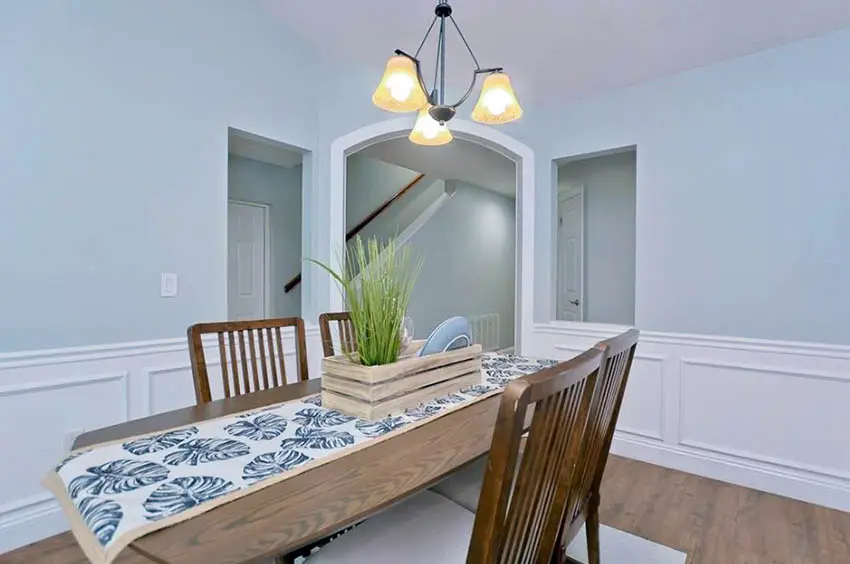 Because this dining room is enclosed, the two pass-through windows framing the dining room entry help make the space feel less stuffy and look more bright and inviting.
Closed Layout Kitchen with Window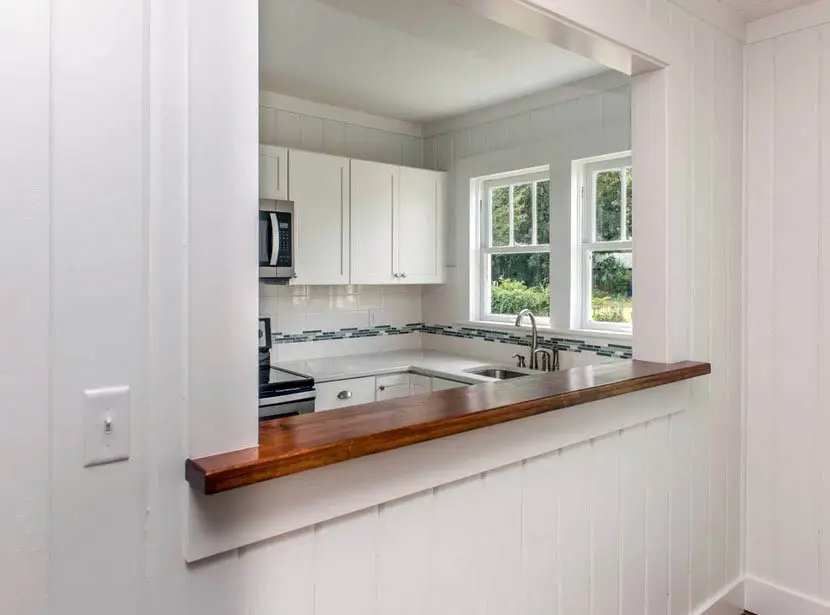 If you find having an enclosed kitchen a bit inconvenient when it comes to serving food and entertaining guests, one easy solution that doesn't involve taking down walls, is by adding a pass through window.
This small kitchen added a large pass-through window opening that allows you to see the kitchen and see from the kitchen, while also allowing you to conveniently serve food through the large pass-through opening.
Home Bar with Window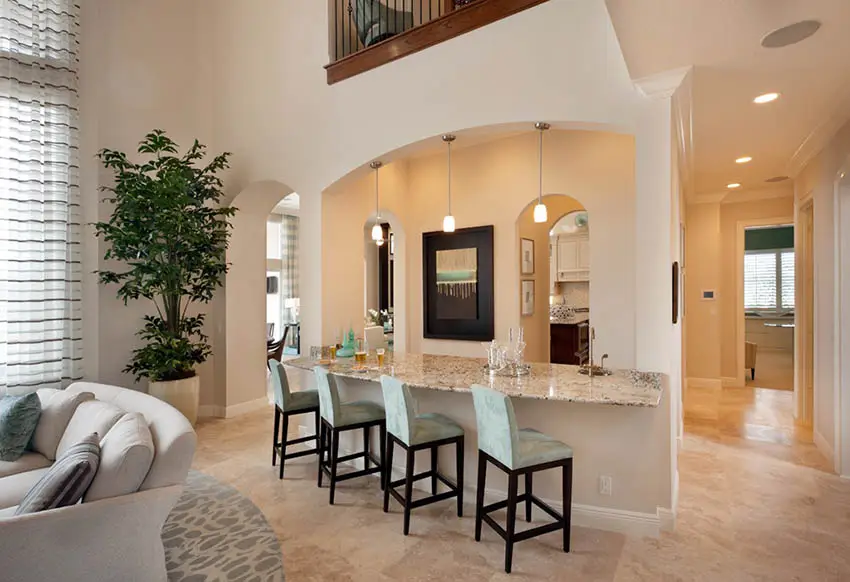 One way to make your pass-through opening more functional is by adding a ledge or a counter surface where you can lay down food and drinks. Take an extra mile and use a durable material, such as natural stones to make it more functional and elegant. The ledge in this example has been extended outwards to provide more knee space as well.
Kitchen with Garage Door Style Window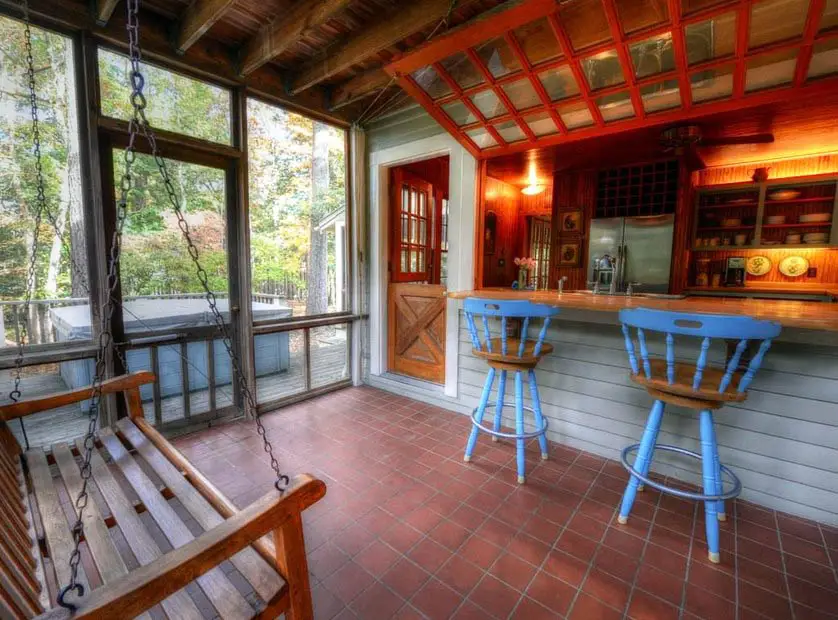 Upcycled architectural features really has its own charm. Aside from saving on materials and hardware, you also help reduce waste produced during your remodeling. This example shows a garage door converted into a pass through window.
This window opens into an enclosed patio design, where you can find a wooden swing bench and 2 bar stools placed in front of the pass through that matches the overall rustic charm of the space.
Pass Through Kitchen Peninsula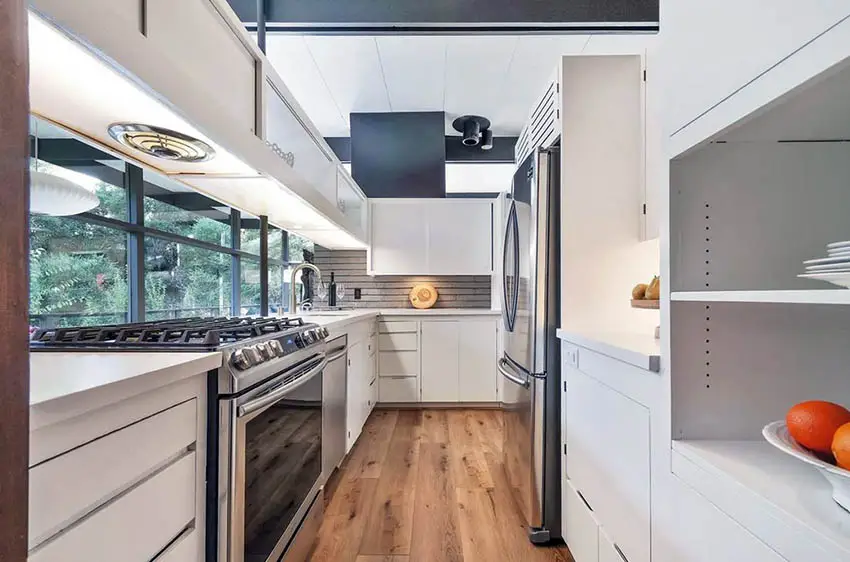 When designing kitchens, there's usually a tough choice you have to make: having more storage space vs having more natural lighting. If we could have the best of both worlds, or at least a balance between the two, it would be a dream come true!
This modern kitchen is an example of such. While overhead storage is usually sacrificed for more window space, this kitchen still keeps a full set of overhead cabinets by offsetting the kitchen counter from the full-height glass windows, and suspending the overhead cabinets through metal post supports. This makes your kitchen counter double as a peninsula counter as well.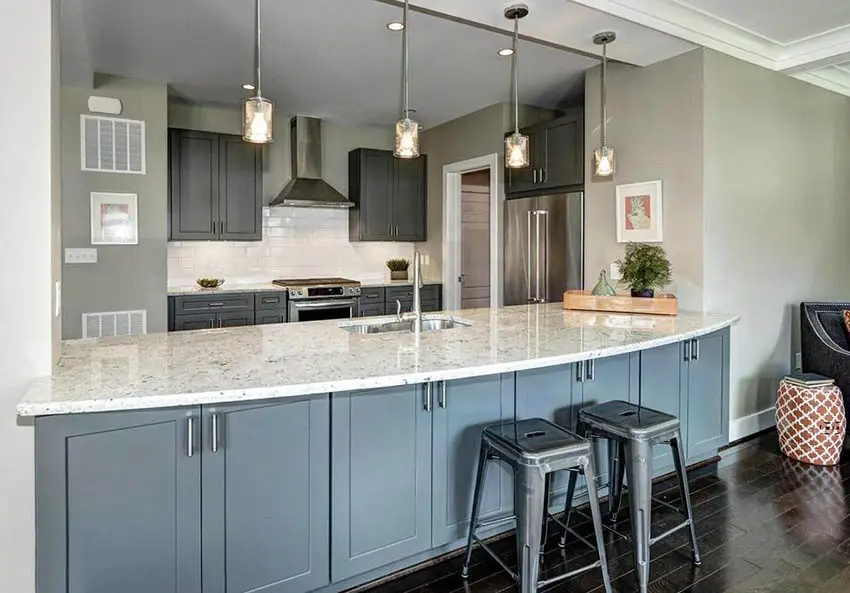 If you only have a small space for the kitchen, the best option is to keep it open so that it doesn't feel or look too enclosed. Some prefer having "divided" spaces in their homes, but that doesn't necessarily mean you need walls in between.
This example features a kitchen with a peninsula counter to divide the space from the living room. The design creates a large "pass through" opening between the kitchen space and the living and dining area.
Kitchen With Arched Window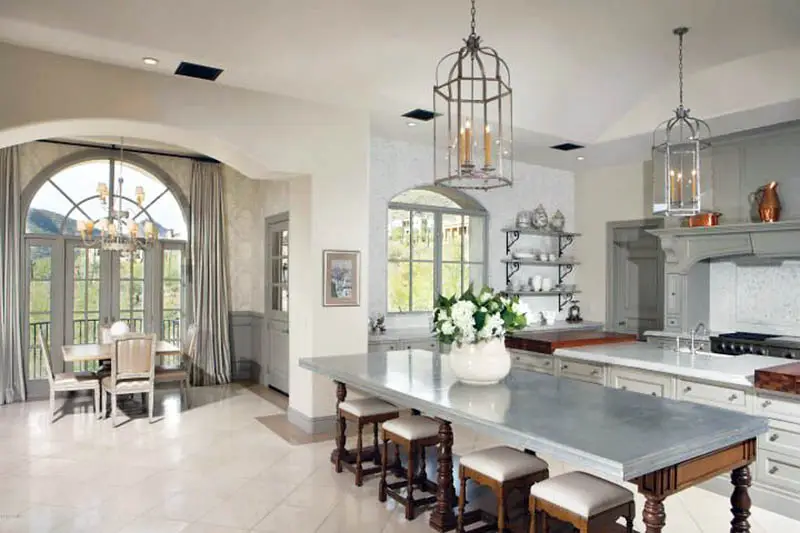 When working with existing buildings or houses, the best practice when installing new windows and openings is to follow the original style of the architecture, as much as possible.
This example shoes classic French style doors and windows with arched transom windows. To keep in theme with the original architectural style, the pass through window also installed a fixed arch transom above it to match the rest of the windows. Visit this link to see more dining room ideas.