Get ideas for a modern farmhouse kitchen backsplash including the different materials, their advantages, and the best tile options to consider.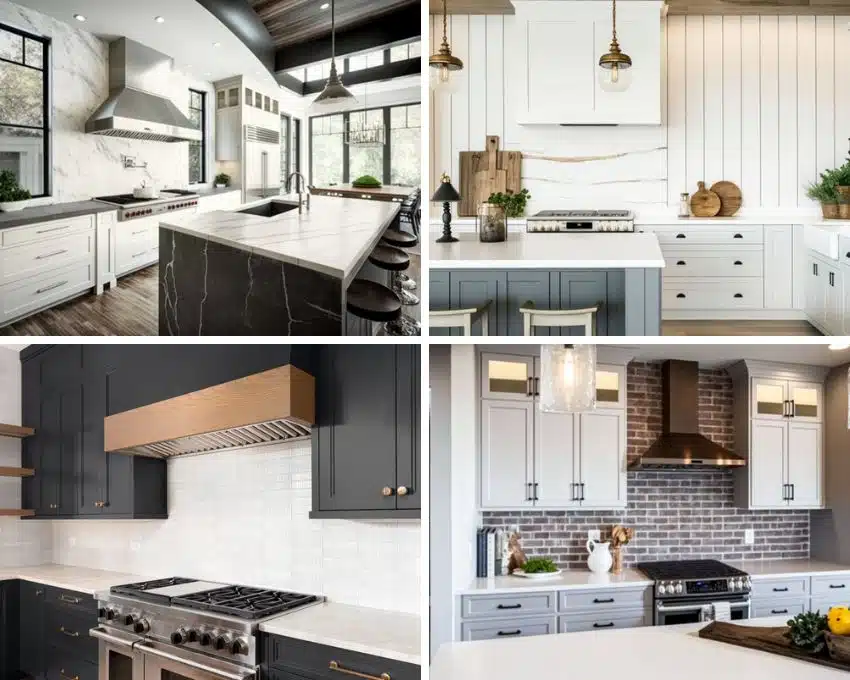 The modern farmhouse kitchen. A little bit country and a lotta bit chic – it's a blend of rustic charm and contemporary coolness that really knocks it out of the park.
In recent years, this alluring style has become all the rage – especially in the kitchen. The backsplash is a key feature of this look; it's an absolute must-have for any modern farmhouse kitchen. It adds pizzazz and depth to your cooking space – not to mention a whole lot of personality.
Farmhouse design has always had a special charm and allure – no wonder interior designers and homeowners find it so captivating. Surprisingly, this timeless style is undergoing an innovative transformation. Welcome to the modern farmhouse look!
Quicklook: Different Modern Farmhouse Kitchen Backsplash Materials
• Natural stone
• Exposed brick
• Shiplap paneling
• Beadboard
• Reclaimed wood
• Metal accent panels
Kitchen Backsplash Materials For Modern Farmhouse Style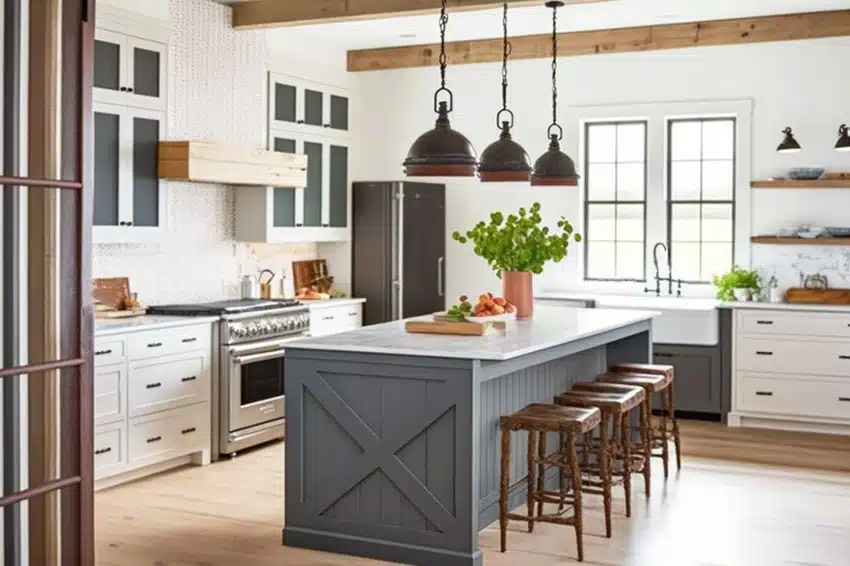 Check out some of the most popular modern farmhouse kitchen backsplash materials that are sure to stand up to all the hustle and bustle near those flurry-filled cooking spaces.
From stylish stone slabs, tiles, or even wood panels – they all make for a long-lasting addition to your kitchen's ambiance.
Natural Stone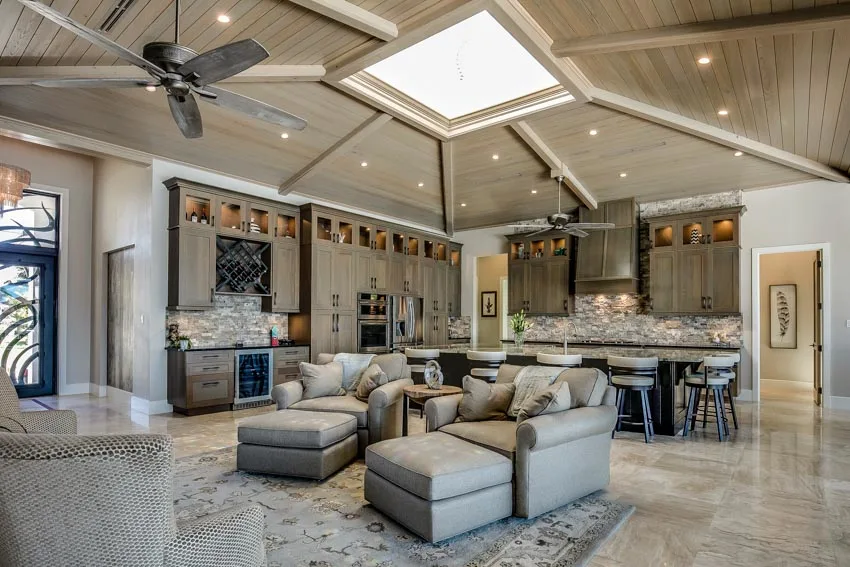 Talk about timeless and vintage – a natural stone backsplash is the perfect addition for your modern farmhouse kitchen.
With marble and granite being the most popular choices, you can bet there will be a distinct texture and spectrum of colors no matter what type you go with. Plus, it'll instantly give your kitchen more personality – homey vibes all around.
Marble is the classic option for a backsplash. Boasting an elegant, sophisticated look, you can find this gem in a variety of hues – from gentle grays and sleek blacks to bright whites – all with timeless veining that brings a contemporary vibe to your kitchen.
Pair them with marble countertops for a cohesive look that offers inspiration and elegance.
Granite backsplashes stand the test of time – they're low-maintenance, long-lasting, and available in a range of earthy hues like beige, black and white plus distinctive speckled patterns.
Plus, they're heat-, scratch-, and stain-resistant – making them a top choice for kitchen decor. Talk about a bang for your buck.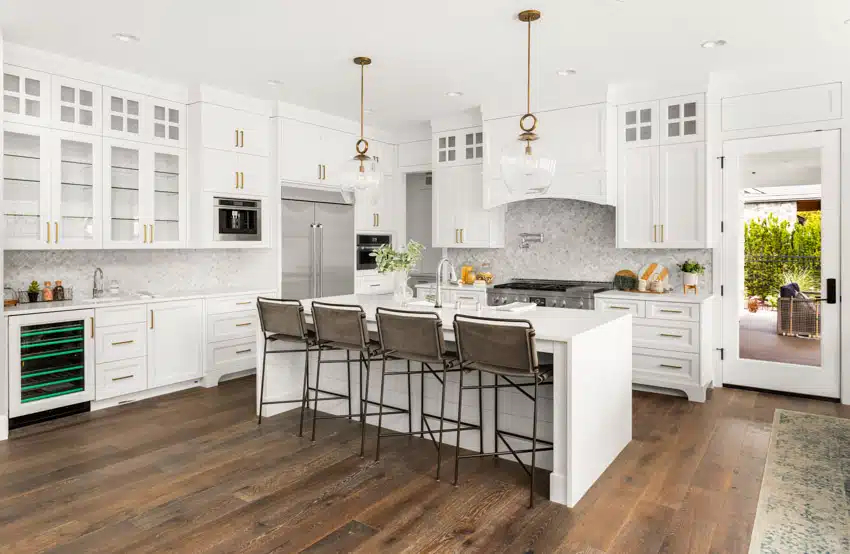 Stone backsplashes are perfect for the modern farmhouse kitchen – they add a rustic, natural feel and instantly bring warm charm to the space.
Natural stone's astounding durability makes it a sensible option, but beware. This luxurious material can come with a hefty price tag and needs regular upkeep – not to mention professional installation.
When picking out a natural stone backsplash for your modern farmhouse design, don't forget to take the color and pattern into consideration. If you're aiming for a more subtle look, go for neutrals like beige or gray. But if you want to really show off your style, don't be afraid to opt for something bolder like dark green or rich brown.
Small stone tiles can lend an intricate design, while larger ones boast an impressive display – proving that size does matter. No matter which you choose, the result will be eye-catching and striking.
Exposed Brick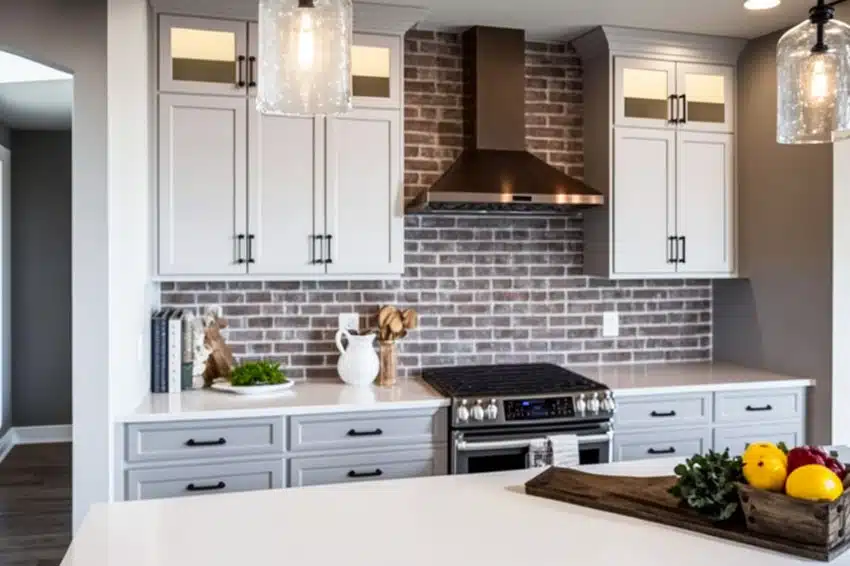 Exposed brick in a modern farmhouse kitchen not only adds an industrial vibe, it provides long-lasting appeal and is a breeze to maintain. Perfect for the bustling chef, this splash of character is sure to stand the test of time.
Red brick's the old-school go-to for farmhouse kitchens, but if you're feeling more adventurous, ya got options – lighten or darken things up. Texture also matters: coarse, jagged bricks give a more country look n' feel whereas smoother, uniform bricks stretch into modern territory.
An exposed brick backsplash can give your space a rustic, natural vibe – or if you want something more sophisticated, just give it a coat of paint. But either way, if you don't seal and clean the brick to guard against moisture and stains, you'll be sorry.
Shiplap Paneling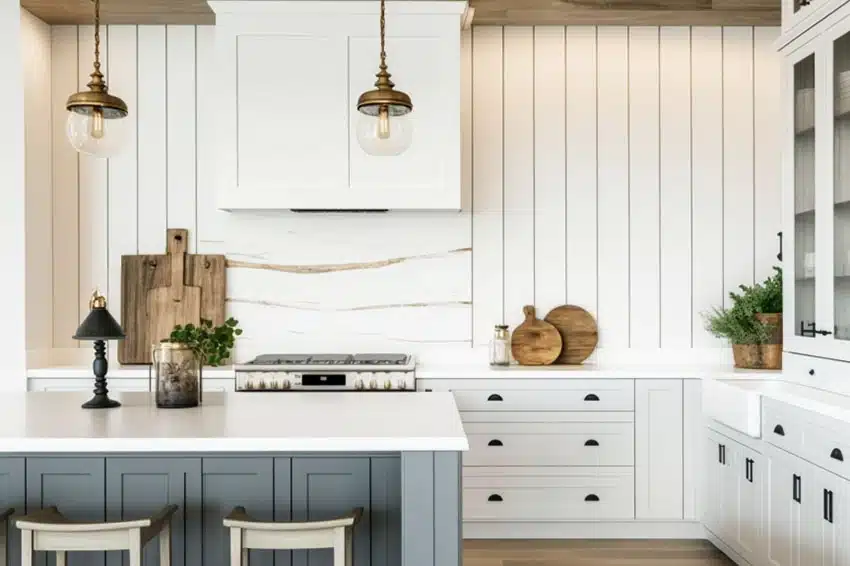 Example of grey kitchen island, and white Shaker cabinets paired with shiplap planks and black hardware finishes.
Shiplap paneling is a rustic wonder – it can be used as exterior siding, or bring instant charm to your kitchen walls. Quick and easy to install, add dimension and interest with shiplap that's perfectly primed for painting or staining. Make it match your modern farmhouse decor – what could be better? Wow them with walls that look amazing.
Wanna add a unique touch and warmth to your room? Shiplap paneling is just the thing for you. From pine to cedar, these panels come in a wide array of wood species – and can be left au naturel or painted for an extra splash of pizzazz. Don't forget, you can lay them horizontally or vertically, depending on the look you're going for.
If you're into a more rustic look, consider light-hued woods like pine or oak. Or opt for a more contemporary vibe with blue or black paint on the shiplap backsplash – a bold choice that won't go unnoticed.
Beadboard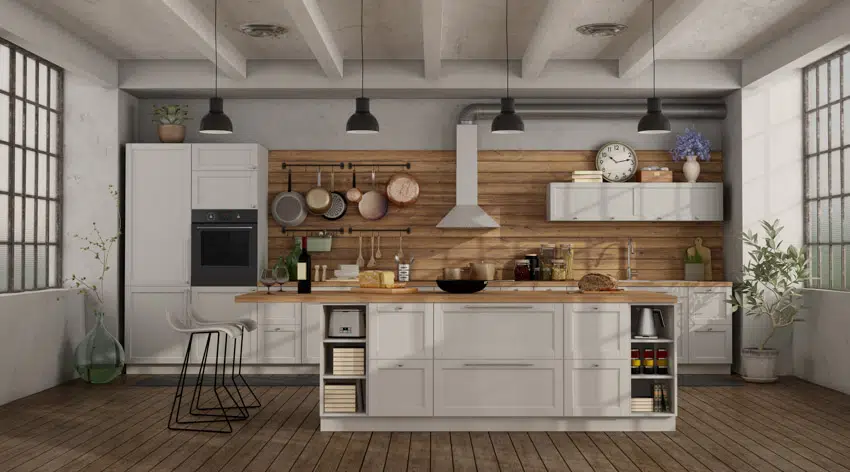 A beadboard backsplash totally rocks if you're after a timeless kitchen look with modern farmhouse vibes. It's easy peasy to install, plus it's paintable and stainable so you can make it your own.
Whether completing the style of an entire room or adding just the right finishing touch, this classic splash is sure to deliver.
The size of the beadboards is a major factor in creating that sought-after modern farmhouse kitchen look. With narrow boards, you'll get a timeless finish whereas wider boards give you more of a cool, contemporary vibe.
Go for an all-natural and classic rural feel with no treatment, or express your own style and give it a fresh coat of paint to truly make it yours.
Reclaimed Wood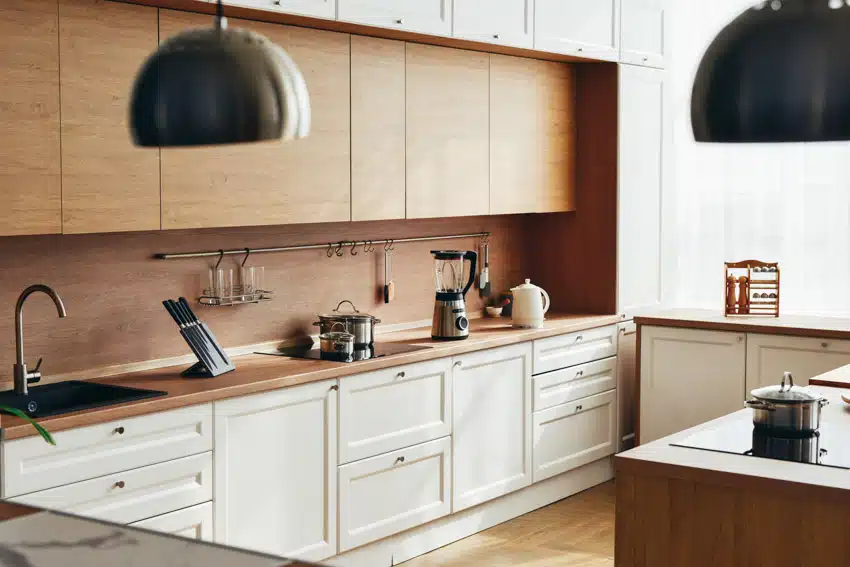 Give your modern farmhouse kitchen a warm, inviting, and effortlessly rustic atmosphere with reclaimed wood. Not only is this sustainable material environmentally friendly, it's the perfect way to add personality and charm. Plus, you can feel good that you've made an eco-friendly choice.
Most reclaimed wood has been salvaged from old barns, demolished homes, crumbling structures and other constructions. As a result, each piece boasts its own distinct look, feel, hue and pattern – quite amazing really.
Reclaimed wood's inherent blemishes and natural wear-and-tear give it character and make it the perfect choice for modern farmhouse kitchens. If you're after a classic, vintage look, opt for lighter woods like oak; or if you're aiming to put a modern spin on things, go with walnut or mahogany.
However, reclaimed wood may be vulnerable to damage and moisture, so it's essential to seal it properly – or else.
Nothing puts a damper on your decor quicker than stains or water damage, so don't skimp when you're giving those boards some TLC. After all, a little bit of preventive maintenance now can save a big headache down the line.
Metal Accent Panels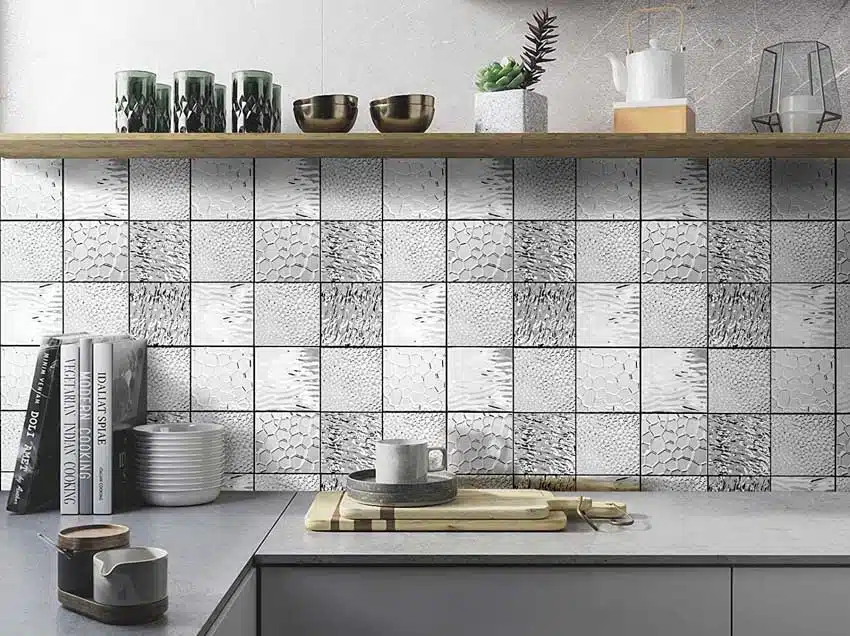 See this metal backsplash at Amazon [sponsored link]
Installing metal accent panels as a backsplash not only adds a modern flair to a farmhouse kitchen, but it also gives you the perfect reflective and bright surface for cooking up gourmet meals.
Giving your kitchen an industrial look that goes with any style, metal is also super durable and easy to maintain – what's not to love?
Metal panels are available in plenty of varieties, such as stainless steel, brass and copper – each having their own unique texture and color.
Plus, you have the option of leaving the metal accent panels unfinished for a classic rustic look or sprucing them up with some spray-paint if you're feeling fancy.
Stainless steel could be a statement-making backsplash option – modern-looking and rust-proof. Or, go darker with black or bronze to really make an impact.
The finish on metal accent panels can refine the look from modern to industrial – opt for polished if you want sleek vibes and brushed or matte for something cozier.
Why settle for just one look when you can add some drama to your kitchen and go with metal accent panels? If you're going for something modern, aim for a minimalist, linear pattern.
Or if vintage vibes are more your speed, go wild with an intricate design. Mix up different types of metal with farmhouse cabinets to give your backsplash a unique, custom-made feel. Who knows—it could turn out even better than you imagined.
Backsplash Tile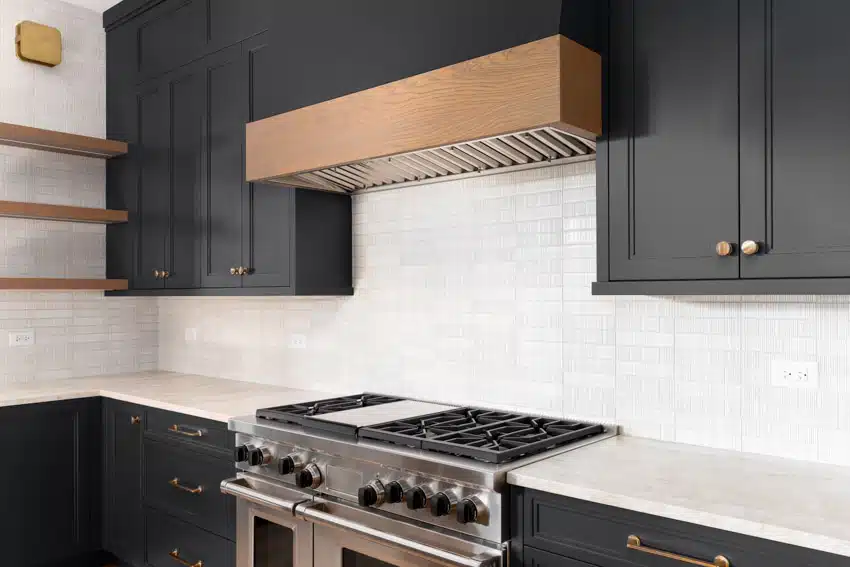 Give your kitchen a splash of personality by choosing from this selection of must-have tiles for modern farmhouse kitchens.
From materials to colors and patterns, there's something here sure to catch your eye and accentuate the overall look – you simply can't go wrong. What are you waiting for? Go on – tile it up.
Subway Tile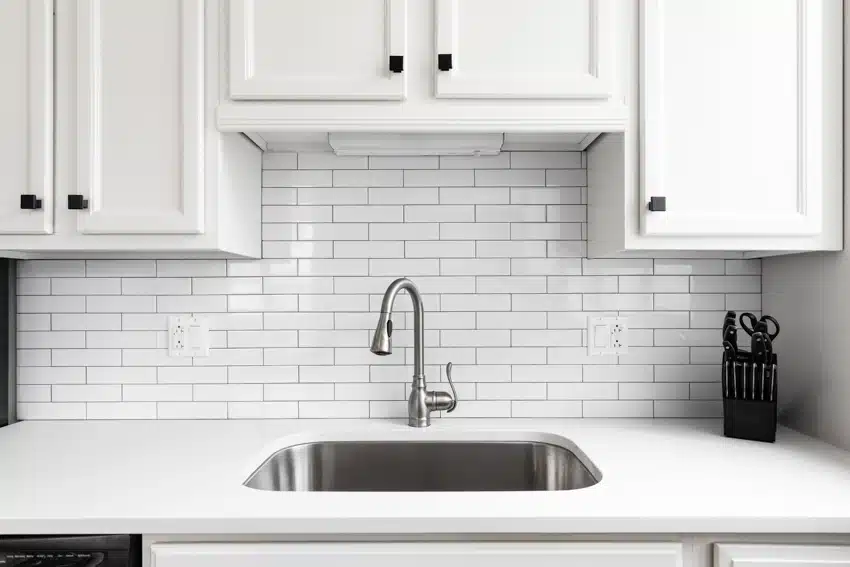 Subway tiles are a classic for any kitchen, but now have become part of the modern farmhouse aesthetic. This timeless rectangular style was first seen in NYC's underground as far back as the early 1900s, and continues to be a favorite when it comes to backsplashes.
Its simple sophistication brings out the rustic allure that farmhouse kitchens boast about. Furthermore, subway tile is undeniably a lasting, low-maintenance must-have and comes in an abundance of materials– from ceramic to porcelain to glass and beyond.
Ceramic offers a winning trio of affordability, longevity and ease while porcelain boasts added features like stain-, scratch- and heat resistance.
Prefer something more high-end? Opt for glass subway tile with its ultra sleek style that catches the light, making any small kitchen appear larger!
Subway tile's appeal comes from its go-anywhere versatility — you can stack it in different patterns for a variety of designs. Most popular is the running bond, creating that classic staggered look. Herringbone stacks 'em diagonally, while going straight up is perfect for a modern vibe.
White subway tile is the perfect fit for a modern farmhouse kitchen – effortlessly capturing the simple and clean appeal.
However, why stick to the traditional when you can inject some color and character with colored subway tiles? Go for navy blue or black – whatever takes your fancy – to create a unique space that stands out from the crowd.
When it comes to grouting, you've got plenty of choices. White grout is always the way to go for a classic, chic look. But if you want to spice things up a bit, colored grout can give your backsplash design some real personality.
Looking to make a statement? Opt for dark grout – it'll make your tiles pop. Dazzle with a subtle touch? Light grout is sure to be the perfect finishing touch.
Patterned Tiles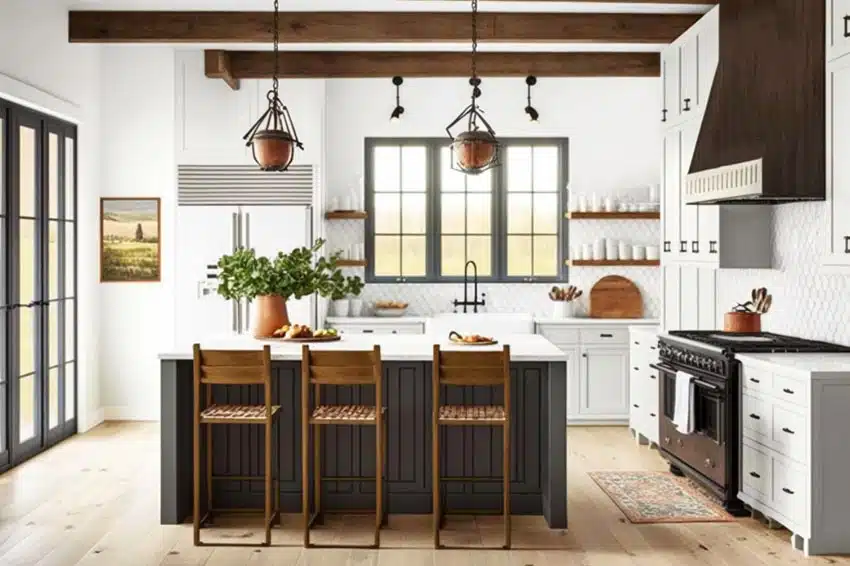 Patterned tiles can really bring life to a modern farmhouse kitchen. From bold geometric shapes to delicate floral details, you're sure to find something that'll make your backsplash stand out. Give your cooking space some unique charm – and show off your style.
Adding patterned tiles to your kitchen can be a great way to set the tone – they can anchor the space by creating a bold border or adding subtle accents among solid-colored tiles.
But if you really want to make an impact, go big and use patterned tile as your primary backsplash – it'll have everyone who walks through the door stopping in their tracks.
When picking a pattern for your backsplash, you've got plenty of options. Chevrons, hexagons and diamonds can give your farmhouse-style kitchen a contemporary feel.
Florals, paisleys and damasks could bring an intricate yet delicate touch to the space. And if you're feeling adventurous, why not go for tribal or Moroccan-inspired designs for a boho vibe?
Interior designers know it's key to look out for when selecting patterned tile for a backsplash – the tile's size and scale. A ginormous pattern on a teeny-tiny mosaic tile can quickly become overwhelming, whereas a subtle print on an expansive tile can easily go unnoticed.
Plus, they've got to assess the color scheme of the kitchen; that patterned tile might amply match the rustic farmhouse style or inject some extra vibrancy and spirit into your design.
When it comes to grout, you have so many options at your fingertips. From colored grout to brighten up your modern farmhouse kitchen design, or white grout for a classic and timeless look – whichever way you go, you've got to make sure it complements that backsplash tile pattern.
It is also critical to analyze the color scheme of the kitchen design. A patterned tile can either accentuate the modern farmhouse kitchen paint colors or offer a splash of color and improved aesthetic appeal.
Patterned backsplash tiles can really transform your kitchen – choose from porcelain, ceramic, natural stone, or even concrete for long-lasting beauty and sophistication. Porcelain is super durable: it's scratch-resistant, stain-resistant, and won't warp under high temperatures.
Ceramic is also a great option if you're on a budget – although it won't quite offer the luxurious look of travertine or marble tiles. Just bear in mind that these natural stones require more maintenance if you want them to stay looking fabulous.
Tile is an ideal choice for a backsplash since it's heat-resistant and can be sealed against moisture. It's also a stylish option, adding a layer of color and pattern to any kitchen design. – Kitchen Ideas That Work, Beth Veillette
Hexagon Tiles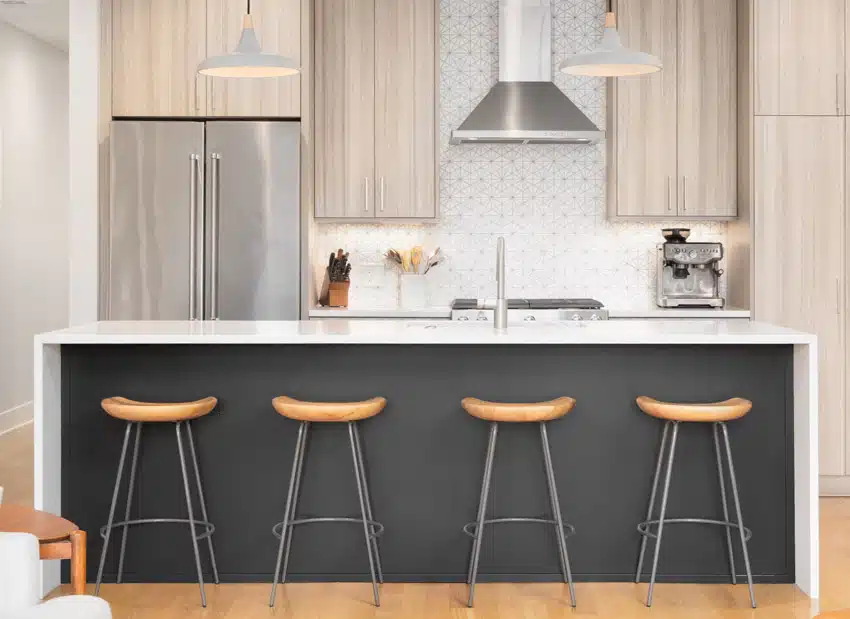 Hexagon tiles are a stylish hit in the modern farmhouse kitchen, oozing rustic charm and sophistication. Rock them in trendy honeycomb or starburst patterns for a seriously show-stopping view; these backsplashes have rocketed in popularity over the past few years, cementing their spot as an undeniably fashionable solution.
Hexagon tiles bring a fun, sculptural vibe to the kitchen, and their oh-so-versatile shapes allow for endless possibilities with your backsplash design.
Coming in many different sizes and colors, these six-sided beauties can be stacked in countless combinations to create eclectic looks that'll have everyone stunned.
The adaptability of hexagon tiles also makes them an excellent backsplash tile choice. They are offered in a vast array of sizes and can be combined in complex patterns to produce assorted designs.
Woah, check out the honeycomb design. The tight hexagonal arrangement of tiles totally oozes traditional vibes. But if you're after something more lively, give the offset hexagon pattern a whirl – with its staggered tiles offering up plenty of pizzazz.
Hexagon tiles come in a variety of materials—including porcelain, ceramic, marble, and metal. Porcelain and ceramic are the most popular choices for a backsplash since they're cost-effective and durable…plus they look great.
But if you're after something to really wow your guests, go for some lush marble hex tiles. They can add class to any kitchen—just bear in mind that they take extra care to maintain. For an industrial vibe, you could opt for metal hexagonal tiles instead; they'll certainly get people talking about your unique design.
White hexagon tiles are an ever-classic choice, offering something timeless and sleek. On the flip-side, darker shades like black and gray add a good dose of depth to a modern farmhouse kitchen design.
Or, if you really want to liven up the space – think bright blues or greens. Your bold colors can bring some life and uniqueness to your culinary quarters.
Wow – Hexagons in the kitchen are a modern farmhouse's dream come true. Since each tile seamlessly interlocks, there are zero grout lines to break up the wow-factor.
That means with a hexagon backsplash you get a smooth and sleek look that can make your kitchen appear larger. But it's all in how you use those grouts—narrow ones create an even cleaner appeal, while wider gaps add emphasis to the hexagon pattern.
Glass Tiles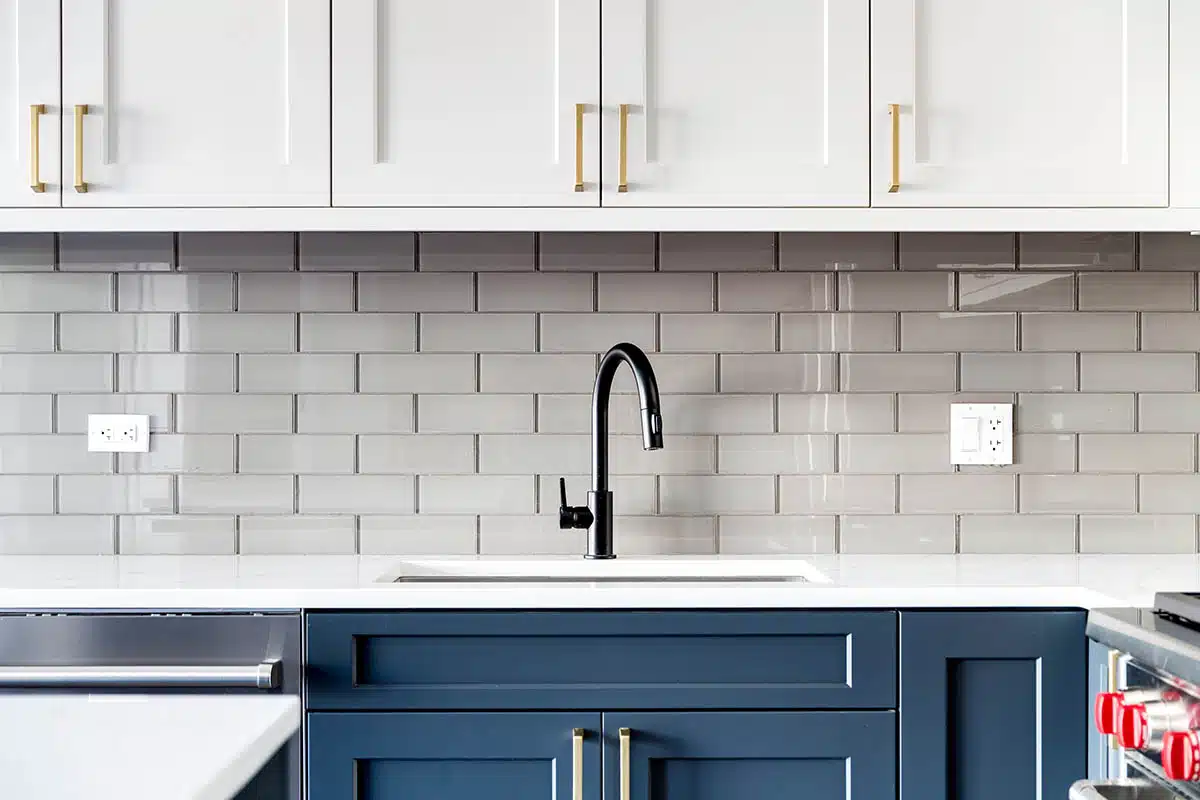 Glass tiles are an awesome pick for making your modern farmhouse kitchen look even more high end. They spruce it up with brightness and sparkle, plus add some stylish flair.
Not to mention, glass tiles give your farmhouse-style kitchen that extra dose of modernity–it'll totally wow your guests. Feel free to let your imaginations run wild and create a totally unique look. Go on and embrace the style.
Glass tiles really add some splash to a kitchen – varying finishes and colors like clear, frosted, iridescent and textured let you stack 'em in endless patterns.
And the best part? Reflections from the glass help a small kitchen feel more airy and spacious. Plus, they're super easy to keep clean, making them the ideal choice for any modern farmhouse that needs an extra boost of style while maintaining practicality.
The shine of glass tiles is one of their bonus benefits; when combined with soft sunlight, they can give your kitchen a bright and airy ambiance—brightening the space up to make it look bigger and more inviting.
Glass tiles sure come in all shapes and sizes – from tiny mosaics to large slices of paradise. And you can easily give your space a personalized touch, with frosted options for a gentle feel or a vibrant mix of pa rem ores for that wow-factor. Glass tiles can really liven up the backsplash in style.
Glass backsplash tiles are quite the catch – super easy to maintain. Their stain- and moisture-resistant nature makes them a truly reliable kitchen decor addition, lasting you longer than most.
Due to the wide range of colors you can pair them with a variety of materials such as Carrara marble countertops or different shades of quartz. The work with many different cupboard styles, and one popular pick right now is to use Shaker cabinets with attractive door hardware and matching sink finish.
Not to mention, when any kind of oil or food splatter gets on them – no worries. Simply take a damp cloth with some soap and wipe it off – job done.
Do you prefer a modern farmhouse or country kitchen backsplash? Share your experience and opinions in the comments. See more related content in our article about how to make a galley kitchen look farmhouse on this page.