Here we share our brick backsplash kitchen ideas with pictures of different designs, types, features, colors, and tips for how to clean and seal brick in the kitchen.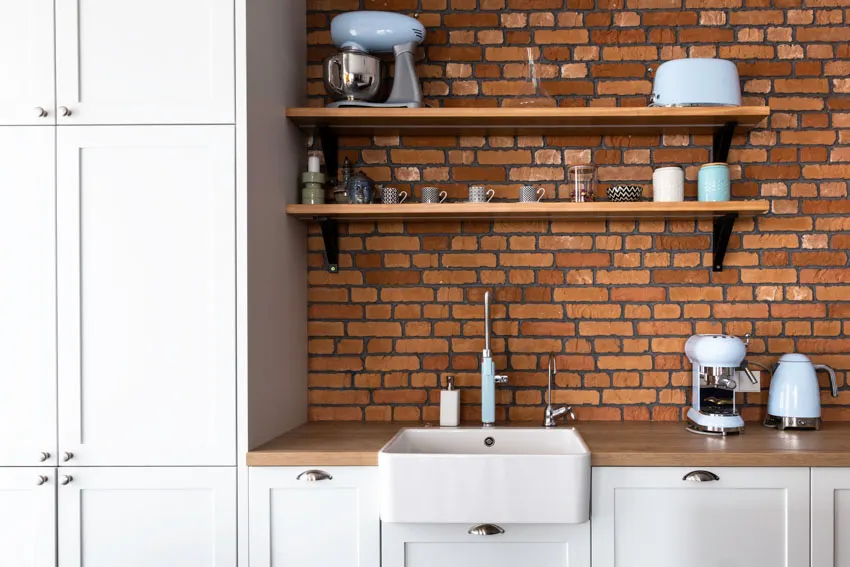 If what you're looking for is a unique backsplash and a definite standout, brick just might be the thing for you. It is charming and it has a sense of character and substance to it. There's a certain authenticity to the brick that no other material can quite match up to.
The whole point of a backsplash in the first place is so that the kitchen walls will be protected from water and splatters while you're cooking on appliances or while you're washing up after meals.
These days though, a backsplash does so much more than that. It can add color, and texture, and even serve as a design element that can help you personalize your kitchen space and design it in a way that showcases your sense of style.
A brick backsplash is unique because it can introduce warmth and cheer to your kitchen as no other backsplash material can. It has become quite popular in high-end homes that want to incorporate a sense of luxury and history into their kitchen spaces.
Types Of Brick Backsplash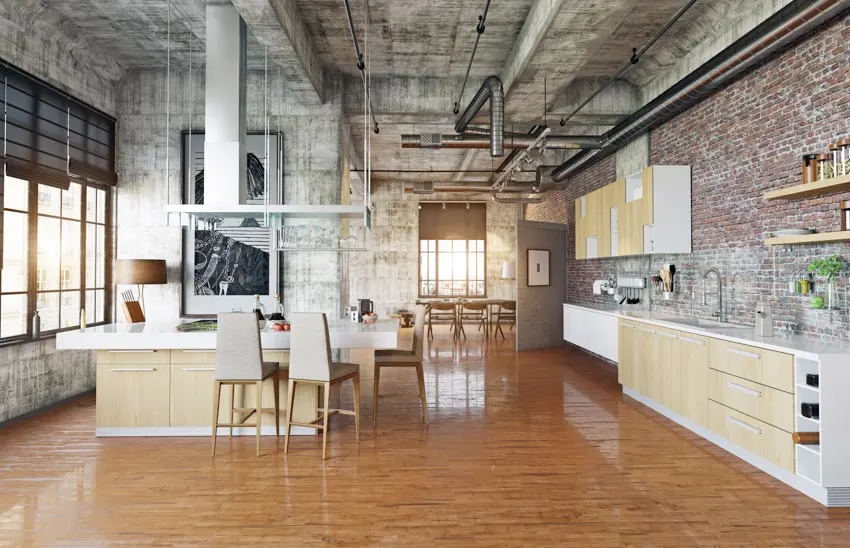 If you're considering certain brick backsplash kitchen ideas, you should know what options you have on the table. Finding the right type of brick backsplash that fits your taste as well as your kitchen's architectural style is key to bringing everything together.
The main elements you need to consider when picking out the type of brick you are going with are how functional it is, whether or not it fits into your aesthetics, how easy it is to clean, and what type of maintenance it requires further down the road.
If you are in this for the long haul and you are looking for something that will look amazing and will stay amazing over the years, then the real brick is the obvious choice. It's good to know though that it isn't your only choice. Let's take a look at the different types of kitchen backsplash that use bricks out there.
Solid Brick Backsplash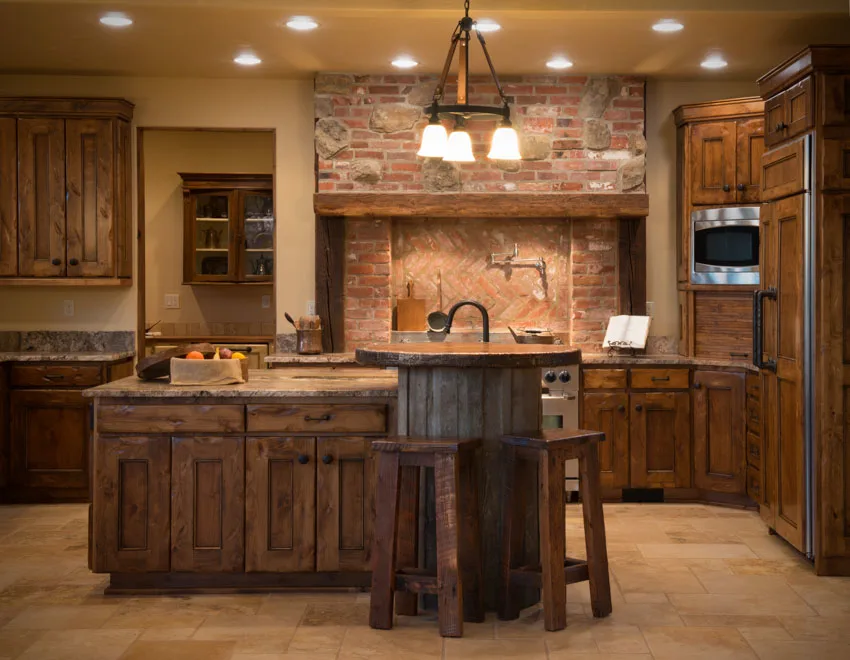 Regular bricks are as real as they come. It can create an authentic brick backsplash that's honestly hard to simulate with any other material. And of course, it will end up looking like a real brick wall because, at the end of the day, it is one.
This option is among the brick backsplash kitchen ideas that have some disadvantages though. It can be quite heavy and thick. You can proceed with it if the purpose is to create a solid brick wall and if you don't mind losing a few inches of space.
You also need to make sure that the wall you're adhering the bricks to will be able to support the added weight.
For a backsplash extending from the kitchen cabinets to the countertop, consider thinner alternatives like brick-look porcelain tiles or brick veneers, instead of a full brick wall.
Brick Tile Backsplash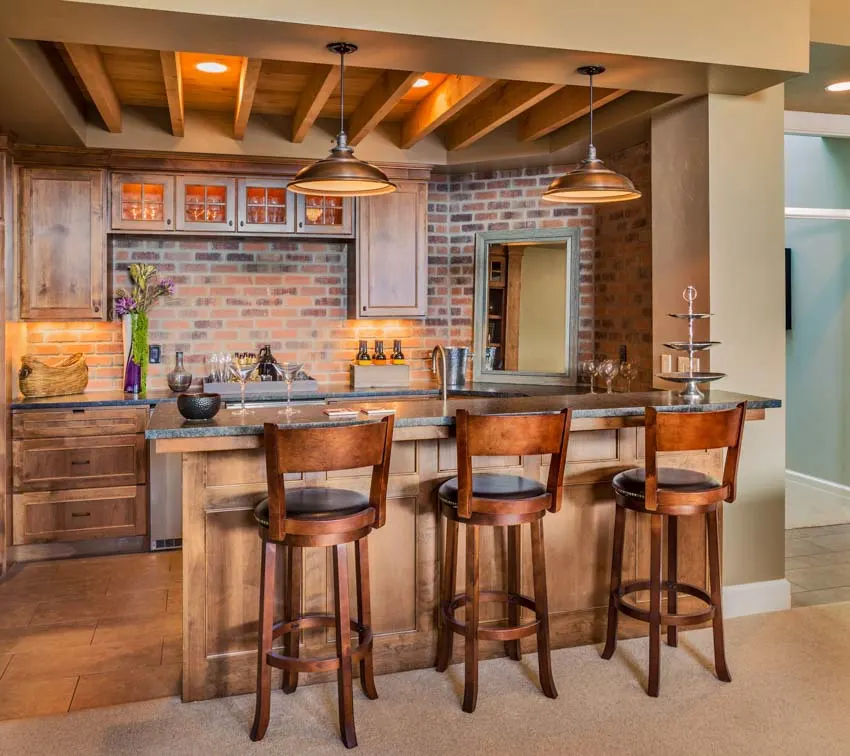 Brick tiles are just as the name suggests. They look and feel like real bricks but they're made out of tile materials: either ceramic or porcelain.
This tile material is lower maintenance than regular brick making it popular in homes today and suitable with various countertops such as granite and stainless steel appliances.

These brick tiles are so durable that they can even be used as floor tiles. They come in a wide range of brick backsplash kitchen ideas and designs for you to choose from. See more brick kitchen ideas here.

Natural Stone Brick-Like Tiles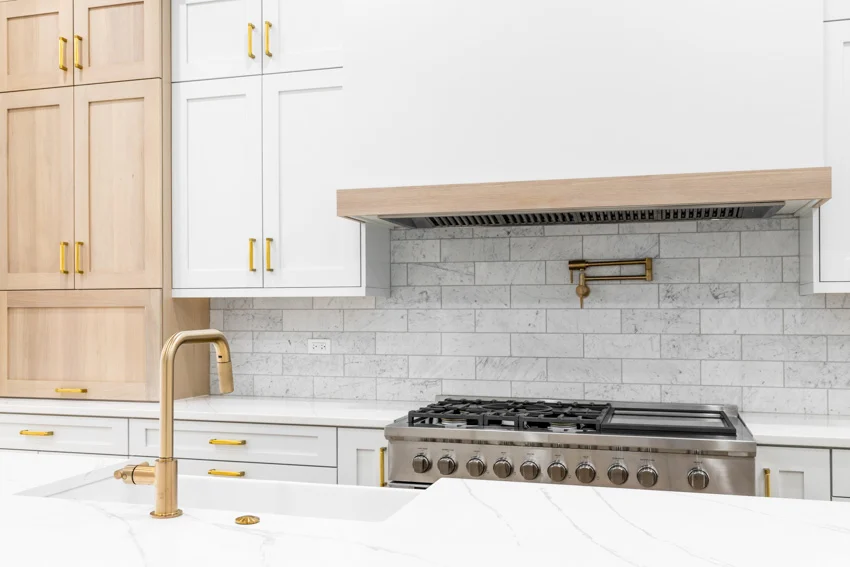 These brick-like tiles are made out of travertine or marble. They make for really great-looking brick substitutes if you want to explore the textures and colors a bit. Natural stones are interesting because of their natural gradient colors and veining patterns.
Not a single one is exactly alike. There's a certain sense of culture and sophistication that comes along with these brick-like tiles that a lot of homeowners appreciate.
Tumbled travertine tiles deliver lots of texture and sophistication but also offer easy and mess-free installation. That's another option worth looking at, especially considering the competitive price they often come at.

Polished natural marble tiles are shaped just like bricks but have the added advantage of marbling, which offers sophistication and beauty. The surface of these marble tiles reflects light in a similar manner to how glass does, providing a touch of elegance.
If you want something a bit more refined than exposed brick but like the concept of brick construction, marble brick tiles are worth considering.
Ceramic brick tiles offer a wide range of shapes, colors, and even sizes. They can be glazed or artfully painted, replicating the diverse spectrum of colored items found on an island. Some are even shaded and textured to look just like the original brick.

Porcelain brick tiles can come in glazed or matte finishes. The matte ones offer a subdued and understated look, and you can usually play around with the grout colors if you want some added dramatic effect to your backsplash.
On the other hand, the glazed or high gloss finishes can make your kitchen space look ultra-modern or contemporary.
Brick Herringbone Backsplash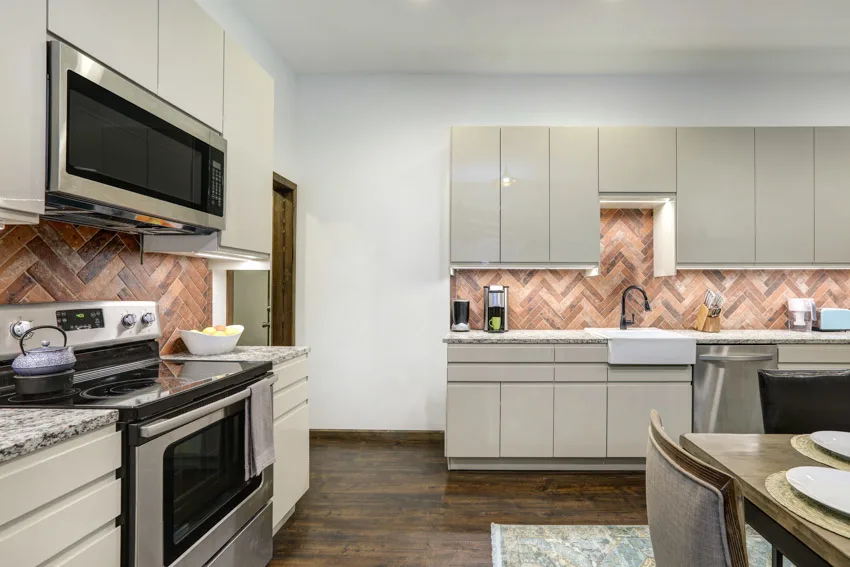 There's no spoken or written rule that bricks have to be arranged horizontally. You can create unique depths and textures to your backsplash with a brick herringbone pattern arrangement, which might remind one of the irregular yet beautiful patterns in a mosaic.
This will not only add to the design element of your backsplash and your kitchen space in general, but this can also easily turn your backsplash into the main focal point of your kitchen design.
If you want your kitchen backsplash to be truly unique, you can easily reel that in with a brick herringbone backsplash. On an added note, feel free to play around with other patterns as well.
Red Brick Backsplash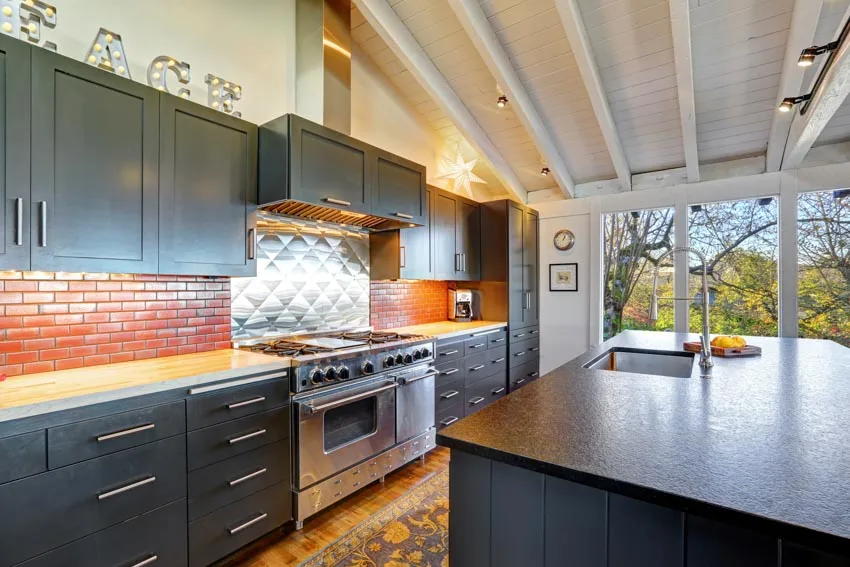 Red bricks are as classic and as original as they come. Opting for a red brick backsplash kitchen ideas would mean that you are going for a material that's much harder and so much more durable compared to the rest of its brick counterparts.
They're also great insulators. They can absorb and store heat during the daytime and then release that heat during the night. This can help keep the kitchen and the entire house warm during the cold months and keep it cool during the hot summer days. Their manufacturing is also eco-friendly.
It's a material that's readily available anywhere and its manufacturing has a very minimal carbon footprint. They're fire-resistant too. They can also effectively block out sounds which means that the noises you make in the kitchen won't easily reverberate through the rest of the house.
White Brick Backsplash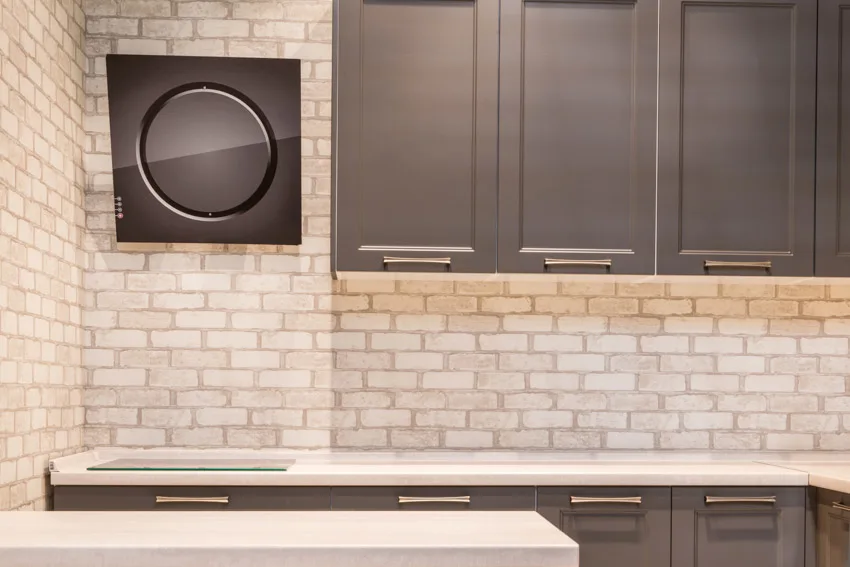 If you came into the property with an existing brick backsplash that you just aren't all that crazy about, there's no need for you to tear the entire thing down. You don't have to lose all that storage space, or sacrifice the investment you've made.

Painting your brick backsplash white or giving it a whitewash is very much an option. What this does is that it allows you to create a more neutral backdrop but still retain the advantages of getting added uniqueness as well as texture from the real bricks.
Gray Brick Backsplash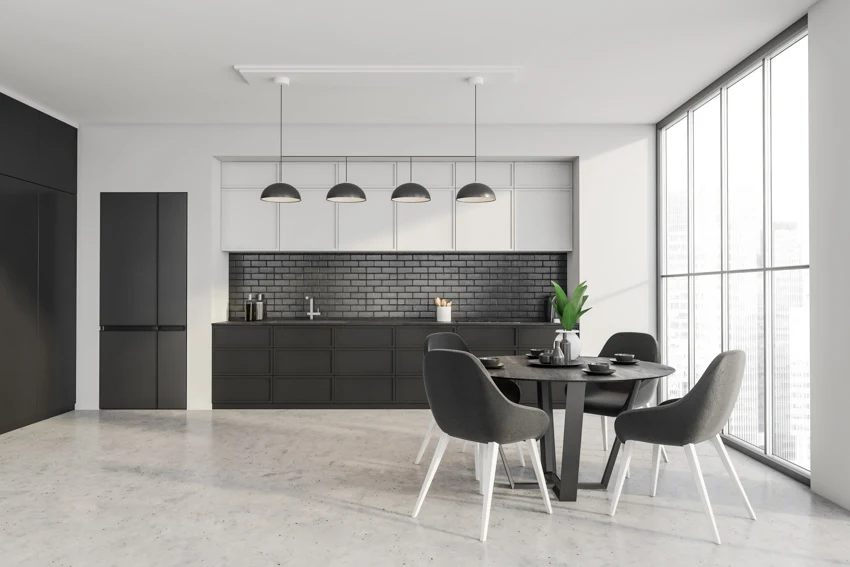 If you're seeking to revamp your family's favorite room for food preparation and with it bring about new features, you might want to explore other brick backsplash kitchen ideas, specifically gray bricks.
Gray is a color that has persistently been a favorite among interior designers and homeowners due to its versatile appeal, and further information and details suggest its rising popularity.
It's because of the cool and neutral backdrop it provides. When it comes to features there are also varying shades of gray. They can be dark or white, bordering on almost looking white. When picking out the perfect gray brick backsplash color, think about the mood that you are trying to set for the kitchen room.
A paler or lighter gray feels softer and more feminine while darker shades feel more dramatic and more masculine.
Black Brick Backsplash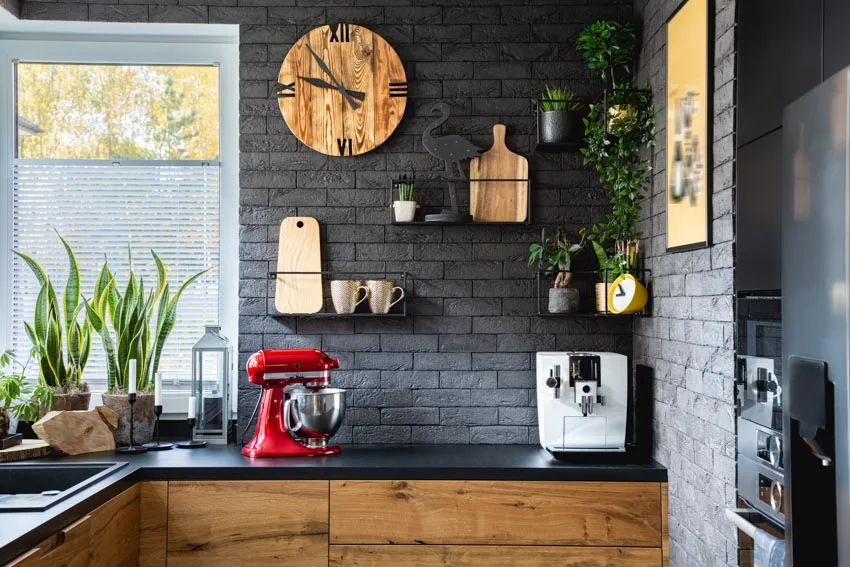 A black brick backsplash is a great option to consider if you're all for the rich texture and timeless charm of brick but what you ultimately want for your kitchen is something a bit more modern and sophisticated.
A black brick backsplash wall is kind of getting the best of both worlds when you take it from this perspective. It has that vibe of blending the past and the present, which is rarely done by standalone bricks or those in regular colors. It can work with an industrial décor, vintage, or even contemporary.
It's a vibrant backdrop that will allow you to showcase the rest of the elements in your kitchen such as your sink, your gas range, your hanging pots and other cooking paraphernalia, and so much more.
This also means though that you will need proper and ample lighting in the kitchen area. A black brick backsplash can end up absorbing all the light that's streaming into the kitchen. This can make the place seem gloomy if you don't have proper lighting to compensate for it.
Faux Brick Backsplash
Real bricks can be a novelty and all that but they can also be quite expensive and a real hassle to install and maintain. Thankfully, you can still replicate the look and feel of bricks without breaking the bank through a faux brick backsplash.
Brick Veneer Backsplash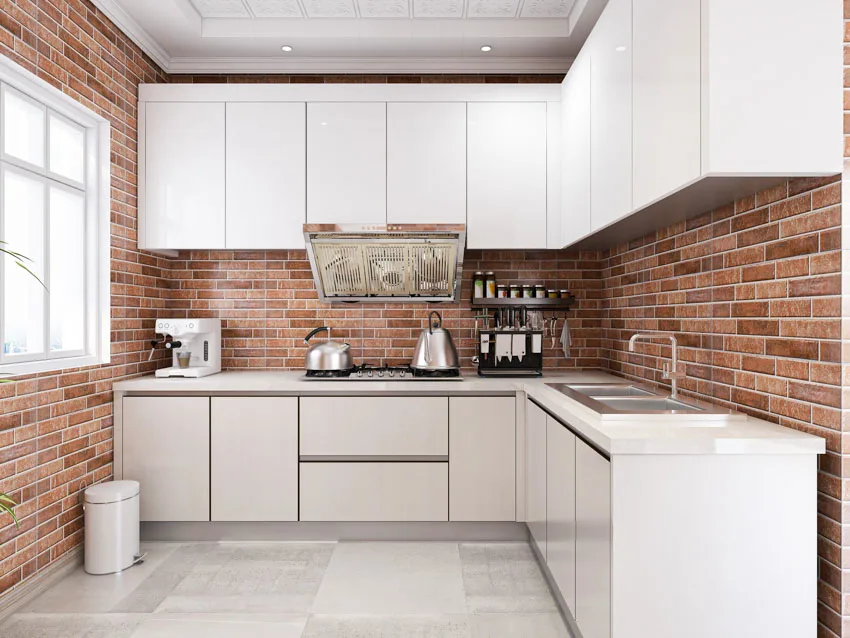 It's also nicknamed "thin brick". It still gives you that authentic exposed brick look because when it all comes down to it, it's still real brick. The only difference is that it's only ¾" thick.
It's easier to tack onto your backsplash area or to even cover large wall areas in your kitchen. Thin brick veneer can give you all of the great benefits of real brick without the heavy weight and the large costs that come along with it. Read more about brick veneer vs brick in this comparison guide.

Peel And Stick Brick Backsplash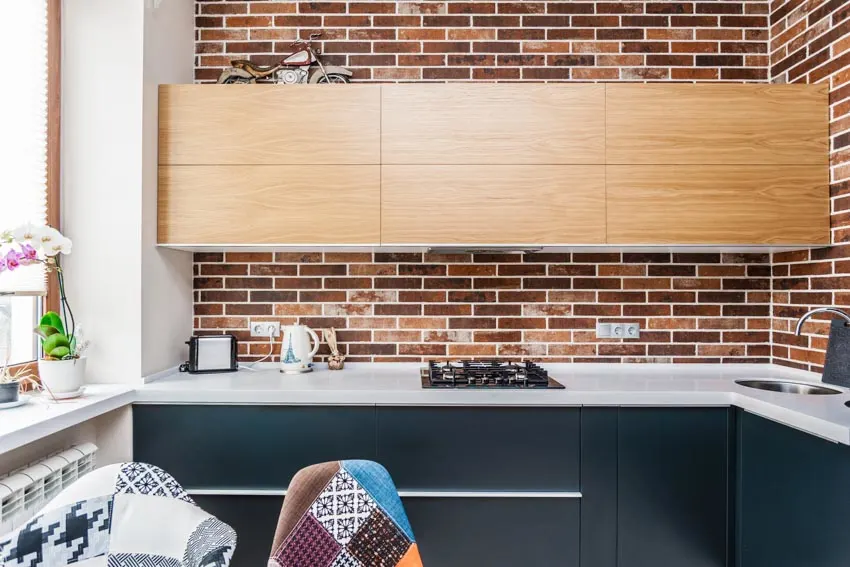 Peel and stick brick backsplashes are more or less under the same category as durable wallpapers with a brick design. They're self-adhesive so their main advantage is that they are easy to apply and easy to remove at the same time.
They are not at all like their predecessors, which can be a hassle to put up as well as remove. These can add a unique character to the room without the large price tag.

These types of peel and stick backsplash can come in plenty of designs or you can even get yours customized. You can add personalized murals of your choice, depending on the design scheme that you're going for.
Brick Panel Backsplash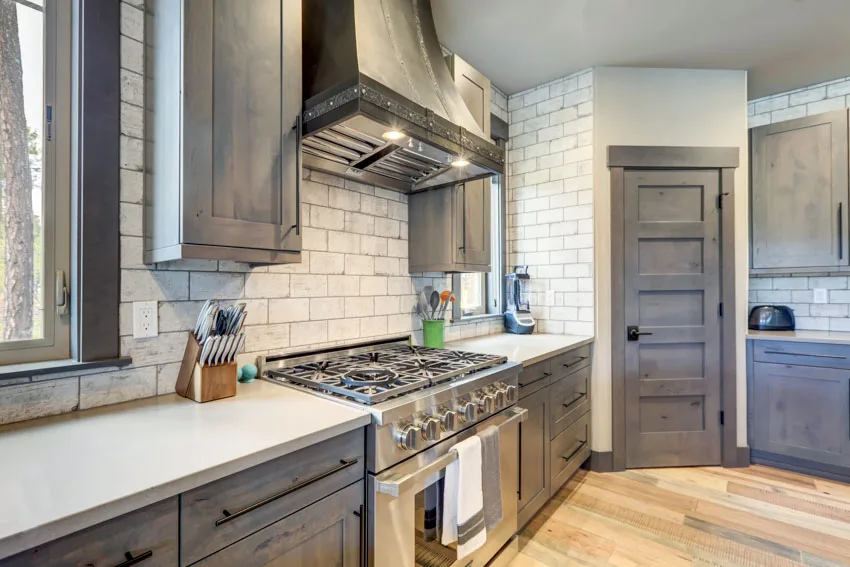 Brick panels are lightweight and incredibly easy to install or apply. You get to have a real 3D brick effect on your backsplash for a fraction of the cost and effort.
You can use them for the backsplash area alone or even for entire kitchen walls if that's how you would like to design them. There are different types of brick panel backsplash materials to choose from.
HPD brick panels (high-density polyurethane) are impressively realistic while at the same time, durable. They come in a wide variety of designs from traditional brick, to colonial brick, and even contemporary brick designs.
PVC or faux brick panels are made out of plastic-like material and aren't far from your peel-and-stick types. If you want a quick remodel of your backsplash and you don't want to front the budget for it just yet, this is a great option to consider. Take note though that this isn't as durable as the other options out there.
Foam 3D faux brick wall panels are also easy to install and are just as lightweight but they offer a little bit more by way of durability. If you want to be able to deep clean or scrub down your backsplash without ever worrying about it getting damaged, coming off, or the temperature affecting its durability, foam 3D brick panels can stand up to the challenge. It can also withstand splashes near the sink.
If you want to be able to deep clean or scrub down your backsplash without ever worrying about it getting damaged or coming off, foam 3D brick panels can stand up to the challenge. It can also withstand splashes near the sink.
Brick Backsplash Kitchen Designs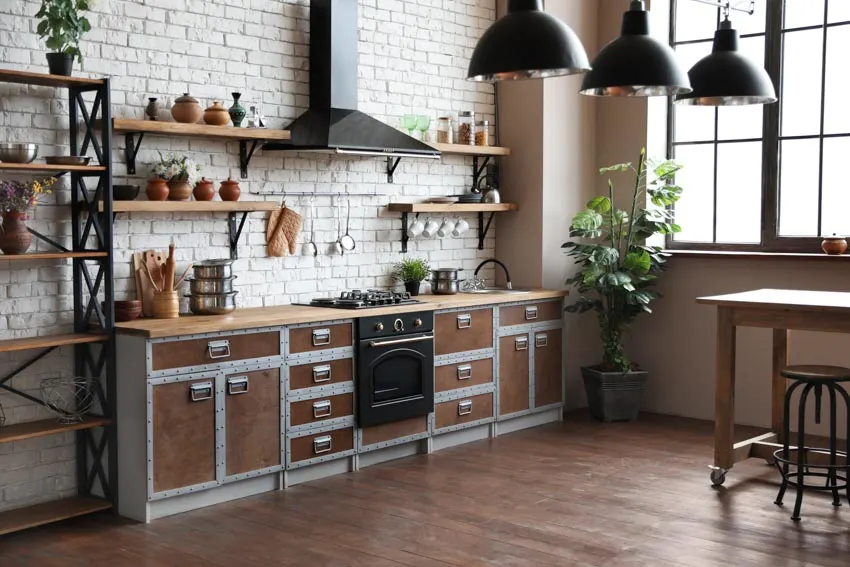 Interestingly, we feel that a brick backsplash can go with anything. When you think about it, if you want to go for something a bit more rustic and traditional, it will fit right in.
If you want to go for a somewhat rough and unfinished industrial look, a brick backsplash with its authentic color temperature and texture works itself in quite perfectly as well.
On the other hand for something a bit more refined and cultured, depending on the type of brick and finish you go for, a brick backsplash will still be able to contribute a lot to elevate the space and work with different kitchen decor items. It's truly versatile and a hard-to-beat material to consider in the world of kitchen backsplashes.
Exposed Brick Backsplash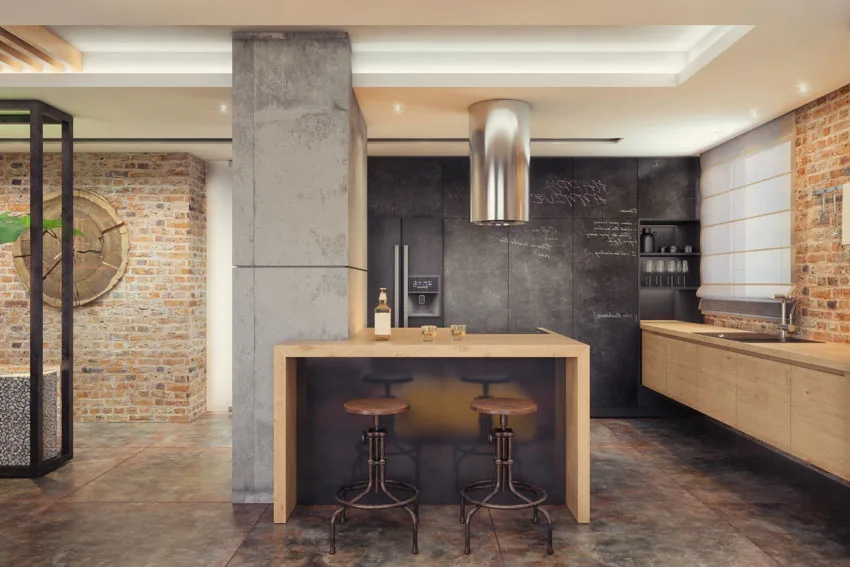 Exposed brick backsplash kitchen ideas can be quite charming and warm. It can add texture to an otherwise cold and blank space in your kitchen area. However, you should know that it can also at times be a source of frustration if things don't go your way.
Exposed brick walls are extremely durable but at the same time, as they age, they tend to flake and crumble. This means that it will require a lot more maintenance compared to a tiled or plastered backsplash wall.
Still, they're loaded with texture. The texture is a key element in interior design that can automatically change the vibe or the mood in the kitchen. Because exposed brick has a rough texture, it reflects less light.
This means your kitchen will look and feel warmer. Exposed brick has a tactile appeal to it which is why it isn't uncommon to see people running their hands over a rough brick surface.
If you're going for an industrial chic design, or that rough unfinished look similar to Italian kitchens, you can make a loud statement with exposed bricks in your kitchen backsplash.
Rustic Brick Backsplash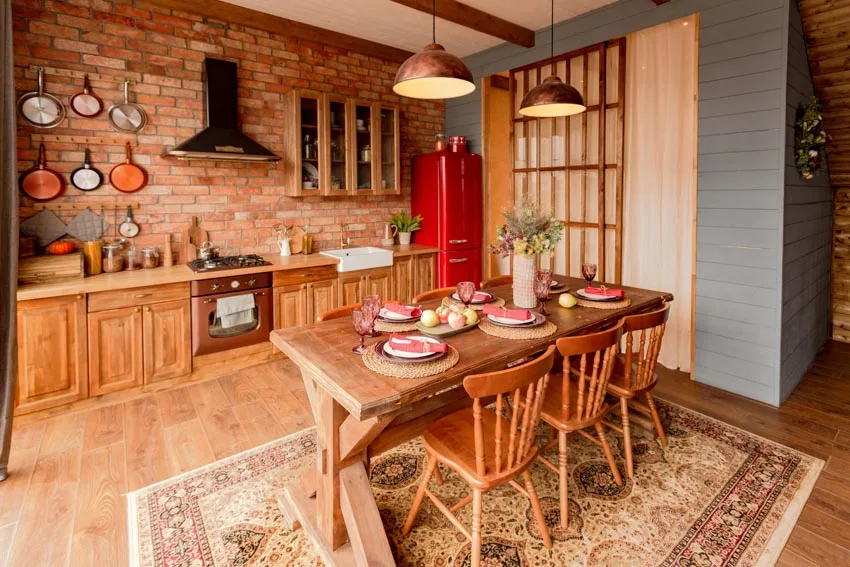 A rustic brick backsplash can evoke a bucolic or classic vibe to your kitchen space. This is why brick backsplashes can be commonly seen in rustic or country-style kitchens.
Bringing in the rustic brick backsplash element to the space though means that you get to go for something so much more.
You can inspire some rustic sensibility to the space by pairing it up with other subtle rustic elements such as textured rugs, pottery, copper pots, and so much more.
It's also versatile as rustic brick backsplashes can also work with more modern and contemporary-styled kitchens.
Painted Brick Backsplash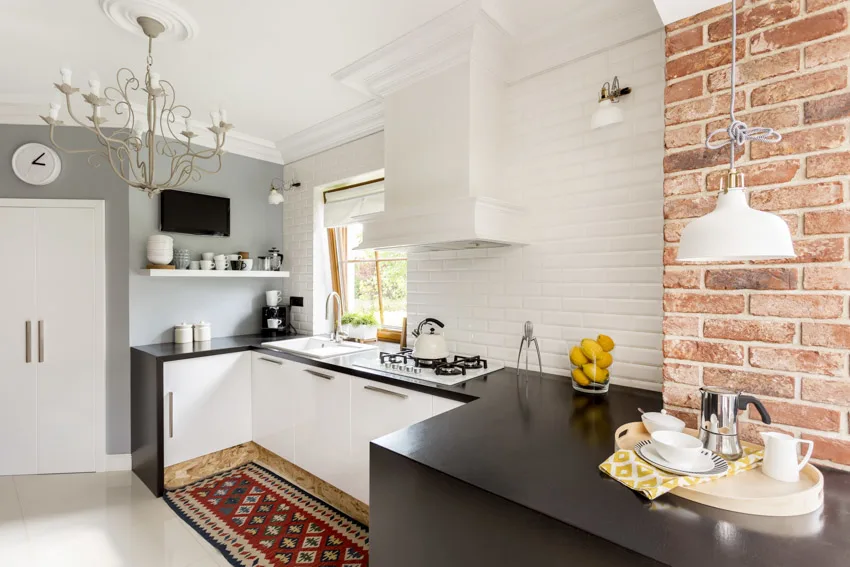 If you aren't happy with your preexisting brick backsplash, don't rush into getting rid of it just yet. You can get it painted. It might surprise you but this is one of the easiest ways for you to play up your brick backsplash and change its appearance a little more to your liking.
When doing this though, you need to make sure that you prime your bricks properly before painting over them. Bricks are organic materials that are highly porous. They might end up not absorbing the paint as well as you would like them to if you don't prime them properly at first.
Farmhouse Kitchen Brick Backsplash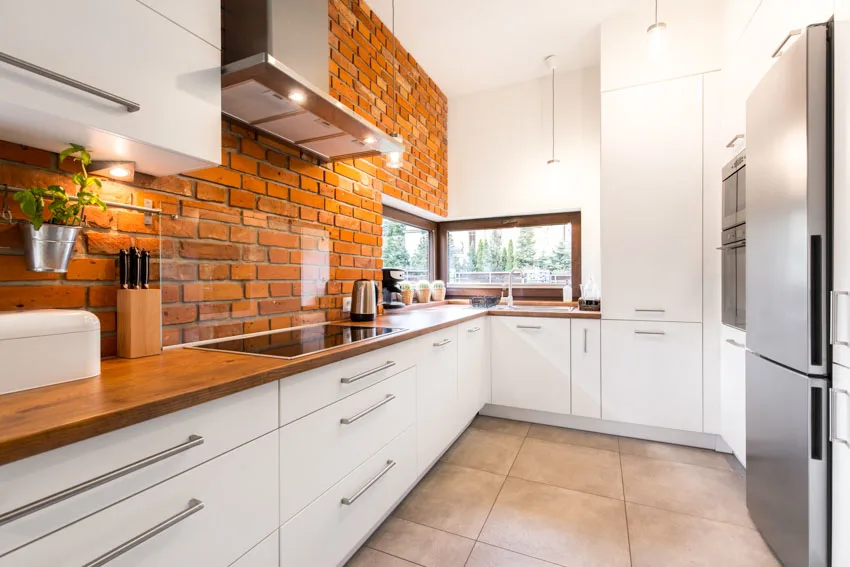 A brick backsplash can go very well with a farmhouse-styled kitchen. This interior design style is focused on bringing rustic charm, functionality, and simplicity together. This also has heavy influences from rural architecture as well as the aesthetics that go along with it.
On the other hand, a brick backsplash is among the farmhouse kitchen ideas that tend to embrace modern comforts. The finished design is very comfortable and inviting and a brick backsplash tends to fit right into the equation.
Pair your brick backsplash with other naturally aesthetic elements such as wood and white tile and you'll have a picture-perfect kitchen aesthetic in no time.
Brick Backsplash With White Cabinets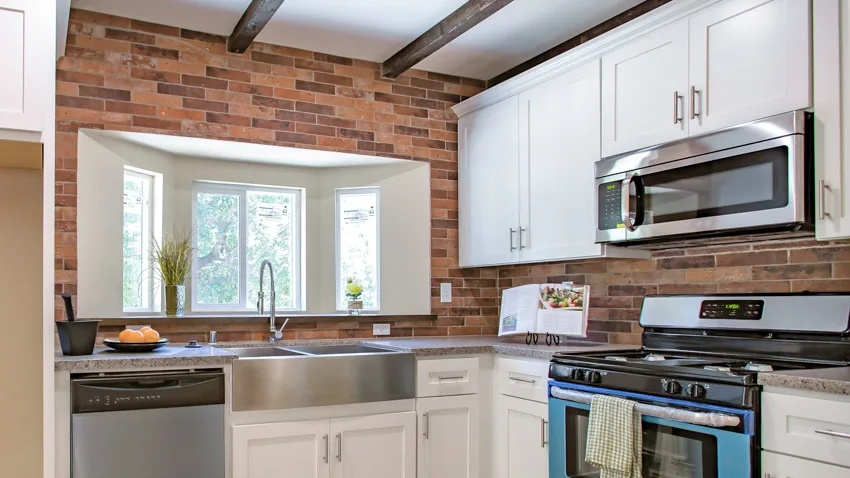 A mainly white kitchen is a pretty good excuse for you to accommodate some color and texture into the space and this is exactly the kind of dynamics that white cabinets and a brick backsplash can have when you bring them together in the same space.
White cabinets can go with any color and is a strength they have. This is why white is an all-around color that can adjust to any type of aesthetic or design scheme.
When paired with a brick backsplash, it serves as a great blank canvas, allowing the bricks to shine through and take in the visual attention when you enter the kitchen.
Don't be afraid to play it up a little. Bricks can range from red to a bit brown or orange but the overall vibe is still something fairly neutral and organic. You can amp up the design element by adding some brass cabinet hardware and elements in the kitchen, such as faucets, pots and pans, and so on.
How To Seal Brick Backsplash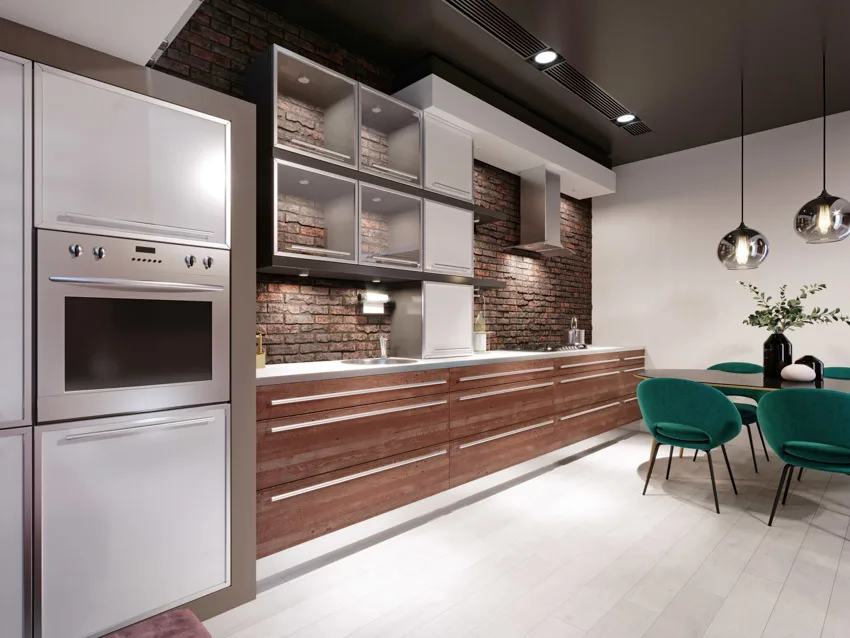 So let's say you've decided to take the plunge. You got your brick kitchen backsplash completed. There's still one last step on the list though, you need to make sure that you get it sealed.
Sealing your brick backsplash is important because, on its own, brick is a highly porous material. Meaning, its surfaces can allow moisture, kitchen splatters, and other stains and dirt, and grime to seep through. This can cause stains and unsightly markings on your brick backsplash.
So how exactly do you seal it? You need to start with a very deep and thorough cleaning. Use a masonry brush and some household cleaner or detergent to scrub through your brick backsplash.
Rinse it out and make sure that it dries completely after that. Then you can begin with the sealant application. Use broad strokes that overlap with each other while you're at it.
Once you're satisfied with the thickness of the coverage, allow the sealant to absorb for a few minutes, or as indicated in the sealant's manufacturer instructions, before wiping the excesses off. It's a simple process.
The bulk of the work will be on properly prepping your brick backsplash so that the sealant adheres to it properly and without any issues.
How To Clean Brick Backsplash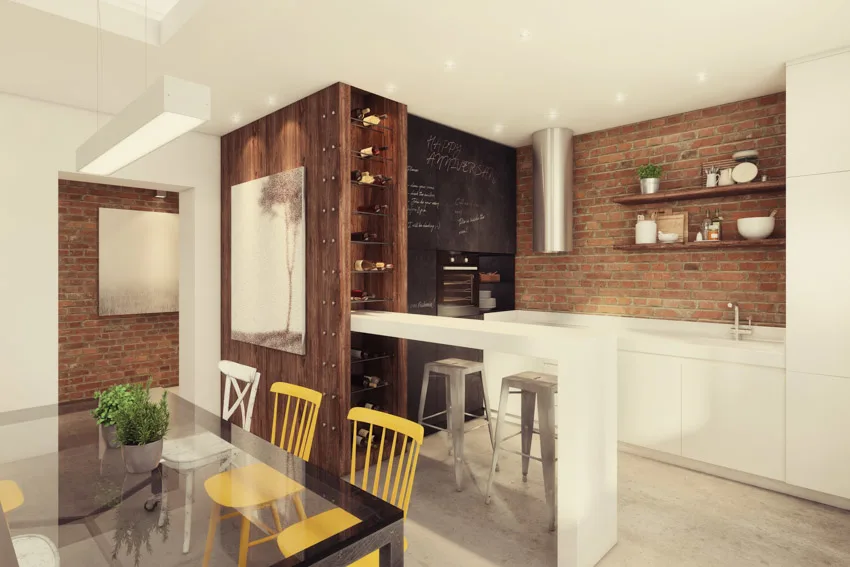 Cleaning your brick backsplash properly is important. This ensures that your backsplash gets sealed properly. If there are any contaminants or debris on the surface, this can bring in some issues with the sealant absorbing properly into the bricks.
When cleaning a new brick backsplash, make sure that you don't go heavy on the cleaning products. A basic stone and tile cleaner should suffice. Spray the product all over the brick backsplash, and with the use of a masonry brush, scrub the entire area from top to bottom.
If you happen to have a much older backsplash and the bricks have been exposed to the kitchen for quite some time now, there's a pretty good chance that you'll be dealing with a lot of buildup in the grout area.
For cases like this, you'll want to go with a heavier-duty cleaning product so that you can make sure that your brick backsplash is completely clean before you get it sealed. There are lots of masonry cleaners to choose from in the market.
Just make sure to stay away from the acid-based ones. They can end up damaging the surface of your brick backsplash and there's no turning back from there. Take a look at the product description. It's usually best to find a heavy-duty cleaner that has a neutral ph.
See more related content in our article about wavy tile backsplash on this page.