Here's our guide to what color to paint for white cabinets such as brown, blue, green and more. Also see the best decorative tips for your white kitchen cabinets.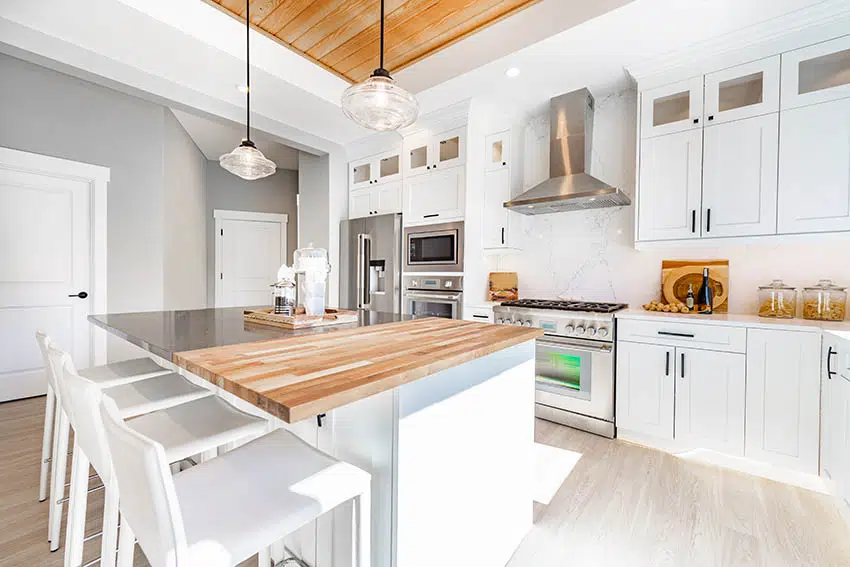 What color paint to pair with white cabinets? White is like a blank space. It's extremely versatile that you can mix and match it with any color you desire.
So if you have white cabinets, pairing them with other colors surely won't be a problem. The best paint color to use, on the other hand, depends solely on your preference.
However, if you want to achieve excellent results and give your room a certain feel and character, home design experts recommend the following color combinations with white cabinets.
Paint Colors to Pair with White Kitchen Cabinets
Here we share the best paint shades to pair with white kitchen cabinets. Below each color we also share our top picks for individual paint choices along with the brand and paint codes.
White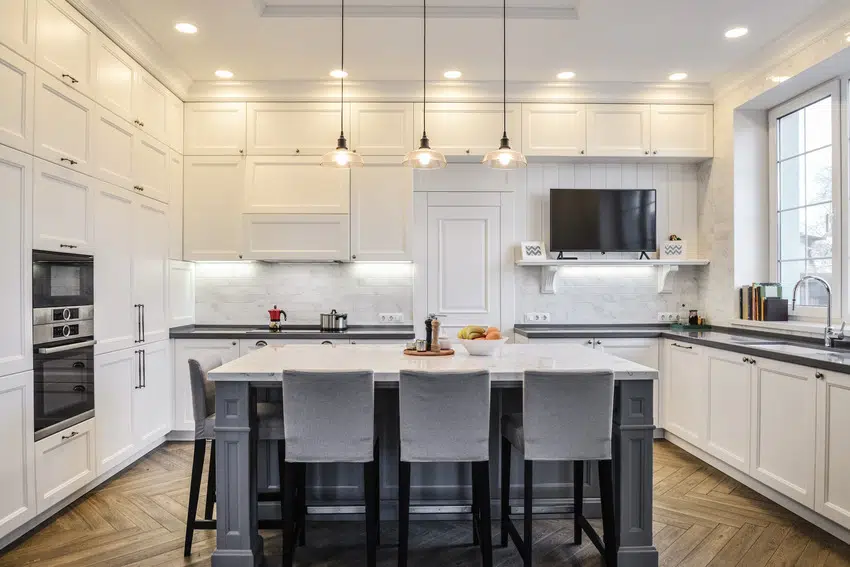 White on white does not necessarily mean that you will use the same shade of white. If, for example, your kitchen cabinets are off-white, you can pair them with a classic white to make the room appear crisper and softer.
Regardless of the shade of white you prefer, using this combination will definitely create a calm and neat ambiance, which is just perfect for every home kitchen. Paint recommendation: Swiss Coffee OC-45 by Benjamin Moore
Light Yellow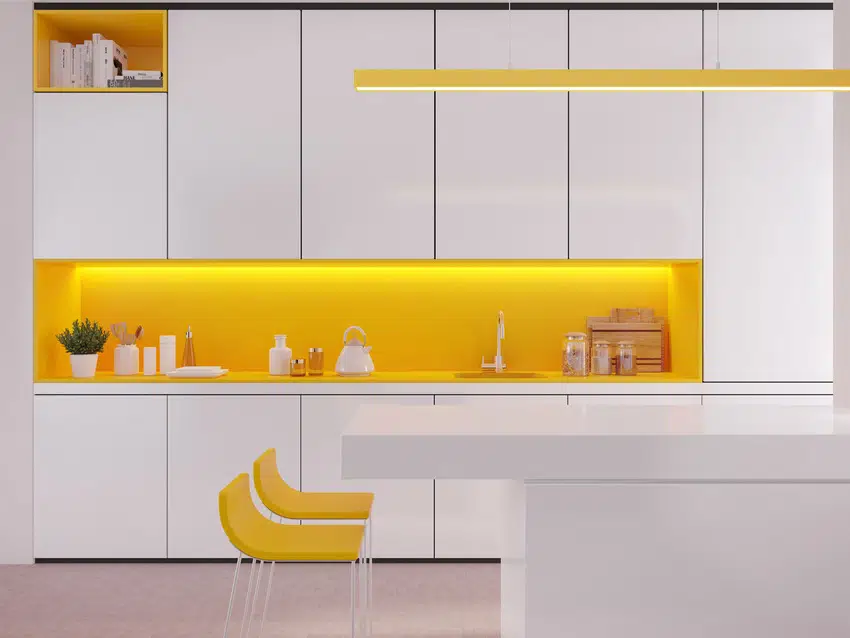 Some interior designers use light yellow paint on walls to match with white cabinets because it gives a room a cheerful and bright atmosphere.
Moreover, because yellow reflects light well, it makes a small room appear bigger.
So, if you have a small kitchen with white cabinets, consider pairing them against painted yellow walls for a vibrant color combination. Paint recommendation: Lemon Curd 3007-2A by Valspar
Brown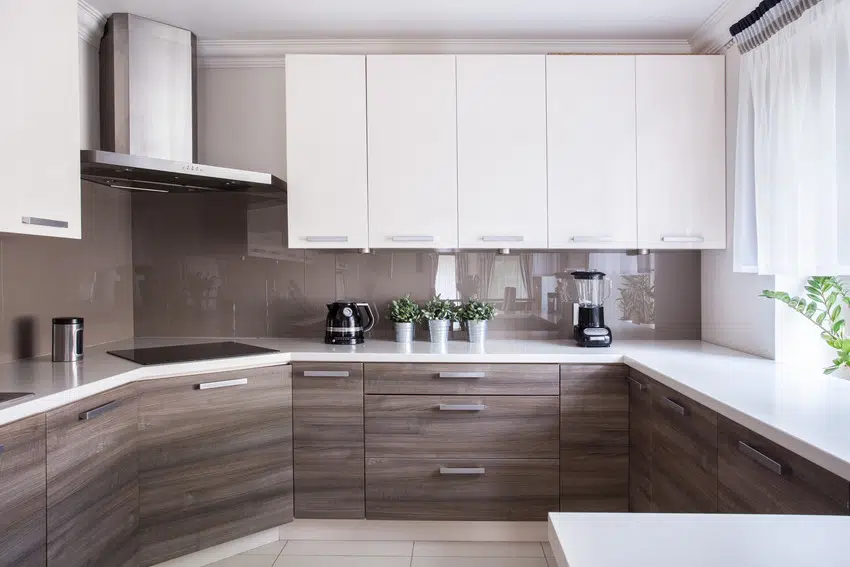 Brown perfectly complements white cabinets. The earthy combination provides warmth to the kitchen, making the room look homey and relaxing.
However, if you want to make the room look more stylish and interesting, consider adding various decorative pieces and design accents. Paint recommendation: Deep Brown DE6077 by Dunn Edwards
Blue
Blue is a neutral color and pairing it with your white cabinets will give your kitchen a guaranteed vintage look.
Adding a touch of gray to your white and blue kitchen will also add more character to the room. This combination works well, especially if your room receives a lot of natural lighting. Paint recommendation: New York State of Mind 805 by Benjamin Moore
Gray
Gray cabinets pair very well with kitchens with white cabinets. Lighter shades of gray or colors blended with beige such as griege are popular picks.
Light color shades tend to provide a brighter backdrop to keep the design light and airy. Paint recommendation: Chelsea Gray (HC-168) by Benjamin Moore
Orange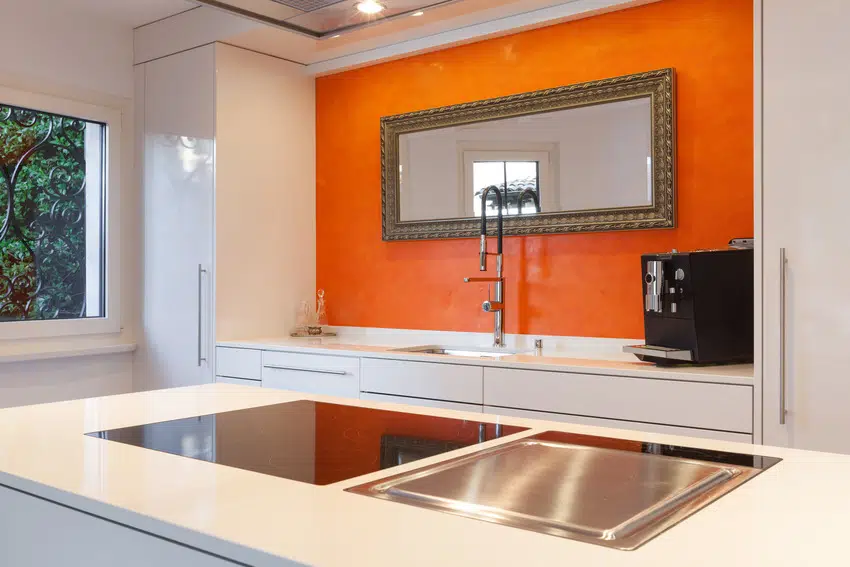 If you want to have a modern-looking kitchen, try pairing your white cabinets with orange walls.
You can then complete the look by throwing in some splashes of black around, such as onyx kitchen countertops or other interior decorative pieces tinged with black. Paint recommendation: Lambert Baby Carrot 8-11 by Pratt & Lambert
What Color Paint for Cream Cabinets?
Sometimes, you don't actually need to change the paint color of your walls. Instead, accentuating your cream cabinets with another color will already work wonders and is actually more cost-efficient in the long run.
That said, here are some color hacks to further highlight the beauty of your kitchen and make your cream cabinets stand out even more.
Embrace Peace with Sage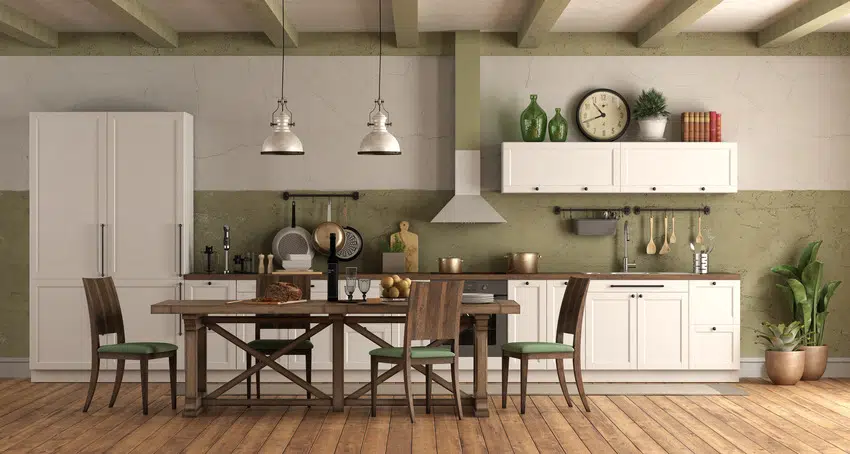 Embellishing your kitchen with sage-colored accessories or using furniture as accents combined with ivory walls will produce a generally calming and soothing effect.
For example, installing a sage-colored island in your kitchen will create an elegant contrast in the room.
Top paint pick: Clary Sage 6178 by Sherwin-Williams
Go Natural with Green
You can either go for bright or mint green. If you prefer a visually striking kitchen, go for bright green for best results.
Don't worry about it looking too gaudy. The softness of your cream cabinets provides a great contrast to bright green accessories like plants.
If you want a more subdued look, however, mint green is a better choice. It gives your kitchen space a natural and fresh look, making your kitchen look bright without appearing too overbearing. Top paint pick: Cool Mint 582 by Benjamin Moore
Have Fun with Blue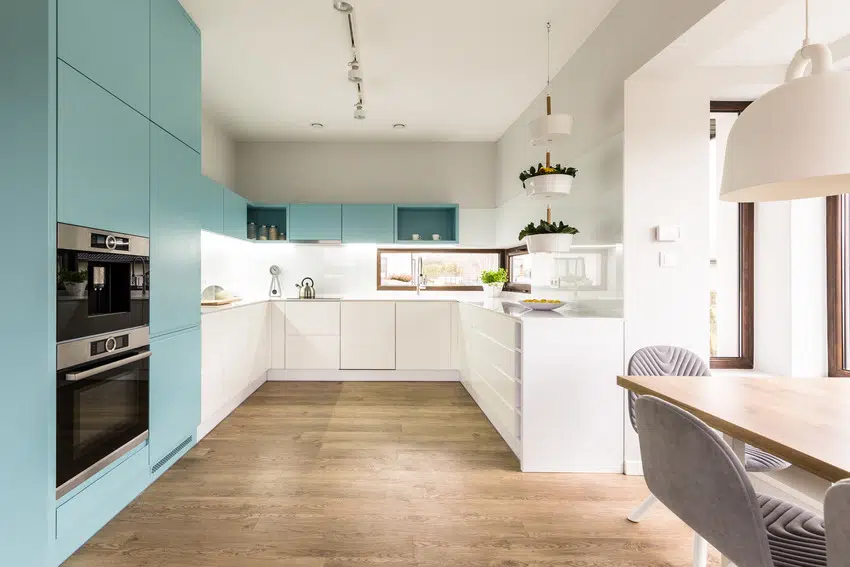 If you want your cream kitchen cabinets to have that contemporary appeal, use blue for your accents.
For example, painting a portion of your wall blue or using blue accent chairs will do the trick. Depending on the accent you will choose, blue can give your kitchen a sophisticated look with a fun and bold twist.

Top paint pick: Blue Willow 570F-4 by Behr
Get Bold with Red
Do you want your kitchen to look warmer? Use red accents or furniture. The cream cabinets mellow out the intensely radiant red color while red brings some fiery liveliness to the cream.
Add red splashbacks to your kitchen to give it a sleek, contemporary look. At the same time, it makes the room look cozy. To give your kitchen a homey feel, you can also add a solid wood table. Top paint pick: Red Licorice PPG1186-7 by PPG Pittsburgh Paints
Add Some Zing with Orange
Cream-colored cabinets and ivory walls might look too soft. Throw in some fire into your kitchen (figuratively, of course) by adding a touch of orange.
Adding a few orange-colored accessories in your kitchen is guaranteed to make the room a little more lively and exciting.
Top paint pick: Autumn Blaze 2002-1A by Valspar
Go Black and White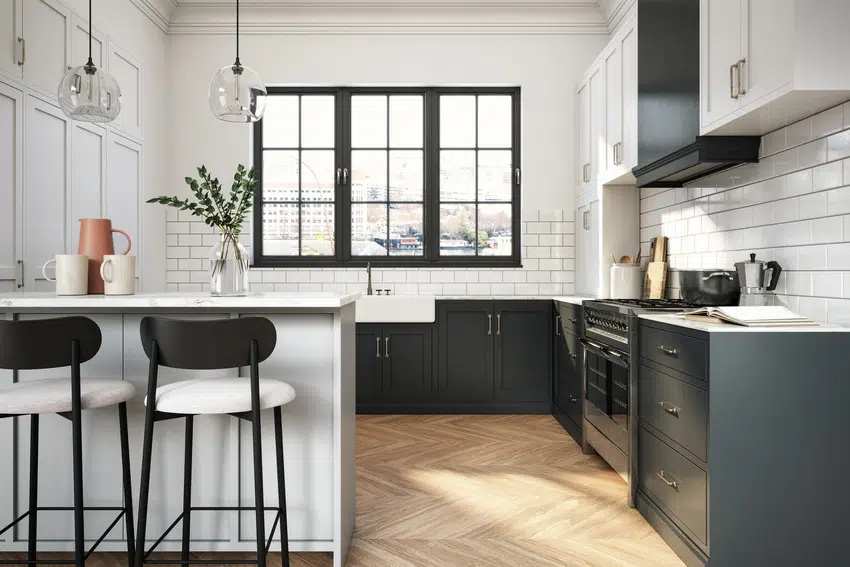 If you think black and white for your cream kitchen cabinets won't work, think again.
Adding the black and white combination to your cream cabinets gives a modern minimalist vibe. Pepper your kitchen with black and white accessories, like a marble splashback or black worktop. Top paint picks: Onyx 2133-10 White Dove OC-17 by Benjamin Moore
Additional Decorating Tips for White and Cream Cabinets
Decorating a room in all white or all cream is the ultimate minimalist dream. It is also easy because you can easily get away with any color you choose, and somehow still make it work.
However, you still need to consider which color shades work best together to ensure cohesion and harmony to the overall design of your room.
So, here are some additional tips for your home kitchen ideas to ensure your white or cream cabinets will stand out.
Choose your Undertone
Cream is basically yellow, which has undertones of red and orange. Thus, it blends well with beige, tan, khaki, and coffee.
You can then throw some shades of pale blue and earthy green tones into the mix to give your room an elegant appeal.
White, on the other hand, has blue, purple, and gray undertones. If you want to go minimalist, combine it with shades of turquoise, mint, and bluish-gray.
However, if you want the room to look trendy, pair it with brown and terracotta shades instead.
You can Mix White and Cream
Yes, you heard that right! If you have white cabinets, you can also use cream paint on your walls and vice versa. This combination will give any room a balance of warmth and brightness.
Choose the Paint Color Last
As we mentioned, cream and white are versatile colors.
In general, it's easier to pick a paint color when you have already decided on and bought your kitchen furniture than painting the room first then picking a wall paint color.
Use Black or Wood Accents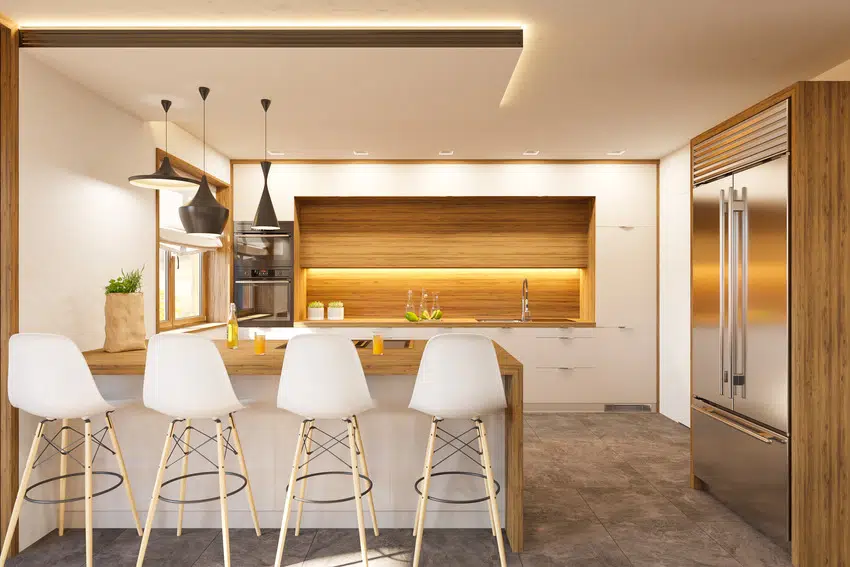 This applies especially if you're going all-white or all-cream for your kitchen interior.
Adding furniture and accessories in black or coffee gives the room an air of warmth and intrigue at the same time.
The Verdict
White or cream cabinets are classic. They never go out of style because they're essentially adaptable and versatile.
So, whichever look you prefer for your kitchen—be it the classic traditional look or the more fun, adventurous style—don't worry because cream and white can easily blend in any interior design.
Visit this kitchen paint colors with oak cabinets page for more content related to what color to paint for white cabinets.