This microwave in island guide features why it's placed there, the different types, pros and cons, suggested kitchen island microwave sizes, and ideal height.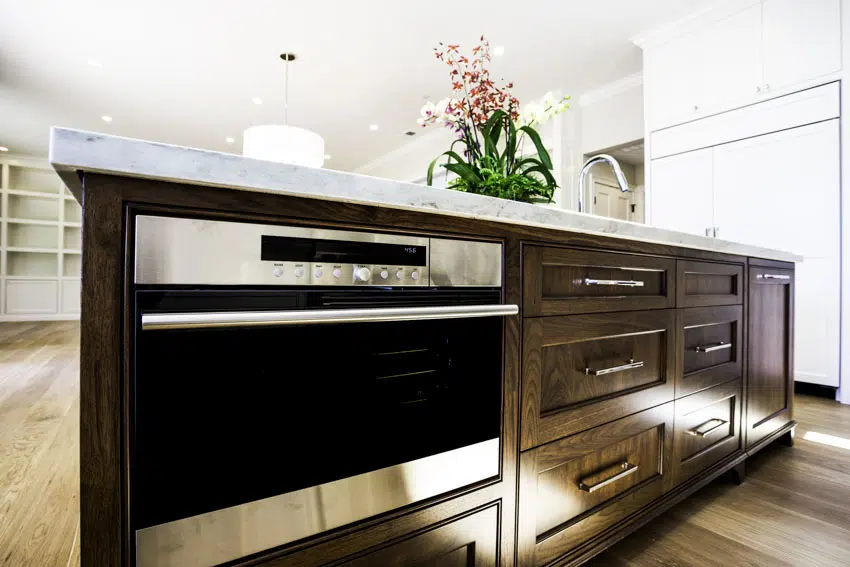 One of the staple appliances you will always find in the kitchen is a microwave oven. Known as a convenient appliance for cooking, a microwave oven is a tool used to heat food in an instant. It's something that will be very useful in the kitchen but finding the right placement for it is important, especially considering it will heat up when in operation.
There are many areas in the kitchen where you can place the microwave oven in. One of the popular choices homeowners place microwave ovens in is on the kitchen island. If this is also something you're considering, explore what you can benefit from and experience when putting the appliance on it.
Why Do People Put Microwaves In Island?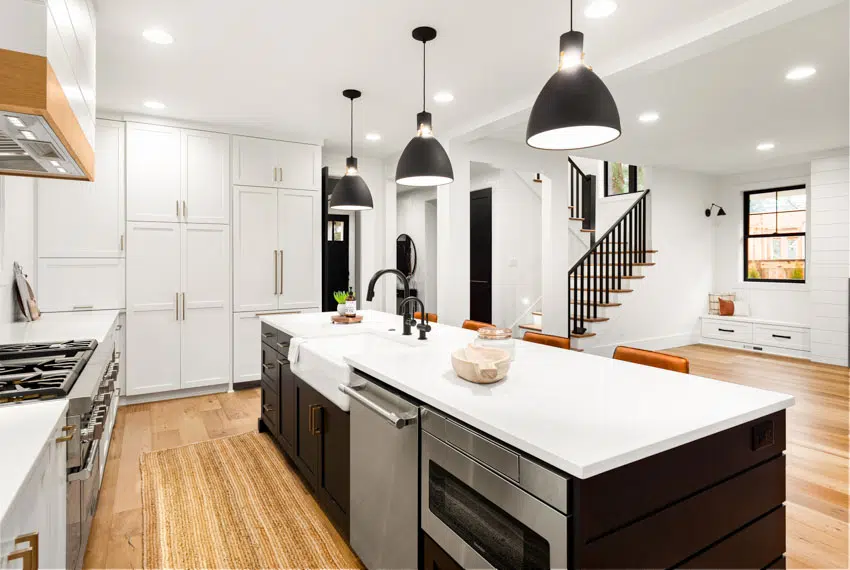 Many homeowners prefer putting their microwaves inside their kitchen island and for a few good reasons. These are some of the top benefits of a kitchen island with microwave.

• Keeps the microwave oven out of sight: Some microwave ovens won't fit your kitchen's interior and while some may do, some just won't work that it would be better to just keep them out of sight.
• Ventilation won't be an issue: While you can always place them inside a cabinet, ventilation will always be a problem you have to address and you might need to take it out every time you use the appliance.
• Easier to reach: Keeping them in top cabinets may make the microwave oven challenging to reach. Keeping them in low cabinets will make the appliance placement too low and inconvenient to access. This is the reason why placing it on top of the kitchen island is the solution for the perfect spot.
• Effective kitchen work triangle: Having a work triangle with the refrigerator, sink and stove within close proximity is effective for meal preparation and cleanup. Having the microwave within this area is efficient and will cut down on unnecessary steps in the kitchen.
To better understand what's in store for you when you choose to place the microwave oven on top of the kitchen island, you can explore the advantages and disadvantages that come along with this use and placement.
What Type Of Microwave Goes In An Island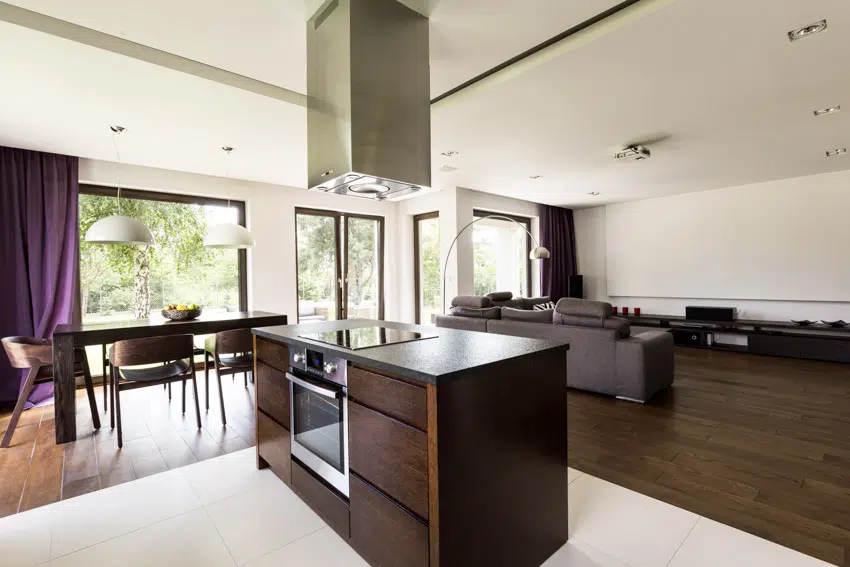 The placement of your microwave oven is important not just to maximize the function of the said appliance but also to provide room for improvement and upgrade of the kitchen.
And if you're leaning more toward placing the microwave oven on top of the kitchen island, there are specific types of microwaves compatible with that placement. Here are some microwave oven types worth considering.
Drawer Microwave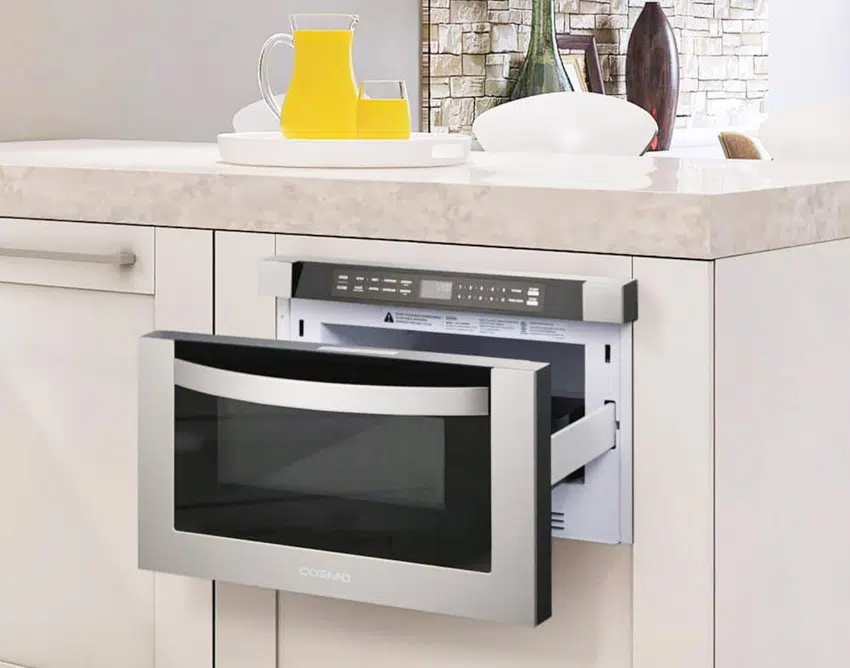 See this drawer microwave at Home Depot [sponsored link]
Another type of microwave oven compatible with a kitchen island is the drawer microwave. This type of microwave oven is structured to be installed under the counter and on the kitchen island and lower cabinet.
And while it's meant for a kitchen drawer just as its name suggests, it is also a good option for kitchen island placement. Check out the advantages you'll get with this type of microwave oven.
• Improved functionality: Compared to countertop microwaves and over-the-range microwaves this type has more available functions and features you can make use of.
• Showcases trendy and eye-catchy aesthetics: The drawer microwave is popular for being aesthetic and elegant in design.
• Allows for cleaner counter space: Its design is meant to be easier to access and placed at a lower height and cleanly and neatly installed.
With these benefits though, there are also drawbacks that come with this choice. Drawer microwaves are usually more expensive because they are considered niche products. In addition to that, you will also have fewer options if by chance it's time to replace it.
Whether you go for a countertop microwave or a drawer microwave, the decision is up to you. You can even choose the over-the-range microwave oven, which will be a pretty unique option if you plan to install the oven on the kitchen island.
Microwave Drawer In Island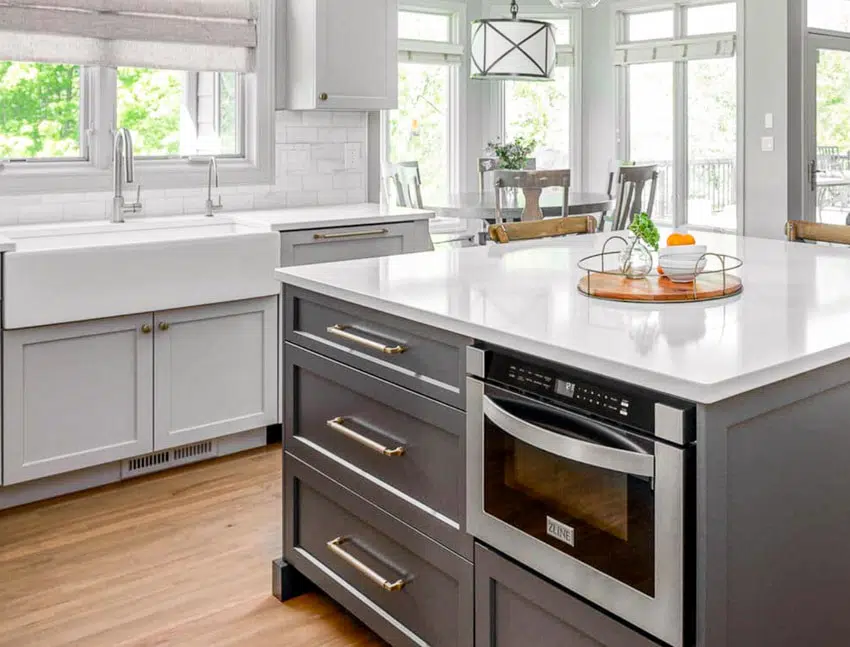 See this microwave drawer in island at Home Depot [sponsored link]
Having as much space on the countertops or kitchen island as much as possible is recommended since you get to have more space to work in. And one way you can free space on your countertop or island is by keeping kitchen appliances, tools, and utensils in drawers.
With this type of microwave oven, you can seamlessly keep the appliance in your kitchen drawer, which is out of sight when not needed and can easily be accessed when you need to use it.
If you choose a microwave drawer on the island, you can experience the following:
• Cleaner island and less clutter than might affect your productivity in the kitchen
• Produce a vibe of work and productivity
• Highly convenient and strategic installation
• Easy-to-fit design to your kitchen aesthetics
• Designs perfectly to fit under the kitchen island
• Elegant and trendy style of appliance
Kitchen Island With Built In Microwave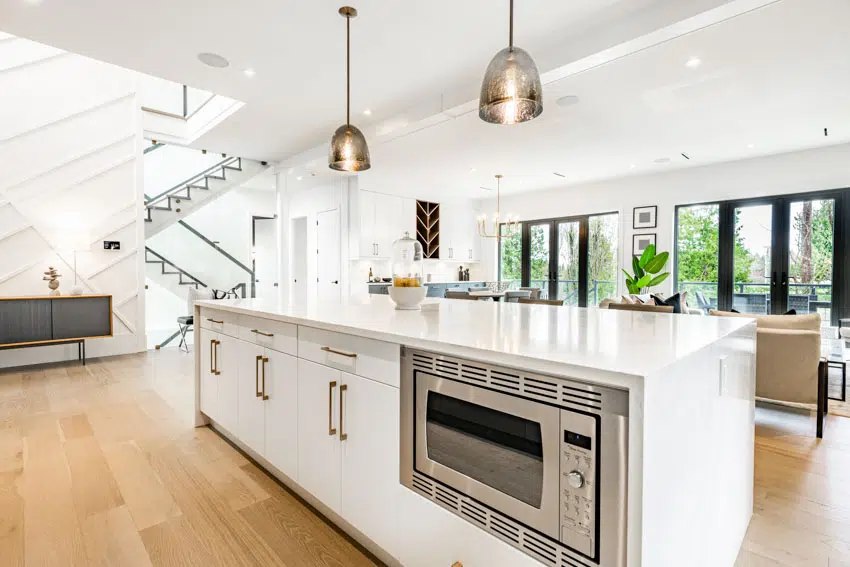 If your kitchen island doesn't have drawers or cabinets, you might need to customize and install a built-in microwave if you choose not to just lay the appliance on top of the island.
It is also a good option if you want to keep the microwave out of sight without needing to cover it up. You just need to be strategic in how you install the microwave oven and a built-in one may just be the perfect setup you're looking for.
One big advantage of a kitchen island with a built-in microwave is that your cabinets remain free for other kitchen storage purposes. And since you have control over its placement, you can put it on the other side of the island that's away from the cooking area to have better foot traffic flow.
The convenience of this design though is dependent on what part of the island you will integrate the microwave in. If integrated into the lower cabinets, the microwave may be too lay and deep to reach.
Microwave In Island Cabinet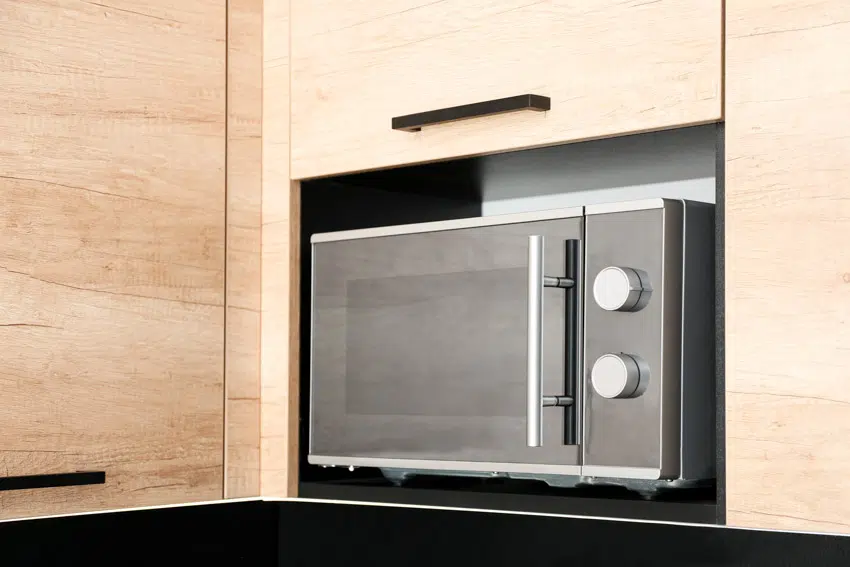 Another placement you can have for your microwave oven is in the island cabinet. Placing the microwave in the cabinet will mean that the appliance will remain out of sight when they are not needed, leading to a cleaner and less cluttered kitchen island.
Once you choose to install your microwave oven in the island cabinet, make sure to customize the height where it will be convenient to reach and access.
You can also design the space to fit other essential small kitchen appliances to help free up the countertops. While customizing may come at a bit of a cost, the convenience may just be worth it.
Countertop Microwave Oven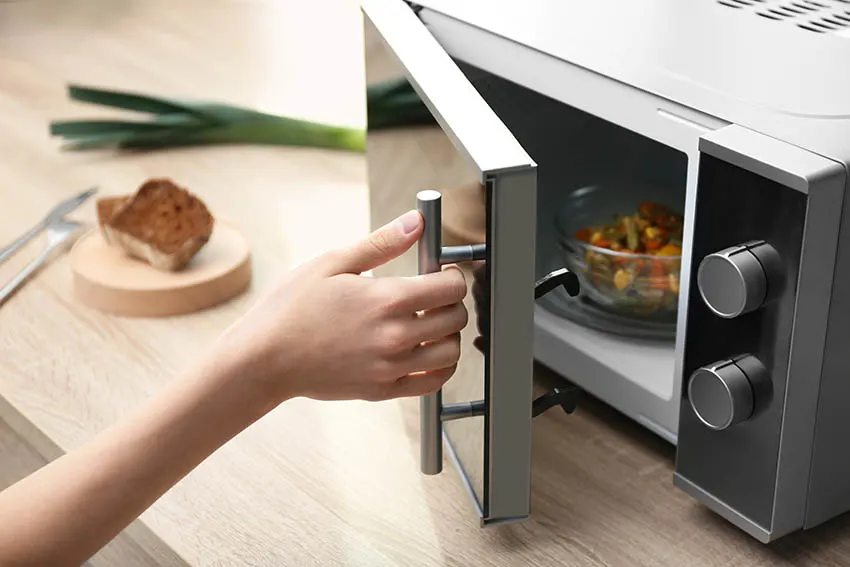 Considered the traditional microwave oven, a countertop microwave oven is designed to sit on any flat surface, whether it's certain types of dining tables, countertops, or kitchen islands (As long as the location is near a power outlet). Here are some advantages when choosing this type of microwave oven.
• Affordable in cost: This type is considered one of the most affordable microwave ovens offered in the market.
• Excellent flexibility in placement: The design of this microwave oven can fit different types of space, at home or at work. You can also use trim kits to install the oven properly and fill in any gaps available.
• Simple in its design: With its simple design, the installation will not be challenging as long as you choose the right location for it.
Microwave in Island Pros and Cons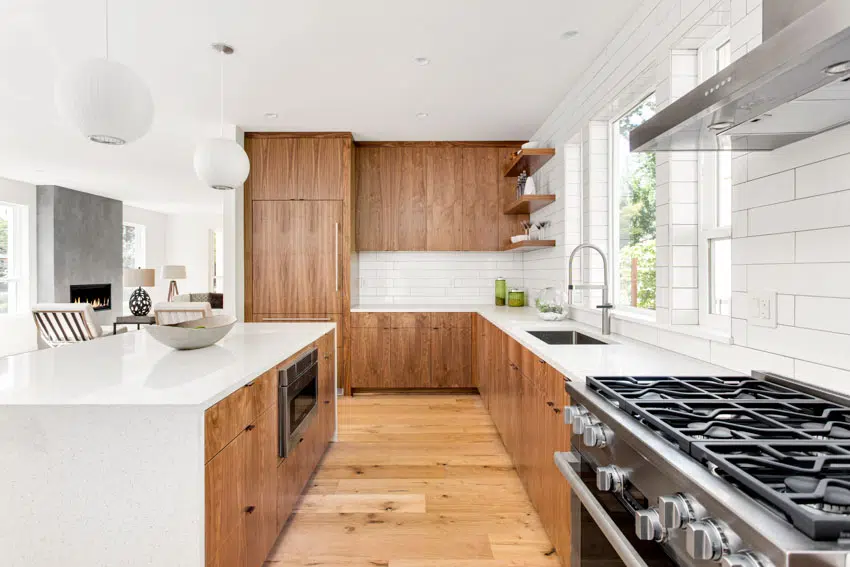 A microwave oven can have several benefits that make it a worthwhile consideration. Here's the pros and cons starting with the advantages.
Microwave In Island Pros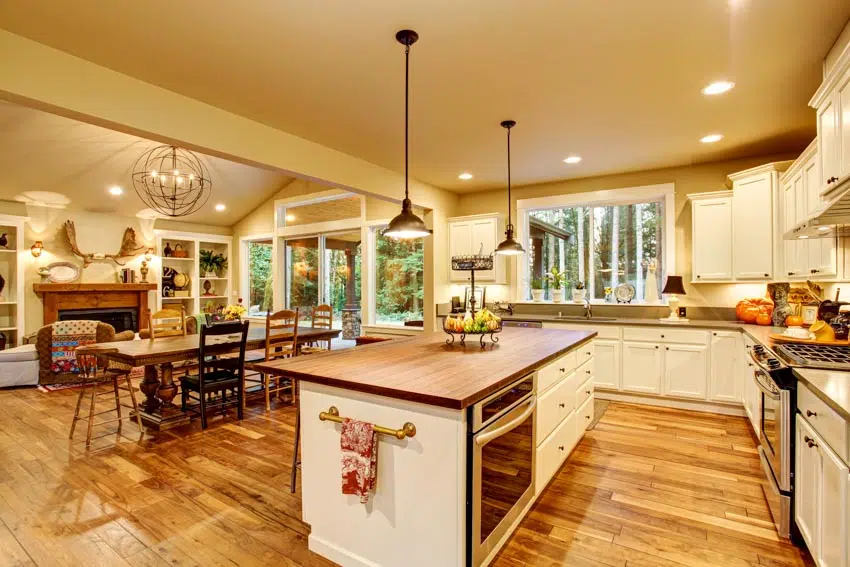 Installing your microwave oven in the kitchen island has its positive and negative effects. While the negative ones will keep you from considering this plan, it's the positive ones that can convince you otherwise. And here are some of the noteworthy advantages of installing the appliance in your kitchen island.
Showcases Modern & Sleek Design: Depending on the type of microwave you choose, it can either be a wonderful addition to your kitchen aesthetics or something you should consider hiding.
Whichever your choice may be, both plans can be accommodated on the kitchen island and can showcase a clean and sleek style that features a uniform and streamlined look you would want your kitchen to have.
Highly Functional: An in-island microwave oven is usually high-end and offers a wide variety of features, including the following:
• Soft-close doors
• Ergonomic buttons
• Secured locks
These features alone make the appliance more appealing to own and convenient to install. And it also increases its functionality since while the microwave oven is on the kitchen island operating, you can also cook at the same time in the cooking area.
Extremely Accessible: A microwave in the kitchen island is a more accessible appliance, especially with its location since the appliance will be located usually at the center of the room.
The placement of the microwave oven can be used even by shorter persons and even those who are using a wheelchair since they won't need to reach over the cabinet just to use this appliance.
Besides this, it is also a good option for people suffering from back problems since you won't have to lift the appliance to another location just to use it.
This placement can also accommodate high foot traffic, with people using the cooking area and the microwave oven simultaneously without ease and bumping with each other.
Offers More Countertop Space: If you choose a microwave in the island, one of the possibilities you can enjoy is more counter space to work on. This will be possible if the appliance is installed in the drawer in the island or have its own built-in cocoon in the island. These locations of the microwave oven will ensure that all of the counter space is available for use.
Having more counter space also means that the area will be clean and have less clutter, with the appliance being installed out of sight in the drawer or cabinet.
Delivers Better Ventilation: One thing you can do to improve the ventilation in the kitchen is to install a vent hood. But this option is only highly recommended if you have an over-the-range microwave oven.
With an island microwave, you can be sure that it will operate with excellent ventilation. This goes the same way with microwaves installed in cabinets. You can just add an exhaust fan above the microwave (whether it's in the island or cabinet) to help with the ventilation.
Safer Option To Consider: A heating appliance that can melt chocolates and other similar food may not be the safest thing you can use so installing it in the right place is necessary. And yes, one of the safest places you can put the microwave oven is the kitchen island.
With the microwave in the kitchen island, your cooking area becomes freer. There will be no chance of you bumping into the microwave as you busy yourself cooking. This is especially important if someone else is using the microwave while you're cooking.
Microwave In Island Cons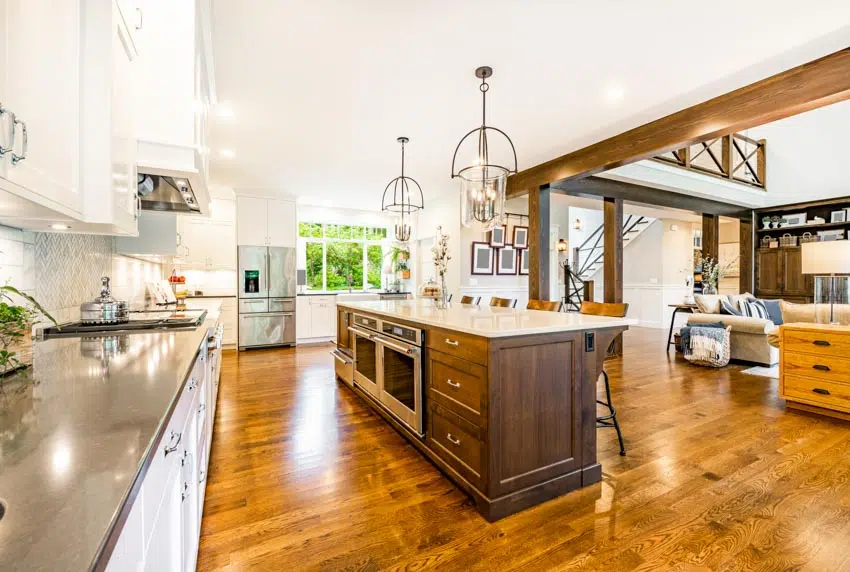 With all of these benefits, there are also several drawbacks in choosing this placement for your microwave, including the following:
High-Cost: Microwave in the island is costly because it is customized compared to the other option of just laying the appliance on top of the counter or storing it in a drawer or cabinet.
With a built-in microwave in the kitchen island, you will be set back around an average of $2,650 (with the range of $290 to $5,000), depending on the type and quality of the microwave oven, as well as the installation and construction required in your kitchen cabinet to accommodate the appliance.
Accessibility Issues: While accessibility is one of the advantages of microwaves on an island, it can also be a disadvantage. It can be a double-edged sword, particularly for tall people who would have to bend just to use the appliance.
Difficult to Clean: Cleaning the microwave in the kitchen island will require you to bend and crouch down just to access the area (The same challenge for the accessibility of tall people). Scrubbing while crouched down can be painful for your back.
More Complex Installation: Installation for a microwave in the island will require assistance since you have to get precise measurements of the appliance's dimensions, as well as need to work on the electrical outlets and wiring.
Features Fewer Options: Once your current microwave oven breaks down, it will be difficult finding a replacement for it since the appliance is built into the island itself. It won't be a problem though if you have no issue installing and building one all over again.
Dangerous for Children: Since the microwave oven is installed in the lower part of the kitchen island, it is also easily accessible by kids, which can be extremely dangerous. You kids can play with the microwave and put things inside and press buttons that can eventually start a fire.
While some microwave ovens have door locks if yours does not have one then just get a control lock to help you secure the appliance.
Difficult To Watch Food As They Cook: If you're cooking and heating something in the microwave at the same time, it will be difficult to simultaneously watch over both since the location of the microwave is pretty low and out of reach from the cooking area.
Microwave In Island Size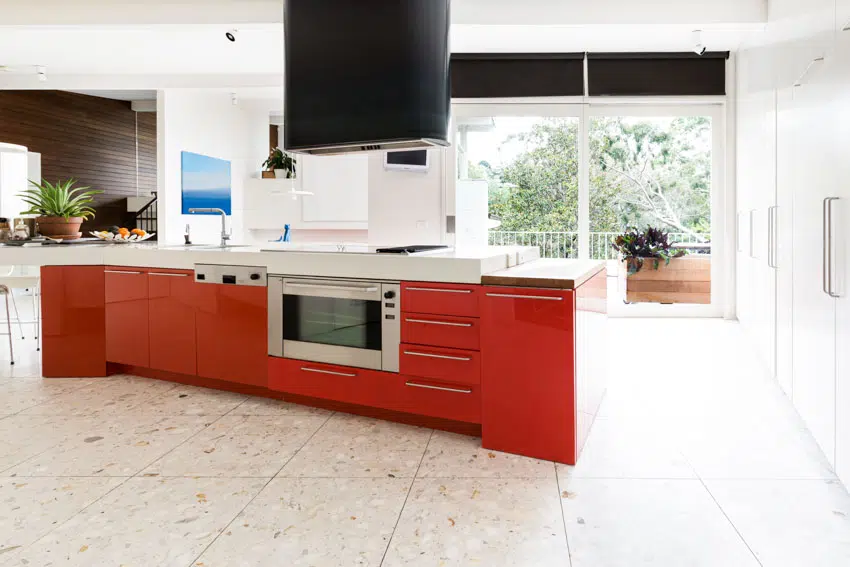 In considering a microwave in your kitchen island, its dimension is one of the most important aspects you should know about.
When it comes to sizes, here are the standard microwave sizes you might come across.
| | | |
| --- | --- | --- |
| Aspects/Dimensions | Compact/Small Microwave | Standard/Large Microwave |
| Capacity | 0.5 to 0.9 cubic feet | 1.0 to 2.2 cubic feet |
| Width | 15 to 19 inches | 21 to 25 inches (27 to 30*) |
| Height | 10 to 11 inches | 12 to 15 inches |
| Depth (Open Door) | 12 to 16 inches | 16 to 20 inches |
| Depth (Close Door) | 23 to 30 inches | 34 to 39 inches |
*with a trim kit
---
Microwave in Island Design Tips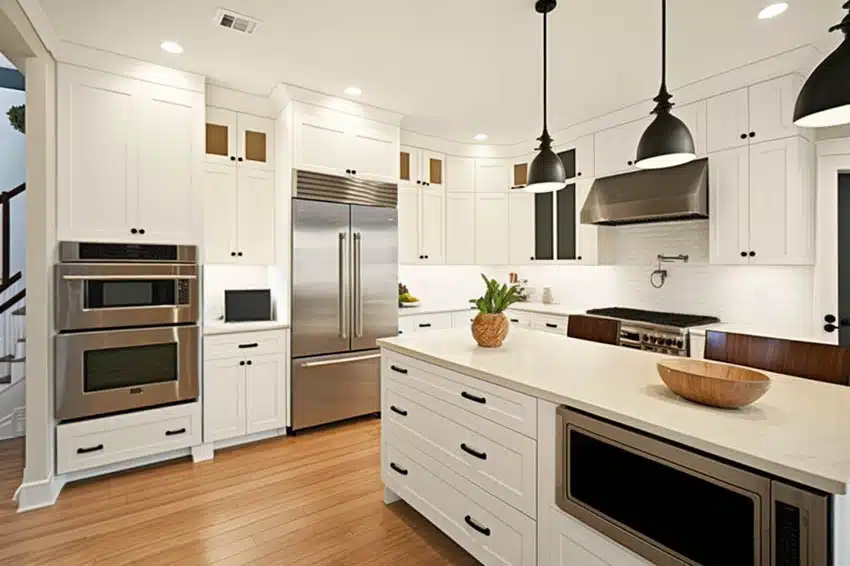 We asked architect and designer Ellen Siloy her favorite tips for installing a microwave in a kitchen island and here's what she shared:
Install a pull-out shelf for easy access. A pull-out shelf will easily slide off the microwave when needed and is slid back in when not needed.
Consider a warming drawer. A warming drawer can be installed beneath the microwave to keep the food warm. The warming drawer comes in a variety of designs, and the temperature can be adjusted. Though this can be an additional cost but a great investment, especially when receiving a lot of guests.
Maximize space further with a custom storage solution. For smaller kitchens, a custom storage solution can help ensure that space is not wasted, and it is an opportunity to create storage compartments along the built-in shell of the microwave.
Use a power board for ease of use and safety. Also known as a power strip or extension block, this is a device that has multiple power outlets allowing multiple electrical devices to be plugged into one area.
The power board has a long cord with several outlets placed along it. Typically, the power board will have a built-in surge protector that helps protect electronic devices, especially a microwave oven, as the appliance can easily be damaged with fluctuating voltages.
These power surges or spikes are usually caused by lightning, damaged transformer, or other electrical disturbances.
Caution: Though the power board is great in wire management, plug a microwave oven into a power strip that can handle the amperage. If unsure, best to plug the device into a dedicated electrical circuit.
Add Lighting.Illuminating the area above the microwave on the island makes it easier and safer when placing and getting food. Add a task light or install under-cabinet lighting.
Conveniently hide away the microwave with cabinet door panels. For a seamless look, consider installing cabinet panels to hide the microwave when not in use. This will also create additional countertop space.
Use a Trim Kit. A trim kit can help the microwave blend seamlessly into your kitchen design. It's important to choose the right size and model of trim kit to ensure a proper fit.
Locate in an accessible but won't disrupt traffic flow. Consider the location of the microwave within the island, which should be easily accessible from all sides of the island and should not impede traffic flow. Furthermore, it's also important to ensure that the microwave is not placed too close to other appliances or the sink to avoid potential damage from splashing water.
Assign enough space for ventilation. Proper ventilation is essential for any built-in microwave. Ensure that there is adequate space around the microwave for air to circulate and that the venting is installed correctly to avoid overheating or damage to the unit.
Consider placing a child lock and other safety features. As the microwave is positioned in the lower cabinets, it can be easily reached by children or pets. Be sure to install child lock safety features to prevent accidents.
Update user experience with smart and automated systems. Smart technology is also being integrated into built-in microwaves, with features such as voice control and wireless connectivity becoming increasingly popular. This allows for greater convenience and controls over the microwave and the ability to monitor cooking times and adjust settings remotely.
---
Are Microwaves In Islands Too Low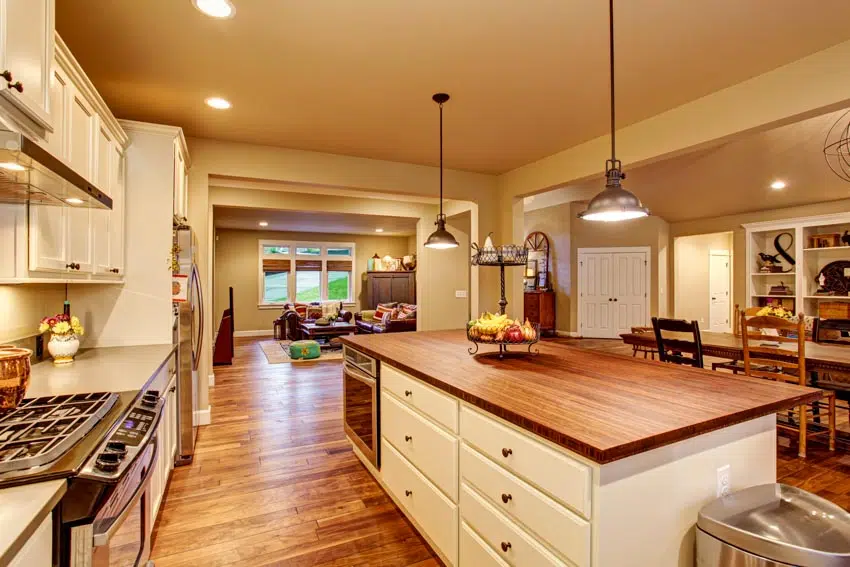 Microwaves in islands can pose a usability problem if you install the appliance and integrate it too low in the kitchen island. A low placement is one of the reasons why some homeowners find this option undesirable due to the need to crouch down just to use the microwave oven.
From a usability standpoint a microwave closer to countertop eye level is more desirable. If you're an active cook and prefer multitasking in cooking, a low position will be a bit challenging to use. You will be required to bend down then stand up again towards the cooking area to deal with just seeing and reaching the food currently cooking.
An alternative to this is to install a microwave drawer which will have a lower profile and may be able to be installed higher in the island cabinet. One of the downsides of using a drawer style is they are generally much harder to keep clean.
Can You Put A Countertop Microwave In An Island?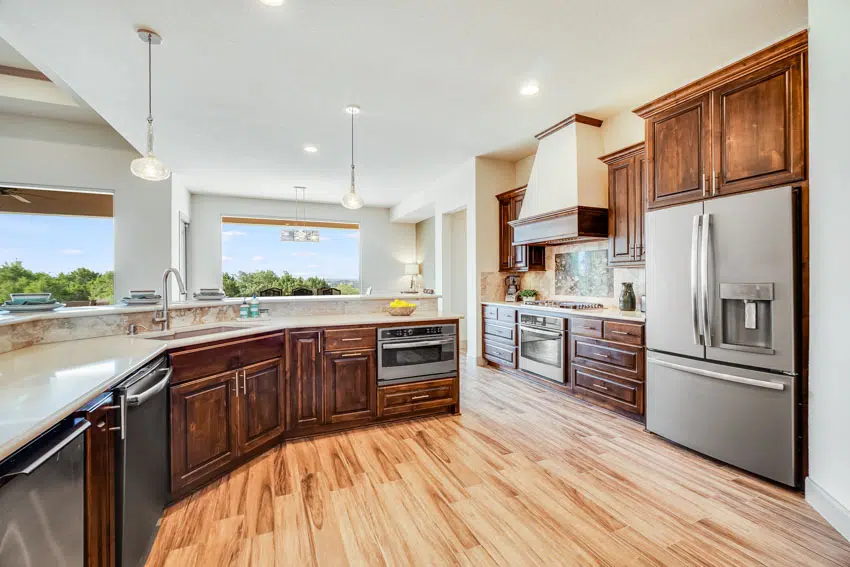 Yes, you can put a countertop microwave oven on an island because this type of microwave is what it is structured for in the first place. This traditional type of microwave oven is easy to place in the kitchen but it also takes up too much counter space that if you like moving freely while preparing and cooking food, this might be a hindrance for you.
You can use a countertop microwave and place it in an island as long as there is a power outlet that can be used by the appliance. But if you're talking about building it into the island itself, most models and designs of countertop microwave ovens are not practical to be used for the customized island microwave.
You can always ask a professional for advice on using countertop microwaves and also for recommendations on what other options you can explore.
See more related content in our article about steam oven vs. microwave on this page.