See what color flooring goes with oak cabinets including the different options, materials, tips on gray floors, honey oak, and the best color combinations.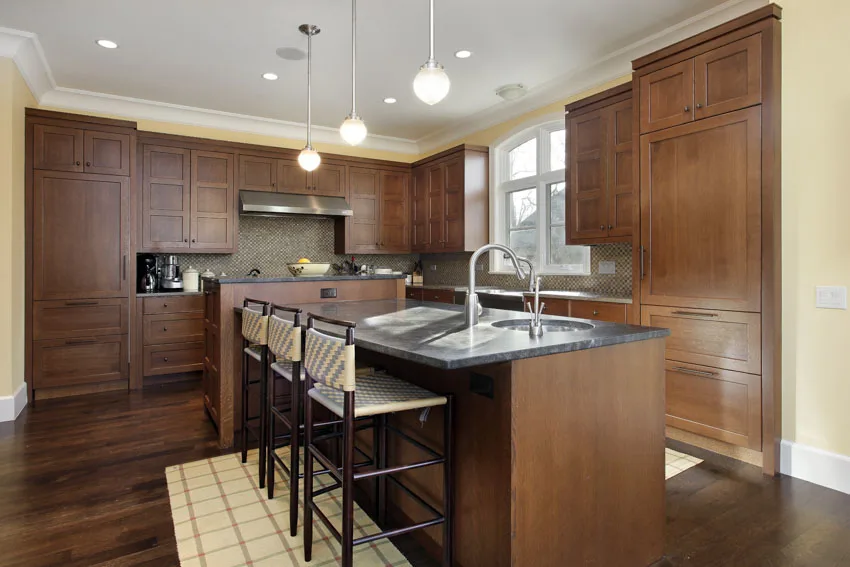 Oak cabinets have stood the test of time and continue to grace homes that love their long-lasting opulence adding value to your interior. However, one of the challenges homeowners face is bringing together your design elements that work with the style you are aiming for.
While oak wood displays variations in its knots and graining, it also varies in its different shades and is another design consideration when matching floors with these types of cabinets.
Here are some oak cabinet wood shade tips you should know:
• Oak, in general, has warm hues and undertones.
• White and red are the main colors of oak, with each having varying shades.
• There are dark-colored oak cabinets that mainly come with black tones.
• White oak is harder than the red oak.
Kitchen Flooring With Oak Cabinets Options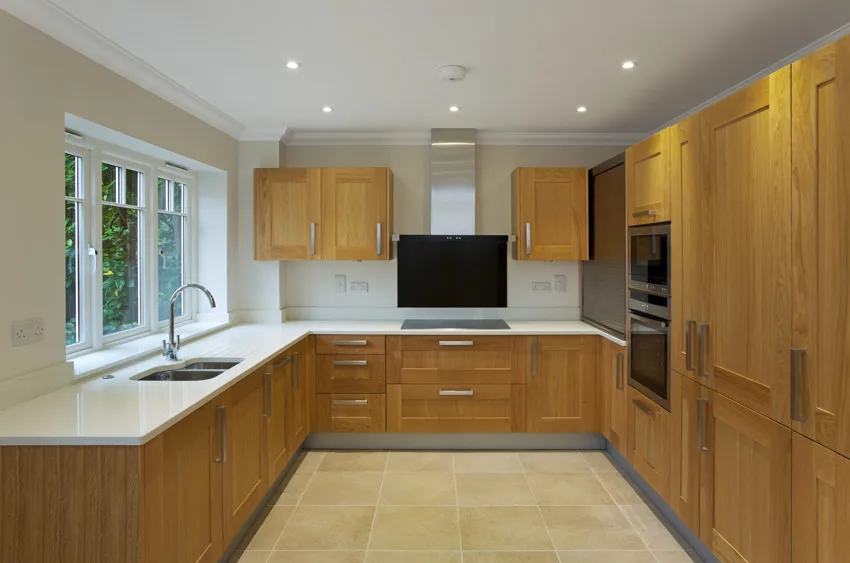 Oak cabinets are a favored for kitchen cupboards and baseboards because of their durability and simply the quality, warmth and opulent feel of oak wood.
As cabinets, in general, make almost 20% of your visual space and flooring is 30% to 40% depending on the design, choosing the best combination is crucial in the overall look of your kitchen.
Light-Colored Cabinets with Dark Floors

Having light-toned oak cabinets is an ideal color choice if you want to brighten up your kitchen, especially for small spaces.
Dark floors are an effective grounding color allowing your cabinets to pop with the contrasting effect visually.
In addition, your kitchen floors receive a lot of foot traffic and are prone to staining from spilled food and liquids, so dark floors are a practical choice to hide possible stains.
Dark-Colored Cabinets with Medium Dark Floors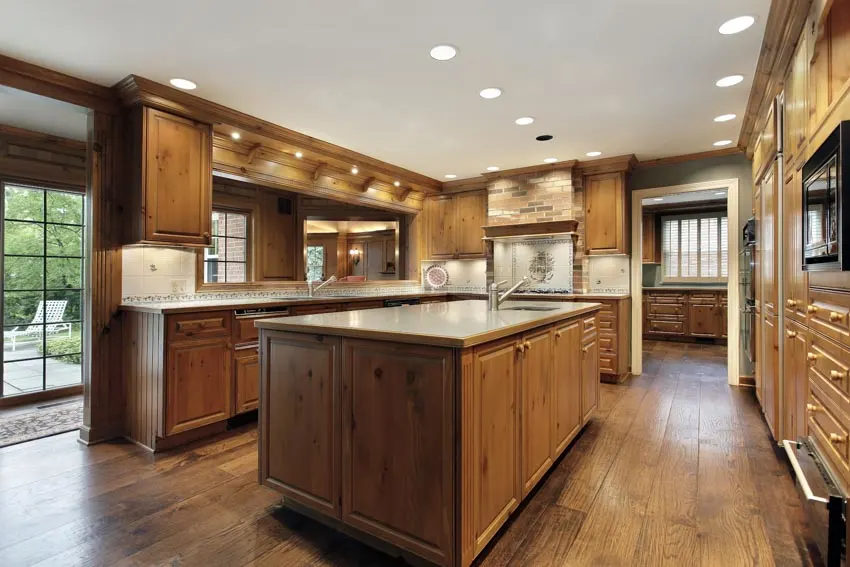 Choose medium-dark floors with similar undertones if you choose red oak cabinets and want to add visual richness to your kitchen interior.
The cohesive, rich tone is suitable for traditional styles, especially those who are considering certain country or farmhouse kitchen ideas. Choose black oak hues with charcoal gray floors for a dramatic visual effect for contemporary kitchens.
Rich-Grained Red or White Oak Cabinets on Patterned Floors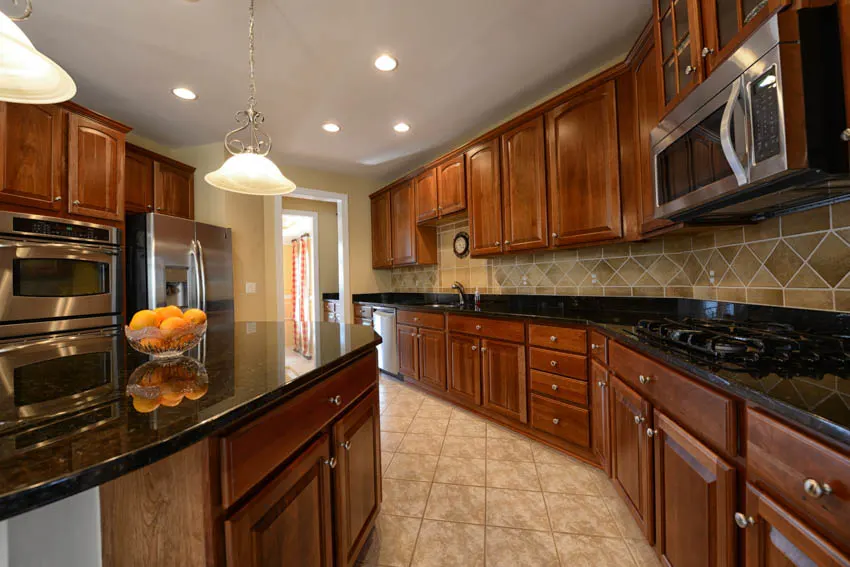 When you've got an expansive kitchen, oak cabinets are perfect for adding visual interest. You can pair rich-grained red or oak cabinets with flooring surfaces with rich patterns as well.
Stone floors with natural veining or wood floors with the same natural graining is an effective combo with your oak cabinets. To maintain a balance of colors, take a cue on your oak cabinet's undertones and veining colors when choosing your floor color.
For instance, white oak with dark brown knots and graining will match with stone floors with dark brown surface color and white or beige graining. Vinyl or tile floors with brown undertones are also a perfect match.
Light-Color Oak Cabinets with Pastel Color Floors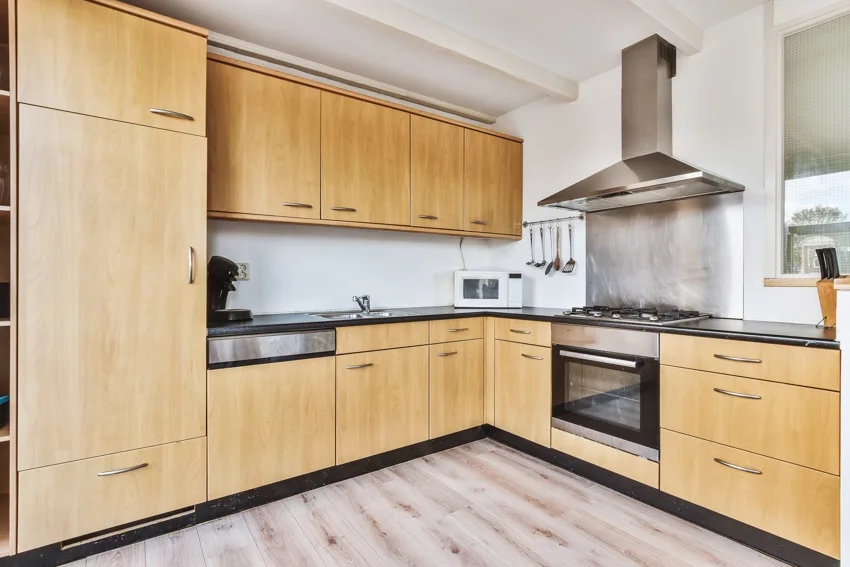 You can bring in light colors with peach, lavender, tangerine, or mint hints. Many oak cabinets have mellow tones that remind you of light colors.
Use pale and pastel colors with these shadings to create a connection. The kitchen should be painted a light blue color. Install a bright yellow rug on the floor and lemon-colored curtains in the windows.
To complement the lighter hints in the oak, use furniture made of pine. Install tile countertops with raised painted inset designs in shades of pink and mint and a light glass tile backsplash for a spring color theme. See more ideas for backsplash with oak cabinets here.

Black Oak Cabinets with White Floors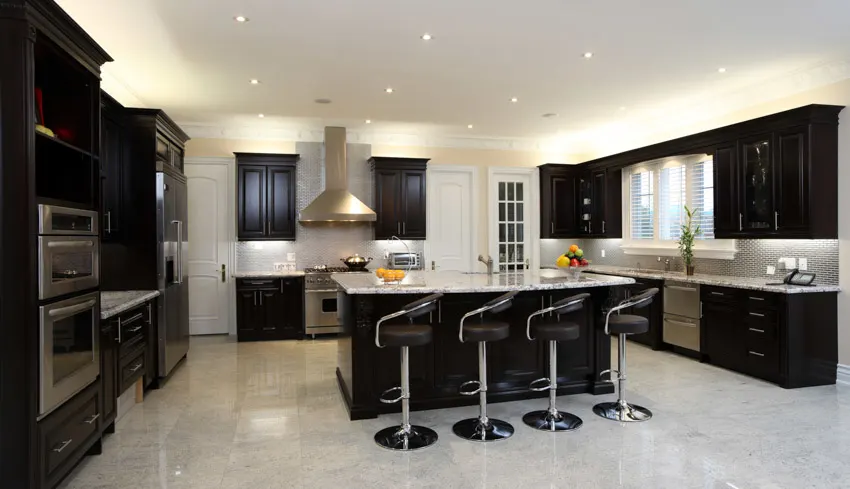 Black oak cabinets such as those made from Kellogg oak or the well-known eastern black oak will match wonderfully with light-colored floors.
This look is modern and can pass as a minimalist interior with fine and straight graining.
Oak And Flooring Color Combinations Based On Materials
Along with the color, the kind of flooring material used can affect the aesthetic of your room. We've curated the most common flooring materials with guides and tips on how to combine these different flooring surfaces.
Vinyl Plank Flooring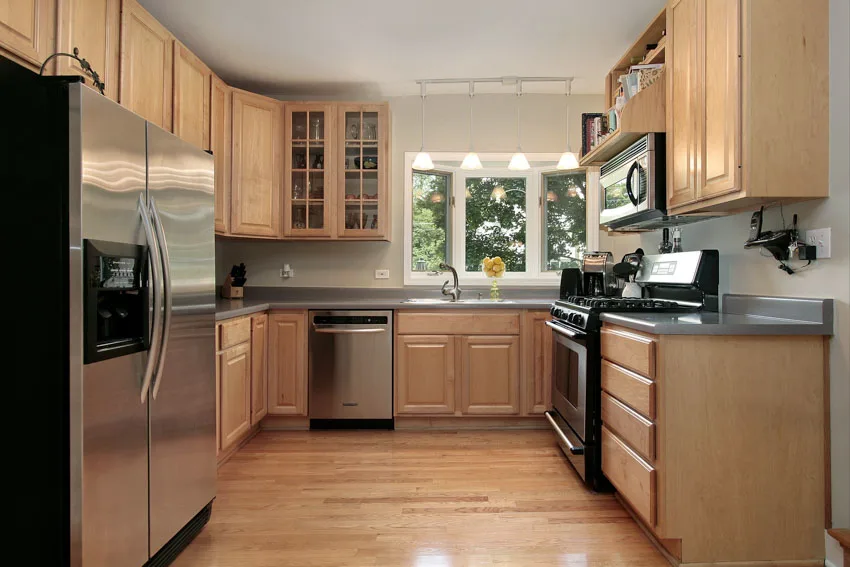 Among the great advantages of vinyl plank flooring is the wide range of color options you can choose from. You can easily match up whatever oak cabinet color from warm to cool tones.
Aside from the color variations, vinyl plank floors simulate the look of wood, which means you can have a cohesive look when aiming for the classic farmhouse or any other traditional theme.
You can also tone down the busy design of oak cabinets with darker or neutral hues of vinyl plank floors. One of the more popular vinyl plank floor colors is the beige or almost white color that can easily suit a white oak cabinet.
Bluish or grayish undertones from vinyl plank flooring are also a great combination for your white oak cabinets. If you're hard-up finding tones to match your rich red oak cabinets, there are vinyl plank floors that have an almost black or red-toned wood graining that's perfect for bedrooms that create a moody aesthetic.
Laminate Flooring with Oak Cabinets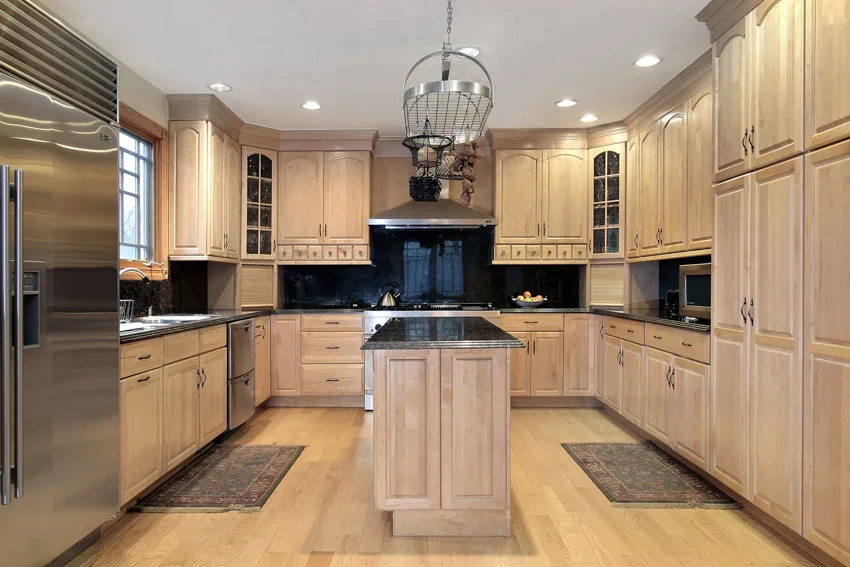 Like vinyl plank flooring, laminate floors come in many design options to choose from, making it easier to choose the color scheme that can work perfectly with your oak cabinet.
A good tip in matching your oak cabinets and other differing organic colors is to take the average color. So, for instance, a red oak cabinet will work with pinkish or tan-colored laminate flooring.
Light-Color Laminate Flooring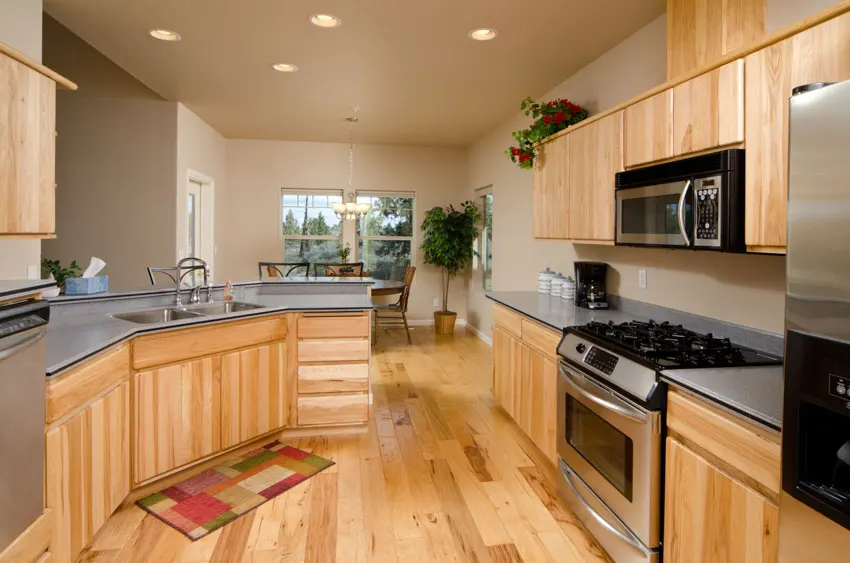 Oak cabinets have a striking design, whether white, red, or black tones. With a light-colored laminate floor, you can have a middle ground to balance off the strong organic hues of your oak cabinet.
Examples of light-colored hues are cream or beige, light gray, or blues, but if you're worried about staining, another advantage of laminate floors is that they won't stain, and you can easily wipe out dirt. This means you can go even with the lightest laminate flooring.
If you're worried about the color wood floor looking a little too dark or have light cabinets made of oak, then a light floor color can be a perfect fit.
Light floor colors shine well when there is some middle ground between the colors of the room, especially earthen tones like granite countertops on a kitchen island.
Matching Oak Wood Cabinets On Oak Wood Flooring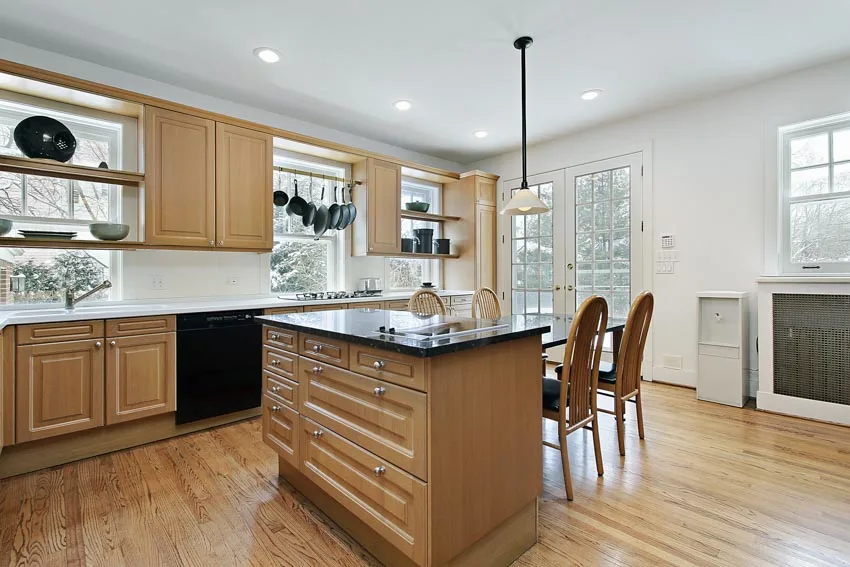 Wood on wood is a traditional design approach favored to cozy up a space. Using oak hardwood flooring with oak cabinets, on the other hand, may seem redundant.
However, because this material is available in a variety of colors, you can have an oak cabinet with color variations that give the space a classic look.
To contrast your traditional oak cabinets with more modern flooring, choose a flooring type with eye-catching grain variations and designs, such as hand-scraped hardwood.
Honey Oak Cabinets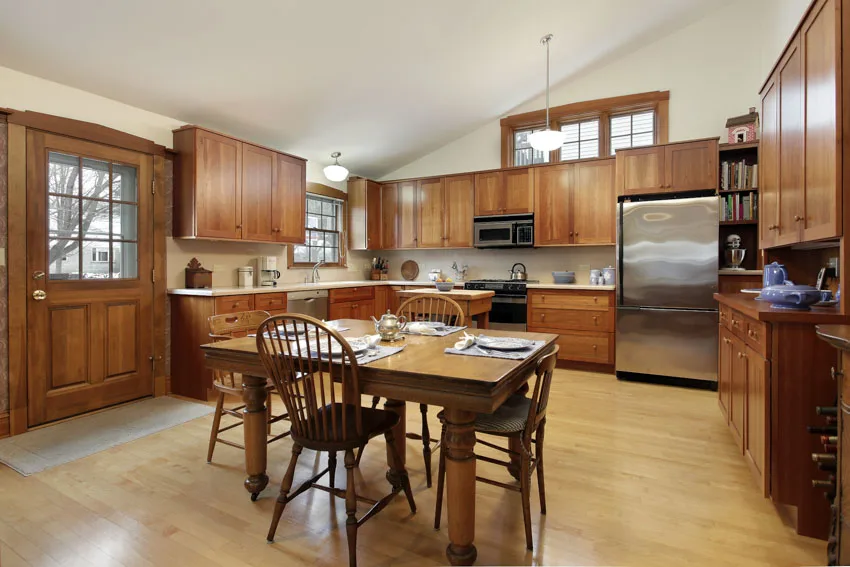 Go with light maple or light-toned cherry, whitewashed pine, or beech wood flooring.
If you want to lean toward a more contemporary look, you can match your honey oak cabinets with a white-colored hardwood with fewer or with a straight-grained surface.
Dark-Toned Oak Cabinets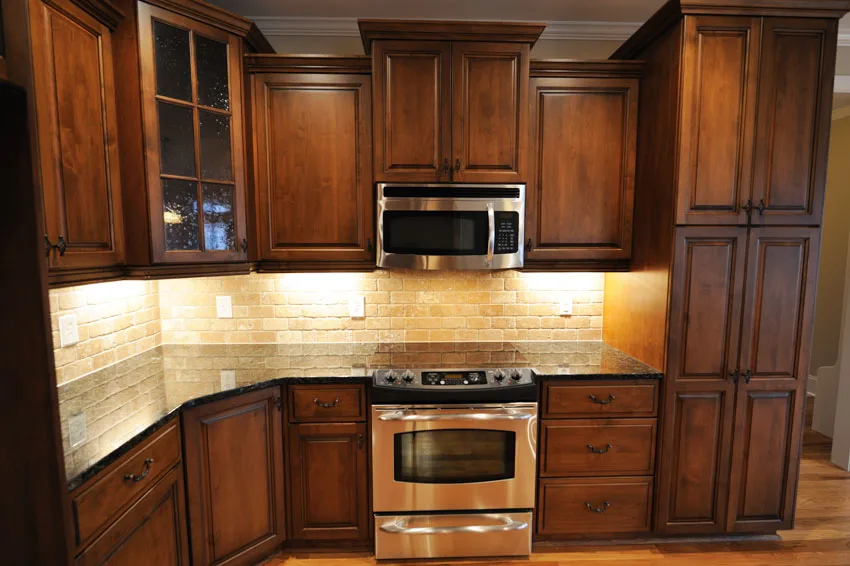 When your aim is to create contrast, maple and birch are popular wood flooring options you can consider.
However, be aware that hardwood can stain easily, so be sure to add a protective layer to your wood flooring.
Red Oak Cabinets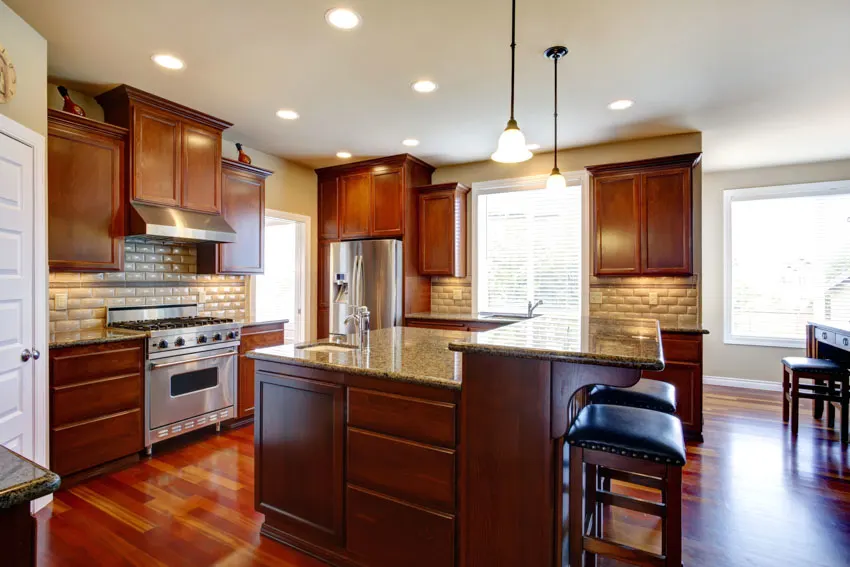 If you're aiming for an oak-themed cabin interior, then choose a red oak hardwood floor.
The color variations for your red oak wood flooring are from medium-brown to a reddish wash. You may also pair it with apricot or yellowish tones to create that opulent and warm effect in your space. Read more about paint colors with red oak floors here.

Tile Flooring With Oak Cabinets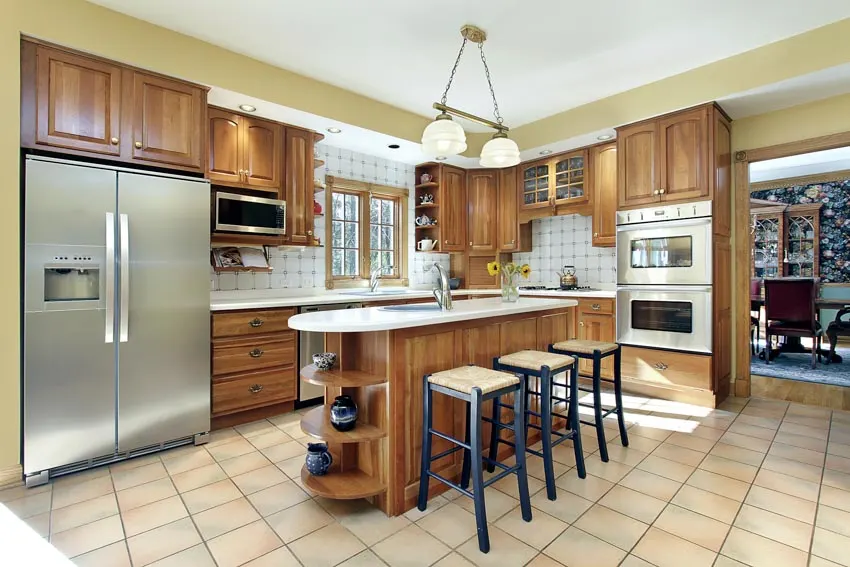 Whether placed in a high-traffic kitchen, a vintage-inspired living area, or when tapping for a serene bathroom, tile flooring is a durable and beautiful grounding material to match any oak cabinetry.
Wood and stone are organic materials that work together well and have been used in combination for decades, from traditional to modern interiors. There are two main tile materials to consider:
Ceramic Tile: Ceramic is made up of clay or synthetic components with protective glazing. Ceramic tiles that resemble stone, slate, wood, or other materials in any color or texture are available. You can use this material in the kitchen and easily wipe off spills and stains with the treated surface.
When choosing the color for your ceramic tile, the safest bet would go with neutral hues such as white, grayish or beige. For dark oak cabinets, you can go with hints of a similar dark tone for your ceramic tile, especially if you want to have patterns on your flooring.
If you've got golden or yellowish toned oak cabinets, try ceramic tiles with white or tan graining and the main color that's a degree lighter than your oak cabinet.
Porcelain Tile: Compared to ceramic, porcelain tiles have a wider range of variations because of the combination of natural and synthetic materials.
For choosing the color, porcelain is known to have distinctive veining, so you can explore more on darker surface colors with light veining or gradients.
Choose dark-colored porcelain tiles and match them up with white oak cabinets. Cool tones such as emerald color also work well with white oak cabinets.
For darker-colored oak cabinets, a light or cool-toned porcelain is a great choice as it won't overwhelm the visual look of the space and establish a contrasting effect.
Similar color tones of the oak cabinet and the floor can be hard to pull off as both surfaces have rich organic tones. See more types of kitchen floor tiles on this page.

Gray Floors With Oak Cabinets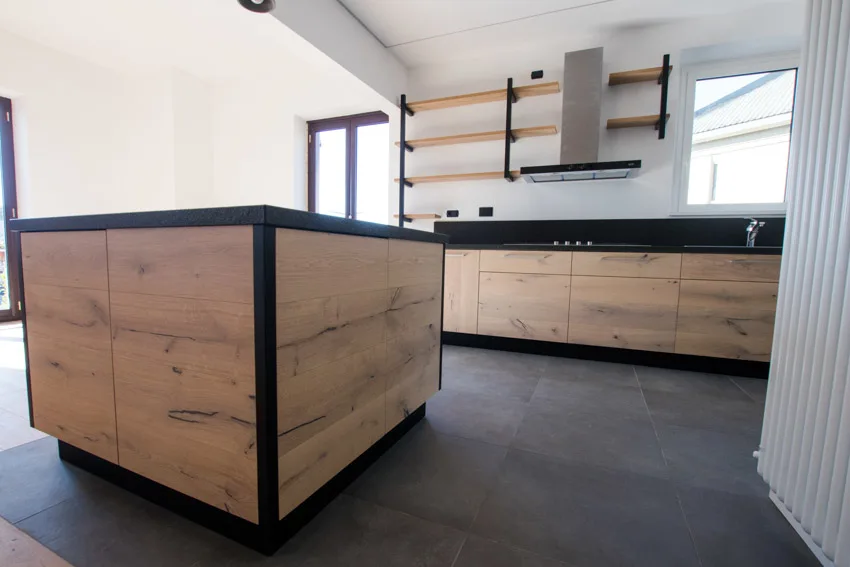 Gray is a cool neutral that can evoke a variety of emotions, from a relaxing afternoon shower to a cold slab. Gray is a neutral color that goes with almost everything, making it pretty easy to match your oak cabinets.
However, remember that gray is an excellent color, and when matching it with a white oak cabinet can look stale and boring, especially if you lack light and shadows to create depth to your interior. This means you'll need up a notch on your contrast.
Also, remember that gray does a variety of undertones, such as blue or green. A good practice to avoid the steely appearance is to add accents such as black or brass hardware on your oak cabinets, or for a modern look, choose a dark gray with your light-colored oak cabinets.
Best Floor Color For Honey Oak Cabinets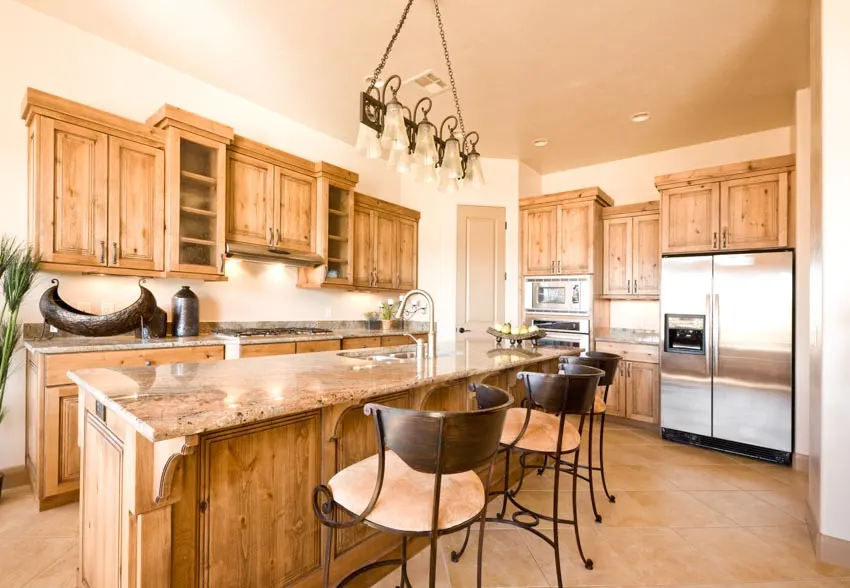 Honey oak cabinets come in a variety of shades, ranging from light to dark, but they all have a warm, golden glow in common.
You don't have to worry about matching the cabinets because honey oak's primary color is brown, which is a neutral shade that goes with any other color. Here are some floor paint colors that go with honey oak cabinets.
Neutral Tones: The safest decorating guess when working with honey oak cabinets is to use a neutral-colored tile. Any shade of brown will bring out the different tones in your oak cabinets.
Another reason to use neutrals is that, while you may change the color of your walls from time to time, you are less likely to change the color of your tiles, and a neutral-colored tile will allow you to use any hue for your wall that appeals to you. Read more about paint colors that go with oak cabinets here.

Warm Toned Flooring: Color is one of the few decorating tools that have such an impact on mood. Warm colors like red, orange and yellow are energizing shades that bring life to a room.
Red is frequently used in restaurant decor because it has been shown to stimulate appetite. Because of the energy they evoke, orange and yellow are frequently used in children's bedrooms and playrooms.

Cool Toned Flooring: Cool tones such as blue, green, and lilac, on the other hand, are thought to promote calm and tranquility.
This explains why these shades are so common in bedrooms, offices, and medical facility waiting rooms. Install cool-toned flooring with your honey oak cabinets if you want a peaceful, low-key kitchen.
Monochromatic-Color Flooring: Layering varying shades of the same color in one room creates a monochromatic color scheme. If your walls are lavender, you could use indigo for the tiles and eggplant for the curtains and area rugs.
Of course, the monochromatic look has more subdued options. A quieter take on the same theme is beige walls with light tan tiles accented by chocolate brown accessories.
Complementary Color Flooring: Complementary colors adhere to the old adage that "opposites attract" by combining colors on the color wheel that are directly opposite one another.
If your kitchen walls are lavender, for example, the complementary color for the tile color would be lemon yellow. It's a daring look that works best in a modern setting.
Analogous Color Flooring: On the color wheel, analogous colors are the directly adjacent shades to your primary color. Pink and powder blue, for example, are analogous options to the lilac walls.
The fact that analogous colors have something in common makes them harmonious. Lilac and pink are both red-based colors, and lilac and powder blue are both blue-based colors. A young, upbeat color palette is created by using analogous colors.
Best Flooring For Oak Cabinets: Dark Flooring And Oak Cabinets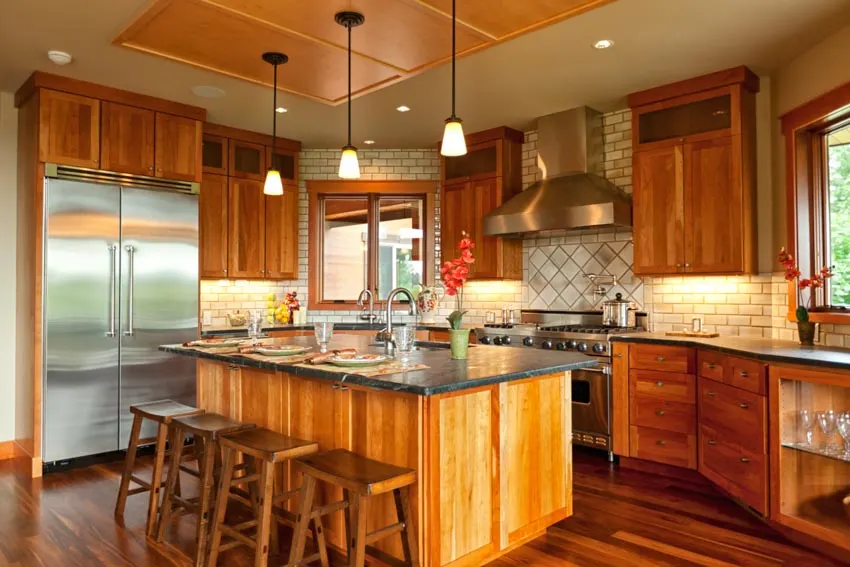 Since oak is usually a lighter brown, pair these cabinets to match it up with dark-colored flooring. Dark colors contrast dramatically with the oak cabinetry.
Paint the walls a forest green color. Place navy cushions on all of the chairs, and if you want window treatments, choose a fabric that incorporates both colors against a neutral background.
To add cohesion to the space, add wall tiles to the backsplash in one or more of the dark colors you've used, and use lamps with brightly colored shades that harmonize with the oak cabinets. Look for other ways to bring color into the space.
The cabinets are made even more noticeable by a mural on one wall depicting scenes relevant to the kitchen. Paint a stencil around the room for a more subtle artistic touch. Try using a white stencil against a dark background as a creative twist.
See more related content in our article about the most popular kitchen flooring ideas on this page.