Welcome to our concrete kitchen countertops guide including popular finishes, cost, DIY tips and pros & cons.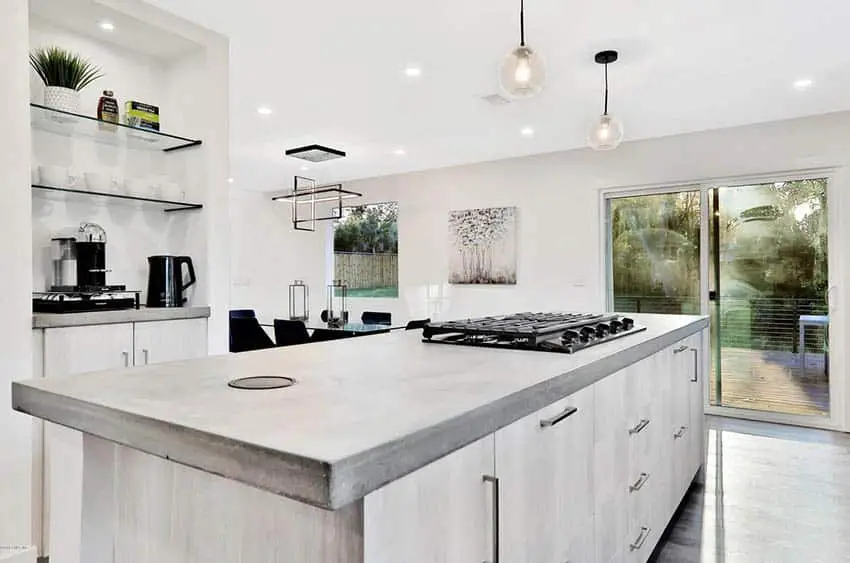 If you want to transform rooms like bathrooms and kitchens or even your outdoor areas, a great way to do so is to change your countertops. However, there is a lot to consider when you're remodeling and changing your countertops up. From the cost to the style and even the pros and cons of the materials you use, there are plenty of factors up in the air.
If you're considering concrete kitchen countertops, you want to make sure you're making an informed choice. In this guide, we'll break down everything you need to know about this attractive style!
Concrete Countertops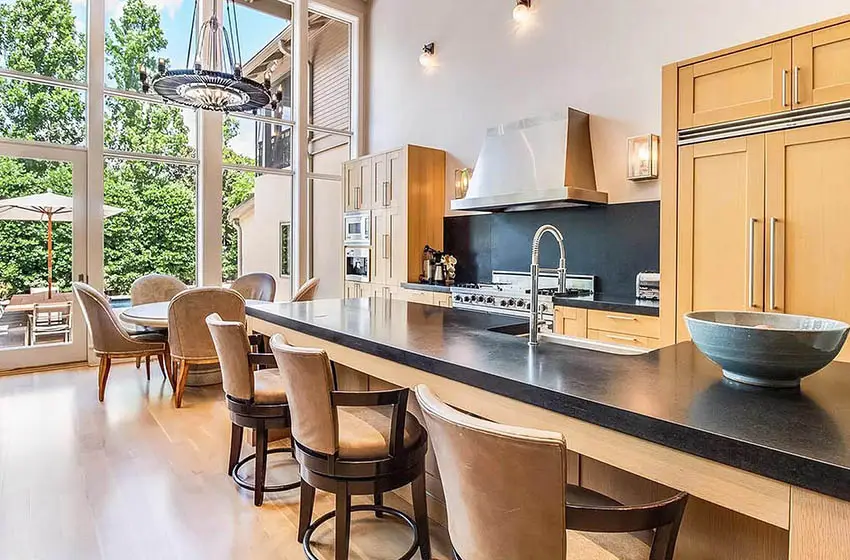 If you're looking for new countertops in your kitchen, concrete kitchen countertops are a great choice. They have two of the main features that kitchen countertops require: they're resistant to heat and they aren't likely to scratch.
This is crucial in an area that sees a lot of traffic and many of the items set on it are hot. If you set a hot pan on your concrete countertop, you aren't likely to see lasting damage.
Concrete countertops are also relatively easy to clean. So, you won't have to stick around scrubbing for hours after preparing a large meal. Of course, another reason that concrete countertops are such a great choice is that they're aesthetically pleasing.
Concrete Countertop Finishes
One of the great things about concrete countertops is that they vary in appearances more than you might think. One way to see how different concrete countertops can be is to consider different finishes for them. The most common options you'll run into is to use a polished, acid stain, or stained concrete countertop. An additional choice is to use a concrete overlay countertop.
Polished Concrete Countertops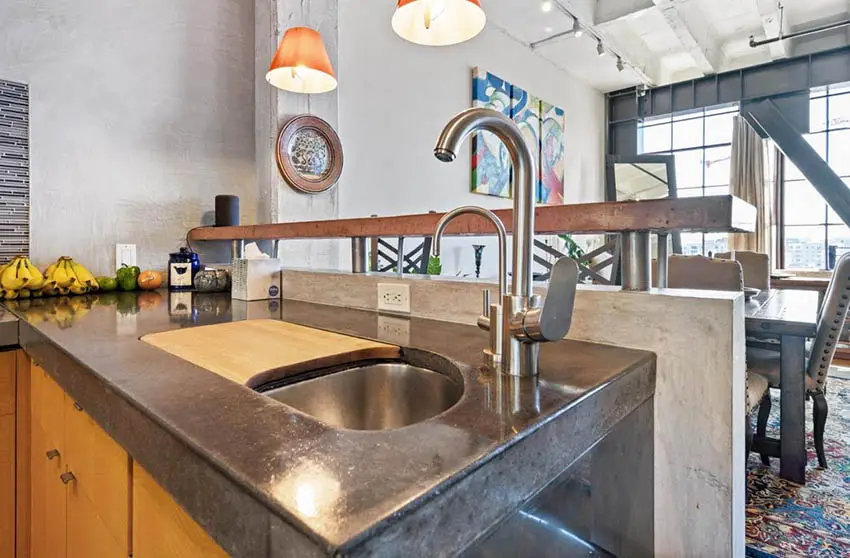 Polished concrete countertops are the best choice if you want a clean, modern look to your kitchen. This is because they offer a smooth finish thanks to the hard work it takes to sand and polish the surface.
If you're interested in an impeccably smooth design, you can also opt to install your concrete countertop as a single slab. This helps to avoid the seams that occur where two slabs meet and create a single, clean plane.
Stained Concrete Countertops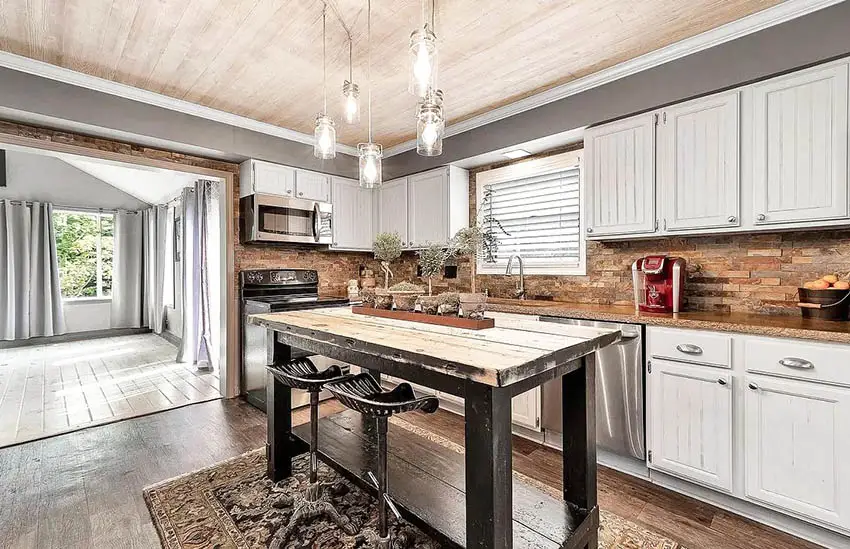 Stained concrete countertops are a good way to add a bit of color to a concrete countertop for a more dynamic finish. Concrete, by its nature is typically a slate gray when it dries. By staining your concrete countertop during its installation, you can control the appearance of the concrete finish.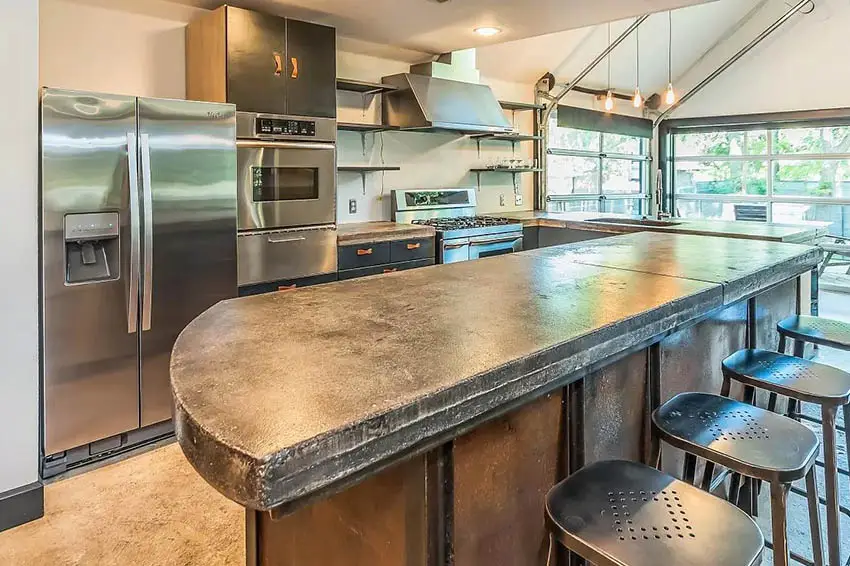 Yet, this isn't limited to a single pigment throughout the entire slab either. You can add patterned pigments to resemble the look of other materials such as marble or granite. We'll talk more about this when we cover faux concrete countertop options.
Concrete Overlay Countertop
The concept behind concrete overlay countertops is simple. If you don't want to go to the time and expense of completely replacing your existing countertop. This is often easier as well, so it can save you time on your kitchen renovations if you're in a pinch.
Concrete overlays are relatively inexpensive because they use a thinner layer of concrete than a countertop constructed completely of concrete. These hover around a much lower price of about $1.15 per square foot. The cost of installation as a whole can depend on the countertop material that you currently have alongside any additional repairs needed before applying the concrete overlay.
These overlays are also often versatile. No matter what type of countertop you currently have, you are likely to find an overlay that will cater to your needs.
Acid Stain Concrete Countertops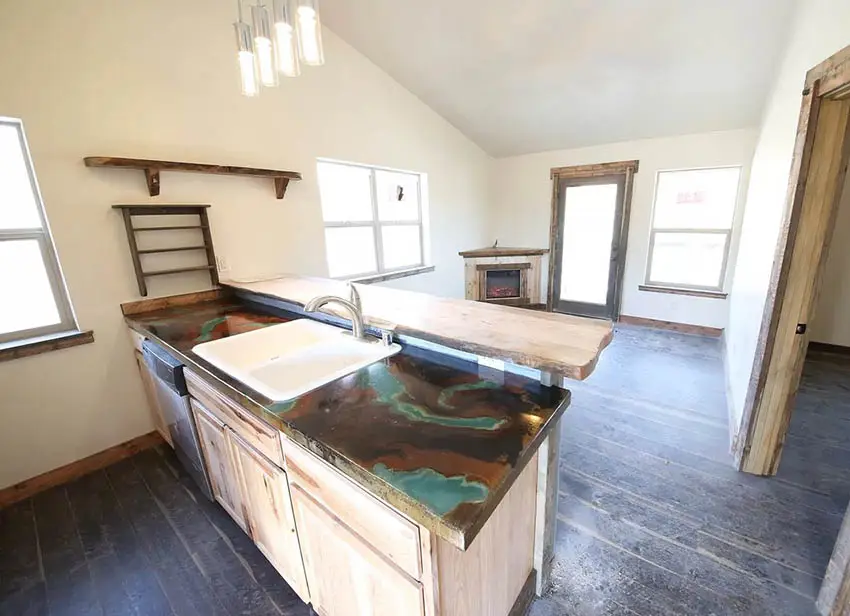 Acid staining is another way to control the pigment in a concrete countertop. Instead of using dye, though, acid staining employs the use of materials like hydrochloric acid and metallic salts to etch into the surface of the concrete. This works because the acid causes a reaction when it comes into contact with hydrated lime present in concrete.
Many homeowners love this choice because this reaction is permanent. No matter how long you have your concrete countertops, you won't see these patterns chip or fade away.
The only major downside to acid staining concrete countertops is that there isn't as much control over the pigmentation. You're likely to get more neutral tones but the color selection is limited compared to other methods of pigmentation.
Faux Concrete Countertops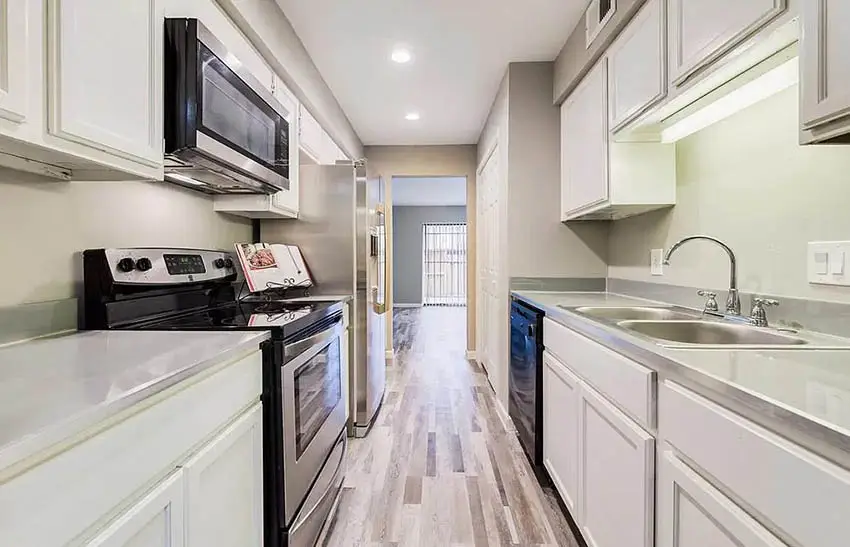 If you like the appearance of concrete countertops but don't want to commit to the cost, your best choice may be to opt for faux concrete countertops. These are a great way to cut costs and they're often done as a DIY project which gives you a great way to add a unique, personal touch to your home.
Alternatively, you can install a concrete countertop with a faux finish. These finishes have almost limitless possibilities. You can install concrete and give it the visual appearance of other materials such as wood, granite, or marble countertops. This is a great way to open up options to other more expensive or otherwise unavailable materials.
Concrete Countertop Colors
Just like there are plenty of finishes, you can also depend on different pigments to make your concrete countertops stand out. This helps to change up the standard gray that most people associate with concrete. These are a few of your color options and their benefits.
Black Concrete Countertops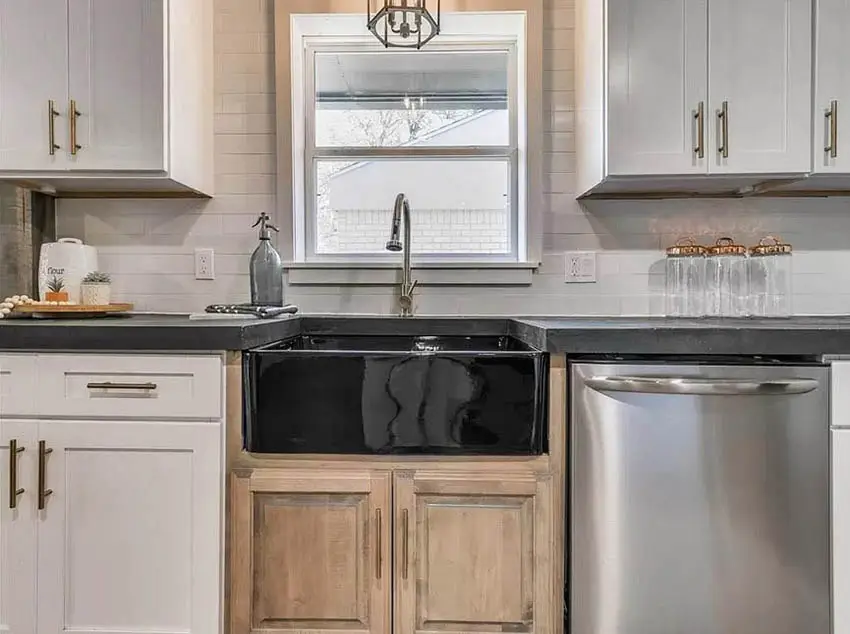 Black concrete countertops aren't a traditional choice but they match almost any style of decor. Whether you have contrasting white cabinets or a warm wooden theme in your kitchen, this color will fit in well.
It's an especially great choice if you want to add a unique and modern twist to your kitchen. Similar in looks to a soapstone counter, black concrete counters are often professionally installed. However, one could use concrete stain as a DIY project. Concrete stain is also sometimes called colorant.
Newly poured concrete will need to cure for at least 30 days before adding stain. Concrete stain will not fade in the sunlight like many types of acids and dyes. It is also resistant to abrasions.
For more related designs check out our gallery of black granite countertops.
White Concrete Countertop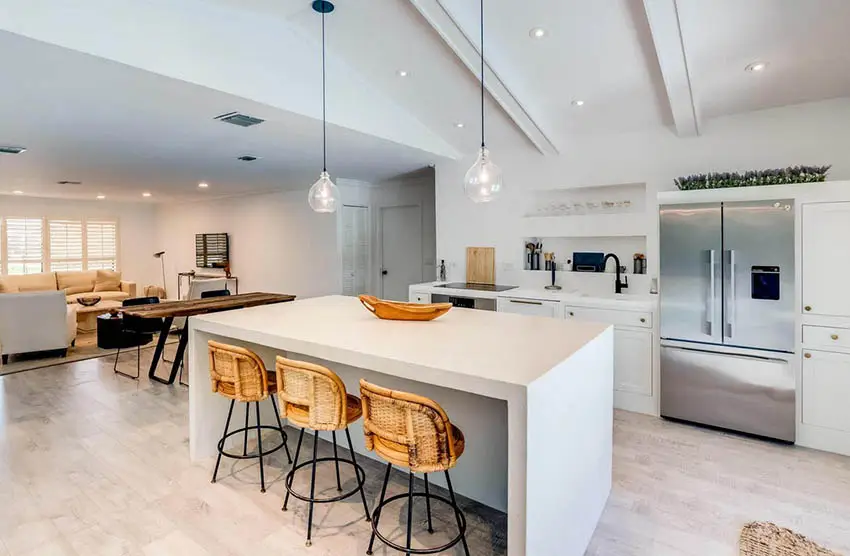 When your kitchen is neat and tidy, white countertops can create a clean appearance. After all, who could complain about sparkling, white countertops?
The only unfortunate side effect of having white countertops is that messes will show easily. If you drop a bit of pasta sauce on your white countertop, it will be easy to notice. Luckily, concrete countertops are easy to clean if you run into a problem.
For more related designs see our gallery of white granite countertops.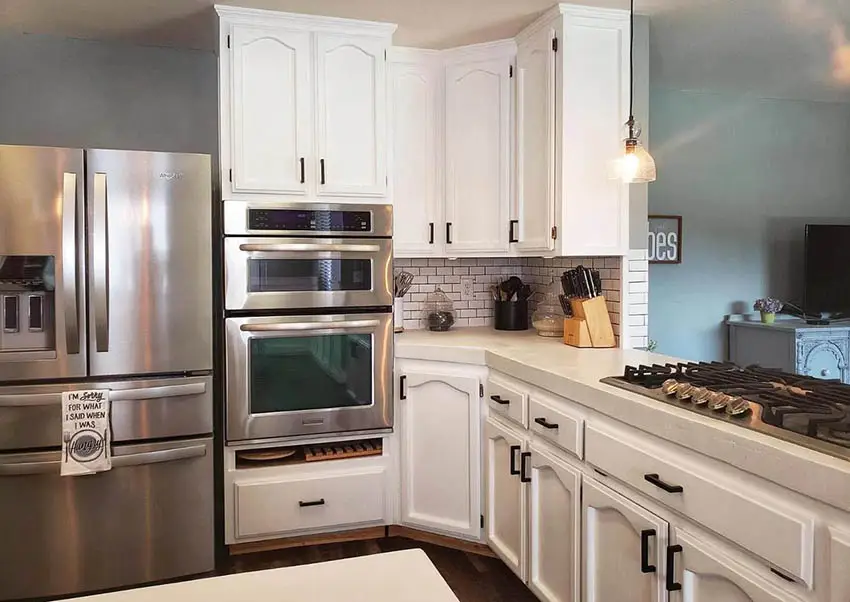 White concrete counters like other types are very absorbent and need to be sealed in order to avoid staining and cracking.
Concrete Countertops Cost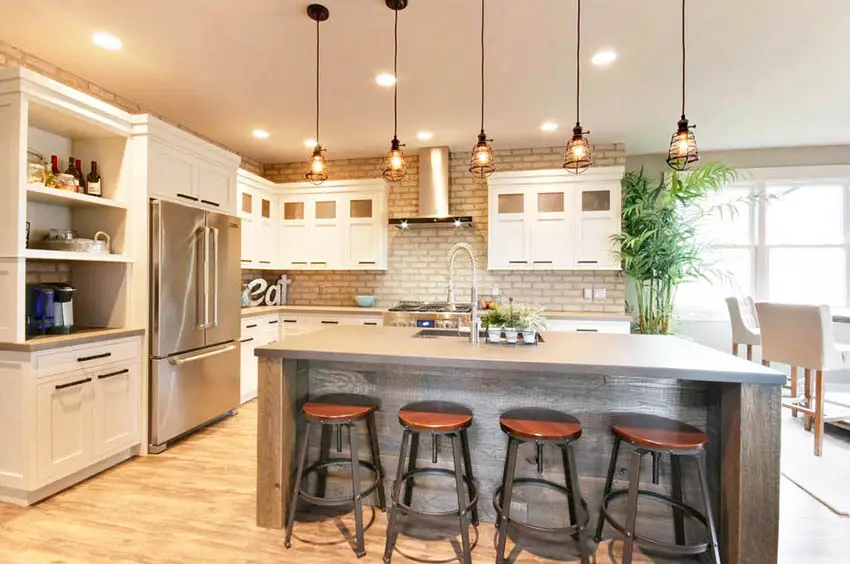 Concrete countertops are a rather expensive choice. On average, you can expect to pay around $65 to $135 per square foot. This is a price that's considerate of materials that need to be used, the design you choose, labor, and installation.
Concrete countertop cost isn't typically the result of the materials alone since concrete isn't quite as expensive as this estimate. The final cost rather comes down to the skill it takes for the person crafting it.
This is why it often costs more when you want a more labor-intensive design for your countertops. The more creative you get with your countertops appearance, the higher the cost it is likely to run you.
DIY Concrete Countertops Cost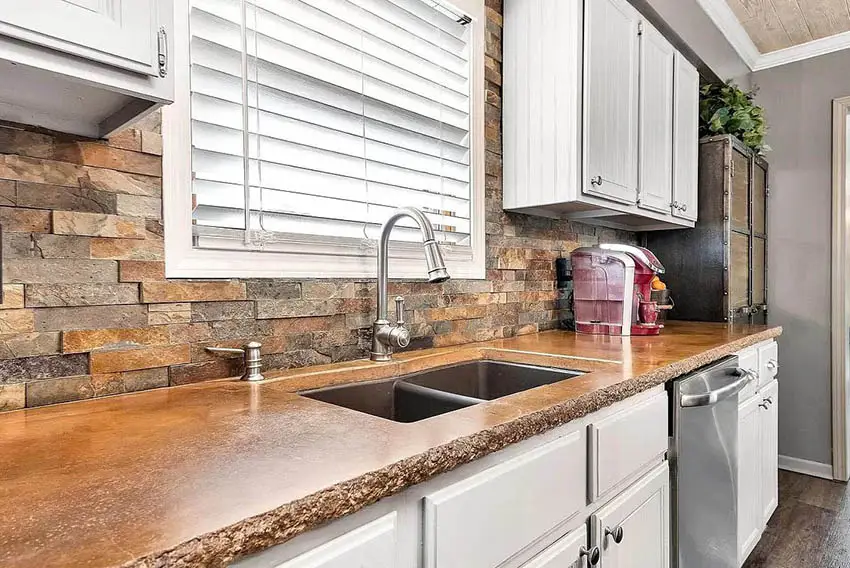 If you're creating your own concrete kitchen countertops, you can actually save on the overall cost. This is because you don't have to pay for labor and expertise. After all, you're covering the labor of installing the concrete counter and finishing it yourself.
With these labor costs deducted, you can expect a much lower price. You'll only have to pay a standard estimate of between $8 to $15 per square foot of countertop.
Again, there are factors that will change this aside from the amount of concrete you'll need. For example, putting
Concrete Countertops Pros and Cons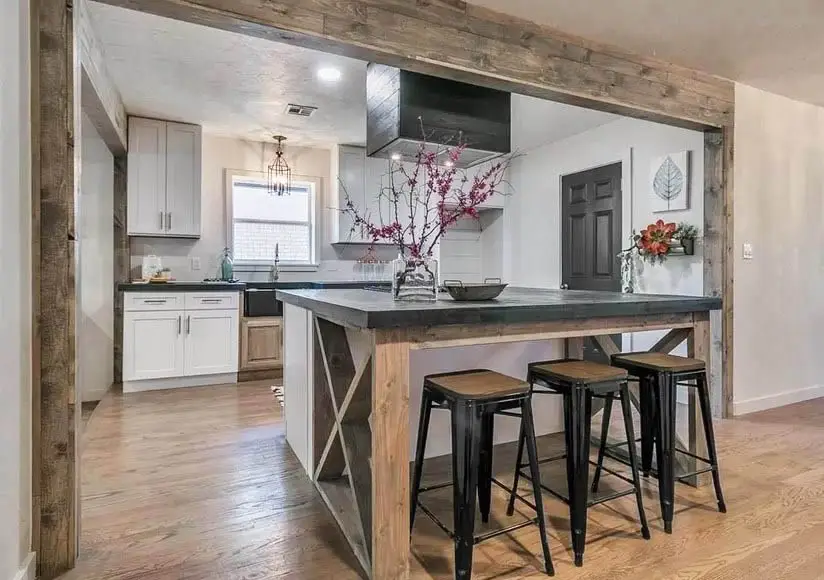 Just like any other home improvement project, you have to consider the benefits and the drawbacks of adding concrete kitchen countertops to your home.
On the positive side, concrete counters are beautiful. They come in different colors, finishes, and you can even add materials into the concrete such as stones, shells, fragments of glass, or fiber-optic lights to change things up.
Since they can be custom-sized, you also don't have to worry about them not fitting into your home. They're also durable, long-lasting, and easy to clean. As stated, they're also good for kitchens since they handle heat well.
Unfortunately, as we just covered, concrete countertops can be expensive. They're also difficult to repair if they start to crack and they require annual sealing to make sure they stay in top shape. You'll also need to make sure that the floors and cabinet frames you have are strong enough to support the concrete.
However, this effort can be worth it in the long run. Even if you end up putting your house on the market, concrete countertops generally raise the real estate value of a home if they're properly installed and kept up with.
Concrete Countertops Vs. Granite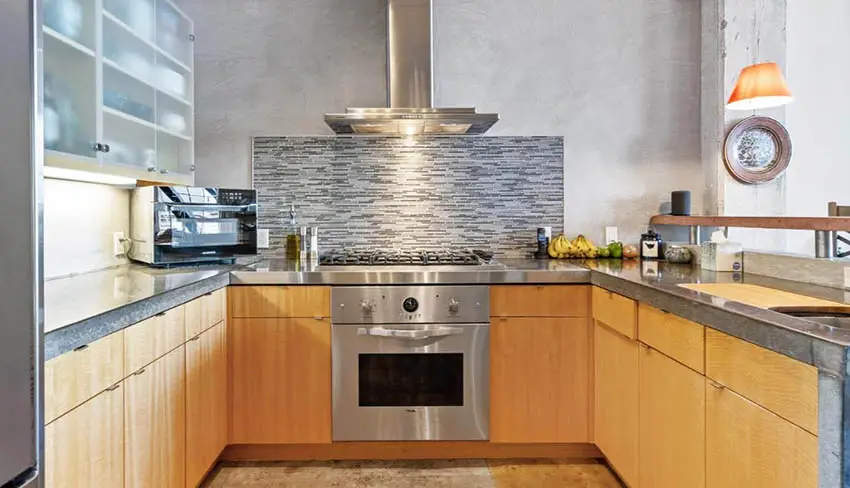 A choice that's commonly compared to concrete kitchen countertops is the option of a granite countertop. How do these two options add up to each other?
Well, both are resistant to high heat but sealants can discolor if, for example, a hot pot is set on its surface. Both options need to be sealed, though.
As for price range, the two tend to fall into the same general category but at about $70 to $175 per square foot, granite is likely to run you a higher bill.
Concrete is also less likely to stain when compared to granite countertops and has an unlimited number of design choices. While granite has many, it isn't as receptive to added pigmentation or added materials like inlays as concrete is.
Concrete is also seamless so long as you use seam filler during its installation while granite is likely to show seams.
Concrete also ages which means its appearance will likely become unique over time. Granite has a static appearance.
DIY Concrete Countertops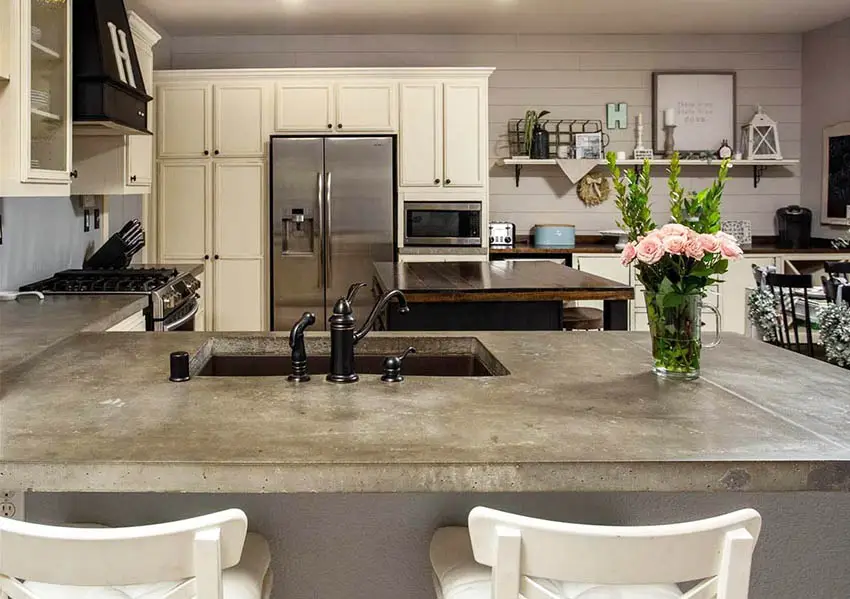 If you want to save money and add a DIY touch to your home, a DIY concrete countertop can be a project well worth its challenge.
To start, you'll need to make a mold for the concrete countertop. Don't forget – follow our tips for what concrete is safe to use for countertops to ensure the best results.
You also need to make sure you build the proper supports for the counter since concrete is a heavy material. We'll go over the dimensions for your DIY concrete countertop below.
Concrete Countertop Thickness
Since concrete is a heavy material, if you make your countertop too thick, you're putting unnecessary extra weight on your supporting frame, cabinets underneath the counter, and floors.
The average countertop ranges from an inch to two inches. If you want your countertop to appear thicker than two inches, it's better to opt for a drop-front edge that will offer the illusion of additional thickness rather than adding the extra weight that more concrete brings.
Concrete Countertop Mix
If you want to tackle your new concrete countertops as a DIY project, you can't just grab the first concrete mix you see on the shelf. The concrete you might use for a pathway in your garden won't necessarily suit your countertops.
It's best to look for a concrete mix that's specifically for countertops. This will ensure that the mix you're using will give you the aesthetic and technical results you need for a beautiful and functional concrete countertop. Quikrete countertop mix (No. 1106-80) is often used as a mix for pre-cast concrete countertops
Concrete Countertop Kit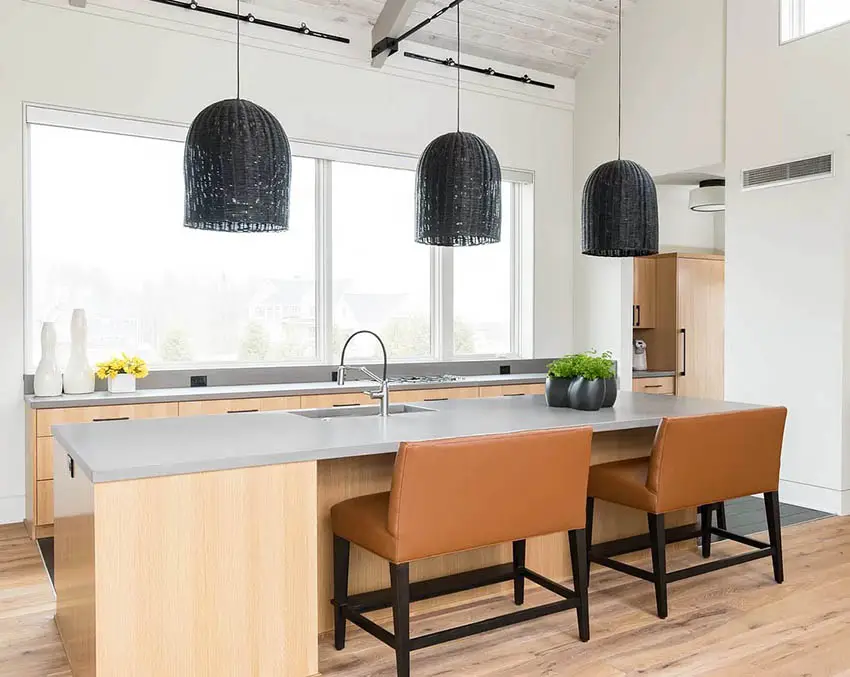 Installing concrete kitchen countertops as a DIY project will require an assortment of tools and materials. It can seem overwhelming to get them all so it helps to have the basics all together in one kit.
These kits typically include the components that you need to mix the concrete needed for countertops. After all, you can't use just any concrete mix to create a beautiful countertop. Outside of concrete countertop kits, we'll take a look at the specific types of concrete you can use on your countertops later.
All in all, concrete countertop kits can save you a lot of time and stress when it comes to a DIY project concrete countertop.
Concrete Countertop Sealer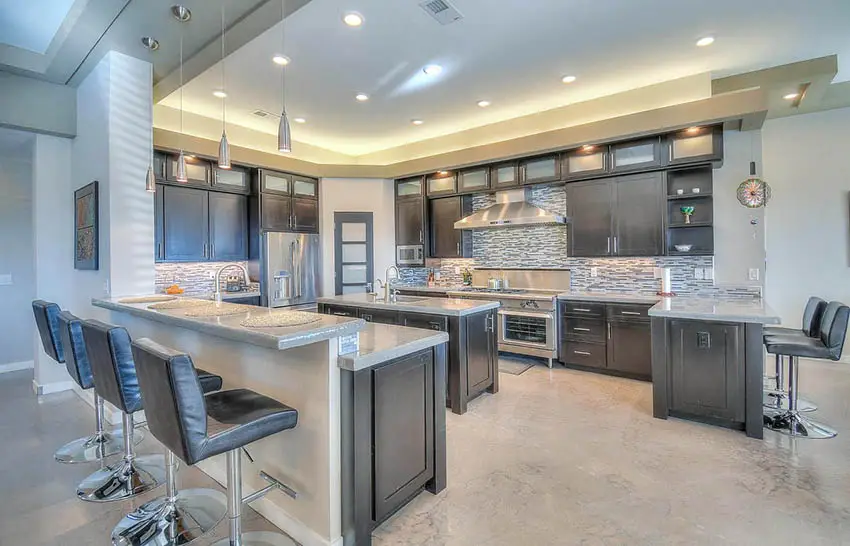 To keep your concrete kitchen countertop looking pristine, you need to make sure it's properly sealed. You should also reseal once a year to prevent problems like staining.
To seal a countertop, the first thing you need to do is make sure it's in the right location. It's best done indoors which is perfect for countertops. However, you don't want moving air or dust, so don't point a fan at your workspace.
You also need to dilute the sealer at a 30% sealer to 70% water ratio. 100% sealer is difficult to manage.
Now, use a cotton cloth to clean the surface of the concrete with just water. If the concrete has been previously waxed and sealed, use mineral spirits to remove the wax. Then, use a clean rag to wipe the whole counter until the concrete darkens.
When you apply the sealer, you should do so in thin layers – think of the pattern you use if you were to spray paint furniture.
To apply it, take a rag and soak it with the solution you made when you diluted the sealer. Now, wipe your countertop down but start with the edges and work inward. You should apply the solution with a fairly liberal hand and make sure to keep the area agitated with your moving rag for around five minutes.
However, don't forget that you need to work quickly – especially if you are sealing a larger area of countertop. Once the sealer starts to dry to a gel-like consistency it will be more difficult to work with. It's also likely to cause problems like streaking on this stage.
After you're done, start to wipe the sealer off the countertop but make sure to use the same rag. This will help to ensure that you're left with a clean, thin layer of sealer to dry on the countertop.
Then, let it dry overnight and try a method called the "water drop test" in the morning. To do this, pour a bit of water on the countertop and let it sit for a full 10 minutes. If the counter is darker when you wipe it up, it isn't properly sealed. If this is the case, repeat the steps to seal the countertop until it passes the test.
Frequently Asked Questions About Concrete Counters

What Is the Best Concrete to Use for Kitchen Countertops?
When you want concrete countertops, you can't use just anything. The most common concrete you'll find in your local hardware store is Quickcrete or a similar variant. This is meant to dry and set quickly but this isn't meant for use on countertops. If you use it, you run a higher risk of your countertop shrinking, curling, or cracking.
Instead, you'll want to look for an option that's specifically recommended for use in concrete countertops. This is fairly easy to find – it's available online as well as many hardware chains such as Lowe's and Home Depot.
If you do end up using regular concrete, which isn't your best choice, you'll want to make sure to use additives to lessen the chance of shrinking or cracking.
Can You Sand Concrete Countertops?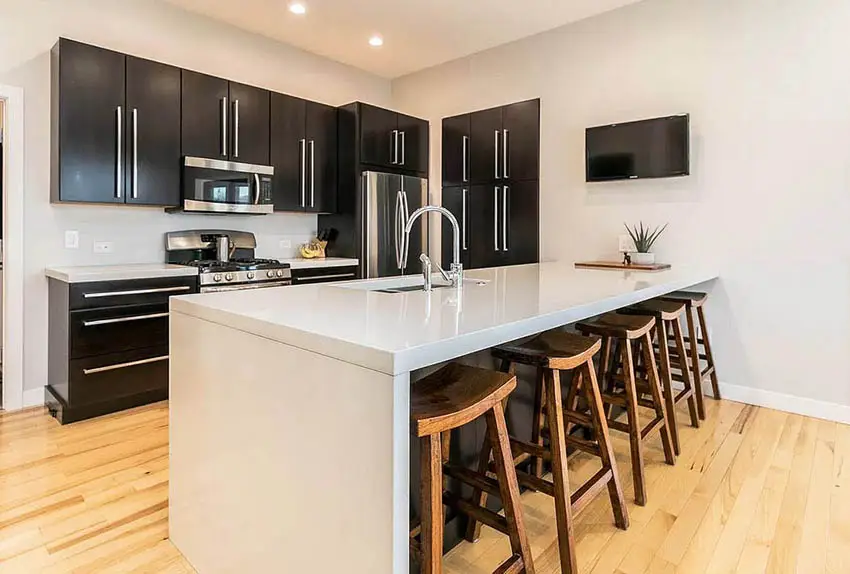 Yes! In fact, it's an important step to sand your concrete countertops. Once the concrete looks like it's dry – which takes about three days – you can sand it with either a standard palm sander or an orbital sander.
To ensure that your sealer bonds well to your new concrete countertop, you'll want to use 200 to 220 grit sandpaper. It's also important to change your sandpaper about every 10 square feet to make sure that it continues to offer the friction that you need it to. The longer you use sandpaper, the less grit it has. As such, overusing it will diminish the results you see.
Sanding concrete isn't exactly like sanding wood. The reason you sand concrete is that you want to open up any holes in it.
How Do You Fix Rough Concrete Countertops?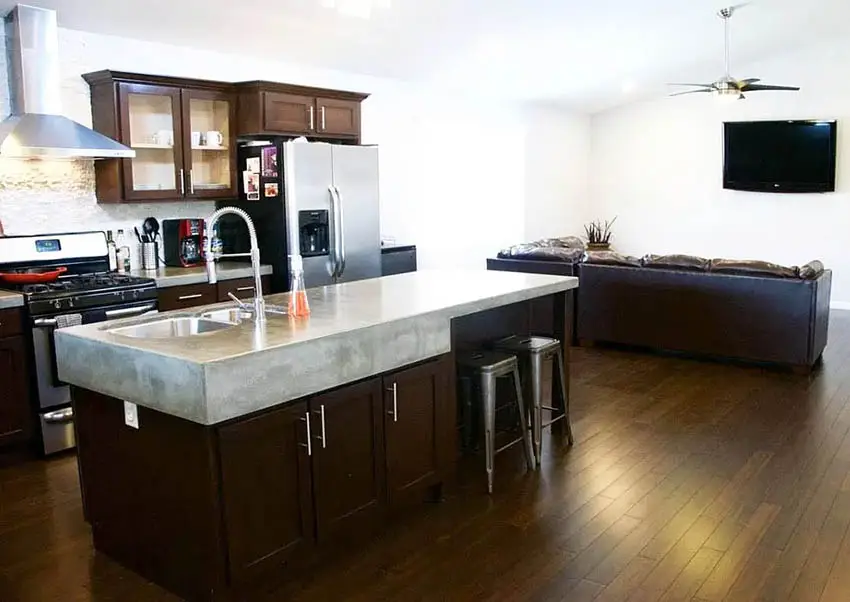 The last thing that you want to deal with is a concrete kitchen countertop that's rough to the touch. Luckily, if your concrete countertop is more than a little uneven, there are steps you can take to smooth it out.
First, let's look at the best way to avoid rough countertops. The most common source is laitance. This is the term for when a steel trowel is used on concrete too early. This traps moisture in the concrete, causing an uneven texture. You also need to make sure you sand off the creamy layer of concrete before you seal it to avoid a higher risk for cracking.
You also want to make sure you fill any low spots with concrete before the concrete dries. Otherwise, you risk an uneven surface that's difficult to repair once it dries and sets.
After the concrete is dried, if you notice uneven spots, you should grind and polish the concrete. Your best choice here is to use a wet polisher and use it with diamond polishing pads or a diamond cup wheel. The tool you need will depend on the severity of the situation. Start with the lowest grit and move up as needed. Typically, at least a 200 grit is needed but start with a grit of 60.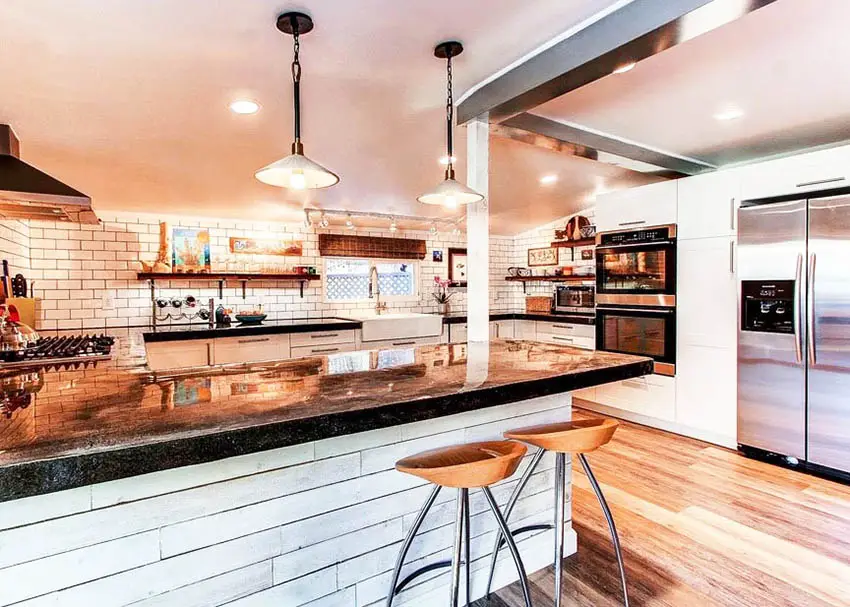 You can also apply a skim coat. This means adding an additional layer for a new, smoother top. You need to use a concrete option for this purpose like Micro-Topping, not a regular concrete if you want to see the best results.
You could also choose to use epoxy over your concrete kitchen countertop. An epoxy is a versatile tool and you can even add pigment to change its appearance.
For more ideas check out our gallery of quartz countertops.