Here we share our marble vs granite countertops design guide including the differences, which is more durable, expensive, and the better choice between these two kitchen countertop materials.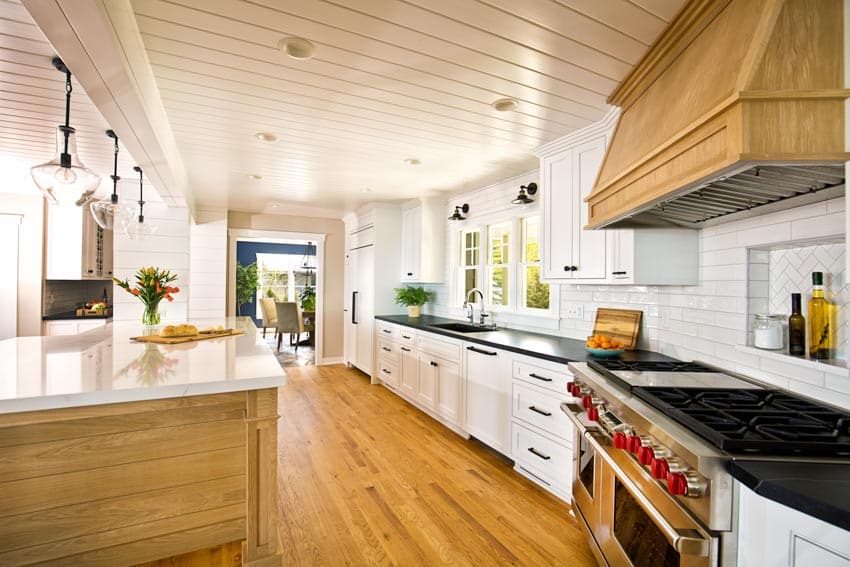 Choosing a new countertop is far more than just aesthetics. After all, you'll want to consider other concepts such as the pros and cons of certain materials as well as more practical concerns like the budget you have.
Then, you have to compare the materials you're considering before making your final decision. This can all seem like a lot of research, so we've simplified it for you.
If you're considering marble or granite countertop options, keep reading to learn about everything that sets these two materials apart from one another.
Difference Between Marble And Granite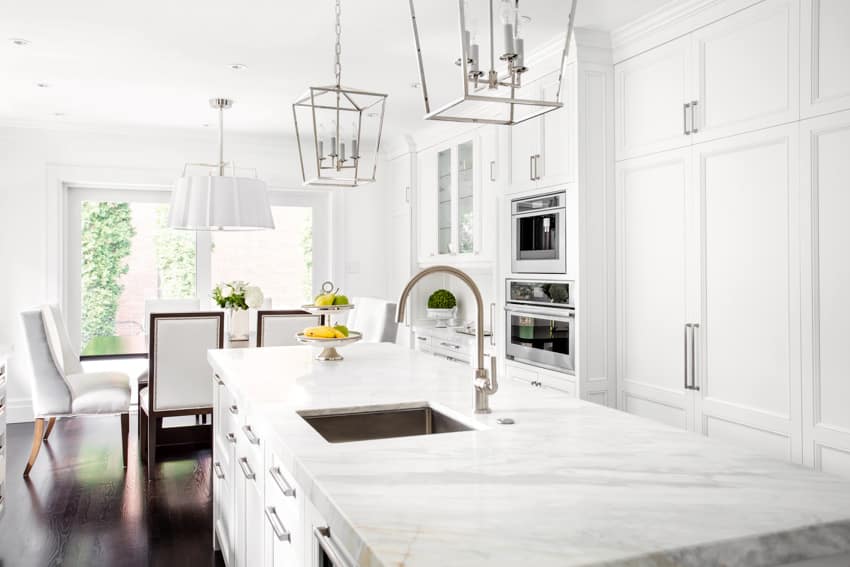 First, let's break down some of the big differences between marble and granite countertops. This way, you can easily compare and contrast the two materials at a glance.
Despite the fact that both of these materials are stone, there are a few key differences to watch out for and consider.
The first difference is one that you'll notice right away: how the counter looks. Aside from some slight differences in color variations, the color patterns of granite are different from marble.
Marble is often noted for its natural veining that swirls throughout a slab while granite usually has a slightly more subtle approach with flecks of other colors.
As for lasting beauty, you'll want to consider how easy each material is to stain. Granite tends to win out here since marble is naturally very porous, making it easy for the latter to soak up spilled materials quickly, resulting in a stain.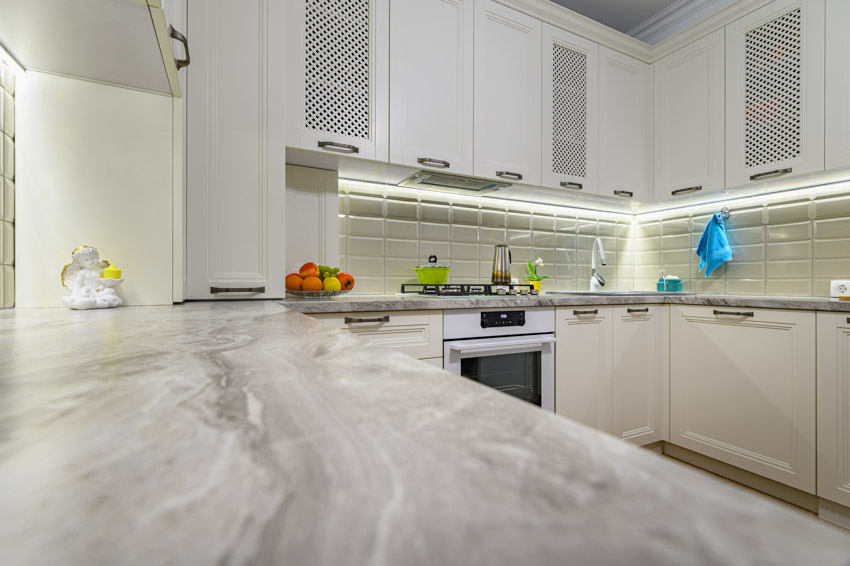 For the best results, you'll need to seal both materials but granite only needs resealing about every three years and marble needs it twice yearly resealing.
This porous nature of marble also means that you have to be a little more careful when you're cleaning your marble kitchen countertops than your granite countertops. Make sure to avoid abrasive cleaners and you'll fare better sticking to a cleaning solution with a closer-to-neutral pH.
Marble is also slightly easier to scratch than granite. So, you'll want to be careful that you don't scrape your countertop or, once again, introduce anything too acidic to its surface.
Is Marble More Durable Than Granite?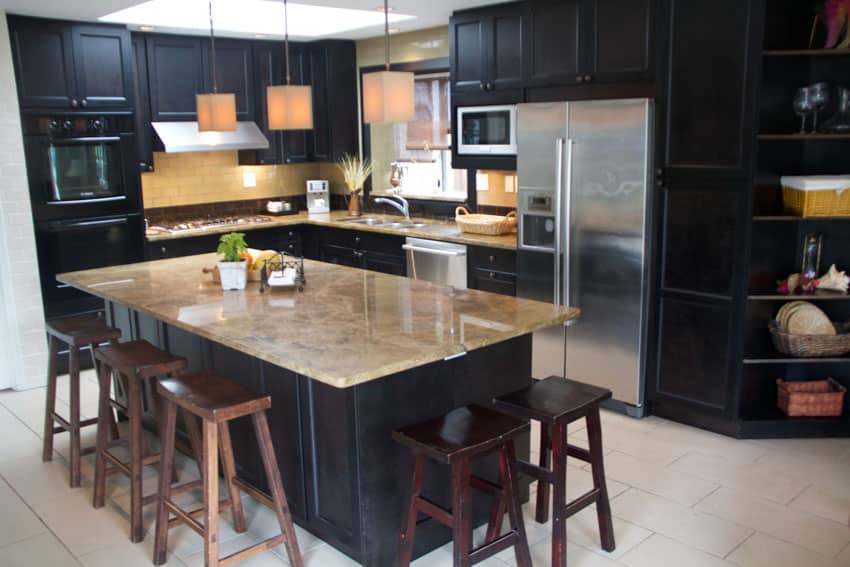 Of course, one thing that you want out of your counter is that it will last you quite a while. After all, it's a big investment and timely renovation, so you want it to carry your kitchen for quite a while.
So, between these two options, is marble or granite more durable?
The hardness of these two materials is measured on the Mohs scale which measures mineral hardness on a scale of 1 to 10. The closer to 10 that the material is, the harder it is.
Granite types of kitchen countertops measure in with a hardness on the Mohs scale at about 6 or 7. Alternatively, marble countertops measure in at about 3 or 5 on the Mohs hardness scale.
This means that, in general, granite is much less likely to show wear and tear than a marble countertop.
Of course, especially if you're considering kitchen countertops, you'll want to know how heat affects the material as well. Can you set a hot pan down on a granite or marble countertop?
As for granite, you don't have to worry as much about heat damage. This makes marble a more common choice for non-kitchen countertops like bathrooms or vanities.
In other words, marble is great for lower-traffic areas in your home.
Marble Vs Granite Price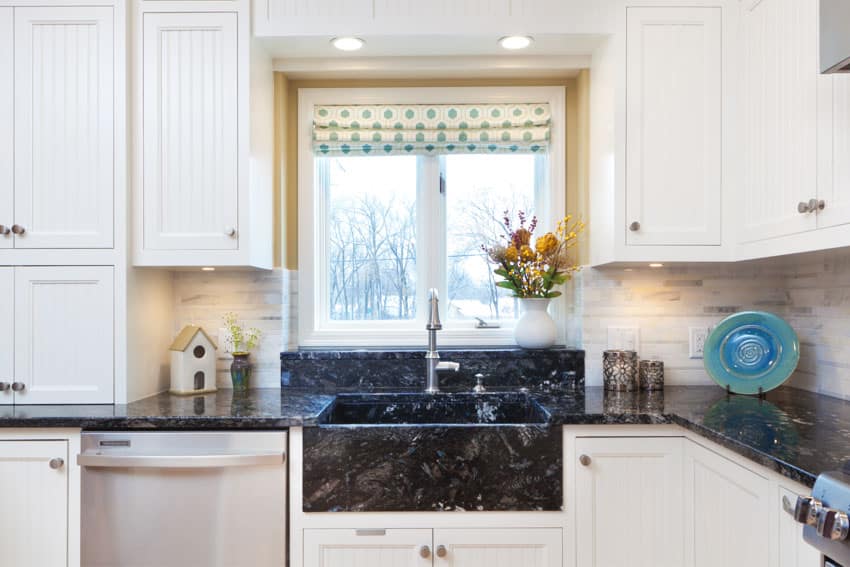 As we said earlier, a big part of deciding on a renovation comes down to budget. At the end of the day, saving for the kitchen remodel cost isn't easy and there's always a set budget that has to be followed.
That's why, here, we're going to create a monetary comparison between marble and granite countertops. This is another area where granite has a slight advantage over marble since the cost of granite is much lower than the cost of marble countertops.
To get into the specifics, you can usually find granite countertops for about an average of $45 to $80 per square foot but it can vary depending on the exact granite you choose.
With this in mind, the average cost for an entire granite kitchen countertop sits at about $2,250 to $4,500 as a total average.
On the other side of the issue is a marble countertop. Per square foot, the material cost of a marble countertop will run you an average of $40 to $100.
Once again, the exact cost will depend on a number of concepts such as the grade of marble, any transport costs, the type of marble you purchase, and any labor costs.
You can expect a cost range between a little over $2,000 to as much as $5,000 or more for the average marble countertop.
Granite Or Marble: Which Is Better?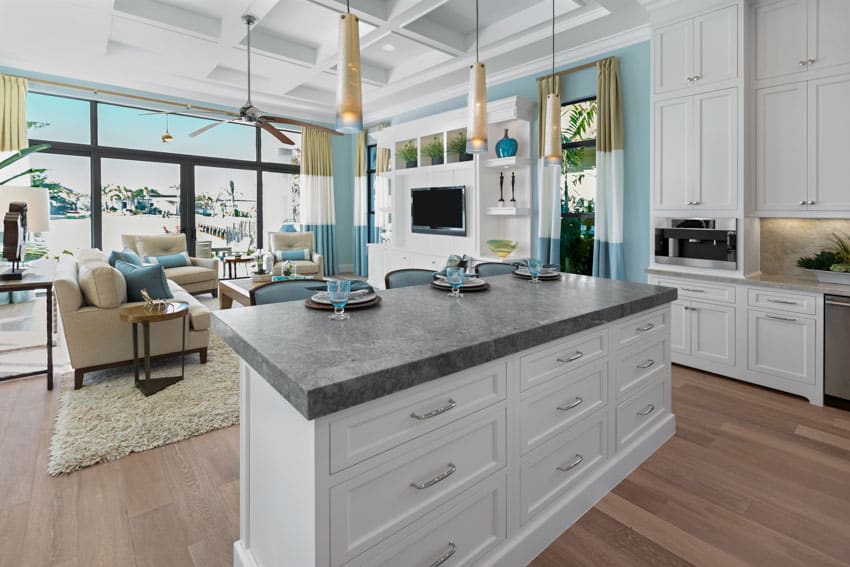 At the end of the day, this comparison comes down to one question: if you're considering marble and granite countertops, which one is the better choice?
When it comes to aesthetic options, both of the choices are about on par with one another and, in this case, it largely comes down to personal choice.
So, let's take this time to consider the more technical aspects of granite vs. marble.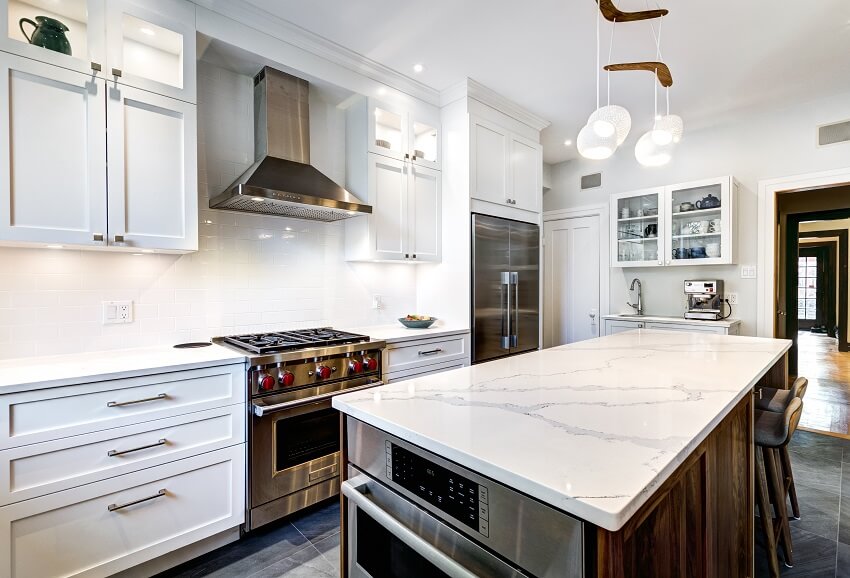 Looking at the question this way, granite outweighs marble in a number of areas. Granite is less likely to stain since it's less porous, offers a higher hardness measurement, and is resistant enough to heat to really come in handy in a kitchen.
On top of that, you won't have to worry about resealing granite as much as marble, making maintenance much easier and less costly.
Best of all, granite offers these benefits with a lower average cost overall. This means it's a better choice if you're trying to save a bit while you're choosing your countertops.
With all this in mind, at the end of it all, granite offers a lot of pros over cons compared to marble.
If you're trying to choose between the two, you can get a lot of additional benefits from granite countertops compared to a marble countertop.
See more related content in our article about butcher block vs granite countertops on this page.