Welcome to our butcher block vs granite countertops comparison guide including pros and cons, cost differences and design ideas.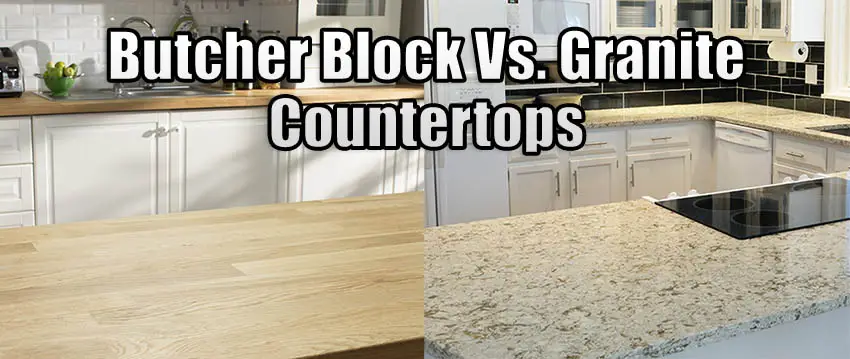 When choosing countertops for your kitchen, many materials are available. Two of the most common materials used are butcher block and granite.
Butcher block is made from wooden strips bonded together with glue to form a slab. Cozy cottages nestled in the woods and quaint farmhouses in the countryside are great environments for butcher block countertops. However, all types of wood are neutral and can be paired with almost any other material.
Granite is a more modern choice for your countertops and is a popular material for many homeowners. Each slab of granite is completely different and provides a cool, sleek look for kitchens.
Granite countertops are made from natural stone, reflecting a variety of colors and natural-made designs. The layers of stone shimmer under its smooth and shiny surface, revealing the depth of the stone.
This guide will discuss the pros and cons of butcher block versus granite countertops and the cost of each selection to help you choose the best option for your kitchen.
Butcher Block vs. Granite Countertops Pros & Cons
Trying to decide on which material to use for your countertops means weighing the pros and cons for butcher block countertops and granite.
Considering the appearance includes whether your kitchen design lends itself to the natural and woodsy feel of butcher block or the modern, clean design of granite.
Next, durability matters considering the amount of use your kitchen gets and maintenance depends on how much work it takes to keep the countertops looking good.
Let's compare these two popular countertop materials.
Appearance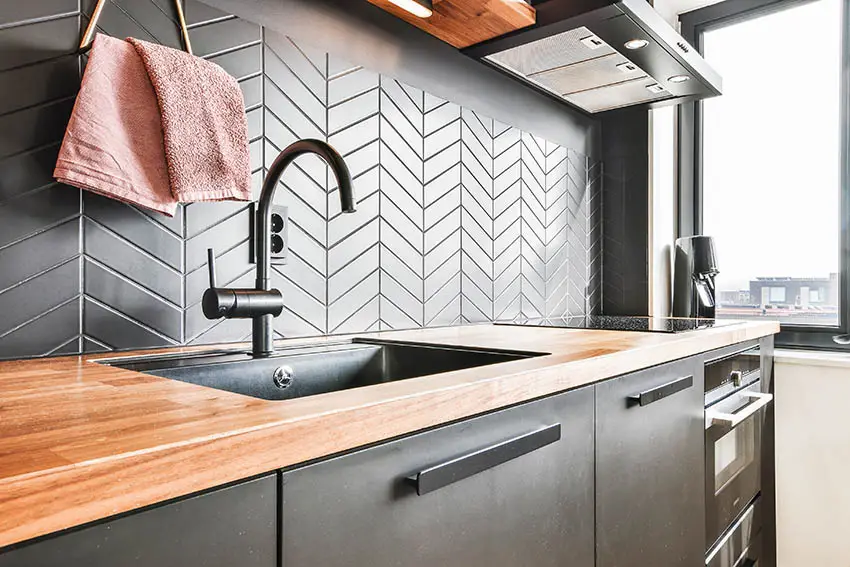 Butcher block, as discussed, is a warm and cozy countertop surface perfect for family-style kitchen and dining room areas. A large country kitchen that's open to the dining room invites that earthly feel of butcher block.
With numerous wood types to choose from, butcher block countertops allow for many wood grains and colors.
Maple is a blonde color and the most popular wood used for butcher block countertops. It has a distinct grain.
Cherry and red oak woods are darker, rich-colored wood and walnut offers the darkest shades of deep brown. Butcher block countertops never go out of style.
Butcher Block Appearance Pros:
Wide variety of colors and hardwood grain styles to choose from
Many different wood edge profiles
Beautiful countertop surface
Works with all kitchen styles
Adds warmth to the kitchen
Butcher Block Appearance Cons:
Dents and scratches can be seen
Water damage can occur easily
Granite is also versatile, with unlimited designs and colors naturally woven into the stone slabs. The colors range from almost solid black to a mosaic of cobalt blue with golden yellow and oranges striations or deep reds of rosewood.
Granite countertops can be understated using lightly monochromic granite with hints of gray on a white background. Granite provides unlimited designs and colors to match any room in your home. See our gallery of granite colors here.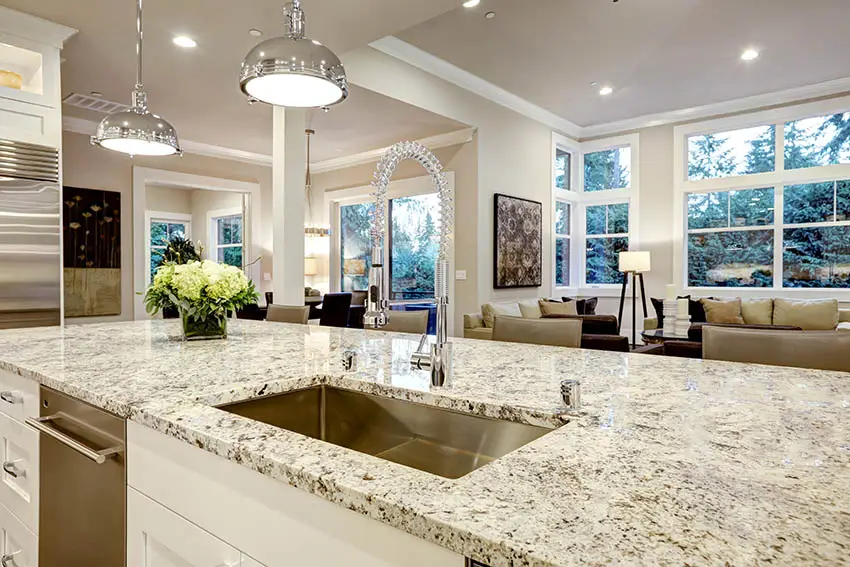 Granite Appearance Pros:
Attractive look
Adds value to the home
Unlimited colors to choose from
Granite Appearance Cons:
Difficult to change the countertop
Each slab is different which may make matching difficult
Durability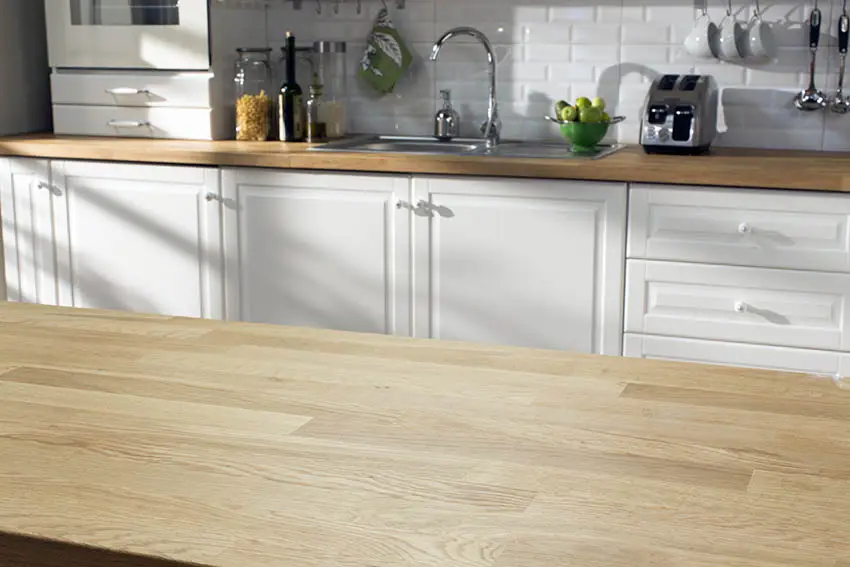 When it comes to durability, butcher block countertops made from hard rock maple offer the thickest density and long-lasting endurance.
Wood species differ in density and grain, making for some to be softer or harder than others. Hard rock maple, cherry, and walnut are all dense woods versus woods such as oak that are softer.
Higher density woods can withstand being cut on, but oak is too soft. All woods need to be protected from sharp objects and water penetration by treating the surface with special mineral oils.
Butcher Block Durability Pros:
Multi-functional
Helps provide a quieter kitchen by absorbing sound.
Sustainable wood product
DIY installation is possible
Can be sanded and refinished for a brand new appearance
Butcher Block Durability Cons:
May still want to use a cutting board to protect the surface
It can expand and contract during temperature changes
Can be easily burned or scorched
Wood can warp and bend
Granite countertops are resistant to heat, allowing cooks to place hot pots, plates, and pans on the surface. This heat-resistant countertop material is also strong, and knives will not do any damage. On the contrary, granite is strong enough to damage even the best kitchen knives.
Cutting on granite repetitively can easily dull the knife's blade. Still, granite is made from rock crystals pressed together, making it susceptible to chips from high-impact, such as dropping a cast iron pan on the countertop.
Granite Durability Pros:
Heat resistant
Long lasting & durable
Won't absorb liquids
Granite Durability Cons:

May need extra structural support due to the weight of granite slabs
Needs professional installation
Maintenance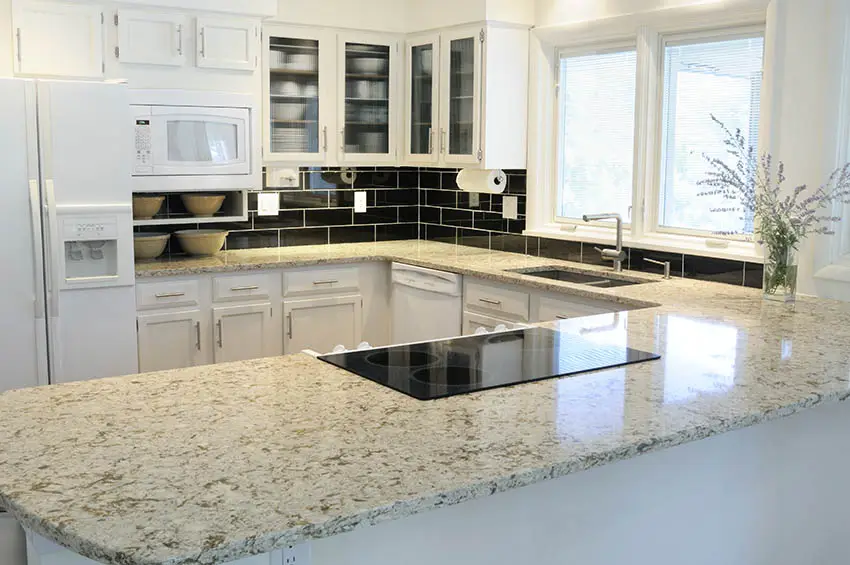 Butcher block countertops must be treated to prevent water from building up and causing the wood to warp. Wood kitchen countertops must be finished and sealed and require oiling every six months.
Different wood species need to be treated with specific oils recommended by the manufacturer or installer. Wood is soft compared to granite and can develop surface damage, such as scratches, knicks, and burns with a lot of use.
Before regular oiling, the surface can be sanded with fine sandpaper to remove the blemishes. Clean butcher block countertops with a damp rag and mild soap.
Butcher Block Maintenance Pros:
It can last several decades with proper maintenance
Can be easily cleaned with household items
Butcher Block Maintenance Cons:
Requires proper sealing and maintenance
Needs oiling every 6 months
Different woods need specific treatments
Not easy to clean a butcher block countertop
Granite countertops tend to be a bit porous based on the density of the stone. Do not leave liquids standing on the surface for an extended period. If liquids no longer bead up on the surface, the granite may need to be resealed.
Clean granite countertops with a damp rag and mild soap or equal parts of water and vinegar. Do not use soaps that contain bleach or ammonia, which can be corrosive to the granite.
Granite Maintenance Pros:
Sanitary
Easy to clean with a mild detergent and water
Granite Maintenance Cons:

Granite is porous and needs to be sealed
Butcher Block vs. Granite Cost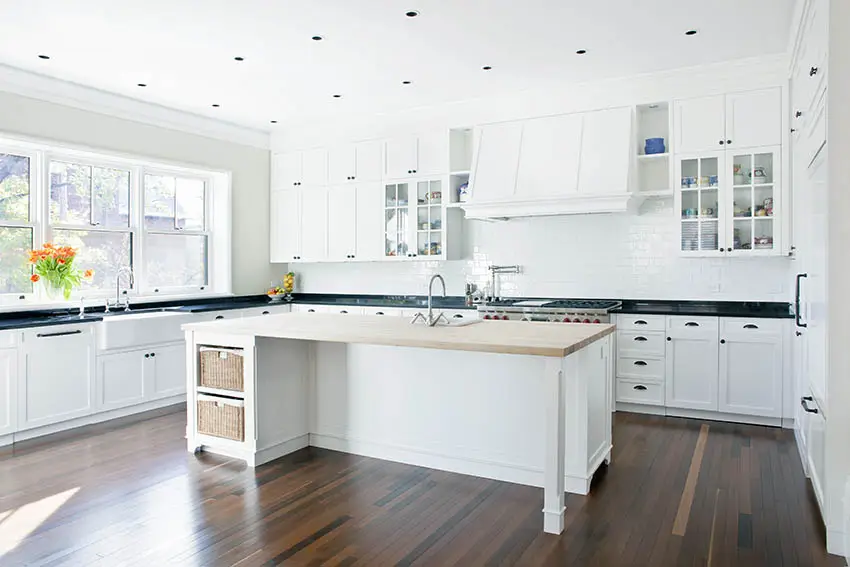 The cost for butcher block and granite countertops varies significantly according to what type of wood and how desirable the granite material is. Some granites offer rich and artistic colors and patterns.
In contrast, other granite slabs are merely a light surface with pastel hues of grays and browns. The rate of porosity of the granite also affects the price.
Porosity is the amount of space between the flakes of stone. Granite is primarily non-porous compared to other stone countertops.
Wood species that are more durable cost more than softer woods, and the price of wood changes based on supply and demand.
Butcher block countertops average between $35-$75 per square foot.
Granite countertops cost between $35- $100 per square foot.
For a kitchen that requires 30 square feet of countertop, butcher block averages $1,320 – $1,820, including installation and granite averages $3,000 – $3,500 for 30 square feet.
Both butcher block and granite countertops require similar amounts of maintenance, although granite costs almost twice that of butcher block.
Often, homeowners will opt to use both options for their countertops. Butcher block may be used for a kitchen island with granite for the counters, or granite counters can be inlaid with a section of butcher block to create a cutting station.
Ultimately, your décor budget, home design, and the desired style you want will dictate what choices of materials you use for your countertops.
For more content like this see our gallery of live edge wood countertops here.