Here we share the best finish for exterior paint including different types of paint finishes to use for the exterior, trim, shutters and stucco.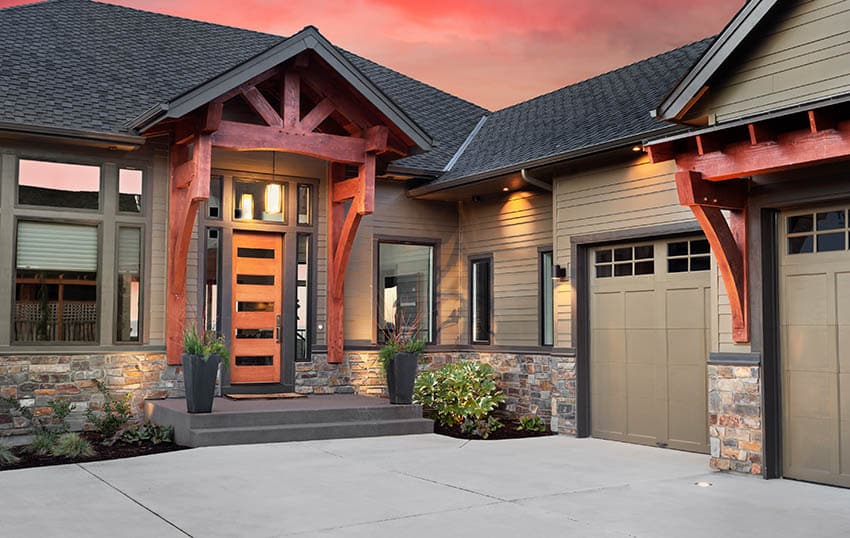 Your chosen exterior colors bring so much impact to the look of your home. But your decision-making doesn't end there. Once you have your color palette, it is time to choose the exterior paint finish.
An exterior paint finish is different from a paint type. Exterior paint types pertain to the chemical makeup of paint. These are either oil-based, water-based, or acrylic.
Exterior paint finish relates to the look that you want to achieve. Like paint types, different surfaces need different textures and glossiness. This is where the exterior paint finish comes in.
Whether you're building your new home or renovating, achieve the right look by choosing the correct finish.
Types of Exterior Paint Finishes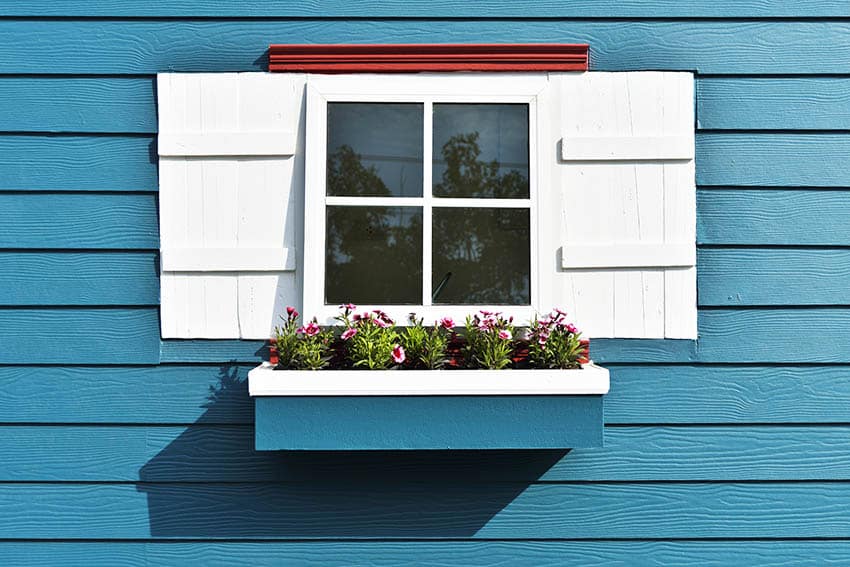 Unlike interior paint finishes, you get fewer options for exterior paint finishes. The exterior paint finish varies from a glossy finish to a flat finish. So, what applies to where?
Glossy Finish
First on the list is glossy finish. Painting a glossy finish is an excellent way to highlight beautiful architectural details. This high-sheen feature can reflect damaging UV light. The higher the sheen, the better it is with reflecting light. Moreover, the smooth surface you get from this finish allows for easier cleaning.
The glossy finish is ideal to use on doors, decorative fixtures, and accent trim. You can also use it on floors but mix it with some aggregates, like sand, to achieve a non-slip surface.
A glossy finish can be a double-edged sword. Just as how it highlights beautiful exterior features, it also magnifies damages. You should also avoid applying this finish all over your house exterior. Having an oddly shiny exterior can be an eyesore.
If you want to have the durability of a high-gloss finish without too much sheen, then you can always opt for a semi-gloss finish. The semi-gloss finish can be used on shutters, window sills, and garage doors, to name a few.
Satin Finish
If you are looking for a middle ground in the sheen spectrum, then a satin finish is worth considering. It may not be as glossy, but it isn't dull either. You can use this on different surfaces like brick walls, windows, and doors.
This type of paint finish is appropriate for use in hotter climates where fading can be a problem. With the right amount of gloss, this paint finish can protect against harmful UV rays.
Different kinds of satin paint finishes fit different needs. For instance, you'll need a particular satin paint for high-traffic areas and another for repainting your deck or porch.
Eggshell Finish
The eggshell paint finish is applicable on most surfaces, making it the most popular choice among homeowners for interior and exterior use. That said, don't make the mistake of using interior paint eggshell finish for outside. Each type of paint serves specific purposes.
When planning for a DIY project, you can never go wrong with an eggshell finish. This contains enough sheen for protection against UV rays compared to a flat finish. What's more, this finish provides for effortless cleaning and maintenance.
Flat Finish
The flat finish is the most basic paint finish. As the name suggests, a flat finish results in a matte rather than glossy finish. It is porous and cannot withstand mildew.
For these reasons, it is the least durable among the exterior paint finishes. Because of the lack of sheen, this finish is also the fastest to fade.
The flat paint finish is your best option for exterior walls. A major advantage of flat paint finish is that it can hide imperfections. When choosing a color, consider how much sun exposure your exterior walls get. Dark colors fade faster than lighter colors.
What Type of Exterior Paint Finish Is Best?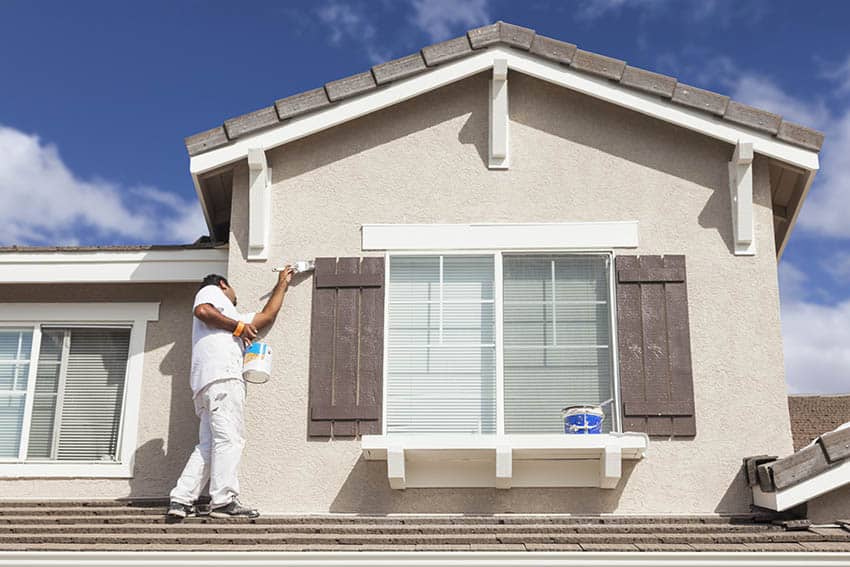 The right paint finish depends on the material you are working on and other external factors.
Higher exposure to the sun requires a certain level of gloss for protection. But, high gloss paint doesn't work well with other porous materials like concrete or cement.
Pick the paint finish that will provide maximum surface protection while accentuating the beauty of your home exterior.
When in doubt, you can always go for an eggshell paint finish. It is considered the best exterior paint finish as it is compatible with any surface, is quite durable, has a slight sheen, and inexpensive. In short, it's a happy medium in all aspects.
For those with brick walls the best type of paint is acrylic. Read more about the best color paint for brick here.
What Is the Best Finish for Exterior Trim Paint?
Your home's exterior trim adds character and depth to the overall look of your house. House trim includes window casings, door casing, and fascia board, among others. Most trim is wood, especially in traditional homes, so you'll need a wood-friendly paint finish.
Semi-gloss paint finish offers the right amount of protection from heat and moisture to your exterior trim without compromising how it looks. The smooth surface from the sheen also makes it easier for you to clean your window and door casings.
If the semi-gloss look is not your cup of tea, then you can always settle for a satin finish.
What Is the Best Paint Finish for Exterior Shutters?
Exterior shutters give a vintage appeal to your homes. Like exterior trimming, a semi-gloss paint finish provides protection and improves the aesthetics of exterior shutters.
Pay attention as well to the type of exterior paint you use. Wood shutters work best with latex paint, whereas vinyl and plastic shutters need acrylic paint for better bonding.
What Type of Exterior Paint Finish Is Best for Stucco?
With its fire-resistant, low-maintenance, and all-around durable characteristics, there is a high demand for stucco. Stucco is a combination of cement, sand, lime, and water, making it porous.
As such, the best exterior paint finish to use is the flat finish. Glossy painted stucco may cause shadowing. This occurs when the light reflecting on the surface results in an illusion of dark shades. A flat finish prevents this problem.
Aside from providing the best look for stucco, a flat finish has the added advantage of allowing the stucco to breathe. If the flat finish is too dull for you, consider using satin. But make sure that the stucco is free from visible damages.