Here's our deck paint vs stain guide including which is best for durability & cost and what type of paint or stain to use on your deck.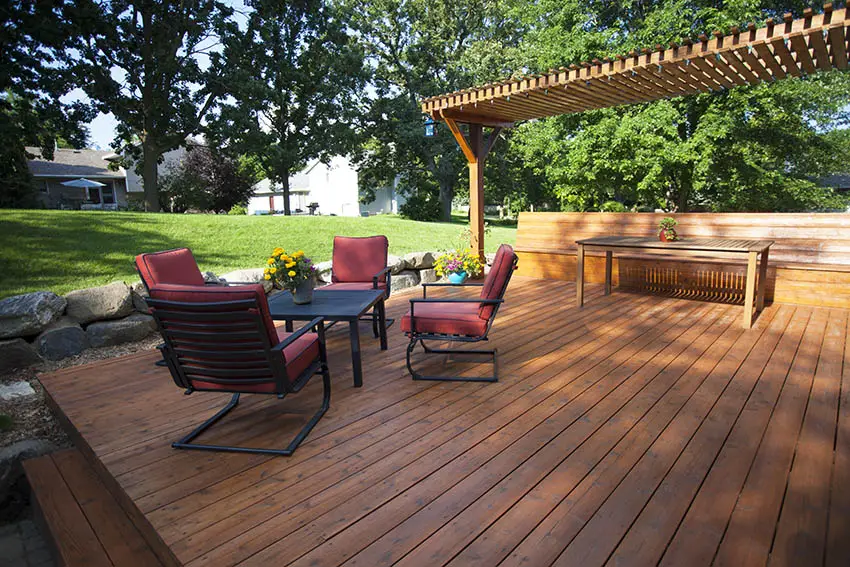 When looking into updating a deck, two of the most popular choices for finishing the deck are painting the deck or staining the deck.
Each of these options offers a great deal of pros and cons, and both can completely change the appearance of your existing deck.
There are a few things to consider when debating which selection will best fit you and your project, it could be the cost, how durable the finish is, how long it lasts or even how easy it will be to install. Some comparisons of these features are below.
Paint vs Stain Durability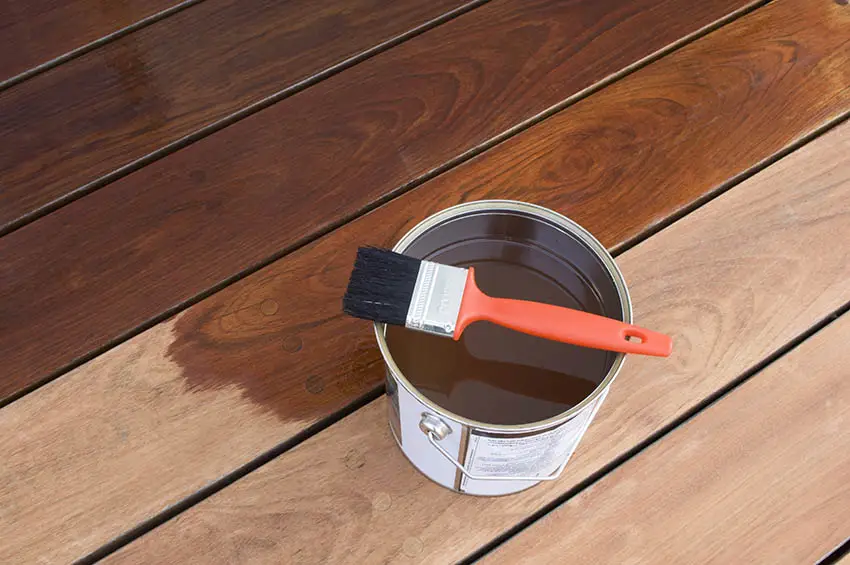 Deck Paint: Painting a deck is an extremely durable solution to changing up the deck. Paint offers both UV protection and moisture if you use the correct kind.
Oil based paint is best when it comes to the before mentioned moisture protection, which is helpful when you live in a wet climate.
Latex based paint is best when you are in a sunnier climate due to the UV resistant qualities.
Deck Stain: Staining a deck can be a durable finish as well, though less than the painting will be.
What Lasts Longer Paint Or Stain?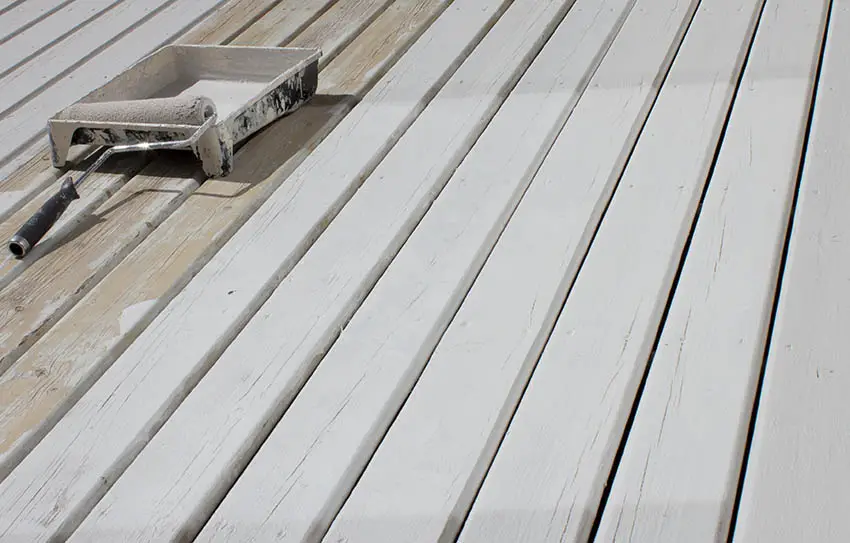 Deck Paint: The length of the life of painting a deck is pretty much as long as you own the house. Often it is the reason a deck needs to be stripped so that the color and finish can be changed versus the paint not lasting.
Deck Stain: When looking to stain a deck the life span is likely only up to 8 years, usually less. This can depend on how many coats are applied, the climate, and the quality of stain.
The more coats of stain you use, or the higher the opacity of the stain you get, will give you a higher pigment. The more pigmented the stain, the more resistant it will be to both UV fading and moisture.
Deck Paint vs Stain Cost
Deck Paint Cost
Painting a deck costs about $30 to $60 per gallon. One gallon of paint covers roughly 300 to 400 square feet.
Unfortunately, when using paint there will be a few other products that need to be purchased for the best paint results, even when using exterior specific paint.
Painting wood means you need to get a wood preservative so the paint doesn't ruin the natural wood pieces of the deck. This product is about $15 to $40 for a gallon.
Additionally, to get the paint to adhere properly to the wood deck, a primer will need to be applied before paint. This primer could run about $15 to $30 a gallon. All in you are looking at about $75 -$150 per 300 square feet.
Deck Stain Cost
Deck stain costs about $20 to $30 per gallon. One gallon of stain covers about 150 to 300 square feet, depending on how rich of a color you want and how many coats you apply.
Choosing stain avoids the extra costs of needing to treat the wood beforehand, as the stain is specifically designed to preserve the wood.
It is good though, to get a sealer to go over the stain, this makes for a long lasting stain and deck. The deck is exposed to the weather elements which can be rough if not sealed properly.
Deck Sealer Cost
Sealer can cost about $40 to $60 per gallon. This leaves you at an all in cost of about $60 to $80 per 300 square foot, after you include some brushes and rollers for install.
Keep in mind that this price does not include any form of stripping that could need to be done if the deck had been previously painted.
Professional installation of either of these are going to be roughly the same per hour, but the painting takes about 2 times as long, because of the multiple coats of different products that need to be applied to the deck.
The stain can take longer if multiple coats are desired though. Expect to pay about 10% to 20% more to the project if you are looking at hiring professionals.
Is It Better To Paint Or Stain A Deck?
From a quality standpoint, paint is going to be the better lasting, more durable product. Additionally, painting the deck offers a wide variety of colors that could be selected. Painting is also pretty easy to maintain over the life cycle.
This being said, staining does offer the natural wood look that can be very enticing. Plus, a refresher every 5 years or so is not always so bad in case tastes and trends change and you can just re stain versus going through an entire stripping process.
What Is The Best Type Of Stain To Use On A Deck?
There are two types of stains that can be selected.
Oil Based Stain: Oil based stains are best for protecting the wood from any warping or cracking. They repel water as well as reduce mold risk.
Water Based Stain: Water based stains are relatively newer and the are becoming popular due to their lower levels of VOC as well as has a quicker dry time. Water Based stain is the more expensive product.
In most cased Water Based Stain is going to be the better choice, unless the budget is extremely limited.
What Is The Best Type Of Paint To Use On A Deck?
As with the stains there are two types of paints that can be selected for a deck design.
Oil Based Stain: Oil Based paints typically last upwards of 10 years, which is a much higher lifetime than the stains available. This paint is the best for durability and moisture resistance.
Unfortunately the VOC levels are pretty high and it takes at least 24 hours to put on any additional coats.
Water Based Stain: Water Based paints, like the water based stains, are low in the VOCs which is better for both your body and the environment.
Additionally, the water based paint is the best at protecting against any fading due to the sun or UV lights. This type of paint only takes about 6 hours to recoat.
In most cases Water Based Stain is going to be the better choice, but as a newer product, is often overlooked.
If you are interested in creating your own backyard deck there are an assortment of deck design software programs that can help. These can help you design and visualize your concept at the exact specifications of your backyard, to get the exact look you want.