Welcome to our guide to pool design software including free & paid programs and their features.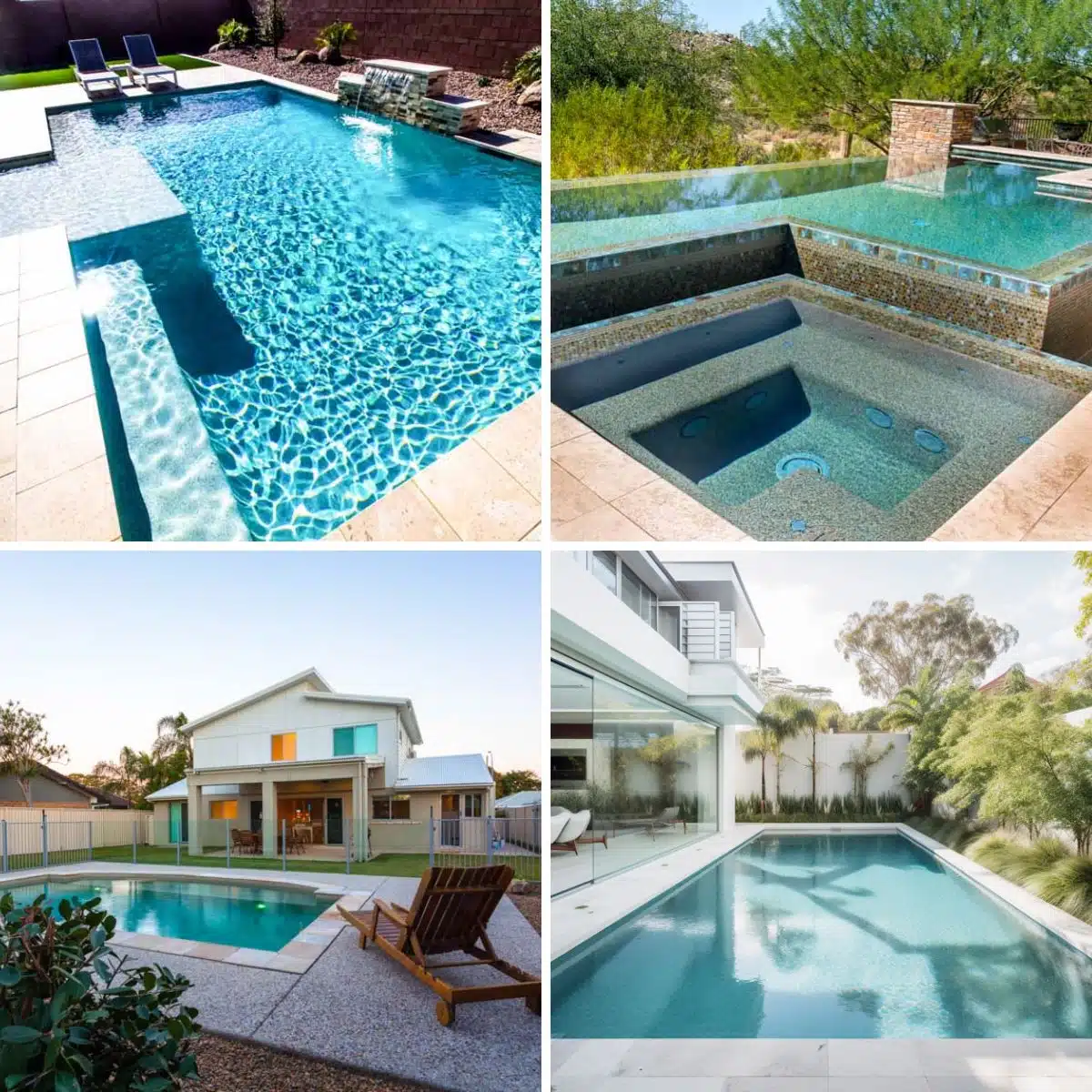 Aside from the usual home interior and exterior, a swimming pool is probably one of those features of a home you want to be functional and beautiful at the same time. After all, this is your personal backyard oasis.
There are many apps out there, specifically under the Computer-Aided Design (CAD) category that professionals can leverage; but which one is the right piece of software for designing a swimming pool?
If you are looking for programs for Mac or PC, below is a list of our picks for best apps (free & paid) that we think may be the best pick for any swimming pool designing project.
Idea Spectrum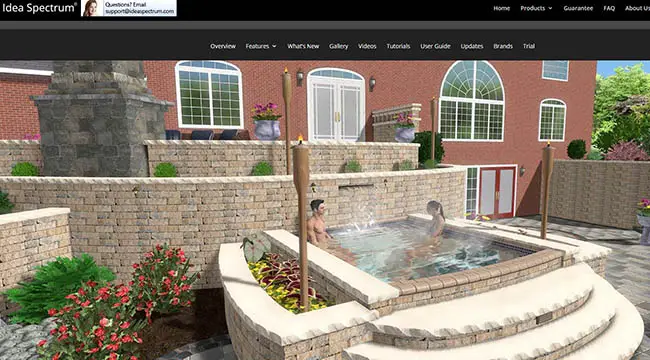 Simulate water and light in real-time with Idea Spectrum's "Realtime Landscaping Architect" suite of software.
The landscape design program comes with a simple, easy to use and understand interface where you can envision your pool from a 2D top view perspective where you lay out all the different objects like paths, hedges, rocks, lights, plants, etc.
After laying out the different objects, you can switch between plan or perspective view, the latter of which allows you to view your design 3D.
This option can be downloaded as a free trial product and to use the full version, a one-time fee is required. There is no need to pay a subscription fee.
Building a Pool with Idea Spectrum Video
Type: Free Trial & Paid
Idea Spectrum – visit website
Structure Studios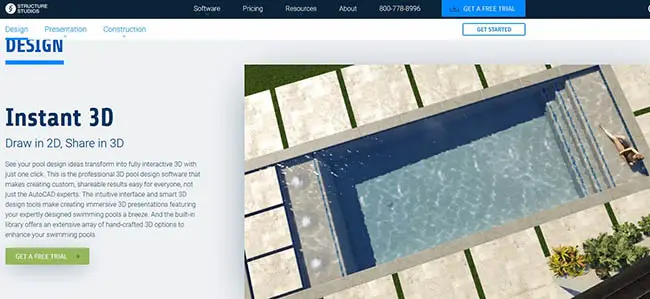 Got an idea for a custom construction but are not good at drafting? You can now easily visualize your dream pool into a realistic 3D rendering.
If you are a professional, you can show your work to your client with ease, if you are the client, no need to fumble through words to describe what you have in mind.
Just a bit of tinkering with this application for a few hours will allow you to render wonderful CGI pools.
The user interface sports a more professional look as one can expect from CAD software but it will grow on you eventually. Designers only have to lay out their designs in a 2D perspective and the program will take care of the rest of rending everything in 3D.
The resulting 3D image is realistic to give a good enough impression of what the final result might turn into. It can render realistic water, lighting, reflections, and shadows in real-time.
Structure Studios Design Video
Type: Free Trial & Paid
Structure Studios pool design software – visit website
DreamPlan Home Design Software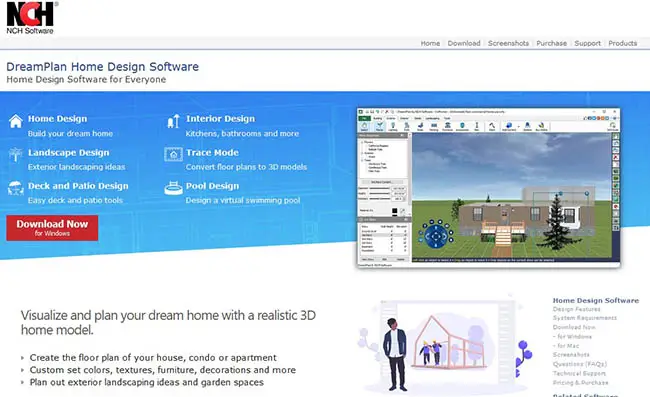 This option offers a more hands-on approach as professionals can put 3D objects directly onto the map as opposed to using a 2D floor plan.
Although, the option to convert a 2D plan to 3D is still there. The user interface is easy enough to understand and even a beginner can easily pick up the understanding of how it works.
It comes with a huge library of 3D assets like plants, decks, furniture, or plumbing. It also has a variety of textures to choose from so you don't necessarily have to google textures whenever you need them.
It is available as a free trial and can be purchased as either a commercial or home license.
Type: Free Trial & Paid
NHC Software – visit website
Your Pool Plans
Want to have a pool built but no time design? Your Pool Plans offers a service where clients can purchase inground designs with appropriate documents from a library of pre-made options. You can receive 3D swimming pool renderings as well as 2D designs.
It works by purchasing a plan with needed extensions. You will email your exact specifications to the company. The necessary files will then be sent to the client.
This service is useful for instances where a concept or preliminary layout is needed immediately, a concept design exists but permits and construction plans are need or a plan is needed along with permits.
Type: Paid
Your Pool Plans – visit website
Pool Templates
Create high-quality 4K renderings and movies from simple 2D drawings. Pool projects don't have to be complicated anymore.
With the proper hardware, designers can render layouts that can be converted into sales for clients.
Professionals will have their work cut out for them by eliminating guesswork. Get more done in less time with better results with this customizable pool builder.
Type: Free
Pool Templates – visit website
Design Your Pool Online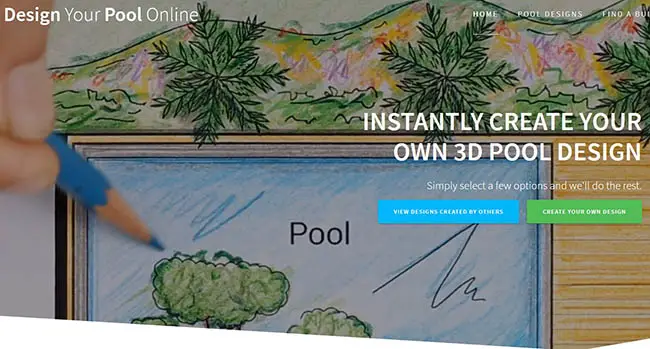 Coming up with a pool does not have to be complicated. Since internet bandwidth has increased drastically over the years, full software applications can now be run from the cloud. And thus, there are a wide variety of services online such as an online app free.
With just a few clicks, a plan with 3D renderings can be generated for you online. The process will start by picking a few basic requirements from the different types of pool shapes.
Then you'll decide on what kind of equipment to use, like a water sanitizer or pool heater, and then picking what feature add-ons to include.
Examples of features are fountain bubblers, waterfalls, fire pots, lazy river, laminar jets, deck jets, tanning ledge, jump rocks, fire pit, fireplace, or even an outdoor kitchen.
If you have not yet created an account for the site, you will have to register for one before you will be given the necessary blueprints, drawings, renderings, and other relevant documents.
Type: Free
Design Your Pool Online – visit website
PoolDraw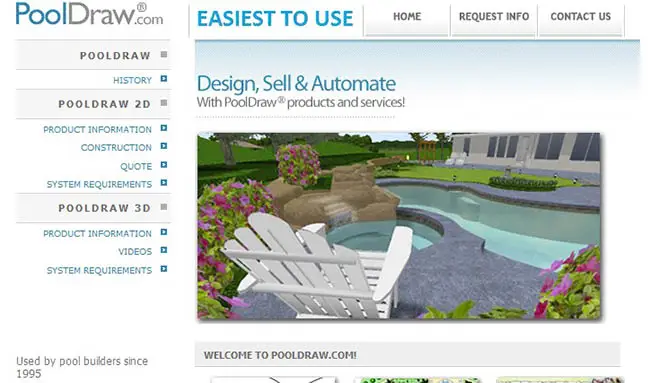 This software add-on rides on the back of Microsoft Visio. It allows professionals to envision their swimming pool with ease and with the help of Microsoft Office applications.
Instantly generate a bill of materials and export them to Microsoft Excel. Capture data like Manufacturer, cost, SKU, Description, and others.
The plugin has been around since 1995 and is quite an established piece and is easily one of the most used products for presentations.
Since the product runs as a plugin, the system requirements for it must be considered on top of MS office application requirements. The plugin itself is, thankfully, not expensive, especially by PC modern hardware standards.
Type: Paid
Pool Draw – visit website
Premier Pools and Spas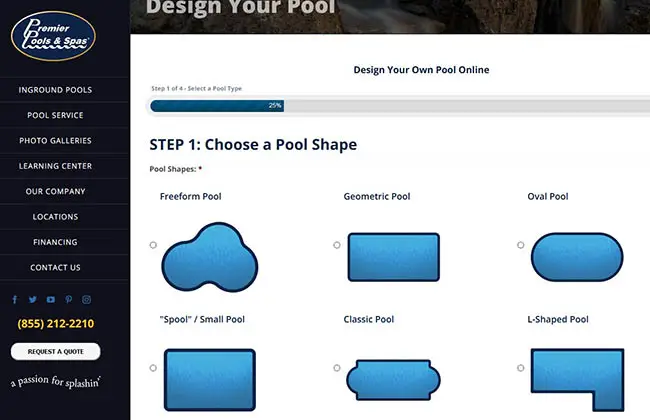 Working on swimming pools, as fun as it can be, can eat up a lot of time. Even for professionals, it can be daunting to keep up with demand with deadlines on the horizon.
For those who aren't really into designing but just want to get something started, this freeapplication is a quick way to get the desired results.
Users only have to enter some basic information like the general shape of the pool, the equipment needed, and the features that they want included.
Users will have to register for an online account to proceed with the rest of the process. The free 3D software online service also includes other services like pool repairs and cleaning, equipment maintenance, and inspections.
Type: Free
Premier Pool and Spas Design Your Pool – visit website
Virtual Architect Home Design Software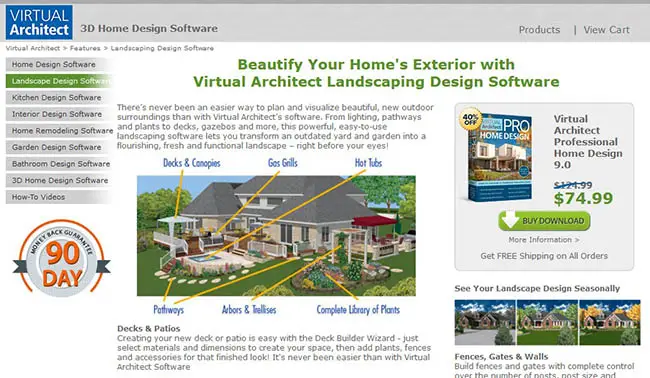 Envision a house from scratch either for yourself or a client with this intuitive piece of software. While it's not a specific pool program it comes with the necessary functions and utilities that are expected of any similar software.
It is also a complete tool for working on everything from your interior rooms to your landscape. Design swimming pools, kitchen, gardens, and others. The beauty of working in a virtual environment is the ability to simulate what the house could look like in the real world.
Normally, programs of this kind already comes with 3D assets so professionals don't have to download or model their furniture. It also comes with a texture library so you don't have to pay for another service online from which to outsource textures.
While you can just google textures, you could run into copyright issues. So at a reasonable price, it can provide you with all the necessary items you need.
Type: Paid
Virtual Architect – visit website
Planner 5D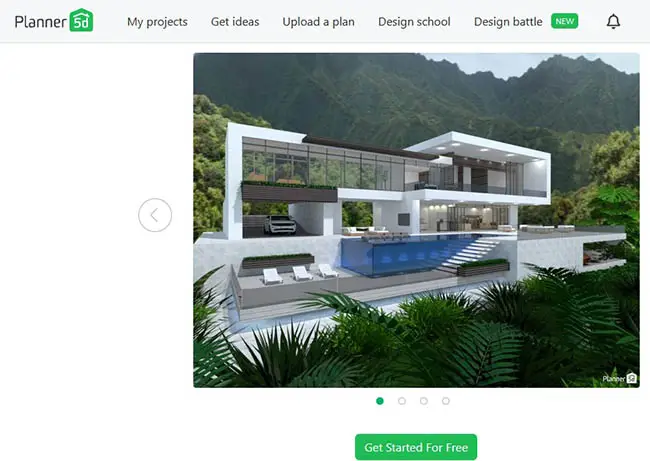 With Planner 5D you can create a two-dimensional design and view it in a 3D setting. It allows one to create interior and exterior designs including backyards with landscaping, deck, patio, and swimming pool.
The Planner 5D has a free version as well as a paid version with additional features. The paid version includes a library of 5000 items with editing tools and functionality to change colors, patterns, materials, walls , and flooring.
Designing an Infinity Pool
Type: Free & Paid
Planner 5D – visit website
Conclusion: Pool Designing Software Paid or Not?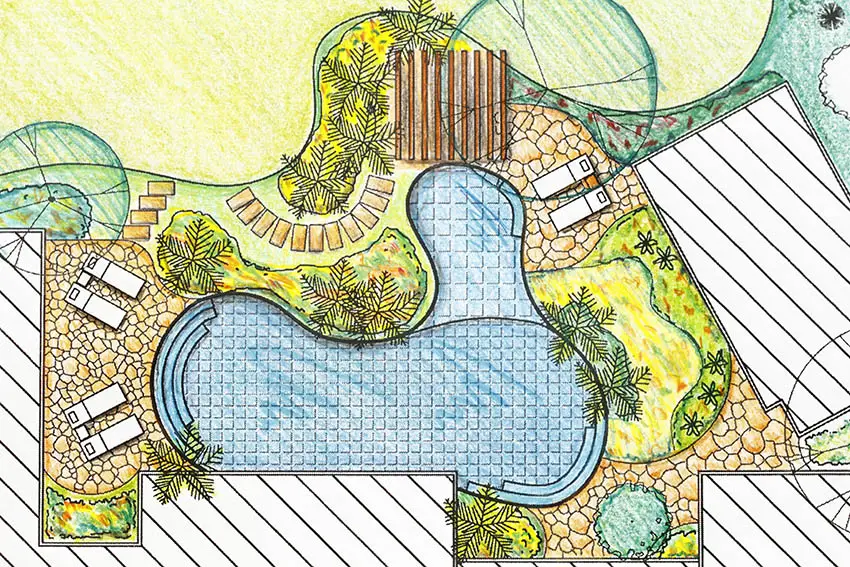 Freeprograms for homeowners and professionals comes in a variety of features and system requirements. Some have a free trial with paid, some are completely free, but each one has its unique specialty.
Finding the right option begins by asking what the project needs and not what features the software comes with, and that's the point when users should decide which program to pick. Budget may be an issue for some but it is also important to not sacrifice quality.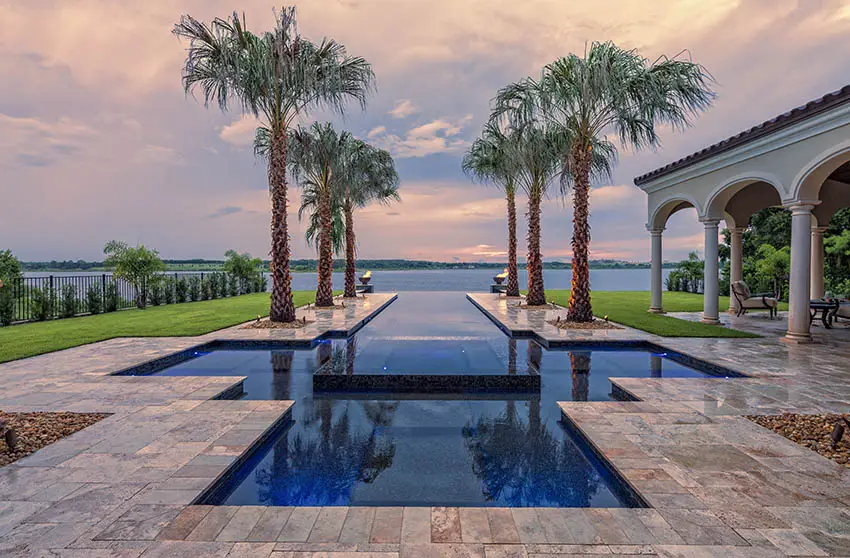 From this list we have provided, some of them can be used both in a professional environment or by hobbyists.
Students of architecture, engineering, or 3D environment artists can also use some of these pieces of software as a handy way to hone their skills in designing before stepping into the professional realm.
Software developed specifically for architectural design is useful and is highly recommended for professionals.
Swimming pools are a nice addition for the house and it should be treated as a water feature. – Feng Shui for the Curious and Serious Volume 2, Phil N. Nguyen
Depending on the complexity of the program, some go beyond just the layout and some even provide utilities for calculating an estimate for the construction cost.
Save time and effort in explaining to your clients your project proposals by walking through the structure in 3D space while making use of powerful rendering engines to simulate different physics properties like light, shadows, reflections, and many more.
Do you have a favorite software? Please let us know in the comments.