Here we've outlined the comparison between IPE vs composite decking including its quality, cost, maintenance and pros and cons.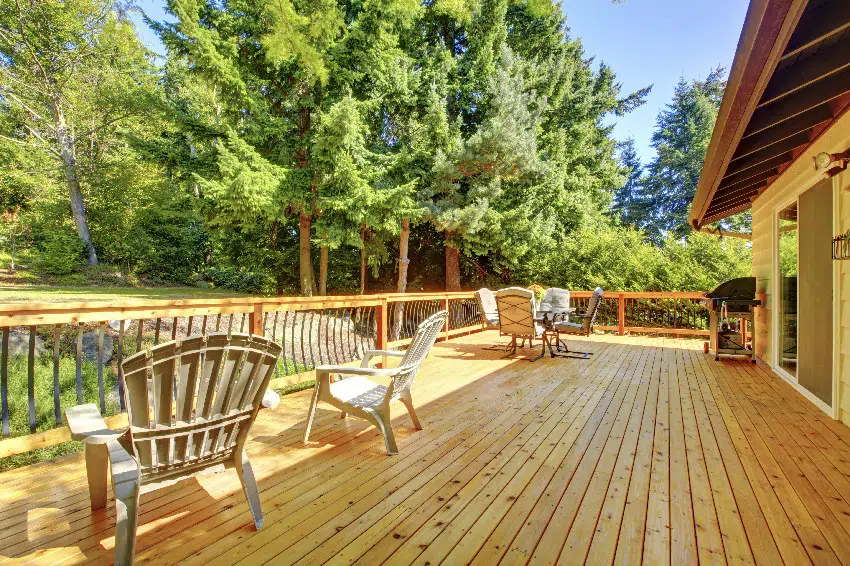 IPE decking is growing in popularity and is a tropical species of wood also known as Tabebuia serratifolia. IPE is pronounced as EE-pay and is frequently used for wood deck because of its natural strength and durability.
What Is IPE Decking?
Ipe is a Brazilian hardwood that is prized for its rich brown and amber tones and high density. Ipe is genuine wood, very thick, and remains one of the most coveted hardwoods for decking.
The truth of Ipe is more complex than the surface of pleasant promises — a claimed long life, a stunning appearance, and an inherent resistance to fungus due to the tight grain pattern.
Ipe wood is recognized for its numerous qualities, making it an excellent choice for exterior and interior uses.
It is insect-resistant, mold-resistant, rot-resistant, decay-resistant, and fire-resistant and is almost as sturdy and strong as concrete. This wood, like concrete, will not float in water.
Ipe is ideal for premium decking and siding on contemporary houses and commercial buildings that need a soft or warm appearance while still durable and low-maintenance.
However, if you want to keep the lovely natural hues, you will need to get it oiled once a year.
What is Composite Decking?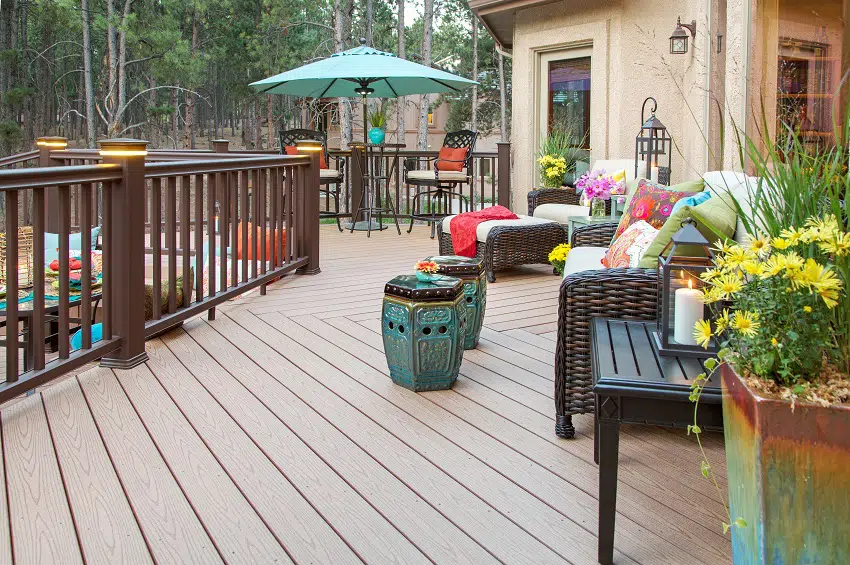 Anything composed of more than one material is referred to as a composite. Composite decking consists of wood fibers, polymers, and a tiny quantity of bonding chemicals.
This mixture is cooked, then molded into board-like lengths, and chilled. The boards need much less care than conventional wood decking and appear far more genuine than plastic equivalents.
The components used in composite lumber include a combination of wood fibers (sawdust), plastic, and other binding agents. When these components are joined, a material created is heavier, stronger, and denser.
High-quality composites feature a complete resin 'capping,' which protects the whole board from moisture and UV damage, and the plastic in them keeps insects at bay. Composite boards are also available in various colors and textures to compliment any home design.
Composite boards used to only last 5-7 years, but they now have a much longer useful life. Even yet, over time, sunshine and outside factors have a significant impact on the performance of composite decking.
IPE vs Composite Decking – The Pros & Cons
Durability – Properly treated ipe wood lasts 75 years or more. Ipe wood keeps its proportions and smooth profile for an extended period. On the other hand, Untreated ipe wood takes on a silver hue in only two to three years. Composites have significantly improved in durability, with high-quality manufacturers offering 25-year guarantees.
Customization – Composite deck boards are available in various colors, giving them an edge when creating a deck that appears just as you want it. Dual-surface boards are available from certain manufacturers, allowing you to select between composite decking that appears smooth or beautiful Ipe decking with a more rustic, reclaimed appearance.
Sustainability – Ipe wood comes from a slow-growing tropical tree. Composite decking is often more environmentally friendly since it is made from recycled materials and leftovers.
Looks – While early composite decking appeared to seem fake and plastic-y, some contemporary composites have a varied appearance and randomized embossed grain pattern, ensuring that no two boards are the same. Ipe has the looks of classic genuine wood.
Moisture – Wood decking is prone to splintering if it is not treated with stains, sealers, or paint regularly. On the other hand, composite decking products are moisture-resistant, allowing them to be placed in high-moisture environments without rotting.
Maintenance – To protect a wood deck from moisture, homeowners must paint, stain, or seal the decking regularly. Composites, on the other hand, need to be swept or washed to maintain their appearance.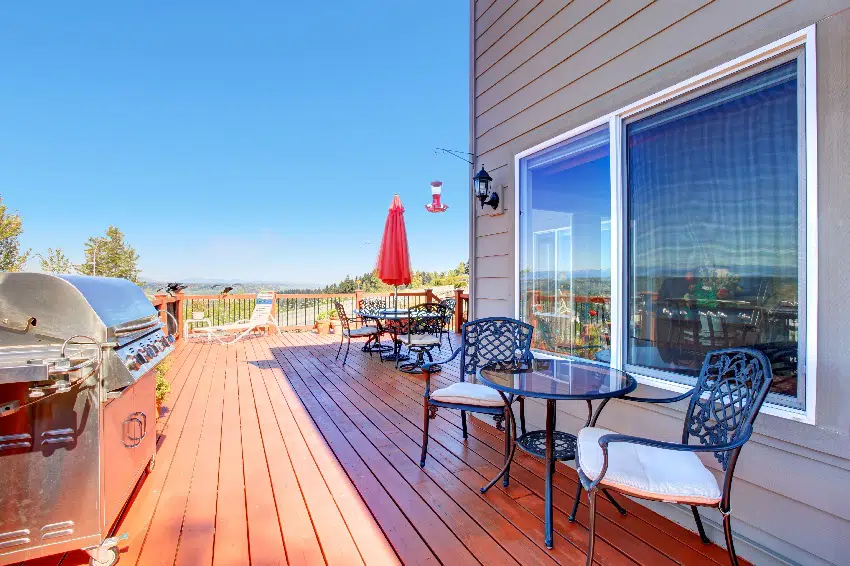 Facts About IPE Decking:
Class A fire protection

Twice as dense and five times as hard as pressure-treated wood

Long lengths are available

Little to no warping

Longer life span

Natural durability
Facts About Composite Decking:

Class B fire rating

Heavy material

It is less rigid than Ipe

Uncertain life span

As it ages, it loses its color
Ipe vs Composite Decking: A Cost Comparison
Ipe wood deck planks are reasonably priced and endure an enormously long period. But structural ipe timber such as 2x6s and 4x4s is also costly.
Composite decking is initially more costly than ipe hardwood, but it needs little to no care over time. This kind of surface may endure up to 30 years, while Ipe wood can last up to 75 years. Variation is possible depending on a variety of composite choices.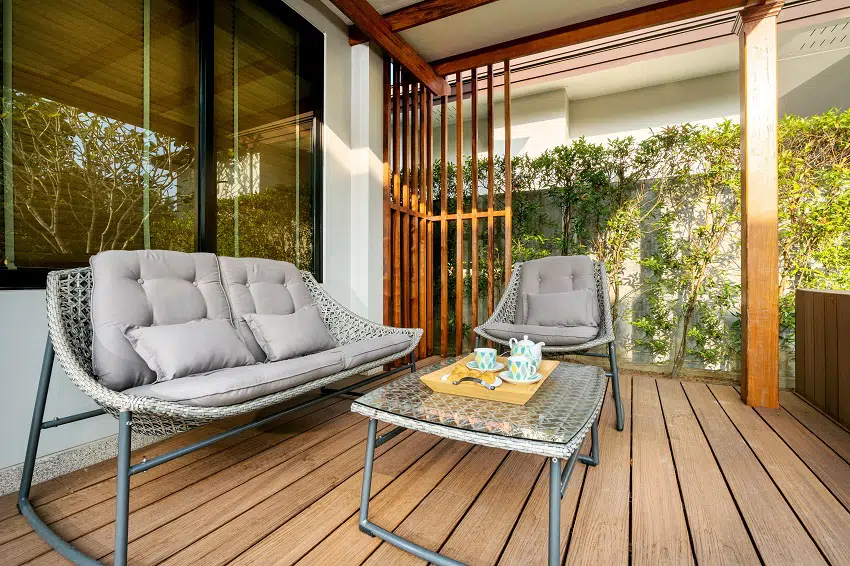 But, some ipe wood decks will need to be rebuilt since the substructure will not survive. This often leads to the homeowner destroying the deck, meticulously storing the original boards, and constructing a new deck to reinstall the old panels.
This is a substantial labor expense that may arise every decade or so, on top of the necessary board cleaning and oiling.
Composite deck boards, particularly those from a reputable manufacturer, have the same ability to outlive their substructures. They may, however, endure for decades without the frequent surface treatments that Ipe needs, resulting in reduced long-term maintenance expenses.
And replacing or rebuilding a composite deck does not carry the same moral weight as replacing or remodeling an ipe deck.
When comparing composite decking vs. wood decking prices, you will see that composite decking is more expensive, both in terms of the original purchase and the installation expenses.
Because wood is naturally durable and does not need unique production, it may be considerably more cost-efficient. Natural hardwood decking is much less expensive than treated timber.
Despite the lower initial cost of wood, composite typically pays for itself within 2-3 years when yearly maintenance costs are included. The price difference is also affected by the wood species selected against the composite decking brand and local market circumstances.
Deck Installation Questions to Ask
Before you invest in a new deck, ask yourself these questions.

What is your primary use for the deck?

Is the deck in the sun or the shade?

Will you maintain your deck yourself or employ a professional?
It is best if you also consider how long you intend to stay in your current residence. While a deck may improve the value of your house, don't go overboard if you want to sell it in the next few years.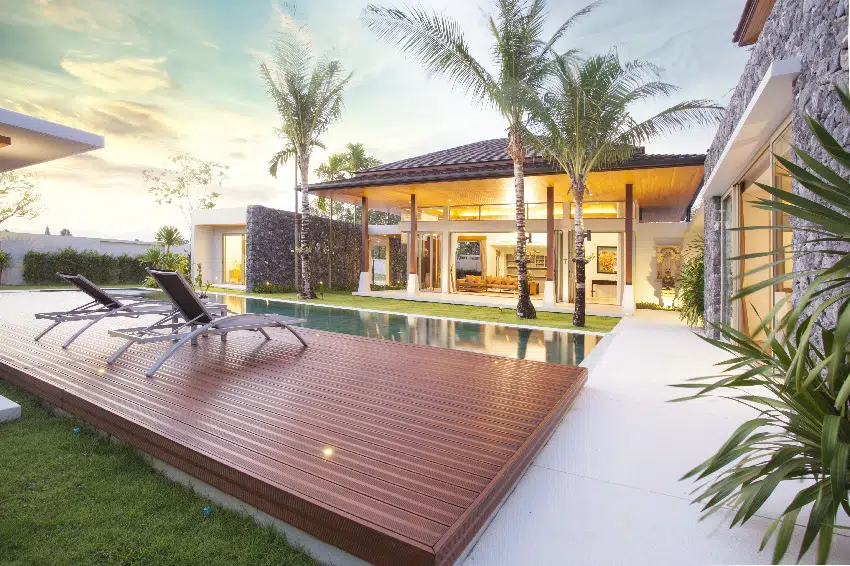 Making Your Choice
To go through the many options, consider the kind of wood decking you like, then compare it to your preferred composite.
We usually suggest taking time to think about what you want from your home before deciding on a decking design. A rich, brown-toned Ipe could be ideal for a family house that will be handed down through the generations and meticulously maintained.
Composite decking makes more sense for most who purchase and sell homes. For more related pictures see our gallery of PVC vs composite decking ideas here.