In this guide to Douglas fir decking you'll find pros and cons, types of Douglas fir deck boards like pressure treated, kiln dried, tongue and groove, best stain options, and designs.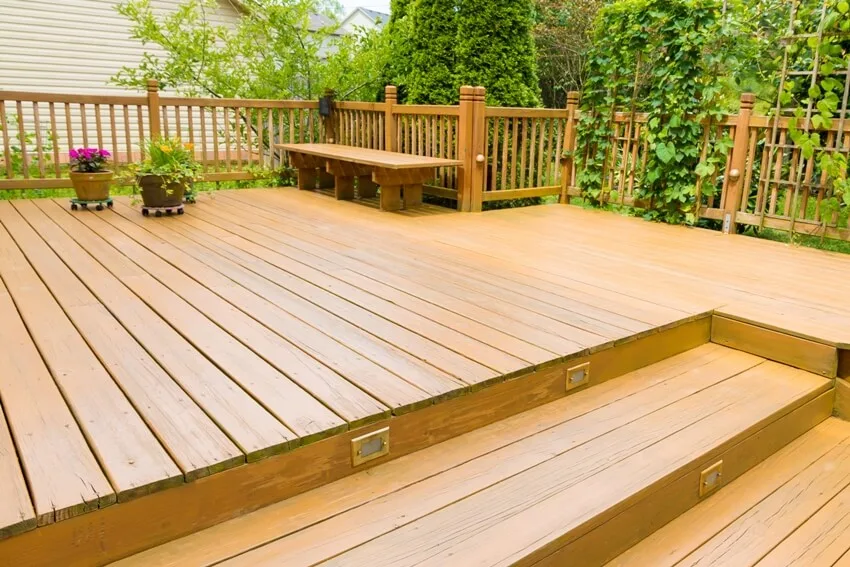 Douglas fir decking may not be available in all areas, but it's one of the most amazing materials to consider if its available. It's subtle but visually aesthetic and it works great as a deck.
Douglas fir is one of the most needed timber resource these days. It's highly prized for its huge size, its iconic shape, and has endless uses from deck flooring to Christmas trees and even as telephone poles.
It is highly durable and has very few knots in the material. Knots can weaken the flooring. It also as a distinct grain and is fairly economical. Let's delve more on the details of what Douglas Fir has to offer as a decking material.
Douglas Fir Deck Pros And Cons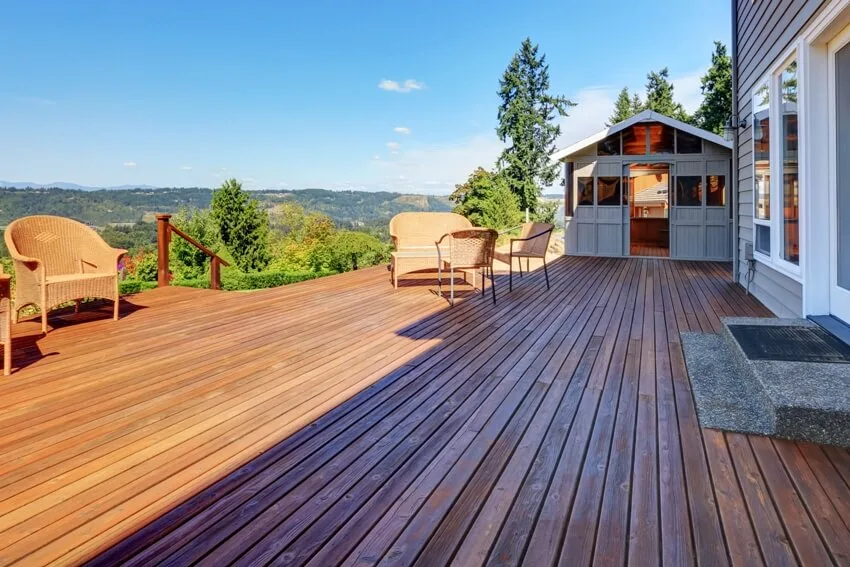 Pros of Douglas Fir Deck Boards

It's beautiful as a decking – If you want something that looks really stunning and impressive, Douglas Fir will be able to deliver that straight away. It has golden tones, beautiful looking waves, and tight grain patterns in the wood.
As a matter of fact, it's more visually striking compared to other popular decking materials such as maple and oak. Douglas fir is also nicknamed as CVG or Clear Vertical Grain. This is because it has very uniform looking grain patterns.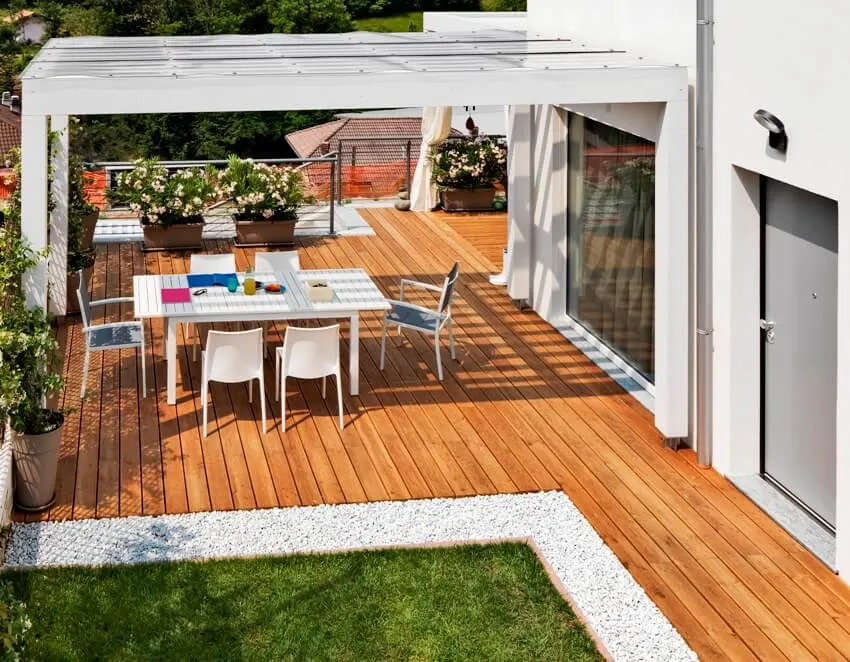 It can come in board lengths that are longer than average – This is because Douglas fir trees tend to grow at towering heights. A majority of the tree's varieties can grow up to about 70 feet tall with widths ranging from 12 to 20 feet. The Coast Douglas fir is the tallest variant and grows up to heights of up to 300 feet. Find more about the deck sizes dimensions guide here.
They're incredibly durable – Douglas fir boasts a really high strength to weight ratio. It ranges as one of the highest compared to any other wood species in the world. On top of all this, this wood is incredibly lightweight while at the same time, extremely resistant to rot and decay.
A lot of the barns and granaries in the west are still standing today, over 200 years later; and they're made out of Douglas fir. If you're looking for something that will last you for multiple lifetimes, this is definitely the material that holds the gold standard
It resists water – If you're going to be using it as backyard decking, you need a type of wood that's water resistant and Douglas fir is exactly that. It isn't inherently waterproof. It is water resistant.
But with the proper treatments and sealing, you can easily make it waterproof. Even if the wood will temporarily warp and bend when wet, it bounces back to its original shape when it dries out.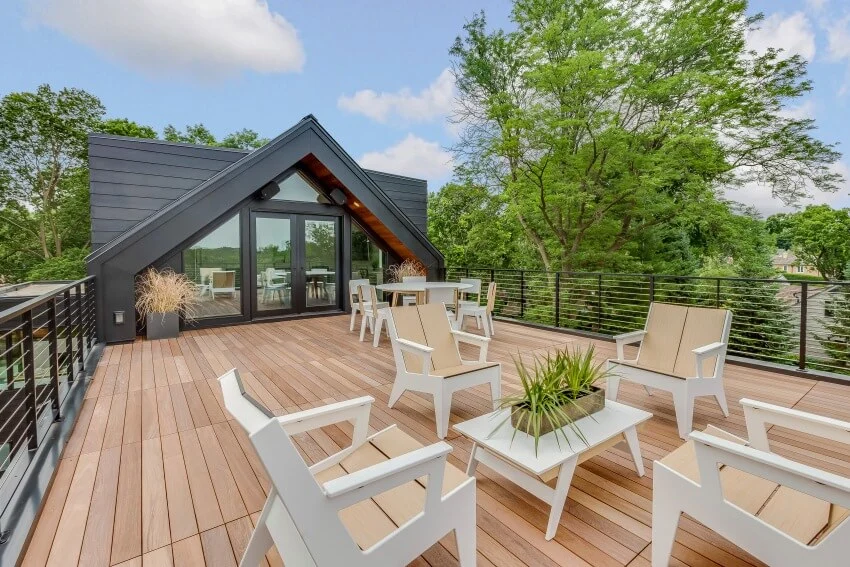 Douglas fir requires easy maintenance and refinishing – This type of wood is categorized as a softwood which means that it's easy to refinish and maintain. Even if you get tough water stains in the wood, you can easily bleach it out and it won't damage the wood at all. Refinishing it will make it look like new.
Cons of Douglas Fir Deck Boards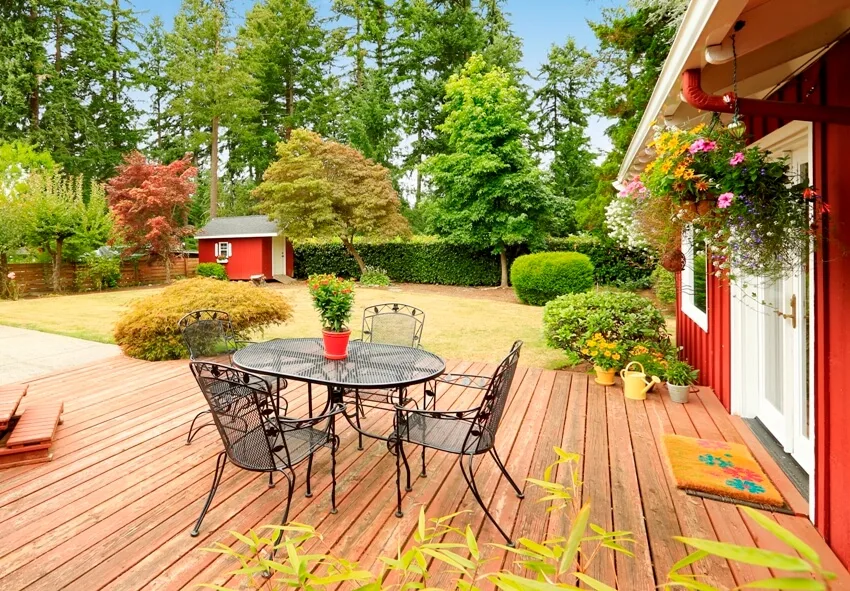 Douglas fir is soft – The material's softness can at times be a bit of an issue because it mars and scratches fairly easily.
Should be treated to prevent deterioration – While Douglas fir wood is resistant to moisture it is not waterproof and will need to be treated with an exterior wood sealer to avoid it deteriorating over time. Sealing will help prevent damage by moisture, humidity and repel rainwater.
Difficult to find – It can be quite challenging to find Douglas fir deck boards in many areas making it quite expensive to order.
Pressure Treated Douglas Fir Decking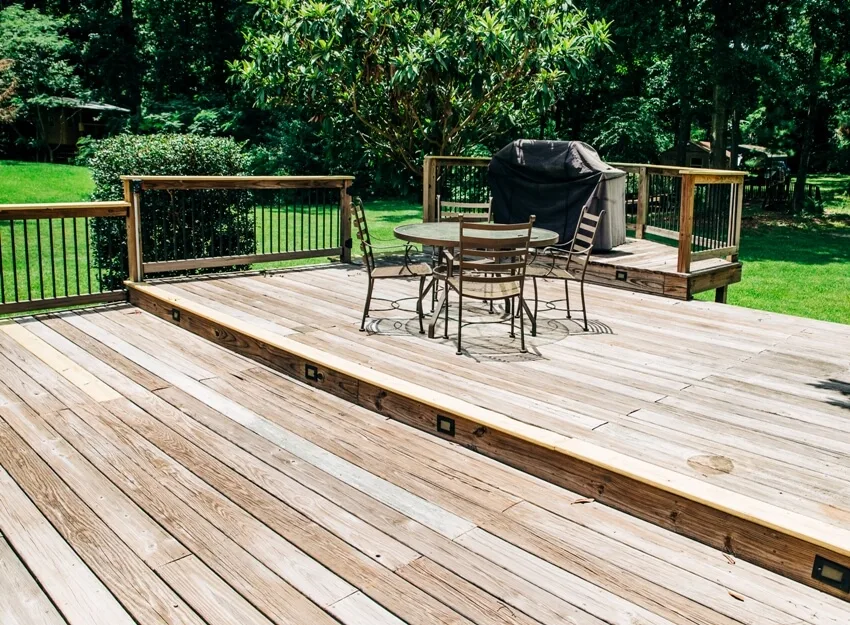 Pressure treated Douglas fir decking usually goes through a process wherein high pressure is introduced in order to force a water solution that's mixed in with preservative agents deep into the wood material. This process is known to exponentially extend the wood material's life span.
Pressure treated Douglas fir decking is known to be highly resistant to fungal decay, termites, and rot. Decking can be highly exposed to the elements and pressure treating the Douglas fir wood material helps it withstand that.
Untreated Douglas Fir Deck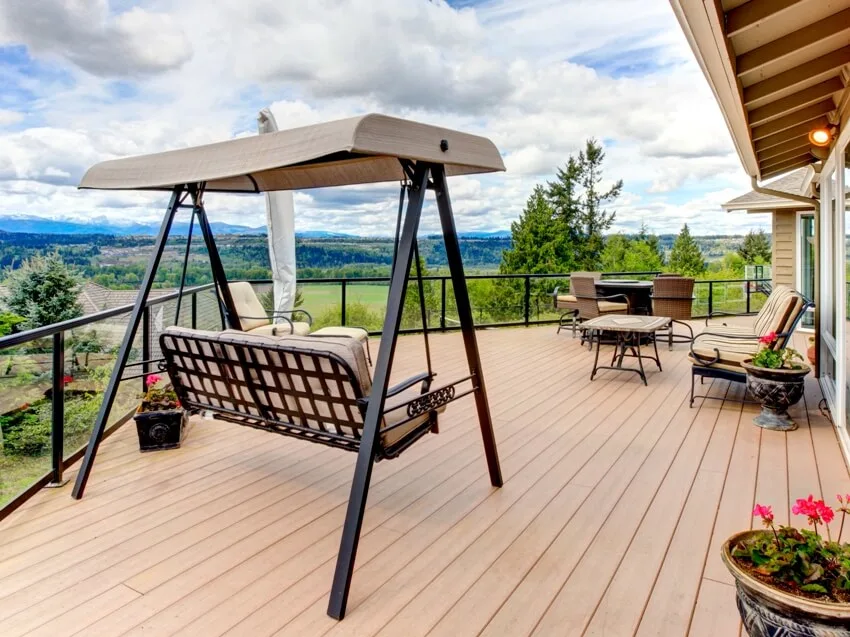 Douglas fir is known to withstand daily wear and tear and even exposure to extreme elements. However, when left untreated, it won't last as much. Treated Douglas fir can help the wood last for several generations whereas untreated Douglas fir used for decking isn't known to last as long.
Still, it can be pretty impressive as even when untreated, it can still last you for a good 10 to 15 years. This is still pretty impressive when compared to other wood decking materials.
Kiln Dried Douglas Fir For Decking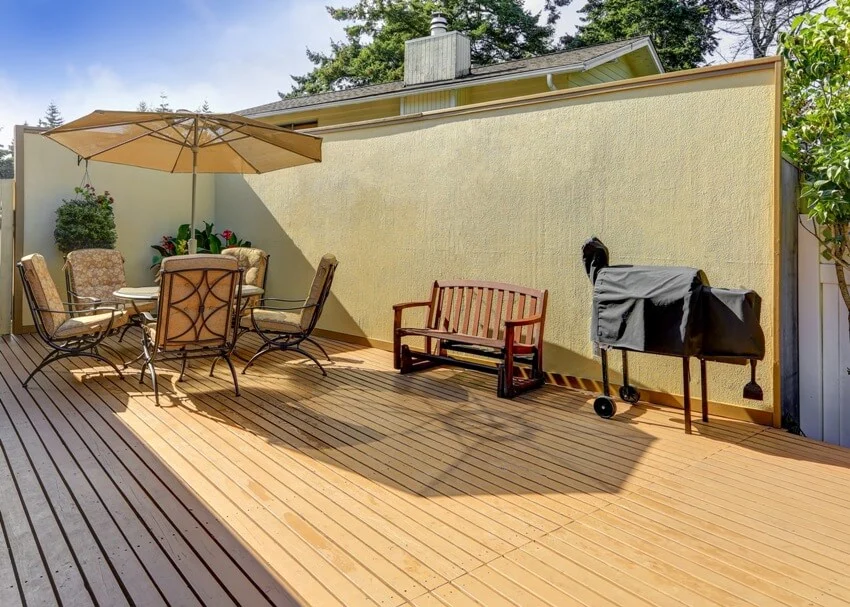 Heat treatments such as kiln drying is similar to wood treatments being introduced to the wood material but the only difference is that heat is used as an agent. The heat treatment is great at sterilizing the wood and on top of this, is a main requirement for the importing and exporting of the Douglas fir decking material.
For kiln dried Douglas fir decking, the material is exposed to very low heat and for prolonged timeframes. This reduces the moisture levels in the wood, making it more durable and more ideal when used as decking material.
Tongue And Groove Douglas Fir Decking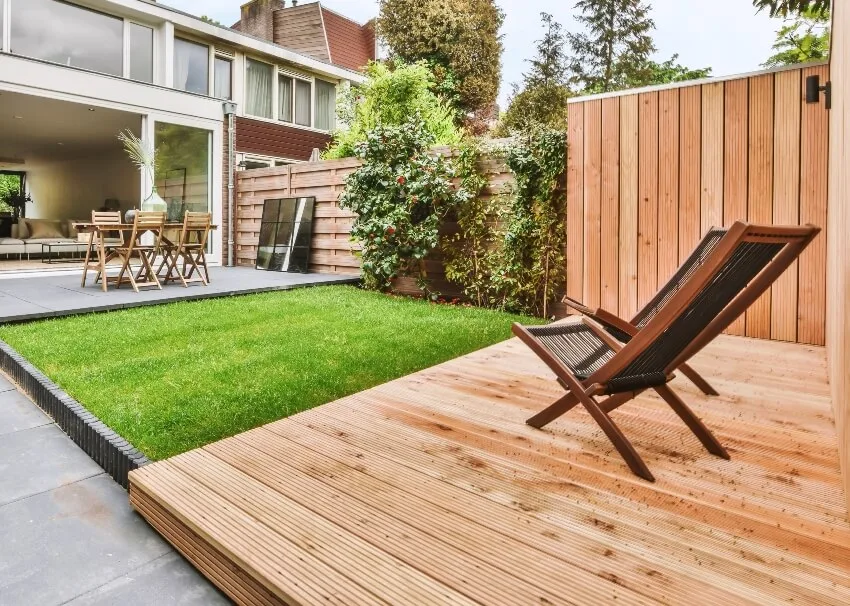 Tongue and groove Douglas fir is great as a decking material because it ultimately provides a really solid surface area for the floor. What the tongues do is that they let the boards move. Wood material can contract and expand depending on the temperature that they're exposed to.
When Douglas fir is in a tongue and groove format, the wood can move without ever losing the wood's structural integrity. This is the main reason why it's one of the most traditional flooring options for decks.
Best Stain For Douglas Fir Deck
Here are some of the best stains to consider for Douglas fir decking: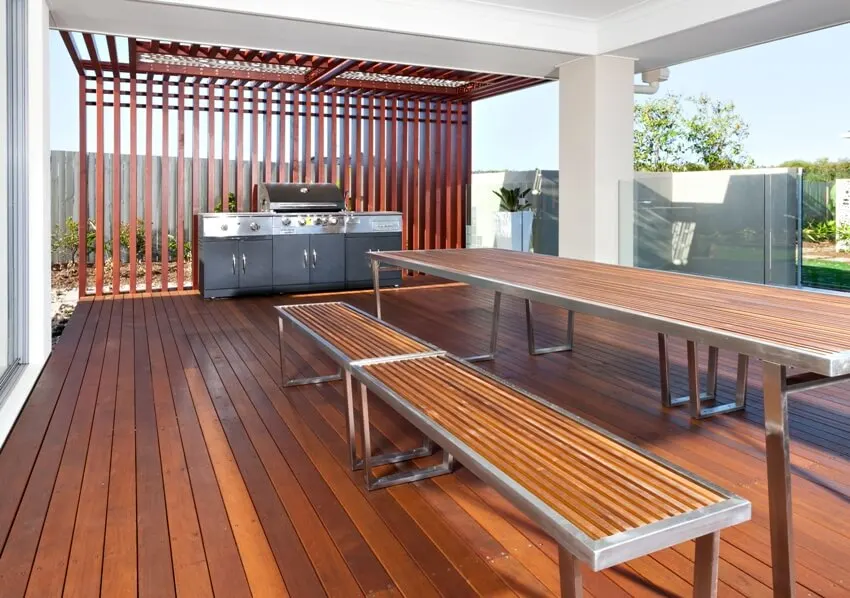 Ready Seal 525 Dark Walnut Stain – This is a stain and sealer mixed all in one. It offers UV protection for the wood as well as waterproofing. This stain protects the Douglas fir material from moisture while at the same time, inhibits penetration of external elements that may end up damaging the wood.
Minwax Weathered Oak Stain – This stain requires at least 2 hours to cure or dry. It absorbs and penetrates pretty well into the Douglas fir wood, ensuring that the wood is soaked through and through and protected better. It can also be cleaned up easily with a little bit of mineral spirit.
General Finishes Oil Base Gel Stain – This is a stain that you can just easily brush, roll on, or wipe. It makes for a very easy application on the wood material. On top of this, the formula is heavily bodied and has a no-drip solution. This is mainly due to the fact that the stain is something that's oil-based. It also has a very rich color production and color profile.
General Finishes Water Based Stain – This stain brand is highly recommended even for woods that are hard to stain. It can be easily cleaned up with nothing more than just water and a soft rag and it produces a highly rich and very uniform color once the staining job is done.
Varathane 269400 Ebony Stain – This stain requires at least 1 hour to cure and dry and only requires 1 coat to have the maximum color stain. A half pint of product is enough to cover almost 70 feet. It has a rich ebony color that allows the natural grain and texture of the Douglas fir to shine through.
Minwax 66020000 Gel Stain – This stain comes in a formula that's non-drip. It is very ideal for both vertical and horizontal surfaces alike. This gel stain is great for Douglas fir in particular because it allows the true texture and color of the wood material to really shine through and take center stage. This stain can even be used on other non-wood materials such as metal and fiberglass.
Varathane 262024 Early American Stain – This particular stain product doesn't require any prep work or prior conditioning on your Douglas fir decking. It offers a really smooth application and a shortened drying or curing time. If you are looking for a stain that offers great sealing along with deep penetration, this stain brand will work immensely well.
Douglas Fir Decking Prices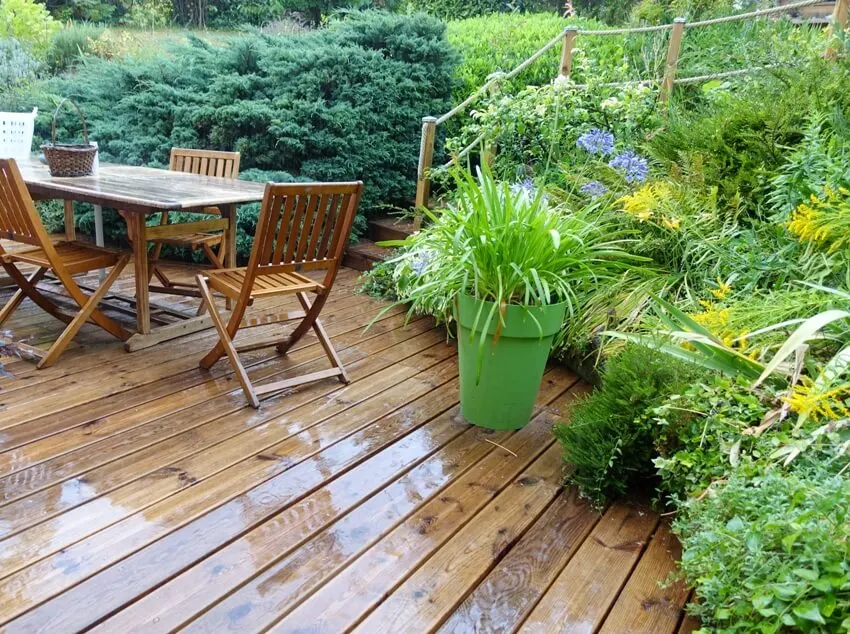 Douglas fir board or plank prices may vary greatly. It can range anywhere from $4.25 to $14 per board foot. Take note that this is still before labor and other materials.
On average, it should cost you a range of $20 to $40 per square foot to build a brand new Douglas fir deck from scratch. This is roughly around $6000 to $12000 for an area of 300 square feet or so.
Is Douglas Fir Good For Decking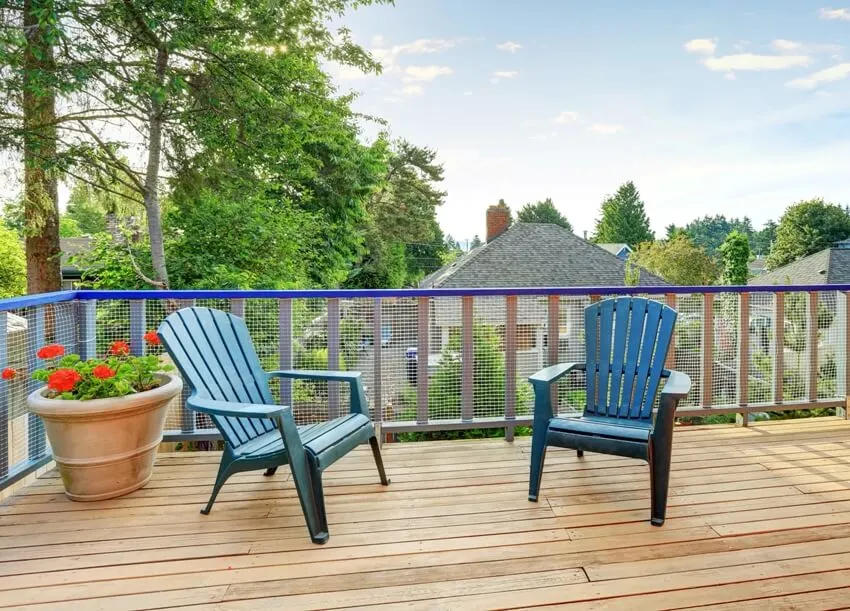 Yes it is. Douglas fir makes for a really great decking material. It's because of the fact that it doesn't just look great, it also ages well. It's highly durable and isn't prone to rot and decay.
This is a good thing because decking is exposed to the outside elements all of the time. It can get an awful lot of sun exposure and heat when the sun is out and it can get soaked up during inclement weather.
Douglas fir is great for decking because it has a mid-ranged price without skimping on the durability and on the aesthetics at the same time. It has been said that high grade Douglas fir wood, the type that has a vertical grain, has been found in a lot of historic homes.
Some homes have been around for over 100 years and their Douglas fir decking is still intact. This is further proof that this type of wood is a viable material to have. It's good enough to withstand for multiple lifetimes in these historic homes, they should be able to last you just as well or even longer with the proper wood treatment, sealing, and maintenance.
Douglas Fir Vs Cedar Deck
Douglas fir and cedar are two of the most popular wood types used as decking material. They each have unique traits or qualities that make them stand out and viable when compared right next to each other.
Douglas fir is more structurally stable. This is because of the wood's more consistent and uniform density. It makes it easier to come up with span tables that are measurable.
If you need a deck that has a fairly large area or that needs to hold up a substantial amount of weight, Douglas fir is the material to go for. It also comes in a very aesthetic monochromatic light blonde color.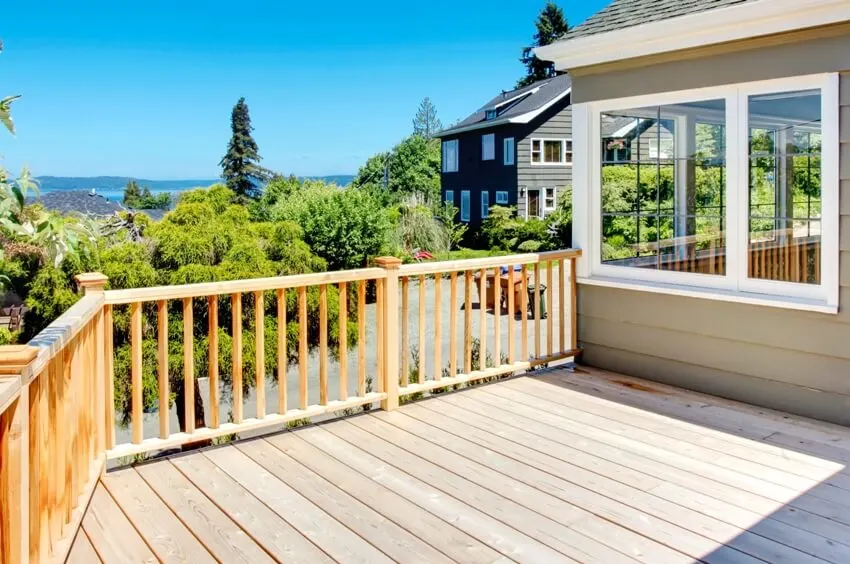 Cedar, on the other hand, offers a far more superior exterior durability. The natural tannins in the wood make cedar naturally insect and rot resistant. It has a larger range of tones and colors as well. Each and every single slab of cedar wood is actually quite unique and visually interesting. See cedar decks pros and cons here.
Redwood Vs Douglas Fir Deck
Both Douglas fir and Redwood are prized for their durability and for their easy workability. Both are also coniferous, which means they are categorized as softwoods. But don't let this name fool you. Some softwoods can be very dense.
Redwood, when made into decking material, has a reddish brown color. It is also usually characterized by deep furrows. This gives your decking a somewhat rugged appearance. When soaked wet, redwood can get quite soft to the touch.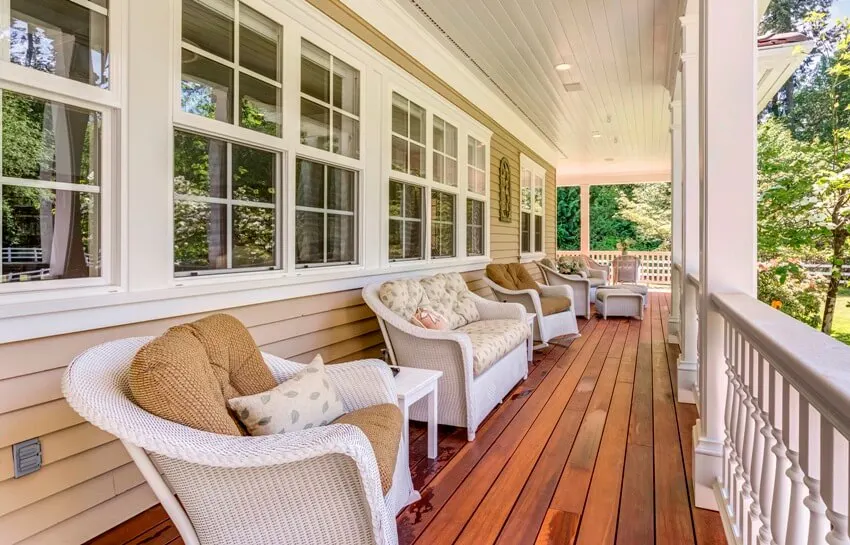 Although very lightweight, redwood have been known to be impressively strong, resistant to decay, and quite attractive in appearance. They have a somewhat grandiose effect overall when used for deck designs.
Douglas fir, on the other hand, can be either blondish or grayish in color. This type of wood boasts of strength in the material, which makes it a very structurally viable timber. It's great not just as a deck but as a building material as well.
In terms of grain pattern, Douglas fir has a uniform and straight grain whereas redwood has finer and smoother grain patterns. Redwood doesn't have any visible resin canals whereas Douglas fir has dark streaks along the grain.
And if the wood has been newly cut, you can actually scrape it a little and compare it. Douglas fir smells sweet and has the strong tang of resins whereas redwood has a milder scent.
In terms of decking material, redwood is a bit more superior as it is more porous, hence it stains more quickly. It also has less shrinkage which means it is less prone to bending or warping when exposed to extreme temperatures.
One thing though is that redwood is considered as a high end material. A redwood deck will cost considerably so much more than a Douglas fir deck.
For a more related article, visit our guide to Douglas Fir flooring.