Here's our deck sizes dimensions guide including different parts of a deck to jump start your decking project.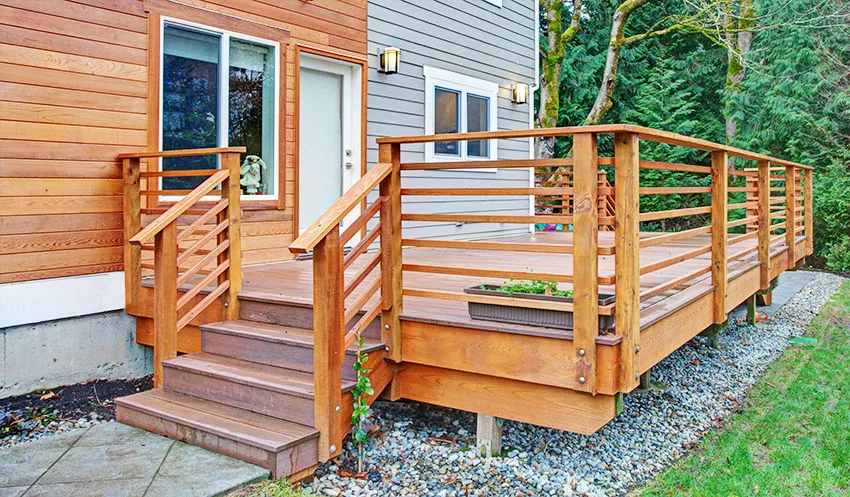 Having a deck can give homeowners extra space to entertain guests, relax and enjoy the outdoors. Homeowners could even use a deck as an informal dining table in the absence of a breakfast nook; there's also a lot of fun to be had by dining al fresco.
Here, we share to you the basic deck sizes for your decking DIY project.
Average Deck Size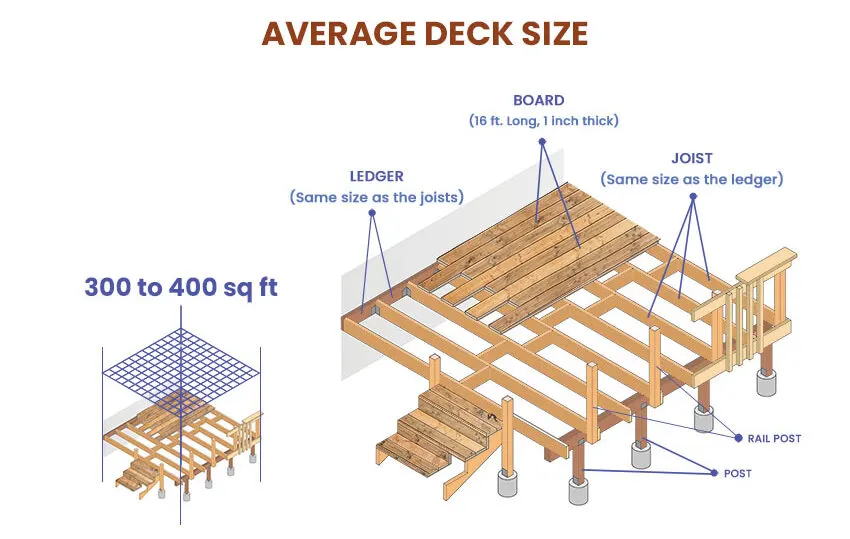 When building a deck, it's essential to keep it proportionate to the size of the homeowner's house. Usually, the average deck size is 300 to 400 square feet, and that's for a bigger house. There is an agreed-upon rule that a deck shouldn't be bigger than the largest room inside the house.
Deck Ledger Board Size
There are two categories in which decks are built. First is a self-supporting freestanding deck, with the entire weight being supported by posts and frames installed separately from the house. The other is attached desks that are secured on the structure of the house itself by ledger boards.
A ledger board essentially holds up the whole deck structure. It is attached to the main walls of the house to keep the would-be constructed deck secure.
For the most part, the ledger board should be the same size as the joists the homeowners are planning to install.
Deck Board Size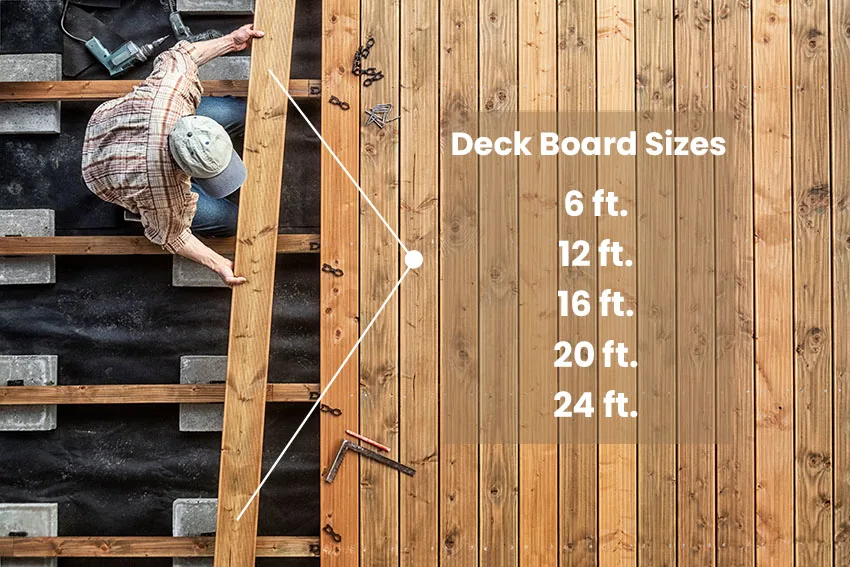 Before homeowners are ready to build their deck; the right deck board size must be considered. It's important to know that length and thickness differ with your deck board's type and price.
The most common deck board size is 16ft with a 1 inch thickness and weighing about 1.59 pounds. This type of deck board is commonly referred to as 5/4 decking.
However, you can also find deck boards in 20ft and 24 ft. lengths. The more susceptible the deck board is to rot, and the more upkeep it needs, the cheaper it will be.
Wood, pressure-treated wood, and red cedar are examples of board deck materials that are easily affected by environmental factors if no intervention is done, such as humidity that could cause molds or UV rays that could bleach the wood. These types of deck boards are cheaper.
On the other hand, there are composite decking, PVC plastic Boards, and aluminum boards. These types of deck boards are more expensive for reasons.
Unlike most wooden boards, these are industrially manufactured and could be as long as 20-feet for a single panel. They are less susceptible to molds and bleaching brought about by certain environmental factors.
Deck Board Lengths
Deck board lengths differ with the size of the homeowner's deck project. As much as possible, the deck board should run the entire length of your deck project.
Luckily, many home centers sell more extended sizes up to 16-ft. You can even have deck boards up to 24-ft long, but they come with a price. The usual board sizes available are 6ft, 12ft, 16t, and 20ft.
Using full-length deck boards ensures that the panels fit perfectly with the joists, and when the deck boards are secured, the risk of rotting, splintering, and swelling could be avoided.
Deck Board Thickness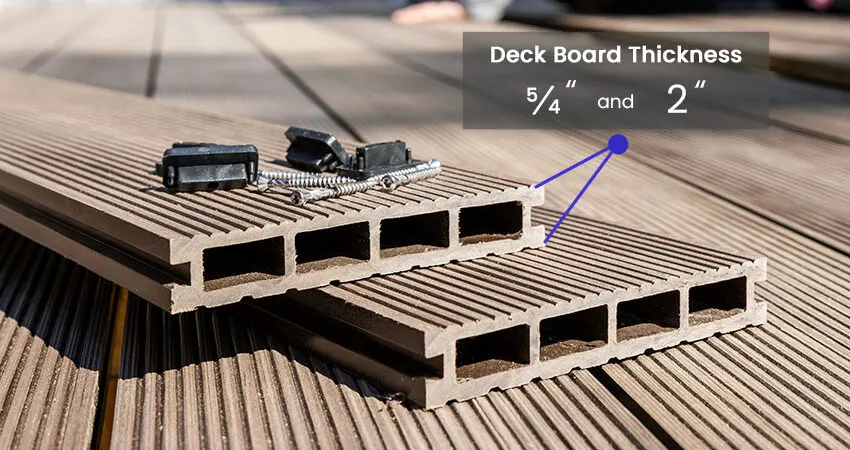 Thickness is important in determining the durability of your deck. The decking boards should support the weight of the people enjoying the deck and keep people from falling through the joists. The deck boards' thickness should also be wide enough to have a solid feel as you walk; creaking is inevitable if the deck board is too thin.
The thickness of the deck board, on average, should be about 5/4″ and 2″. Homeowners can use thicker deck boards if preferred. Still, increased weight affects the structure, and ultimately more materials will be needed to support the wider deck boards.
Deck Beam Sizes
Determining the deck beam size to be used is dependent upon some conditions:
The kind of lumber, the length and breadth of lumber, and the load or the weight of the deck it would carry. As it is the load-bearing element of the whole deck structure, it needs to be sturdy.
Planning the beam size is resolved once the homeowners know the distance it will span and the weight of joists it needs to support. Often, local building suppliers can determine the size and number of required beams once they see a plan. Steel beams are a great option as they support a distance of up to 20ft long deck; a downside is that steel beams are pretty expensive.
Make sure to read through your building codes and span chart because often, they might be updated without notice.
Trex Decking Sizes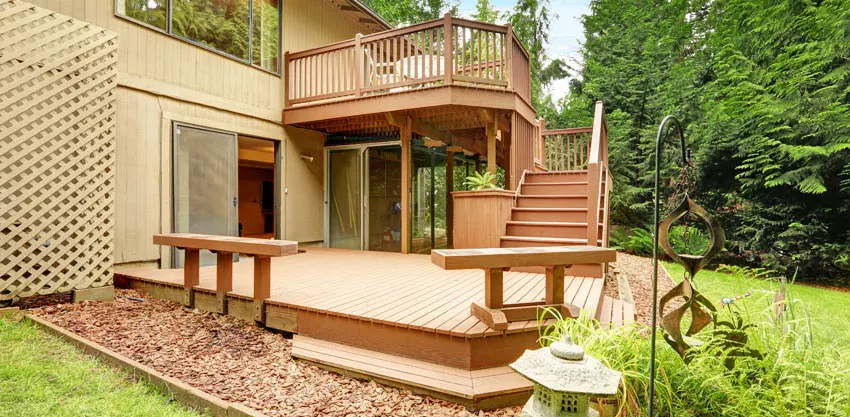 A tremendous and hassle-free fix for your deck board problem is to consider buying from Trex. Trex specialized in deck supplies and building. They have an array of deck boards spanning up to 20 ft long because they are produced with a hybrid material of recycled plastic and wood. They have a variety of lines with different needs in mind, and they come in three sizes.
For their 12 feet boards, the dimension is .94 in x 5.5 in x 12 ft; this will perfectly cover your 12×12 ft. deck from each corner.
For more extensive decks, there is an option between the 16ft with dimensions of .94 x 5.5 in x 12 ft., or the 20ft deck board with a size of .94 in x 5.5 in x 20ft. Trex also has different thicknesses for different deck board types.
Trex decking boards are available in 5.5 inch and 3.5 inch widths.
What Size Deck Screws?
A significant requirement for screws to be used on decking is that they should sink at least an inch or more to ensure that the decking boards are tightly screwed and last a long time.
It's important to remember that a one-size screw wouldn't be secure enough to screw a whole deck; different sizes are needed for different parts of the deck.
Standard green or brown coated screws are the cheaper options for deck boards; the homeowners could use a 3"-to-6"-inch screw, which would secure that the deck boards are fastened to the joists — this depends on the thickness of your deck boards.
A number 8-gauge diameter is an ideal size because any higher might split your deck boards. To attach the railings to the posts and secure the stairs to the stringers, a 3-inch screw is approved, while a 2 1/2-inch screw is ideal for attaching railing balusters.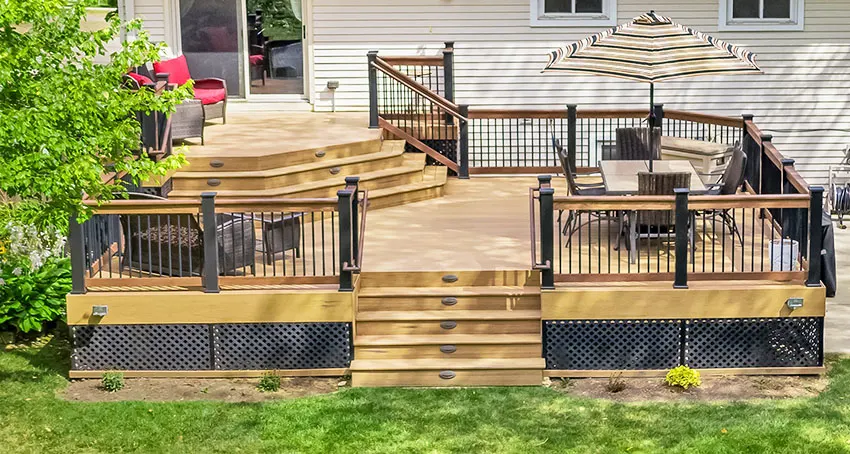 For 1-inch-thick decking fascia and stair risers, the homeowners could use a 1 3/4-inch screw for extra security, but a 1 1/2-inch screw is sufficient.
With all that in mind, research is essential before any DIY project, especially for something as big as building a deck. Remember to read through your local building codes and requirements for minimum conditions on all your building projects.
What did you think about this deck sizes article, is there anything we missed? If so let us know in the comments. For more related content at our article about backyard deck ideas here.