In this rug runner sizes guide, you'll find the standard, most popular, and hallway carpet runner dimensions and how to measure narrow for your interior designs.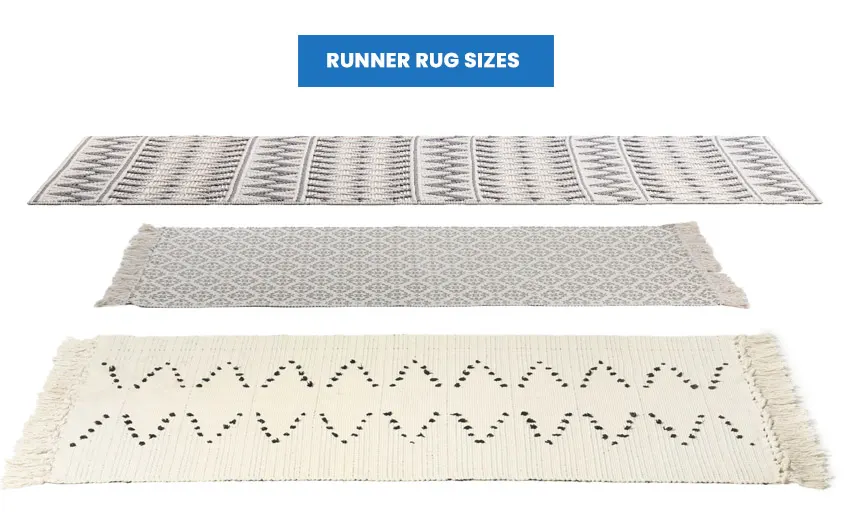 A rug runner is not only a decorative element for a home, but it also poses many benefits, especially when you need to choose to utilize one for a mudroom or bathrooms.
There is a variety to choose from made in different materials and designs, and all you need to do is measure the perfect one for your space, and you are good to go. If you are here to know everything about rug runner dimensions, then we are here to help.
What Size Is A Runner Rug?
There is no rug runner size that is perfect for all needs. Instead, they range in different sizes, made from an array of materials with lots of design options.
Carpet runners come in a range of sizes and is at least 2 to 3 feet or 24 to 36 inches wide and can have lengths of 6 to 14 feet or 71 to 168 inches.
Measuring is essential in deciding in the process since it is advisable to leave at least 4 to 5 inches or 10 to 13 centimeters of exposed floor space.
There are halls so long that even 14 feet or 427 centimeters of rug runner length wouldn't suffice, so custom runners are needed. Of course, these custom carpet mats will be more expensive than store-bought products. See more types of rugs on this page.

Standard Runner Rug Sizes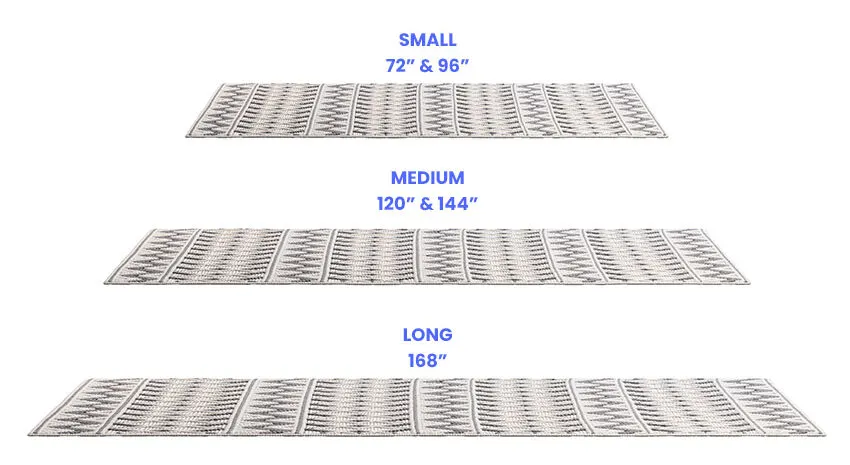 There are many sizes of rug runners available, but the widths are pretty average, between 2 to 3 feet or 24 to 36 inches. This width size could be thicker, especially for wider hallways. The length is where the difference is more evident.
There are 6 feet or 72 inches and 8 feet or 96 inches long for smaller rug runners. For medium-sized rug runners, 10 feet or 120 inches and 12 feet long or 144 inches are there for the buyer. Probably the most extended rug runner size available on home furniture stores is 14 feet or 168 inches long.
A design hack is making sure that the runner will run along the length of the room you will be using it for to make everything proportionate and even. For longer rooms or hallways, two rcarpet mats of the same size proportional to the room will give it a more streamlined look.
Popular Runner Rug Dimensions
Runner rugs are narrow, and long carpets are added to a room or a hallway as a decorative element. Sometimes, they are also used for mudroom flooring to protect the surface and catch any stray dirt and debris from tracking into other rooms in a home.
The most popular runner rug sizes are the 8 feet or 96 inches and the 12 feet or 144 inches. These are the most common hallway and room space lengths utilized by many households in the country.
Rug Runner Length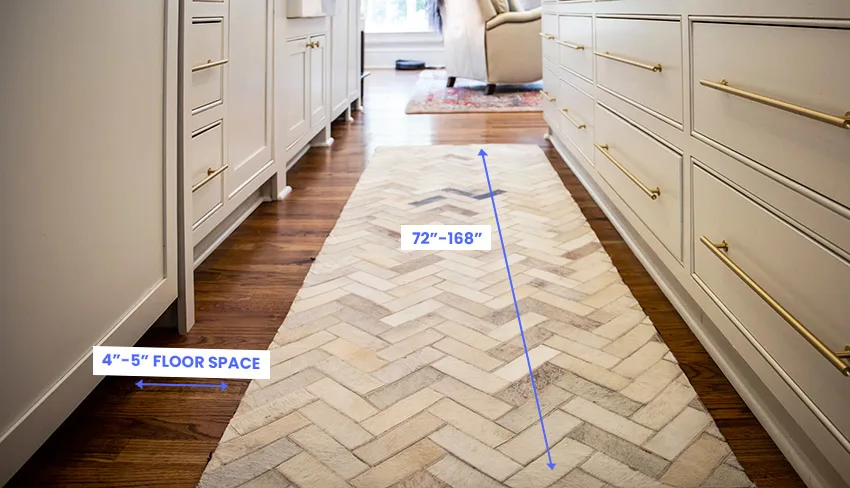 Lengths of rug runners will vary according to what you need them for and what lengths the room or the hallways are. The runner you choose must match the size of the room and hallways, but most often than not, they are 6 feet or 72 inches to 14 feet or 168 inches long.
The runners should not be so extended that they shift to another room or meet the walls in your hallway. Make sure you measure right from one point of the hallways to the next with at least 4 inches or 10 centimeters to 5 inches or 13 centimeters free floor space for aesthetics.
The runner will lengthen the room and the hallway it is in, so the general rule is the longer you can, the better it will be, but a great place to start is the six-inch rule.
Rug Runner Width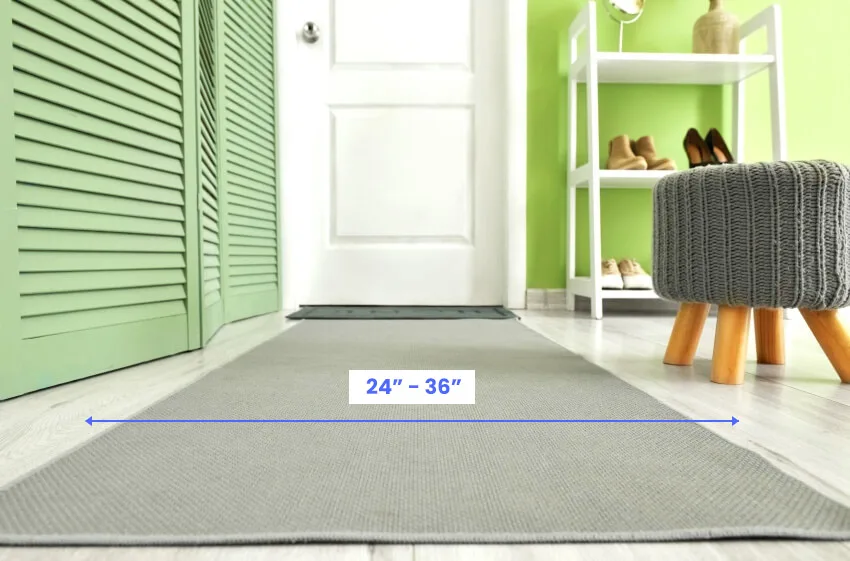 As opposed to the lengths with differing measurements, widths are pretty standard at 2 to 3 feet or 24 to 36 inches. Choosing one for your home is a no-brainer, but the problem will occur if you have a grand hallway that would require thicker rug runner measurement. However, sometimes it is not a problem at all.
Remember the six-inch rule? This will apply to the length, but the width won't matter as long as the mat is centered on the room or the hallway.
Hallway Runner Size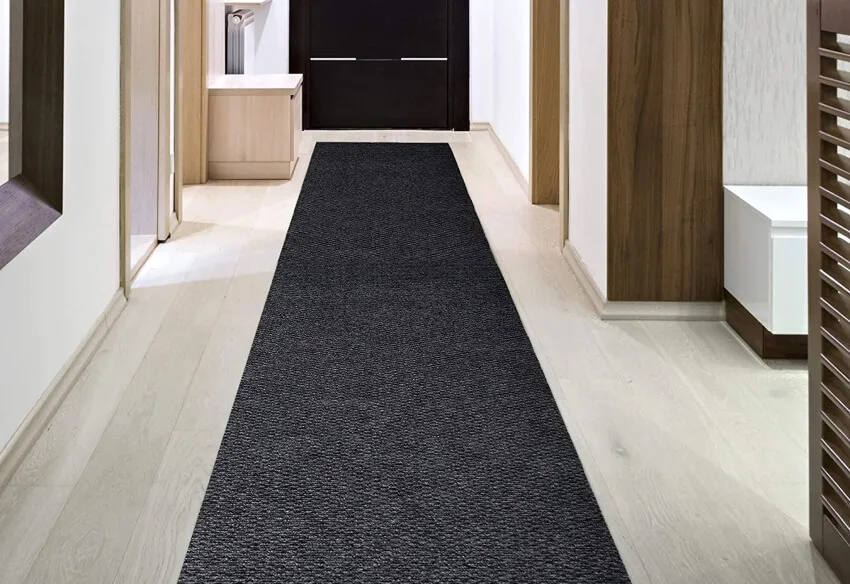 Measure your hallway size, and you will find out the best rug runner for it. An essential thing to note is that the best length or any carpet mats length for that matter, will not extend the whole entirety of the room or hallway.
Another critical thing to note is the only thing that should matter is the rug is centered, especially if it is smaller than the space. This is definitely true for narrow rugs placed on a kitchen between an island and a countertop cabinet.
Hallways often have a lot of foot activity, and someone slipping can be a problem. The best solution is to buy a rug pad to go with your carpet runners.
Rug pads are usually the exact size of the rugs, but there are corner grippers if you want to save more.
How To Measure A Runner Rug?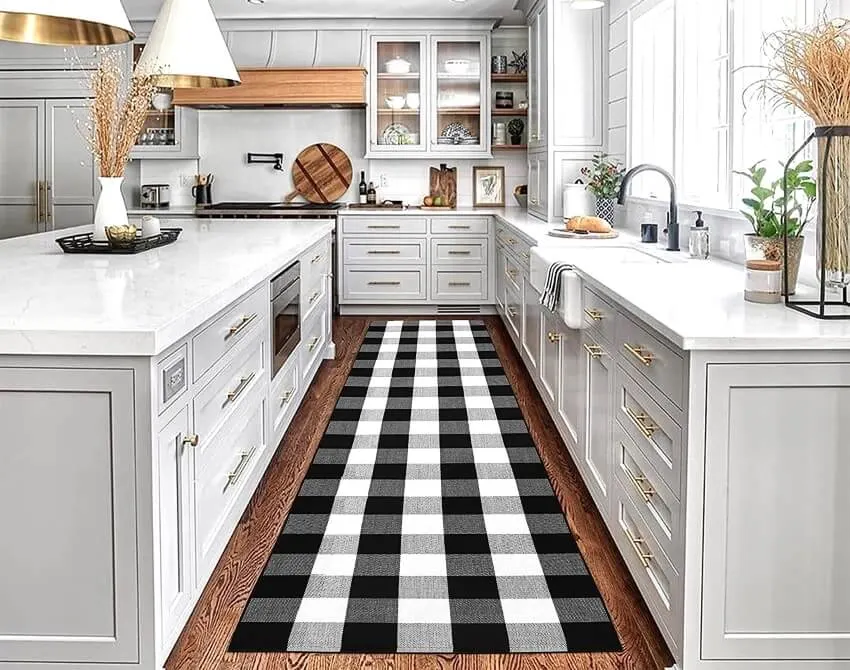 Measuring for the perfect rug runner is easy, and all you really need is a steel or an ordinary tape measure.
The first requirement is to measure your hallway's width or any space from side to side. The industry standard is 3 feet wide, but your desired width is what should matter and how much-exposed floor space you want to leave.
The next step is measuring the length, which is essentially the same as measuring the width. Do you want your rug runner to be as long as your hallway, or do you want it to be shorter? The decision is up to you.
If you are measuring for a stair rug runner, it is more important to have a professional measure it for maximum accuracy and safety.
Just remember that it needs to be centered and that there is floor space exposed not to meet the walls or go through any rooms.
Visit our guide on where to put runner rugs for more related content.