Here we share our guide on where to put runner rugs in your home including some of the best rug options, how to place them, and how to keep your carpet rugs from moving.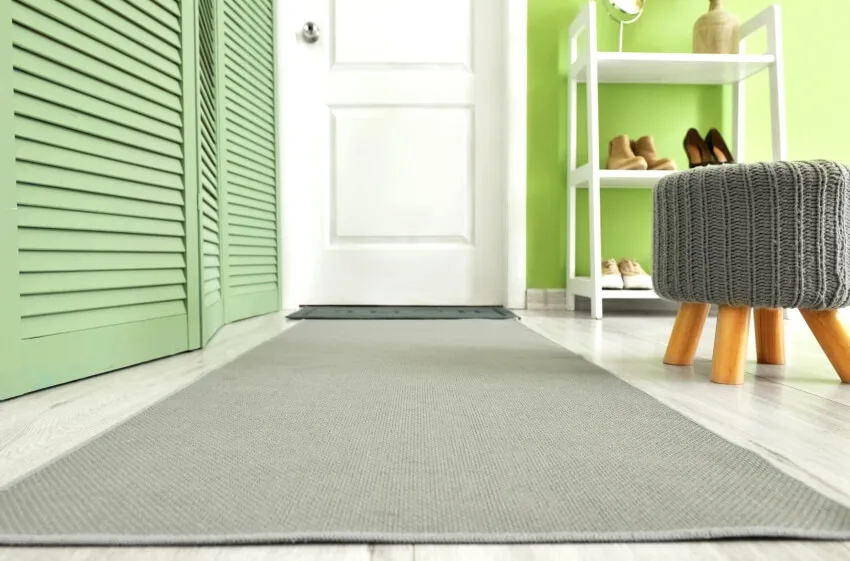 Runner rugs are extended rectangular rugs that are much longer than they are wide. They can come in a variety of designs when it comes to color, pattern, and even exact sizes but the general template of a long rectangle always remains.
Given this, you might wonder how you can best use a runner rug in your own home. Keep reading and we'll take a look at some of your best runner rug options!
Carpet Runner In Hallway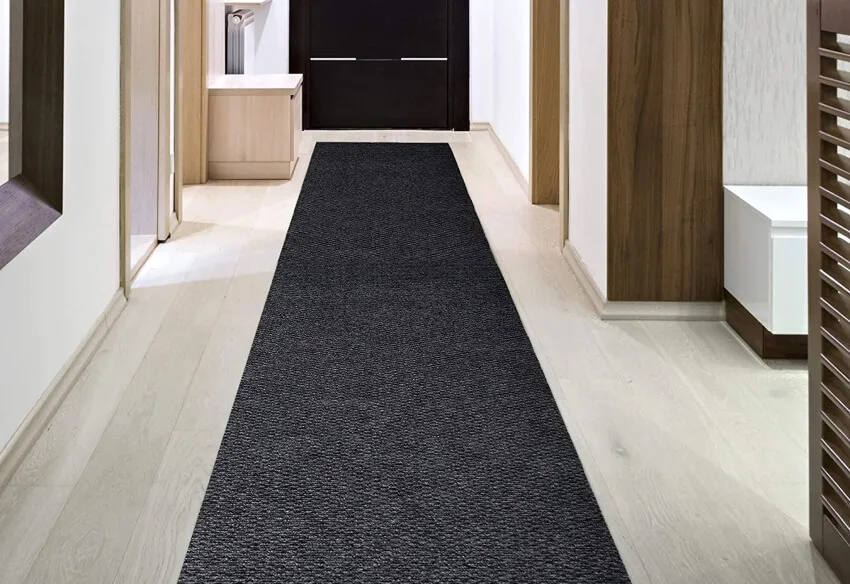 See this carpet runner at Amazon [sponsored link]
Let's start with a classic option. If you've seen a runner rug before, it's likely that you saw it in a hallway. After all, it seems fitting that a long, narrow rug would go in a long, narrow part of your house like a hallway.
These types of rugs typically help to spruce up a space that probably sees a lot of traffic but doesn't necessarily have a lot of room for furniture and decoration that takes up space.
Aside from aesthetics, runner rugs in a hallway can serve a practical purpose. For instance, a runner rug will help muffle the footsteps that tend to frequent hallways.
If you use carpet runners in your hallway, you won't want to fit it perfectly into your hallway. Rather, you'll want the rug to be narrower than the hallway – enough to leave a few inches on each side.
Runner Rug In Entryway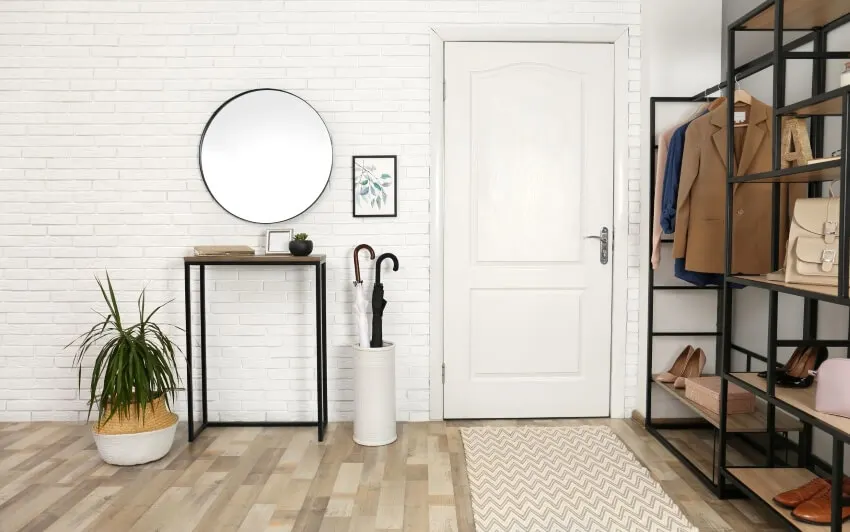 It's important to make sure your entryway looks exactly how you want it to. While it may not be a spot in your home that you spend a lot of time in like a living room or bedroom, it is a high-traffic area. Plus, when you welcome someone into your home, this is the first area they see.
As such, it's the perfect place to elevate the design with a runner rug. On top of that, since most entryways work with limited space, a runner rug can suit a narrow entryway well.
As with a runner rug in a hallway, adding a runner rug to an entryway can help muffle footsteps as people come in and out of the house. In addition, it can help protect your floors as people take their shoes on and off in the entryway.
Carpet Runner For Stairs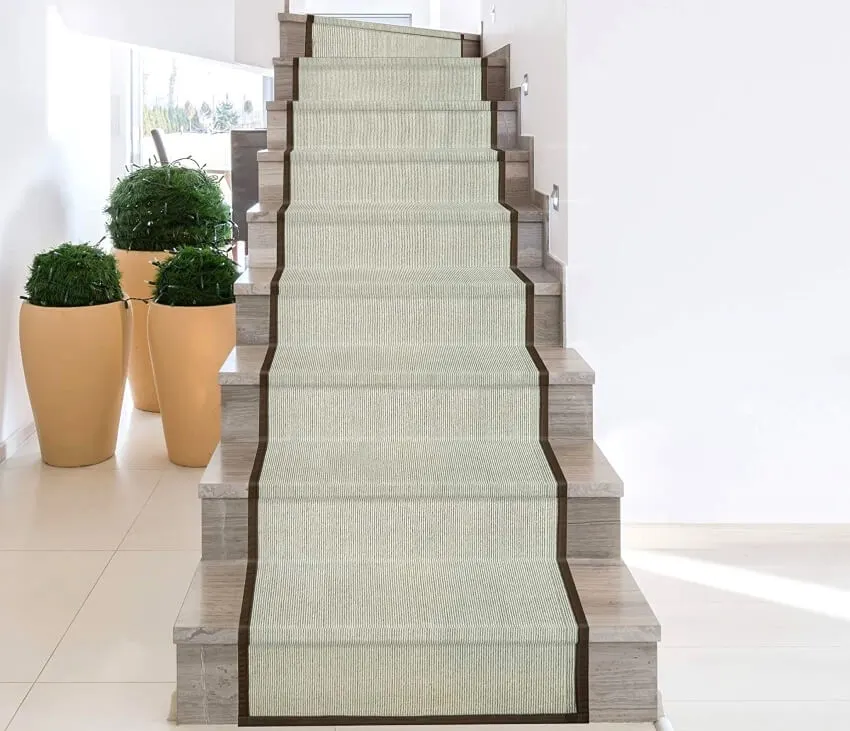 See this carpet runner at Amazon [sponsored link]
A carpet runner for stairs is another very classic choice when it comes to runner rugs. You can interpret it in a few different ways too. For example, you could place a runner rug at the top or bottom of the stairs.
A more traditional and striking option is to use your runner rug on the stairs themselves. This is an especially popular look on hardwood staircases that are otherwise slick not only to add some visual warmth but to help reduce noise and the risk of falling as well.
The only thing to remember here is that you'll want to account for your stairs when you measure for your runner rug. Since you're forming the rug to fit around your stairs, you're going to need a longer rug than if you needed to place a rug over the same amount of space on a flat plane.
Kitchen Carpet Runner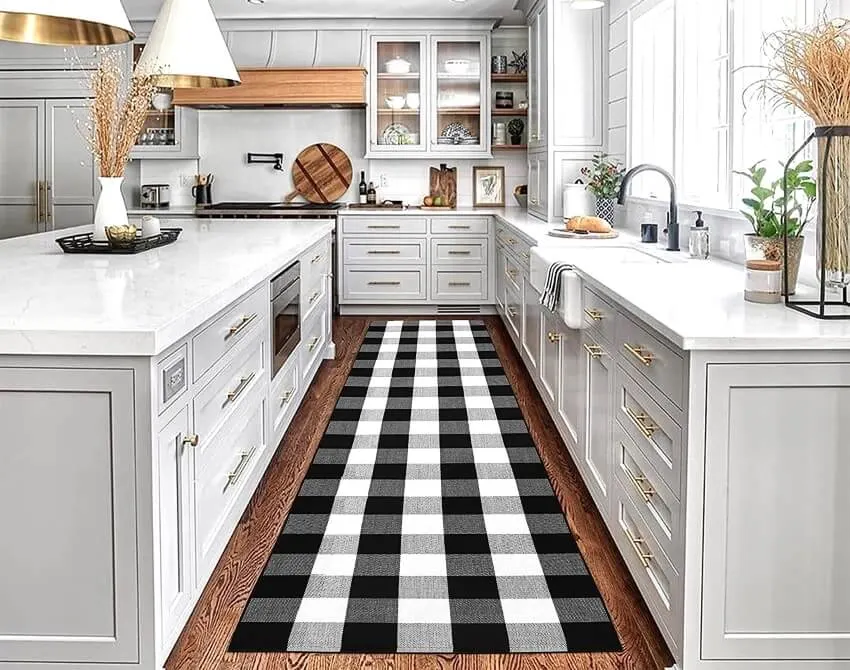 See this carpet runner at Amazon [sponsored link]
Another great place for a runner rug is actually in your kitchen. Many people have rugs in their kitchen anyways and a runner rug can help offer additional coverage with a single rug.
In a kitchen, a carpet runner can add some personality. If you have a more modern-style kitchen with neutral tones, you can use a runner rug as a focal point with a bolder pattern or color.
Practically, you probably want a rug in your kitchen to cushion your feet when you're doing dishes or preparing food. However, a carpeted kitchen sounds more like a nightmare than a solution.
Instead of filling the kitchen with a series of small rugs, you can cover several of these spots with a long runner rug. Plus, they fit neatly against your cabinets or in a narrow space behind a counter.
Bathroom Carpet Runner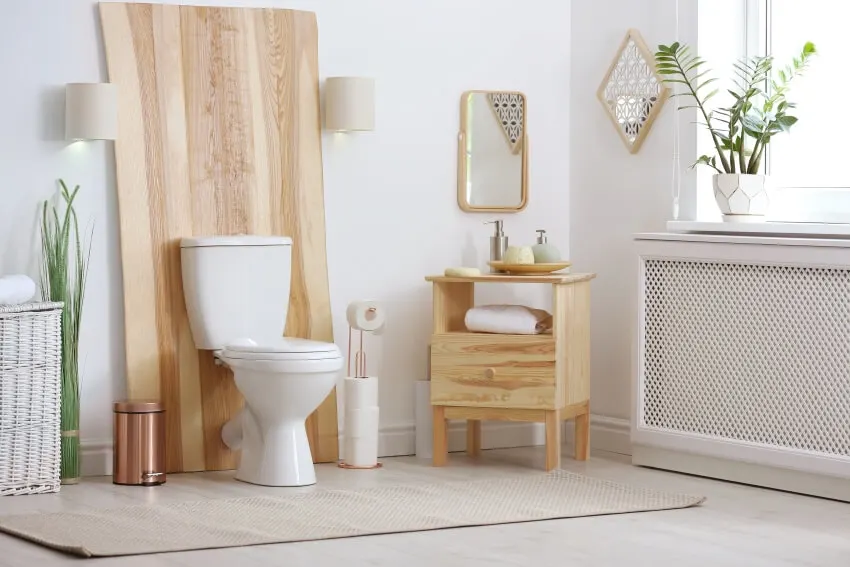 Bathrooms typically gravitate towards tile floors because they handle exposure to moisture and humidity well. However, that doesn't mean that there isn't a place for rugs in the bathroom. In fact, you probably already have one in front of the sink or ready and waiting to give you a place to step out of the shower.
Especially in smaller, more narrow bathrooms, a carpet runner can help out a lot! For one, runner carpets are long enough that you can save room by placing a single rug rather than several. In some cases, this can help tie a decor scheme together better.
As long as you choose a durable rug that's suited for use in the bathroom, you can also use a runner rug to help reduce slips and falls on a wet tile floor. Visit our guide to bathroom rug sizes for more related information.
Runner Rug In The Bedroom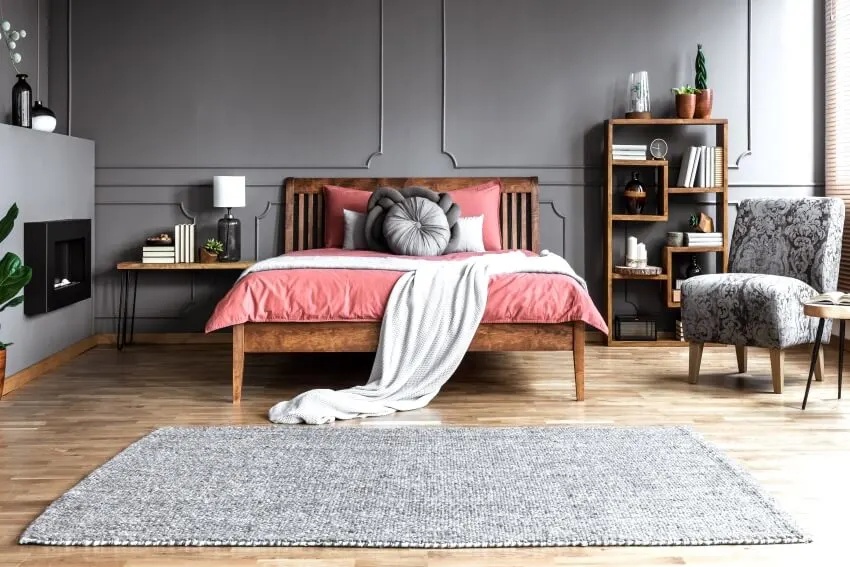 When you wake up in the morning, the last thing that you want to do is toss the covers aside and put your feet on the cold floor. A runner rug next to the bed can help solve this problem and offer a hard floor some additional cushion.
If you want to break free of the more traditional placement of rugs on either side of the bed, you could opt for a runner rug at the end of the bed too. Here, it can give you a warm place to set your feet and another area to use a rug to complement the room.
Not to mention, a bedroom generally has the coziest feeling in a home. It's where you sleep, after all! So, adding rugs can really help add some warmth to the room. Read about our guide to bedroom rug placement for more helpful ideas.
Dining Room Carpet Runner
The basic concept of a runner rug – that is, the proportions of a runner rug – lends itself to use in a dining room. It's a particularly useful tool when you have a long, narrow dining room table.
In those cases, it's easy to place a runner under the dining room table that's slightly wider and longer than the table itself.
This can be a particularly useful tool if your dining room isn't physically set apart from the kitchen or living room but you want to add a sense of visual separation. Even in a dining room that's independent in a house can benefit from both the visual and practical elements of a runner rug.
Outdoor Carpet Runner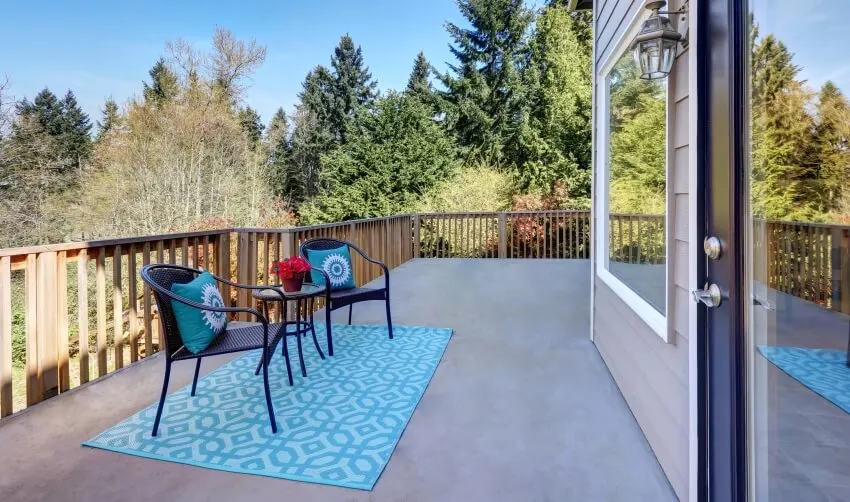 When we think of carpets, we often think of their uses indoors. Yet, that leaves out a lot of potential for what a rug, specifically a runner rug, can do for your home decor. You might even want to take one outside.
Patios and decks give you a place to relax and enjoy some time on a couch or in a comfy seat but with the added benefit of some time outside.
So, when you deck out these areas with all the comforts that you might enjoy in your living room but with a bit more weatherproofing, why not opt for an outdoor runner rug to make things even cozier?
Most outdoor runner rugs are made of synthetic materials such as polypropylene, nylon, acrylic or polyester. These types of rugs hold up well when subjected to conditions with moisture and mildew.
Care must be taken with some types of outdoor rugs such as polypropylene rugs which can break down when subjected to heavy sunlight. Natural rugs like jute and sisal can be used but are not as durable when exposed to moisture and are not resistant to mildew.
How To Place Runner Rugs
When placing a runner rug, it is best to choose one that does not completely cover the entire space. If placing in a hallway it's a good idea to center the rug to define the most highly trafficked area.
If you are placing it next to your bedside it should be placed at the foot of the bed. Adding one to either side ensures you never leave your bed and step on cold floors.
In a kitchen placing the rug directly below the sink in between the cabinets and island can help soften the floors while doing dishes.
As we've discussed, there are a lot more places around your home that could benefit from a runner rug. In general, you'll want to keep an eye out for anywhere in your home where you might want a rug but find that an option like an area rug is a little too bulky for the space.
How To Keep A Carpet Runner From Moving On Carpet
There are a few different ways that you can make sure that your runner rug doesn't slide across the carpet that it's on. This is important to keep your rug and carpet in top shape as well as make sure your decor scheme stays as you set it up.
The most straightforward option is a rug pad or a tool like double-sided tape. Both of these options will help keep the rug in place without taking up a lot of visual space.
In some cases, you can use furniture to keep your runner rugs in place. As an example, a dining room table could hold a rug beneath it in place.
Can You Put Two Runners In A Hallway?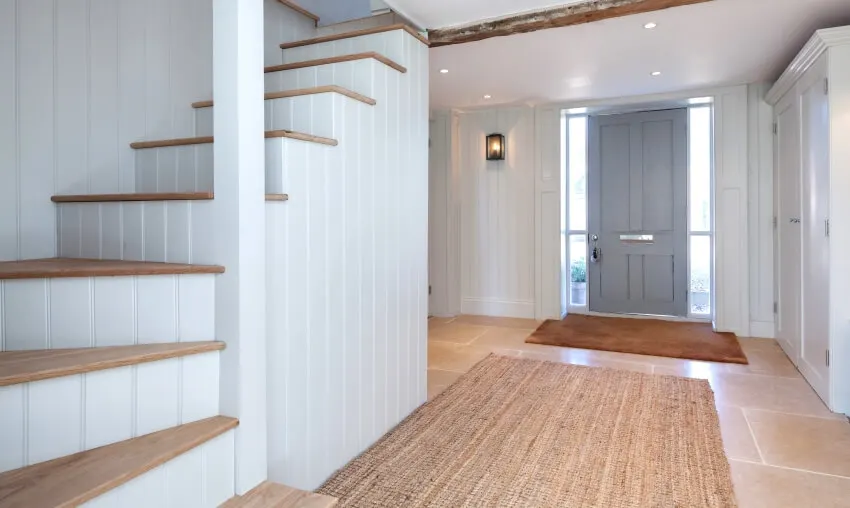 When you have a long hallway, you have a few options. For one, you can purchase a single long runner to cover the area you want to cover.
On the other hand, it's also a perfectly viable option to use two runners in the place of one. Usually, you'll want at least a small gap between these runners so they don't crowd one another.
If you're going to put two runners in a single hallway, you'll need to make sure that they work well together as well as with the rest of the room. Most people in this situation opt to use matching runner rugs in a set to complete a set in a single hallway.
All in all, runner rugs are a versatile design tool in your home. They can help protect your floors, enhance the aesthetic design of a room, reduce sound, and more. Not to mention, there are plenty of places around your house that could benefit from a runner rug!
Visit our guide on how to pick rug sizes for more related content.